Are you wondering what are the best beach towns in Michigan?
There are so many things to do in Michigan!
Wonder no more, because in this article I will walk you through Michigan coastal towns and tell you everything thing you need to know about visiting them.
And there are also miles of coastline, meaning you will discover some of the best beaches in Michigan along with the coolest Michigan beach towns.
Lake Michigan alone offers three thousand miles of gorgeous coastline and Traverse City alone has 11 Beaches.
And when it comes to cute and quaint beach towns no one does it better than this state.
The Michigan shores range from rugged and rocky to soft and sandy and the towns that dot them are as unique as the landscape.
Some Michigan beach towns offer the full-on tourist experience and some are quieter, some are idyllic, and some are arty.
Whatever kind of Michigan getaway you prefer the Michigan lakeshore can deleiver. These beach towns in Michigan will give you all the coastal charm you desire and leave you never wanting to leave.
So are you ready to see which Michigan beach towns I have picked for you? Grab a chair get a cold drink and let me walk you through some wonderful destinations in Michigan.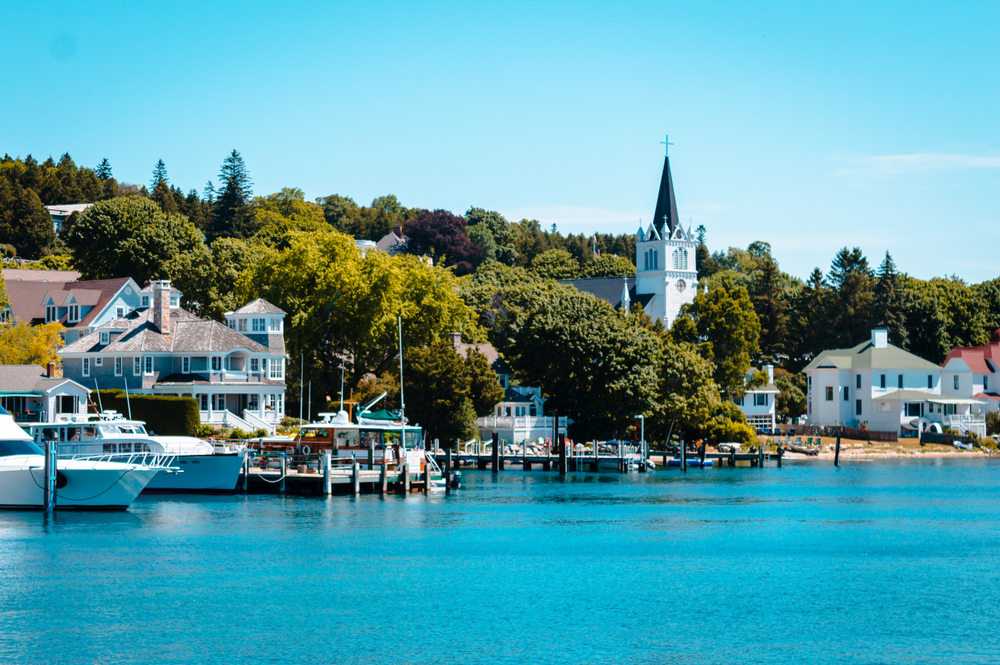 15 Best Beach Towns In Michigan
Grand Haven For A Huge Michigan Beach
When it comes to Michigan beach towns most agree that Grand Haven is one of the best.
This town has everything: a huge beach, a state park, a lighthouse, and plenty of bars, cafes, and restaurants to make sure you don't go hungry.
On the eastern shore of Lake Michigan, Grand Haven City Beach is the real pull here. It's big, beautiful, and award-winning because of its beauty and freshwater.
The Grand Haven Boardwalk stretches one and a half miles and is home to shops, restaurants, and water-based pursuits.
The 1,151-foot pier is a great place to get a great view of the lighthouse.
If you want to get away from the crowds stroll further down the beach where it gets quieter and play in the dunes or set up a picnic and spend a while.
Grand Haven Michigan beach is a real gem.
This Michigan beach town has a lot to offer but you come here because the beach is stunning. Grand Haven is one of the best Lake Michigan beach towns.
There are some great state parks in Michigan that offer some great hiking in Michigan.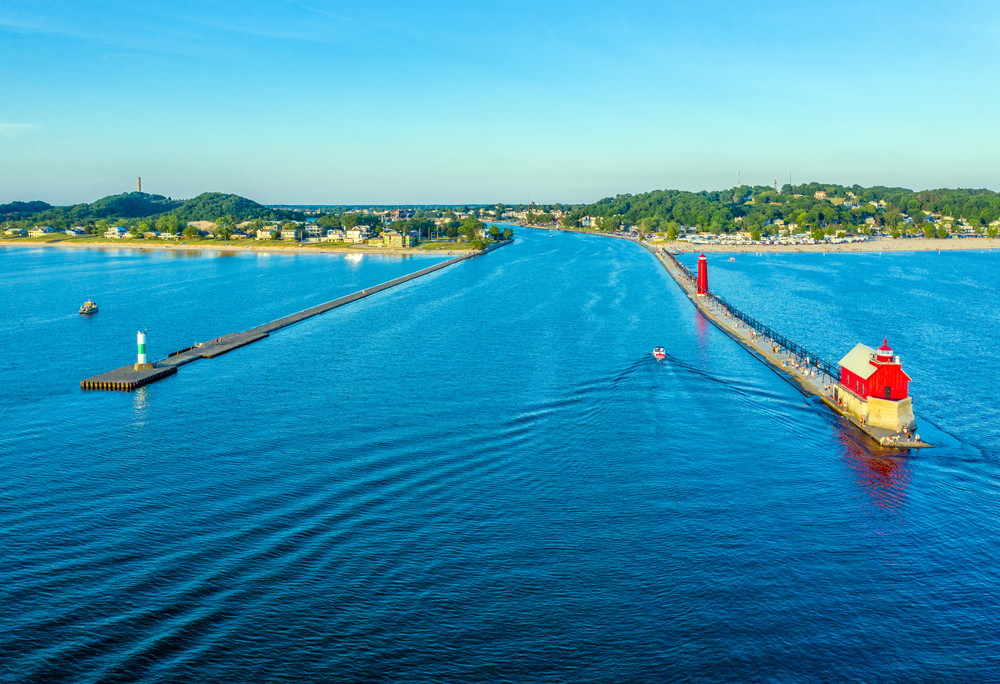 South Haven For Great Food
Positioned at the mouth of the Black River this gorgeous Michigan coastal town should be high on your list.
It's an hour south of Grand Haven City Beach and very similar so choose whichever you are closer to.
Here you will find eclectic boutiques, award-winning wineries, nature trails, inland lakes, and lots of charm.
The downtown area has some great shops and the town is a bit of a foodies paradise with many local restaurants serving great food.
The nearby Van Buren State Park is worth a visit and if you love cycling 34-mile Kal-Haven Trail, is nearby. And if you are there in August the national Blueberry festival is held here.
South Haven Michigan beach needs to be high on your List of Michigan lakeshore locations to visit.
Some are beaches are close to the best Michigan wineries and some win in the Michigan lighthouse stakes.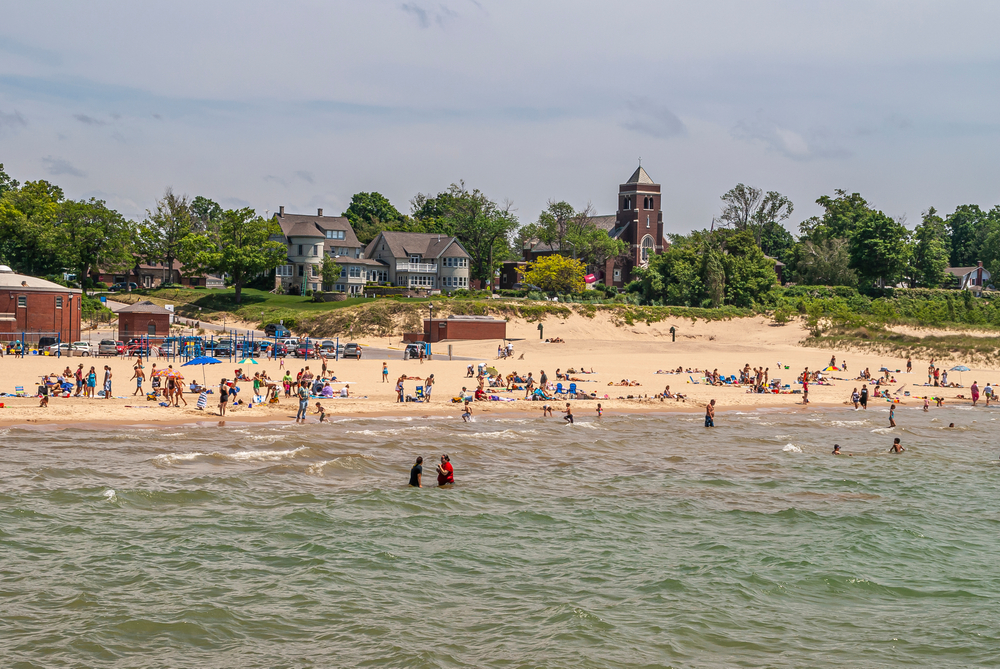 Saugatuck For The Best Freshwater Beaches
The town might be tiny but it packs a punch. If you are after small, quaint, and charming then this is the beach town in Michigan for you.
There are over 12 miles of shoreline to explore here with some of the most beautiful views available.
MTV named Saugatuck Michigan beach one of the Top Five Beaches in the United States of America.
National Geographic Travelers listed this beach as one of the Top Freshwater Beaches in the country. So if you are looking for a top-quality beach this is it.
From award-winning beaches to scenic waterways and grassy dunes this Michigan beach town has a little bit of everything. Most think of this as the Grand Rapids beach as it is one of the closest.
Cheboygan For The Lighthouse Is One Of The Best Beach Towns In Michgian
In the north of the county, you might find this coastal town in Michigan less expensive than some others and a bit quieter.
It's on the shores of Lake Huron which tends to have rocky shores but nevertheless is beautiful.
The area around here is best known for its clean air and low pollen count. And the town's claim to fame is its Victorian-style opera house, originally built in 1877.
The town is actually on the Straits of Mackinac, at the confluence of the Cheboygan River and the lake, and in the warmer months, it is a mecca for kayaking and hiking.
The town and surrounding area have a lot to offer. Cheboygan River Front Range Lighthouse, Cheboygan State Park, and of course a trip to one of the seafood restaurants is a must.
Burt Lake State Park is also here which offers 2,000 feet of sandy shoreline so you have plenty of waterfront locations to choose from. This is one of the best Lake Huron beach towns.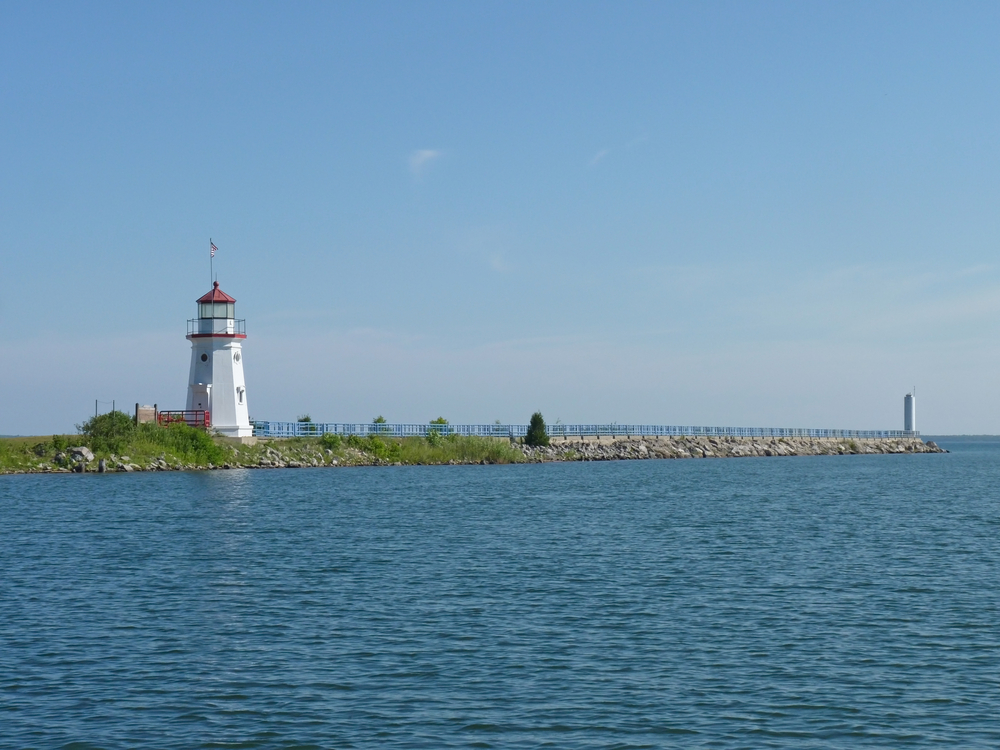 Muskegon For Lots To Do
This up-and-coming town is one of the most populated coastal towns in Michigan. If you like your beach towns with more life and culture then this is the place for you.
Muskegon offers 26 miles of Lake Michigan beach, 65 miles of trails, and three state parks. If you love the great outdoors this is one of the destinations in Michigan for you.
The town also has museums, historical attractions, and lots of summer festivals. It's a place where something is always happening and you will never run out of things to do or places to eat
The beaches live up to the hype too with Pere Marquette Beach offering waters and sand that would not go amiss on a tropical island.
If you are looking for a happening place then this is it. It's a short drive from Detroit so makes a perfect Detroit day out and an even better Chicago day trip.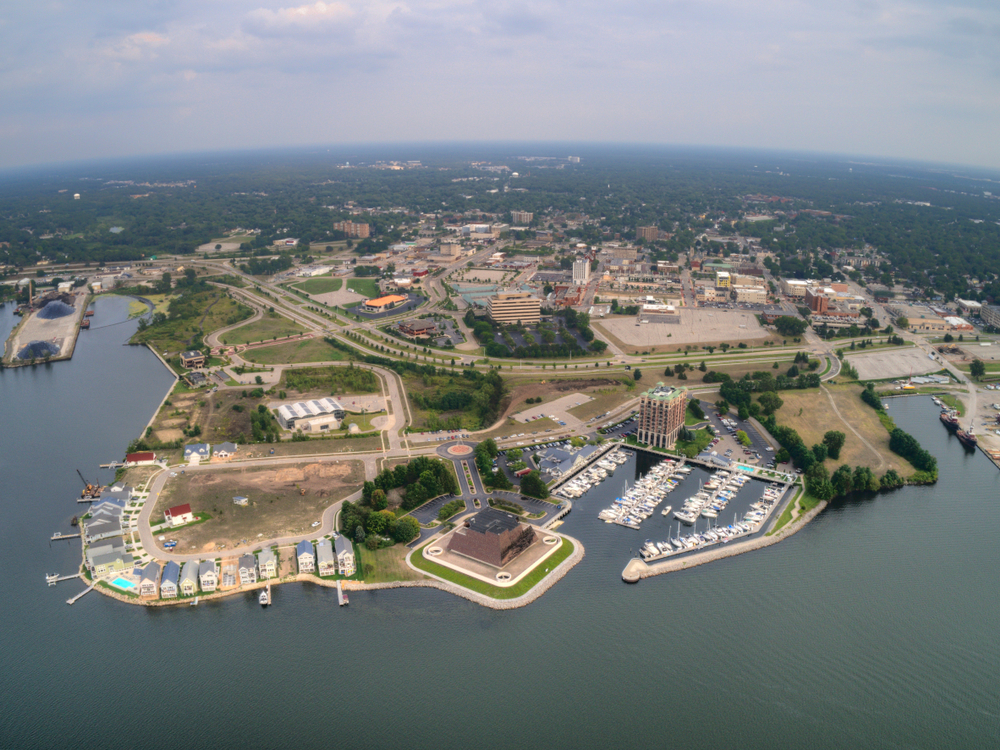 Copper Harbor For The Great Outdoors
If you like your beach towns a bit more rugged and oh so scenic then this might be the place for you. This is one of the best Lake Superior beach towns.
Nestled on the northernmost American shores of Lake Superior on the Upper Peninsula this very small town isn't that well known.
While the beaches here are great it's most visited for mounting biking and hiking.
The town here only has 136 residents so don't expect lots of tourist attractions it just isn't here. This coastal town in Michigan is for nature lovers and people who love the great outdoors.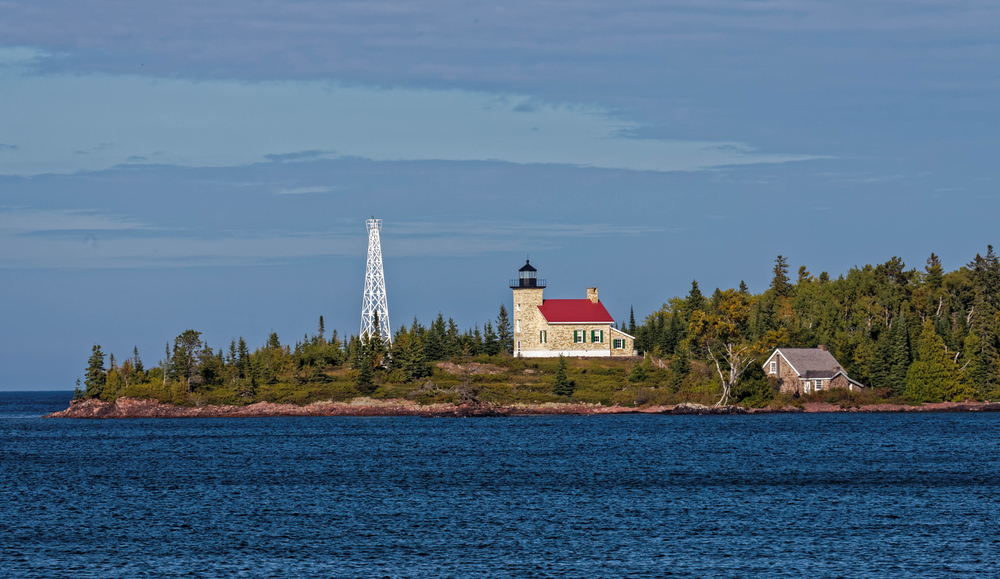 Empire and Glen Arbor For Charm
I feel like these two places to visit in Michigan need to come as a duo. Just a 12-minute drive from each other they flank the Sleeping Bear Dunes. The area around here is beautiful with this 72,000-acre Midwest national park being the big draw.
These towns have quaint streets, cute shops, great restaurants, and all the small-town charm you could wish for. An evening in these towns after a day at the dunes is perfect.
In Empire walk the Empire Bluffs trail for amazing views or have a picnic at the public beach. Make sure to also drive the Pierce Stocking Drive it's a beautiful natural area for stunning views of Glen Lake.
The coastline here is incredible and these Michigan beach towns really do add a welcome rest bite for a weary traveler.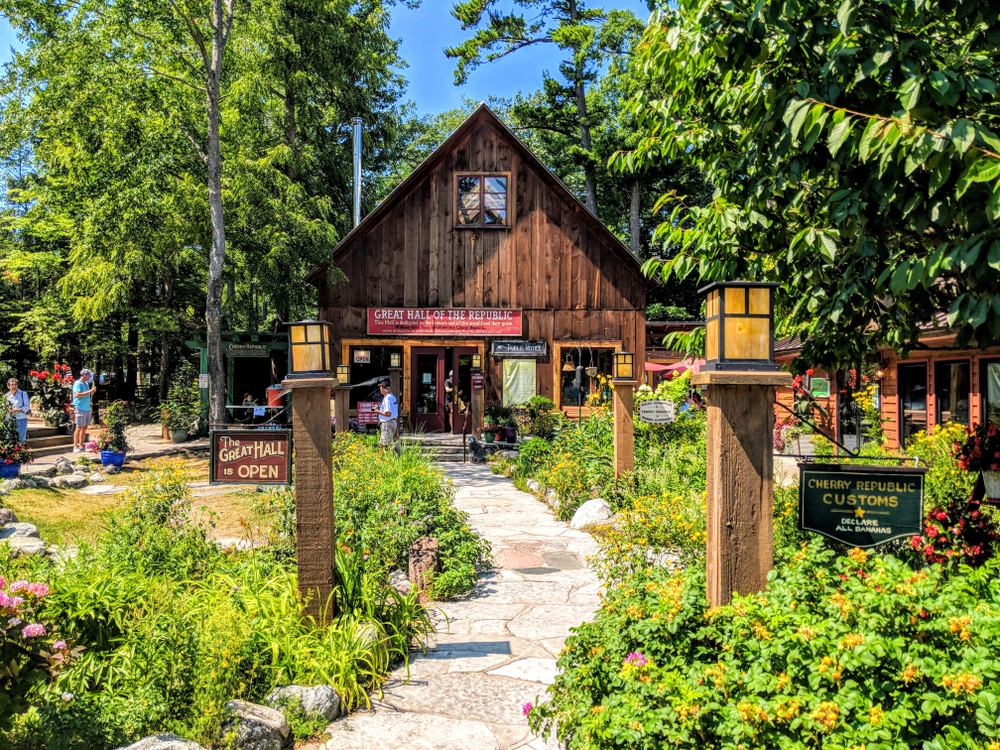 Ludington For The Cleanest Beaches In Michigan
A harbor town at the mouth of the Pere Marquette River on Lake Michigan sits Luddington. With close to 30 miles of sandy Michigan beaches, this place is well worth a visit.
These Michigan beaches are among the "Top 50 All American Beaches."
And Ludington has some of the cleanest beaches, best swimming, and most beautiful sand. The best beaches can be found at Stearns Park and Ludington State Park.
There is also some great places to go walking around here such as the Waterfront Park Loop, Sculpture Trail, and the LASD School Forest.
Downtown is full of some great shops, restaurants, and things to do. This is also one of the beach towns in Michigan that tends to be cheaper than the west coast.
If you are going here try and take a trip to Historic White Pine Village which has 30 recreations of buildings similar to those of the first settlers.
There are many gorgeous Michigan golf courses to discover!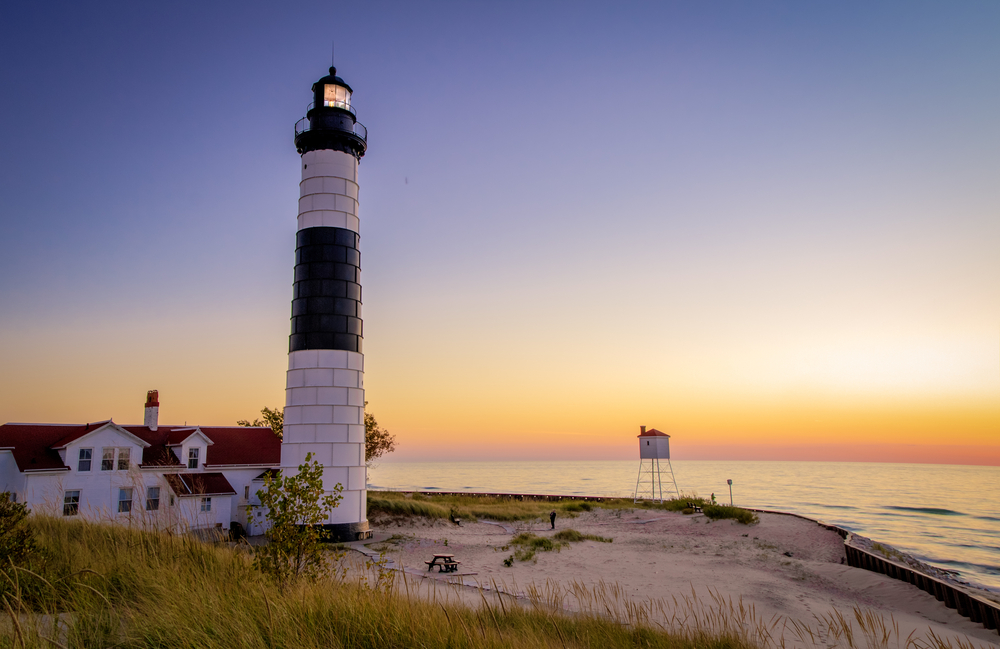 Petoskey For The Best Of Both Worlds
Located at the northern end of the Lower Peninsula is the charming lakeside town of Petoskey. It's a beautiful town with Victoria architecture, a historic shopping district, and of course Petoskey Stone.
The town is charming and steeped in history. It's also surrounded by natural beauty and picture-perfect locations.
Petoskey State Park should be high on your list to visit. It offers a beautiful sandy beach on the bay and two modern campgrounds.
This is one of the beach towns in Michigan that pleases the town and nature outdoor enthusiasts alike with the nearby Boyne Mountains and Nub's Knob providing winter sports.
The town is also great for shopping and eating with some great restaurants and boutique shops on offer. This is definitely one of the places to visit in Michigan.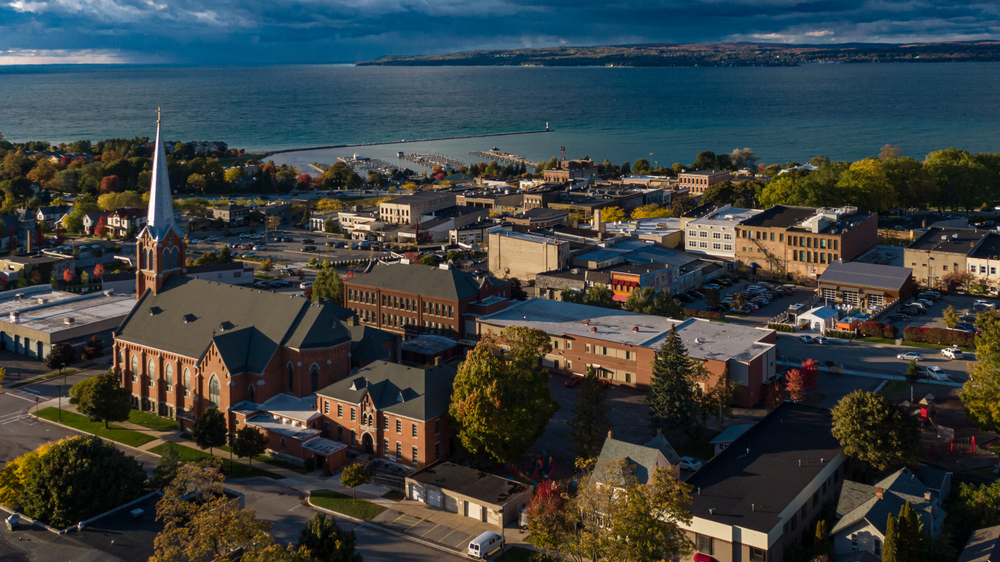 New Buffalo For A Bit Of Everything
At the mouth of the Manistee River on Lake Michigan is New Buffalo and it offers some of the state's best beaches. The town lies just north of the Indiana border on the west coast.
There is a lot to do here and plenty of shops, restaurants, and things to do. Warren Dunes State Park and Galien River County Park should be high on your list of places to visit.
There are also some great wineries around this region and a few casinos if you fancy your luck. There is so much to see and do in New Buffalo and some great restaurants.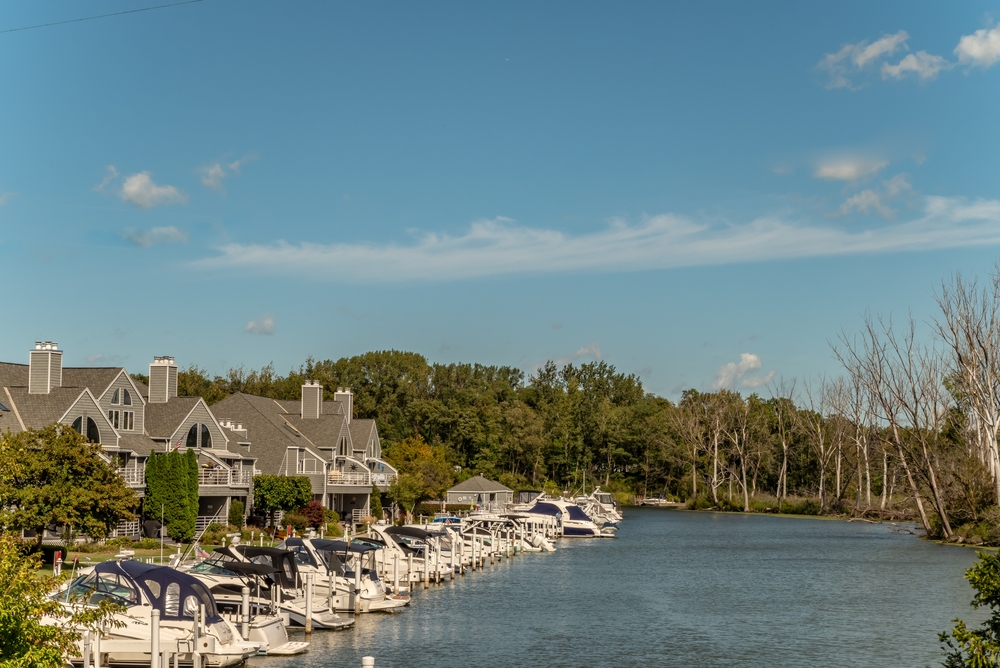 Suttons Bay Is A Vintage Michigan Coastal Village
Suttons Bay is the gateway to Leelanau County and lies midway up the eastern shore of the Leelanau Peninsula. It's a picture-perfect town in the middle of wine county.
The area is known for nature trails abound offering some of the best biking and hiking in Michigan.
The town has an abundance of farm-to-table restaurants and seems to elegantly mix farm-style rustic with small-town sophistication.
This is one of the beach towns in Michigan that you will fall in love with.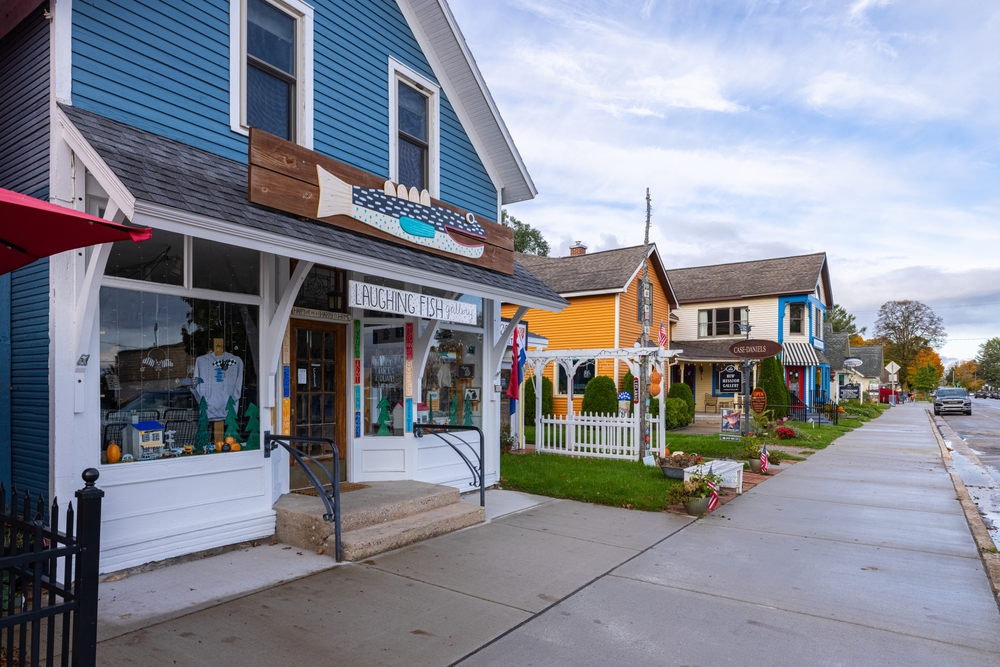 Manistee For Quintessential Beach Towns In Michigan
With beaches like sugar and a charming downtown, it's not surprising that Manistee was once a place that has more millionaires per capita than any other city in the United States.
Everything here is oh so quintessential American with a Main Street that wouldn't look lost at Disney World.
A city born in the timber book mixes, history, charm, and modern facilities to create something quite special.
Go on a self-guided history tour, visit one of the beaches surrounding the town or take a walk in the forest that abounds in the area.
It's a beautiful Michigan coastal town with a lot to offer.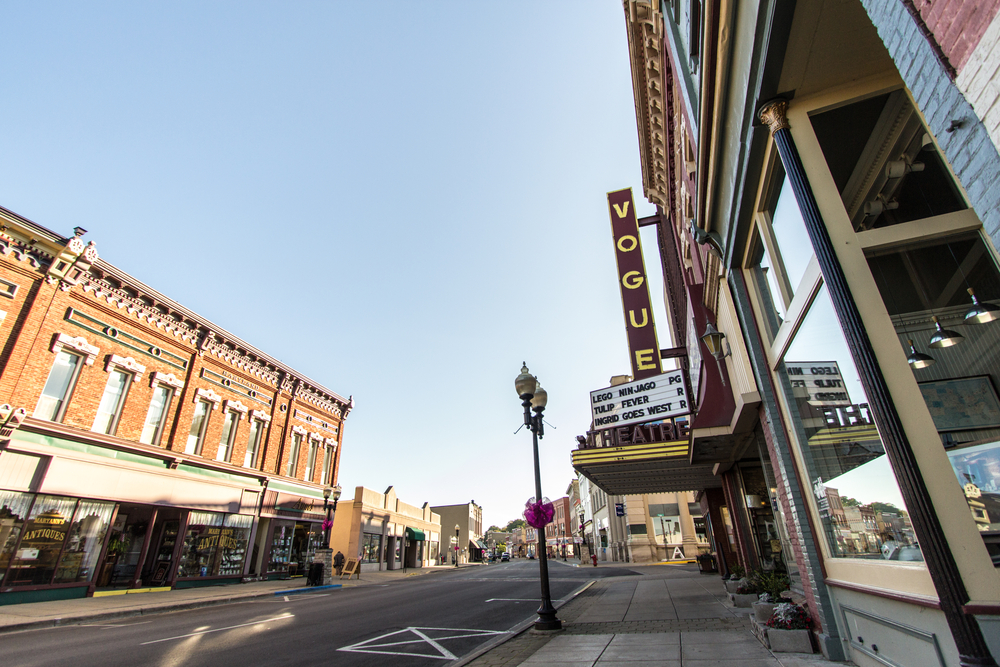 Holland For Beauty
Holland is a city on the shore of Lake Macatawa, in Michigan. This beautiful lakeshore town is a popular tourist location with very good reason, It's just stunning.
Close to Grand Rapids, it is, as the name would suggest it is known for its Dutch heritage which it embraces. With the Tulip Time Festival and Dutch activities, this town takes its routes seriously.
History and hospitality really describe this place, it's a town that takes eating and drinking as seriously as it does its culture.
It's really hard to describe how beautiful this place is. Definitely take a trip to Holland State Park and Tunnel Park and Windmill Island Gardens. Also, the Dutch Village with dutch inspired canals and gardens is beautiful.
If you love pretty and quaint then this is one of the places to visit in Michigan for you.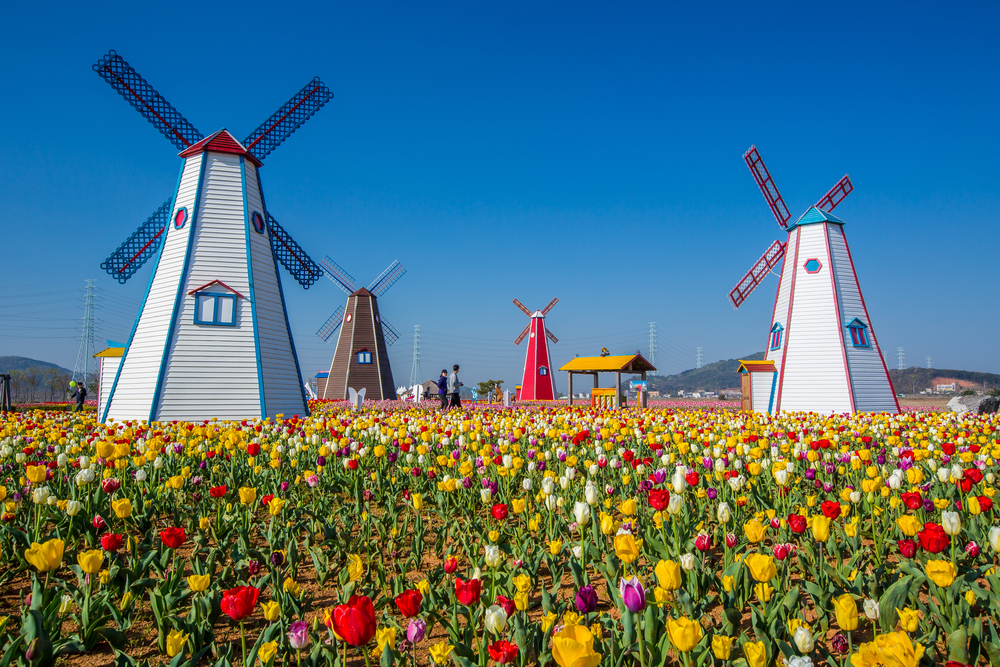 Charlevoix For Michigan Watersports Is One Of The Coolest Beach Towns In Michigan
Located on the shores of Lake Michigan, Round Lake, and Lake Charlevoix in Northern Michigan is the beach town of Charlevoix.
It's known most for the water that surrounds it with many water activities taking precedence here. Getting out on the water here should be one of the top things you do as it's beautiful.
You won't find as many tourists here so it tends to be a little quieter on that front but don't let that fool you.
This town knows how to serve it up. It's also quite a little art hub filled with galleries and boutiques.
Suggestions of things to do while you are here are biking down the 26-mile Little Traverse Wheelway, walking down Charlevoix South Pier to the lighthouse, and visiting Fisherman's Island State Park.
The beaches here are great, the water amazing, the shops brilliant, the restaurants divine and the scenery stunning.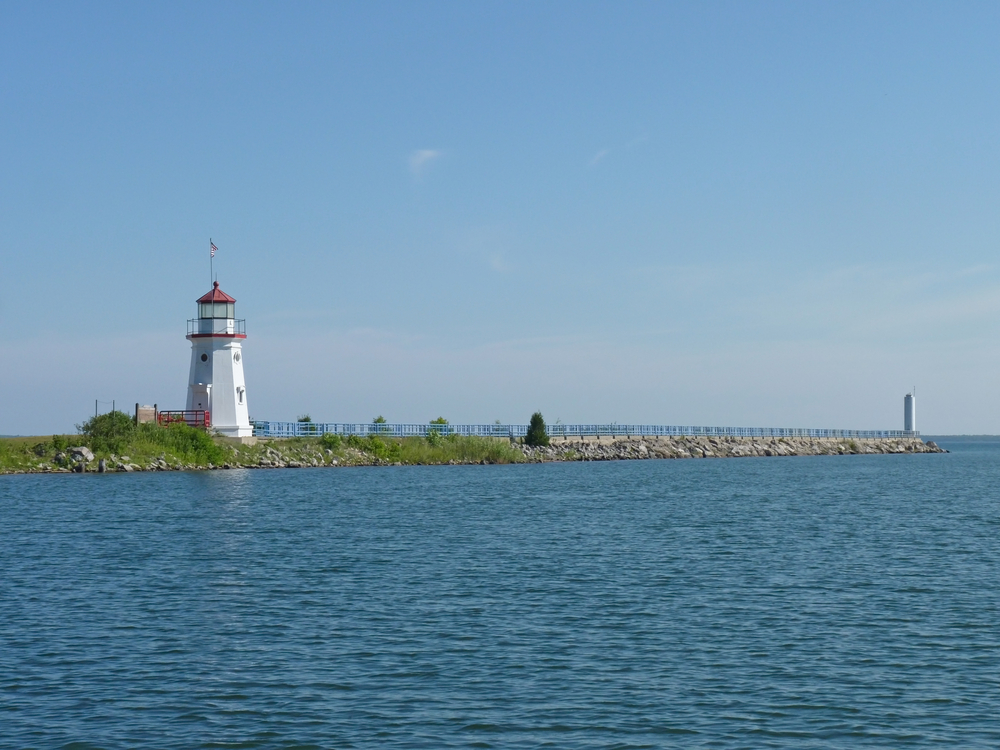 Mackinac Island Is One Of The Best Places To Visit In Michigan
Where the waters of Lakes Huron and Michigan meet you will find Mackinac Island. You can only get there by boat but it is so worth it and yes there are ferries that take you.
The island is tiny and so so pretty and it is as if time has stopped here capturing something quite special in its wake.
There is so much to see and do on Mackinac Island on Mackinac Island you won't get bored.
The best way to get around the island is by bike which you can hire on the island or take a horse and carriage ride.
The shopping and eating here are top-notch and the pastel-colored historic Victorian homes just stunning.
There are no vehicles on the island and everything is picture-perfect. Hence this place can get busy.
The beaches are pretty special here too as is the fudge. Mackinac Island is definitely one of the best Michigan beach towns.
Make sure you try some of the great restaurants in Mackinac Island.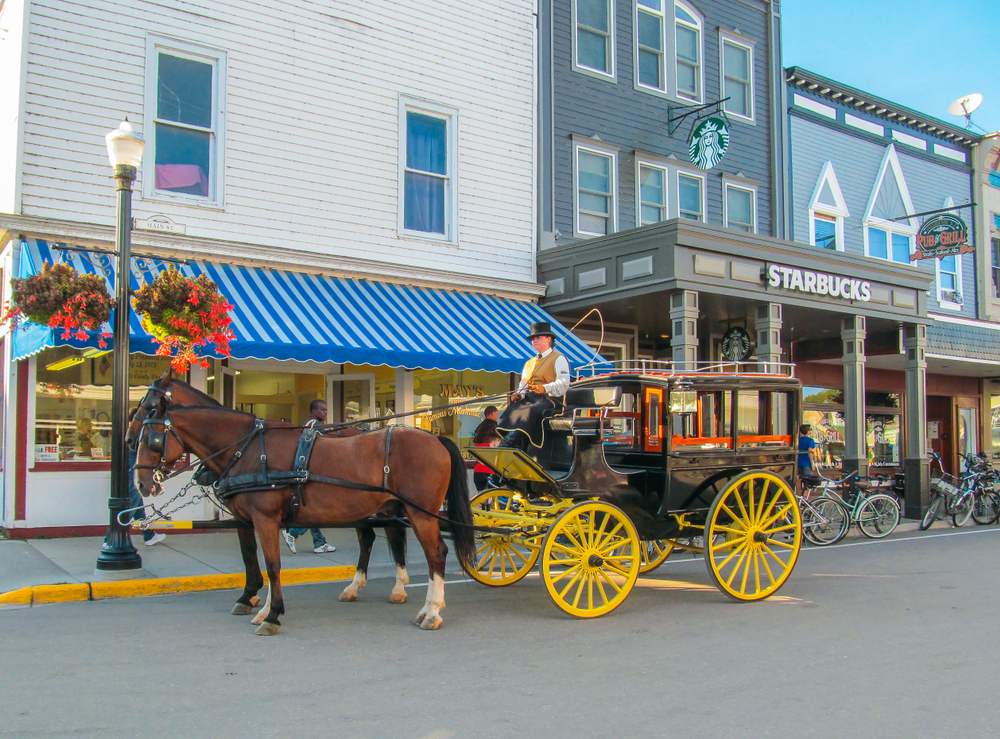 Packing List When Visiting Beach Towns In Michigan
If you are searching, here are some tips on how to pack lightly when packing when heading to Michigan beach towns.
A concealed travel pouch may be one of the most important items you bring along when visiting the best beach towns in Michigan. It is always important to protect your personal information. Identity thieves are everywhere.
This unisex RFID blocking concealed travel pouch is lightweight and comes in several colors. It has lots of organization to give you peace of mind. You can place it under your clothes next to your body to carry your ID safely.
If you have a pouch already that does not come with the RFID protection, as I do, these RFID sleeves are the perfect solution.
If you are planning on taking a lot of pictures with your phone you will definitely want to consider an external charging battery. This Anker high-speed phone charging battery is the exact one I carry with me on all of my trips.
I like that it holds its charging capabilities for several uses so I do not have to worry about it while out and about, and if I forget to recharge it at night, it will still be good to go the next day.
My daughter gifted me with this FugeTek selfie stick and tripod setup for my birthday. I absolutely love it! It is made of lightweight aluminum and is so easy to use.
It has Bluetooth connectivity and is a breeze to use for taking Insta-worthy selfies at all the destinations in Michigan you explore.
I never much believed in using packing cubes when traveling. That is until I tried them. Now I am hooked. These are the exact cubes I use to stay organized when I pack for a trip!
You will want to bring your own refillable water bottle with you.
I never leave home on a trip without my Bobble filtration bottle. The 18.5-ounce size is perfect for your adventures and it fits nicely in the pocket of a backpack.
Perhaps you are traveling a long distance and packing space is a premium in your suitcase, or in your car. Then this set of collapsible silicone foldable water bottles would work well for you. Would not take up much space at all.
You will want a backpack or daypack with you to store snacks, your water bottle, phone, extra clothes, etc.. . No matter the time of day or evening.
This foldable water-resistant backpack would be great. And it comes in many different colors!
–
As you can see when it comes to beach towns in Michigan there are so many to choose from. And this is only a start.
There are so many things to do in St Joseph MI that include visiting their epic beaches.
Some are close to the best Michigan wineries and some win in the Michigan lighthouse stakes.
Whichever of these coastal towns in Michigan you visit I hope you will have an amazing time.
Please come back and let me know how your Michigan beach town trip goes. Have a great vacation.