Are you looking for the best beaches in Traverse City Michigan? You are in the right place!
In this article, I will cover beaches in Michigan you need to visit in Traverse City. Beaches that are well worth a visit, and I will tell you everything you need to know you make your visit worthwhile.
Traverse City is a vibrant, hip, and interesting city and the beaches are as varied as the city.
The best thing about the beaches in Traverse City is the fact they are all lake beaches. So no saltwater, no sharks, and no tides.
You still get the sun, sand, and breeze and the water is freshwater rather than sea water.
Whether you are looking for a small beach a dog beach, a beach in the city, or a beach off the beaten track Traverse City has it.
The Traverse City area has over 180 miles of Lake Michigan shoreline, spectacular sand dunes, and over 100 lakes. When it comes to beaches they don't come more diverse than this.
So are you ready to see which beaches in Traverse City I have chosen for you?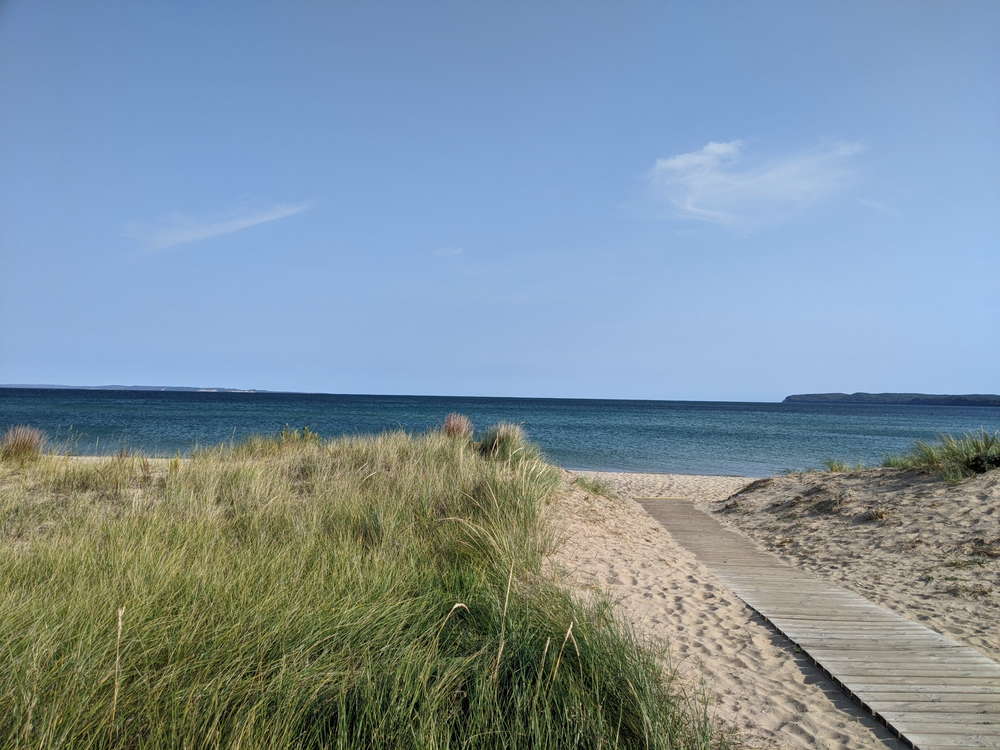 11 Best Beaches In Traverse City
Bryant Park For A Sunset Picnic
On West Grand Traverse Bay at the base of Old Mision Penninsula, this Traverse City beach is a mix of sandy beach and grass.
It's a great place for a picnic with a dedicated picnic area, playground, charcoal grills, and restrooms. This beach is a great place for social gatherings and a great family beach.
Just a few minute's drive from downtown Traverse City, this beach is broad and west-facing which means you get great sunsets. There are also some trees here where you get shade if you need it.
A great beach to bring some food and spend the evening watching the sunset.
Good Harbour For Amazing Views
Listed as one of CNN's "10 Secret Beaches Worth Discovering," you know this beach is going to be a good one. And one of the best places to explore in Michigan!
It's a pretty secluded stretch of sand with incredible views of the Manitou Islands, Pyramid Point, and the sloping ridge known as Whaleback.
It's a great place for families as a short walk away is a stream where children can play and it tends to be a pretty quiet place. This Traverse City beach is about 20 minutes from downtown.
Best of all this beach faces west so when it comes to sunsets it delivers big style.
Clinch Park Minutes From Downtown Is One Of The Most Popular Beaches In Traverse City
If you are short of time and want to stay in town then head to Clinch Park. It is minutes from shops and dining downtown.
The spacious park has restrooms, snacks, and a water playground which is right next to the beach. You can also rent kayaks, canoes, and stand-up paddleboards.
This is also one of the most popular beaches in Traverse City and is always busy.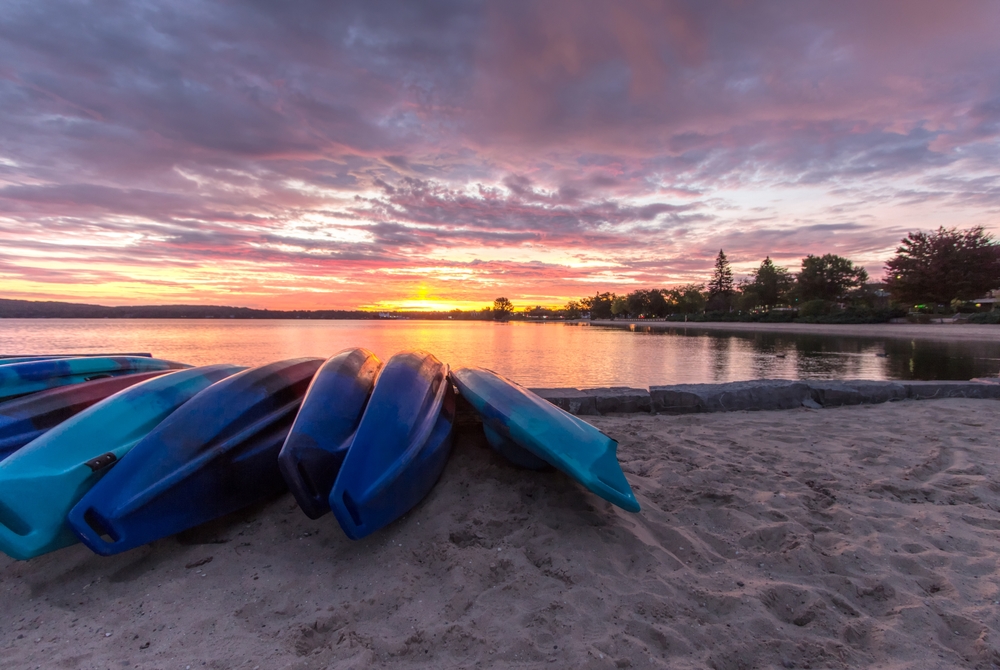 North Bar Lake For Something Quieter
If you want to make a day of it travel a bit further out go to the Sleeping Bear Dunes National Lakeshore.
Once there head to North Bar Lake. You can either stay at the small beach here or head to North Bar which is more sheltered and on Lake Michigan.
Travel to North Bar Lake which is much warmer water and very calm so great for children. If you walk around the sand dunes you will find access to Lake Michigan and a much bigger beach.
The best thing about the beaches here is they are hardly ever busy. It will require a bit of a hike from the parking lot, but it is absolutely worth it.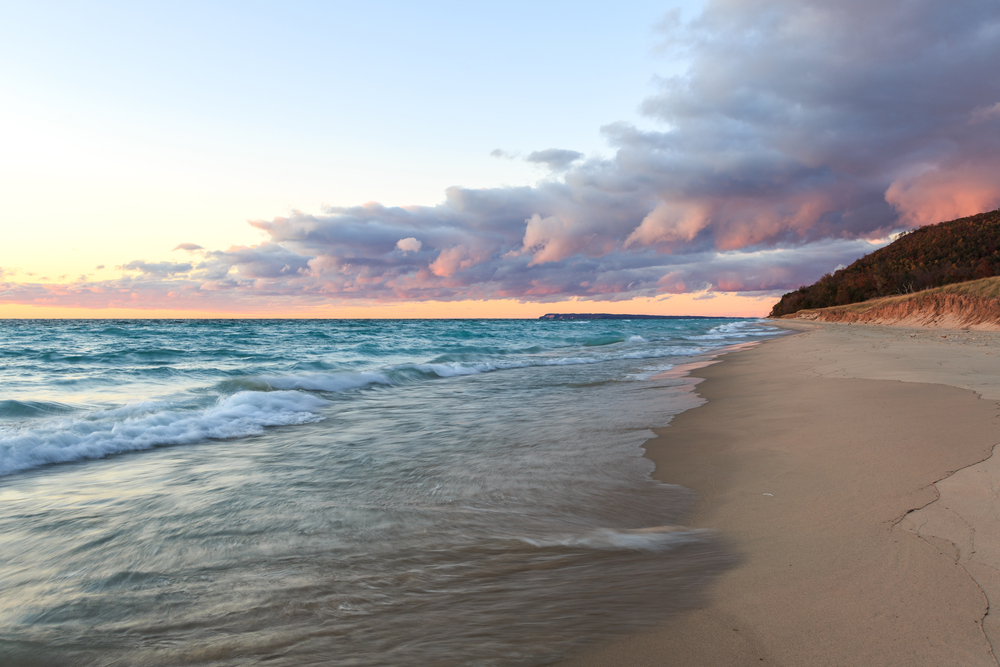 East Bay Park For Small Children Is One Of The Best Beaches In Traverse City
Looking for an ideal beach with small children? Then this is it. Warm shallow water, restrooms, lifeguards, and a playground make this beach perfect.
It is 10 minutes east of the city and tends to be quieter. This beach in Traverse City is also big enough for you to spread out.
And there is plenty of parking!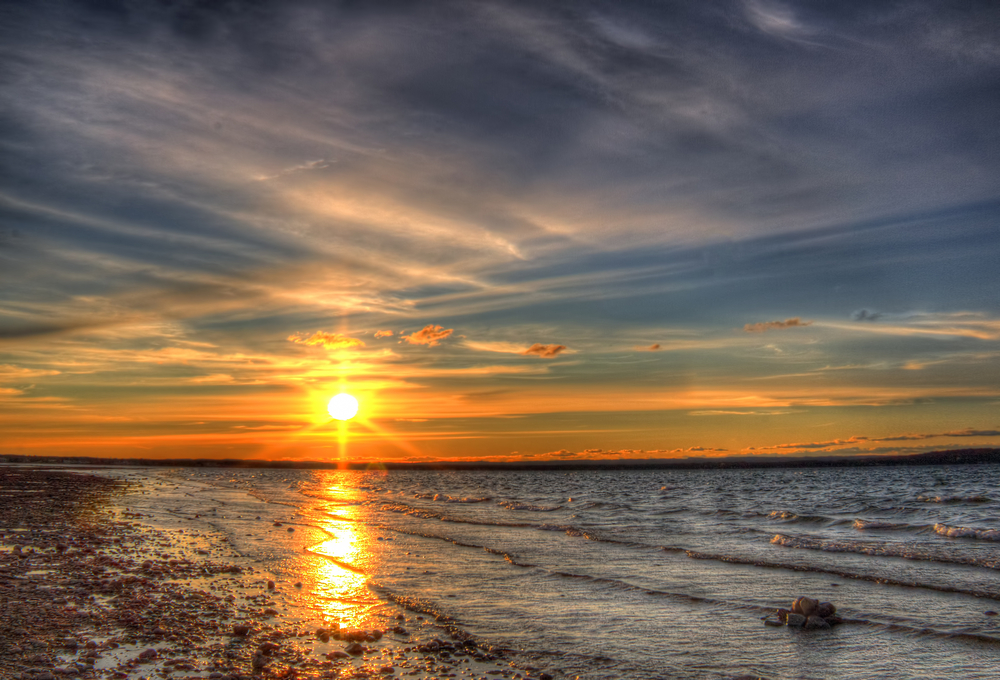 Power Island For Seclusion
In this 202-acre island in West Grand Traverse Bay, there is everything you could want. Sandy beaches, hikes through the woods, history, and camping if you are that way inclined.
The island was owned by Henry Ford from 1917 -1944 and you can only get there by boat from Bowers Harbor on Old Mission Peninsula.
If you are an experienced kayaker or paddleboater you can get there too but it is a 3.5. miles crossing.
Because it is an island and not easy to get to it is quieter and offers lots of seclusion so it is perfect for couples.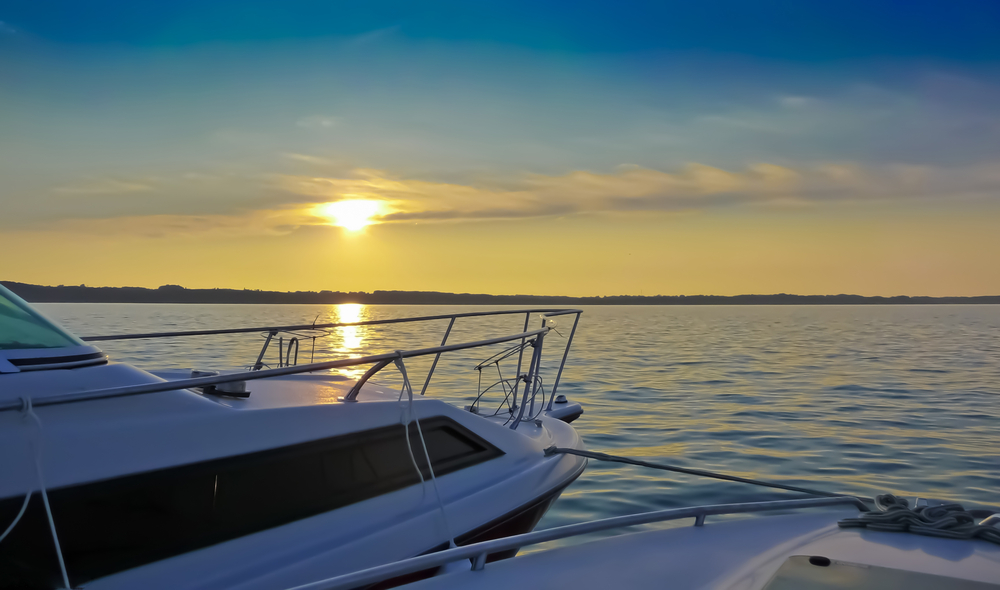 West End Beach For The Vibe
If you are all about the beach vibe then head to West End Beach on the north side of Grandview Parkway. It's hip and happening and definitely the place to hang out.
The beautiful mile-long beach is a great evening hang as well as a daytime spot. There are lots of volleyball courts and the beach is near a grassy park where the gathering often spill too.
This is one of the best beaches in Traverse City for socializing.
Heading here would certainly make for a fun Michigan road trip.
Traverse City State Park For Pristine Sand
This state park boasts a pristine 1.4 miles of sand on Grand Traverse Bay. It is two miles from downtown Traverse City, and you can easily get to the campground over a pedestrian bridge.
Parking is easy here and you will need a recreation pass to get in but it is so worth it.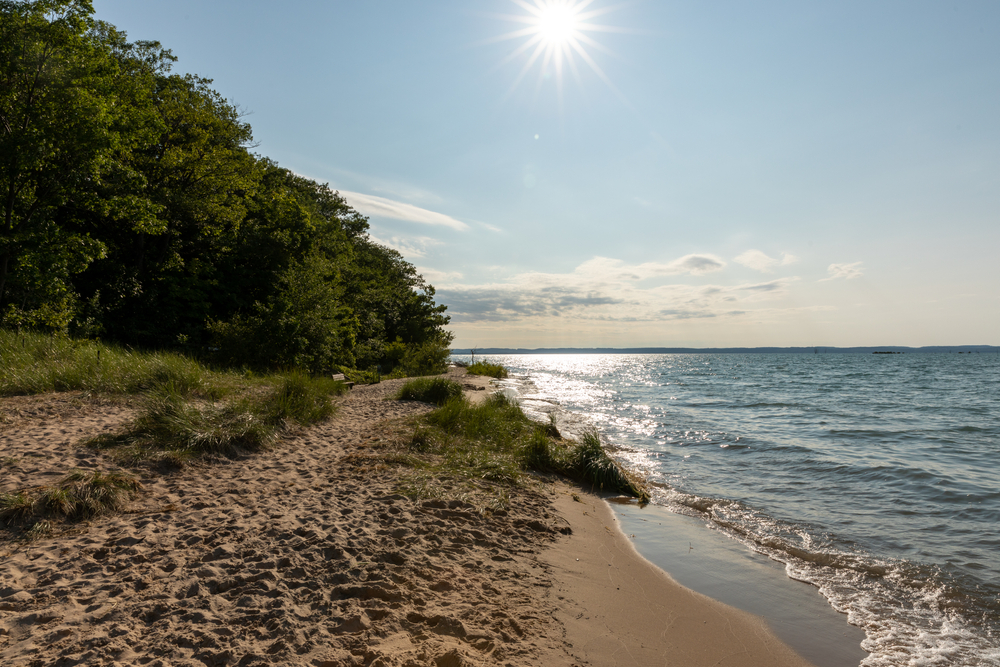 Twin Lakes Park For Nature
Much more of a rugged nature beach this is the place to come if you want to get away from it all. It's a small recreation area on the west side of town and only the locals really know about it.
The swimming area is small and the water gets deep very quickly so please be careful!. There are also walking and hiking trails to explore as well.
If you want something a little different head here.
Van's Beach For A Tropical Feel
This is a sugar-white sand beach you would expect to see in Florida or California and it is beautiful. It is a beach loved by locals and is just past Van Garage at the end of Cedar Street in downtown Leland.
It's about a 20-minute drive from the city but honestly, this beach is well worth it. The sunsets are also wonderful here.
The wind and waves can pick up here so please remember to practice caution if you are bringing young children. It is great for boogie boards and surfers.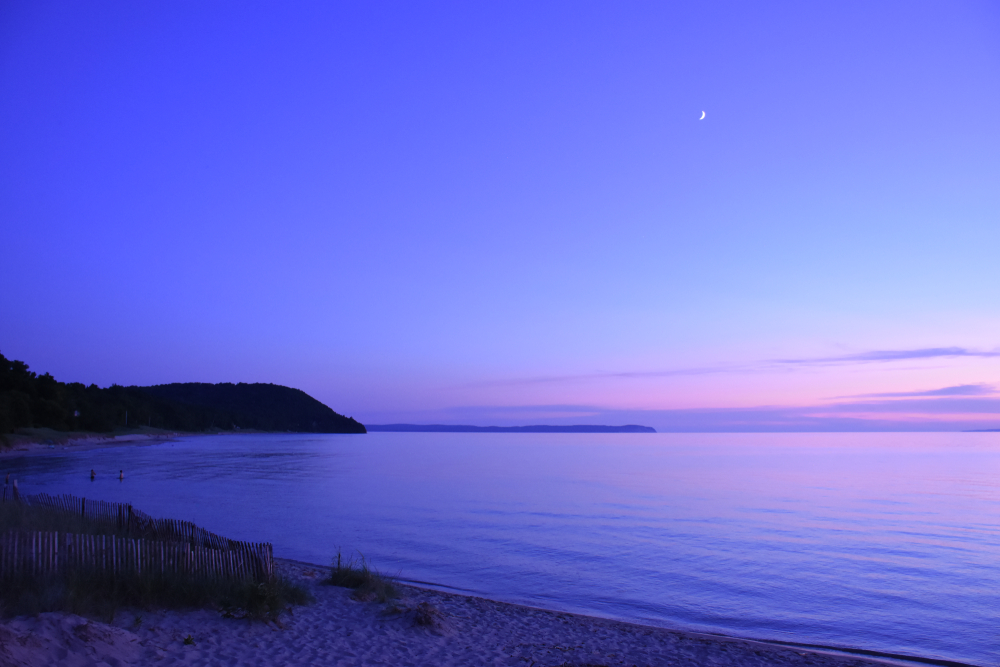 Old Mission Peninsula Park For Something Different
Not only do you get a great beach here but you also get a lighthouse So it's a double win. The beach is pretty stony but the water is warm and shallow. And perfect for wading.
The park also has more that 40 acres to explore with an extensive trail system so this place has a lot to offer.
It's about 20 miles from downtown but well worth the visit in my opinion.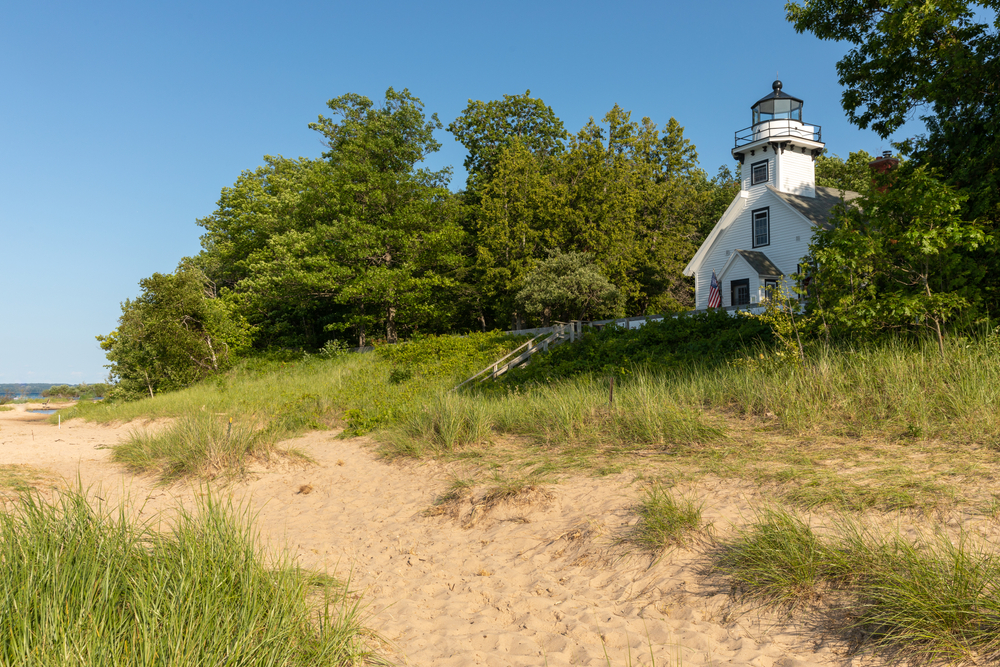 As you can see the beaches in Traverse City are plentiful and diverse. Whichever of these Traverse City beaches you pick I know you will have an amazing time.
There is a beach in Traverse City for everyone and I hope this article has helped you choose which one 1s right for you. I hope you enjoy your getaway and please come back and tell me all about it.
Here you will find useful tips on how to pack lightly when headed out to visit the beaches in Traverse City!