Are you looking for things to do in Kalamazoo Michigan? If so then you are in the right place.  
Kalamazoo is located in southern Michigan and is a thriving city with plenty to see and do. It's in an ideal location halfway between Chicago Illinois and Detroit, MI making this a really fun Michigan road trip.
This city is a unique blend of attractions. Outdoor spaces, museums, and countless places to eat and drink. It's got all the charm and excitement of a big city.
It's a city brimming with vitality, culture, and innovation all wrapped up with a laid-back friendly atmosphere.
It's eclectic!. The city is also surrounded by some beautiful nature trails, lakes, and parks so you really do get the best of both worlds here.
Are you ready to see what this quirky city has to offer you? Here are 15 things to do in Kalamazoo MI.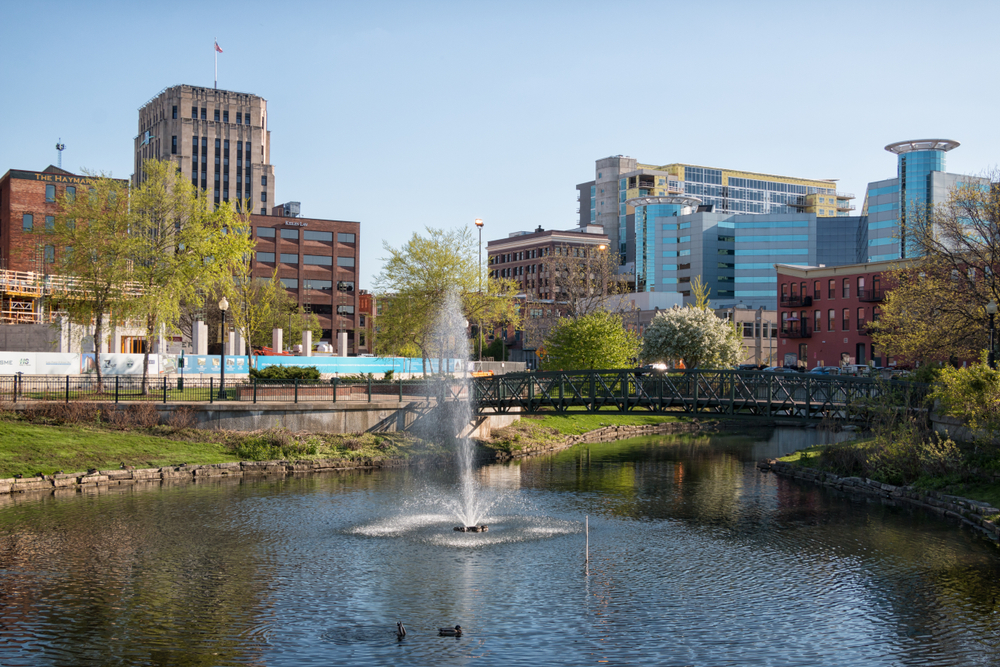 15 Best Things To Do In Kalamazoo MI You Shouldn't Miss
Take A Look At Henderson Castle
Where else would you expect to find a city castle than the quirky city of Kalamazoo MI? Yes, that's right. There is a castle in this city.
Situated in the historic West Main Hill neighborhood this 1895 Queen Ann-style home is now an inn. It's one of the most impressive attractions in Kalamazoo.
The inn use to be the home of Frank Henderson. He and his wife loved hosting parties, banquets, and balls, hence such an elaborate home.
The Kalamazoo restaurant at the inn is open for public access. Go and take a look, or just marvel at the outside. It's so beautiful and well worth a peek. It is one of the elegant things to do in Michigan if you love history.
Learn At Kalamazoo Valley Museum
This is a hand on museum experience that encourages discovery and creativity. The exhibits are interactive and you are encouraged to join in. When it comes to museums in Kalamazoo they don't get much better than this.
You can experience an earthquake, get your body scanned, touch a mummy, and travel to the stars to name but a few.
Everywhere you look in this Kalamazoo museum there is something of interest. The music stations, the rain gardens, or the miniature cars, are just a few options. Children love this place.
And the best thing is it absolutely free. It's the perfect family activity when the weather isn't the best and I guarantee everyone will have fun and enjoy this place.
See The Sights On The Kalamazoo River Valley Trail
If you like exploring the areas you go to in as little time as possible then try the Kalamazoo River Valley Trail. This 22-mile trail is suitable for walkers or cyclists and is a great way to take in the area without getting lost.
It winds through downtown Kalamazoo before branching off to the surrounding hills, rivers lakes, and open areas.
It's an easy trail wide and flat and pretty easy going. There are all also some great viewpoints so bring your camera. It's a great way to see all the cities hotspots without ever needing a map.
You will also find many opportunities along it to visit the local cafes, Kalamazoo restaurants, and shops. I love walking tours around places and this is a great one.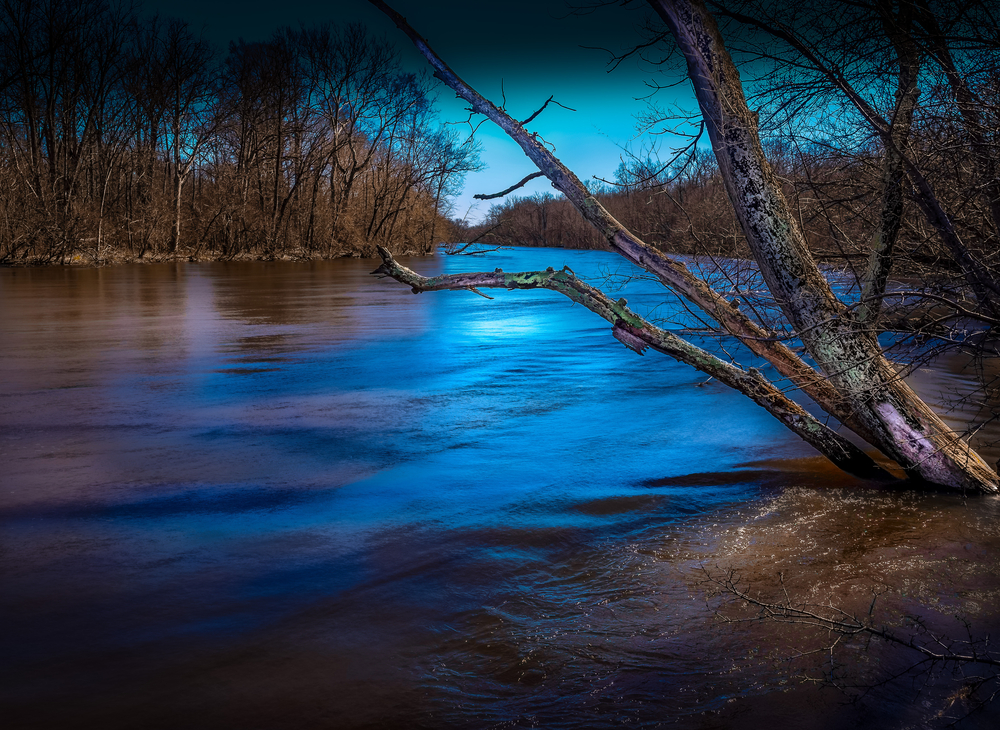 Relax At Kalamazoo Nature Center
Situated to the north of the city is the Kalamazoo Nature Centre. With over 1000 acres of rolling hills and woodland to explore it makes a great escape from the city for a few hours.
With over 10 miles of walking and hiking paths on 10 different trails, you will be spoiled for choice. Each trail takes in something different. The forest, parishes, ponds, wetlands, wildlife all offer a different experience.
There is a trail for every ability level and some are accessible to the physically handicapped. It really is a beautifully diverse area and a wonderful way to explore and switch off for a while.
Swim At Markin Glen County Park
Water plays an important part in Kalamazoo. In fact, the name Kalamazoo is a Native American name and is believed to mean "beautiful water" or "reflecting water". And if you want to experience this water first hand this is the place to do it.
Take a dip then Markin Glen County Park which has a swimming area. You will also find campground trails, a beach, and sports fields here. But the water is the main draw.
The views of downtown from the highest point in the park are also tremendous. This is a lovely place to relax and just have a day of sightseeing.
If you are the outdoor type then put this on your things to do in Kalamazoo Michigan list.
Find Unique Treasures At Art Hop
A unique Kalamazoo MI experience Art Hop was created as a way for local artists, organizations, and businesses to showcase their work. It also brings the Kalamazoo community together surrounding a shared love of arts and culture.
Art Hops are free to attend and typically take place on the first Friday of the month in the downtown area.
Called an Art Hop, you hop from one location to another and each art hop is different. Expect art, music, demonstrations, and a host of other things.
The people of Kalamazoo are passionate about these events. Whatever is in the hop when you visit you will find something that interests you.
If you are thinking of going to one of the Kalamazoo events put this one on top of your list.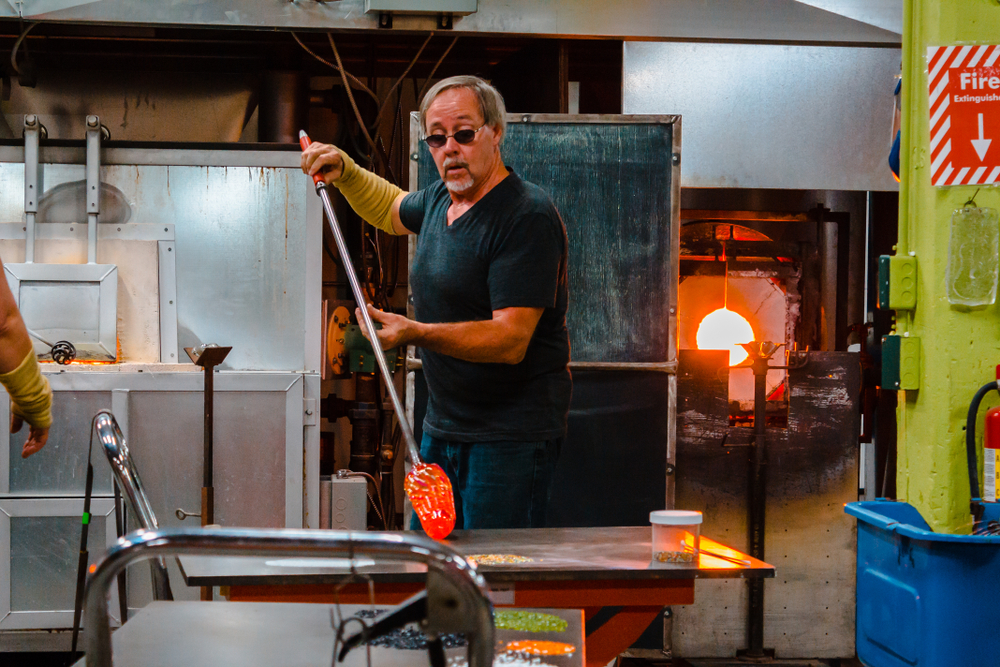 Have A Beach Day At Ramona Park
If you love the beach and want to get out of the city explore Ramona Park. Located a few miles south of Kalamazoo in Portage Michigan, it makes a great Michigan day trip with the children.
This beach is suitable for swimming and sunbathing which is a real treat. The park also contains all the amenities you would expect plus playgrounds, ball fields, tennis courts, picnic pavilions, and more.
If you enjoy a trip to the beach then this is one of the best beaches in Michigan.
Looking Up At Leila Arboretum Is One Of The Best Things To Do In Kalamazoo MI
If you are a lover of all things flowers and trees then head to the Leila Arboretum. It has over 2,500 marked plants and trees and it is a plant lovers paradise.
It's certainly one of the best displays of flora and fauna around. And there are lots of places to explore including the Peace Labyrinth, the Kaleidoscope Garden, and the Fantasy Forest.
It's just a great place to walk around, enjoy a picnic, and marvel at the wildlife. There is also a 6,000-square foot heated greenhouse.
You can also have a go at disc golf, visit the urban farm, and admire the many sculptures dotted around the grounds.
This will be a lovely day out that all the family will enjoy. One of the Kalamazoo attractions that everyone will enjoy.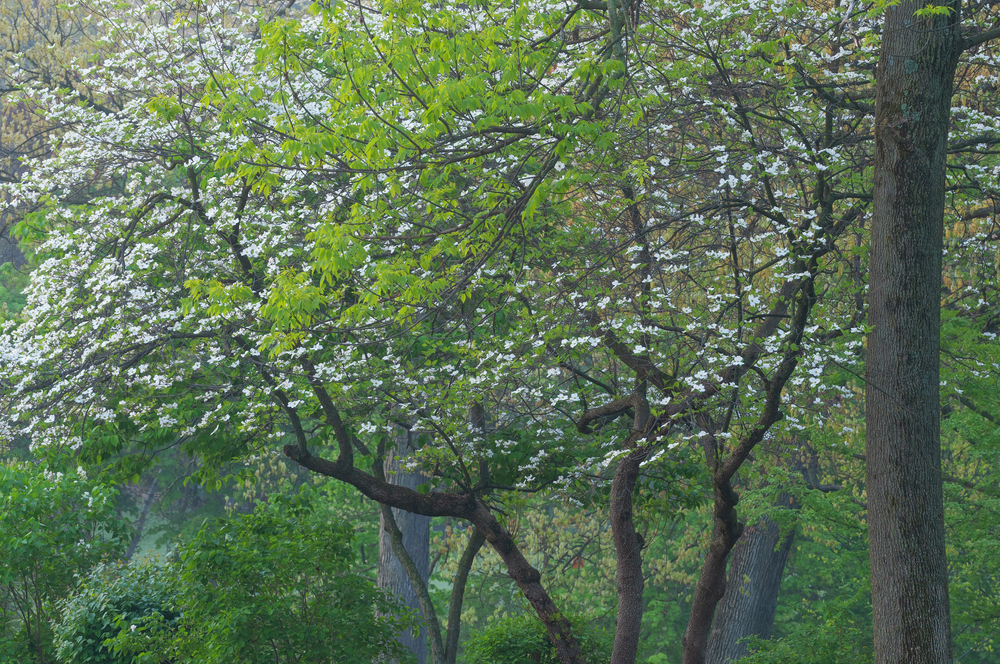 Be A Pilot At The Aerospace and Science Museum A Great Kalamazoo Attraction
Known locally as the Air Zoo this attraction in Kamalazoo is frequently voted as one of the top places to go in the entire state of Michigan for science buffs.
Dedicated to all things space and flight you will find numerous exhibits and life-sized models of planes, gliders, rockets, fighter jets, and hot air balloons.
The exhibits throughout the museum include everything from engines and artifacts to historical videos of mankind's first trips to the sky.
And there are rides and flight simulators that will let you experience what it is like for pilots.
This is a unique Kalamazoo attraction that you won't want to miss. There is so much to see and do here and for those interested in all things places and space you will love it here.
When it comes to fun things to do in Kalamazoo they don't get much better than this.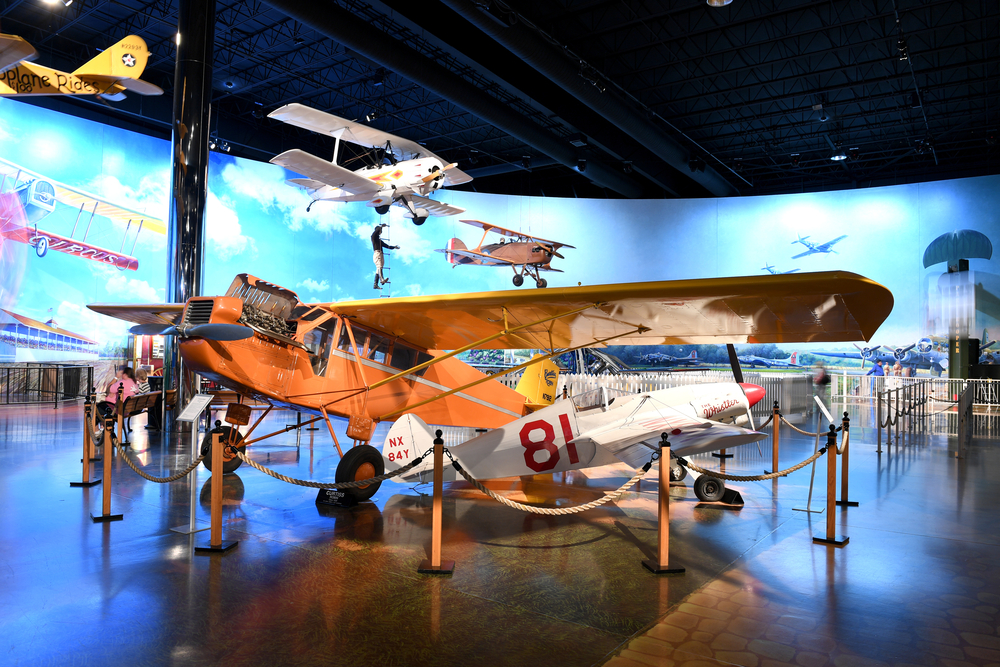 Take Photos At The Take Asylum Lake Preserve
If you love taking photographs then this is the place to go. You'll find open skies, lush green fields, and sparkling waters making for some perfect picture moments.
Asylum Lake Preserve is a 274-acre parcel of land that is owned by Western Michigan University. The property serves as a research area for professors and students of anthropology, biology, geography, hydrogeology, and environmental studies at WMU as well as other educational institutions.
It's a rustic location so don't expect all the amenities you might be used to, but that is part of the appeal. This really looks like it is untouched by human hands.
There are two lakes to enjoy and as the name suggests this land was once the Michigan Asylum for the Insane. The old buildings have now been demolished but the place still has that eerie quality about it.
Buy Local At The Kalamazoo Farmers Market
This is one of the things to do in Kalamazoo that you don't want to miss out on.
The farmers market runs from May to November and attracts vendors from all around Michigan. It's a great free thing to do and a great place to find unusual trinkets, crafts, and of course food and drink.
A visit here is a great way to get to know the local people and culture and there is even a night market if you can't make it during the day.
This event in Kalamazoo is also free which is a bonus. It can get busy so keep that in mind and give yourself plenty of time to explore.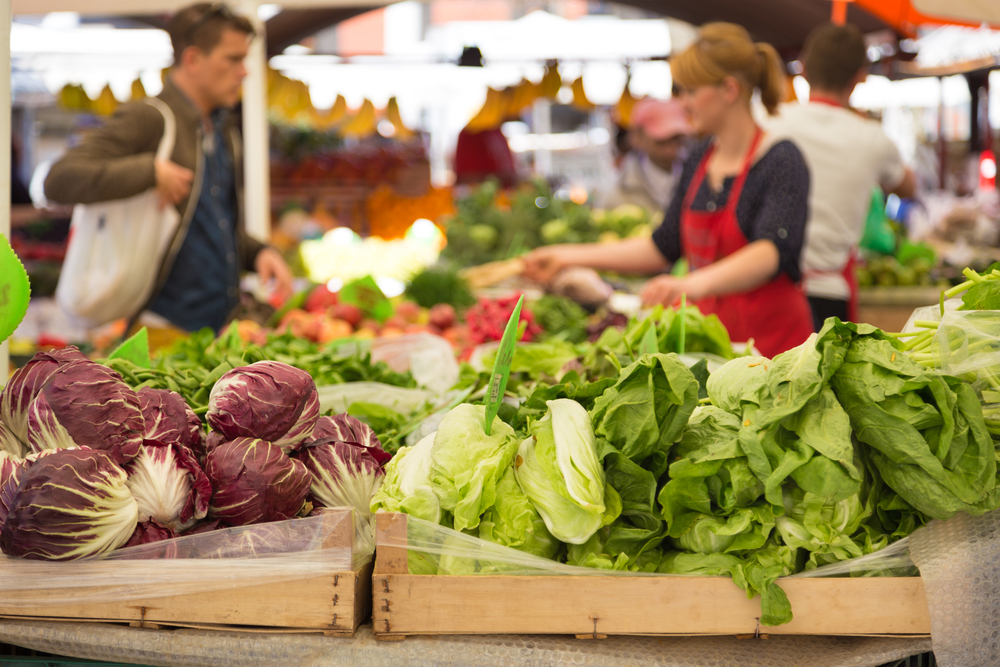 Expereince The Kalamazoo Institute of Arts
One of the top art institutes in the state this is a must-see attraction for art lovers. The institute is a library, gallery, and cultural center all rolled into one.
Not only can you see 20th-century American paintings and sculptures but you can take a class and create your very own piece of art.
This Kalamazoo museum displays work by Andy Warhol, Dale Chihuly, and Deborah Butterfield, among many others. They also have a fine collection of African-American works as well as European prints, photography, and contemporary ceramics.
The exhibits change annually and there are over 4,500 pieces in its permanent collection. This is one of the attractions in Kalamazoo you don't want to miss.
Go Old School At Gilmore Car Museum
A few miles northeast of Kalamazoo in Hickory Corners in the Gilmore Car Museum. It is one of the largest auto museums in the states
There are over 300 vintage and classic cars on display everything from the 1927 Ford Model T, to pedal cars there is something for everyone.
They also have the real 1952 Triumph Trophy TR5 motorcycle ridden by The Fonz. Spread across a 90-acre campus you won't run out of things to do or see here.
One of the things to do in Kalamazoo that will keep everyone happy.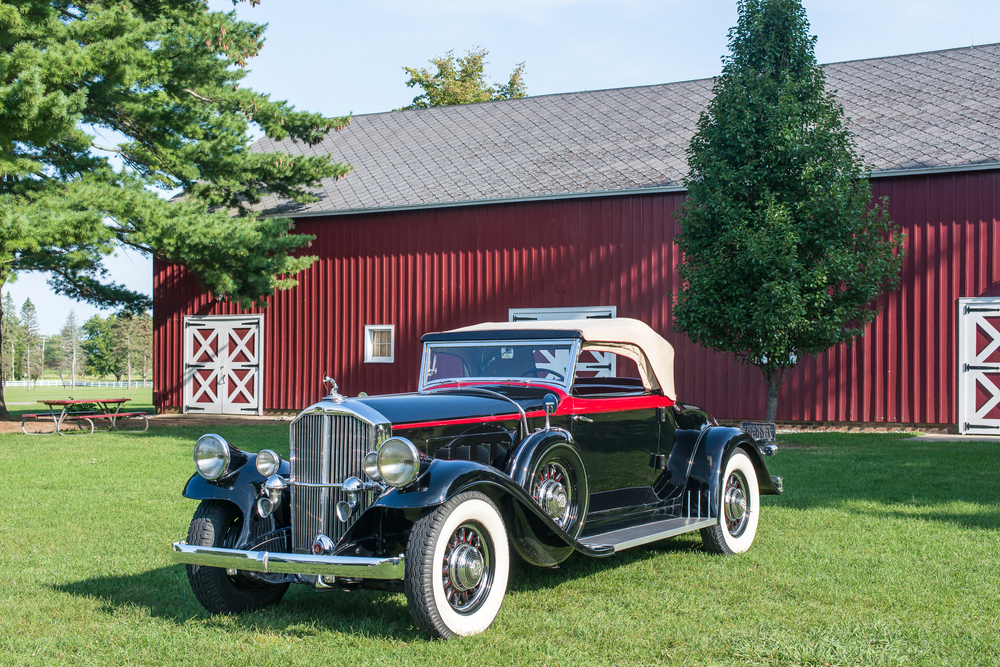 Get Artsy At The Kalamazoo Book Arts Center One Of The Fun Things To Do In Kalamazoo
Book art, I hear you say. Is that even a thing? Yes, book art, print art, or paper art revolves around the manipulation of paper.
At the Book Arts Centre, they practice, teach, and promote the collaborative arts of the book: papermaking, printmaking, letterpress, bookbinding, and creative writing.
If you love all things books you will love it here. They work hard here to preserve and employ traditional technologies combining them with contemporary ideas and techniques.
The Book Arts Centre offers workshops and has a shop where you can browse and buy some of the art. They also have a Gallery that often has expeditions that you can visit.
Situated, in the historic Park Trade Center Building you enter the studio through the central door on Kalamazoo Ave.
Something a little bit different and well worth exploring.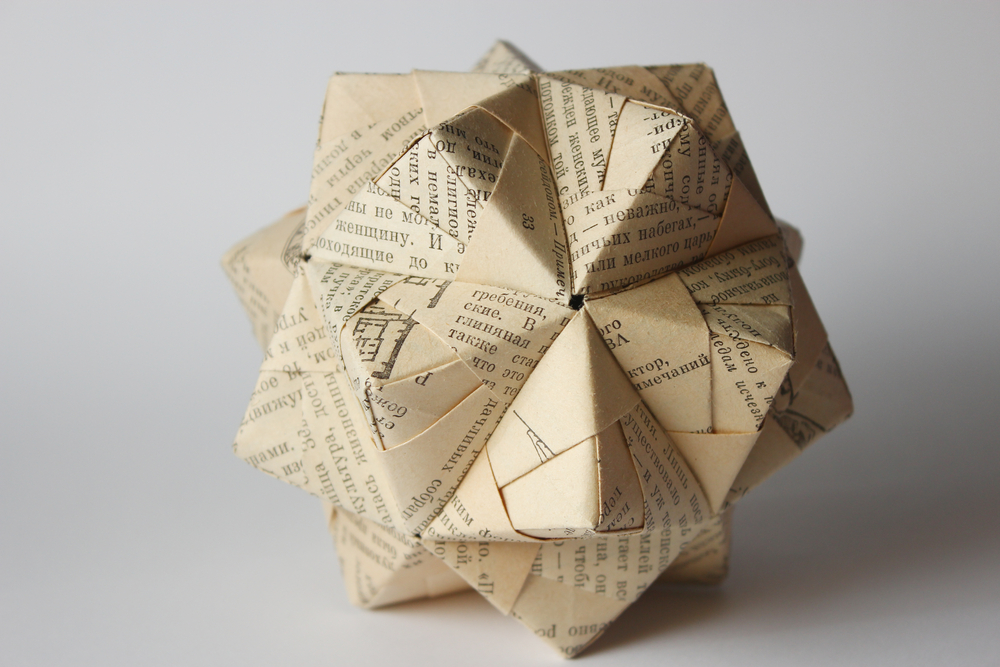 Go BareFoot At River Villa and Jan Schau Wildflower Walk
This place is a little hidden gem that not many of the locals even know. It actually one of the most beautiful places in Kalmazoo and particularly beautiful in the spring.
It's not easy to find as it's tucked behind Comstock Community Center and isn't marked. However once through the woody schedules path, you will be greeted by rows and rows of colorful flowers.
If you love nature and don't mind a little off-grid exploring then this is one of the best things to do in Kalamazoo MI for you.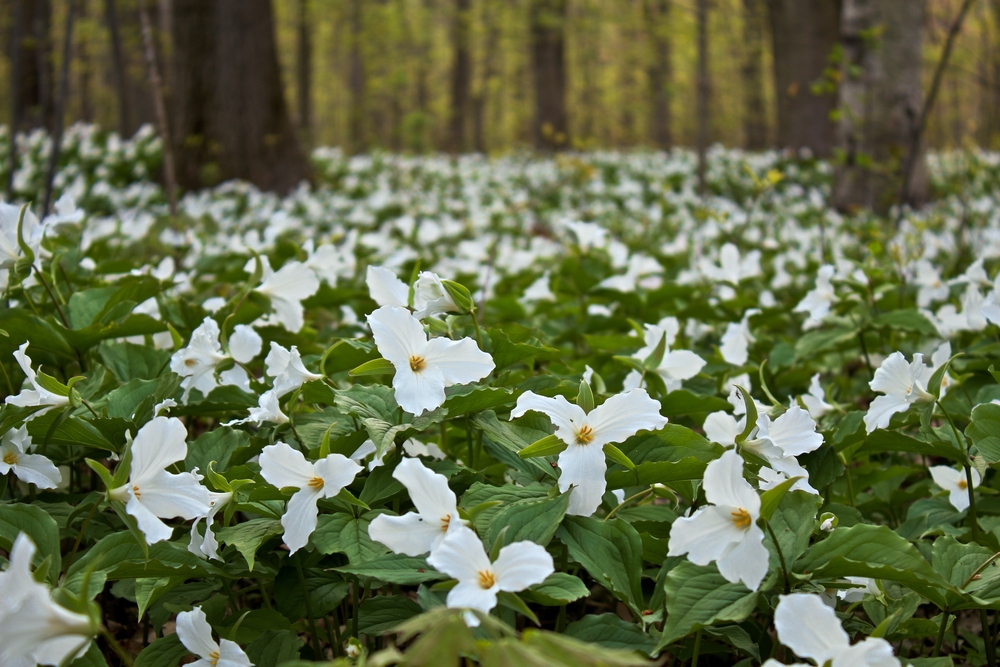 Packing List For Visiting Kalamazoo Michigan
A concealed travel pouch may be one of the most important items you bring along when visiting Kalamazoo MI. It is always important to protect your personal information. Identity thieves are everywhere.
This unisex RFID blocking concealed travel pouch is lightweight and comes in several colors. It has lots of organization to give you peace of mind.
If you have a pouch already that does not come with the RFID protection, as I do, these RFID sleeves are the perfect solution.
This configuration comes with enough credit card sleeves that the entire family would be protected. They are slim too, so they will easily fit into your pouch or wallet.
If you are planning on taking a lot of pictures with your phone you will definitely want to consider an external charging battery. This Anker high-speed phone charging battery is the exact one I carry with me on all of my trips.
It can be used on a variety of phones, not just an iPhone like I have. And wow is it fast!
I like that it holds its charging capabilities for several uses so I do not have to worry about it while out and about, and if I forget to recharge it at night, it will still be good to go the next day.
My daughter gifted me with this FugeTek selfie stick and tripod setup for my birthday. I absolutely love it! It is made of lightweight aluminum and is so easy to use.
It has Bluetooth connectivity and is a breeze to use for taking selfies when exploring Kalamazoo attractions.
Hydration is so important when traveling. You want to remain hydrated throughout your travels to support your immune system which in turn will be stronger to fight off any germs you will encounter during your travels.
You will want to bring your own refillable water bottle with you.
I never leave home on a trip without my Bobble filtration bottle. The 18.5-ounce size is perfect for hiking and it fits nicely in the pocket of a backpack.
When filled with water, it is not too heavy to carry. And the charcoal filter ensures fresh clean water whenever you fill the Bobble.
Perhaps you are traveling a long distance and packing space is a premium in your suitcase, or in your car.
Then this set of collapsible silicone foldable water bottles would work well for you. Would not take up much space at all.
You will want a backpack or daypack with you to store snacks, your water bottle, phone, extra clothes, etc.. then this foldable water-resistant backpack would be great
It is very affordable and is available in many color options for you to choose from. The fact that it folds down into a zippered pouch will make it easy to pack.
—
As you can see when it comes to things to do in Kalamazoo the options are endless.
Whether you explore one of the museums in Kalamazoo, enjoy one of the Kalamazoo attractions, or have fun at one of the Kalamazoo events I know you will have a great time.
I hope you have a great time in this quirky and vibrant city and please do come back and tell us all about it.