Are you wondering where you can find the best Christmas lights in Michigan? Wonder no more.
There are so many cool things to do in Michigan, especially at Christmas!
In this article, I will walk you through Christmas light displays in Michigan and tell you everything you need to know about the festive season in this incredible state.
There are many ways to celebrate the festive season in Michigan and a Christmas light trail has to be high on your list.
Let's face it nothing gets you more in a festive mood than twinkling lights, a cold evening, and a mug of hot chocolate.
All the Michigan lights I have included in this list will give you all the festive vibes.
In this article, I have covered what I feel are the best place to see Christmas lights in Michigan but they are just a start.
There are so many Christmas displays, drive-thru Christmas lights, and Michigan light displays and I can't include them all.
So, grab a chair a warm blanket, and a cup of your favorite hot beverage, and let me walk you through where to see holiday lights in Michigan.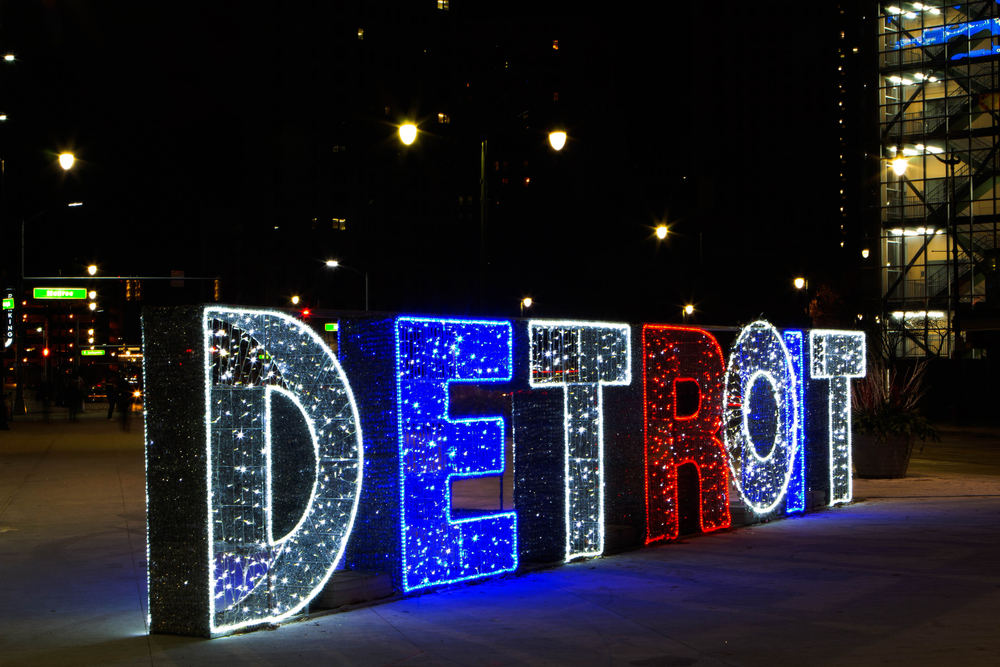 15 Best Places To See Christmas Lights In Michigan
The City Of Detroit
There are so many things to do in Detroit and when it comes to the festive season this city knows how to deliver.
Christmas lights in Detroit really are amazing and well worth taking your time to visit.
At the end of November, the Christmas tree lighting in Detroit takes place. The 60-foot Norwegian Spruce is adorned with just shy of 20,000 lights and ornaments and really is beautiful.
The tree is at the center of downtown Campus Martius Park and there is also an outdoor ice rink.
Other Christmas lights in Detroit can also be seen in Beacon Park which has a 20-foot Children's Tree. The park also has beautiful lighting installations and Christmas-themed displays.
Christmas lights in Detroit really deliver and the city twinkles and sparkles.
This is one of the coolest things to do during winter in Michigan.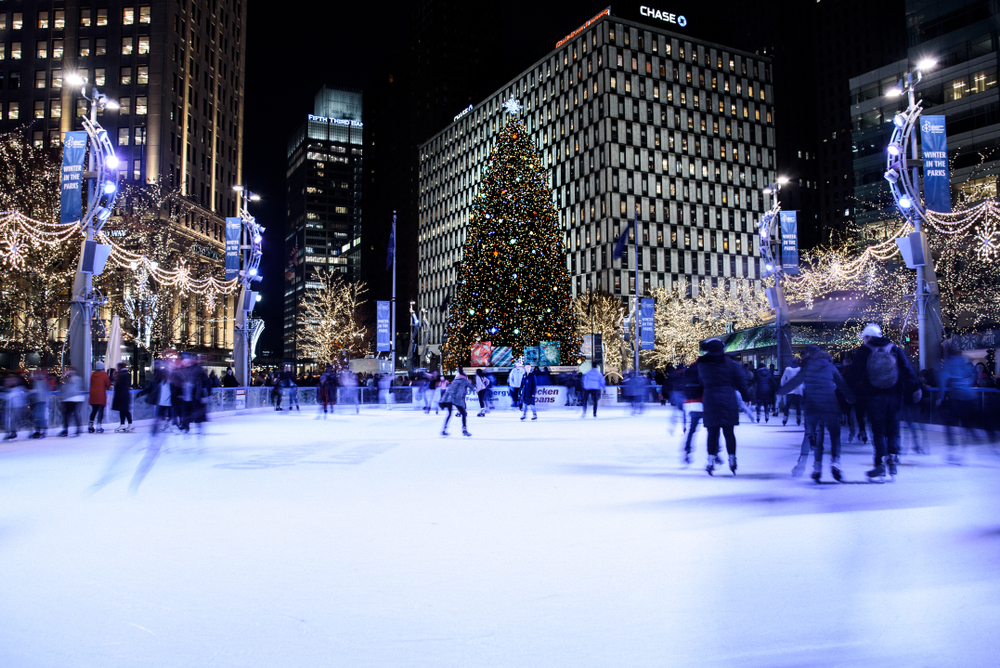 Christmas Lite Show – Grand Rapids
The Grand Rapids Christmas Light show contains more than 40 animated displays that stretch almost two miles.
This Christmas light show is a favorite for many locals and is the largest drive-thru Christmas light show in West Michigan.
This show has one aim in mind and that is to 'bring a smile to the kids' and with millions of lights, and lighted tunnels I think it succeeds.
And if you don't want to drive book in to experience the lights on the Memory Lane Train which really adds to the magic. These Christmas lights in Grand Rapids really are delightful.
There are so many things to do in Grand Rapids, and this Christmas display is one of them!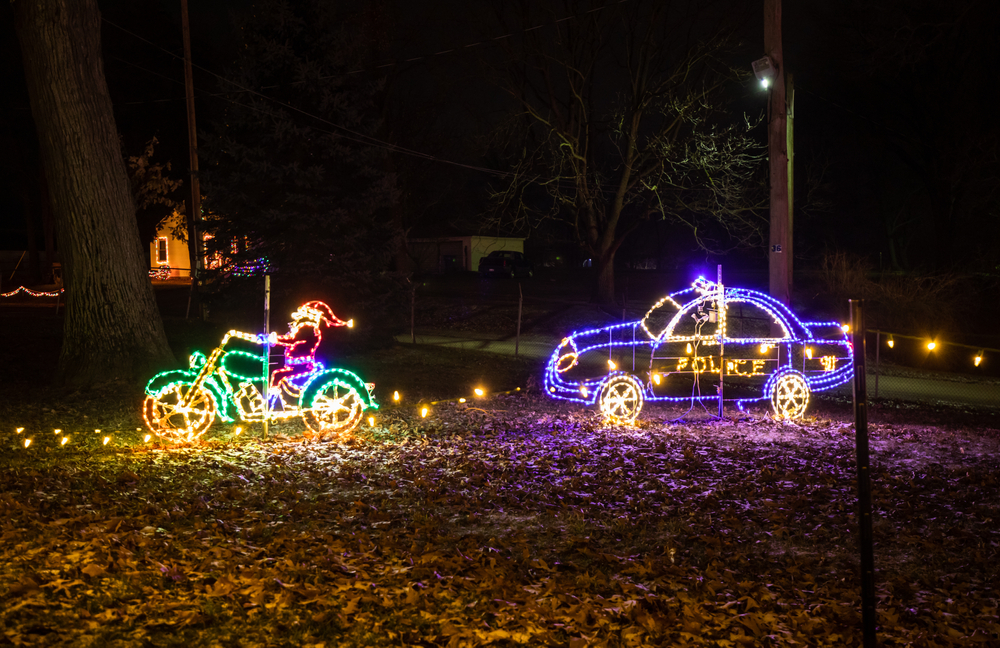 Big Bright Light Show Rochester
The Rochester Michigan holiday lights are something rather special. All the buildings in the downtown area are covered top to bottom in twinkly lights and it's so so pretty.
The holiday lights in Rochester MI are honestly picture perfect and wouldn't look out of place in a cozy Christmas movie.
This might be the best Christmas light show in Michigan so if you can get to Rochester please do it's special here. These are some of the best walk-thru Christmas lights in the region.
There is so much to see and do in Michigan it's a beautiful state. Especially during the holidays.
Ann Arbor Has Some Of The Best Christmas Lights In Michigan
If you are looking for holiday lights in Michigan then look no further than Ann Arbor. This Christmas light trail takes in private homes and businesses but it's so worth it.
The homes in Burns Park always go the extra mile when it comes to holiday lights.
A home situated on Shadford Road is one you will need to go looking for but believe me you won't miss it. Also, Brooklyn Avenue is worth a drive down.
On the corner of West Textile Road and Lohr Road is a house that really gets into the festive spirit and is lit from 5 pm-11 pm every evening.
Ann Arbor Holiday lights are spectacular and are well worth the time to visit.
there are so many great things to do in Ann Arbor.
Enjoying the Christmas lights in Ann Arbor is well worth putting on your list.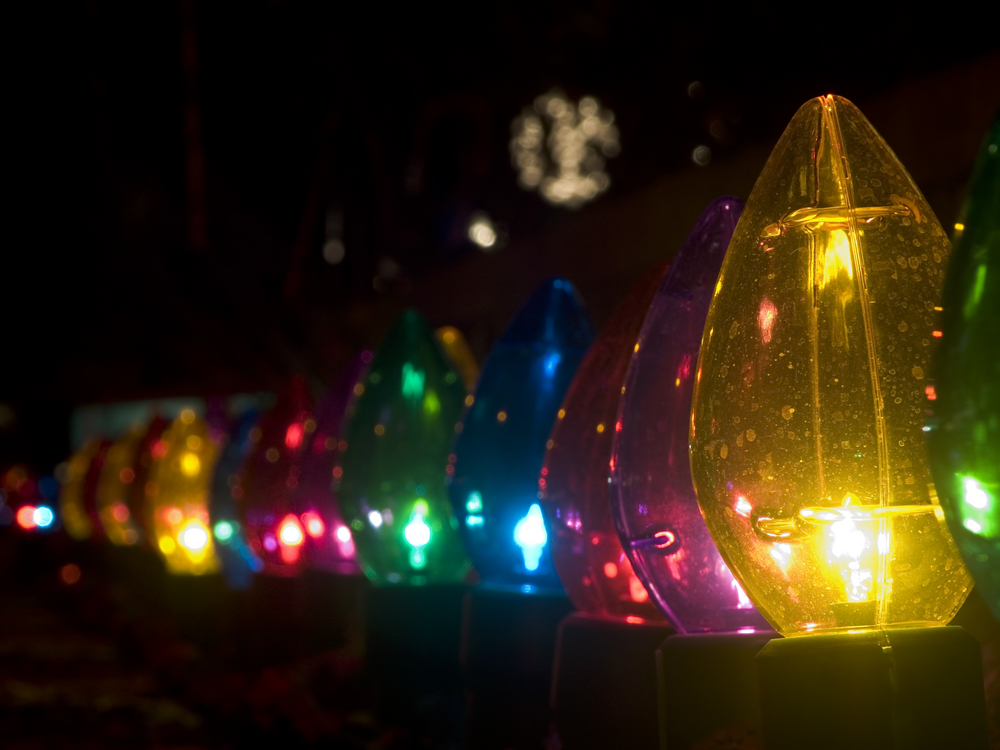 Frankenmuth
Frankenmuth is a place that knows how to do the festive season. During the holidays this town turns into a sparkling wonderland. Holiday lights in Michigan don't get much better than they do here.
In Frankenmuth, you will find an ice rink, a tree light show, and a light and music show. There are also many festive events taking place here.
Frankenmuth holiday lights are really wonderful so if you can pay a visit here.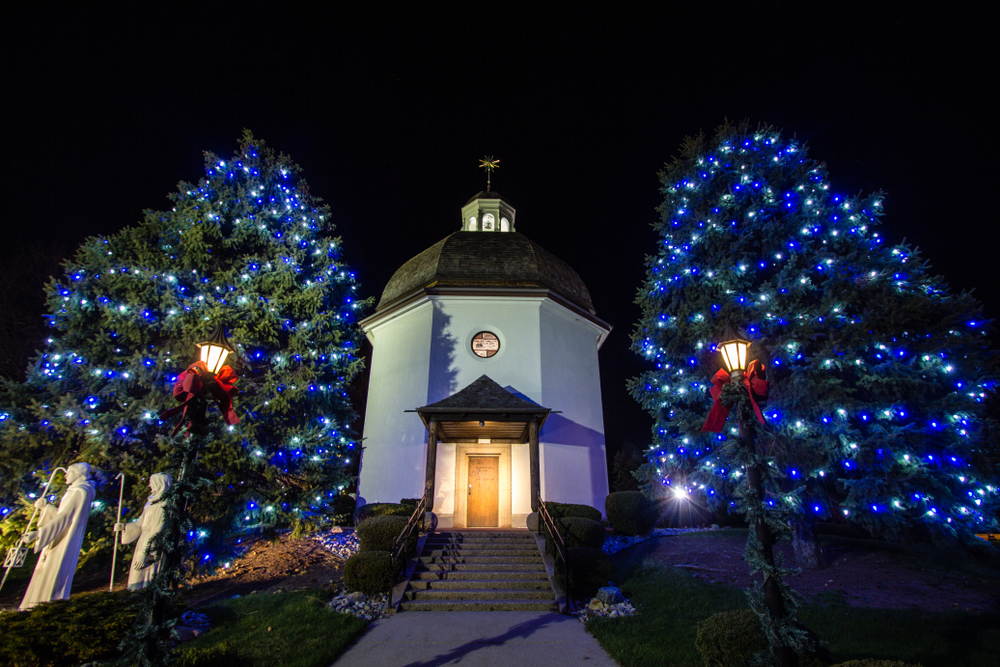 Wayne County Lightfest
The Wayne County Lightfest is the largest and longest drive-thru Christmas Lights in the Midwest. Here you get to experience a four-mile stretch of Hines Park that is truly magical.
You get to experience 47 giant animated holiday-themed displays and more than 100,000 lights. The Hines drive is something everyone will love whatever their age.
A Santa workshop awaits you at the end too. This Christmas light display in Michigan is one of the best and really is not to be missed.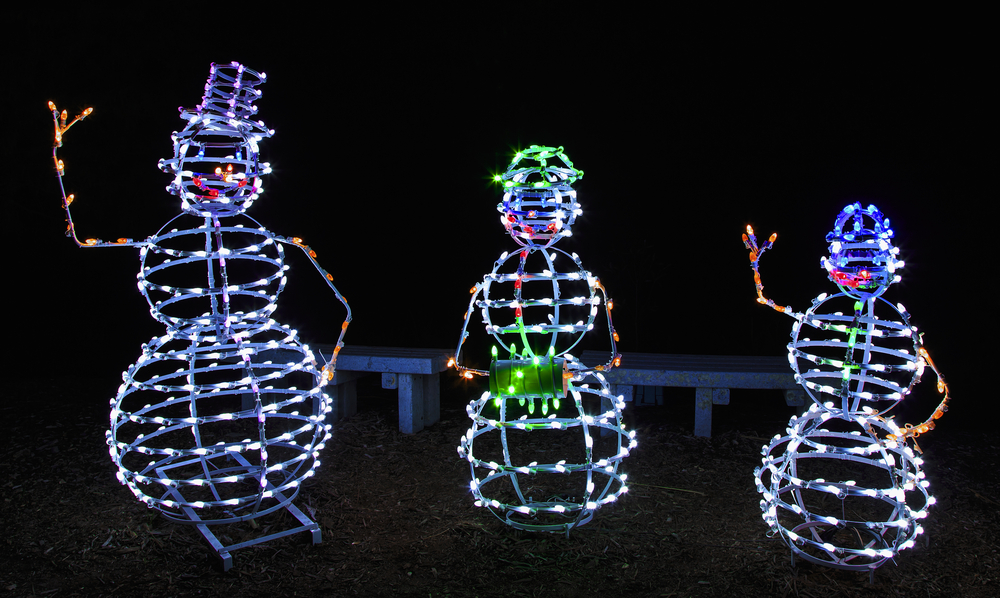 Wild Lights at the Detroit Zoo
The Detroit Zoo Christmas lights are the best place to see Christmas lights in Michigan. The lights are arranged into massive artworks which are very impressive.
There are more than five million lights used to illuminate trees, buildings, and anything that doesn't move.
With more than 100 animal sculptures these Christmas lights in Detroit are a real hit with children.
This is the perfect place to get you in the festive mood and deliver that holiday magic.
When it comes to Michigan light displays they don't come much bigger than this one.
Nite Lites – Brooklyn
This Christmas light display in Michigan is one of the biggest in the area.
The animated drive-thru Christmas light trail is over three miles long and takes place at the Michigan International Speedway.
Here the millions of lights are arranged to make up a 250-foot lighted tunnel, 65 different themed displays, and a forest of huge trees.
Nite Lites is one of the prettiest holiday light displays and is a real festival of lights.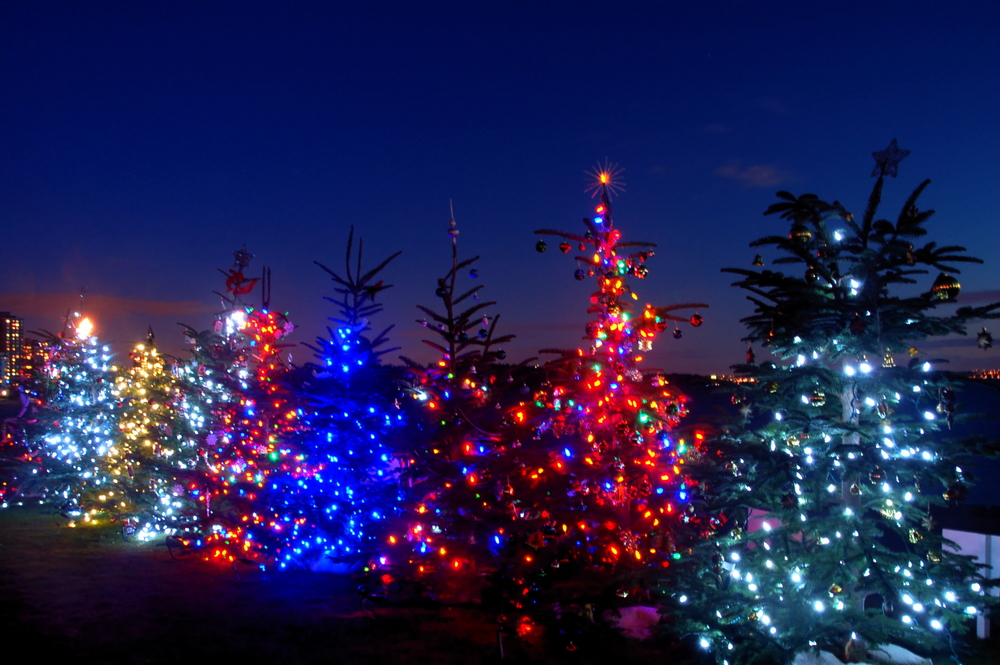 Light Up the Soo
The town of Soo puts on one of the best Christmas displays in Michigan. Businesses, homes, and attractions all join in lighting up their premises.
Sault Ste. Marie has the most impressive display and the best way to view the lights is from the top of the Tower of History.
A climb to the top of this will allow you to see from the Soo Locks to the glow from the towns and surrounding areas.
Viewing these Michigan lights from 210 feet in the air really does you a different experience. There really is no other Christmas light display like this.
Drive around looking at the decorated homes, and walk-thru Christmas lights in Sault Ste. Marie to really get a feel for this beautiful area.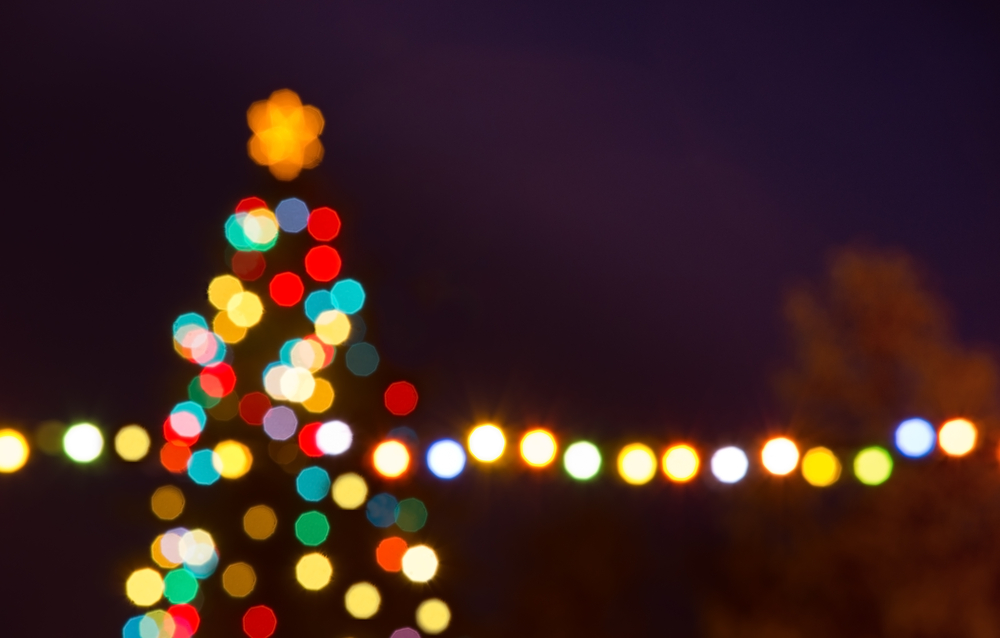 Holiday Nights at Greenfield Village
Taking place at the Henry Ford Museum of American Innovation the Christmas celebrations here are a festival of lights and all things festive.
It's like stepping into a Christmas scene with glowing candlelit windows, light adorned buildings, a festive Christmas tree, and even chestnuts roasting on an open fire.
This is yuletide celebrations in all its glory.
And the whole town gets in on the action with Main Street brimming with holiday goods, plenty of Christmas food and drink, and historic homes decorated in all their Christmas glory.
The evenings are topped off with a fireworks display. This is a Christmas light show to beat all light shows and if you can only visit one Christmas display make it this one.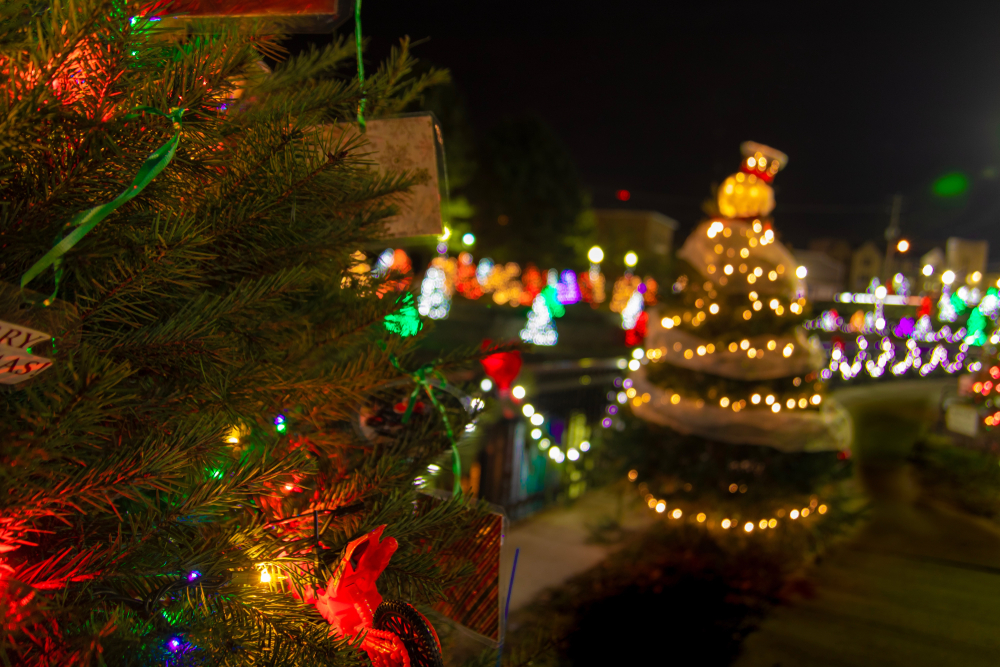 Magic of Lights at Pine Knob Music Theatre
This Christmas light show festival in Michigan takes place in Clarkson, Michigan, and is a must-visit. It's a drive-thru light display with over a million lights on display.
These Michigan lights feature holiday-themed scenes and characters using the latest LED technology and digital animations.
Themes include a prehistoric Christmas, tree displays, a drive-through blizzard tunnel, 12 days of Christmas, a winter wonderland, the Night Before Christmas, and more.
This truly is a spectacular light display that everyone will love. These Christmas lights in Clarkson are well worth the time and money.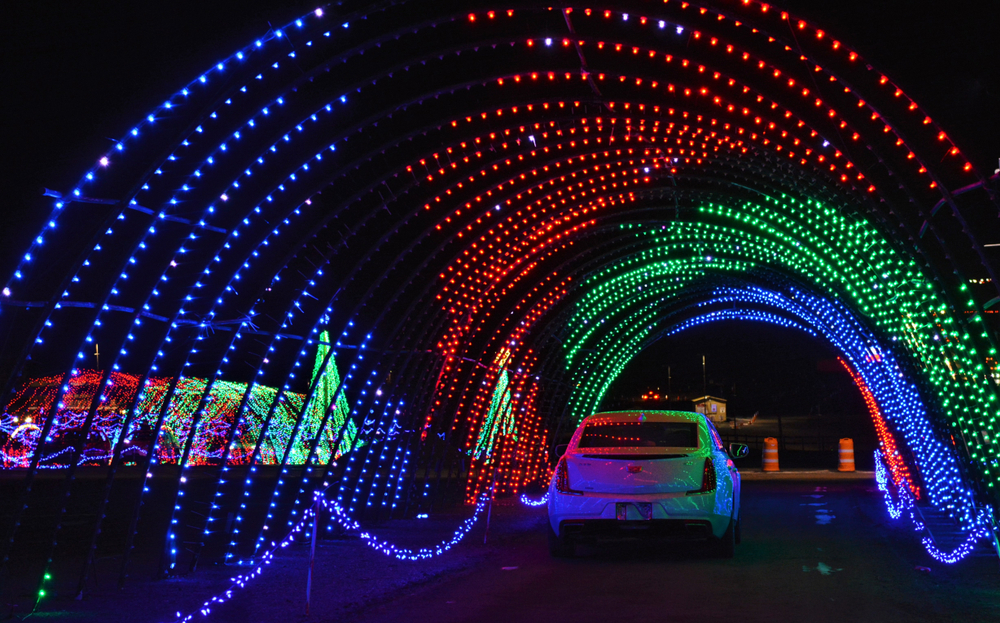 River Lights of Wonder
This Christmas display really is breathtaking. Seeing the light reflect off the St. Joseph River really adds to this holiday light display.
As you drive through the lights you are treated to a narration of the very first Christmas which the children love.
There is also a candy corn maze and a lovely romantic walking trail if you are with your partner.
The best part is it's all free. If you are looking for Christmas lights in Three Rivers then take a trip here you have nothing to lose.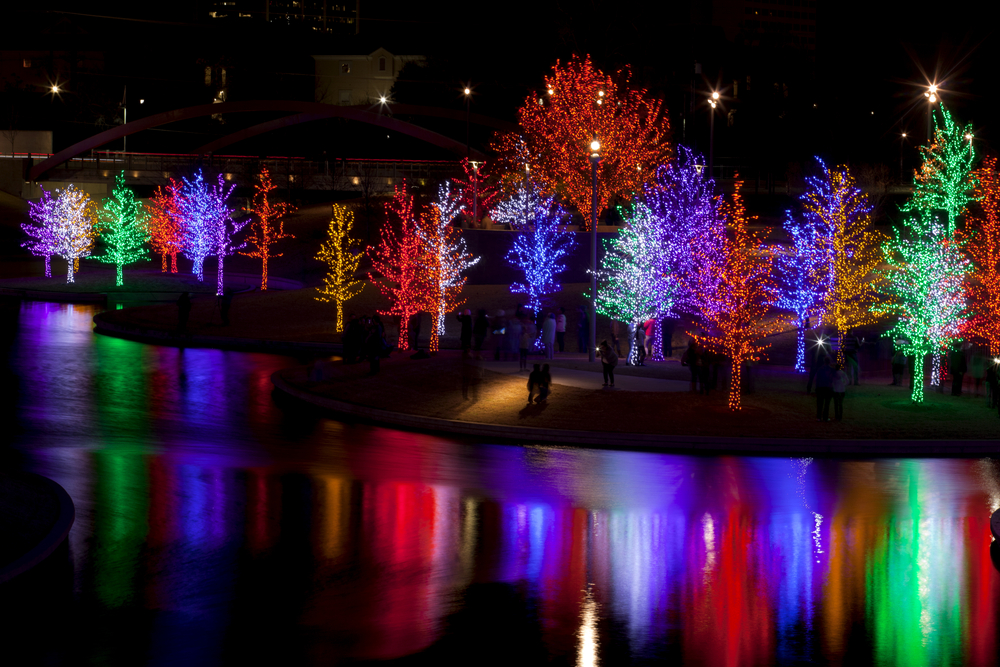 Spring Lake Sparkle Festival
Spring Lakes' downtown lights are truly stunning. Over 120,000 multi-colored lights light up the trees and buildings on Savidge Street between Division and Buchanan.
You can meet Santa, attends Santa's workshop eat at the food court, or simply admire the light show.
For your own little taste of a winter wonderland head to this light display of Christmas lights in Spring Lakes.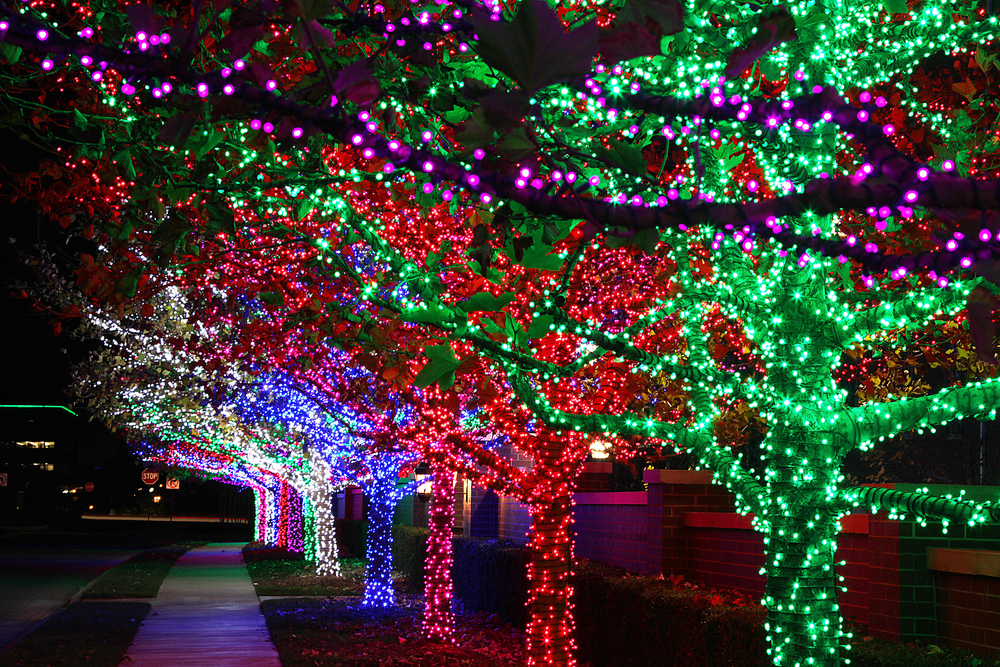 Bear Lake's Sparkle in the Park
Sparkle In The Park is located in Hopkin's Park at Bear Lake and is a sight to be seen.
Including angels, Christmas trees, Santa, and snowmen the displays are dotted around Bear Lake's lakeside campground park and are spectacular.
Over 50 displays containing over 80,000 lights make up this free light show and it's a favorite among locals.
One of the best Christmas light displays in Michigan.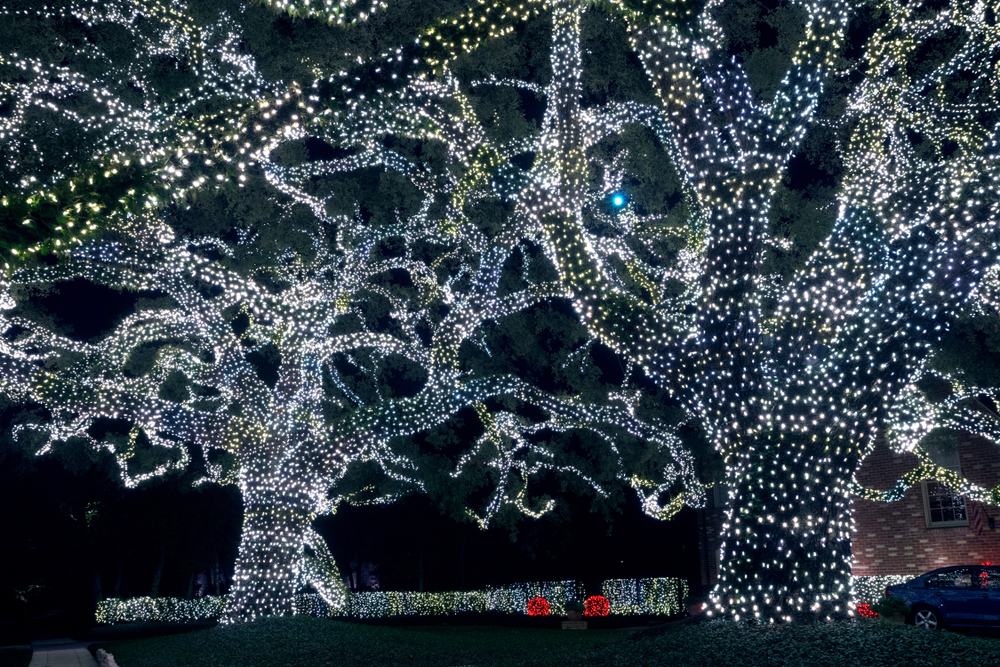 Marshall Merry Mile at the Calhoun County Fairgrounds
Held in the historic fairgrounds in Calhoun County is a mile-long light display that all the family will love. It's become a bit of an annual family tradition here and when you go you will see why.
If lights, Santa, and hot chocolate are your festive vices then you will love it here. It's a great way to celebrate the season and a wonderful light display.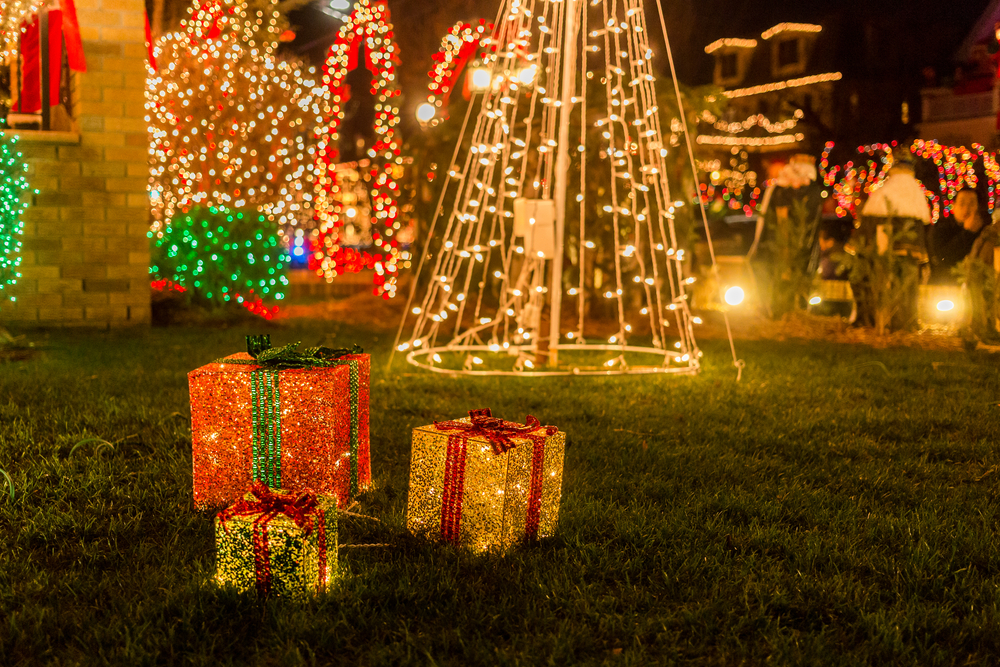 Packing List When Christmas Lights In Michigan
If you are searching, here are some tips on how to pack lightly when packing when heading to the view Michigan holiday light displays.
A concealed travel pouch may be one of the most important items you bring along when searching for beautiful Christmas lights in Michigan.
It is always important to protect your personal information. Identity thieves are everywhere.
This unisex RFID blocking concealed travel pouch is lightweight and comes in several colors. It has lots of organization to give you peace of mind. You can place it under your clothes next to your body to carry your ID safely.
If you have a pouch already that does not come with the RFID protection, as I do, these RFID sleeves are the perfect solution.
If you are planning on taking a lot of pictures with your phone you will definitely want to consider an external charging battery. This Anker high-speed phone charging battery is the exact one I carry with me on all of my trips.
I like that it holds its charging capabilities for several uses so I do not have to worry about it while out and about, and if I forget to recharge it at night, it will still be good to go the next day.
My daughter gifted me with this FugeTek selfie stick and tripod setup for my birthday. I absolutely love it! It is made of lightweight aluminum and is so easy to use.
It has Bluetooth connectivity and is a breeze to use for taking Insta-worthy selfies with the stunning Christmas light displays in Michigan.
I never much believed in using packing cubes when traveling. That is until I tried them. Now I am hooked. These are the exact cubes I use to stay organized when I pack for a trip!
You will want to bring your own refillable water bottle with you.
I never leave home on a trip without my Bobble filtration bottle. The 18.5-ounce size is perfect for your adventures and it fits nicely in the pocket of a backpack.
Perhaps you are traveling a long distance and packing space is a premium in your suitcase, or in your car. Then this collapsible silicone foldable water bottle would work well for you. Would not take up much space at all.
You will want a backpack or daypack with you to store snacks, your water bottle, phone, extra clothes, etc.. . No matter the time of day or evening.
This foldable water-resistant backpack would be great. And it comes in many different colors!
—
As you can see when it comes to Christmas Lights in Michigan, there are so many to choose from.
While Michigan is beautiful in fall, in winter it truly takes on a magical feel.
There are so many great Michigan ski resorts and the snowy capped mountains make for a winter wonderland.
Whether you take part in one of the drive-thru Christmas Lights or just visit one of the Michigan light displays you won't be disappointed.
This state offers a lot when it comes to Christmas light displays and this list is only the start. Wherever you go I hope you have an amazing time and I wish you all the best over the festive holidays.