Islands in Michigan are not hard to find since the state is almost entirely surrounded by water. From the Great Lakes to the Detroit River, there are many Michigan islands to enjoy.
There are so many things to do in Michigan, and exploring is just one of them!
The islands vary in size and the number of things to do. Some islands are more developed with beautiful towns to fall in love with. Others act as a place to preserve nature with flora and fauna taking over to create an amazing landscape.
No matter what kind of Michigan island vacation you want, there are islands for you! The islands of Michigan have so much to offer! You will have fun hiking, visiting lighthouses, and relaxing on the pristine water.
Do you want to spend time birdwatching or photographing raw, untouched nature? Or maybe you want to whisk your significant other away to a historic town and stay in a cute bed and breakfast?
Many of the islands in Michigan are easily accessible and are great for a day trip or a weekend getaway.
Let's take a look at fifteen of the best Michigan islands waiting to be discovered!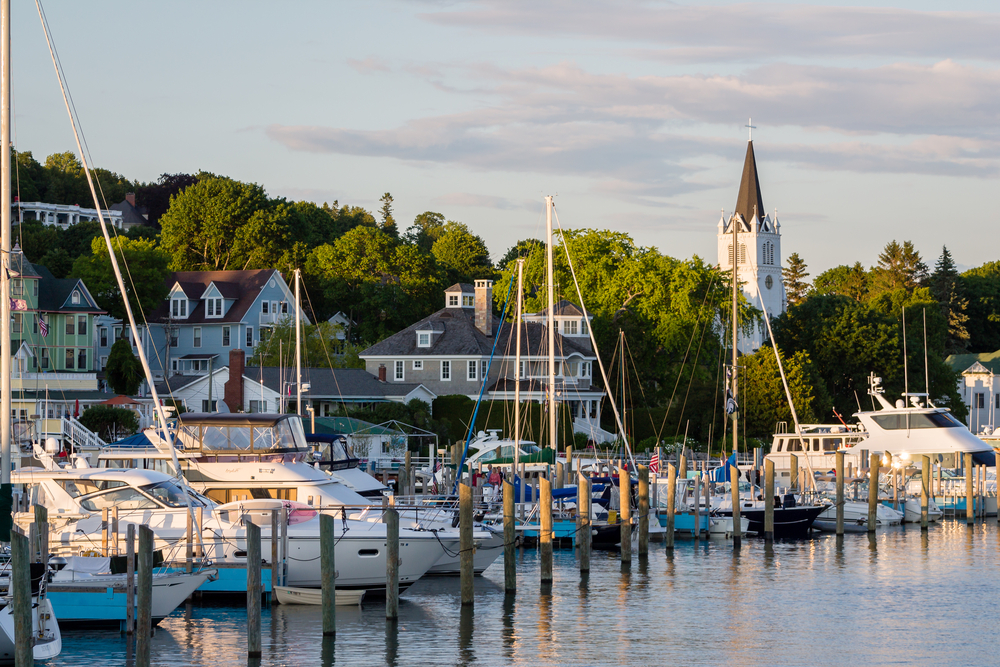 15 Beautiful Islands in Michigan to Escape To
Mackinac Island
Mackinac Island is one of the most well-known of Michigan's islands. This hospitable island is strategically located near the bridge that connects the Lower and Upper Peninsulas.
There are no cars on Mackinac Island and while you cannot drive to the island, there are a couple of ways to get there.
The cheapest and easiest way is by ferry. There are two routes. One boat leaves from Mackinaw City on the LP and the other from St. Ignace on the UP. Both journeys are around fifteen minutes in length. You can easily bring luggage, a leashed dog, or a bike with you.
You can also fly to the island or take a private boat. Once you arrive on the island you can explore the historic town on foot or on a bike.
You will love all the picturesque, Victorian buildings. Enjoy a spa day, check out the museums and shops, visit Fort Mackinac, or play a round of golf.
Mackinac Island State Park is a scenic place to hike. There are a ton of cool rock formations, caves, and overlooks to find.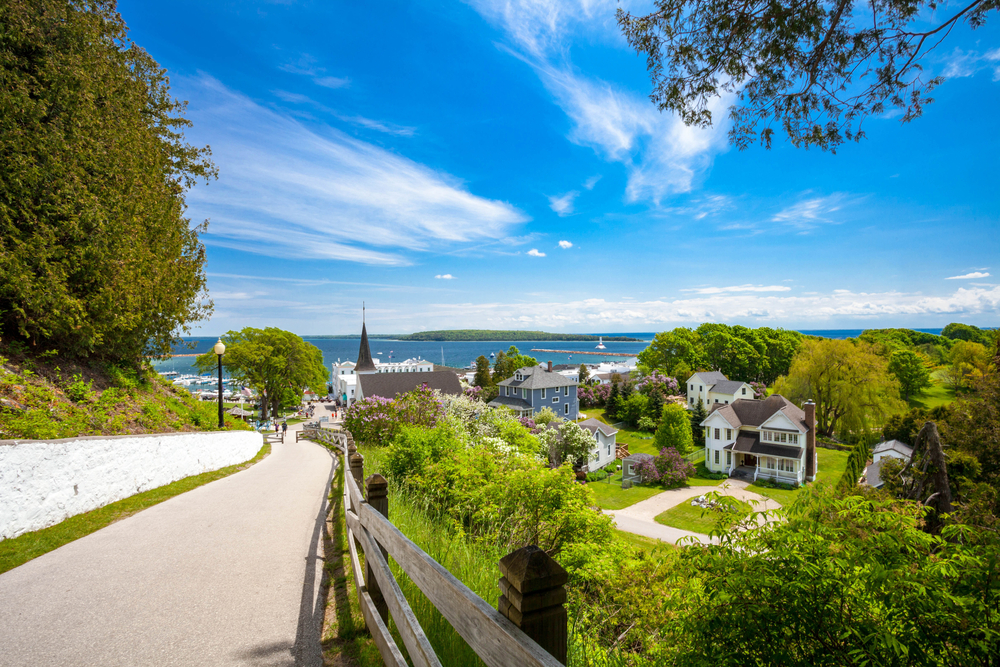 Bois Blanc Island
Bois Blanc Island is just southeast of Mackinac Island. You can get to this big island by plane, private boat, or the ferry that leaves from Cheboygan.
Even though it is about five times larger than Mackinac Island, Bois Blanc Island is much less developed. This makes it a great island in Michigan to escape from the noise of real life.
There are a couple of hotels and restaurants on the south side, but most of the island is wilderness. To the north, you will find the Bois Blanc Island Lighthouse.
Spend time unwinding in nature as you fish, hike, swim, and boat. This is one of the best places on Lake Huron for fishing. get ready to catch bluegill, perch, pike, and bass.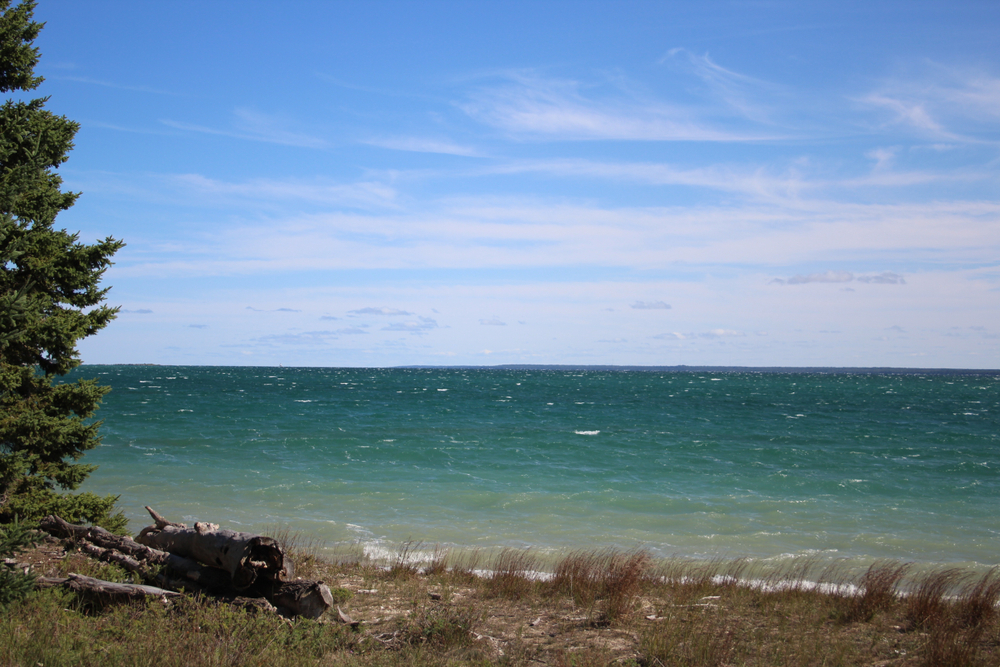 Isle Royale National Park Michigan
Isle Royale National Park Michigan up in Lake Superior is near the Canadian border and the tip of Minnesota. This is one of the best islands in Michigan for nature lovers.
Make memories here by hiking, boating, fishing, kayaking, or canoeing. This is also an awesome place for scuba diving. There are some of the best intact shipwrecks in the National Park System.
You can backpack into the wilderness and tent camp among the trees. If you want something less primitive, you can stay at the Rock Harbor Lodge or the Windigo Camper Cabins.
You can come to the island by seaplane or ferry. There are ferries that leave from four different locations. In Michigan, you can leave from Houghton or Copper Harbor.
In Minnesota, you can leave from Grand Portage or Grand Marais. The trip takes anywhere from one and a half hours to six hours depending on your starting point.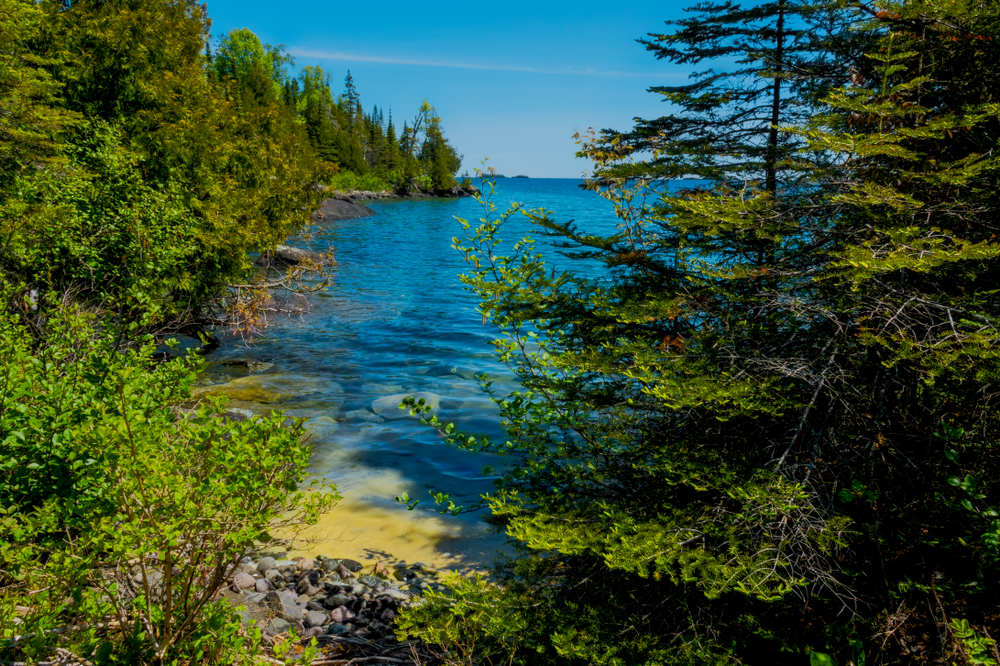 Beaver Island Michigan
Beaver Island Michigan, in northern Lake Michigan, is known as America's Emerald Isle. Take the ferry or a plane from Charlevoix. The ferry takes two hours and provides great water views.
You can bring your car or bike on the ferry or rent either once you arrive. The island is only about thirteen miles long. Bicycling along the edge is a great way to experience the island while getting exercise.
The ferry will drop you off at the northern point of the island where you will find a cute, small town with plenty of accommodations, shops, and museums.
The farther south you go, the more remote the island becomes. There are campgrounds, hiking trails, and lakes. At the southern point, you will find the Beaver Island Head Light.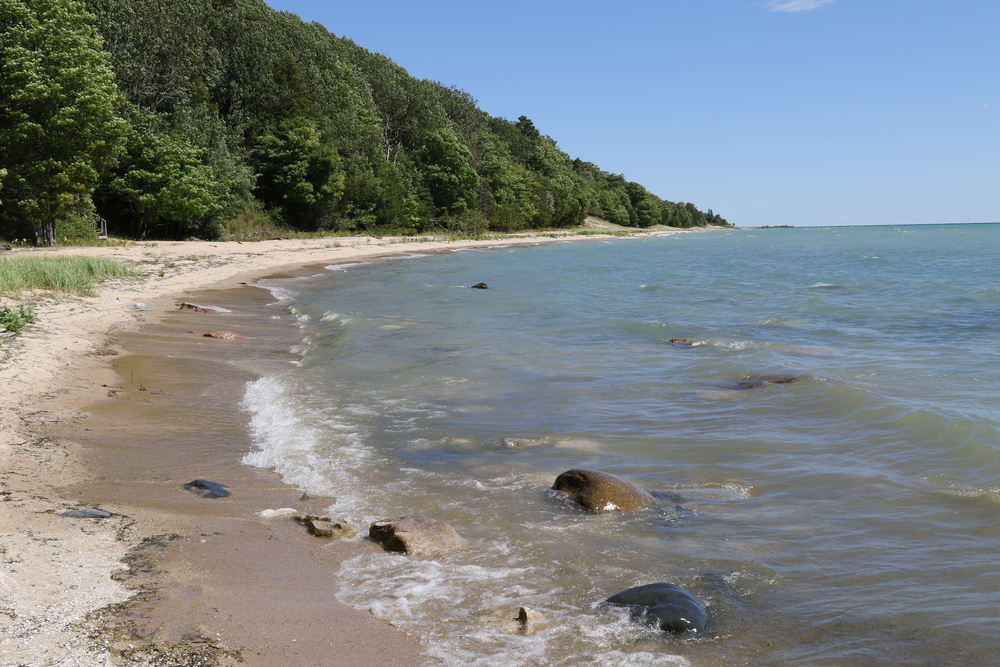 Grand Island Michigan
Grand Island Michigan is found just north of Munising in Lake Superior. The ferry ride is only about a five-minute trip. You can bring a bike on the boat with you for an extra fee.
The island is part of the Hiawatha National Forest, and it is a gorgeous place to explore. There is a ton of wildlife, including black bears. You can take a four-hour bus tour of the south side of the island to see all the historic sites and points of interest.
There are forty miles of trails for hiking, a lighthouse to discover, and white sand beaches for swimming. You can rent a kayak on the island to explore by water. This is a great way to see all the beautifully colored, sandstone cliffs.
Another thing that makes this one of the best islands in Michigan is the ice caves. If you visit Grand Island in the winter, your frozen breath will be taken away.
Curtains of ice form over the entrance to the caves creating a mesmerizing natural phenomenon. You will have to snowmobile across the frozen bay to get to the caves.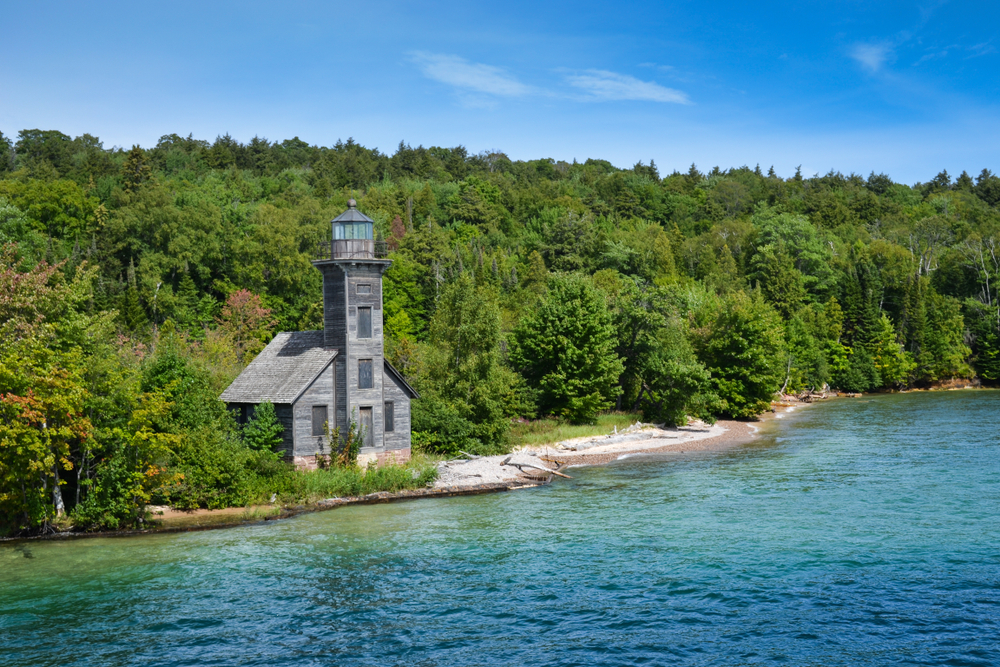 Belle Isle Michigan
Belle Isle State Park is in the river next to Detroit. This is an awesome Michigan island to escape from the bustling city.
Belle Island Michigan is a 987-acre park that has so many fun things to do for the whole family. The Anna Scripps Whitcomb Conservatory holds a collection of exotic plants is a beautiful and historic building.
The Belle Isle Aquarium is the oldest in the country. You can also visit the Dossin Great Lakes Museum or the Belle Isle Nature Center. Take pictures of the amazing James Scott Memorial Fountain. There is also a swimming beach.
Most of the attractions on the island are free, so this is a great budget thing to do. There is also no need for a ferry ride to the island since you can drive right across the MacArthur Bridge.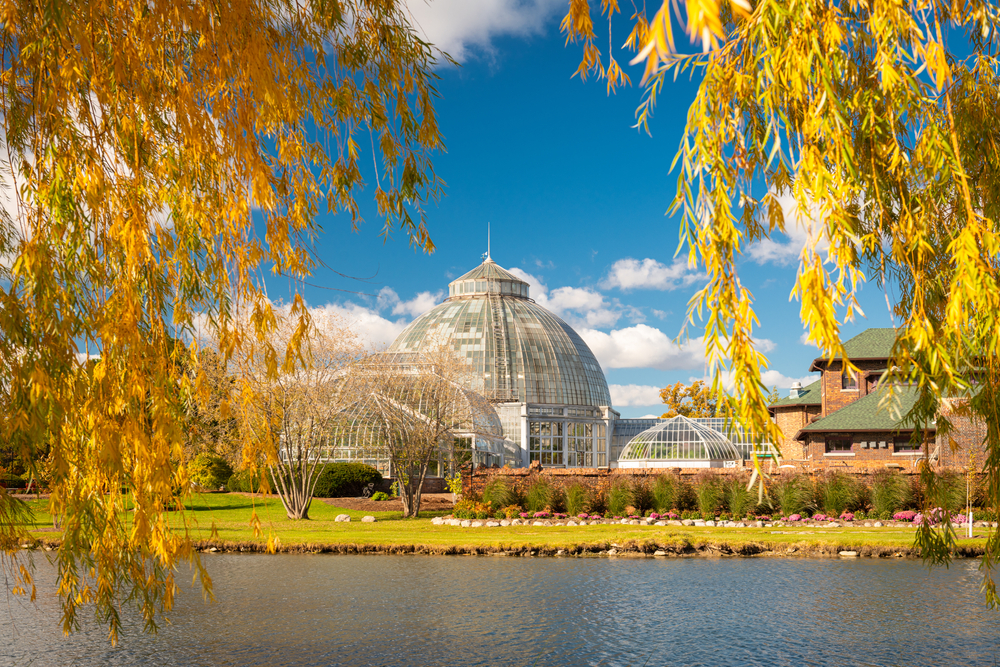 South Manitou Island Michigan
The Manitou Islands MI are part of the Sleeping Bear Dunes National Lakeshore and are found in Lake Michigan. The 1.5-hour ferry ride to the islands begins in Leland.
South Manitou Island Michigan is unpopulated, but it was not always that way. The island was first settled in the 1830s and you can walk through the historic village. Make a stop at the visitor's center to learn all about the island's history.
Make sure to climb the 100-foot South Manitou Island Lighthouse for awesome views of the island. Hike the island to see the 500-year-old white cedars and pretty, pebble beaches.
If you want to stay on the island for longer than a day, you can camp here.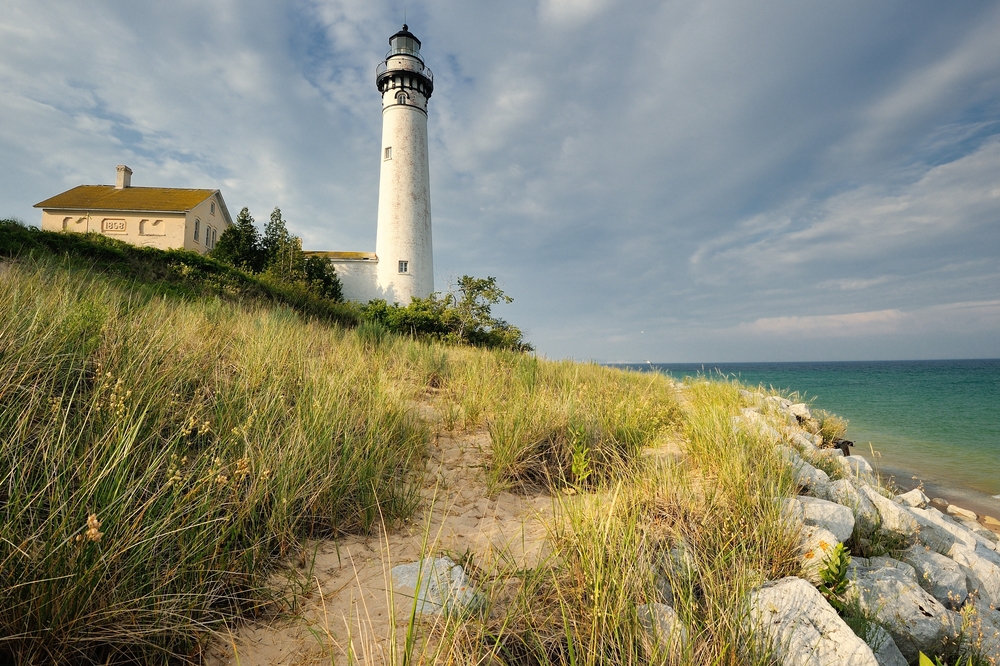 North Manitou Island Michigan
North Manitou Island is 15,000 acres of pure wilderness. Like the southern island, there is a historic village here with many cute cottages and a U.S. Life-Saving Service Complex.
This is another amazing place to camp in Michigan. You can fish at the inland lakes or in Lake Michigan. There are so many beautiful sand dunes and rugged bluffs to explore.
This is an awesome island in Michigan for birdwatching as well. Migrating birds make a stop here as they cross Lake Michigan. The endangered piping plover nests here.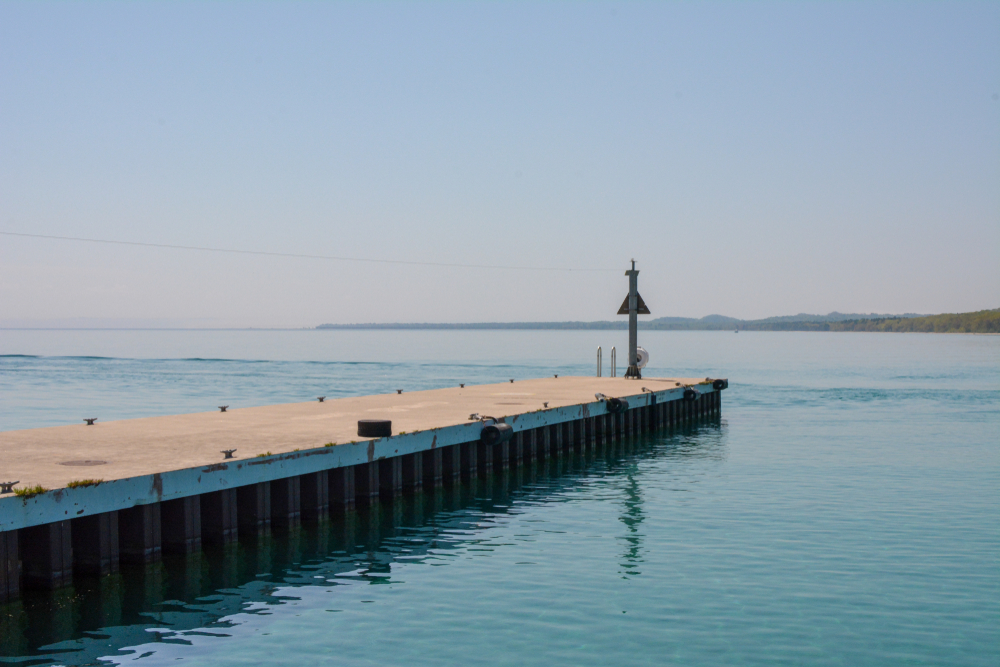 Drummond Island Michigan
Drummond Island is found at the eastern tip of the Upper Peninsula next to the Canadian border. The ferry ride is about ten minutes across the St. Mary's River. You can bring a vehicle with you on the boat.
Known as the "Gem of the Huron," Drummond Island is a beautiful place to stay for a day or two or more. ATV and ORV enthusiasts will love the over 100 miles of trails open to exploring.
Kayaking the Drummond Island Heritage Water Trail will allow you to experience the shoreline in a fun way. You will discover coves, beautiful rock formations, and tiny barrier islands.
This is also one of the best islands in Michigan for scuba diving. The DeTour Passage Underwater Preserve holds dozens of shipwrecks in great condition.
Les Cheneaux Islands
The Les Cheneaux Islands on the southern side of the UP in Lake Huron are an awesome resort area perfect for a relaxing vacation on the beautiful Michigan islands.
The name means "The Channels" in French, and the area consists of over three dozen islands in a twelve-mile span. This is an epic place for kayaking and sailing.
Take a lighthouse cruise to see some of the cool structures along the water. Get your fill of history at the Les Cheneaux Historical Museum and the Les Cheneaux Maritime Museum.
Of course, the Les Cheneaux Islands are best known for their hotels and resorts. If you are looking for romantic islands in Michigan, come here!
One Of The Best Islands In MI Is Charity Island Michigan
Charity Island is found in Saginaw Bay in Lake Huron. Unless you have a private boat, the best way to get to the island is by booking a tour.
The tour will bring you to the 222-acre island and give you time to explore and check out the Charity Island Lighthouse.
This 45-foot lighthouse was built in 1857. The lighthouse keeper's house has been rebuilt after falling into disrepair and is open to stay in.
Most of the island is owned by the US Fish and Wildlife Service and it is a great place for birdwatching. It is a really great destination for a Michigan day trip.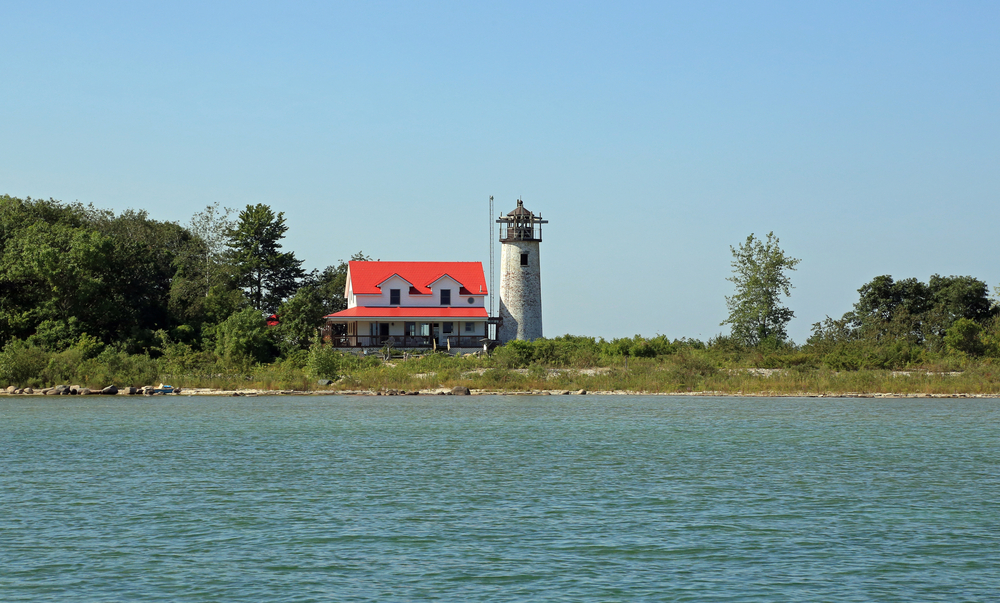 Grosse Ile Michgian
Grosse Ile is a large island at the mouth of the Detroit River, connected to the mainland by bridges. Its name, meaning "Large Island" was given by French explorers in 1679.
Unlike most of the Michigan islands on this list, Grosse Ile is almost entirely developed, and it is actually the most populated island in the state with over 10,000 people living there.
Check out the downtown for great places to eat and shop. You can also visit the Grosse Ile Historical Museum or the Bicycle Museum. Speaking of bikes, the island is a great place for a ride since there are extensive bike paths.
Other things to do on this Michigan island include golf, boating, and birdwatching.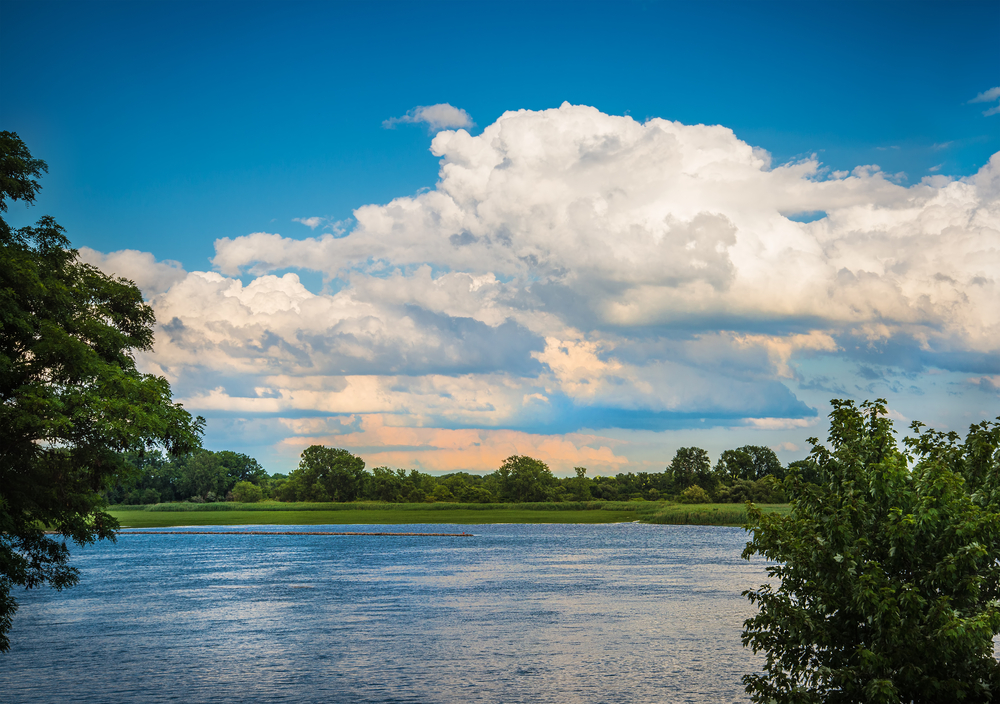 Lime Island Michigan Is A Beautiful Michigan Island Near Detroit
Lime Island in St. Mary's River is a beautiful state recreation area with views across the water to both mainland Michigan and Canada. Visiting here is one of the best things to do in Michigan.
There is no ferry to the island, so you must either use your own boat or charter one to bring you the three miles from the mainland.
Once you make it to the island, you can camp in a cute, rustic cottage or in a tent. There are great hiking trails to explore, places to fish, and a beach for swimming. No matter how you spend your time, you will have fun in nature on this island in MI.
Apple Island Michigan Is One Of The Islands In Michigan Near Detroit
Orchard Lake is found 40 minutes northwest of Detroit and in that lake, you will find Apple Island. This 37- acre island is also known as the Marjorie Ward Strong Woodland Sanctuary and is listed on the National Register of Historic Places.
This Michigan island is uninhabited now, but archaeological excavations have found artifacts such as pottery and beads dating back to the late 1700s or early 1800s. It is believed Native Americans once lived here.
The island in Michigan is owned by the West Bloomfield School District. Public access is only during the annual Apple Island Tours in May.
Visiting here would make for a great Midwest road trip.
Harsen's Island Michigan Is One Of The Most Interesting Islands In Michigan
Harsen's Island is in the north end of Lake St. Clair, hugging the border with Canada. The island is surrounded by smaller islands that create perfect waterways for kayaking and canoeing.
The Saint Clair Flats State Wildlife Area is a marshy nature preserve perfect for birdwatching. You might also spot deer, muskrats, snakes, turtles, and more. It is also a great spot to fish.
The ferry to the island only takes a few minutes. You can bring a vehicle on the ferry. Alternatively, you can take a private boat or kayak across the St. Clair River.
What a great Michigan road trip this would make.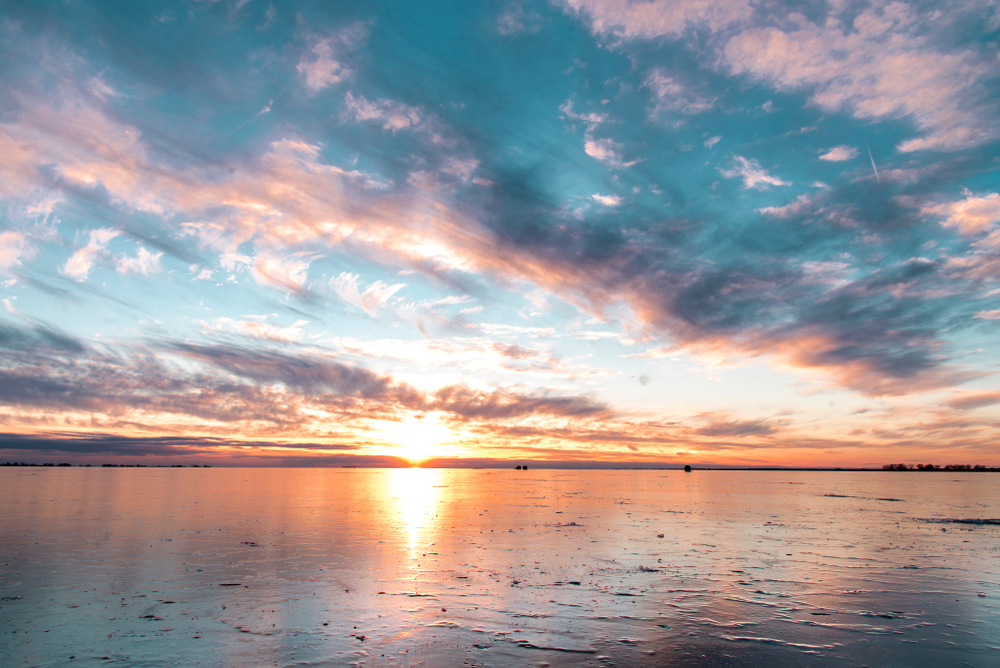 Packing List For Visiting The Islands In Michigan
A concealed travel pouch may be one of the most important items you bring along when visiting Michigan islands. It is always important to protect your personal information. Identity thieves are everywhere.
This unisex RFID blocking concealed travel pouch is lightweight and comes in several colors. It has lots of organization to give you peace of mind.
If you have a pouch already that does not come with the RFID protection, as I do, these RFID sleeves are the perfect solution.
This configuration comes with enough credit card sleeves that the entire family would be protected. They are slim too, so they will easily fit into your pouch or wallet.
If you are planning on taking a lot of pictures with your phone you will definitely want to consider an external charging battery. This Anker high-speed phone charging battery is the exact one I carry with me on all of my trips.
It can be used on a variety of phones, not just an iPhone like I have. And wow is it fast!
I like that it holds its charging capabilities for several uses so I do not have to worry about it while out and about, and if I forget to recharge it at night, it will still be good to go the next day.
My daughter gifted me with this FugeTek selfie stick and tripod setup for my birthday. I absolutely love it! It is made of lightweight aluminum and is so easy to use.
It has Bluetooth connectivity and is a breeze to use for taking selfies when visiting Michigan islands!.
Hydration is so important when traveling. You want to remain hydrated throughout your travels to support your immune system which in turn will be stronger to fight off any germs you will encounter during your travels.
You will want to bring your own refillable water bottle with you.
I never leave home on a trip without my Bobble filtration bottle. The 18.5-ounce size is perfect for hiking and it fits nicely in the pocket of a backpack.
When filled with water, it is not too heavy to carry. And the charcoal filter ensures fresh clean water whenever you fill the Bobble.
Perhaps you are traveling a long distance and packing space is a premium in your suitcase, or in your car.
Then this set of collapsible silicone foldable water bottles would work well for you. Would not take up much space at all.
You will want a backpack or daypack with you to store snacks, your water bottle, phone, extra clothes, etc.. then this foldable water-resistant backpack would be great.
—
It is easy to find islands in Michigan as they seem to dot the water everywhere you look on the map. Big, small, inhabited, uninhabited, there are so many kinds of Michigan islands to explore! Exploring one of the many Michigan Islands would make for a memorable Michigan weekend getaway!