Are you looking for waterfalls in Illinois? You are in the right place.
In this article, I will walk you through Illinois waterfalls giving you the information you need so you can decide which one is right for you to visit.
All waterfalls in Illinois have something special about them.
Besides their obvious beauty, Illinois waterfalls have a somewhat magical feel about them. Some of them look like they are right out of a fairy tale.
Hiking Illinois waterfalls is also a unique thing you can do in this region due to the topography and the large preserved areas of terrain in this area.
Since Illinois is so flat it doesn't take much to see these waterfalls at their best and it also makes the going muddy and slippery so be prepared.
So put on your hiking boots and lets step inside some modern day fairytales and visit the waterfalls in Illinois.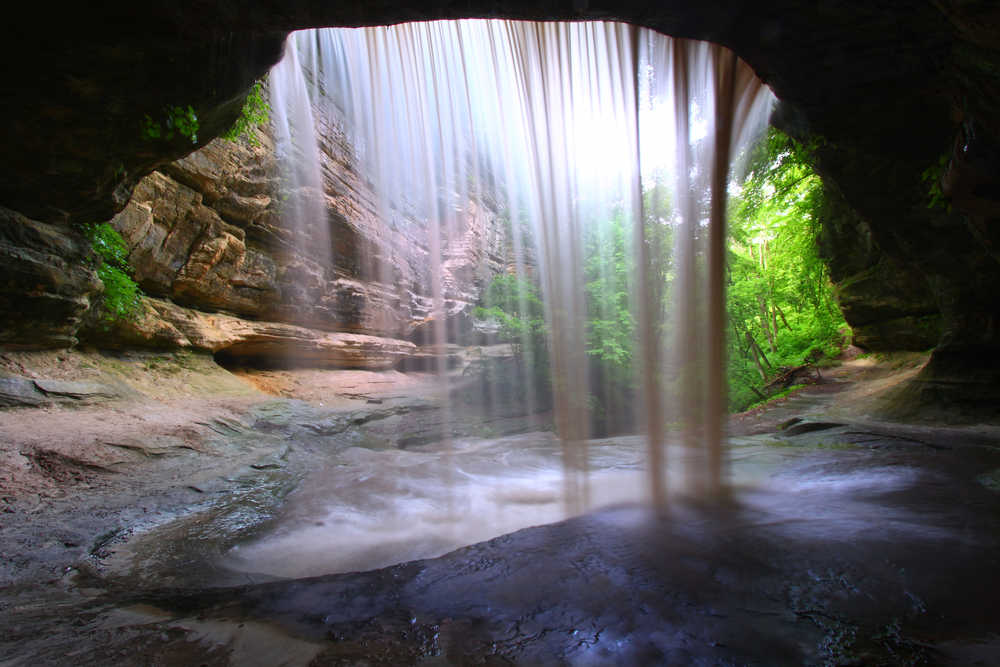 14 Beautiful Waterfalls in Illinois
Apple Canyon Lake Waterfall
Apple River Canyon State Park offers lots of things to do but most visit here for the waterfall. Located in the hilly northwest near the Wisconsin border means this waterfall has a bit of height compared to others.
The park is all limestone bluffs, deep ravines, springs, streams, and of course the waterfall. And the waterfall is breathtaking.
Apple River Canyon State Park is a bit of a Midwest hidden gem so don't expect to see many people hiking. The trails here really are a solitary beautiful experience.
If you are looking for a day trip from Chicago, this is a great place to escape to. There are five trails to explore and you could easily see most of the area in a day.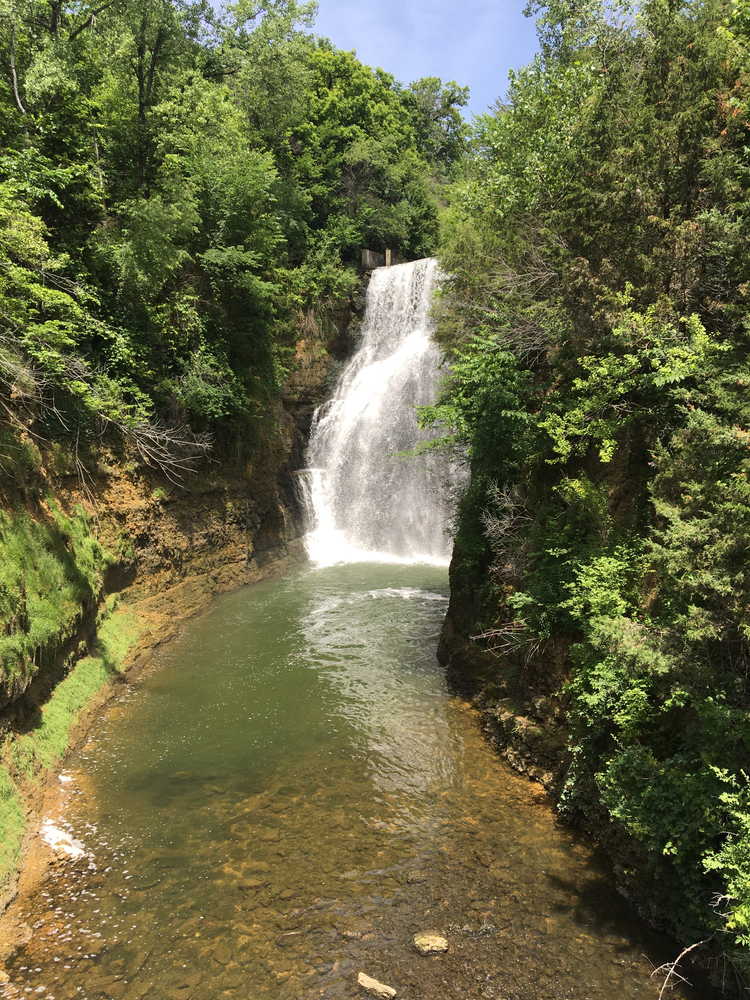 Jackson Falls Are Beautiful Waterfalls In Illinois
In the Shawnee National, Forest Jackson Falls is predominately a climbing region. You will have to hike to see this fall but most think it is well worth it.
This area is all sandstone bluffs littered with boulders and has hundreds of trails, and of course a waterfall. The waterfall is reached by a just under 4 miles hike. The trail is said to be moderate.
There are other smaller waterfalls to see if the conditions are favorable. The waterfall is best in spring and it is often difficult to see at other times.
You get to the bottom of the falls by what is known as Dog Walk. Please note this area can get slippery and be hazardous and cell coverage is not the best, so be very careful.
If you are a rock climber this is the place to be and you can camp absolutely free although there are no facilities.
Burden Falls Are Popular Waterfalls In Illinois
Burden Falls is the most visited and popular waterfall in southern Illinois and would make the perfect Midwest road trip!
Located within The Burden Falls Wilderness, a 3,775-acre area of the Shawnee National Forest, the waterfall is seasonal so you won't always be able to see it.
You will find many trails, buffs, and beautiful landscapes. But the pied de resistance is the waterfall which is magnificent especially if you visit after a big rainfall. The total drop is 100 feet with the greatest descent of approx 20 feet.
You can reach the waterfall by taking the trail at the bottom of the creek. You will pass some smaller waterfalls on the way which make great photography spots. Please walk carefully it can be slippery and dangerous and cell phone coverage isn't great.
Photographers love this fall so in wet weather this place can get very busy. These falls are the largest in Illinois and sit on the border with Ohio and the surrounding forest covers 280,000 acres.
If you are visiting in Spring or the weather is wet this is one of the best waterfalls in Illinois that is well worth a visit.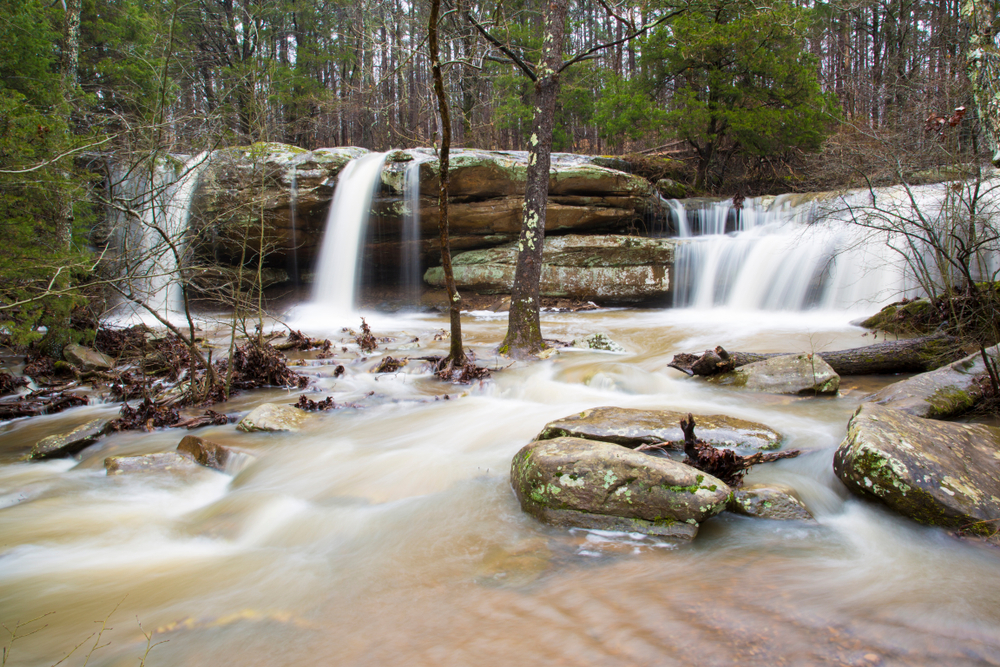 Lake Falls Are Magical Waterfalls In Illinois
In Matthiessen State Park this waterfall separates the upper and lower dells. It's a little like a fairy grotto, the rock carved out by streams leaving little gorges. The fall has a 45 ft drop into a canyon below.
The area around here is so pretty. From the parking lot, 100 steps will take you down to the rim trails.
The base of the falls looks like an amphitheater carved out at the bottom of these Illinois waterfalls and the sounds echo making it seem much more mysterious.
This is one of those waterfalls in Illinois you have to see as it really is beautiful. Visiting them would make for a very romantic getaway in the Midwest.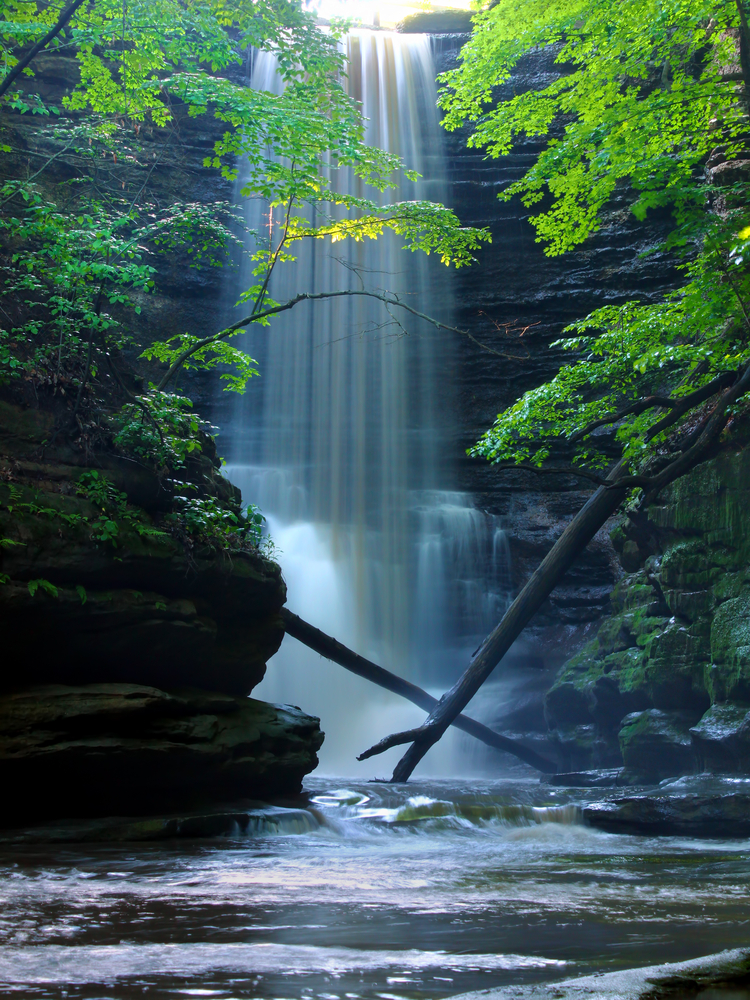 Thunder Bay Falls
if you are looking for waterfalls in Illinois this is one of the easiest you can get to. In fact, It couldn't be easier to get to this waterfall, you can practically drive up to it.
Its absolutely stunning too and makes for really great photographs.
In Galena, it is one of two waterfalls and you can see it from the parking lot in a residential area. If you want to get closer to the fall it's just a small path that is really accessible.
You will really feel the mist and hear the sounds with this as you are so close. It's beautiful any time of year but in winter it freezes which really does make a great sight.
A really beautiful and accessible Illinois waterfall that you certainly will enjoy.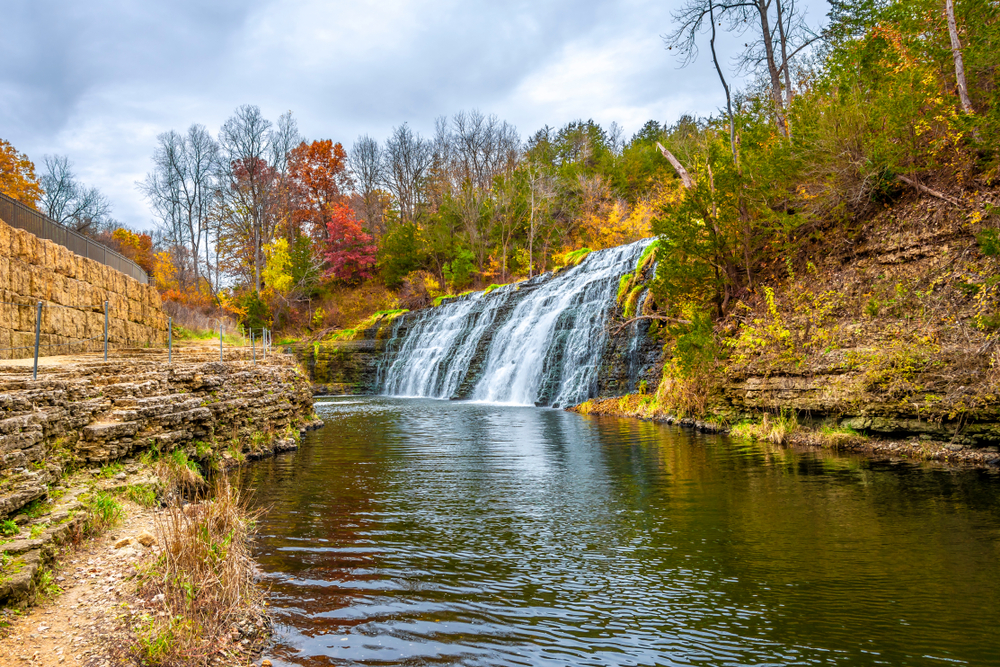 Waterfall Glen Forest Preserve
This waterfall is man-made but it still packs a punch. Located in the Waterfall Glen Forest Preserve you also have 2500 acres to explore.
This somewhat ecologically paradise is a popular spot with walkers, cyclists, and runners due to its closeness to the city. The landscape is a mixture of hills, woodlands, and prairie.
Created in 1930 the waterfall is tired and sits in some beautiful surroundings. You will find limestone-surfaced trails, woodlands and the wildlife here is abundant.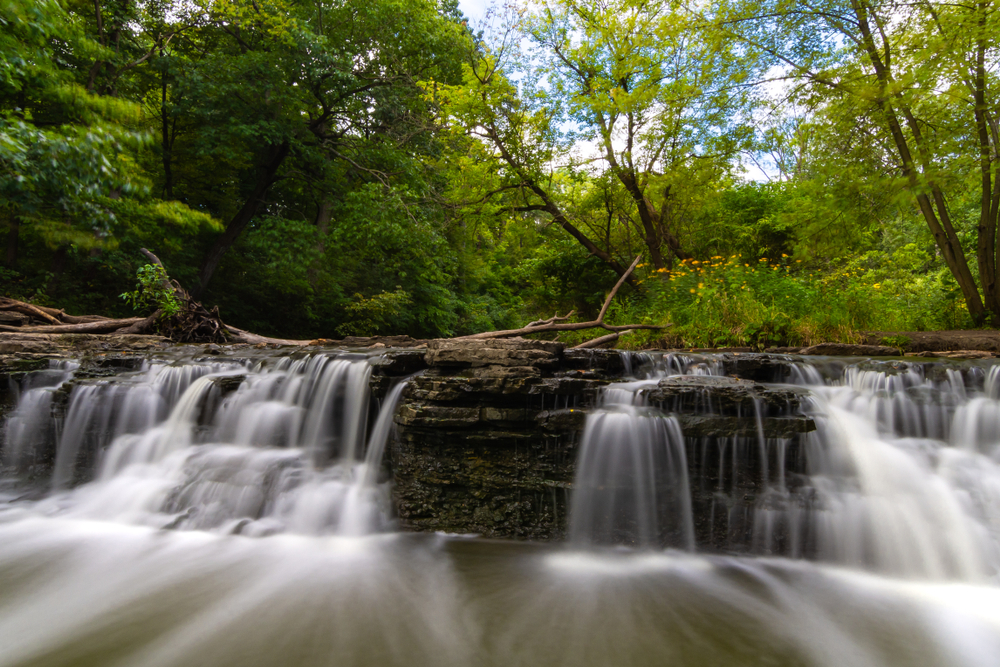 Giants Bathtub Waterfall
I have already talked about one of the waterfalls in Matthiessen State Park but they all need their own mention. This state park is beautiful and simple to navigate so finding them should be pretty easy.
Giants Bathtub Falls varies in volume and it's a cascade-style waterfall. The park has five miles of trails taking you through the woodland and past the waterfall.
From the trails, you will see canyons, river bluffs, woodland, and waterfalls. If you going to explore this Illinois waterfall make sure you have sturdy shoes on as the ground can get slippery.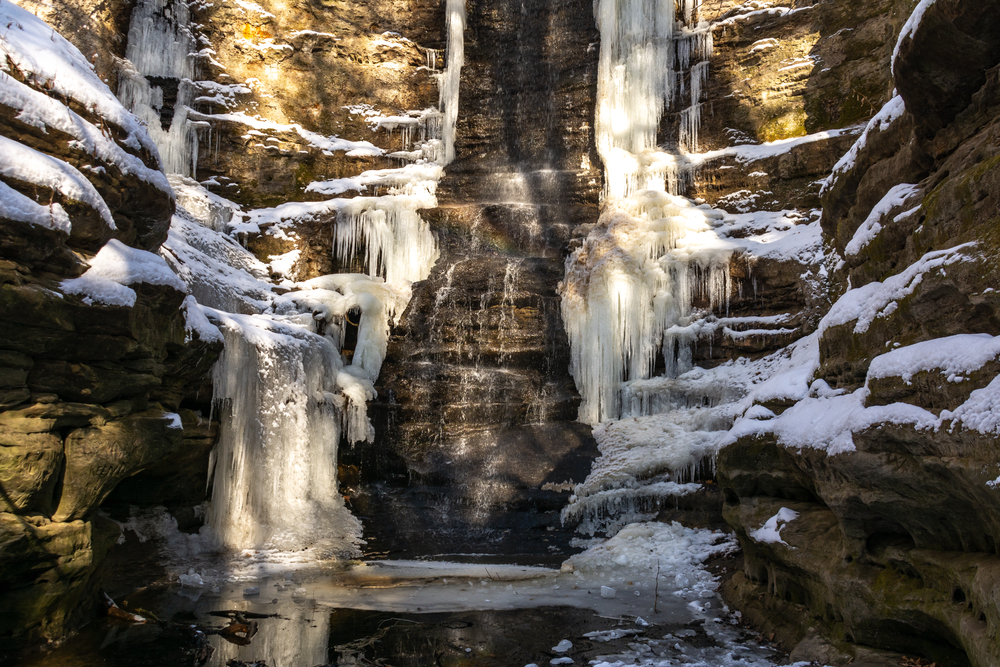 Tonti Canyon Creek Waterfalls In Illinois
With a drop of 60 ft, Tonti Canyon Creek is in Starved Rock State Park and here you get two waterfalls for the price of one.
As you approach the end of the canyon there are two falls one to the left and another to the right a little further ahead.
The hike to these waterfalls in Illinois is also beautiful, filled with wildflowers and such depending on when you go. There is a 6-mile loop that has some steps and can be a little tricky on the footing.
The hiking loop takes in the bluff trail and the river trail and passes several scenic overlooks. Along the way, you will get to walk behind LaSalle Canyon Falls, pass the Tonti Falls and pass multiple rivers.
It really is a beautiful hike.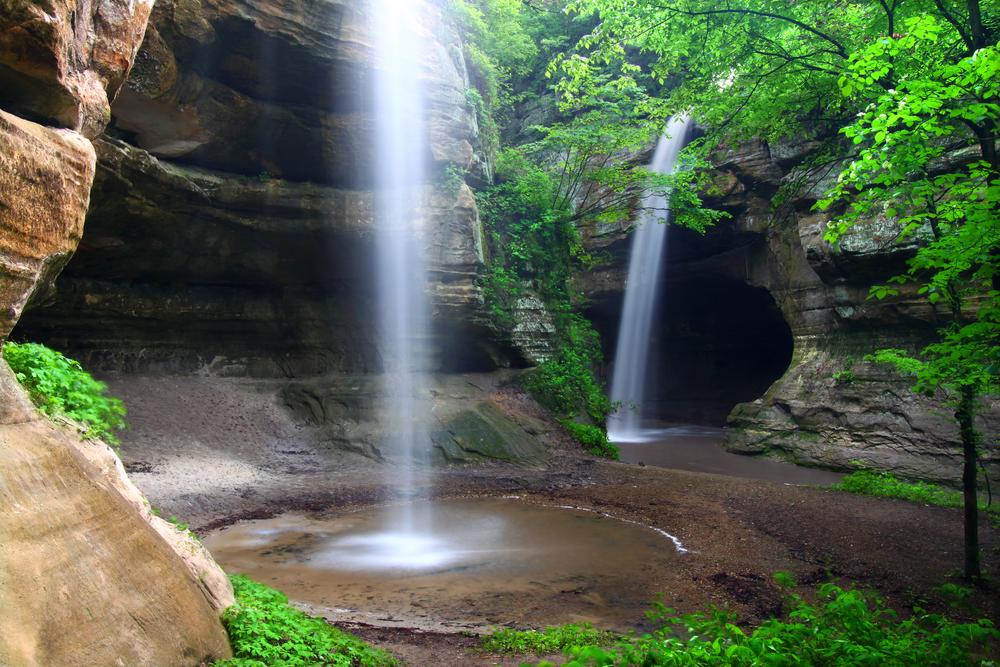 St. Louis Canyon Waterfalls In Illinois
Again in Starved Rock State Park, St Louis is a favorite for people who visit the park. It is spring-fed so it is long-lasting and you are more likely to see it.
It's a bit of a hike and is six miles from the parking lot and 1.5 miles from the visitors center. You will have lots of steps to climb unless you access the waterfall from the St. Louis Canyon parking area.
This area is full of wildlife, flora, and fauna that you can enjoy. Expect to see wild turkeys, woodpeckers, frogs, and Coralroot orchids.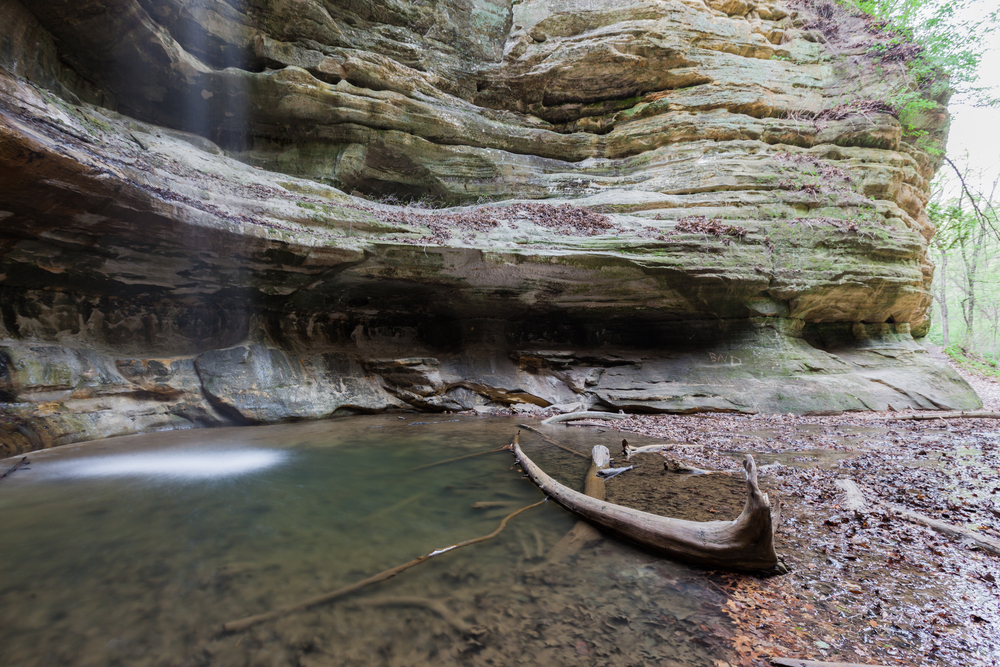 Anderson Japanese Garden in Rockford
While it might seem a bit strange to include a Japanese garden in this list, the Illinois waterfall here is beautiful and always running. If you are after a waterfall in Illinois that really is relaxing then this is the one for you.
Anderson Japanese Gardens are an oasis and as you can see below is beautiful. It's elegant, graceful and you can't help leaving a little better than you entered.
This might not be what you think of as a waterfall in Illinois, but it really is well worth a visit.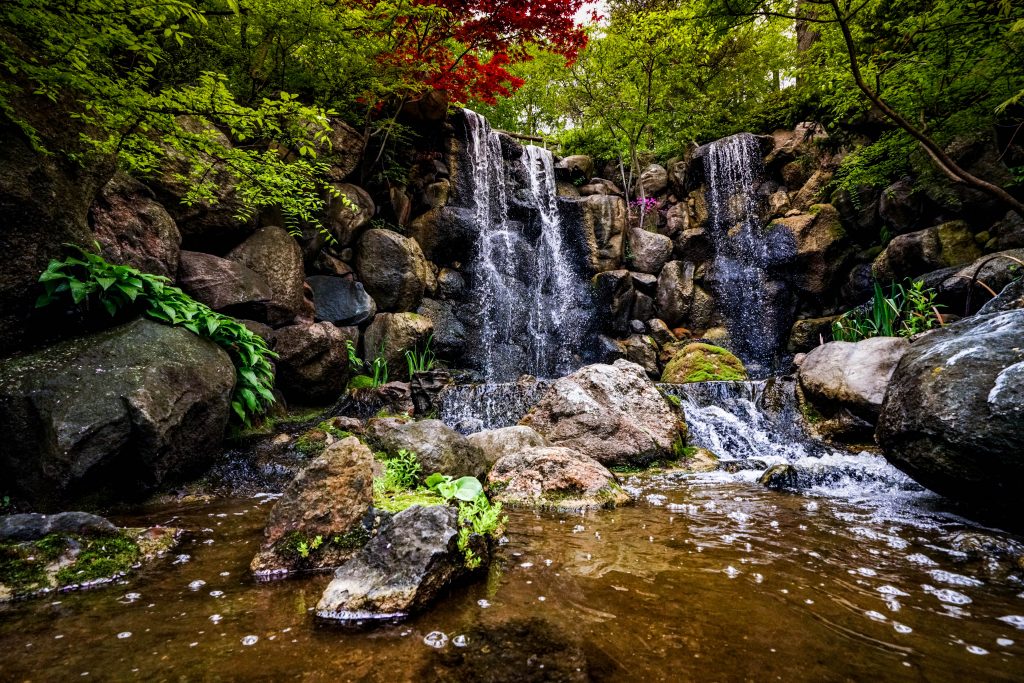 Wildcat Canyon Waterfalls In Illinois
Wildcat Canyon has an eighty-foot waterfall and while there is less water in mid-summer you may still find it running in June. The best time to view these waterfalls in Illinois is in spring.
The waterfall is pretty close to the lodge and there is an overlook at the rim and a set of stairs to the base. Please be careful in this area, the canyon is narrow and steep and can be dangerous.
There is a 5.8 mile loop around the park if you want to see a bit more of the area.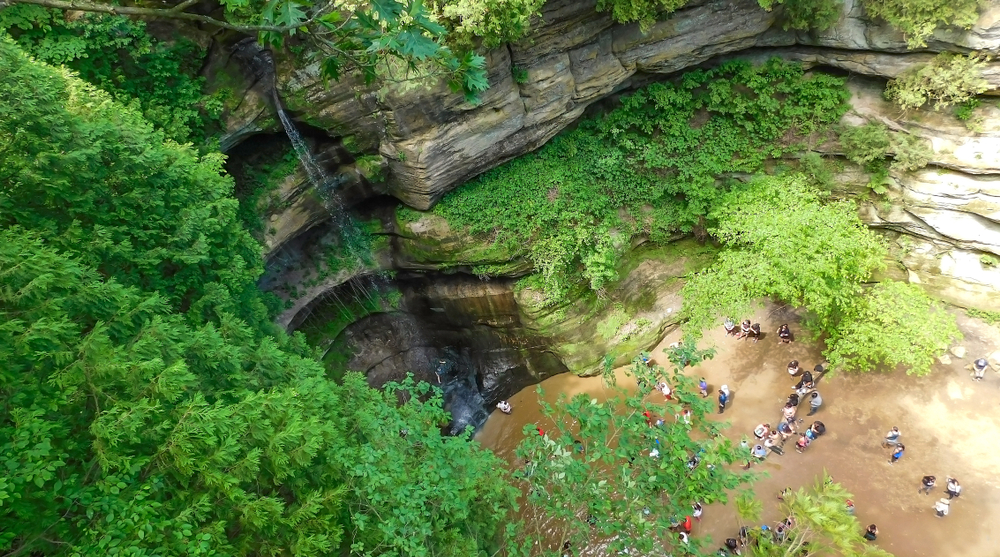 Garden Of The Gods Waterfalls In Illinois
Garden of the Gods is Instagram heaven and is one of the most photographed areas in the Shawnee National Forest.
While it doesn't necessarily have a permeant waterfall, on a wet day you might be surprised by what you see.
A popular location in southern Illinois and the most visited area in the Forest, this place is stunning whenever you visit.
However, if you visit on wet days you will find multiple waterfalls, too many to count plummeting from the rocks.
On an average hike around the area after wet weather, it wouldn't be beyond exaggeration to say you might see 100 waterfalls, some tiny some a bit bigger.
And they are right off the trail so no going out alone into the wilderness, they are very easy to see.
Please note though after the rain this area is slippery and you need to take extra care. It can be dangerous when wet and cell phone reception is sketchy at best.
If you like your waterfalls in Illinois to be unpredictable and are up for some adventure this might just be the place for you.
This is an excellent place to check out camping in Illinois as well.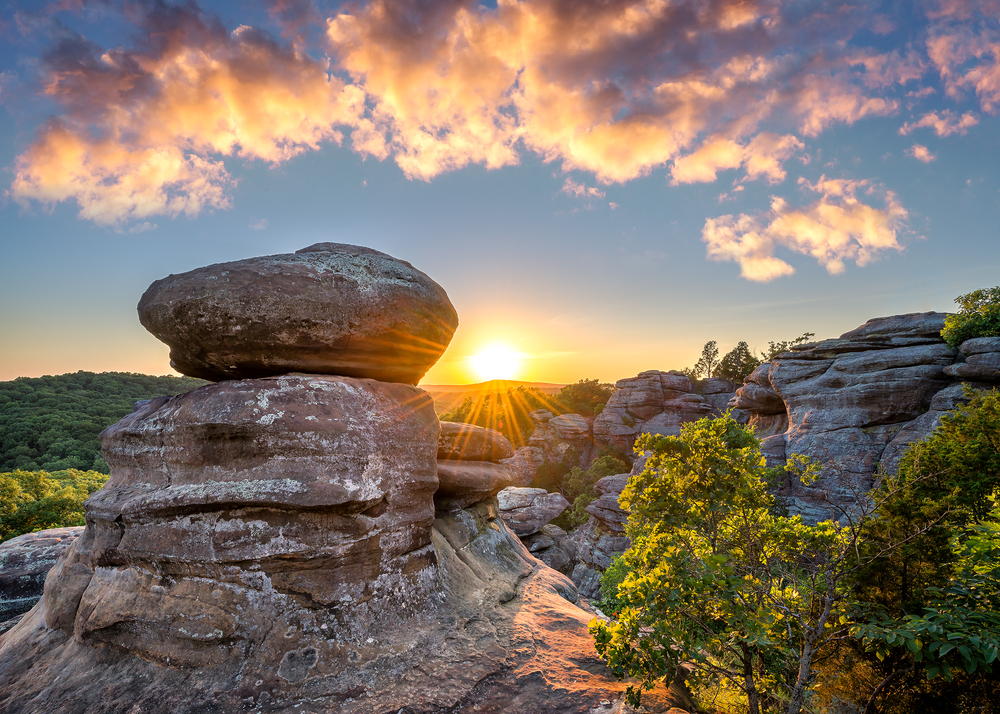 Bulge Hole Ecological Area Has Multiple Illinois Waterfalls
If you want to see a lot of waterfalls at once then Bulge Hole is for you. This is not for the faint of heart and there will be some effort but if you are able it's worth it.
You will be rewarded with over thirty waterfalls all located close to each other. Located in the Shawnee National Forest you won't find any trails here. But for the adventurous, wearing the right gear it is a waterfall gold mine!
If you come a few days after heavy rain you will see the waterfalls at their best. Please though, only try and find these waterfalls if you are experienced, fit and healthy and take extra care as it can get slippery.
Ferne Clyffe State Park
If you visit this state park, after a heavy rainfall, you will be rewarded with many Illinois waterfalls. The water here tends to run dry quickly though so do not expect to see the falls all year round.
The state park has a lot to offer too with lots of recreational activities and numerous campsites. The River to River Trail runs through the park and is a great way to see all it has to offer.
After heavy rainfall head to Big Rocky Hollow Trail which is where you will find the main waterfall but it often gets busy. So it is advisable to visit in the morning or late afternoon once the crowd thins out.
You can view other falls if you venture on to some of the quieter trails suck as Happy Hollow.
Again there is no guarantee here but it is worth a visit.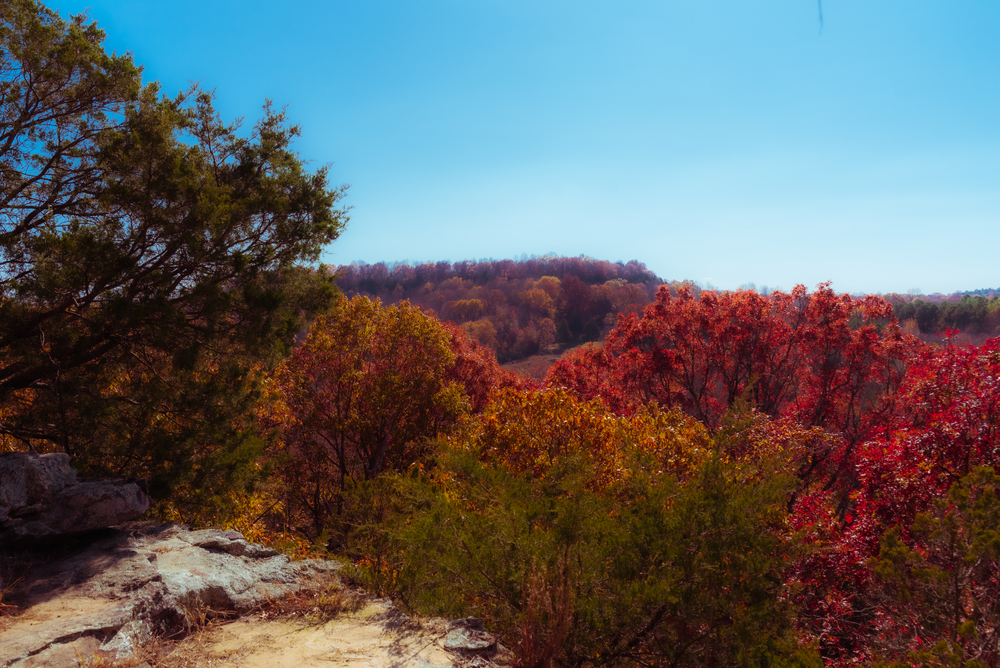 Packing List When Visiting The Best Waterfalls In Illinois
If you will be traveling, either by plane or by car to Illinois, here are some tips on how to pack lightly.
A concealed travel pouch may be one of the most important items you bring along when visiting waterfalls in Illinois. It is always important to protect your personal information. Identity thieves are everywhere.
This unisex RFID blocking concealed travel pouch is lightweight and comes in several colors. It has lots of organization to give you peace of mind. You can place it under your hiking clothes next to your body to carry your ID safely.
If you have a pouch already that does not come with the RFID protection, as I do, these RFID sleeves are the perfect solution.
This configuration comes with enough credit card sleeves that the entire family would be protected. They are slim too, so they will easily fit into your pouch or wallet.
If you are planning on taking a lot of pictures with your phone you will definitely want to consider an external charging battery. This Anker high-speed phone charging battery is the exact one I carry with me on all of my trips.
It can be used on a variety of phones, not just an iPhone like I have. And wow is it fast!
I like that it holds its charging capabilities for several uses so I do not have to worry about it while out and about, and if I forget to recharge it at night, it will still be good to go the next day.
My daughter gifted me with this FugeTek selfie stick and tripod setup for my birthday. I absolutely love it! It is made of lightweight aluminum and so easy to use.
It has Bluetooth connectivity and is a breeze to use for taking Insta-worthy selfies while visiting these Illinois waterfalls.
Hydration is so important when on vacation. You want to remain hydrated throughout your trip to support your immune system which in turn will be stronger to fight off any germs you will encounter during your travels.
You will want to bring your own refillable water bottle with you.
I never leave home on a trip without my Bobble filtration bottle. The 18.5-ounce size is perfect for your adventures and it fits nicely in the pocket of a backpack.
When filled with water, it is not too heavy to carry. And the charcoal filter ensures fresh clean water whenever you fill the Bobble.
You can find filter replacements here.
Perhaps you are traveling a long distance and packing space is a premium in your suitcase, or in your car. Then this set of collapsible silicone foldable water bottles would work well for you. Would not take up much space at all.
You will want a backpack or daypack with you to store snacks, your water bottle, phone, extra clothes, etc.. during long hours at the theme parks in the Midwest. No matter the time of day or evening.
This foldable water-resistant backpack would be great.
It is very affordable and is available in many color options for you to choose from. The fact that it folds down into a zippered pouch will make it easy to pack!
—
As you can see when it comes to waterfalls in Illinois, there are more than you would expect. Some are easy to find and others take a little bit of adventure. And hiking Illinois waterfalls really is a great experience.
Whichever Illinois waterfall you visit I hope you have a great time and I would love to hear all about it.