Are you looking for the best things to do in Missouri?
You have come to the right place! I am a Midwesterner, born and raised in Ohio. And I have selected 10 places to visit in Missouri you should not miss!
Missouri is unofficially called the "Show Me" state. It has lots to offer residents and visitors alike: from craft beer, to wines, big-city entertainment, and small-town charm! There are a lot of Missouri attractions that are waiting for you to come and visit them!
Here you will find the 10 best things to do in Missouri.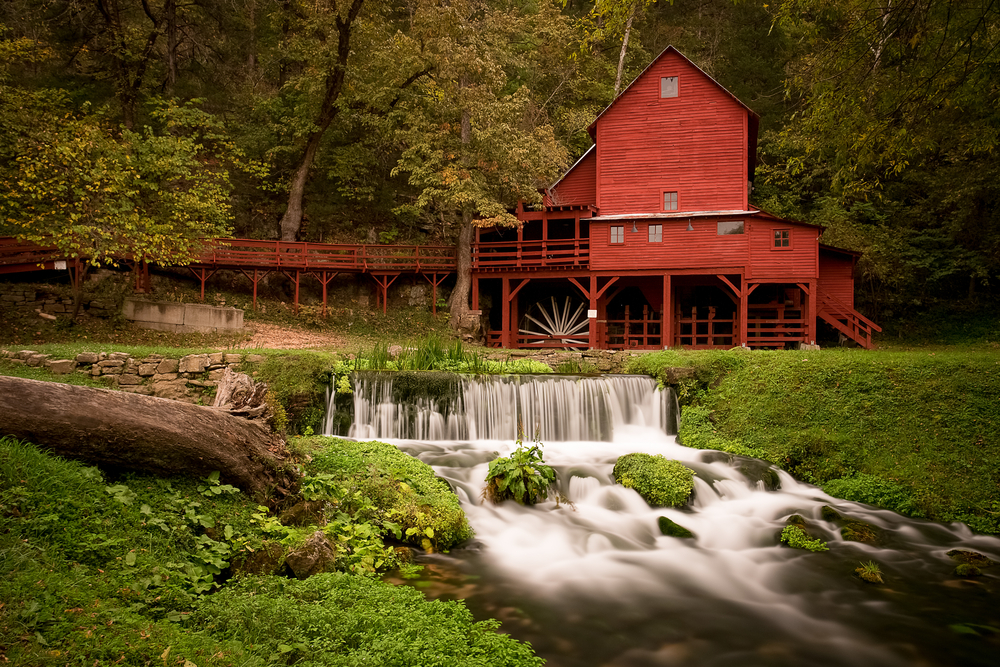 10 Best Things To Do In Missouri You Shouldn't Miss
Lake Of The Ozarks In Central Missouri
Arguably Missouri's most popular lake destination is located in the northern part of the Ozark Mountains in central Missouri.
Actually an incredibly large reservoir stopping three Missouri rivers, this area has almost 1,500 miles of shoreline. Even more than California!
The main channel, the Osage Creek, is ninety-two miles long and curves and swirls so much it is nicknamed "Puff the Magic Dragon."
This premier tourist attraction in Missouri offers boating, golfing, restaurants, state parks and a myriad of options for every budget.
Any season of the year, but especially the summer when the weather is warmer, makes visiting here one of the best things to do in Missouri.
There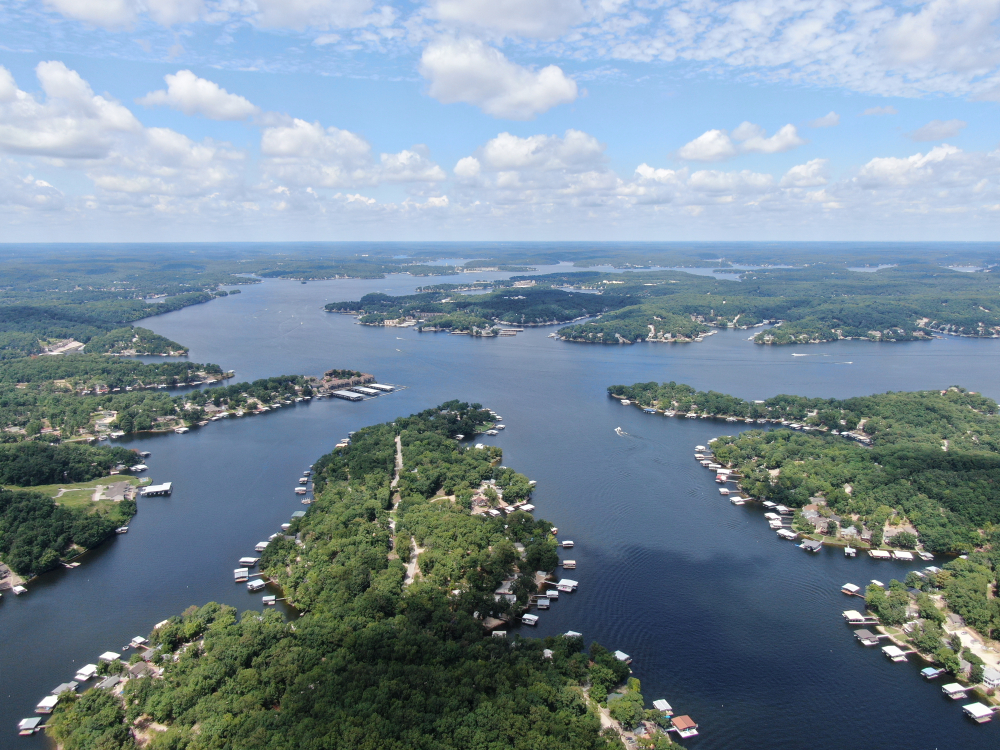 Gateway Arch National Park In St. Louis
The Gateway National Park is located in Saint Louis near the starting point of the Lewis and Clark Expedition.
Of course, most people are aware of the the well-known attraction in Missouri, the icon of St. Louis, the Gateway Arch.
It is a 630-foot national monument built in the shape of a weighted arch, most commonly referred to as the "Gateway to the West."
It is one of the most popular attractions in Missouri, and you can enter the arch, and ride to the top, either by elevator or tram.
There are 1000+ stairs that are available as well. The views from the top are spectacular and this is certainly one of the fun things to do in Missouri.
Underground below the monument and between its legs is located a 70,000-square-foot visitor center. Visit here to see an educational movie about the monument and all about the United States' westward expansion through various exhibits.
This Midwest national park encompasses ninety-one acres along the Mississippi River and several historic buildings.
There are so many cool things to do in St Louis MO.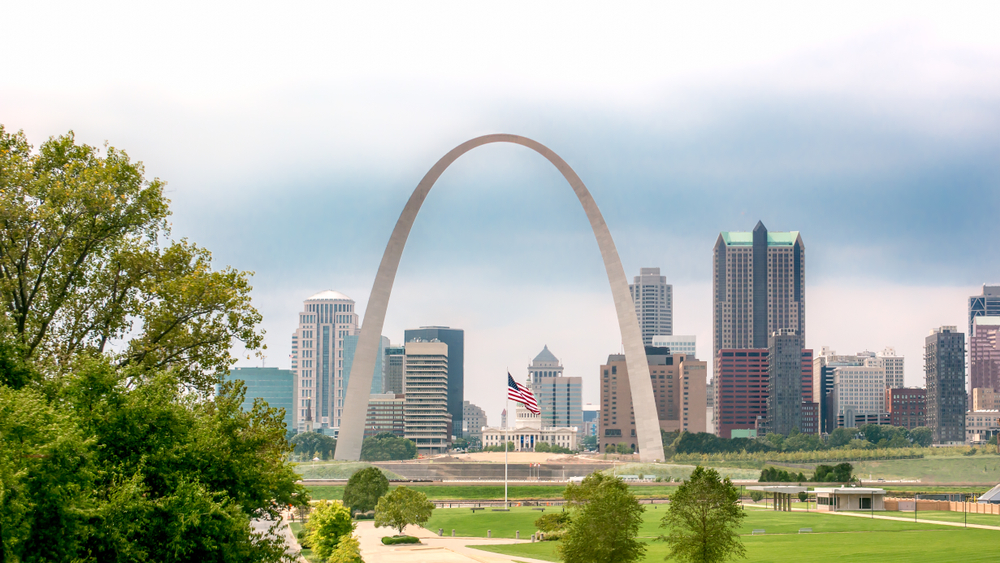 Fantastic Caverns For The Ride Of Your Life
Located near Springfield, Missouri, Fantastic Caverns is an underground ride-through cave!
It was discovered in the mid-1860s by a farmer and his dog.
This popular Missouri attraction's beauty is very delicate. So the safest way to protect this popular place to visit in Missouri is to take visitors through the cave system in a Jeep-drawn tram.
This way you are able to experience how epic and beautiful this cave system truly is, and preserve its beauty for generations to come.
There are so many other caves in Missouri to explore.
Fun fact: Fantastic Caves is only one of over 7,000 documented caves in Missouri with more being discovered. This is why Missouri is known as "The Cave State" as well.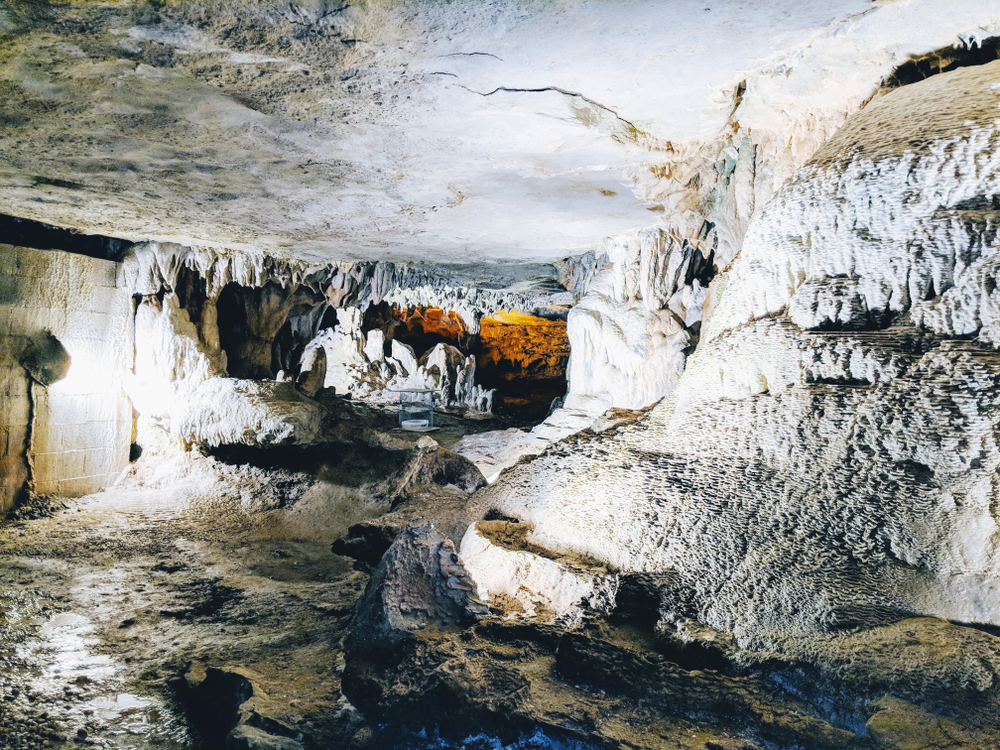 George Washington Carver National Monument In Joplin
If you love peanuts or peanut butter, thank the scientist and inventor George Washington Carver.
This national monument, near the farm where Carver grew up, is located in Joplin, Missouri, a stop along the fabled Route 66!
You can start your visit at the visitor center. There are many excellent programs and activities for guests of all ages.
Here you will see a statue of Carver as a young boy and even a Carver talking bust. There is a less than one-mile Carver Trail where you can see the place where this iconic humanitarian was born.
Elsewhere you can view the Carver House and cemetery where family members are buried. There is a working garden as well.
Visiting the George Washington Carver National Monument is one of the more interesting things to do in Missouri.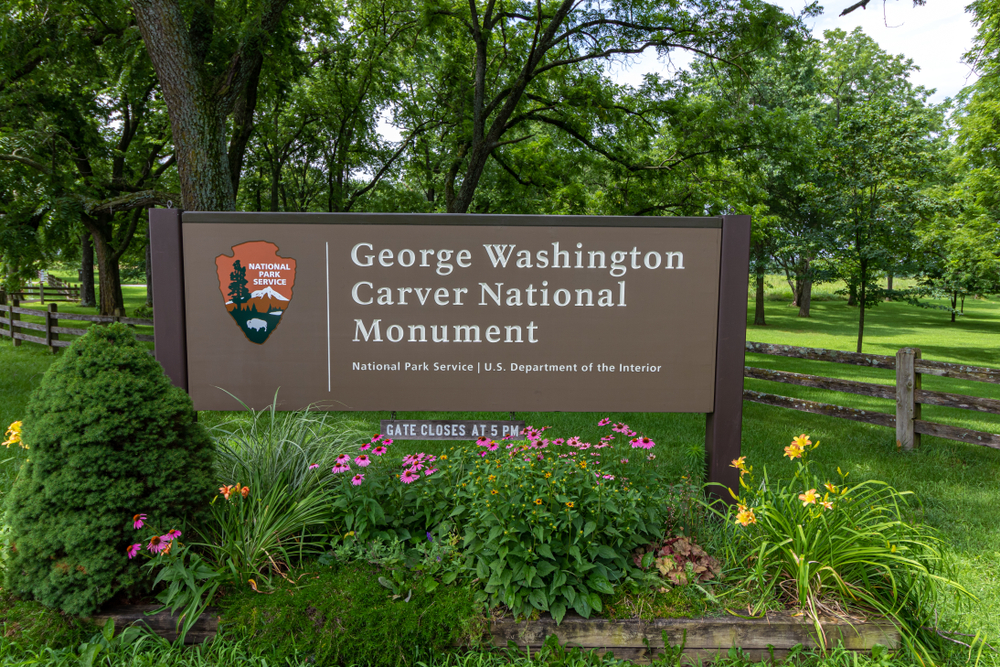 Visit The Lewis & Clark Trailhead Plaza In Jefferson City
Jefferson City is the capital of Missouri, and there are a lot of things to do and see, including the Governor's Mansion, and the Missouri Capital Building.
Here I will be recommending a monument that is actually located adjacent to the capital building, the Lewis & Clark Monument at the Lewis & Clark Trailhead Plaza.
It was at this location back in 1804, that Captains Meriwether Lewis and William Clark camped in the area, which eventually became the capital of Missouri.
The monument recognizes this city's connection to the monumental expedition made by Lewis & Clark and their Corps of Discovery.
Besides the statues, there are walkways, benches and waterfalls within the plaza which make it a very inviting place to stop and relax whilst connecting with some history.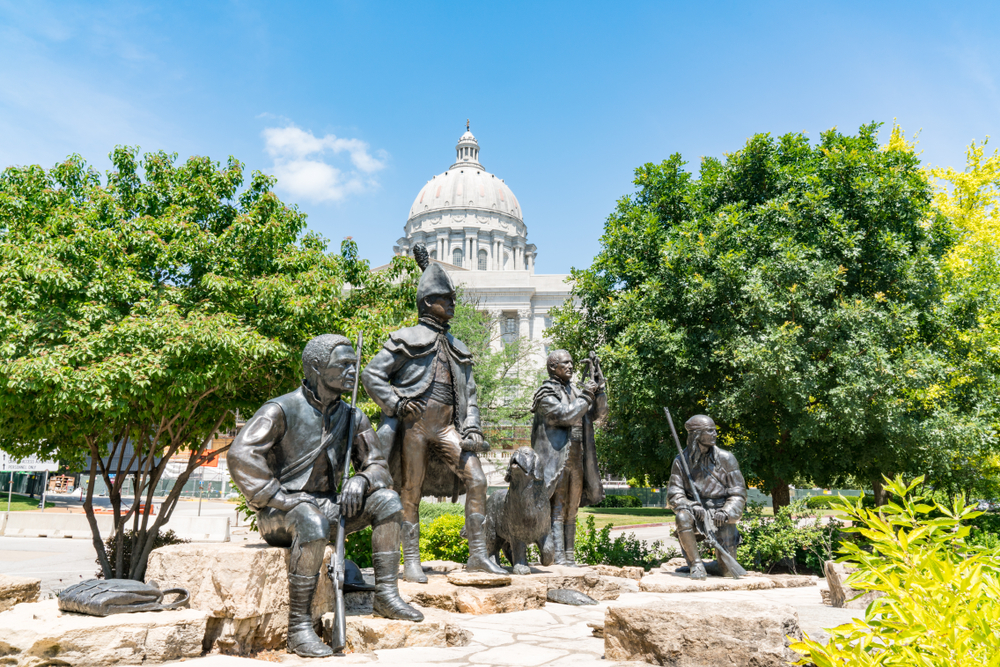 The American Jazz Museum In Kansas City
This museum is located in the historic jazz district in St Louis called 18th and Vine.
The American Jazz Museum's mission is to showcase artifacts and information to explain how jazz, the people, and the music, impacted Kansas city, the United States and the entire world of music.
There are a variety of exhibits, some permanent and some that change, mostly always centered on jazz.
On display, you can see a sequined dress worn by the iconic Ella Fitzgerald and musical instruments from renowned musicians.
This museum provides outstanding opportunities to students and visitors alike to learn about the people who are legendary in jazz, and enjoy the jazz sounds they left behind.
If you want to spend some time in KCMO, check into these cool Airbnbs in Kansas City.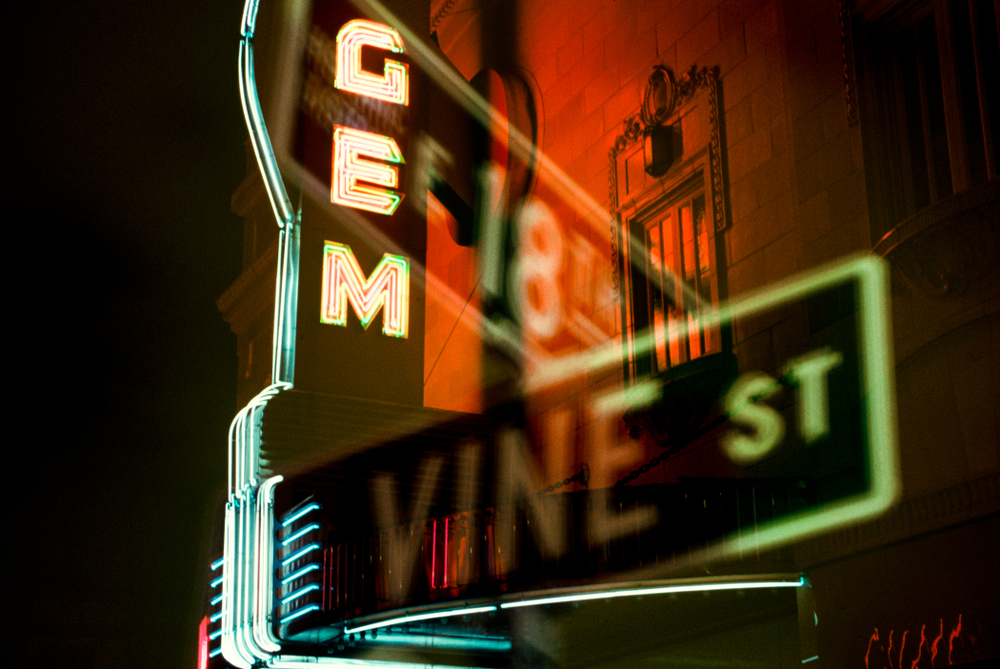 Silver Dollar City Attractions For Some Thrills
Located in Branson, this unique Midwest theme park offers something sure to please everyone.
Located in the Ozark Mountains, Silver Dollar City Attractions in Branson has something to please everyone.
From heart-thumping rollercoasters to period entertainment at this 1880s theme park there is always lots to choose from.
You will find spine-tingling water chills at the White Water water park and can take a cruise aboard the Branson Belle.
If you want to escape into nature and relax after the busy days of having fun, consider camping at the campground located near everything. It offers some of the best camping in Missouri.
Visiting Silver Dollar City Attractions is one of the fun things to do in Missouri.
Visiting European Castle Ruins Is One Of The Best Things To Do In Missouri
Yes, Missouri does indeed have the remains of a once-beautiful European-inspired castle. It is located in Camdenton, at Ha Ha Tonka State Park.
In the early 1900s, a wealthy businessman brought European tradesmen over to Missouri to build him his very own castle by hewing trees and quarrying the nearby Missouri sandstone.
Sadly, he died before the castle was completed, but his sons took over and finished their father's dream in 1922.
Another misfortune occurred in 1942, when sparks from a fireplace ignited and burnt the castle down to the ground, except for the stone walls.
It remained unattended until it was purchased by the state of Missouri.
Today you can wander through the medieval ruins, and hike through the grounds as several trails are available.
Visiting the Ha Ha Tonka Castle is one of the best places to visit in Missouri. And would make a fun Midwest road trip to put on your bucket list!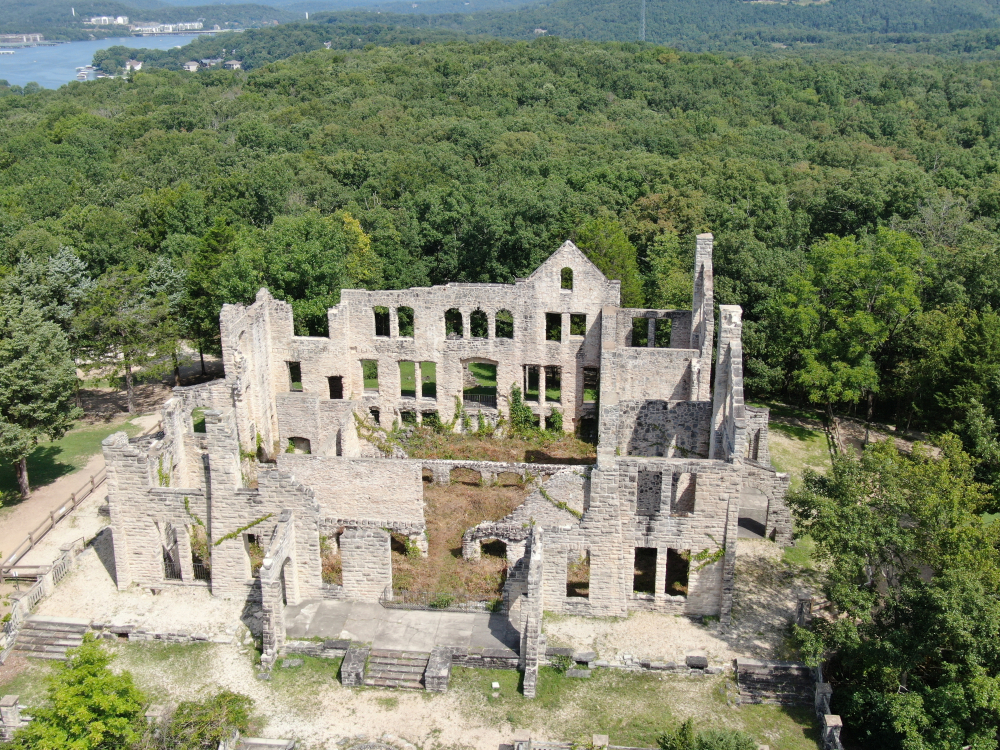 Branson Is One Of The Best Places To Visit In Missouri
Branson has a reputation as being one of the most popular vacation destinations in Missouri. It has something to please everyone, young and old alike.
Located in southwest Missouri, it once hosted mostly country music attractions.
But today it has evolved into a Missouri attraction with a wide variety of options for your entertainment enjoyment. And there are so many things to do in Branson MO.
If you want to spend your vacation watching live Broadway-style performances, or riding thrill rides, you can do that!
If you want to venture out to experience the natural beauty that Missouri offers, you certainly can do that as well. How about a helicopter view of the area? That is available, of course.
You can even decide to celebrate Christmas in Branson.
Whatever attractions in Missouri interest you and your family, no doubt about it, visiting Branson is one of the best things to do in Missouri.
Branson has some of the best attractions in Missouri not to miss!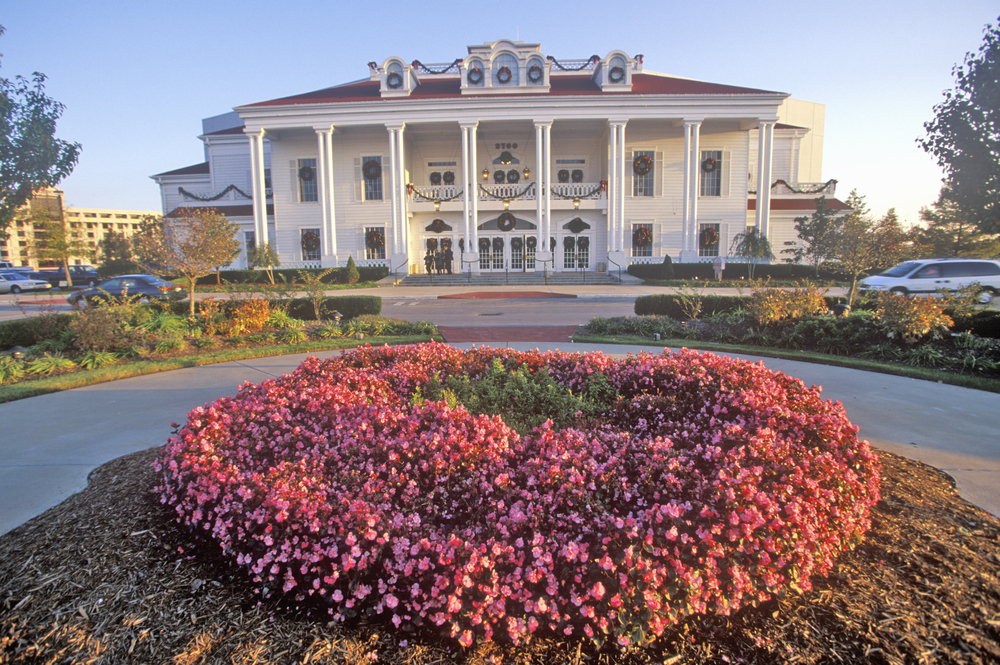 Mark Twain's Home Childhood In Hannibal Missouri
Located in Hannibal MO, you can visit the childhood home of Samuel Langhome Clemens, more famously known as the iconic author Mark Twain.
Now a museum, you can wander through the home and gardens where Samuel Clemens grew up and had the real experiences that inspired him.
You can begin at the Interpretive Center where you will learn about Mark Twain's life. There is a gift shop for you do get a special memento of your visit.
Not only that, you can visit the Huckleberry Finn House (where Tom Blankenship, the real Huck Finn grew up!) and the Becky Thatcher House. That is where Laura Hawkins, the inspiration for Becky grew up.
See the actual infamous whitewashed fence as well.
There is so much to see at this attraction in Missouri. It is definitely one of the most interesting things to do in Missouri.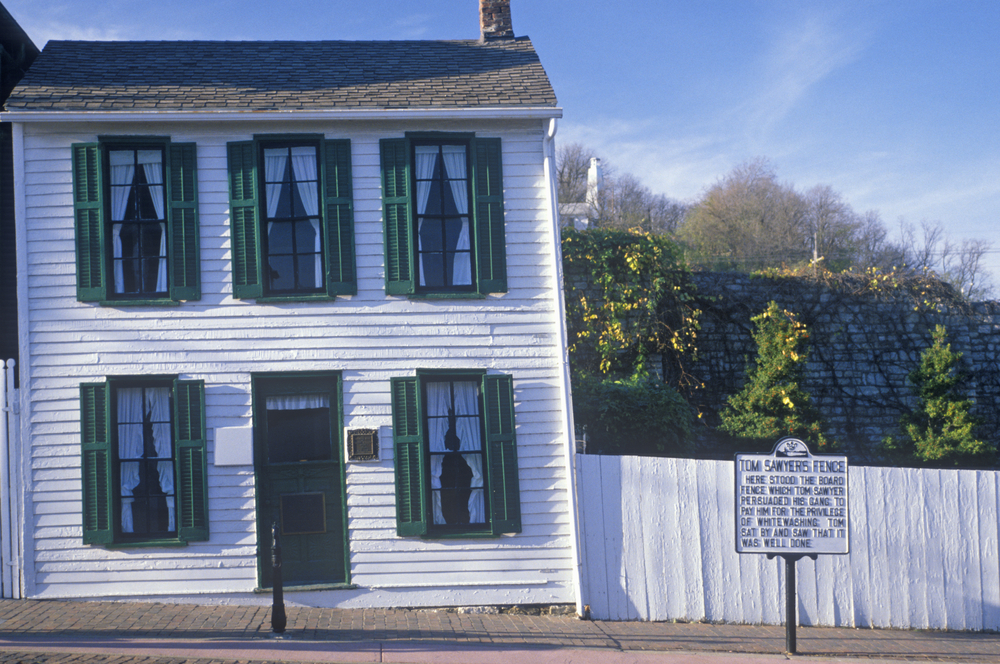 Wilson's Creek National Battlefield For American History
Wilson's Creek National Battlefield is located in Republic, Missouri.
It is one of the most interesting national parks in the Midwest.
Here is a preserved site of the first Civil War battle, fought in 1861, west of the Mississippi River, which incidentally was a Confederate victory.
This national battlefield is considered one of the top three best-preserved Civil War battlefields within the National Park Service.
You can take a self-guided auto tour which is about 5 miles long with 8 informational stops along the way showcasing important battlefield locations.
Begin your visit at the visitor center to ask questions and gather information. There is a museum, library, and interactive exhibits.
Children can earn a coveted Junior Ranger badge, and there are historical buildings to tour.
Full of history, this is one of the best places to visit in Missouri.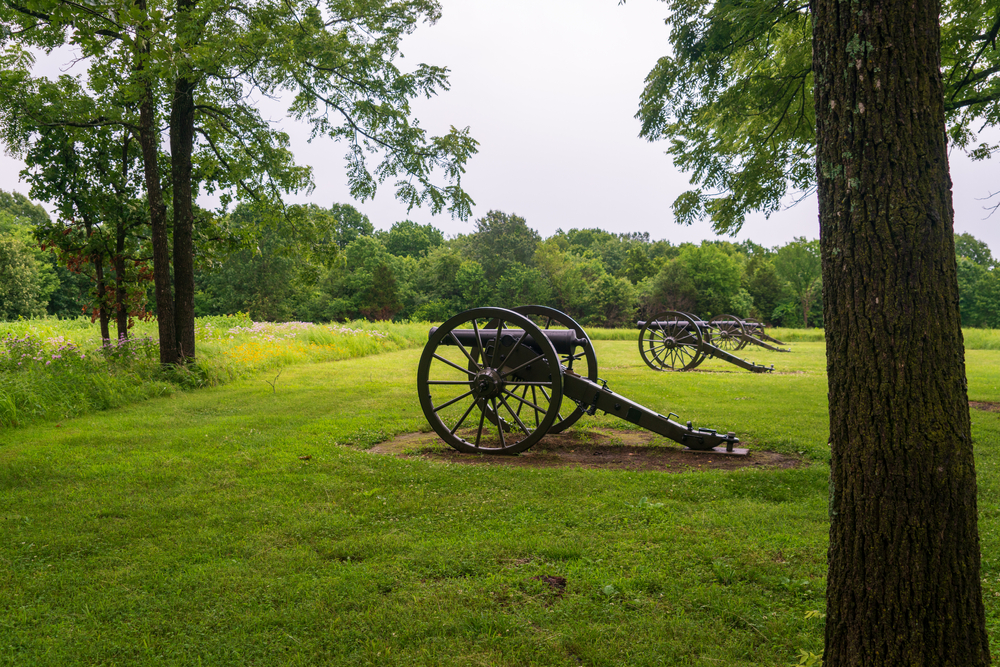 Packing List When Searching For Things To Do In Missouri
If you are searching, here are some tips on how to pack lightly when packing when heading to the best Missouri attractions.
A concealed travel pouch may be one of the most important items you bring along when searching for things to do in Missouri.
It is always important to protect your personal information. Identity thieves are everywhere.
This unisex RFID-blocking concealed travel pouch is lightweight and comes in several colors. It has lots of organization to give you peace of mind. You can place it under your clothes next to your body to carry your ID safely.
If you have a pouch already that does not come with RFID protection, as I do, these RFID sleeves are the perfect solution.
If you are planning on taking a lot of pictures with your phone you will definitely want to consider an external charging battery. This Anker high-speed phone charging battery is the exact one I carry with me on all of my trips.
I like that it holds its charging capabilities for several uses so I do not have to worry about it while out and about, and if I forget to recharge it at night, it will still be good to go the next day.
My daughter gifted me with this FugeTek selfie stick and tripod setup for my birthday. I absolutely love it! It is made of lightweight aluminum and is so easy to use.
It has Bluetooth connectivity and is a breeze to use for taking Insta-worthy selfies at Missouri events.
I never much believed in using packing cubes when traveling. That is until I tried them. Now I am hooked. These are the exact cubes I use to stay organized when I pack for a trip!
You will want to bring your own refillable water bottle with you.
I never leave home on a trip without my Bobble filtration bottle. The 18.5-ounce size is perfect for your adventures and it fits nicely in the pocket of a backpack.
The replaceable carbon filter ensures fresh water when you want it.
Perhaps you are traveling a long distance and packing space is a premium in your suitcase, or in your car. Then this collapsible silicone foldable water bottle would work well for you. Would not take up much space at all.
You will want a backpack or daypack with you to store snacks, your water bottle, phone, extra clothes, etc.. . No matter the time of day or evening.
This foldable water-resistant backpack would be great. And it comes in many different colors!
—
Here I have given you an eclectic list of 10 of the best things to do in Missouri. I hope they inspire and encourage you to explore many attractions in Missouri.
Perhaps one or many would make a fantastic Midwest weekend getaway!
Please let me know if you have any suggestions to add to my list in the comment sections below.