Have you ever wondered what the best Route 66 attractions are?
I've driven on Route 66 many times, and there are some amazing, fun, and unique roadside attractions on America's most famous highway.
Route 66 runs from Chicago, Illinois to Los Angeles, California. Along the way, it crosses into several Midwestern states.
While I typically only focus on states in the Midwest, for this list I've included attractions in every state that Route 66 crosses through.
Along Route 66, you'll find long abandoned shops, homes, and once wildly popular roadside attractions.
In recent years, local conservatory groups have started focusing on preserving the history and heritage of many of these famous Route 66 stops.
So, with all that in mind, lets take a look at the 15 best Route 66 attractions for your bucket list!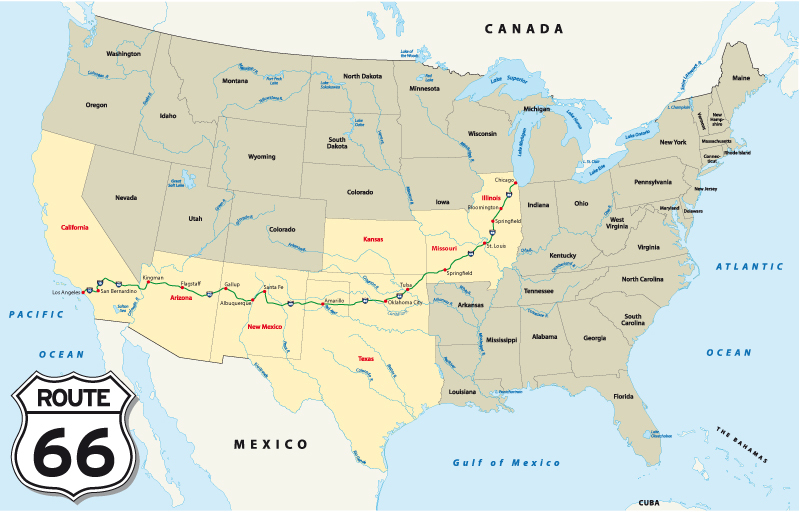 15 Best Route 66 Attractions For Your Bucket List
The Gemini Giant In Illinois For Kitschy Fun
One of the most popular stops on a Kitschy Illinois Roadside Attractions Road Trip is the Gemini Giant.
The Gemini Giant is a large Mid Century metal statue.
You can find the Gemini Giant in Wilmington Illinois outside of the Launching Pad restaurant.
The restaurant is a lovingly restored Mid Century style diner that also has a small Americana Museum inside.
If you visit the Gemini Giant, I highly suggest grabbing a bite to eat at the Launching Pad to experience an original Route 66 diner before taking a picture with the iconic statue.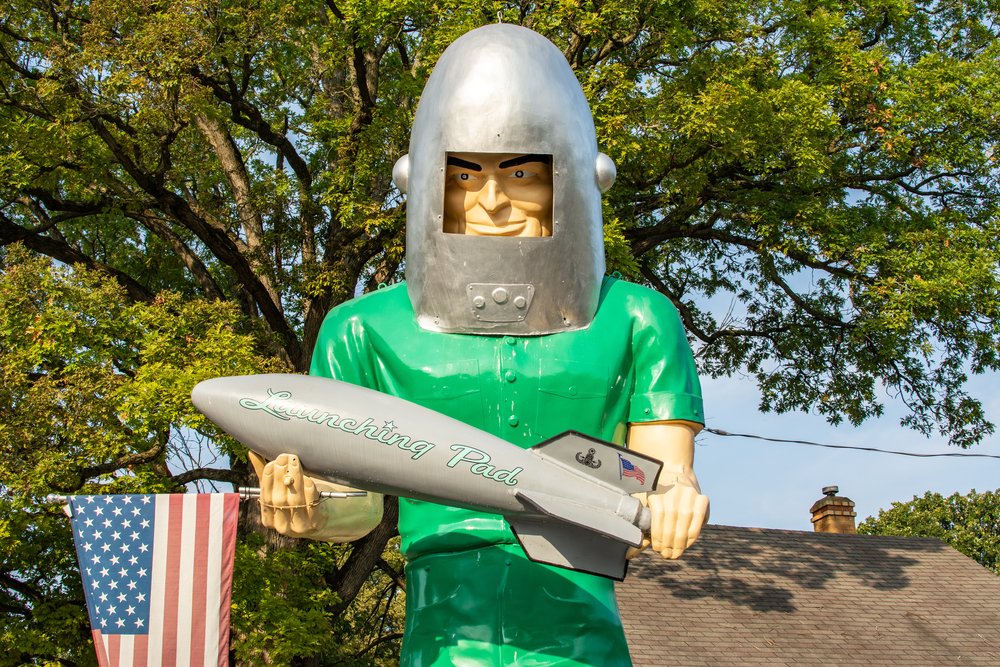 The Soulsby's Service Station, Illinois
In Mount Olive Illinois is the National Heritage Site, the Soulsby's Service Station.
The service station was originally opened in 1926 by Henry Soulsby, before Route 66 even came to the area.
Oil stations were working with architects to create service stations that would blend in to the towns that were being built up around Route 66.
With this in mind, Soulsby designed the station himself, and it thrived.
It became an important part of the community, and a piece of Route 66 history.
The service station eventually closed and was sold in 1997. But in 2003, the local historical society started the painstaking process of preserving the property.
Now, people can come and admire this iconic piece of Route 66 history. This would be a great day trip from Chicago as well.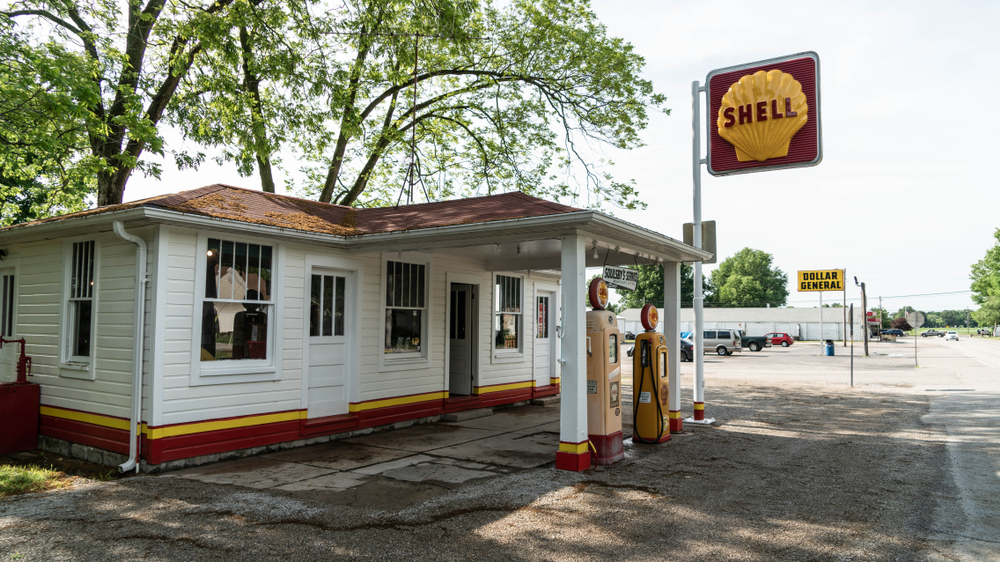 Meramec Caverns, Missouri
The Meramec Caverns are in Stanton Missouri, just off of Route 66.
Known as 'Missouri's Buried Treasure', the caverns are one of the best Route 66 attractions for families. And definitely an amazing Midwest hidden gem.
The caverns offer guided tours daily and feature some of the largest and rarest cave formations in the world.
Many of the rock formations have fun names, like 'The Wine Table' and the '7-story Mansion'.
There is even a fun lightshow where the caverns are lit up with different colored lights, which make it feel especially magical.
While there, you can also zipline, mine for gold, and go rock climbing.
It's a great detour if you're driving on Route 66 and looking for some family fun.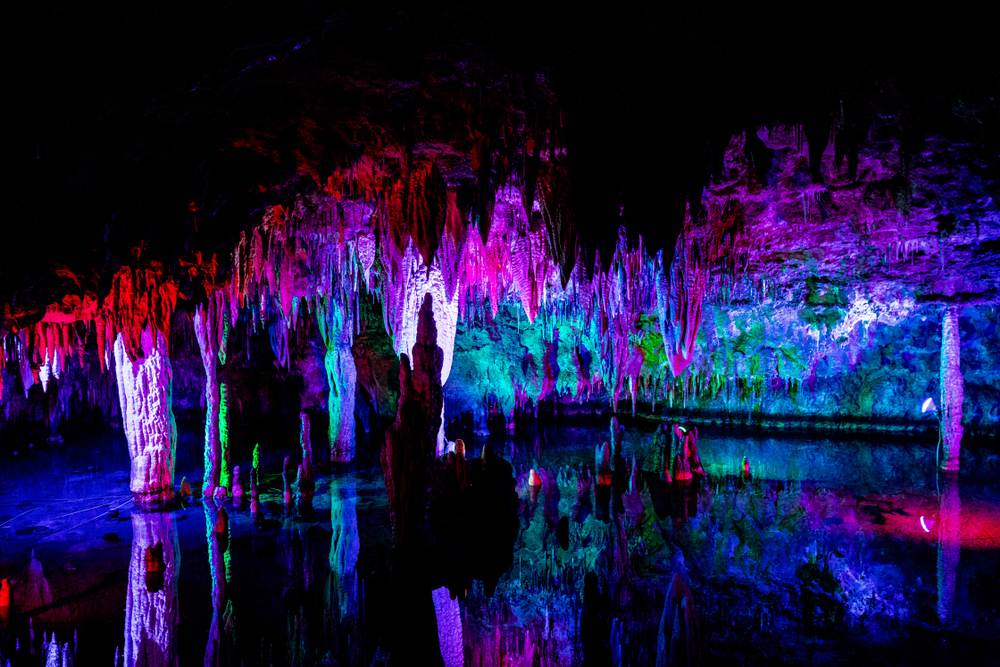 Route 66 Drive-In Theater, Missouri
The authentic Route 66 Drive-In Theater is located in Carthage, Missouri.
If you have never gotten to experience the classic American experience like a drive-in, then I highly suggest you add this stop to your Route 66 map.
The Route 66 Drive-In is open seasonally, from late April to early September.
On the weekends, you can watch two movies for the price of one.
The movies are typically new releases, but every so often, they will also do older films.
There is nothing like grabbing dinner at the concession stand and enjoying a movie from the comfort of you own car.
It is certainly a Midwest bucket list experience.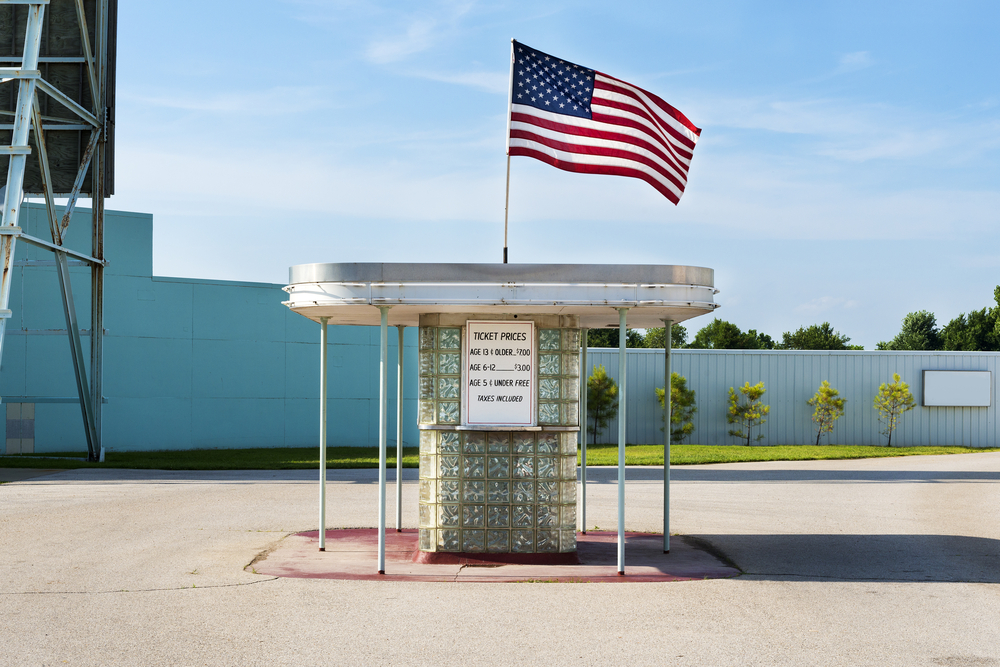 Historic Rainbow Bridge, Kansas Is One Of The Interesting Route 66 Attractions
Route 66 just barely crosses into Kansas.
Part of where Route 66 crosses into Kansas is at the Historic Rainbow Bridge.
The Historic Rainbow Bridge is a single span concrete Marsh arch bridge.
There used to be a few of these along Route 66, but now, the Historic Rainbow Bridge is the only one that is still standing.
Built in 1923, it at one point was covered in graffiti, but recently was painted a bright white.
The bridge has been listed on the National Register of Historic Places, and is an interesting part of Kansas' Route 66 history.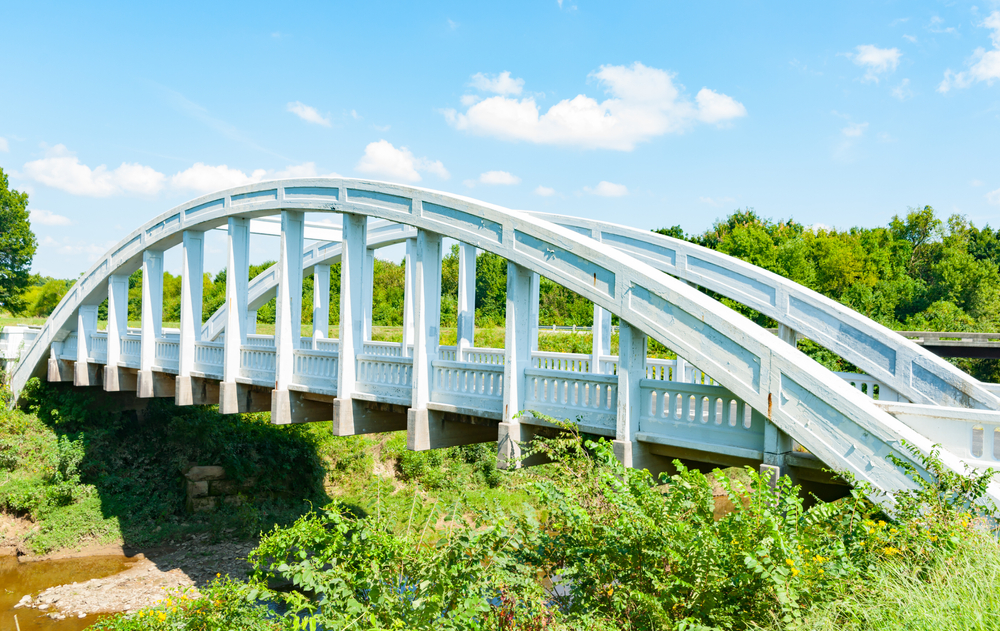 Blue Whale Of Catoosa, Oklahoma
The Blue Whale of Catoosa is an Oklahoma landmark attraction on Route 66.
You'll find this kitschy fun whale on a map of Route 66 outside of the town of Catoosa.
This funky blue whale sculpture was built in the early 1970s by Hugh Davis as a surprise gift for his wife who loved whales.
It quickly became a popular swimming spot for locals and travelers driving on Route 66.
Now, it is an iconic Route 66 landmark that people still travel to see and take pictures with.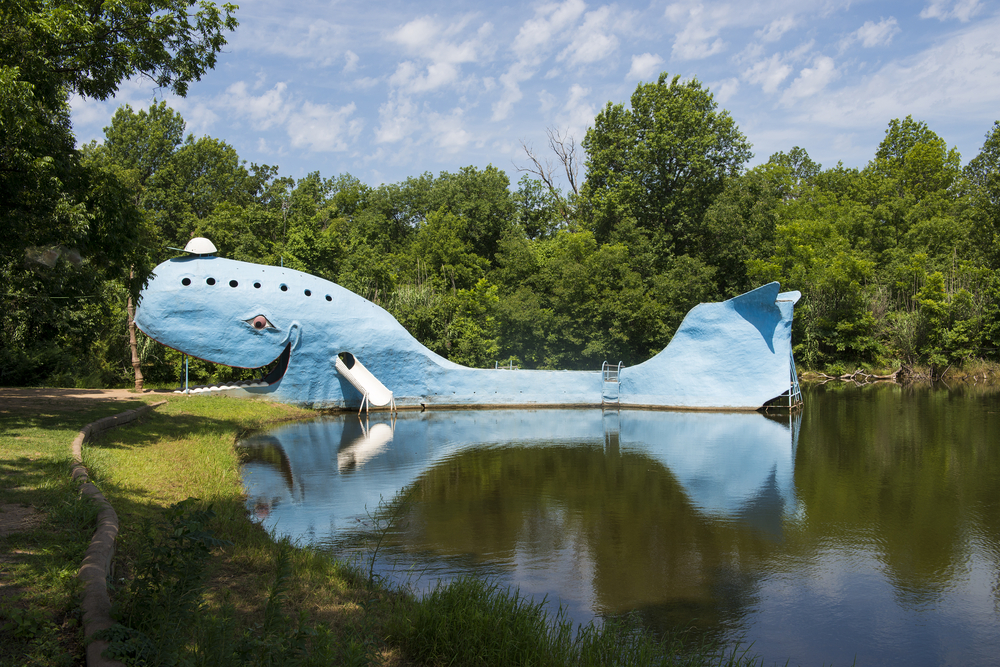 Pops 66 Soda Ranch In Oklahoma To Try 700 Soda Flavors
In front of a Mid Century style shop, you can't miss the 66 foot tall neon soda bottle, especially when it is all lit up.
The shop is actually a diner and a gas station with over 700 different types of soda.
Inside the shops, the walls are lined with the variety of sodas and you can peruse the selection while you are waiting to be seated.
The diner serves breakfast, lunch, and dinner.
Here you can enjoy classic diner meals like hamburgers, hot dogs, and sandwiches.
They also have a nice selection of desserts that you can enjoy while sipping on any of the wild, or traditional, flavors of soda.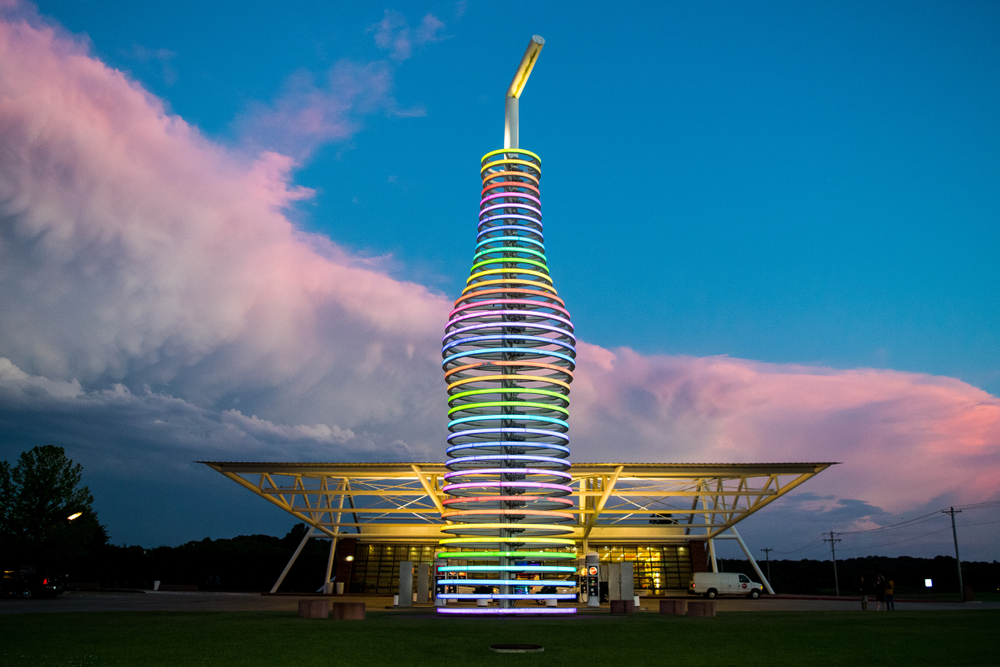 One Of The Coolest Route 66 Attractions Is The Leaning Tower of Texas, Texas
Just off of the Route 66 map is the Leaning Tower of Texas.
The water tower leans at an uncomfortably close angle that makes you feel certain it's going to topple over at any moment.
But the tower is in no danger of falling over.
In fact, it was purposefully designed to have it's signature tilt.
The leaning water tower was actually created as a clever advertisement for those driving down Route 66.
It originally marked the spot of a large service station, where people would stop to check out the mysteriously leaning water tower, and fill up their tank or grab a snack while they were there.
Sadly, the service station burned down many years ago, but the quirky Leaning Water Tower of Texas still remains.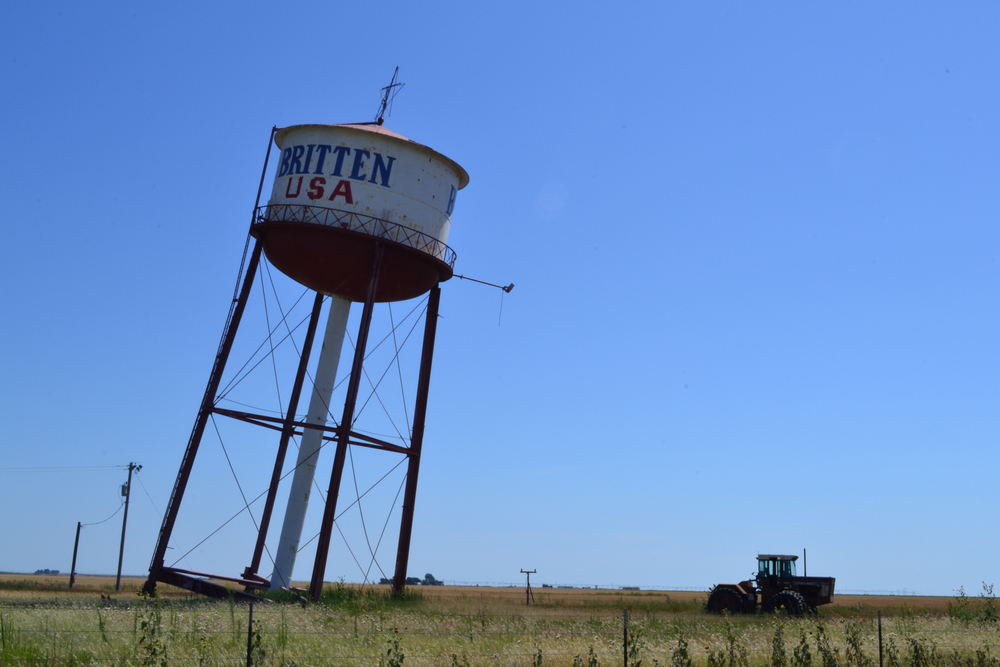 Cadillac Ranch,Texas Is One Of The Most Iconic Route 66 Attractions
The Cadillac Ranch, outside of Amarillo Texas, is an iconic Route 66 roadside attraction.
Built by hippies from San Francisco that called themselves the Ant Farm, it is a wild art installation in the middle of nowhere. The project was funded by billionaire Stan Marsh III.
Marsh wanted a unique artwork that would baffle Amarillo locals, so the Ant Farm came up with Cadillac Ranch, which is an ode to the evolution of the Cadillac tail fin.
Marsh and the Ant Farm had ten Cadillacs driven out to the desert.
Originally, the Cadillacs were unaltered. But as people began to stop and look at the instillation, they also began defacing it.
If anything, this made Cadillac Ranch more popular. People travel from all over to leave their mark on Cadillac Ranch and admire the baffling and iconic Route 66 attraction.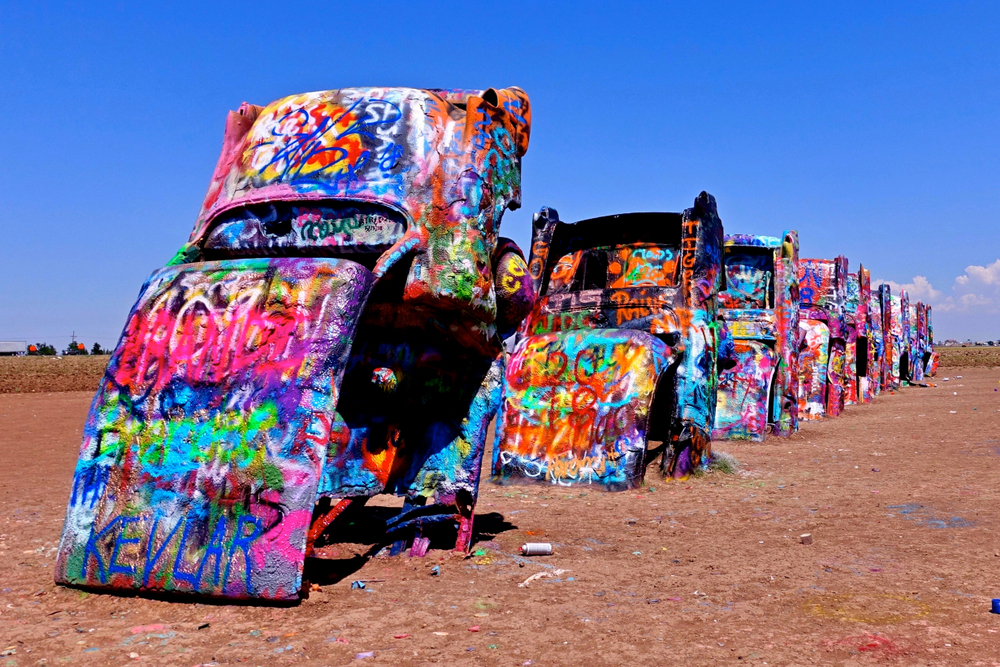 Santa Rosa Blue Hole In New Mexico Is A Route 66 Desert Oasis
The Santa Rosa Blue Hole looks like a mirage in the middle of the New Mexico desert, but it is real.
The oasis spot is actually a part of the Seven Sisters Lakes, which are a series of lakes that are connected via a vast underground water system.
It is a seemingly magical blue oasis in the middle of the desert that has attracted visitors for years, long before Route 66.
At one point, it was a popular watering hole for nomadic Native American tribes, traveling cowboys, and then eventually Route 66.
Now, visitors can enjoy a nice and refreshing swim in the Blue Hole where the water stays a refreshing 62 degrees thanks to the underground cave system that makes up the hole.
You'll quickly find the Blue Hole is one of the best Route 66 attractions that is full of history and perfect for a sunny summer day.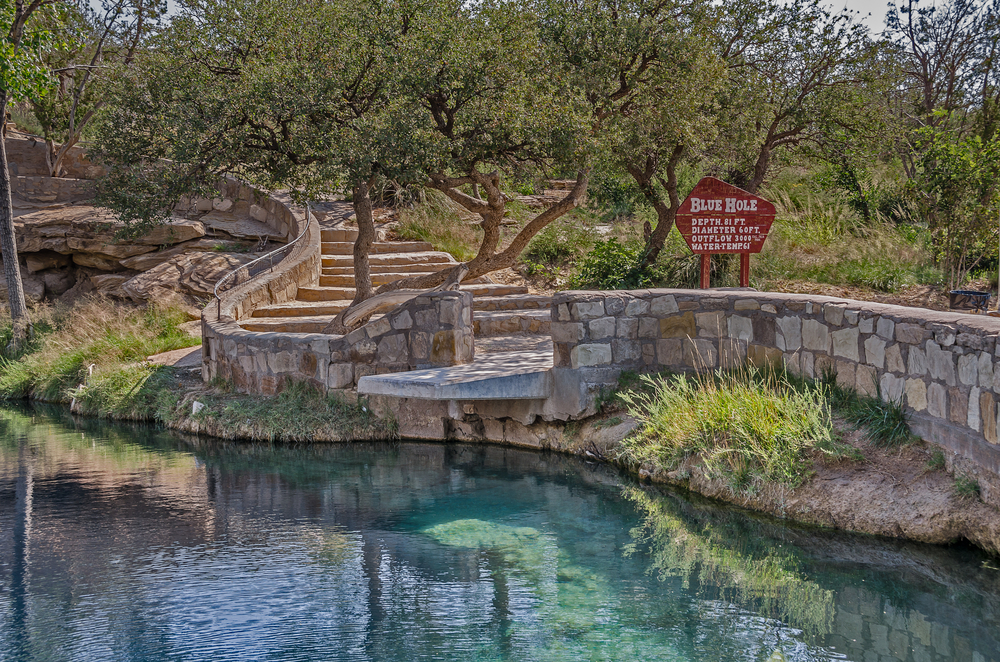 Sandia Peak Aerial Tramway, New Mexico
In Albuquerque New Mexico you'll find this unique roadside attraction on the Route 66 map.
The Sandia Peak Aerial Tramway is a unique pit stop on your Route 66 drive.
The tramway rises by cable up to the peak of the Sandia Mountains which is 10,738 feet.
The ride to the peak itself takes about 15 minutes.
While you're in the tramway, you'll gradually get amazing views of Albuquerque, the Sandia Mountains, and the desert around the two.
You'll be able to get out and walk along the mountains and enjoy fresh air surrounded by fir and aspen trees.
The tramway also has a restaurant where you can enjoy delicious food and amazing views before you head back out onto the road.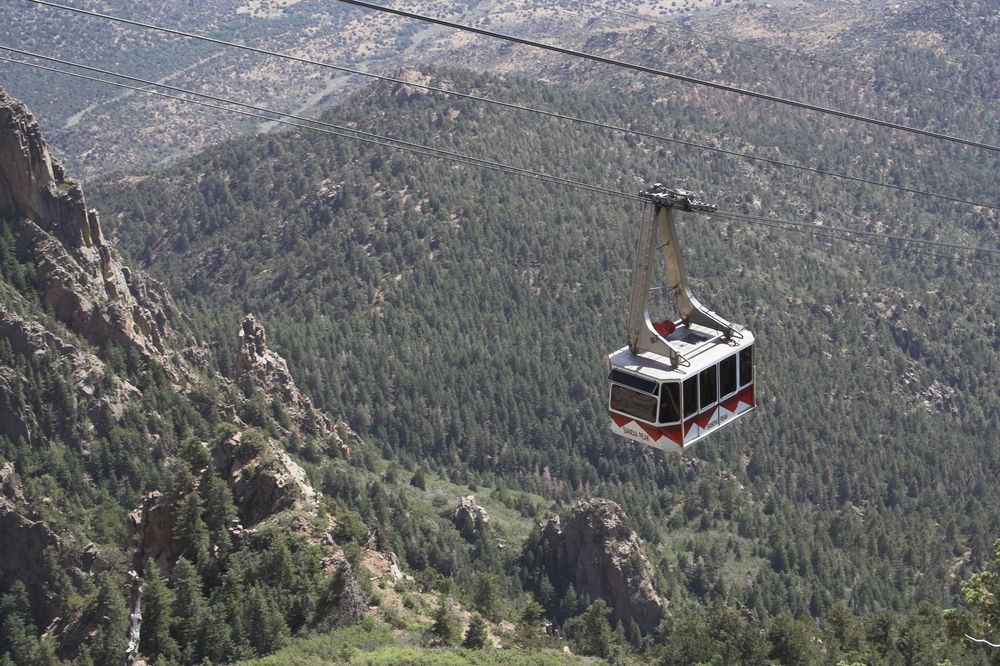 Petrified Forest National Park, Arizona
If you are looking for a super unique national park while you drive on Route 66, then stop at Petrified Forest National Park, in Arizona.
There are a few options for exploring the park.
If you don't have the time to stop, you can drive through the national park.
While you drive through, there are several outlooks you can stop at to admire the view.
If you do have the time, there are several hiking trails you can explore.
For those who only have a few hours to spare, there are shorter trails.
You can easily spend a half-day at the national park though, exploring longer trails, speaking to Rangers, and learning about the area at the Paleo Lab.
The Petrified Forest National Park is a great Route 66 attraction for the whole family.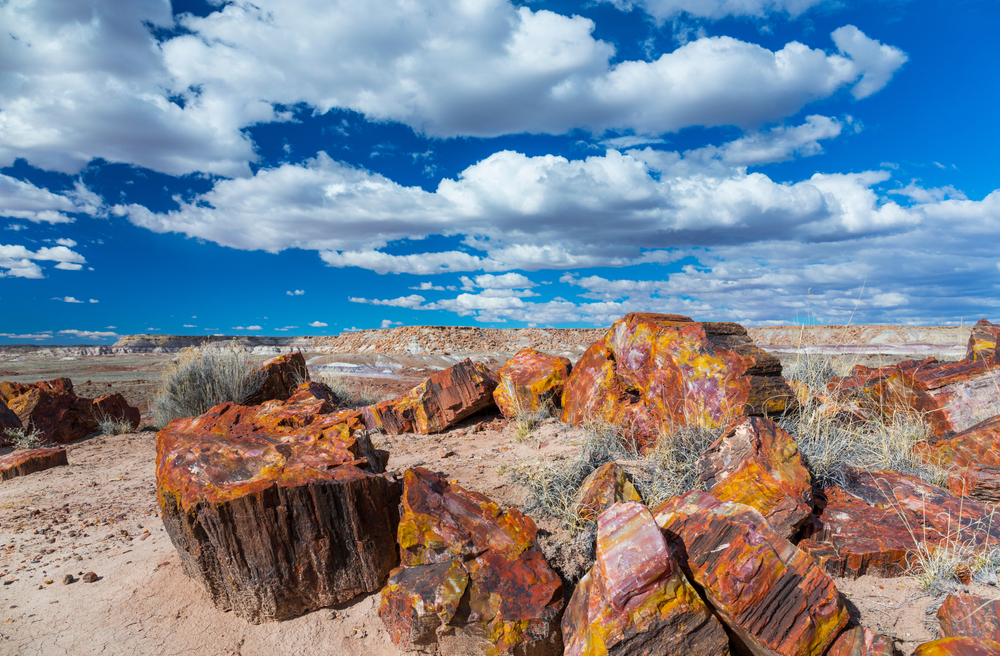 Seligman Arizona Is The Real-Life Radiator Springs
Seligman Arizona is a city that has been preserved to resemble what it looked like during the heyday of Route 66.
It started out as a railroad junction encampment in the days of the Wild West, but with the addition of Route 66, it became a popular stopping point along the highway.
Sadly, the town started to decline in popularity when traffic from Route 66 began to divert to other newer highways.
In recent years, historical societies and the community have lovingly restored this Route 66 town to most of it's former glory.
And fun fact, Seligman served as the town inspiration for Radiator Springs in the popular Disney movie Cars!
Now, visitors can come to the town and see an authentic Route 66 town.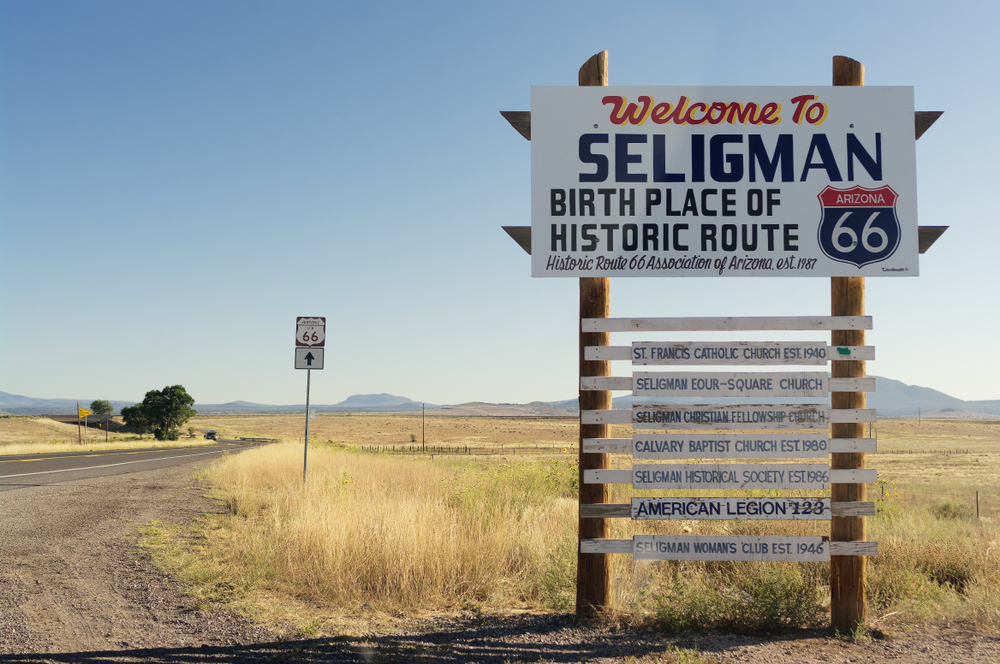 Calico Ghost Town, California Is One Of Fun Route 66 Attractions
The Calico Ghost Town is a Regional Park in San Bernardino County California.
The town is a former silver mining town that was originally built in 1881. However, in the mid 1890's, silver lost its value, and the town was abandoned.
There is an admission fee to enter the town, and then within the town there are several attractions that require additional tickets.
You can ride a mining train, go on a ghost tour, and more. The park even has a restaurant and shops to find souvineers.
If you have the time, to stay the night, you can stay in one of the bunkhouse and cabins. If you bring your own tent, you can camp on the grounds and do your own ghost hunting.
One thing is for sure, Calico Ghost Town is a really unique Route 66 attraction you won't forget.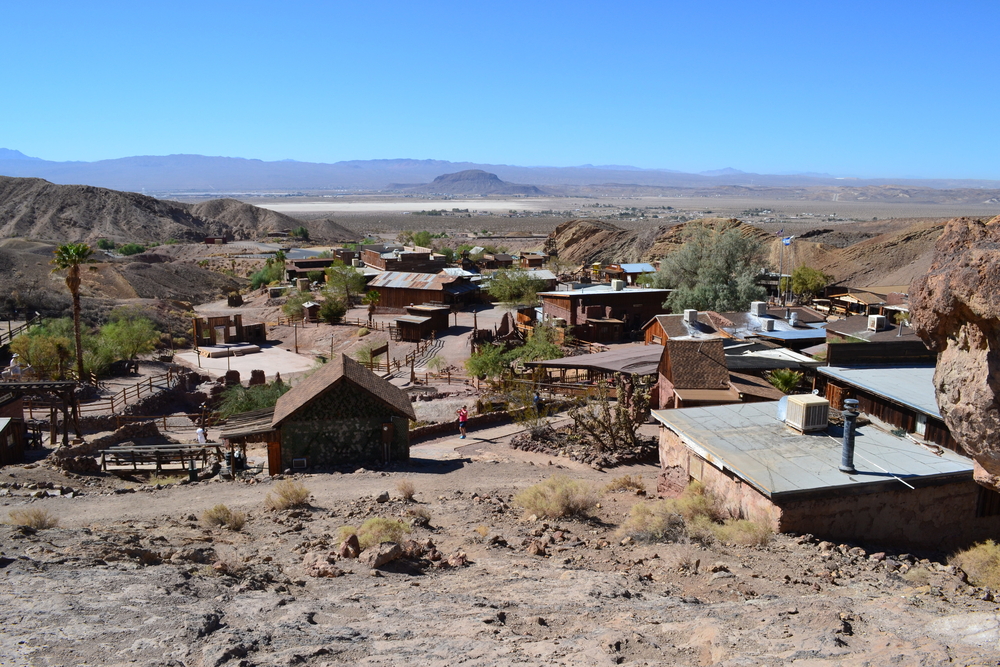 Elmer's Bottle Tree Ranch, California
If you are looking for Route 66 attractions that are a bit more artistic, make a stop at Elmer's Bottle Tree Ranch, in Oro Grande California.
The Ranch was designed by a local man named Elmer Long who wanted to create a quirky and fun artistic space for Route 66 travelers to enjoy.
Made up of thousands of bottle sculptures, the Ranch is full of thousands of glass bottles, many of which were donated over the years by travelers.
It is a colorful and enchanting stop that deserves to be on any Route 66 map.
Packing List For Visiting Route 66 Attractions
If you will be traveling, either by plane or by car to the Midwest, here are some tips on how to pack lightly.
A concealed travel pouch may be one of the most important items you bring along when taking Route 66 road trips. It is always important to protect your personal information. Identity thieves are everywhere.
his unisex RFID blocking concealed travel pouch is lightweight and comes in several colors. It has lots of organization to give you peace of mind.
You can place it under your hiking clothes next to your body to carry your ID safely.
If you have a pouch already that does not come with the RFID protection, as I do, these RFID sleeves are the perfect solution.
This configuration comes with enough credit card sleeves that the entire family would be protected. They are slim too, so they will easily fit into your pouch or wallet.
If you are planning on taking a lot of pictures with your phone you will definitely want to consider an external charging battery. This Anker high-speed phone charging battery is the exact one I carry with me on all of my trips.
It can be used on a variety of phones, not just an iPhone like I have. And wow is it fast!
I like that it holds its charging capabilities for several uses so I do not have to worry about it while out and about, and if I forget to recharge it at night, it will still be good to go the next day.
My daughter gifted me with this FugeTek selfie stick and tripod setup for my birthday. I absolutely love it! It is made of lightweight aluminum and so easy to use.
It has Bluetooth connectivity and is a breeze to use for taking selfies when staying in one of the best Airbnbs in Illinois.
Hydration is so important when traveling. You want to remain hydrated throughout your travels to support your immune system which in turn will be stronger to fight off any germs you will encounter during your travels.
You will want to bring your own refillable water bottle with you.
I never leave home on a trip without my Bobble filtration bottle. The 18.5-ounce size is perfect for hiking and it fits nicely in the pocket of a backpack.
When filled with water, it is not too heavy to carry. And the charcoal filter ensures fresh clean water whenever you fill the Bobble.
You can find filter replacements here.
Perhaps you are traveling a long distance and packing space is a premium in your suitcase, or in your car.
Then this set of collapsible silicone foldable water bottles would work well for you. Would not take up much space at all.
You will want a backpack or daypack with you to store snacks, your water bottle, phone, extra clothes, etc.. when hiking This foldable water-resistant backpack would be great
It is very affordable and is available in many color options for you to choose from. The fact that it folds down into a zippered pouch will make it easy to pack.
—
I hope you enjoyed this fun list of Route 66 attractions.
Once a major highway that crossed through the heart of America, Route 66 is now an important piece of American history.
Even if you can't drive the whole thing, it is absolutely worth it to drive bits at a time, and maybe even check out a few of these unique Route 66 attractions.
If you've had the opportunity to drive Route 66, I'd love to hear about it. If not, is there something on this list that has intrigued you?
Let me know in the comments!