Looking for fun and interesting things to do in Iowa?
While Iowa can be an underappreciated state, it is worth a visit and should not be ignored. You do not want to miss out on what this great state has to offer!
Whether you already live in this Midwest state and are looking for cool Iowa day trips or are planning on coming through sometime soon, you might be searching for some Iowa attractions. We have you covered!
In Iowa, you will find many famous homes, beautiful nature scenes, and cool cities. Whether you are traveling as a family or wanting a romantic weekend getaway, Iowa has something for everyone.
Get ready to save some places on Google Maps because these are the best things to do in Iowa!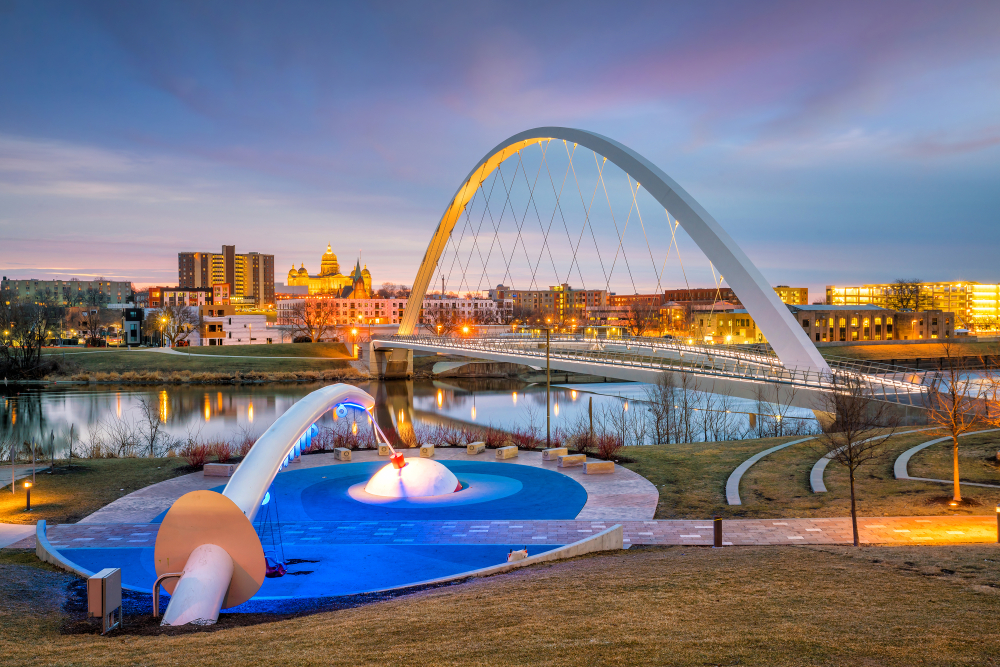 15 Things To Do in Iowa: The Ultimate Bucket List
High Trestle Trail Bridge
Found in Madrid, Iowa, the High Trestle Trail Bridge is an artsy and photogenic bridge that stretches over the Des Moines River.
At half a mile in length and thirteen stories high, you can expect amazing views of the water and surrounding area.
This path is part of the twenty-five-mile-long, cross-country High Trestle Trail. Even if you do not want to embark on this long trek, you can have fun crossing the pedestrian bridge.
This is one of the best free things to do in Iowa.
If you come to the bridge at night, it will be lit up with otherworldly, blue lights. This will make the experience even more memorable. It would be a great place for a romantic stroll.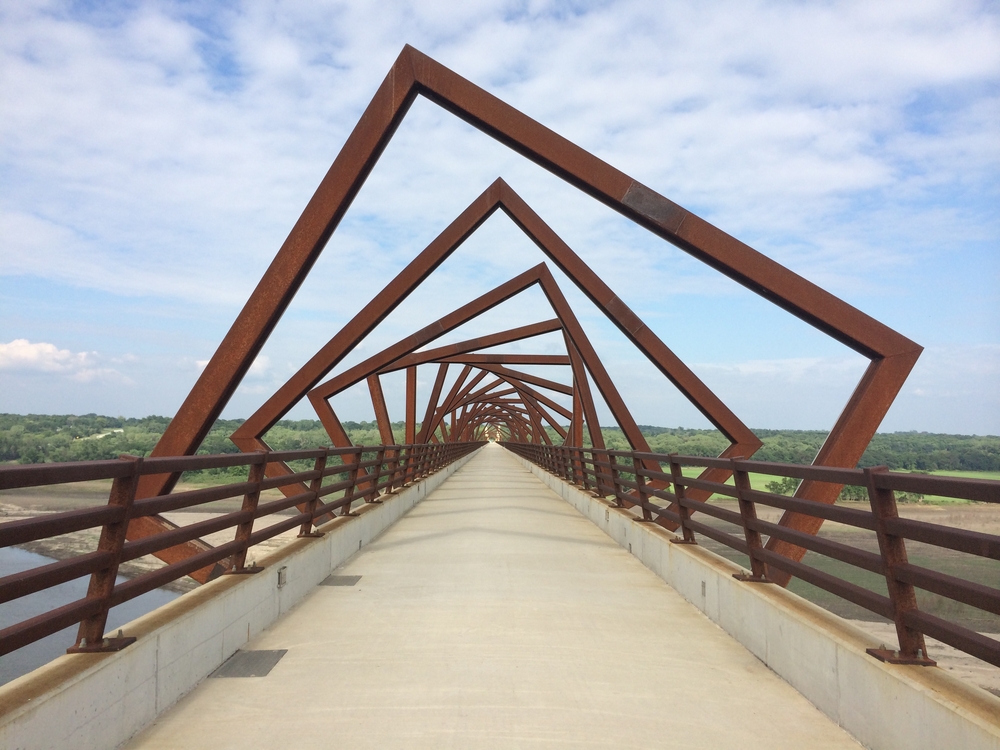 American Gothic House
If you are really into art, then you need to visit the American Gothic House in Eldon, Iowa. This is the house that inspired American artist Grant Wood to create his famous "American Gothic" painting.
Come pose in front of the iconic gothic window and recreate the scene from the 1930 artwork. Grant Wood had a studio in Cedar Rapids, Iowa, which you can visit along with his boyhood home.
The American Gothic House has been on the National Register of Historic Places since the 1970s. Even though it is a simple and modest home, it is one of the best Iowa attractions for art and history lovers.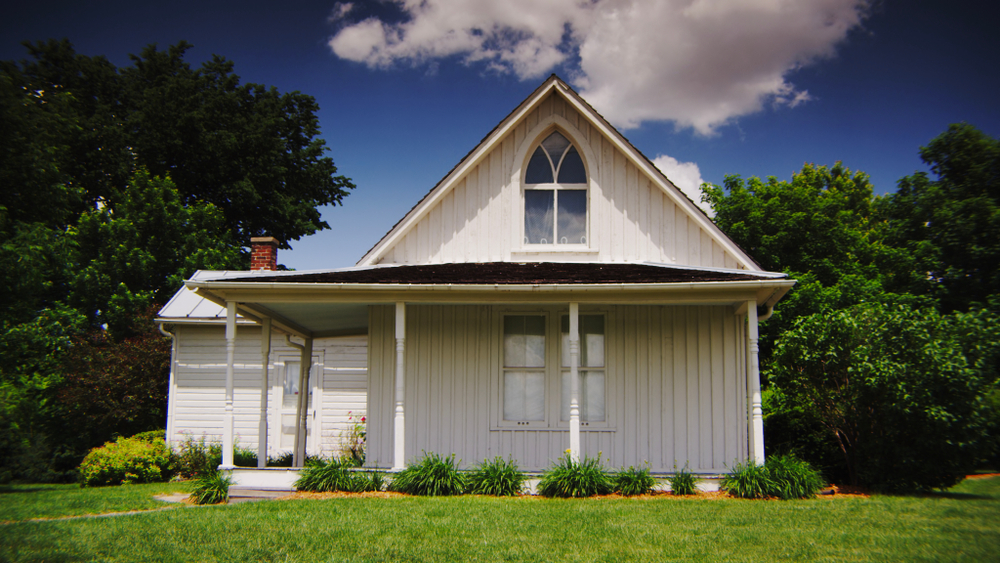 Visiting Des Moines Is One Of The Best Things To Do In Iowa
Des Moines is the capital and largest city in Iowa. This is a must-visit place if you are planning on touring Iowa. This city is full of pretty parks, art museums, and awesome architecture.
The first thing you need to do in Des Moines is to visit the State Capitol. Dating back to the late 1800s, this gorgeous building stands regally over the city.
You can take a free tour of the building and the grounds.
When you are done admiring the 23-caret gold leaf dome at the State Capital, walk through the East Village. Here you will find museums and locations on the National Register of Historic Places.
If you are traveling with kids, you might have fun at the Blank Park Zoo. Art lovers will want to go to the Des Moines Art Center and wander through the Pappajohn Sculpture Park.
It is easy to say there are a lot of things to do in Des Moines.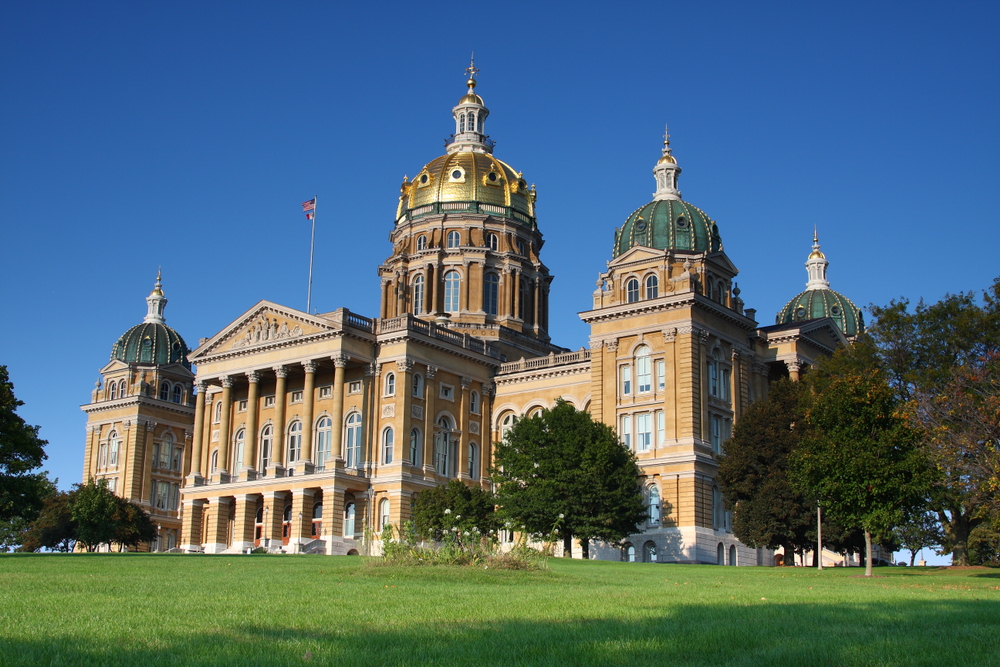 Maquoketa Caves State Park
If you are looking for some natural things to do in Iowa, you will want to explore Maquoketa Caves State Park. This park has the largest concentration of caves in the state and is a place to wonder about nature.
There are six miles of trails to hike which will take you through forests and amazing rock formations. You will have a relaxing experience becoming one with nature.
There are thirteen caves to explore. Some are easily accessible and can be walked into. Others, however, require people to be adventurous spelunkers.
No matter how you enter the caves, though, you will find cool stalactites and stalagmites.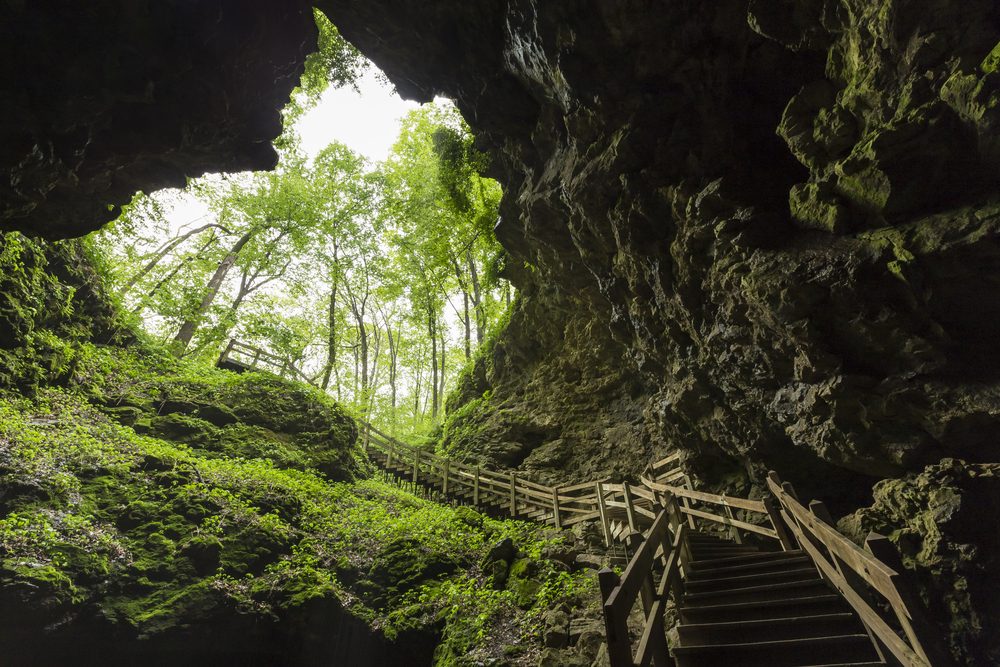 Cedar Rapids
Cedar Rapids is another major city in Iowa worth visiting. This city is known for its charm and European influences.
Many Czech, Slovak, and Moravian immigrants and their descendants have called this place home.
Come see how these nationalities shaped the area by visiting the Czech Village shopping district and the National Czech and Slovak Museum and Library.
Cedar Rapids is also an artsy city where you can visit the Cedar Rapids Museum of Art and Grant Wood's studio. Catch a show at the Paramount Theatre too.
If you are into history, you will want to visit the African American Museum of Iowa and the Ushers Ferry Historic Village. Take a tour of the 19th-century mansion, Brucemore, to step back in time.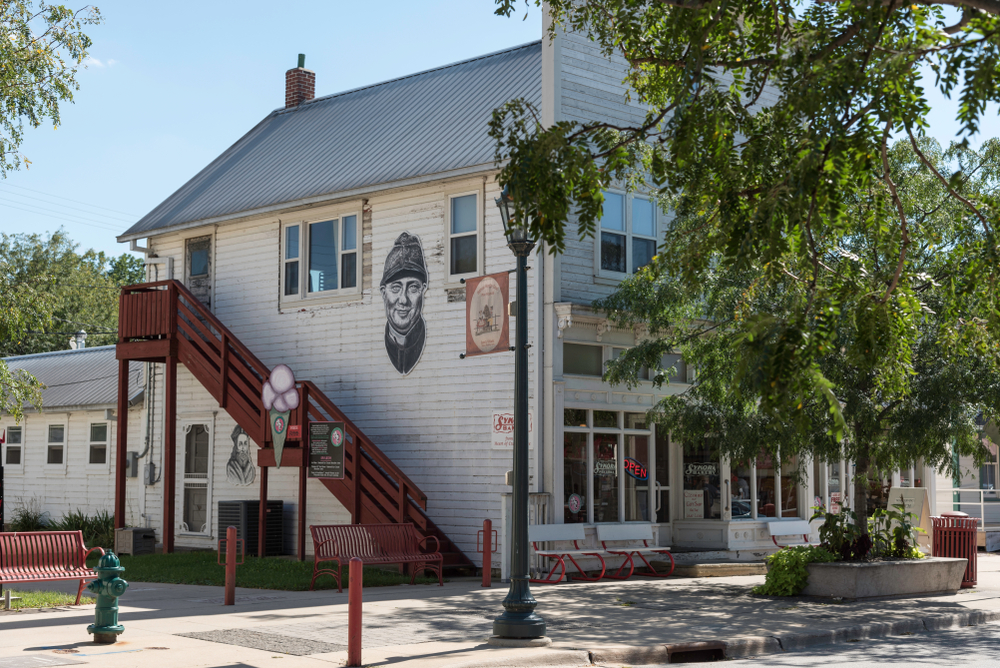 Bridges of Madison County
The Bridges of Madison County is a 1995 romantic movie that was set and filmed in Iowa. It stars Clint Eastwood and Meryl Streep.
If you are a movie buff or just want to see the beautiful locations where this movie was filmed, then you can come to Madison County and photograph the famous covered bridges just like Eastwood's character.
The Roseman and Holiwell Bridges were used in the movie, but there are a few other covered bridges in the area as well.
If you like idyllic, country scenes perfect for camping in Iowa, then this is certainly one of the best things to do in Iowa.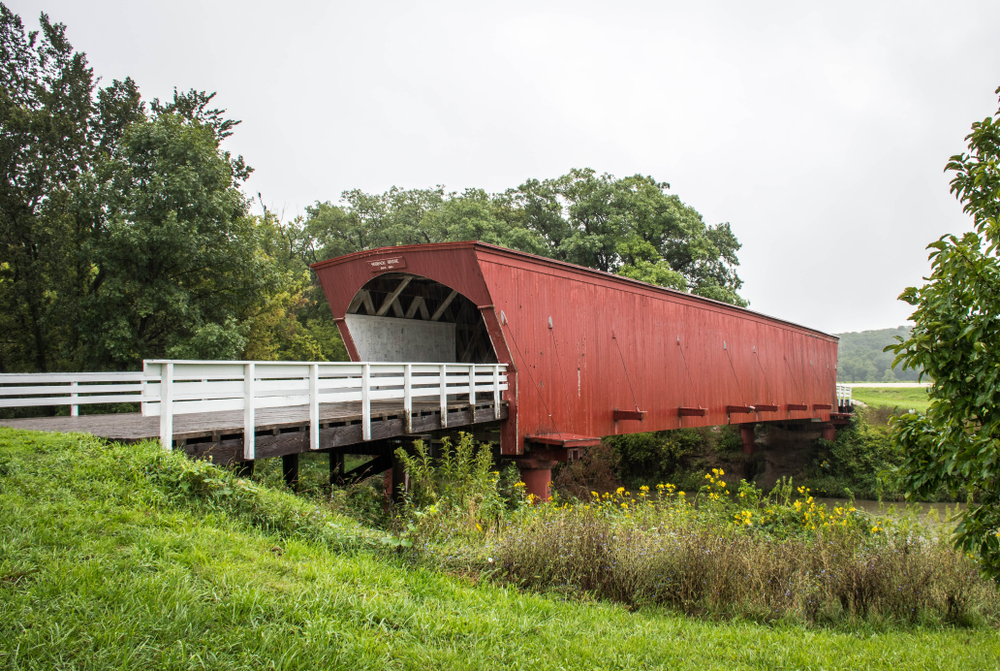 Herbert Hoover National Historic Site
President Herbert Hoover was born in West Branch, Iowa, in 1874. Today, you can visit the house where this American politician spent his early years.
You can visit the Birthplace Cottage, the blacksmith shop where Hoover's father worked, his old schoolhouse, and the Herbert Hoover Presidential Library and Museum.
President Hoover and his wife are buried here as well if you want to pay your respects. You can also hike the Hoover Nature Trail, a very interesting trail for hiking in the Midwest.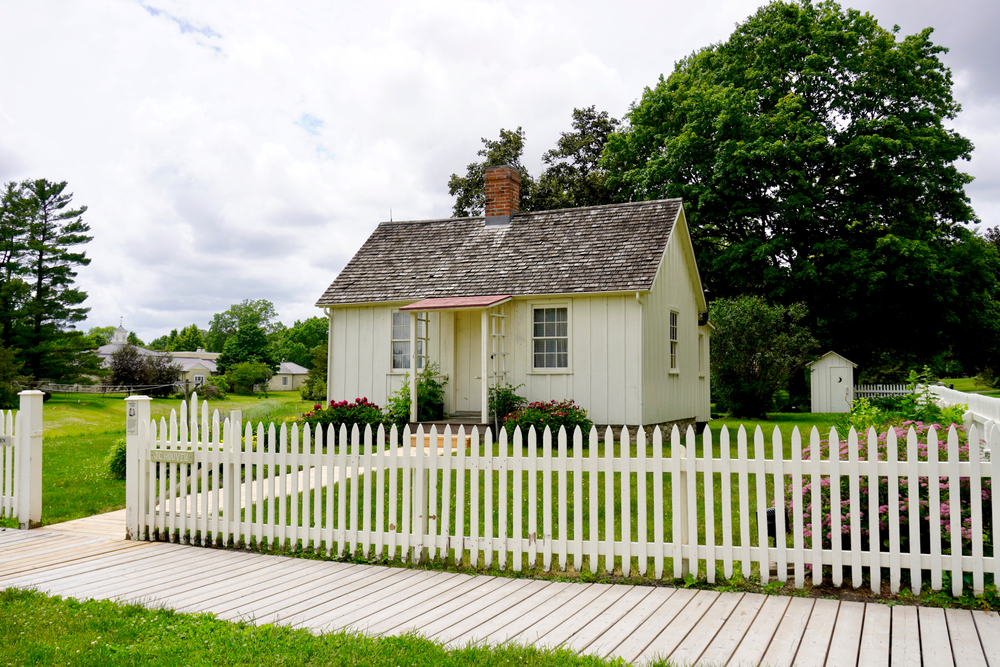 Buffalo Bill Museum
Buffalo Bill Cody was a soldier, hunter, and showman who was born in Iowa in 1846. This American figure was synonymous with the romanticized Wild West.
He founded Buffalo Bill's Wild West show in 1883. Focused on cowboys and the Wild West, this show toured the U.S. and beyond with celebrities like Annie Oakey and Frank Butler.
The Buffalo Bill Museum in LeClaire is dedicated to the frontiersman and the time he lived in. The museum also covers history regarding Native Americans, riverboats, and life along the Mississippi River. This is a great place to step back in time to the Wild West.
Reiman Gardens
Reiman Gardens in Ames is the largest public garden in the state. This is one of the best things to do in Iowa for a variety of reasons. There are seasonal plant displays inside and outside throughout the year.
The Butterfly Wing of the museum here is 2,500-square-feet. Come walk among a variety of butterfly species and admire caterpillars in different stages.
The museum also has displays about different aspects of gardening.
Another fun thing about Reiman Gardens is the fact that it is home to the world's largest concrete gnome. Introduce your kids to the fifteen-foot tall Elwood before they play in the Children's Garden.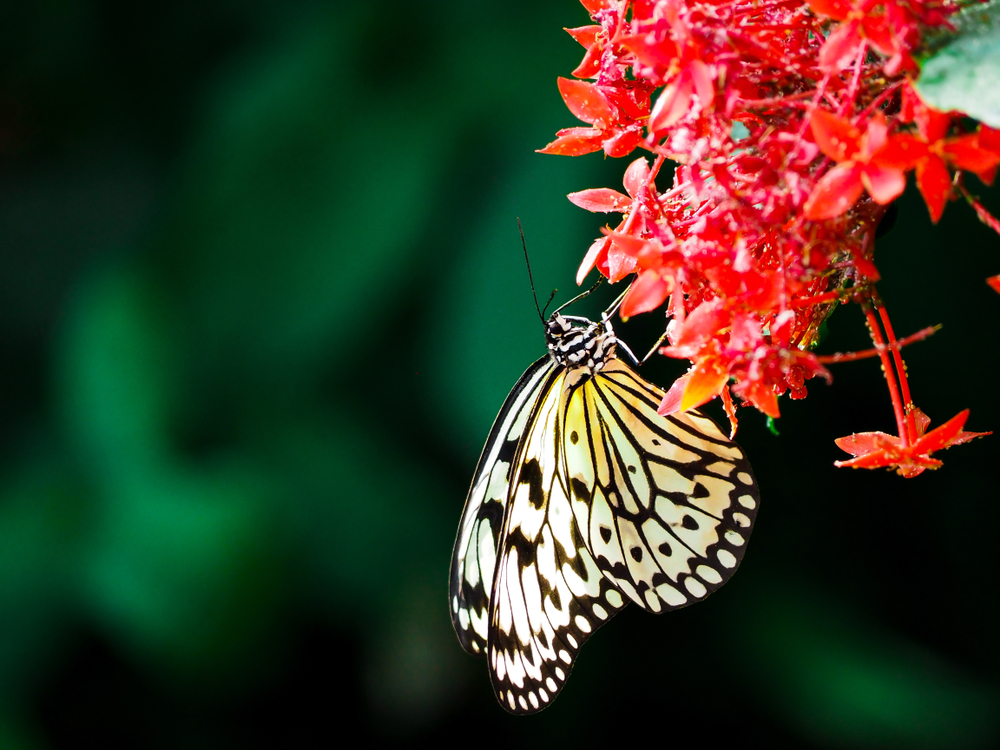 Grotto Of The Redemption
In West Bend, a small town in Iowa, you will find the Shrine of the Grotto of the Redemption.
It was built by German immigrant Father Paul Dobberstein in honor of the Virgin Mary who he had prayed to while sick with pneumonia.
The Grotto is made up of a variety of materials that the Father had collected. This religious site is considered both the largest grotto in the world and the largest collection of minerals, fossils, shells, and petrifications in one location.
Construction began in 1912, and it took forty-two years to complete. If you are looking for unique things to do in Iowa, then you need to come to take a tour of the Grotto.
This is also a very religious place to visit since the Grotto depicts many scenes from Jesus' life.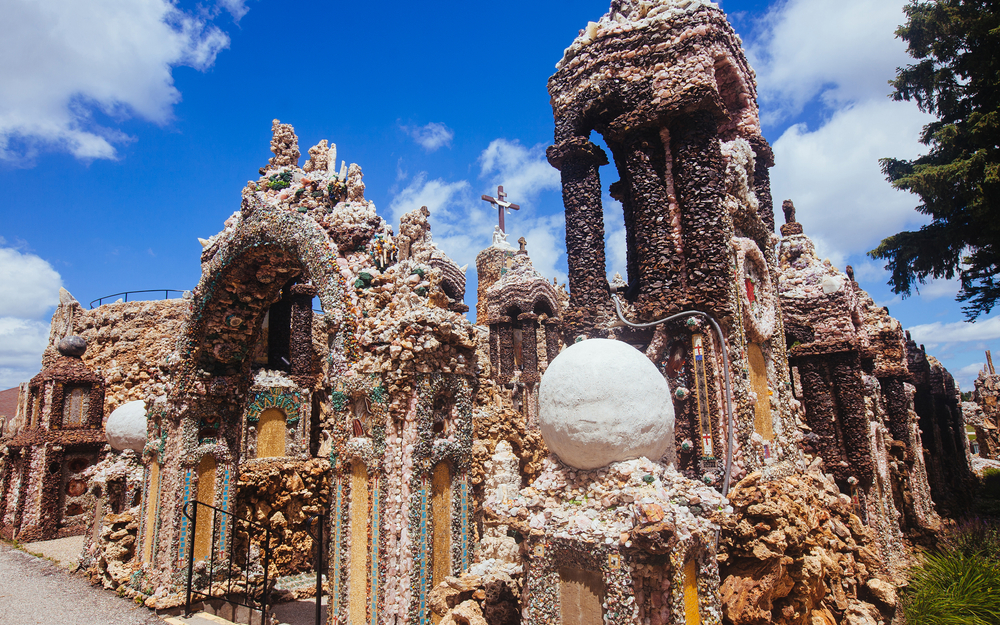 John Wayne Birthplace & Museum
If you are a fan of actor John Wayne, then you should make a trip to his birthplace in Winterset, Iowa. He was born here in 1907 and lived the first few years of his life in Iowa before his family moved to California.
Wayne went on to become a pop culture icon best known for his work in Western films.
The John Wayne Birthplace and Museum has the largest collection of John Wayne memorabilia including scripts, movie posters, letters, and more.
Take a self-guided tour of Wayne's old home, restored to what it would have been like when he lived there. You can also watch a documentary about his career at the museum's theater.
This is really one of the coolest places to visit in the Midwest.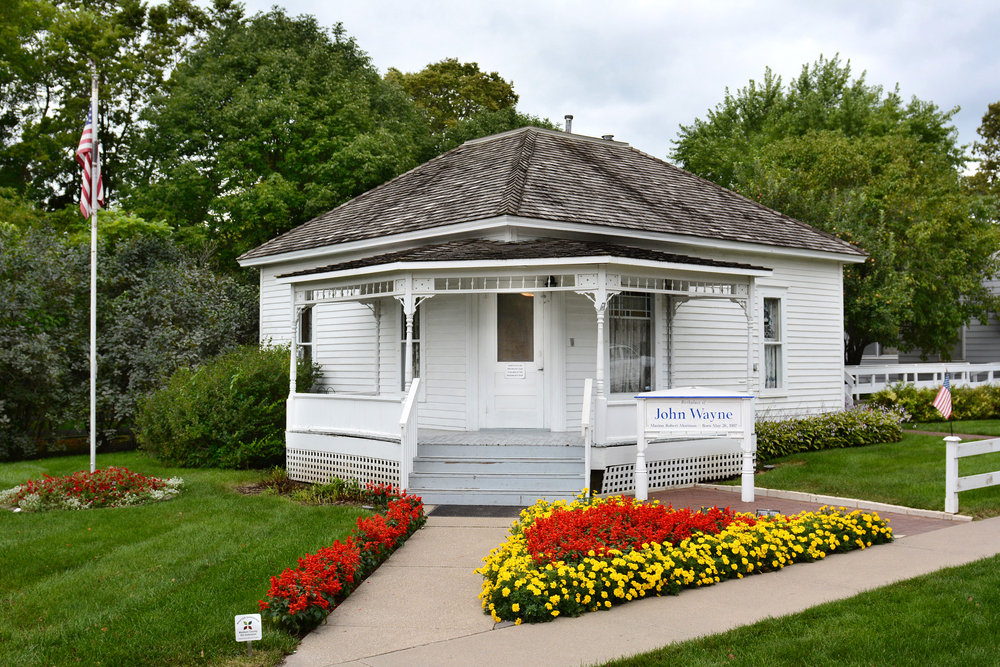 One Of The Fun Things To Do In Iowa Is Visit The Dutch Heritage In Pella
Pella, Iowa, is rich in Dutch heritage which becomes quickly apparent when you arrive in the cute, small town. Here you can tour the Vermeer Windmill, the tallest working Dutch windmill in North America.
This windmill is found in the quaint Historical Village. There are over two dozen historic buildings here dating back to the 1840s.
You can step back in time and pretend you are in the Netherlands instead of the middle of the U.S.
Other Dutch features include a Klokkenspel clock, a canal with a drawbridge, and more windmills. There are also Dutch restaurants and bakeries to get a taste of the culture as well.
If you come to Pella in the spring, you will enjoy attending the Tulip Time Festival.
You will have fun watching parades and performances, seeing the authentic Dutch customs, and shopping at the markets. Doesn't that sound like a fun Midwest weekend getaway?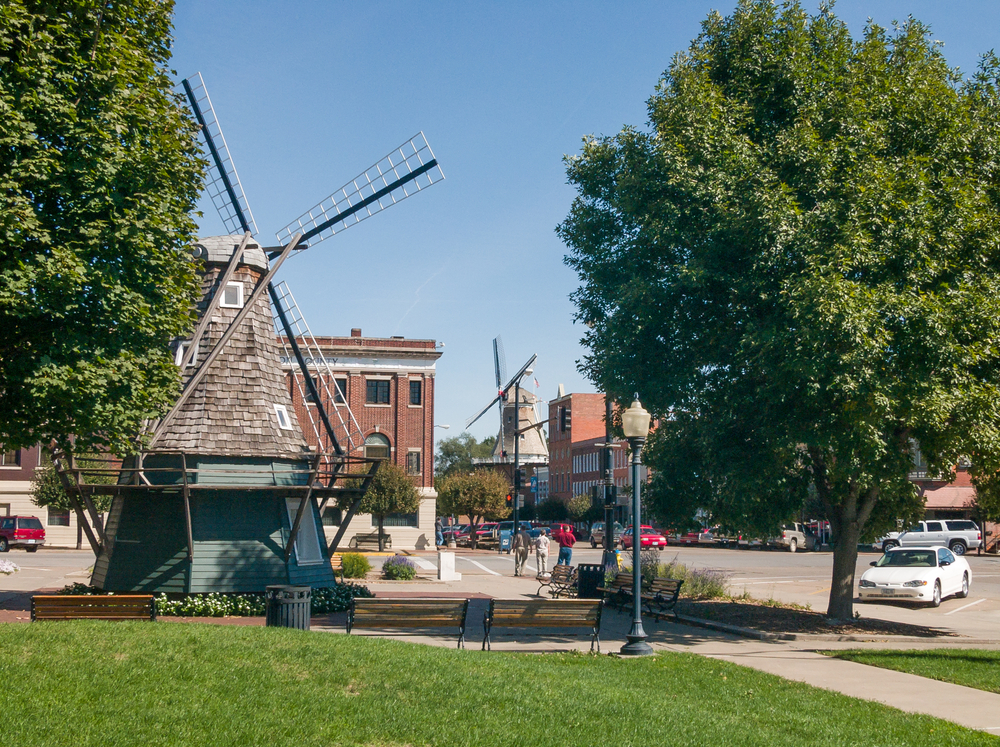 Waterloo Is For Outdoor Lovers
There are many fun things to do in Waterloo, Iowa, for outdoor lovers and anyone who likes to explore small towns.
The downtown district is vibrant and has plenty of local restaurants and shops to check out.
If you are looking for natural attractions in Iowa, then Waterloo has you covered.
The Cedar Valley Nature Trail spans sixty-seven miles, going through farmland, forests, and small towns. Hike or bike here for a fun time in nature. It is one of the best places for hiking in Iowa.
You can also go to the nearby George Wyth Memorial State Park to spend time in the woodland.
In summer, you can hike and bike the trails or spot deer. In the winter, this is a place to go skiing and snowmobiling.
The Cedar Valley Arboretum & Botanic Gardens is a great place to explore in the spring. You can visit the Sullivan Brothers Iowa Veterans Museum and learn about military service from the Civil War until today.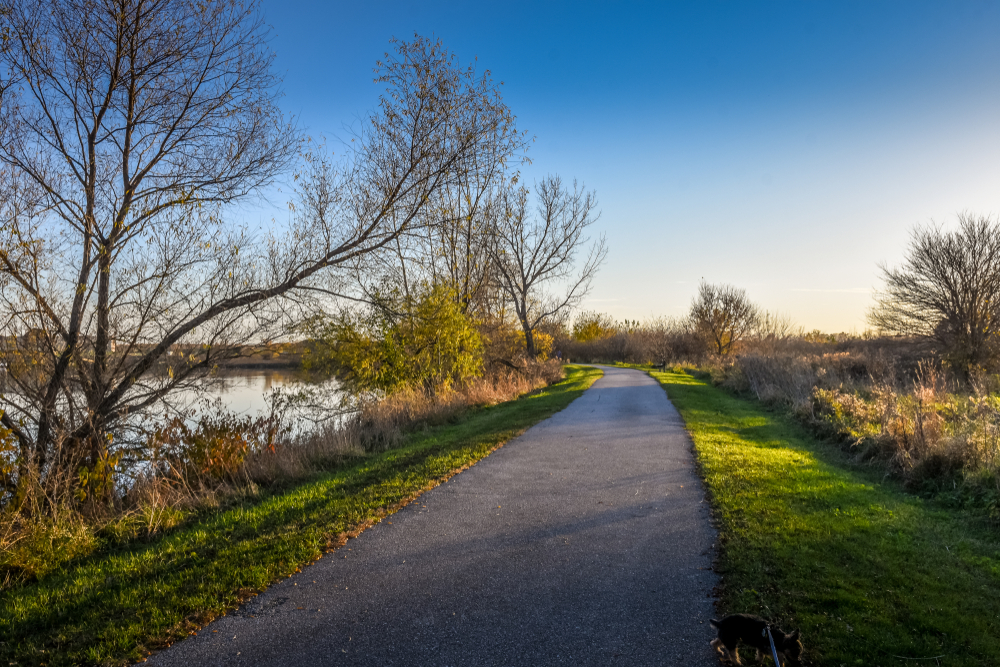 Dunnings Springs Waterfall
Dunnings Springs Waterfall is a hidden gem in Iowa waiting for you to discover it. Found near the town of Decorah, this 200-foot waterfall is nestled in the forest and is picture-perfect.
The hike to the falls from the parking area is only a couple hundred yards. This is an easy trail for anyone, and it takes you right to the water. Keep following the trail to see more of the pretty Dunnings Springs Park.
After seeing the waterfall, head to Ice Cave Hill Park which is right next door. Hike about half a mile to the ice cave.
You can only go about ten feet into the cave but it is enough to feel the cold air and admire this wonder of nature.
These outdoor attractions in Iowa are sure to please everyone!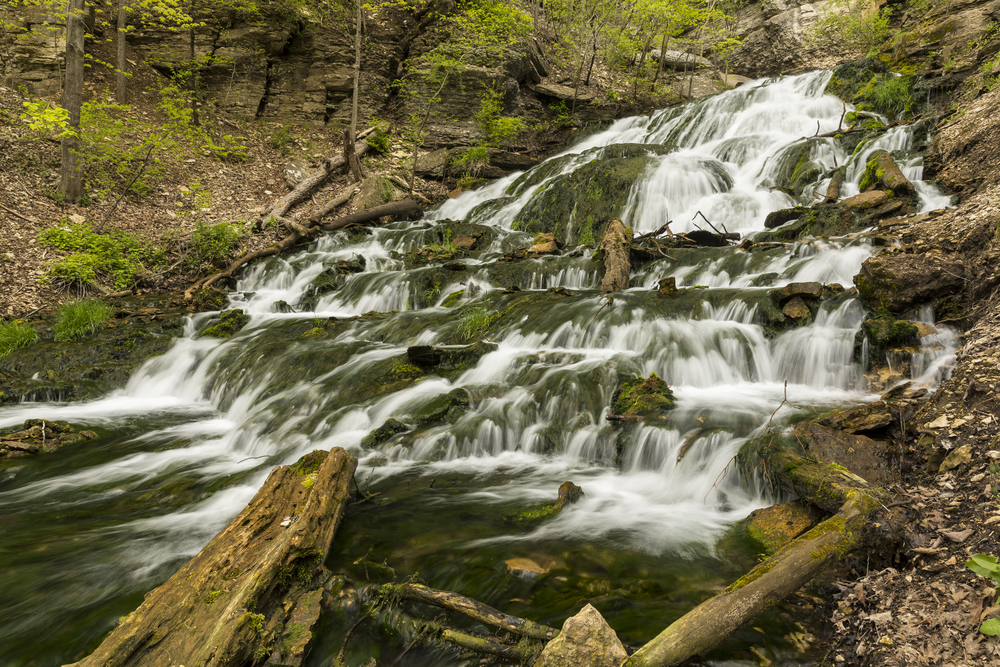 Pikes Peak State Park
Another of the best state parks in Iowa is Pikes Peak State Park found where the Mississippi River and Wisconsin River meet.
This is a beautiful area perfect for hiking and camping. You will have so much fun exploring here!
As you hike the scenic eleven miles of trail, you will find flowing waterfalls, cool Native American effigy mounds, and awesome fossils.
There are also many bluff overlooks where you will need to snap a selfie for Instagram.
This is one of the best things to do in Iowa with kids since they will have a blast discovering all the park has to offer.
Bring a picnic and spend time learning about nature with hands-on experiences.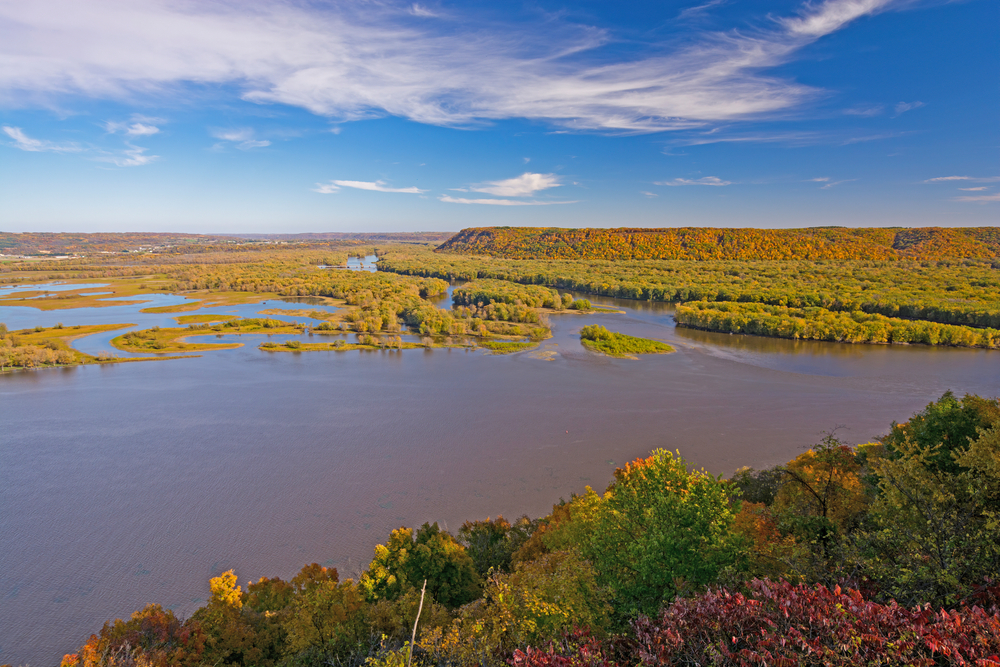 Iowa might be considered a fly-over state, but for people who live there, it is home.
There are so many fun Iowa attractions that should not be passed over.
If you are coming to this Midwest state, plan on enjoying time in nature, exploring cute towns, strolling through art museums, and seeing where famous people were born.
Packing Tips For Visiting Attractions In Iowa
When packing to visit the attractions in Iowa, packing lightly and efficiently is very prudent.
A concealed travel pouch may be one of the most important items you bring along when visiting Iowa attractions. It is always important to protect your personal information. Identity thieves are everywhere.
This unisex RFID blocking concealed travel pouch is lightweight and comes in several colors. It has lots of organization to give you peace of mind. You can place it under your hiking clothes next to your body to carry your ID safely.
If you have a pouch already that does not come with the RFID protection, as I do, these RFID sleeves are the perfect solution.
This configuration comes with enough credit card sleeves that the entire family would be protected. They are slim too, so they will easily fit into your pouch or wallet.
If you are planning on taking a lot of pictures with your phone you will definitely want to consider an external charging battery. This Anker high-speed phone charging battery is the exact one I carry with me on all of my trips.
It can be used on a variety of phones, not just an iPhone like I have. And wow is it fast!
I like that it holds its charging capabilities for several uses so I do not have to worry about it while out and about, and if I forget to recharge it at night, it will still be good to go the next day.
My daughter gifted me with this FugeTek selfie stick and tripod setup for my birthday. I absolutely love it! It is made of lightweight aluminum and is so easy to use.
It has Bluetooth connectivity and is a breeze to use for taking selfies with all those nature shots in Iowa.
Hydration is so important when hiking. You want to remain hydrated throughout your Iowa travels to support your immune system which in turn will be stronger to fight off any germs you will encounter during your travels.
You will want to bring your own refillable water bottle with you.
I never leave home on a trip without my Bobble filtration bottle. The 18.5-ounce size is perfect for hiking and it fits nicely in the pocket of a backpack.
Perhaps you are traveling a long distance and packing space is a premium in your suitcase, or in your car. Then this set of collapsible silicone foldable water bottles would work well for you. Would not take up much space at all.
You will want a backpack or daypack with you to store snacks, your water bottle, phone, extra clothes, etc.. when visiting Iowa attractions. No matter the time of day or evening.
This foldable water-resistant backpack would be great.
It is very affordable and is available in many color options for you to choose from. The fact that it folds down into a zippered pouch will make it easy to pack!