Looking for interesting things to do in Des Moines, Iowa? Then you have come to the right place!
This Midwest city should not be missed since there are so many activities to keep you entertained.
Des Moines IA has something for every type of traveler, no matter your hobbies or interests. Art and history museums are great for the more culturally inclined. Surrounding nature gives a place to relax and unwind.
If you are traveling as a family, there are a ton of parks for your kids to explore. The city has a perfect mix of old architecture and modern art sculptures.
Now, let's discuss some of the best Des Moines attractions!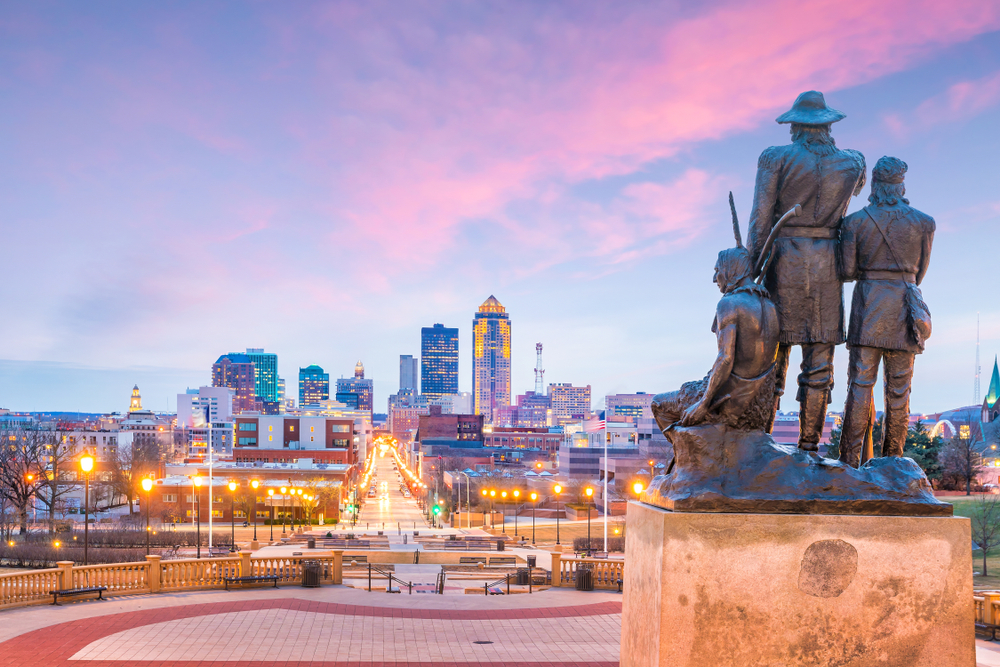 15 Best Things To Do In Des Moines, IA You Shouldn't Miss
State Capitol Building
Start your Des Moines Iowa trip by visiting the regal State Capitol building. Construction began in 1871 and was completed in 1886. Locals and tourists alike marvel at this architectural gem.
The architects did not skimp on opulence when designing the building. The dome is covered in 23-karat gold. Inside, you will find marble floors and intricate details everywhere you look.
Take a free tour to explore where history is made. You can walk the Capitol by yourself or with a guide. You will see so much, including the House of Representatives, the Grand Staircase, and the awesome library.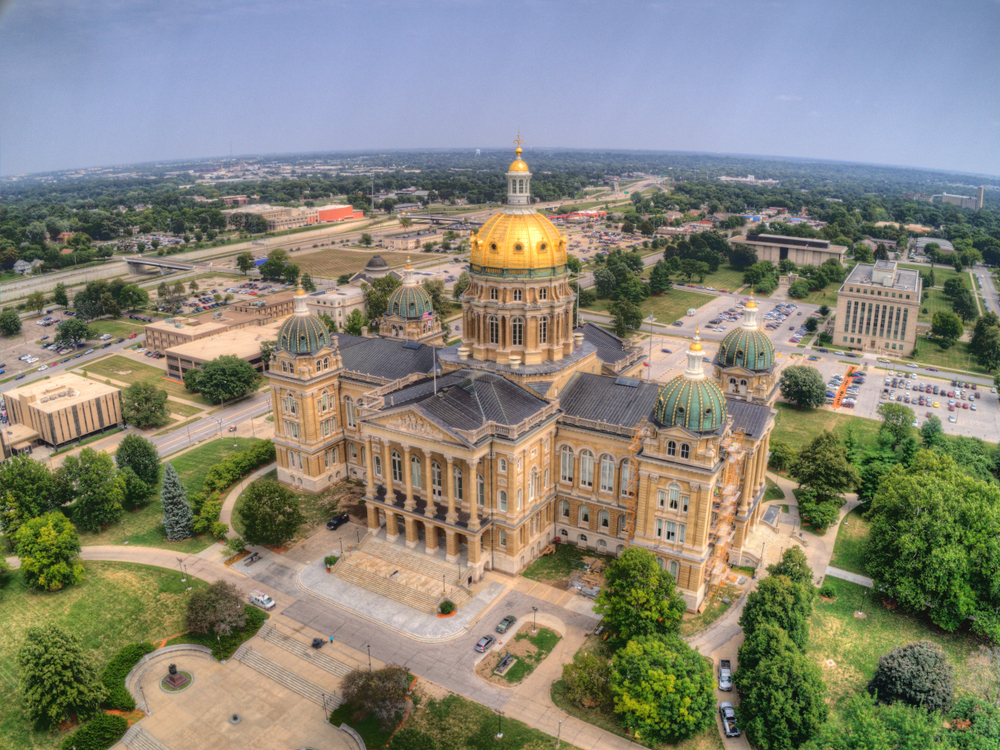 Gray's Lake Park
Gray's Lake Park is a slice of serene nature not far from downtown. The beautiful lake is the perfect place for water recreation. Fish for bass or swim at the beach.
One of the best things to do in Des Moines is renting a canoe, kayak, or pedal boat to get out on the water. This can be a really romantic activity for couples, especially if you go at sunset.
The park also has a few great trails where you can take a leisurely stroll or ride a bike. The Kruidenier Trail has a bridge over the lake with great views. The bridge is lit up at night, too, so make sure to check it out then.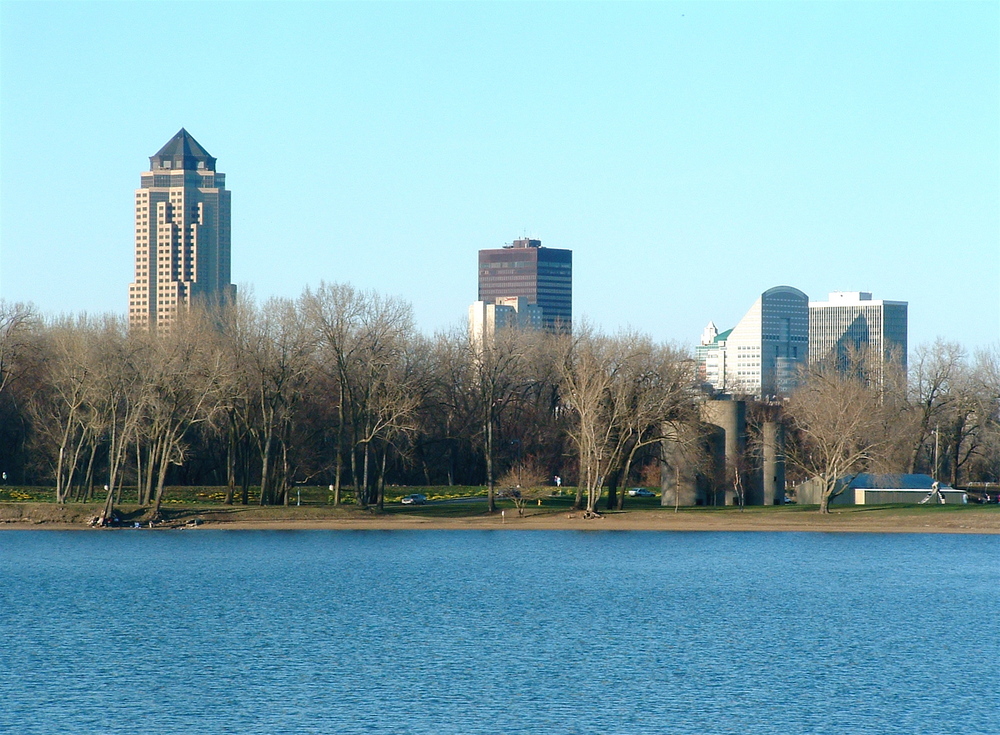 Greater Des Moines Botanical Garden
The Greater Des Moines Botanical Garden is one of the most popular things to do in Des Moines since it can be visited year-round. The conservatory is full of tropical plants and with a temperature to match, you can forget about winter.
There are fourteen total acres of beautiful gardens indoors and out. There are thousands of plant species from all over the world to fall in love with.
The historic bonsai collection is a notable attraction. The oldest tree dates back to 1865! There are so many pretty flowers, too, from roses to orchids to lily pads on the ponds.
You can enjoy the botanical garden even more by checking out some of the events. Each summer, there are fun concerts. Or you can take part in one of the many wellness programs, including yoga, mediation, and more.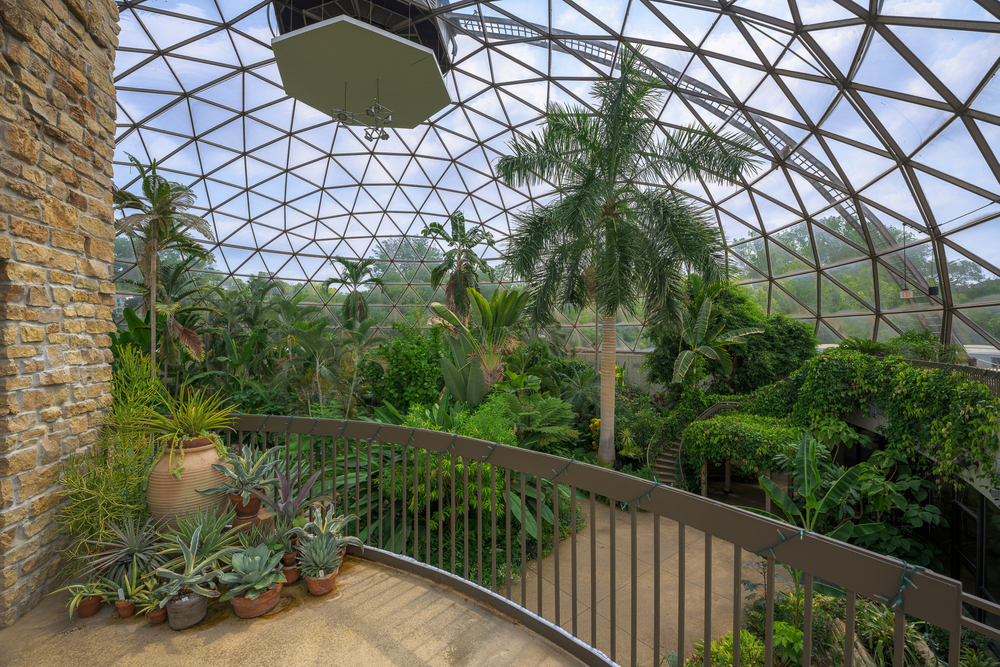 State Historical Museum
If you want to learn more about the Hawkeye State, you should head to the State Historical Museum. This impressive museum will walk you through the complete history of the state from the first settlers to the Civil War to today.
There are thousands of artifacts and really cool exhibitions. One fascinating exhibit is Hollywood in the Heartland. This covers Iowa's movie-making history. Some movies filmed in Iowa include The Music Man, Field of Dreams, and The Bridges of Madison County.
If you have young kids, Goldie's Kids Club has programs throughout the year that can introduce them to history. This museum is also free, so it is a budget-friendly option for your Des Moines itinerary.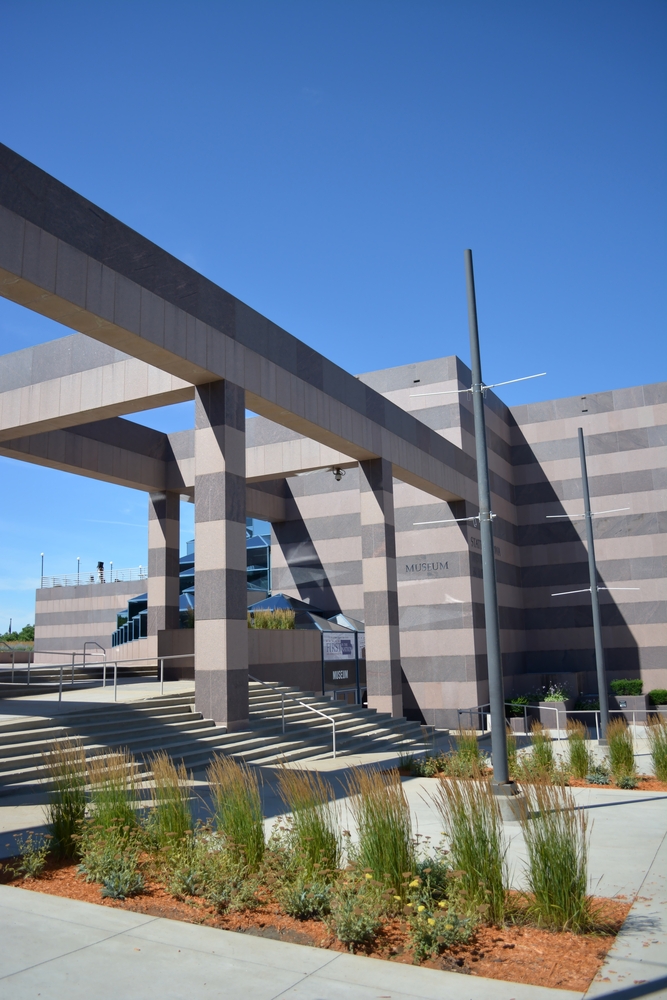 Des Moines Art Center
If you consider yourself an art lover, head to the Des Moines Art Center to see modern and contemporary paintings, sculptures, and more art mediums. Admission is free, too!
You will see work by recognizable artists such as Georgia O'Keefe, Edward Hopper, Rene Magritte, and Salvador Dali, while also being introduced to artists you may never have heard of.
Immerse yourself in the beauty and culture this Des Moines attraction offers. Outside, you can stroll the pretty Clare and Miles Mills Rose Garden and find more sculptures dotted throughout the greenery.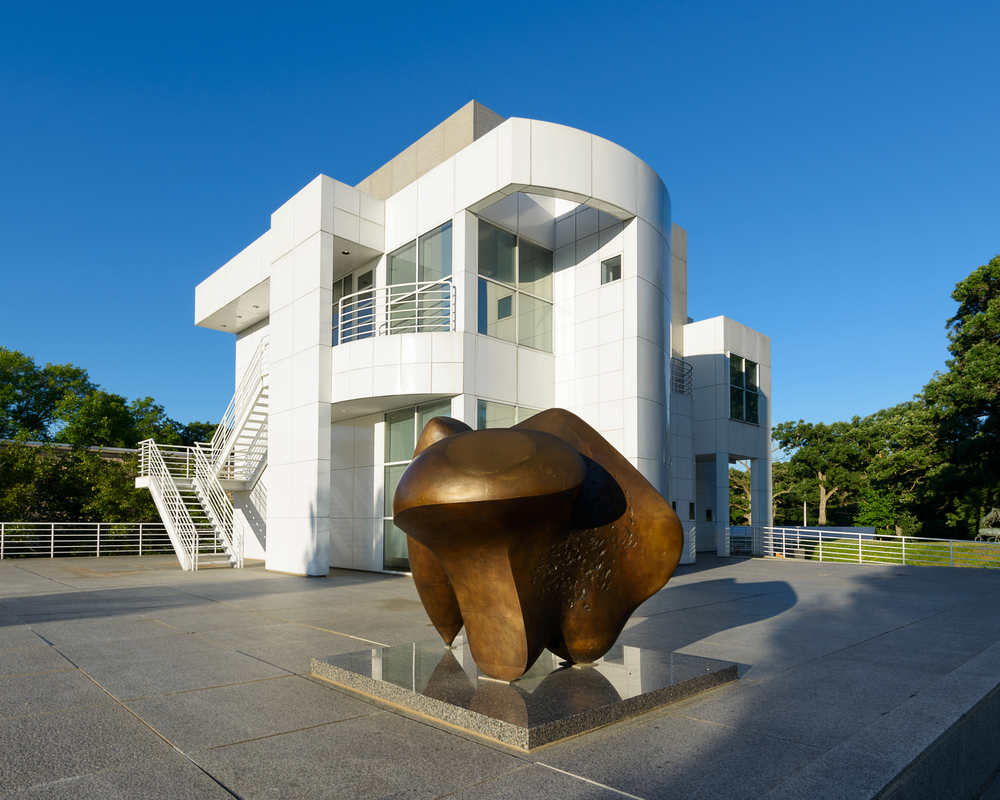 Visiting Appajohn Sculpture Park Is One Of The Fun Things To Do In Des Moines
If you want to see more art on your Des Moines trip, the Pappajohn Sculpture Park is a beautiful place to spend some time. The park is four acres and holds twenty pieces by local artists.
This is a great place to bring a picnic and enjoy lounging on the grass overlooked by skyscrapers. You can pack your own meal or pick something up from one of the delicious restaurants nearby.
You will also have fun taking fun, Instagram photos with the unique and brightly colored sculptures. Kids will love running around the open lawns, just make sure they do not touch or climb on the sculptures.
The Pappajohn Sculpture Park is also right next door to the Better Homes and Gardens Test Garden. You can come and walk the area used as an outdoor photo studio for the well-known magazine.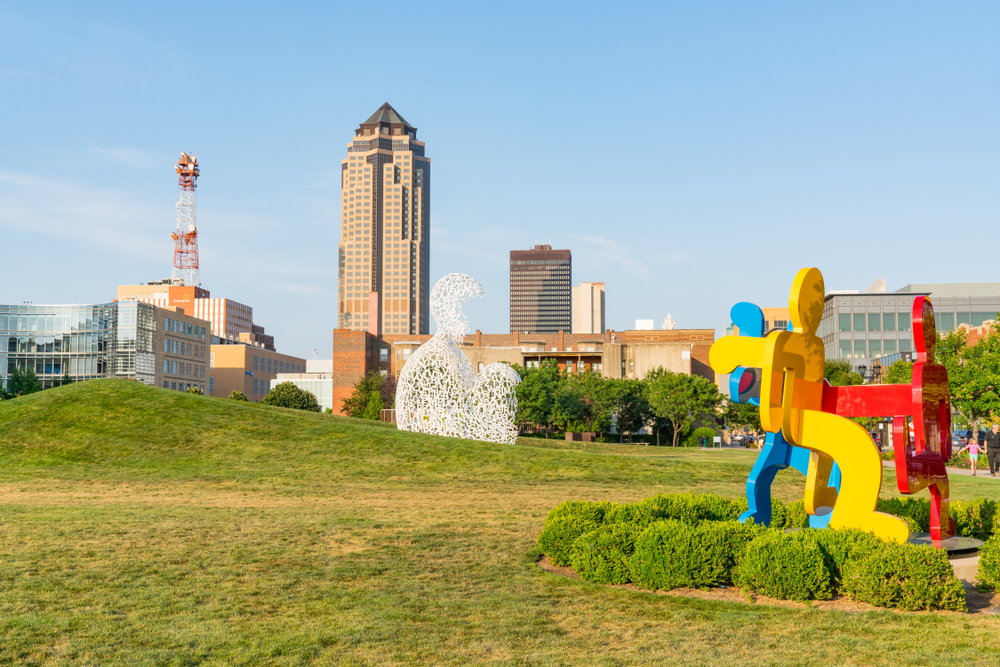 Downtown Farmers' Market
Des Moines' farmers' market in the historic downtown is a great place to shop for local produce and soak in the friendly atmosphere of this lively, Midwest city.
The market is open Saturdays until noon in May through October. Make time to visit while in town. If you are staying in a rental home, this is a great place to pick up fresh ingredients for a homecooked meal.
There are over a hundred and fifty vendors who sell all sorts of homegrown and handmade things. Fill a reusable bag with farm-fresh eggs, ripe fruits, pretty flower bouquets, yummy baked goods, local art, and so much more!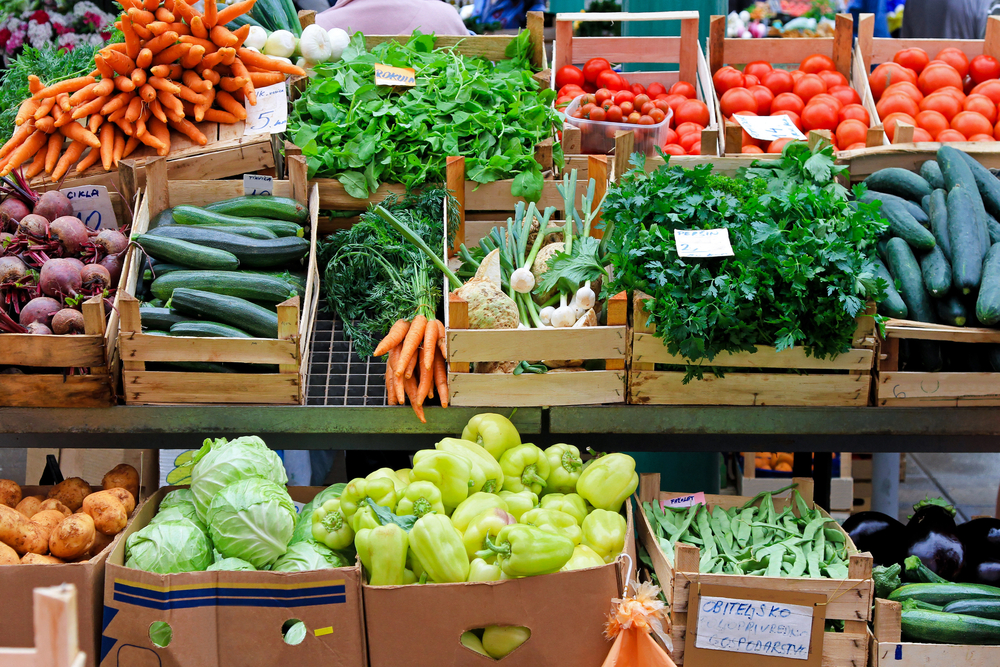 World Food Prize Hall of Laureates
The World Food Prize Hall of Laureates is a really cool and unique thing to do in Des Moines. This museum is dedicated to Dr. Norman Borlaug, a Nobel Peace Prize winner who worked to eliminate world hunger.
The museum strives to educate visitors about agricultural innovations and global food security. Admission is free, and you can walk the building on your own or take a guided tour.
The building itself is notable since it is the restored Des Moines Public Library Building. It is gorgeous inside with wood and marble detailings, murals, and stained glass windows. The manicured gardens that surround it add to the prettiness.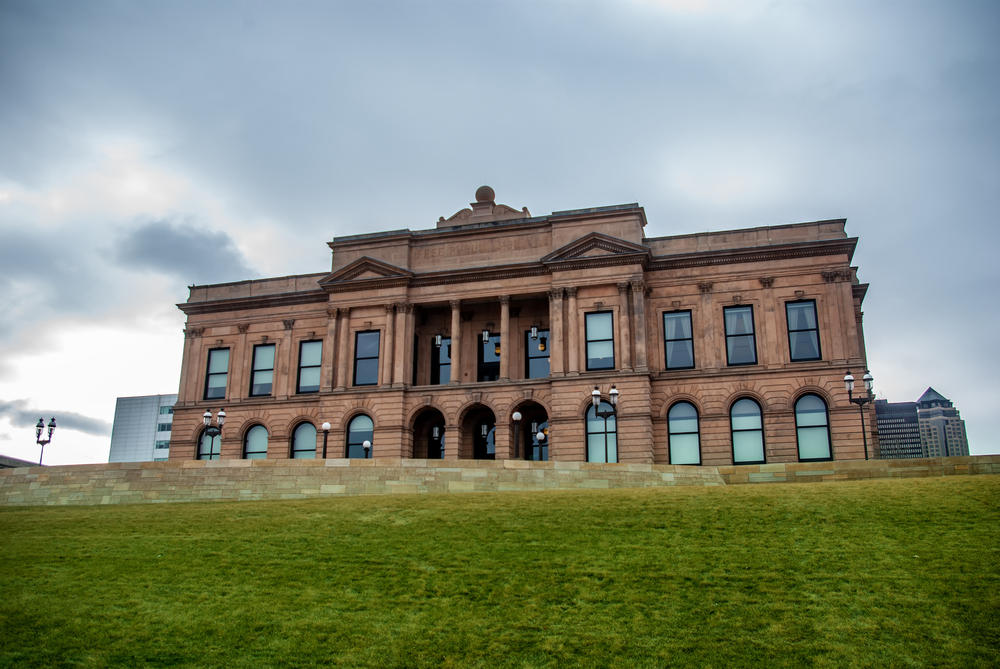 Jasper Winery Is One Of The Romantic Things To Do In Des Moines IA
The Jasper Winery is a great place to visit on a romantic Midwest weekend getaway or a girls' trip. This is an urban winery found near downtown, so you do not have to drive far.
Take a ninety-minute, educational tour before enjoying a wine tasting. There are also beers, sangrias, and ciders to try. There is a patio where you can sit back and relax with a cheese tray as you enjoy your drinks.
During the summer, the winery hosts concerts. If you are looking for a pretty place to get married in Des Moines, you can do that here as well.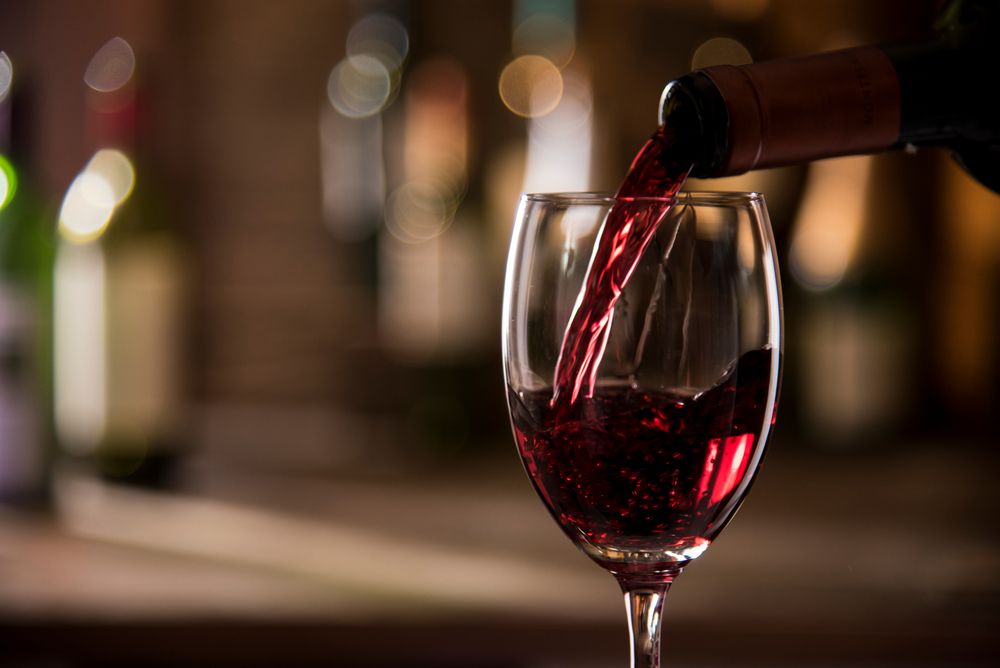 Water Works Park
At 1,500 acres, Water Works Park has so much to do and see. It includes part of the Raccoon River and beautiful forests. It is a great place to fish or spot wildlife.
In the spring, come to the Crabapple Arboretum to admire one of the largest collections of flowering crabapple trees in the world. This is a great place for a portrait photoshoot!
This park also has trails and water access so you can spend time hiking, biking, canoeing, and kayaking. There is also an amphitheater for awesome outdoor concerts.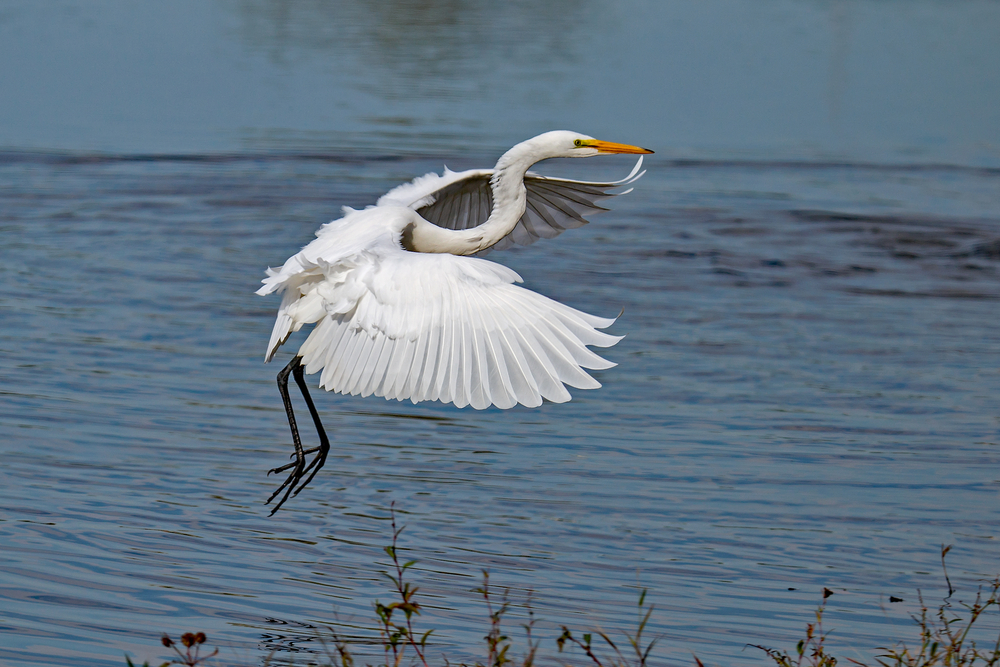 Rotary Riverwalk Park
The Rotary Riverwalk Park is simple but cute. Found right on the Des Moines River, this park features a 65-foot fishing pole sculpture. There's nothing more unique than that!
Kids will have fun on the swings hanging from the pole and climbing on the bobber. The Principal Riverwalk Trail cuts through the park, leading to many other Des Moines attractions.
The park is also right next to the Iowa Women of Achievement Bridge, a true Midwest gem! The bridge has two paths, one for walkers and one for bikers. You can get awesome views of the city over the water.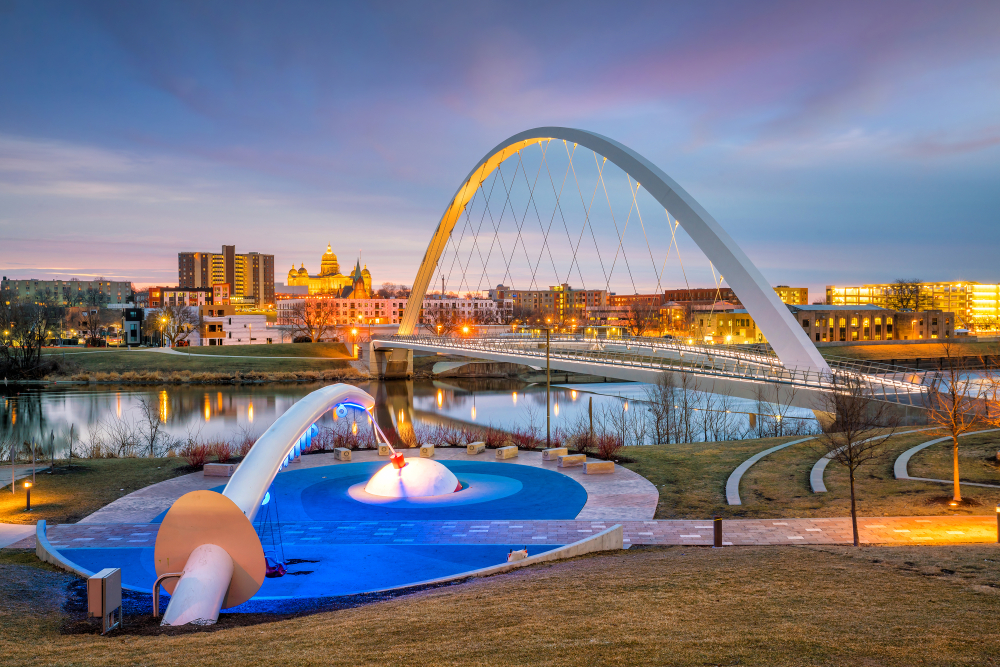 Robert D. Ray Asian Gardens
Across the river from the Rotary Riverwalk Park, you will find the picturesque Robert D. Ray Asian Gardens. With a bright, red Asian pavilion as its center point, this pretty park is hard to miss.
The pavilion sits over a pond with pretty Iowa waterfalls. The pagodas, lanterns, bonsai-like evergreens, and rock formations help with the overall theme. It's a cute place for Instagram photos.
This is a place in Des Moines to come and meditate. Every aspect of the gardens is meant to bring about harmony and personal growth. The Character Garden is encircled by boulders with Chinese characters for traits like respect and trustworthiness.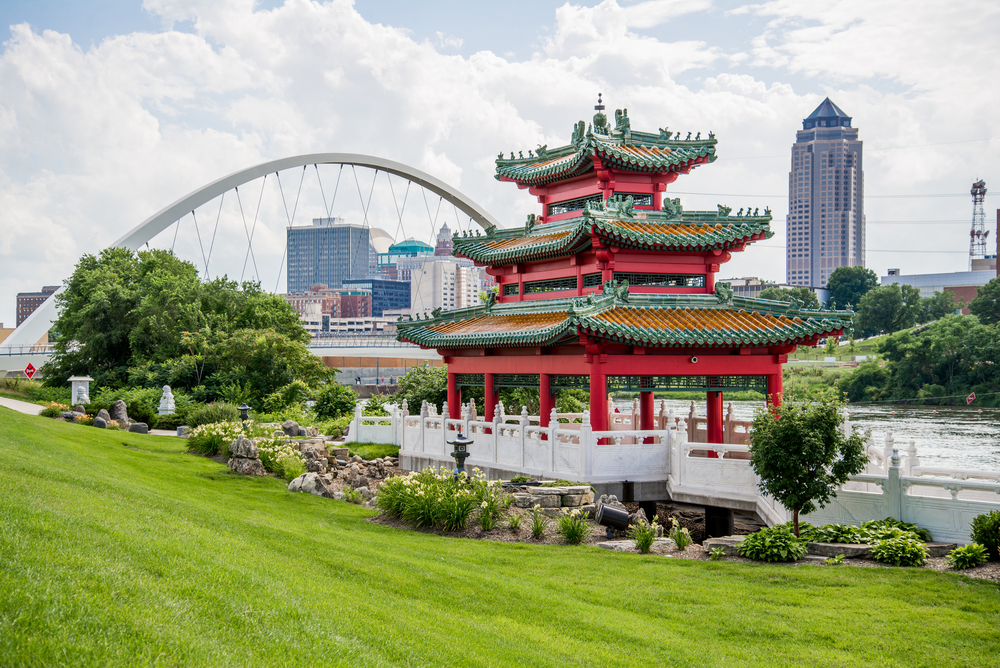 Iowa State Fair
The Iowa State Fair is the biggest event in the state and definitely one of the best things to do in Des Moines if you time your trip right. The fair takes place each August with more than a million attendees.
Make sure to watch the epic parade that kicks the fair off. You can eat a ton of fried food and tasty desserts, or there are healthy choices like fresh fruit.
This is surely one of the best Iowa attractions for families. There are so many thrilling rides, awesome concerts, and livestock shows. From monster trucks to a life-sized cow sculpture made of butter, there are a ton of things to keep you entertained.
At its heart, the Iowa State Fair is dedicated to agricultural and industrial expositions. The Avenue of Breeds showcases animals vying to be the best of show.
Even if you visit Des Moines when the state fair is not happening, the fairgrounds hosts events throughout the year.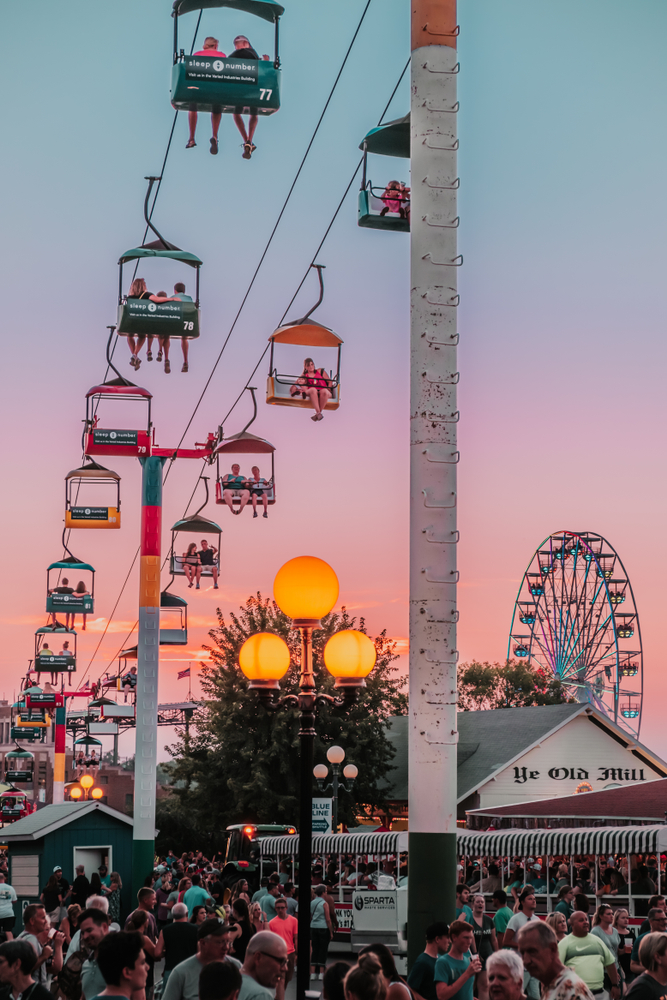 Science Center of Iowa
Bring your kids to the Science Center of Iowa so they can learn in a fun, hands-on way. This museum brings science to life through exhibits on many cool topics.
Visitors of all ages will have fun here. There is even a room dedicated to toddlers and their little hands. You could easily spend hours here exploring everything.
The Star Theater Planetarium is an awesome experience. The 360-degree screen will make you feel as if you are in space. There are a few different shows here that will leave you awed.
The center has cool programs and events throughout the year, so make sure to check those out! There are some aimed at kids and adults. Also, make sure to see the scale model of the center made from LEGO bricks.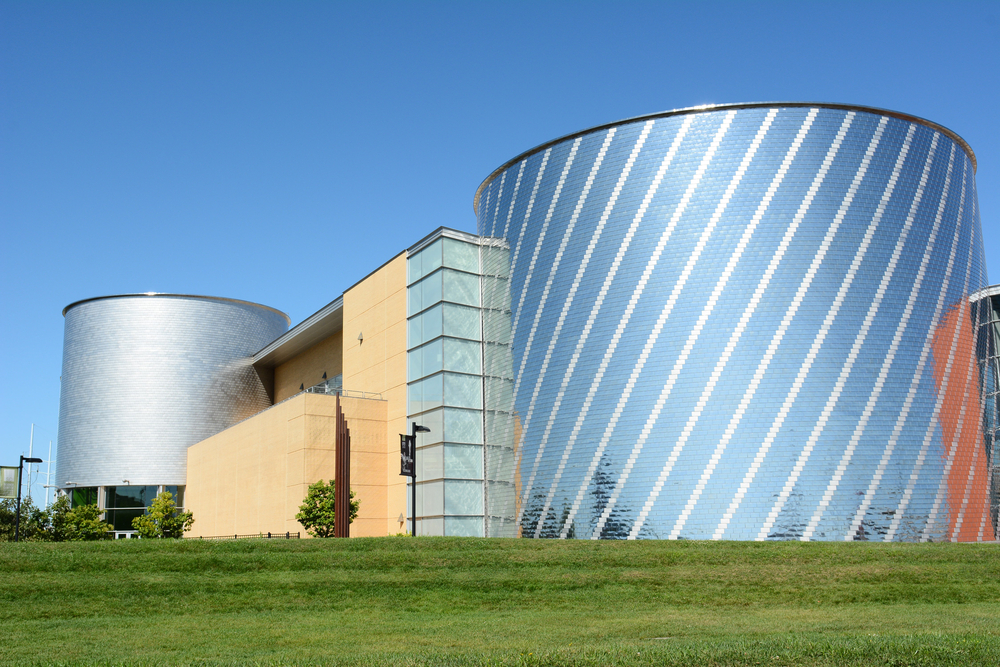 Big Creek State Park
Head thirty minutes north of the city to escape into nature at Big Creek State Park. This pretty setting provides a place to breathe fresh air and unwind.
The star of this park is Big Creek Lake which has the largest beach of any Iowa state park. This is a wonderful place to fish, swim, or launch a boat. You can rent a kayak and paddle gently through the calm water.
The Neil Smith Trail is a paved, 27-mile trail that leads back to Des Moines. If you are looking for a long, scenic bike ride, this is a great workout. If you want something more low-key, play a game of disc golf.
In nice weather, pack a picnic or pick something up at the concession stand. Eat at one of the many shelters then let your kids burn off energy on the playground. In the winter, you can go cross-country skiing.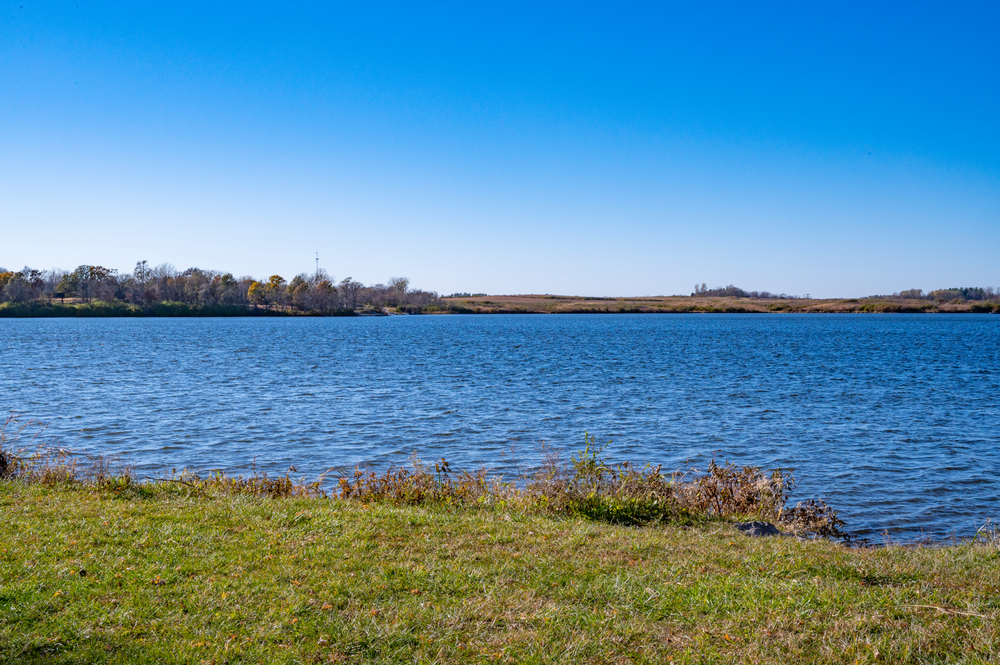 Packing List For Visiting Des Moines Iowa
A concealed travel pouch may be one of the most important items you bring along when visiting Des Moines IA. It is always important to protect our personal information.
This unisex RFID blocking concealed travel pouch is lightweight and comes in several colors. It has lots of organization to give you peace of mind.
If you have a pouch already that does not come with the RFID protection, as I do, these RFID sleeves are the perfect solution.
This configuration comes with enough passport and credit card sleeves that the entire family would be protected. They are slim too, so they will easily fit into your pouch or wallet.
If you are planning on taking a lot of pictures with your phone you will definitely want to consider an external charging battery.
This Anker high-speed phone charging battery is the exact one I carry with me on all of my trips.
It can be used on a variety of phones, not just an iPhone like I have. And wow is it fast!
I like that it holds its charging capabilities for several uses so I do not have to worry about it while out and about, and if I forget to recharge it at night, it will still be good to go the next day.
My daughter gifted me with this FugeTek selfie stick and tripod setup for my birthday.
I absolutely love it! It is made of lightweight aluminum and is so easy to use. It has Bluetooth connectivity and is a breeze to use for group shots or that perfect selfie!
I was not a fan of packing cubes until I started to use them! This is the exact set of packing organizers I use whenever I travel.
I cannot believe how much they really do help with the organization. If you have not considered packing cubes, I would recommend giving them a try.
Hydration is so important. You want to remain hydrated to support your immune system which in turn will be stronger to fight off any germs you will encounter during your travels.
You will want to bring your own refillable water bottle with you.
I never leave home on a trip without my Bobble filtration bottle. The 18.5-ounce size is perfect for travel and it fits nicely in the pocket of a backpack or your purse.
When filled with water, it is not too heavy to carry. And the charcoal filter ensures fresh clean water whenever you fill the Bobble.
Perhaps you are traveling a long distance and packing space is a premium in your suitcase, or in your car. Then this set of collapsible silicone foldable water bottles would work well for you. Would not take up much space at all.
You will want a backpack or daypack with you to store snacks, your water bottle, phone, extra clothes, etc.. This foldable water-resistant backpack would be great.
It is very affordable and is available in many color options for you to choose from. The fact that it folds down into a zippered pouch will make it easy to pack.
Perhaps you need a more substantial backpack for your travel. This antitheft backpack has a charging port, is water-resistant, and can comfortably carry up to a 15.6″ laptop.
You will be walking more than usual when checking off your things to do in Des Moines Iowa list. A sturdy and comfortable pair of walking shoes are a must-have. These waterproof all-season shoes are extremely affordable and yet fashionable. 
Mostly everyone is familiar with the Skechers brand, and these Air Run high fashion sneakers come in a lot of colors to match your outfits and are still affordable.
If you are visiting Ohio in warmer weather, maybe you want a pair of sandals to wear to dinner or to the local cafe, I highly recommend these Vionics adjustable strap orthotic sandals.
I have several pairs of Vionics that I bring with me *everywhere* I travel. They are very comfortable and have orthotic footbeds that cradle and support your feet.
We all need to protect our eyes from the sun's harmful UVA/UVB rays. These unisex polarized sunglasses come in a lot of lens colors and frame designs and are extremely affordable too.
If you are fond of the aviator-style of sunglasses these polarized aviators may interest you.
If you are in need of new luggage, this expandable soft side spinner luggage is affordable and comes in lots of colors.
If you like hard-sided better, then you may favor this hard-sided luggage set better. Both sets come with TSA locks and 8 wheels per piece.
—–
At the end of the day, there are so many fun things to do in Des Moines, Iowa. You should not ignore this interesting Midwest city. Iowa is more than a flyover state!
With one-of-a-kind museums, beautiful parks, and art around every corner, there are Des Moines attractions perfect for everyone. Adults and kids will both have a great time! What are you waiting for?!
If you are planning on staying awhile in Des Moines these amazing accommodation options may interest you!