Are you thinking of exploring the best waterfalls in Iowa?
Then make sure you check out this list full of Iowa falls.
Iowa may not be the first place you think of when you think of waterfalls, but there are some really pretty ones to explore.
I was born and raised in the Midwest, and I know that it is a beautiful part of the US that often gets overlooked.
Some of these waterfalls in Iowa may not be hundreds of feet high, but they are all beautiful examples of Iowa's landscape.
If you are visiting Iowa for an epic Midwest getaway weekend, you may want to add a few of these Iowa falls to your must-see list.
Here are 10 best waterfalls in Iowa.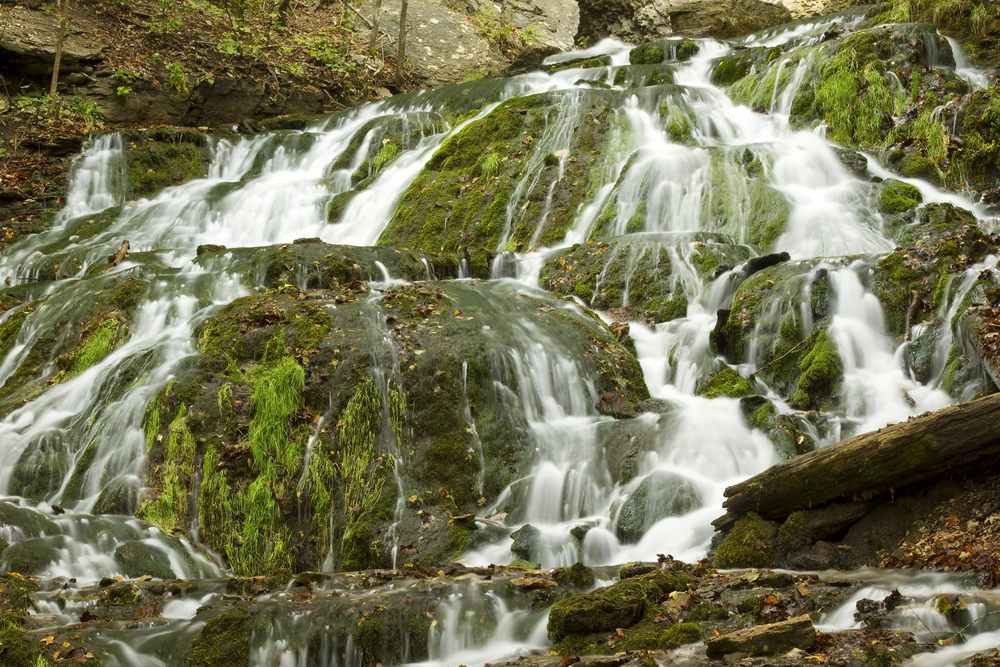 10 Best Waterfalls In Iowa
Dunning's Springs
Dunning's Springs, often referred to as Decorah Falls, is a beautiful Iowa waterfall.
The Decorah waterfalls are located in Dunning's Springs Park, outside of Decorah Iowa.
The Dunning's Springs Falls are probably some of the most popular waterfalls in Iowa, and definitely in the area.
So when you visit, keep in mind that Dunning's Spring Park can get pretty busy with people wanting to enjoy the falls.
Even if there are crowds on the day you decide to visit, the falls are worth it, and they are very easy to get to.
This is a perfect waterfall for those who don't want to go on a hike as it is just across a bridge from the park's parking lot.
The spring feeds into the Iowa River via a 200 foot waterfall.
The waterfall, often called Decorah falls, or Dunning's Springs Falls, is a stunning Iowa waterfall.
If you do want to hike, you'll find several trails that go around these awesome Decorah Iowa falls.
Make sure you remain on the marked trails though, the rocks can get very slippery the closer you get to the falls.
Dunning's Springs is one of the best waterfalls in Iowa for all ages and hiking skill levels to enjoy.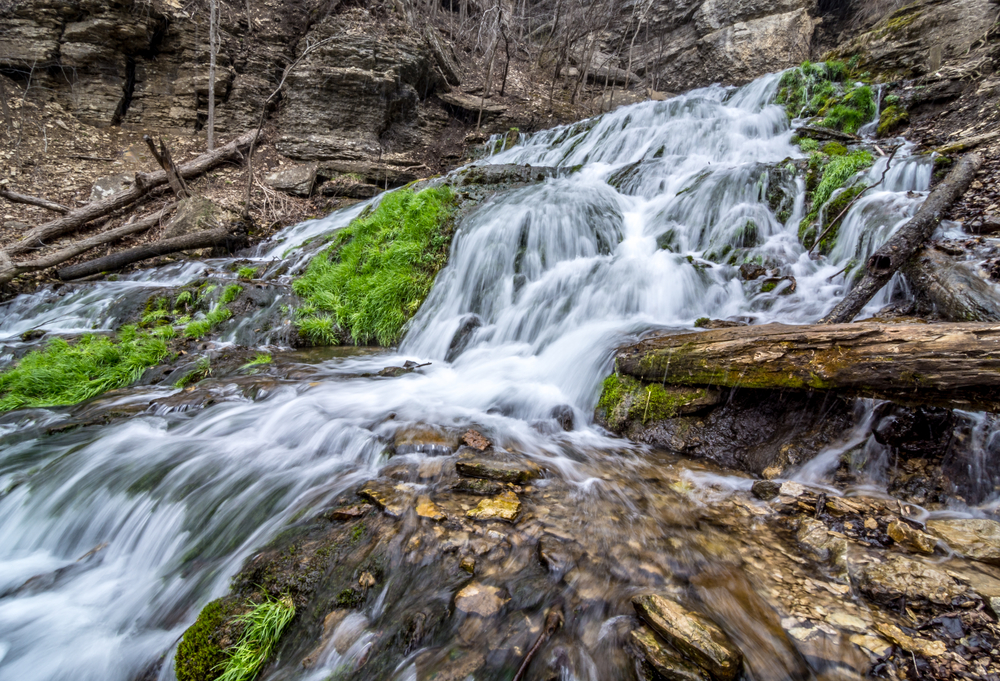 Bridal Veil Falls For A Good Hike
Located in Pike's Peak State Park is one of Iowa's most popular falls, the Bridal Veil Falls.
Pike's Peak State Park is very close to the Effigy Mounds National Park that preserves more than 200 mounds made by Native Americans.
Its close proximity to Native Land that was considered sacred means that you must make sure to be respectful when visiting the park.
Park rangers ask that you keep in mind the sacred history of the area and leave the park, and the falls, how you found them.
This history is also what makes the park one of the most popular Iowa waterfalls in the area.
The Bridal Veil Falls are the most popular attraction in the state park, so be prepared to deal with crowds.
The hike itself can be described as moderate. It starts out fairly easy, but there are some steep points that may make it more difficult for less experienced hikers.
At the bottom of the trail, you'll start to see smaller falls, but the main Bridal Veil Falls is hard to miss.
From there, you can either turn back the way you came, or continue on.
There are a few more difficult hikes that connect to the falls trail that you can enjoy.
If you are going on an Iowa waterfall tour, then you'll want to make sure you stop at Bridal Veil Falls.
MacBride Falls Are Often Underrated
At Lake MacBride State Park you'll find the underrated MacBride Falls.
I say underrated because it is a beautiful fall that does not get nearly as much attention as some of the other Iowa waterfalls. For that reason, it could be a romantic Midwest getaway!
Despite that, you can still expect to see a good amount of visitors though.
It's a fairly easy 1.7-mile hike to the falls on a shaded loop trail. The loop takes you directly to the MacBride Falls and then back. The loop can sometimes be closed in the winter.
With that and the lake access, I suggest visiting MacBride Falls in the late spring or summer.
At the falls, you can take a quick dip in the lake just off the shore near the MacBride Falls.
You'll find there is a ton of space on the lake's shore to relax and spend some time.
I would suggest bringing a picnic, a good book, and a towel so you can dry off after taking a little swim.
If you want to enjoy the cool water on a summer day and admire a waterfall, then the MacBride Falls is the perfect Iowa falls for you.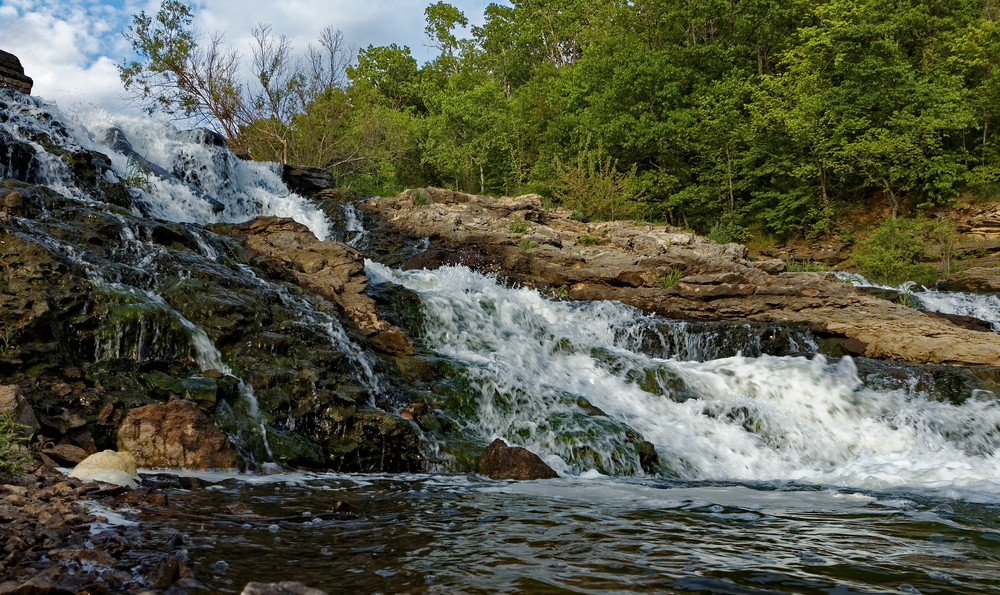 Boone River Falls For A Secret Waterfall
The small waterfall on the Boone River, known as the Boone River Falls, is not very well known.
Because it is not well known, it is often not very busy. You can find the Boone River Falls on the Boone River Walk, at the Briggs Woods Access area.
The Boone River Falls are much smaller and less visited than the bigger Briggs Woods Falls that most people hike to in the area.
The main trail on the river is 5.7 miles long.
There are various parking lots where you can jump on the trail from.
From the main trail, there are also a few smaller trails that take you deeper into the Iowa woods, which is where you'll find the Boone River Falls.
If you are looking for a unique waterfall in Iowa that is calm and not too crowded, check out the Boone River Falls.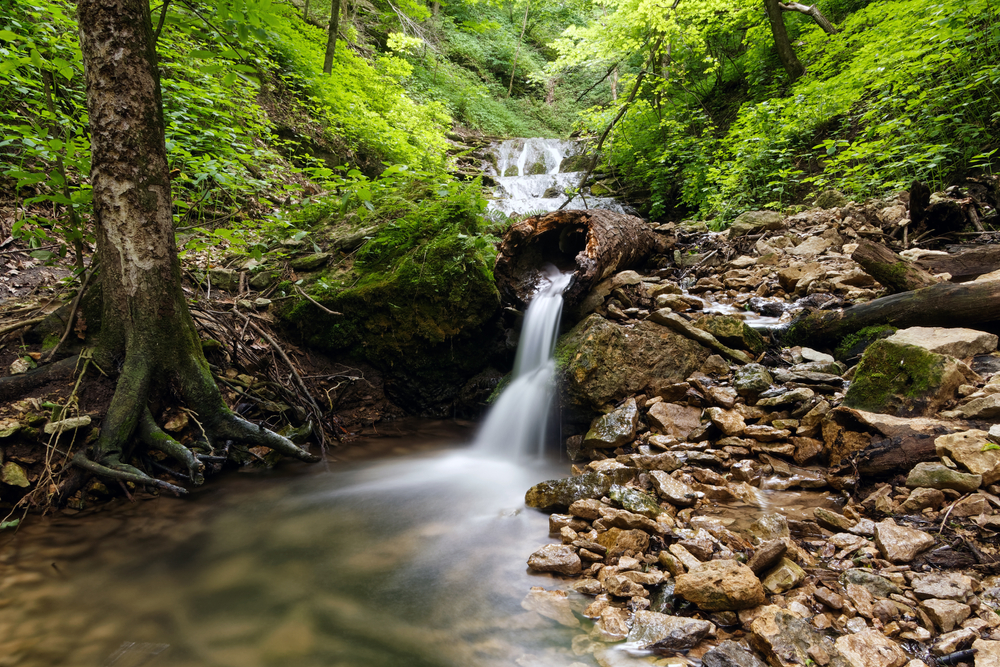 Malanphy Springs Falls
On the Upper Iowa River, near Decorah, are the Malanphy Springs Falls.
Decorah Iowa is a popular place to view waterfalls. It is home to three separate waterfalls, two natural and one man-made.
The Malanphy Springs Falls is probably the least crowded of the three in the area. This makes it perfect for your Iowa waterfall tour when you want a break from some of the busier Iowa falls.
The hike to get to Malanphy Springs Falls is about a mile long and fairly easy. Generally, it is a great hike for beginners.
But the trail itself is shaded and can get pretty muddy after a heavy rain.It also has some steep portions.
So keep that in mind when you decide to visit.
If you want to beat the crowds or if you want to view all the Decorah Iowa Falls, then add Malanphy Springs Falls to your list of must-see falls.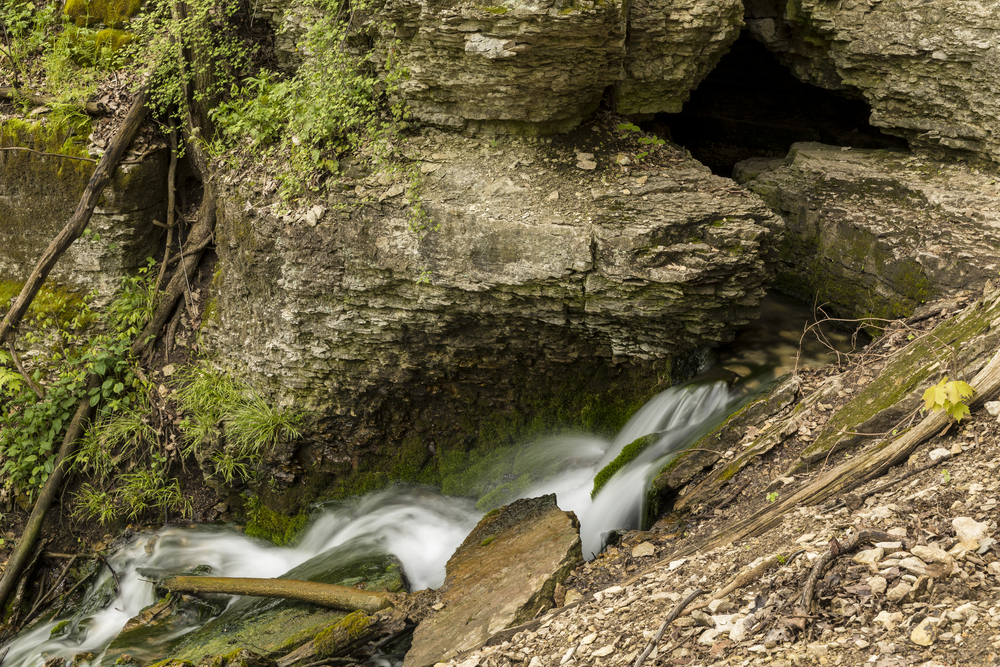 Beulah Falls And The Spook Caves
Beulah Falls is one of the most popular falls in Iowa. Part of that is because it is very close to the Spook Caves, which you can tour.
The falls themselves are located on the Spook Cave Campground.
It is a pretty easy hike just inside the entrance of the campground.You can get there early in the day before the cave tours open and beat a lot of the potential crowds.
If you go when the cave tours are open, it may be more crowded, but it's still worth the trip. While you are there, I highly suggest touring the caves.
During the cave tour, you'll get to ride in a small boat as you navigate what is essentially and underground lake.
This underground lake helped define the cave system over thousands of years.
Touring the Spook Caves and seeing the Beulah Falls is a really unique experience in Iowa.
If you have the time, make sure check out both of these popular Iowa attractions.
Siewers Springs Falls For A Manmade Fall
Siewers Springs Falls is technically a spillway and is a manmade fall. But it is definitely worth a visit on your Iowa waterfall tour.
You can find the Siewers Springs Falls at the Siewers Springs Falls State Park.
It is another one of the three falls outside of Decorah Iowa. This manmade waterfall is a popular place to visit because it is just so pretty.
The entire park is full of beautiful scenery though. There are old buildings, plenty of hiking trails, and nice green fields for you to picnic at.
The falls themselves are made from an underground spring that has been made to flow from the hillside over the manmade spillway.
The spillway was built to look like stairs and the water flows beautifully over the structure.
It is a very peaceful place to spend the afternoon enjoying a beautiful Iowa waterfall.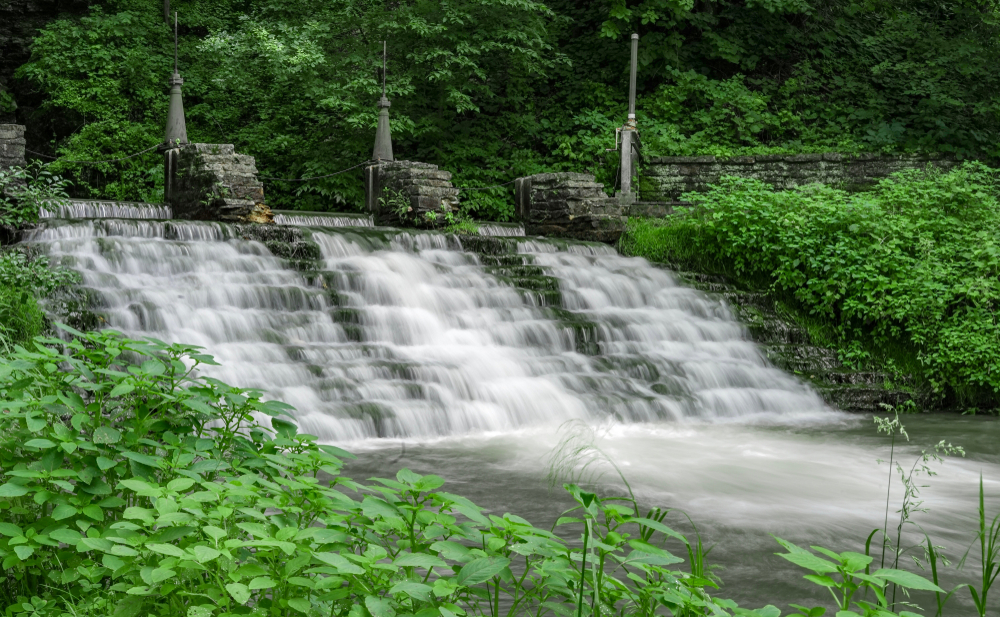 Briggs Woods Park Falls
The Briggs Woods Park is a County Park and part of the Boone River Walk. You'll find that the park itself is rather small, but it is a great place to visit.
The hike to the Briggs Woods Park Falls is relatively easy. There is a 2-mile loop hike that is well maintained and great for hikers of all skill levels.
At the northern end of the trail is where you'll find the Briggs Woods Park Falls.
The falls themselves span about 200 ft and are made of large rock formations that jut out of the Boone River.
They are at a point where the Briggs Woods Lake meets the Boone River. Getting a good view of the waterfalls is not difficult while you're on the path.
However, if you want, you can climb down a small rocky hill and get a better look. I would only recommend doing this if you are a more experienced hiker.
That's one of the best things about this gorgeous Iowa waterfall though. People of all abilities can view it!
The Briggs Woods Park Falls are one of the must see waterfalls in Iowa.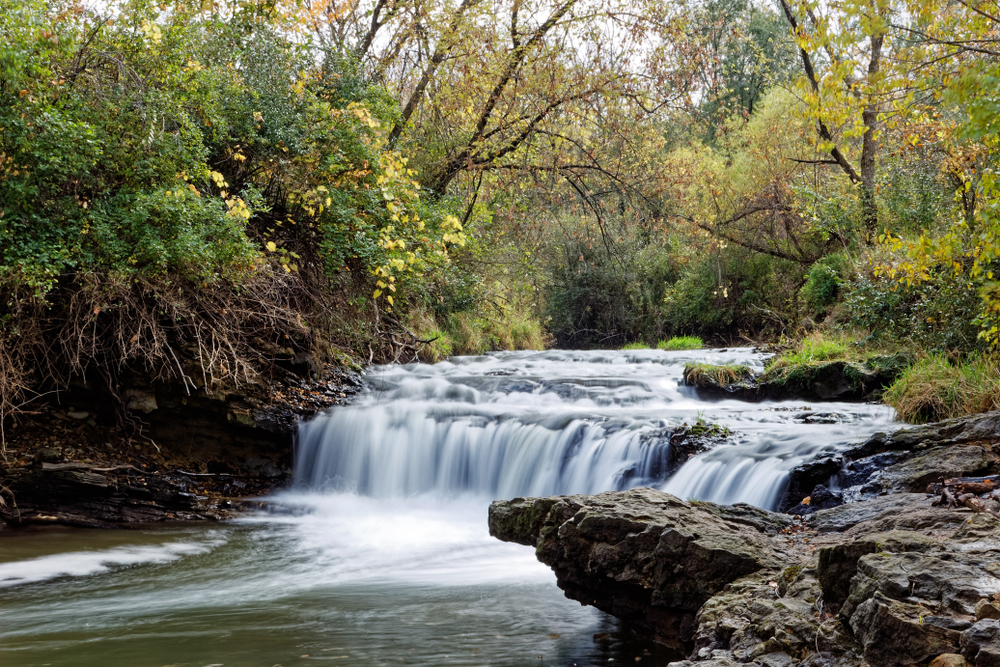 Union Grove Waterfalls in Iowa
In Union Grove State Park you will find Union Grove Falls, a hidden gem of a waterfall in Iowa.
Not many people know about this particular waterfall, so it's often not very busy.
The trail head to the waterfall is very simply marked 'waterfall' and if you aren't looking for it, it's easy to miss.
If you take the trail, you'll cross Deer Creek which is on the edge of Union Lake.
The creek itself is beautiful and provides a very peaceful hiking experience.
As you keep hiking down the trail, you'll begin to hear the sound of a roaring Iowa fall.
When you reach the Union Grove Falls, you'll feel like you've stepped into a woodland oasis.
In the summer is when the falls will be their strongest, and you can even wade in the creek to get a closer look.
Its a perfect way to cool off after a hike in the Iowa woods.
While looking for waterfalls in Iowa, you'll want to make sure you stop at the Union Grove Falls.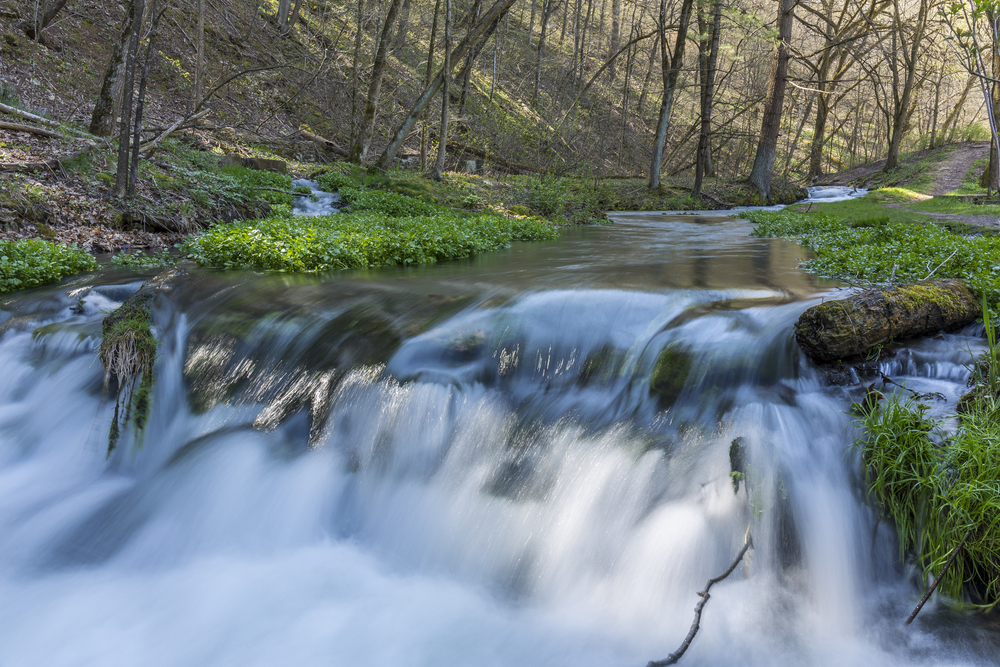 Pammel Park Spillway For Swimming Fun
The Pammel Park Spillway is another manmade strutcutre.
You can find the spillway at the Pammel State Park, which is located in Madison County Iowa. It's also known for the famous Bridges of Madison County.
If you are exploring the area, I suggest making a stop at Pummel State Park.
The spillway has been manmade to help create a path for large vehicles to cross the river. The ford spillway created is one of the things that makes Pammel State Park so popular.
On one side of the ford, there is a great wading area. Grab your swimsuits and a picnic and you can easily spend the day wading in the water.
On the other side of the spillway is the shallow vehicle crossing section. Make sure you don't go wading into the river on that side! The area is also open for water sports like kayaking.
It is a really popular spot in the park, so be prepared to meet some crowds on a sunny summer day.
Depending on what time of the year you visit, the water will be at different levels, giving you different views of the structure.
If you are looking for a unique Iowa fall that's perfect for relaxing on a summer day, then the Pammel Park Spillway is a great choice.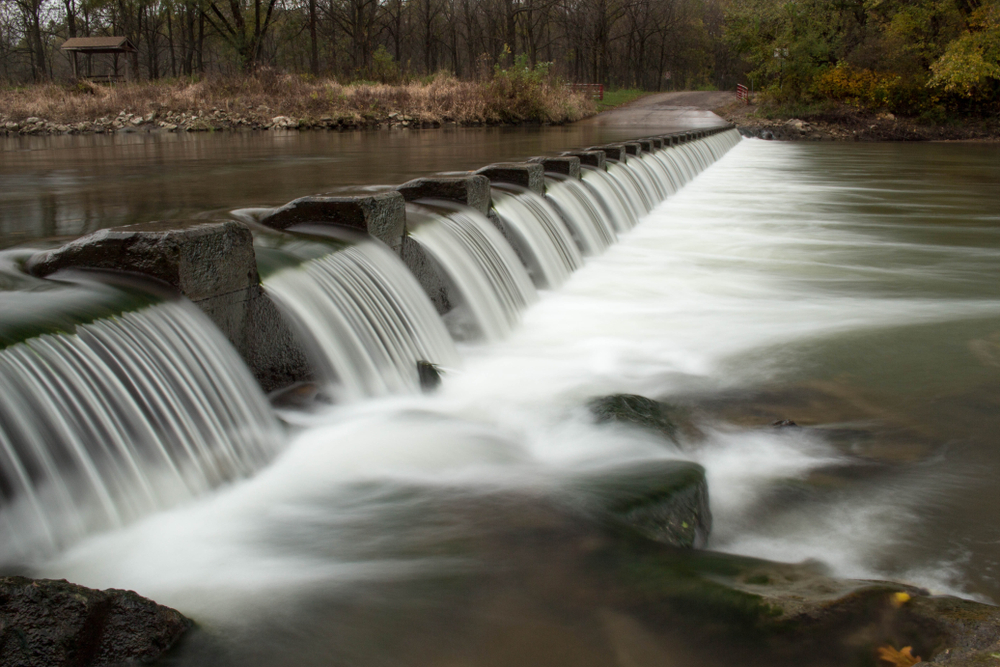 Packing List For Visiting Waterfalls In Iowa
If you will be traveling, either by plane or by car to Iowa, here are some tips on how to pack lightly.
A concealed travel pouch may be one of the most important items you bring along when visiting the waterfalls in Iowa.  
It is always important to protect your personal information. Identity thieves are everywhere.
This unisex RFID blocking concealed travel pouch is lightweight and comes in several colors. It has lots of organization to give you peace of mind. You can place it under your hiking clothes next to your body to carry your ID safely.
f you have a pouch already that does not come with the RFID protection, as I do, these RFID sleeves are the perfect solution.
his configuration comes with enough credit card sleeves that the entire family would be protected. They are slim too, so they will easily fit into your pouch or wallet.
If you are planning on taking a lot of pictures with your phone you will definitely want to consider an external charging battery. This Anker high-speed phone charging battery is the exact one I carry with me on all of my trips.
It can be used on a variety of phones, not just an iPhone like I have. And wow is it fast!
I like that it holds its charging capabilities for several uses so I do not have to worry about it while out and about, and if I forget to recharge it at night, it will still be good to go the next day.
My daughter gifted me with this FugeTek selfie stick and tripod setup for my birthday. I absolutely love it! It is made of lightweight aluminum and so easy to use.
It has Bluetooth connectivity and is a breeze to use for taking selfies with all those nature shots while visiting Iowa waterfalls.
Hydration is so important when hiking. You want to remain hydrated throughout your day to support your immune system which in turn will be stronger to fight off any germs you will encounter during your travels.
You will want to bring your own refillable water bottle with you.
I never leave home on a trip without my Bobble filtration bottle. The 18.5-ounce size is perfect for hiking and it fits nicely in the pocket of a backpack.
When filled with water, it is not too heavy to carry. And the charcoal filter ensures fresh clean water whenever you fill the Bobble.
You can find filter replacements here.
Perhaps you are traveling a long distance and packing space is a premium in your suitcase, or in your car.
Then this set of collapsible silicone foldable water bottles would work well for you. Would not take up much space at all.
You will want a backpack or daypack with you to store snacks, your water bottle, phone, extra clothes, etc.. when visiting Iowa waterfalls. No matter the time of day or evening.
This foldable water-resistant backpack would be great
It is very affordable and is available in many color options for you to choose from. The fact that it folds down into a zippered pouch will make it easy to pack!
—
Have you had the opportunity to see any of the best waterfalls in Iowa?
If you have, which one was your favorite? If not, which one do you want to visit first?
I'd love to hear about it in the comments!