Are you looking for caves in Iowa? You are in the right place.
In this article, I have picked the best of the Iowa caves and given you all the information you need so you make a decision on which is the best cave for you to visit.
I have to say when I think of Iowa the first thing that springs to my mind is not caves. However, Iowa has some really interesting and somewhat magical caves and cave systems.
From deep caves full of stalagmites, caves that have rivers running through them, and caves with ice in them all year round, some are so majestic they wouldn't be out of place in an epic movie.
With over 1000 caves Iowa really does have it all when it comes to underground exploring. Stepping into them is like stepping into another world.
When it comes to caves in Iowa there really is a cave for everyone.
One thing I will advise is that if you go exploring take a jacket or sweater these caves can get cold. Caves in Iowa are a constant 45 to 55 degrees.
Also, make sure you wear sturdy shoes suited for these environments as the inside of caves can get slippery.
In this list, I have included the caves that are open to the public and safe to explore. They all offer something a little bit different so I'm sure you will be able to find the right cave to visit.
If you are looking for more than caves to explore in Iowa there are some incredible Iowa waterfalls and some real Midwest hidden gems.
So let's put on our sturdy shoes, get out our flashlight and go exploring.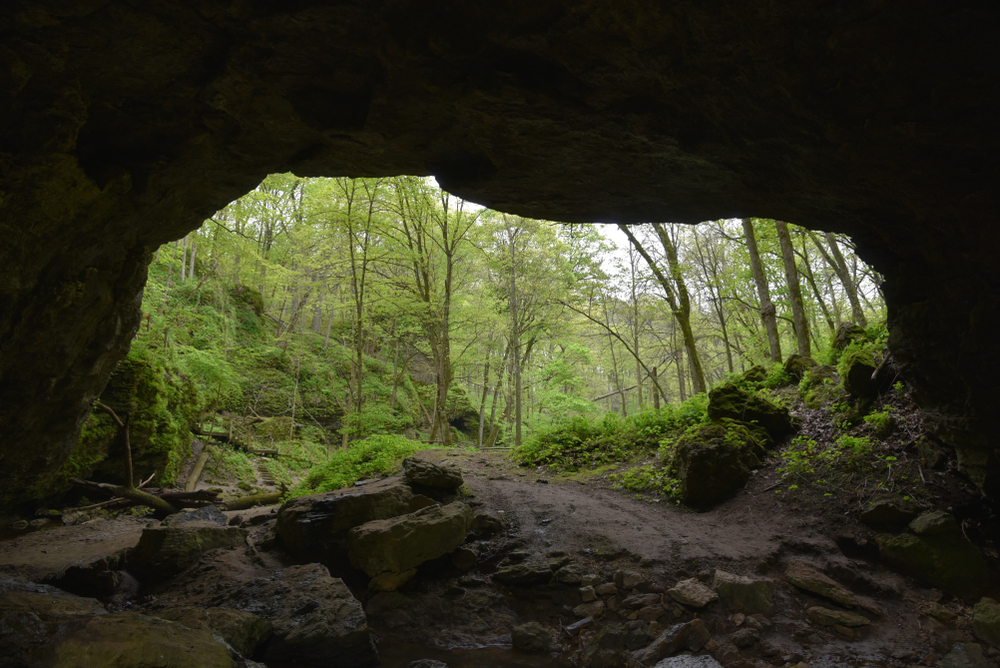 10 Amazing Caves In Iowa For You To Explore
Maquoketa Caves In Maquoketa Caves State Park
If you like your caves big and majestic with a side of awe then Maquoketa Caves Iowa will be for you.
Set in the unique Maquoketa Caves State Park there are 13 caves for you to explore here.
From the magnificent 1,100-foot Dancehall Cave which is the longest public, wild cave in Iowa to smaller ones you might need to crawl in.
Dancehall Cave is easy to explore as lights and passageways are set up and established.
However, if you want to explore some of the smaller caves like Bat Passage and Dugout Cave you might want to bring a flashlight.
The caves are all linked by a trail system so It's easy to get around.
There are four types of caves here solutional, mechanical, talus, and rock shelters. All offer something different.
These caves were used by Native Americas and later became a popular picnicking spot for settlers, some of who stole the white stalactites.
Also definitely worth seeing is Natural Bridge and Balanced Rock which you can explore on the 6 miles of trails within the park.
Maquoketa Caves State Park Iowa is a natural experience unlike anything else. Hiking in Iowa is popular here. However, the Iowa trails can get wet and muddy, so be prepared.
The state part also has a campground if you fancy spending a few days exploring but other than toilets it is pretty primitive so make sure you bring all you need.
Oh the best part is these caves in Iowa are free to enter.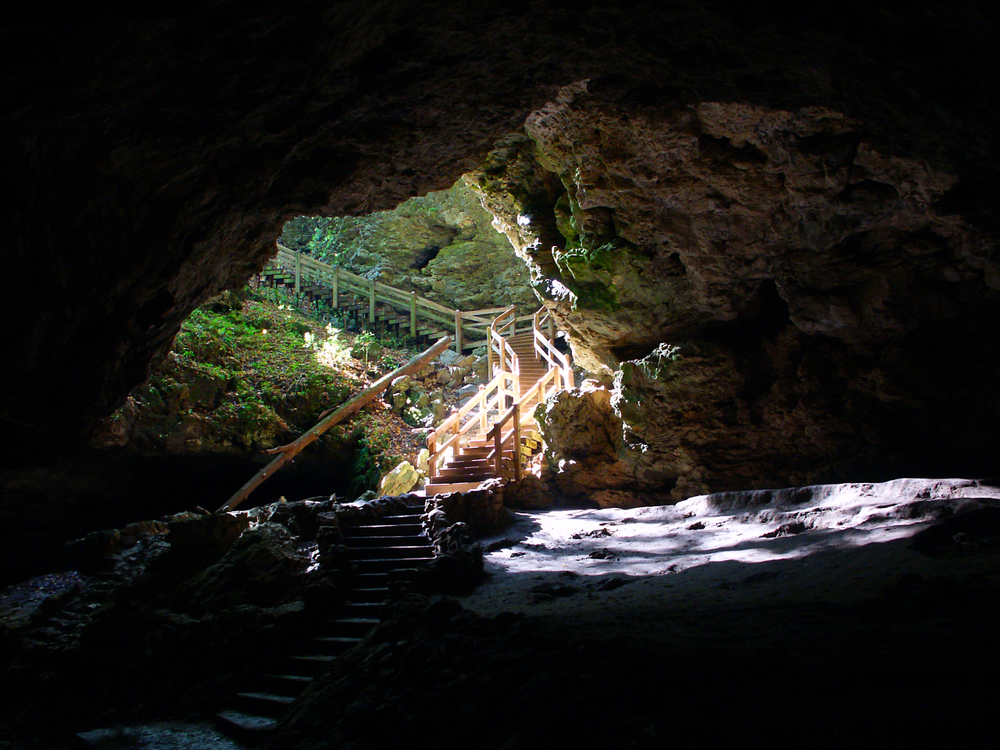 Decorah Ice Cave In Barbara Barnhard VanPeenen Memorial Park
If you want to see something unusual, how about ice in a cave in summer? Decorah Ice Cave is the largest ice cave in the midwest and is really quite spectacular to see.
When it comes to Iowa caves this one is unique. And it is located in one of the cutest small towns in Iowa.
The ice is formed in the winter by water trickling down the cold rock walls forming a layer of ice on the walls.
It begins to form in January/February and remains typically until August. The ice of the walls can be 8-10 inches thick and creates a white crust on the rock.
It's easy to get to and just a series of quite steep steps and it can get very slippery. You really do need the right footwear here.
The cave is within the Barbara Barnhard VanPeenen Memorial Park which is a great place to visit. As well as the ice cave you will find a freshwater spring, 8 acres of tall prairie grass, and lots of hiking trails.
Entry to the park and cave is free, making this one of the premier locations to see caves in Iowa and the perfect Midwest weekend getaway!
Cave At Backbone State Park
If you are looking to go cave exploring while also doing some other outdoor activities this cave might be the one for you.
Set in Iowa's first state park, Backbone State Park, is one of the most geographically unique locations in Iowa.
You will find caves, sinkholes, karsts, and active natural springs. You will find 2001 acres to explore.
The park is named after the steep bedrock ridge carved by the Maquoketa River that looks like a backbone,
Or more importantly, The Devil's Backbone which is what it is referred to. It towers 80 feet over the ground below and the views from the top are spectacular.
The park has 21 miles of trail systems and really does have a hiking option to suit everyone.
The cave is low, four feet, and can get muddy but it makes a cool respite from the summer sun.
As you get further in you will find a stump of stalagmite, an hourglass-shaped column, and a flowstone-covered wall.
The cave is then a belly crawl if that's your thing or you can just hang here for a while. If you don't like tight spaces this is not the cave for you.
Again entry to the park and cave are free of charge.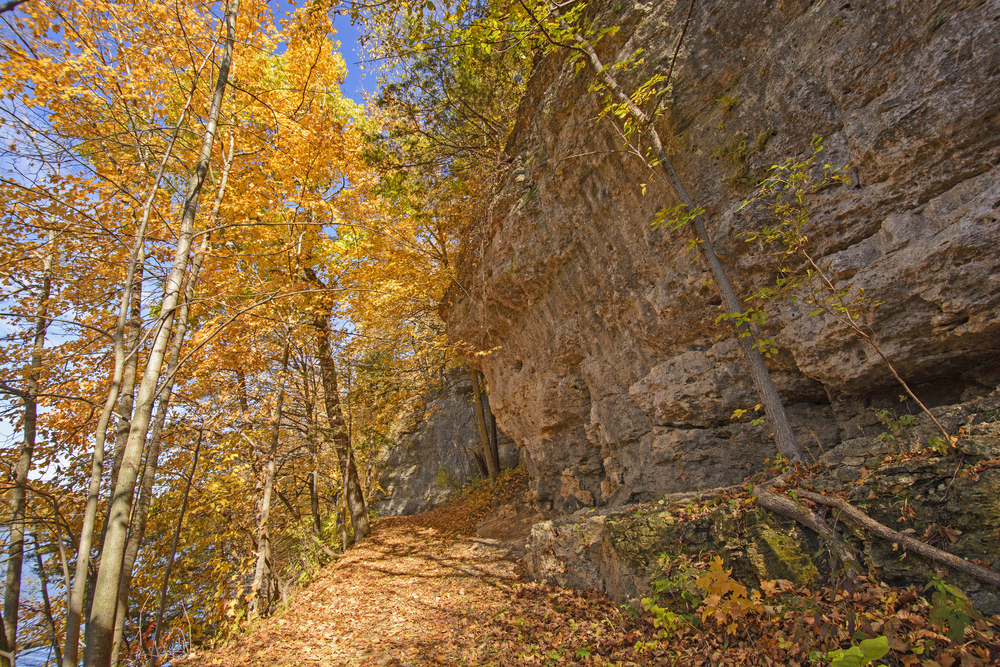 Ice Cave And Horse Thief Cave At Wapsipinicon State Parks
One of the oldest state parks in the state Wapsipinicon offers up a couple of caves to explore, an ice cave, and a bowl-shaped cave known as Horse Thief Cave.
The park is 394 acres so there is much more to see and do here than exploring caves but I will focus on the Iowa caves here.
Horse Thief Cave really is a must-see. Legend has it that two horse thieves used this cave for their camp.
The cave is easy to get to and you can explore a few tunnels inside but you might need a flashlight to do that.
The entrance to the ice cave is up a few steps and is a bit of a squeeze.
It's a small tunnel-like cave and while there is enough room to walk it is tight and you will need a flashlight.
The park's caves can be accessed via a well-developed, multi-use trail system
Spook Cave Near McGregor Is A Mysterious Iowa Cave
It sounds mysterious, doesn't it? But don't worry about the strange name. It was called Spook Cave due to strange noises heard in the cave. These sounds were later discovered to just be flowing water from a spring.
Although there is a mystery to this cave and a visit really is a treat. The tour is an underground boat tour through the rock-like tubes and it truly is magical.
This Iowa cave is worth your effort! At the right time of year, you will be able to see some of the most popular waterfalls in Iowa!
The largest room is 30 ft high and 100 feet long and you will be memorized as the guide explains the discovery, development, and history of the natural limestone cave and surrounding area near McGregor.
The cave is lit and you can take photos.
It does get tight in places and you will have to duck in a few areas so if confined areas are not your thing you might want to give this a miss.
The tour lasts about 30 minutes and costs $14 for over 13's and $10 for 4 to 12 years. Under 4's go free. The cave is open from 9 am until 5 pm.
There is also a campsite on the grounds if you are looking for cool places for camping in Iowa!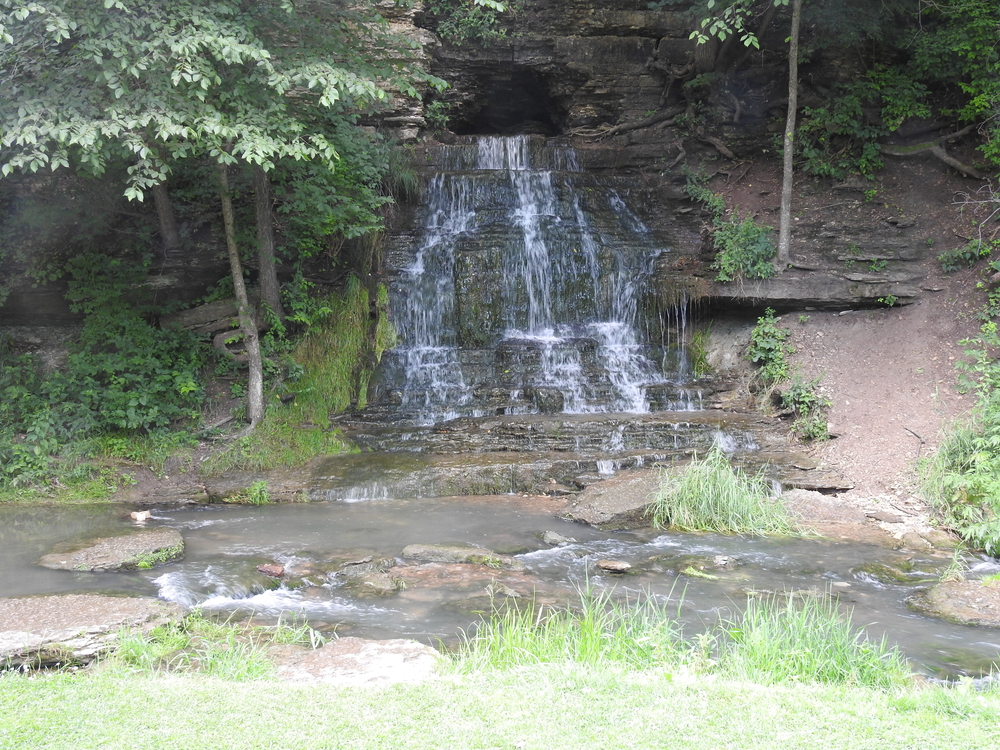 Ice Cave At Bixby State Preserve An Interesting Cave In Iowa
This ice cave in Iowa is located at Bixby State Preserve in Clayton County, northeastern Iowa.
Bixby State Preserve is a wooded park with babbling brooks and creeks and often not another soul around. It's a wonderful place to just enjoy nature for a while.
This Iowa ice cave has a real fairy grotto feel about it especially if you see the mist billowing out of it. It really is quite magical and might be considered a romantic getaway!
The cave is close to the main entrance across Bear Creek on stepping stones. The cave cannot be entered but you can see inside.
No one knows how much ice is in the cave but you will feel a chilly breeze which can be very refreshing in the summer months.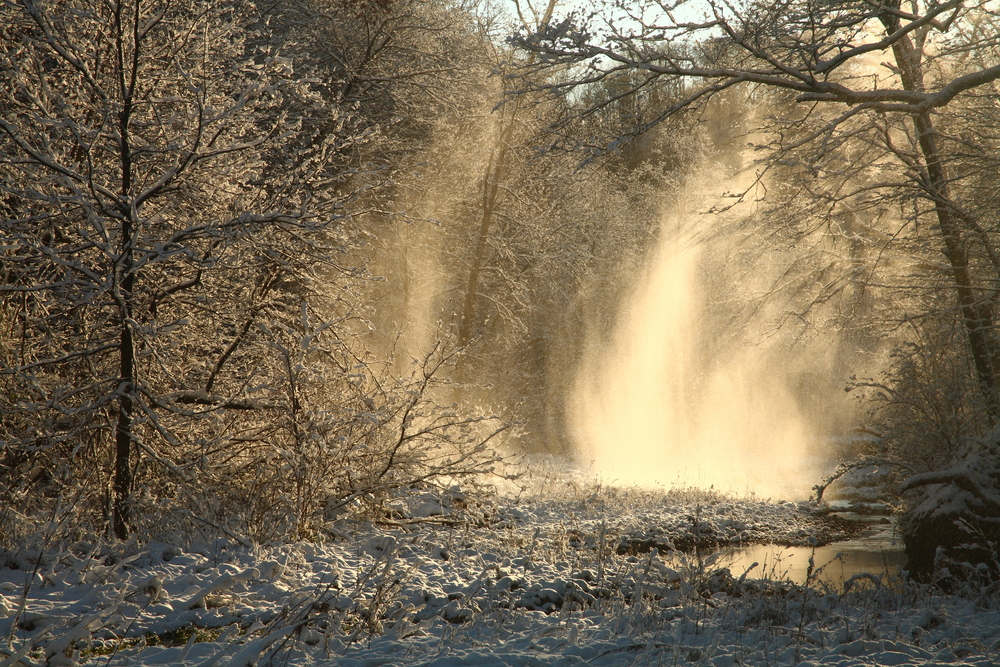 Crystal Lake Caves In Dubuque
Crystal Cave Iowa is a cave you have probably heard of. When you think of underground caves you probably think of something like the caves in Dubuque.
Discovered by miners in 1868 when searching for lead near Dubuque. Crystal Lake Cave was opened to the public in 1932 and has a lot to offer and see.
It's all helictites, stalagmites, stalactites, interesting mineral formations, and a network of caves to explore.
You will even see antholites or flower­like clusters of white crystals that spout from the ceiling. It's very out of the worldly place.
Tours of the cave take about 30-45 minutes and there aren't any really tight spaces so most people will feel quite comfortable in here.
The Iowa cave system is very well lit and you can get some great photographs. And if you have children the Gem Mining Sluice is a really fun activity.
 The entrance is $20 each, ages 4-11 are $8 each and under age 4 is free.
there are so many things to do in Dubuque Iowa. If you have time visit this vibrant Midwest city!
Cold Water Cave At Cold Water Spring State Preserve
This cave is in a 60-acre nature preserve in Winneshiek County. Sitting in Cold Water Spring State Preserve where the spring flows out of Iowa's Cold Water Cave.
The cave system is an elaborate system of approx 16 miles and this really is an adventure.
You will need to know what you are doing to explore here. Exploring here requires wet suits, boots, gloves, and a lot of experience.
Access is by a 100-meter metal ladder and there are no lights making this cave only really great for those who are skilled and experienced explorers.
It's a network of tunnels, domes, and some stunning rock formations. The cave's network of tunnels is the longest in the Upper Midwest and the 33rd longest in the nation.
If you like your caves in Iowa on the adventurous side then this is the one for you.
Packing List For Visiting Caves in Iowa
A concealed travel pouch may be one of the most important items you bring along when on your vacations in the Midwest. It is always important to protect your personal information.
Read my tips on how to pack lightly here if you need packing tips.
This unisex RFID blocking concealed travel pouch is lightweight and comes in several colors. It has lots of organization to give you peace of mind.
If you have a pouch already that does not come with the RFID protection, as I do, these RFID sleeves are the perfect solution.
This configuration comes with enough passport and credit card sleeves that the entire family would be protected. They are slim too, so they will easily fit into your pouch or wallet.
If you are planning on taking a lot of pictures with your phone you will definitely want to consider an external charging battery.
This Anker high-speed phone charging battery is the exact one I carry with me on all of my trips.
It can be used on a variety of phones, not just an iPhone like I have. And wow is it fast!
I like that it holds its charging capabilities for several uses so I do not have to worry about it while out and about, and if I forget to recharge it at night, it will still be good to go the next day.
My daughter gifted me with this FugeTek selfie stick and tripod setup for my birthday. I absolutely love it! It is made of lightweight aluminum and so easy to use. It has Bluetooth connectivity and is a breeze to use for group shots or that perfect selfie!
I was not a fan of packing cubes until I started to use them! This is the exact set of packing organizers I use whenever I travel.
I cannot believe how much they really do help with the organization. If you have not considered packing cubes, I would recommend giving them a try.
Hydration is so important. You want to remain hydrated to support your immune system which in turn will be stronger to fight off any germs you will encounter during your travels.
You will want to bring your own refillable water bottle with you.
I never leave home on a trip without my Bobble filtration bottle. The 18.5-ounce size is perfect for travel and it fits nicely in the pocket of a backpack or your purse.
When filled with water, it is not too heavy to carry. And the charcoal filter ensures fresh clean water whenever you fill the Bobble. You can find filter replacements here.
Perhaps you are traveling a long distance and packing space is a premium in your suitcase, or in your car. Then this set of collapsible silicone foldable water bottles would work well for you. Would not take up much space at all.
You will want a backpack or daypack with you to store snacks, your water bottle, phone, extra clothes, etc.. This foldable water-resistant backpack would be great.
It is very affordable and is available in many color options for you to choose from. The fact that it folds down into a zippered pouch will make it easy to pack.
Perhaps you need a more substantial backpack for your travel. This antitheft backpack has a charging port, is water-resistant, and can comfortably carry up to a 15.6″ laptop.
You will be walking more than usual during your weekend getaways in Ohio. A sturdy and comfortable pair of walking shoes are a must-have. These waterproof all-season shoes are extremely affordable and yet fashionable.
Mostly everyone is familiar with the Skechers brand, and these Air Run high fashion sneakers come in a lot of colors to match your outfits and are still affordable.
If you are visiting caves in Iowa in warmer weather, maybe you want a pair of sandals to wear to dinner or to the local cafe, I highly recommend these Vionics adjustable strap orthotic sandals.
I have several pairs of Vionics that I bring with me *everywhere* I travel. They are very comfortable and have orthotic footbeds that cradle and support your feet.
We all need to protect our eyes from the sun's harmful UVA/UVB rays. These unisex polarized sunglasses come in a lot of lens colors and frame designs and are extremely affordable too.
If you are fond of the aviator-style of sunglasses these polarized aviators may interest you.
If you are in need of new luggage, this expandable soft side spinner luggage is affordable and comes in lots of colors.
If you like hard-sided better, then you may favor this hard-sided luggage set better. Both sets come with TSA locks and 8 wheels per piece.
—
I do hope you give one of these caves in Iowa a visit. Maquoketa Caves Iowa is such an experience and if you have small children I am sure they will enjoy a trip to Crystal Cave Iowa.
Please come back and tell me about your experiences exploring the caves in Iowa and if you find any more caves worth exploring please let me know.