Are you looking for the best places to go hiking in Missouri? You are in the right place.
There are so many amazing things to do in Missouri and hiking is one of them.
In this article, I will walk you through the best hiking trails in Missouri, the mountains in Missouri, and all you need to know about Missouri hiking.
Missouri has far more to offer than you may think especially when it comes to hiking and the great outdoors. 
It's easy to pass through the Midwest state of Missouri. Sitting in the middle of the country it's an easy state to forget about it.
You will find river trails, creeks surrounded by limestone cliffs, high bluffs, and some incredible rock formations. 
There is something here for experienced and beginner hikers alike. There are trails that take you into the wilderness and ones that take you around the sights.
Whichever trail you choose I guarantee you will not be disappointed. Missouri offers stunning views, pristine wilderness, some incredible typography and so many opportunities for wildlife spotting.
So are you ready to see which Missouri hiking trails I have picked for you? Grab a chair and a cup of your favorite beverage and let me walk you through hiking in Missouri.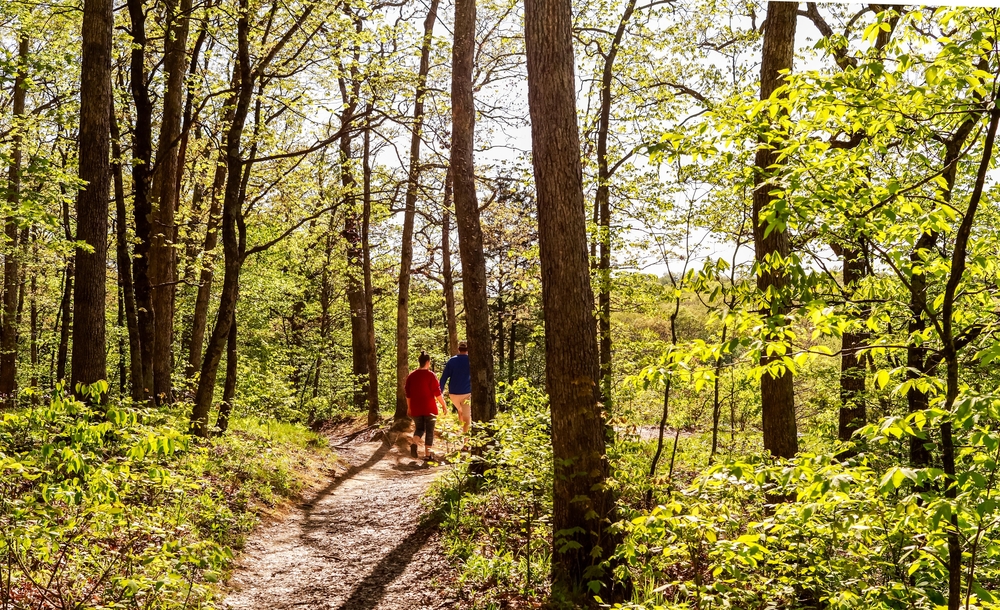 15 Scenic Trails For Hiking In Missouri
Mina Sauk Falls Trail For A Great Waterfall In Missouri
The Mina Sauk Falls Trail is in the Taum Sauk Mountain State Park and as the name suggests includes the Mina Sauk Falls.
The trail is just shy of three miles long but don't let that fool you. This trail takes you to the highest point in the state and there is some uphill climbing.
The trail starts at the top of Missouri's highest mountain Taum Sauk at 1,772 feet high. The loop trail meets the waterfall at about the halfway point.
These Midwest falls are the tallest in the state at 132 feet, tumbling over ledges into the creek below. The falls aren't always flowing and the best time to see them in full force is spring or fall.
The walk takes you past glades, and red volcanic rock outcrops and there are many opportunities for wildlife spotting.
If you fancy extending your hike you can hike from here to the Johnson Shut-Ins which is about 12 miles.
While this hike isn't particularly challenging there are some uphill segments at the end so keep that in mind. If you want to go waterfall chasing this is the best hike in Missouri for you.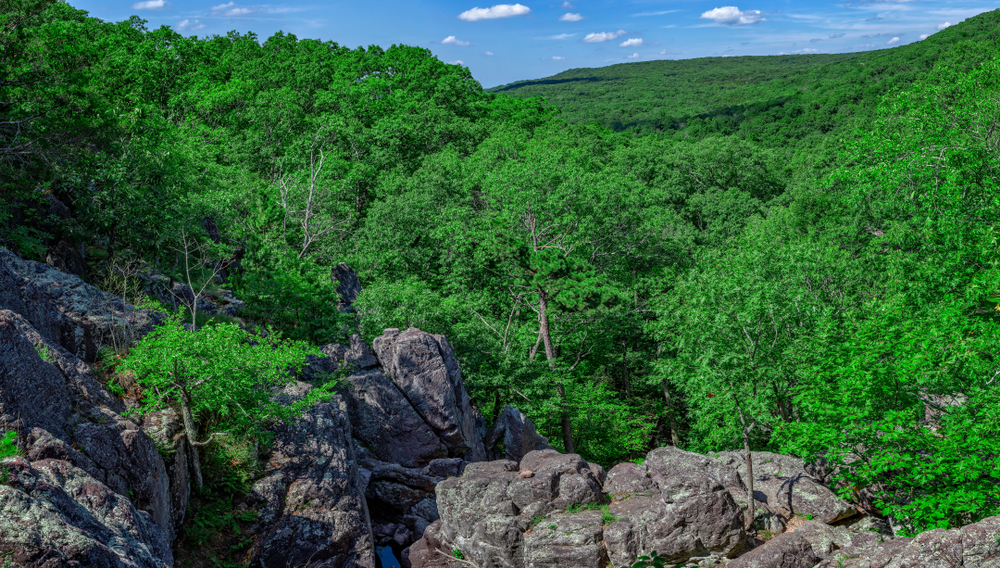 Rock Bridge State Park For Geological Features
If you are looking for an area with many hiking trails then try Rock Bridge State Park. It has some of the best hikes in Missouri.
Here you will find a little bit of everything. Caves, prairies, bluffs, and some great views await. The two most popular trails are The Devil's Icebox and the Deer Run Trail.
The Devil's Icebox Trail is only half a mile but leads you through some of the greatest geological features in the state. Rock Bridge, Devil's Icebox, and Connor Cove are all places of interest. 
The Deer Run Trail is just over 3 and a ½ miles long and as it suggests is a great trail to see deer. Missouri hiking doesn't get much better than it does here.
There are so many other amazing attractions in Missouri to visit.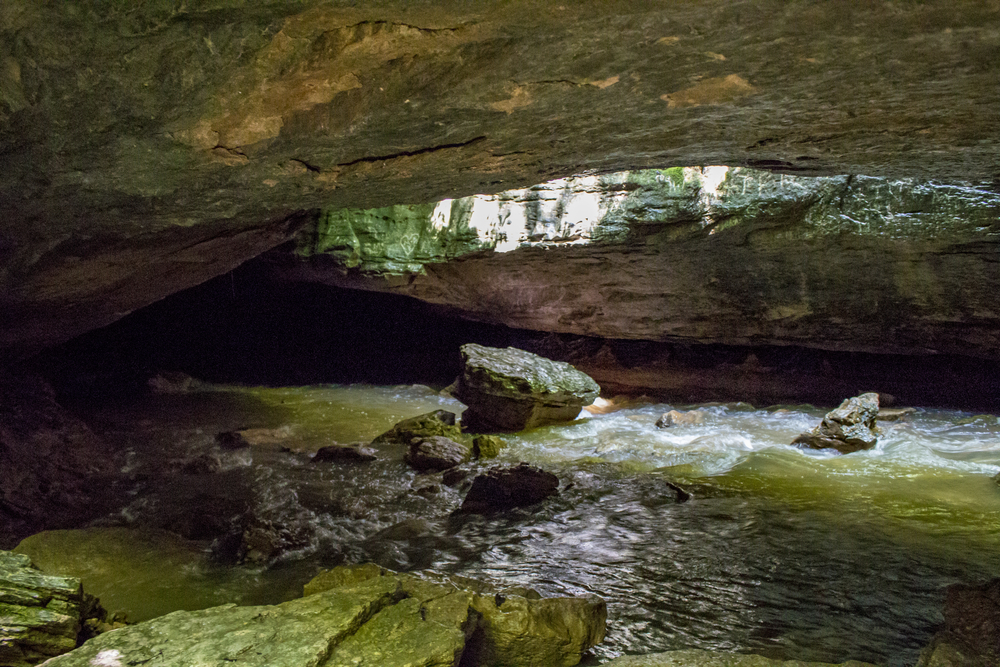 Klondike Park Trail For Great Views
Klondike Park offers you over 250 acres of scenic beauty. Once the site of a quarry, the site has now been turned into beautiful parkland. 
The park offers over 4 miles of trails to explore the easiest being the 1.7-mile loop which is great for beginners and experienced hikers alike.
Whichever trail you take make sure you take in the view from the lookout bluff. This lookout point provides beautiful views of the Missouri River Valley, as well as the historic Katy Trail.
This is one of the best hiking Missouri trails for those that are not used to hiking but still want to enjoy great views.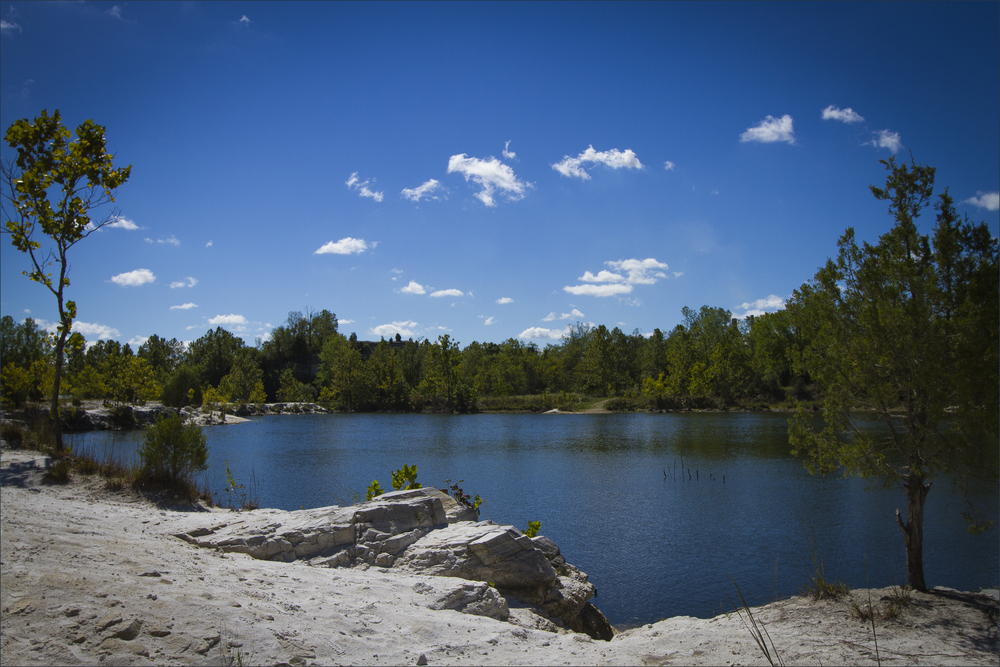 Burr Oak Woods For A Easy Jaunt
If you want a scenic yet easy hike then this is the one for you. The trail is through a conservation area and often you will have the whole trail to yourself.
The Wildlife Habitat Trail is a lovely little hike along crushed gravel through the hardwood forest. A connector trail leads to the Hickory Grove Trail and then onto the Bethany Falls Trail.
 If you follow the whole trail you will be treated to forests, meadows, and some great rock formations. One of the best Missouri hiking trails to take in some lovely scenery and not get out of breath.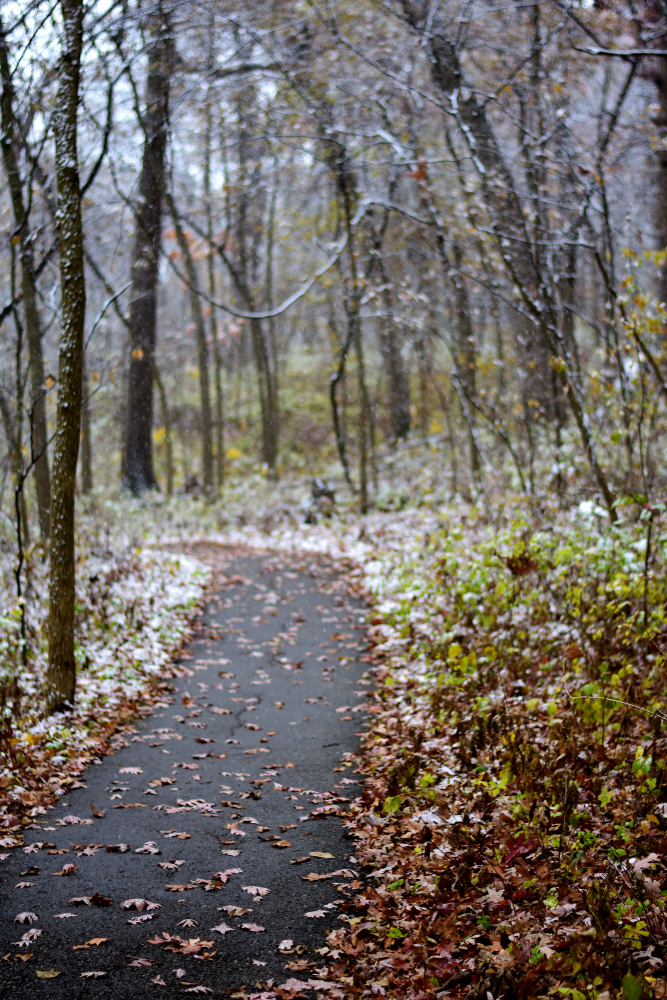 Swope Park Has Something For Everyone
Located just 17 minutes from downtown Kansas City, Swope Park is one of the largest urban parks in the country. At 1,805 acres this park really does have a trail to suit everyone.
The park contains woodland, meadows, soccer pitches, golf courses, a treetop adventure park, and an outdoor theatre. Hiking trails wind through all the areas so really just start to walk and see where you end up.
If you are looking for hiking trails in Kansas City then look no further than the trails in Swope Park.
Some of the best wineries in Missouri are located here as well!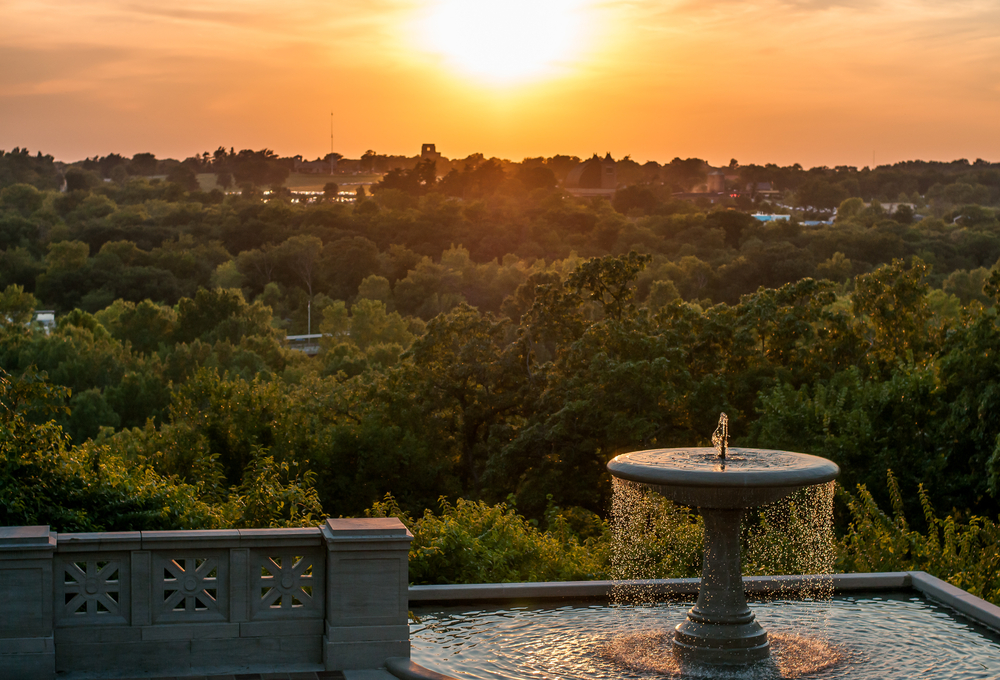 Dogwood Canyon Nature Park For Unspoiled Landscape
Dogwood Canyon Nature Park is over 10,000 acres of rugged unspoiled Ozarks landscape. If you are looking for things to do in Branson some of the best hiking is about a 30-minute drive away.
There are many hiking options here but the 6.5-mile paved walking trail is the best place to start.
There is so much to enjoy here from overlooking the waterfall, rock bluffs, and rainbow trout inhabiting the park's Glory Hole. 
Now I know this article is about hiking in Missouri but you can enjoy this park in many forms. Tram tours, biking, and segways are all popular ways to see this incredible place.
Some of the best hiking in Missouri can be found here.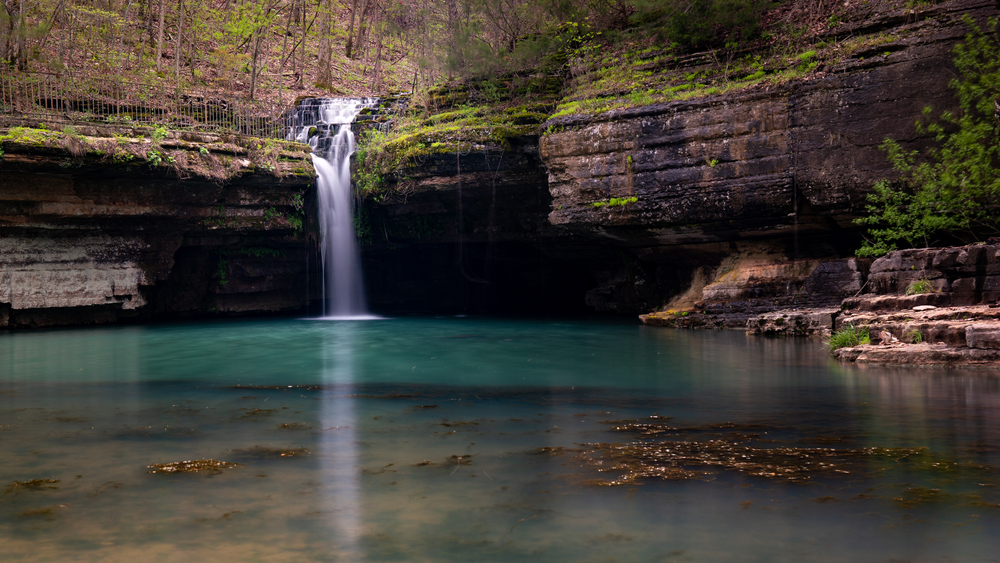 Clifty Creek Natural Area Trail For Rugged And Wild
Clifty Creek Conservation Area and Clifty Creek Natural Area are adjacent to one another and together offer 486 acres to explore.
This Missouri hiking trail is considered moderately difficult due to how rugged the terrain can be. Proper footwear is a must here.
The 2.5-mile loop that heads from the parking lot is very scenic and leads to the natural bridge and back.
The Natural Bridge is the highlight of the hike here. It's a natural 40-foot bridge that was created by erosion.
There are ways to make the trail longer by taking the other trails off the main trail. As well as the natural bridge you will see a rocky creek, other rock formations, and stunning foliage.
If you are after a more wild and rugged hiking Missouri experience then this is for you.
And it is a great place to experience fall in Missouri!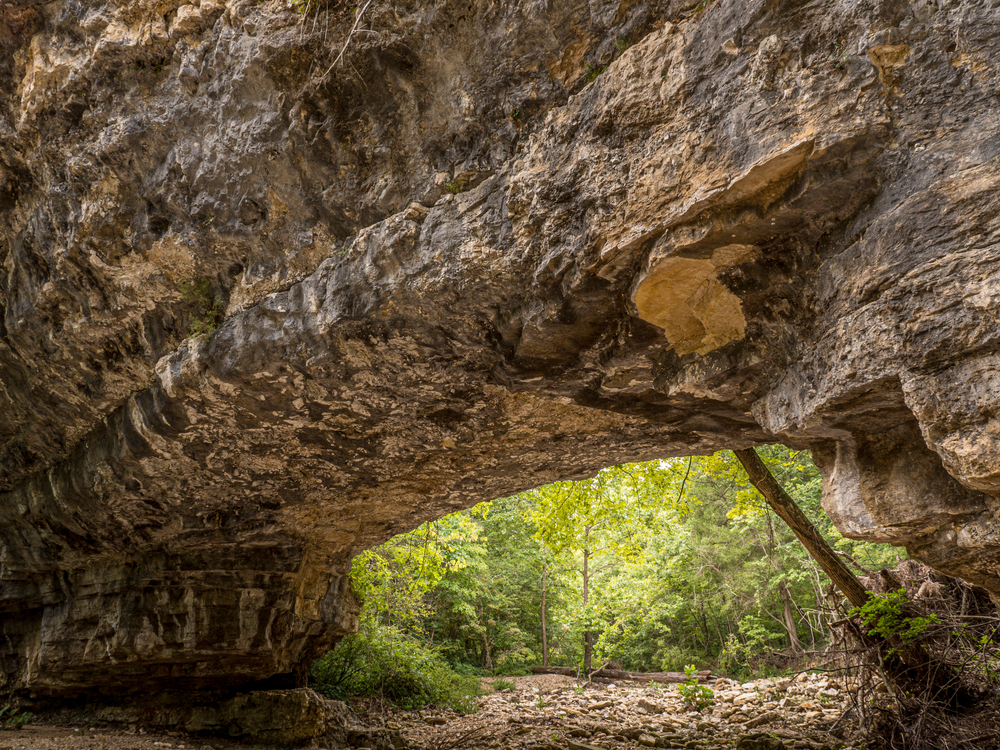 Lewis and Clark Trail Loop For Great River Views
If you are looking for the best hiking in Missouri that is near lots of things to do in St Louis then this trail is for you. It's a bit of a longer trail taking about 4 hours. 
The loop is just over 8 miles and is moderately challenging. It's a very popular trail and is open all year round.
Along the trail, you will see limestone cliffs, large bluffs, creeks, and some amazing views of the Missouri River.
It's a perfect way to spend a morning or afternoon and is a little respite from the city.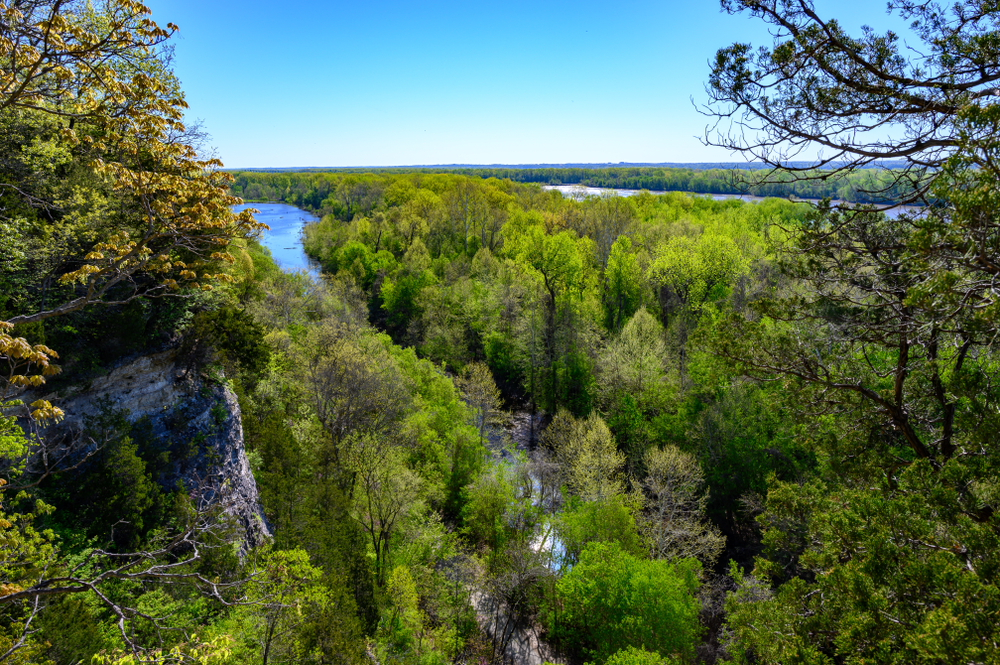 Table Rock State Park For Hiking In Missouri
If you are looking for hiking in Branson MO, then Table Rock State Park is a 14-minute drive away. They are several trails here for you to enjoy.
This public recreation area is 365 acres on Table Rock Lake and has a marina, campgrounds, and trails for hiking and bicycling
The Chinquapin Trail is an easy 1.5 miles and the Lakeshore Trail is a little longer at just over 2 miles. The White River Valley Trail system also offers up over 11 miles of trails to explore.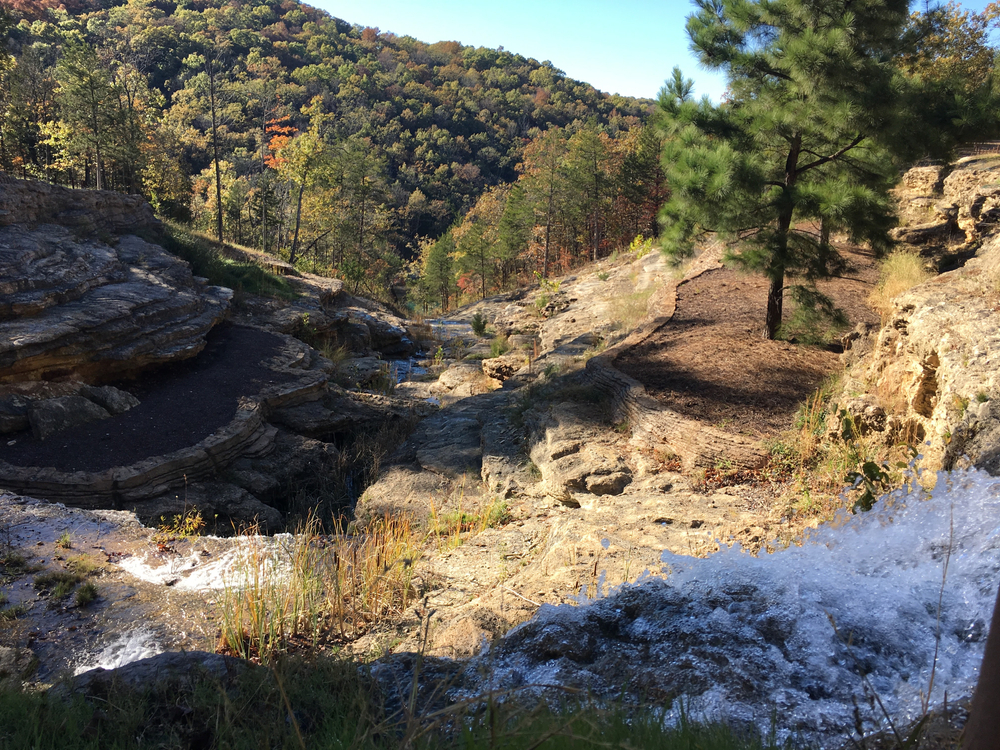 Natural Tunnel Trail For Great Photos
In Bennet Spring State Park the Natural Tunnel Trail is one you want to make sure you have your camera ready for. The park is stunning and there are many trails but this is the one everyone comes for.
The trail is 7 and ½ miles long and the highlight is the Bennet Spring Natural Tunnel, which is 296 feet in length. Walking the trail takes about 4 hours and you will see main different habitats.
You will meander through forests, fields, creeks, and even the century-old Jenkins Family Cemetery. In spring there is an abundance of wildflowers adding to the magic. 
If you like a good old adventure then this is the best hiking trail in Missouri for you.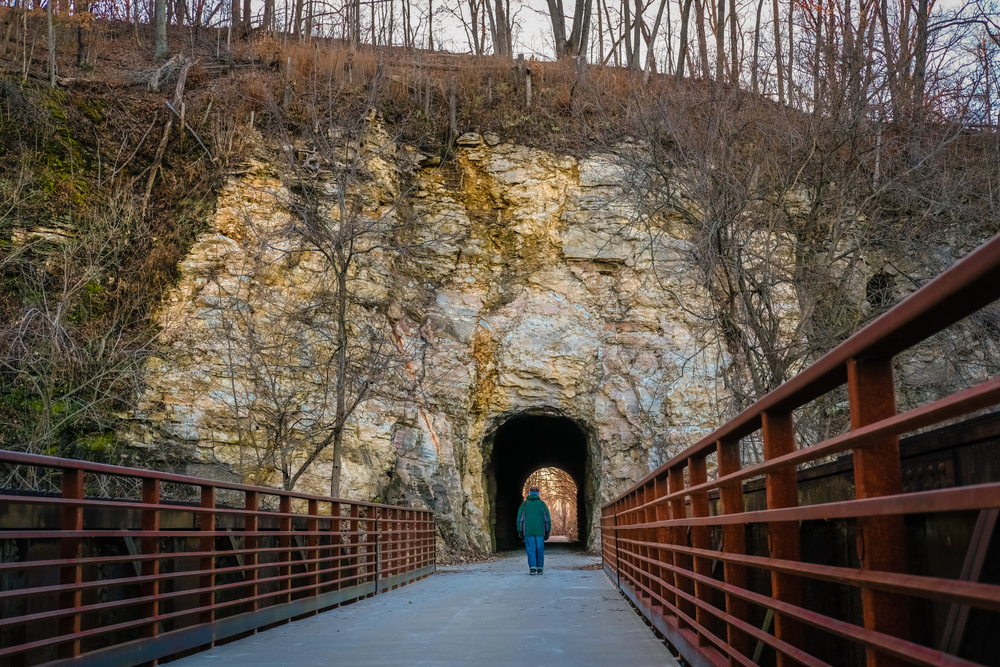 Pickle Springs Natural Area For A Geological Wonderland
Some call this a geological wonderland and I would have to agree. With its unusual rock formations, wet weather waterfalls, box canyons, and an array of plants and animals it is very magical.
The trail is a 1.9-mile loop and is well-maintained. There are some steep climbs throughout so keep that in mind. It's a moderate trail so it's not one of the easier ones even though it's quite short. 
Keep an eye out when you are walking as this area is home to many uncommon plant species that are considered glacial relics.  Also, keep your eyes on the floor for the frogs that can be seen here. 
This is one of the best hiking trails in Missouri. It's short but gives you a good workout and there is so much to see.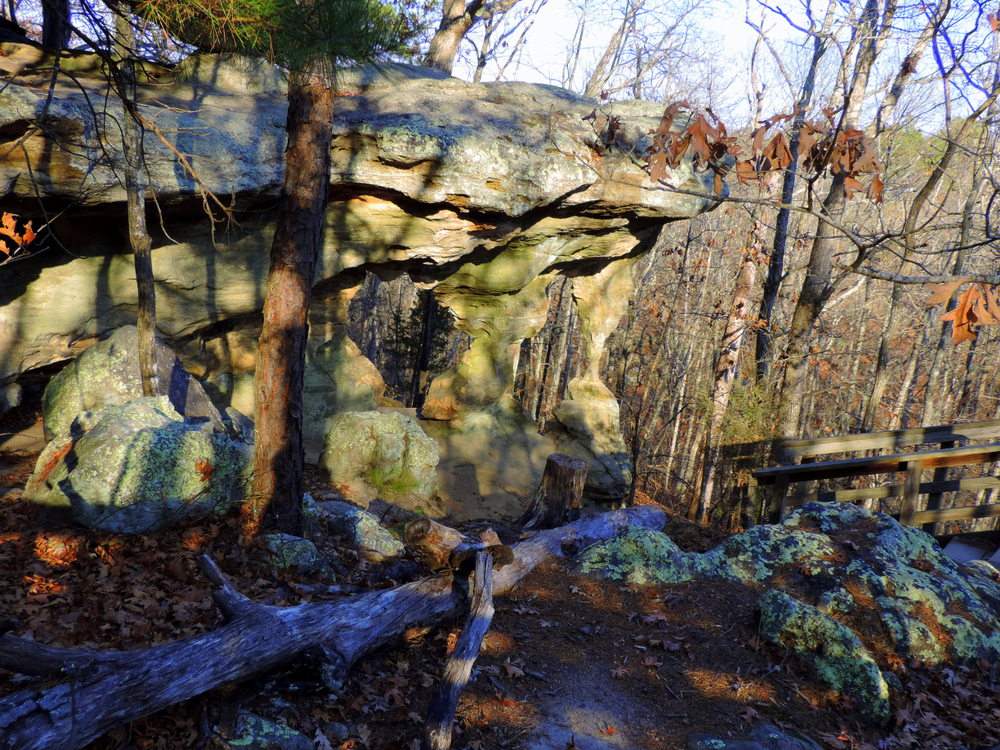 Some Of The Best Hiking In Missouri Is At Johnson's Shut-Ins State Park Trail
Johnson's Shut-Ins State Park is 8,781 acres of public recreation space on the East Fork Black River. It's a really family-friendly park and has something for everyone.
If like me you are wondering what a shut-in is, well a shut-in refers to a place where the river's width is limited by the hard rock that is resistant to erosion.
The river, therefore, cascades over and around the rock creating somewhat of a natural waterpark.
It's a unique destination where wilderness mixes with beauty and forms something quite special. And this is all framed by the surrounding St. Francois Mountains. 
While there are many trails here what I love most is the paved trail portion making it accessible to people with disabilities. This is a place where everyone can enjoy the scenery.
If you want something a little more adventurous this park has you covered too with trails ranging from 62 to 354 meters in elevation gain.
Some of these trails are quite wild and rugged offering a real challenge for those who want it.
This is some of the best hiking in Missouri especially if you are looking for something that is suitable for everyone.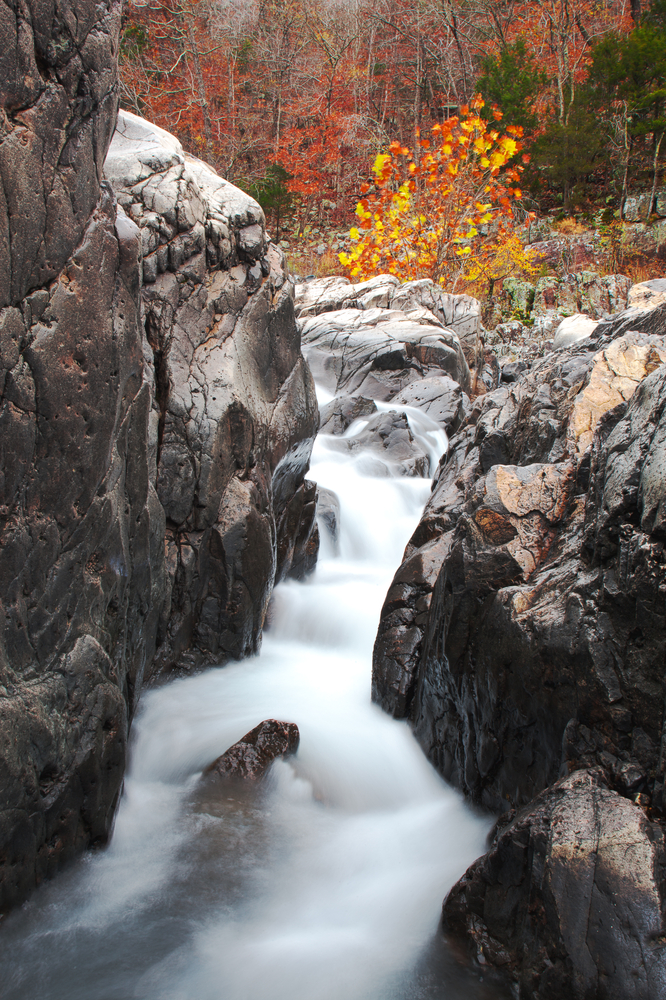 Cedar Creek Trail Has Some Of The Best Hiking In Missouri
This 16,000 acres of the Mark Twain National Forest has a lot to offer. Traversing between grass prairies and forest it's a beautiful trail.
There are four main sections to the trail. The southern loop takes you through 23 miles of pastoral countryside.
The Pine Ridge Section takes you through Pine Ridge Recreation Area. The Moon Loop portion is a seven-mile lovely hike.
However, the most popular part is the Smith Creek Loop. This loop covers five miles between Boydsville and Rutherford Bridge.
This loop perhaps offers the most interesting scenery but it's all a matter of taste. The highlight of this loop is the Rutherford Bridge which really is worth a stop.
If you are thinking of hiking Missouri and you want a lovely hike that will take a whole morning or afternoon, this is it.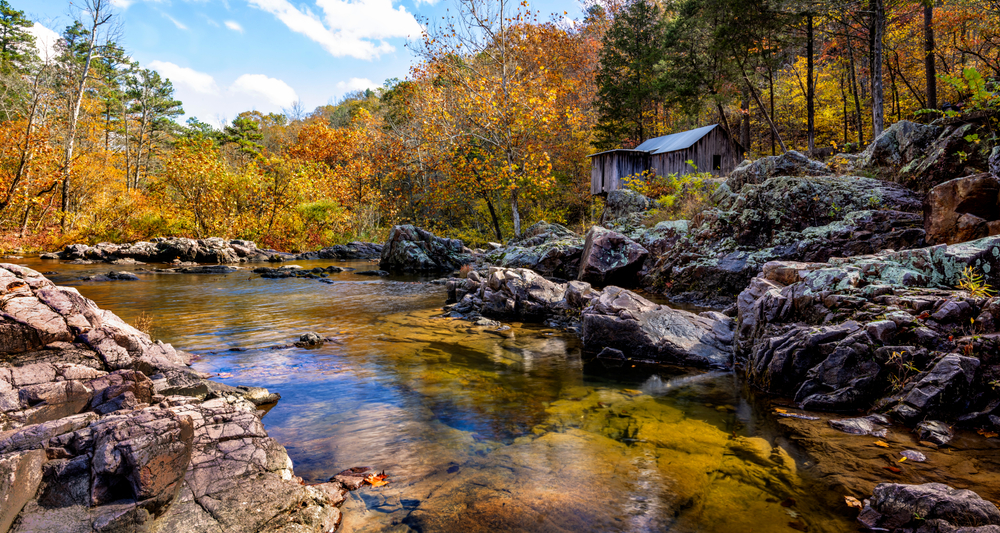 Katy Trail Is A Rail Hiking Trail In Missouri
The Katy Trail State Park is the longest rail trail in the country. Although it is considered a bike trail it is also an excellent hiking trail.
Built on the former corridor of the Missouri-Kansas-Texas Railroad this 240-mile long trail has a lot to offer. It's a place where you can enjoy nature and discover some of the state's past.
The trail winds through some of the most scenic parts of the state with the majority following the Missouri River. It's an easy trail to walk and access. You can walk a part that is nearest to your location.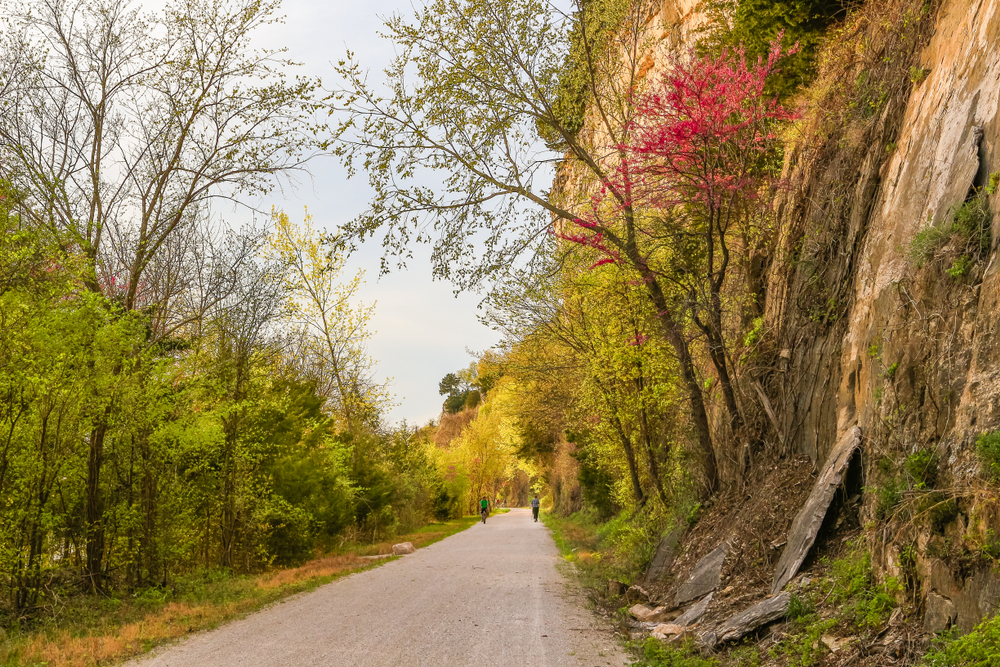 Buford Mountain For The Best Hiking In Missouri
If you are looking for a hike up one of the mountains in Missouri, then this is the one for you. Sitting in the Buford Mountain Conservation Area the trail has a wilderness-like quality.
This trail is close to St Louis and really is a great way to get out and see a different side of the area. 
 Buford Mountain at 1,740 feet tall is just shy of the tallest mountain in the state. The trail is steep and challenging but you are rewarded with an incredible view from Bald Knob of the valley below. 
And if you are feeling adventurous there is a designated primitive Missouri campsite at the top which you might need since the trail is just over 9 miles and can take over 5 hours to complete.
This is hiking in Missouri for those who know what they are doing.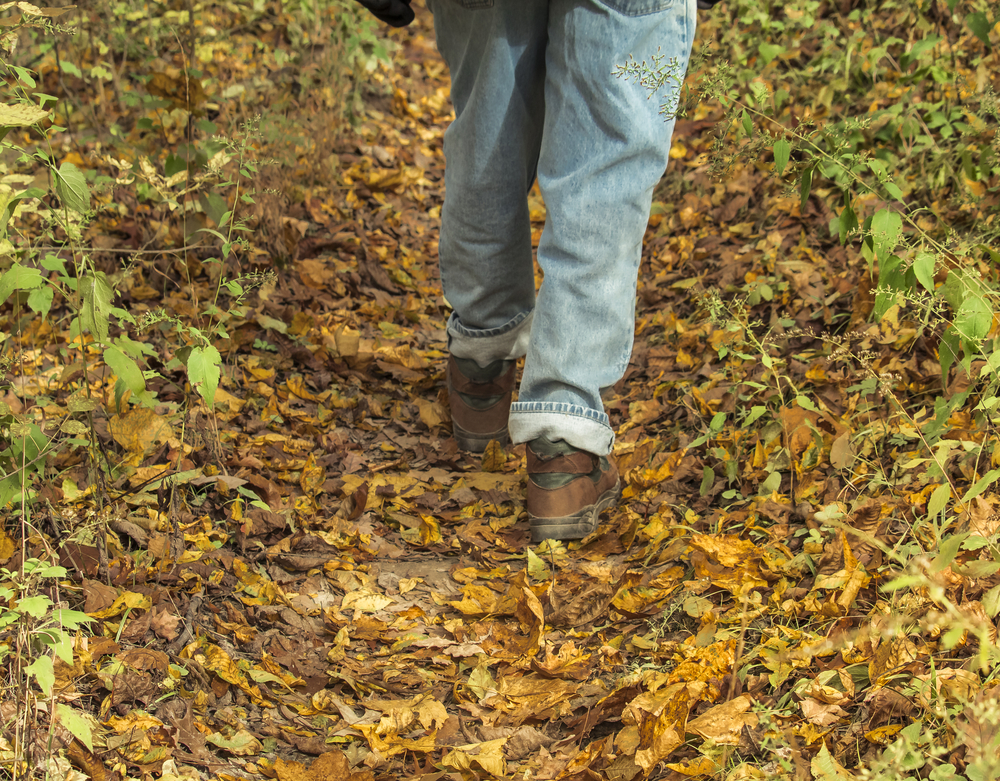 Packing List When Hiking In Missouri
If you are searching, here are some tips on how to pack lightly when packing your Missouri hikes.
A concealed travel pouch may be one of the most important items you bring along when exploring the best scenic trails in Missouri. 
It is always important to protect your personal information. Identity thieves are everywhere.
This unisex RFID-blocking concealed travel pouch is lightweight and comes in several colors. It has lots of organization to give you peace of mind.
You can place it under your clothes next to your body to carry your ID safely.
If you have a pouch already that does not come with RFID protection, as I do, these RFID sleeves are the perfect solution.
If you are planning on taking a lot of pictures with your phone you will definitely want to consider an external charging battery. This Anker high-speed phone charging battery is the exact one I carry with me on all of my trips.
I like that it holds its charging capabilities for several uses so I do not have to worry about it while out and about, and if I forget to recharge it at night, it will still be good to go the next day.
My daughter gifted me with this FugeTek selfie stick and tripod setup for my birthday. I absolutely love it! It is made of lightweight aluminum and is so easy to use.
It has Bluetooth connectivity and is a breeze to use for taking Insta-worthy selfies while discovering island getaways in the US.
I never much believed in using packing cubes when traveling. That is until I tried them. Now I am hooked. These are the exact cubes I use to stay organized when I pack for a trip!
You will want to bring your own refillable water bottle with you.
I never leave home on a trip without my Bobble filtration bottle. The 18.5-ounce size is perfect for your adventures and it fits nicely in the pocket of a backpack.
The replaceable carbon filter ensures fresh water when you want it.
Perhaps you are traveling a long distance and packing space is a premium in your suitcase, or in your car. Then this collapsible silicone foldable water bottle would work well for you. Would not take up much space at all. 
You will want a backpack or daypack with you to store snacks, your water bottle, phone, extra clothes, etc.. while hiking in Missouri. No matter the time of day or evening.
This foldable water-resistant backpack would be great. And it comes in many different colors.
—
As you can see when it comes to hiking in Missouri, there are so many options.
With its lovely small towns, endless caves to explore, and some of the most beautiful and rugged terrain it makes a perfect hiking destination.
Whether you choose to hike one of the mountains in Missouri or opt for one of the hiking trails in Kansas City I know you won't be disappointed.
Hiking in Missouri can be a very rewarding experience with so many interesting places to see.
I've picked what I feel are the best hiking trails in Missouri but I am sure you will find many more you love. I hope you have a great vacation in this beautiful state and please come back and tell me all about it.