Are you looking for things to do in St Joseph MO? I've got you. It's a great city with so much to see and do.
Born and raised in the Midwest I encourage everyone to explore this area more. There are so many vintage small towns in Missouri, St Joseph is one of them!
The city of St. Joseph MO is one of the state's main cities, the eighth largest in fact.
Some interesting facts about St. Joseph, Missouri are that it is the birthplace of rapper and songwriter Eminem, and where Jesse James died.
And it is where the Kansas City Chiefs go to training camp.
I find St. Joseph very different from other Midwest cities. It's a city with lots of history, lots of museums, and some remarkable architectural treasures.
However, on the flip side, there is youthful vibrant energy and culture.
So let's start planning your vacation here with the 10 best things to do in St. Joseph Missouri.
Please pull up a chair, and grab a drink as I walk you through St Joseph MO attractions.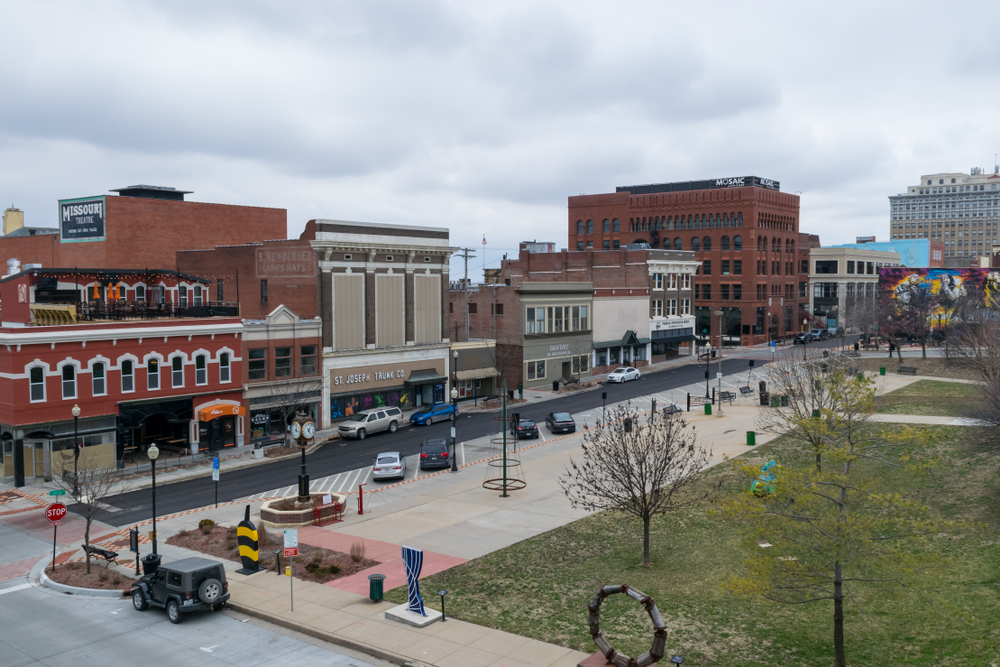 10 Best Things To Do In St Joseph MO
Get Historic At Patee House Museum
One of the things to do in St Joe is to make a visit to the Patee House Museum. Built in 1858 as a luxury hotel the impressive building, now a museum is well worth a visit.
This building has an impressive history and many have graced its hall from the well-to-do to the Union Army during the Civil War.
There are lots to do here and children will love it. You can ride a vintage carousel, climb aboard an 1860 train, and visit the 1877 railroad depot. And this is just a small selection of what this place offers.
This is one of the things to do in St Joseph MO that all the family will find enjoyable.
Stay At The Stoney Creek Hotel St. Joseph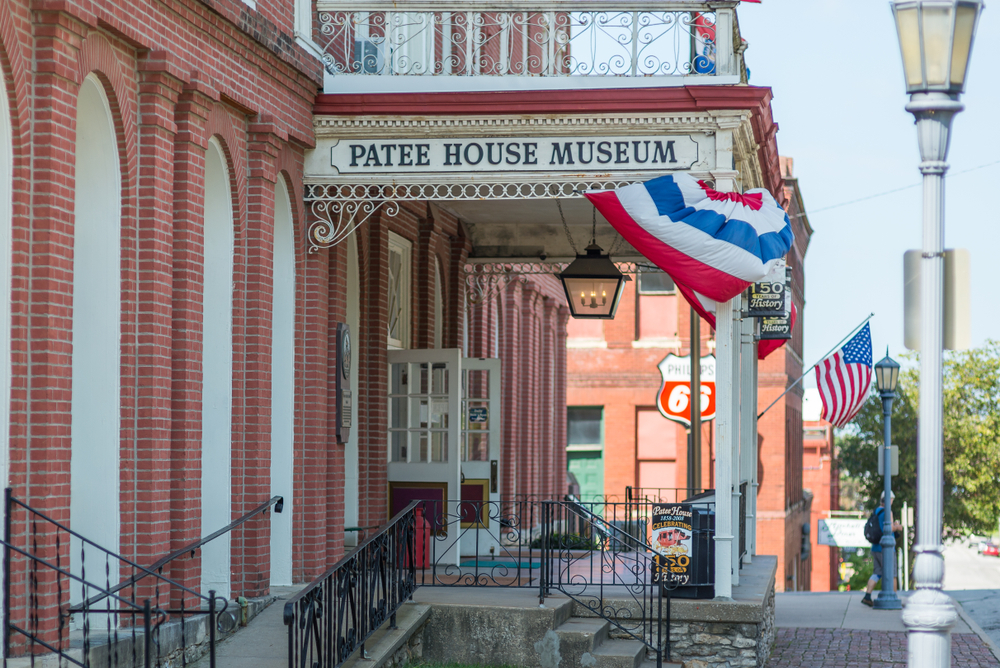 Admire The Architecture On Mansion Row
There is nothing I like more than strolling around the streets of a new location and you can do that here in style. One of the St Joseph MO activities I recommend is a stroll around the Hall Street District.
In its days St Joseph was the epicenter for the aristocracy and this is where they lived.
Sometimes called Museum Hill and known affectionately as Mansion Row, the houses around this area are nothing short of incredible.
The area is listed on the National Register of Historic Places and when you visit you will see why.
All kinds of architecture are on show here from Queen Anne, Italianate, Romanesque, Chateauesque, Richardsonian, Victorian, and Antebellum. If you love architecture this place will captivate you.
And my absolute favorite thing about a trip here is that it is all free.
This is one of the many great Missouri attractions to explore!
Learn About The Pony Express
If you are looking for things to do in Missouri that are fun and family-friendly then I recommend a trip to The Pony Express.
Now it is located in the Patee House Museum which I have already mentioned but I feel this needs a special shout-out.
St Joseph was the home to the first Pony Express, a mail service that operated between April 1860 and October 1861 and could deliver a letter 1,800 miles in 10 days.
It relied on horse-mounted riders to get messages from St. Joseph to California and became the fastest form of communication at the time.
Yes, another interesting fact about St Joseph is that the main service started life here.
Housed in a historic stable the museum charts the history of America's first mail service. You can fill out an application form to send a letter on one of their reenactment rides.
This is one of the more unique attractions in St Joseph Missouri.
Stay At Motel 6-Saint Joseph, MO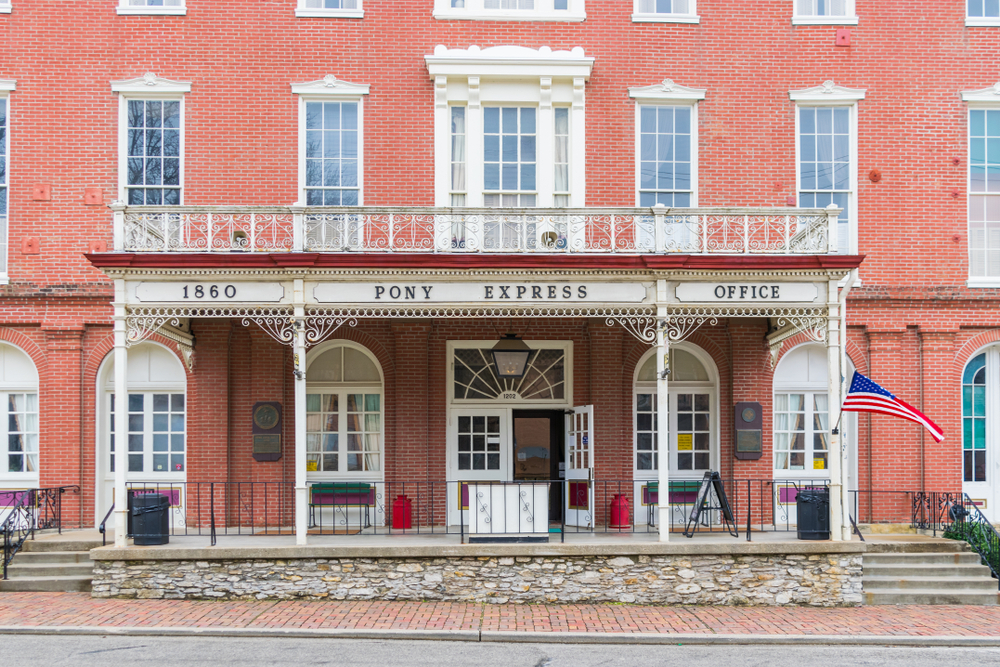 Escape To The River Bluff Trails
If city life gets too much for you and adventure calls, head to the River Bluff Trails.
Located among the bluffs of the Missouri River there are miles of multiuse cross-country trails and dedicated biking/hiking trails.
If you are a mountain biker the trails here are suitable for every level and for the walker, the pathways lead to some incredibly scenic overviews of the river and Kansas skyline.
It's the perfect place to explore nature a little and switch off and the sunset from here is extraordinary. One of the things to do in St Joseph Missouri if you are looking for adventure.
This is some of the most incredible hiking in Missouri!
Visit The Jesse James Home Museum
A US historic district this 1-story Greek Revival house is one of the most popular attractions in St Joesph, MO. It is the house where the infamous Jesse James was gunned down in 1882.
While it might not be for everyone the museum does a great job of charting the life and death of this outlaw. Some of the stand-out pieces are a pin Jesse wore, the handles from his coffins, and a bullet.
The house itself is listed on the US National Register of Historic Places and sits on the grounds of the Patee House Museum.
Stay At Drury Inn & Suites St Joseph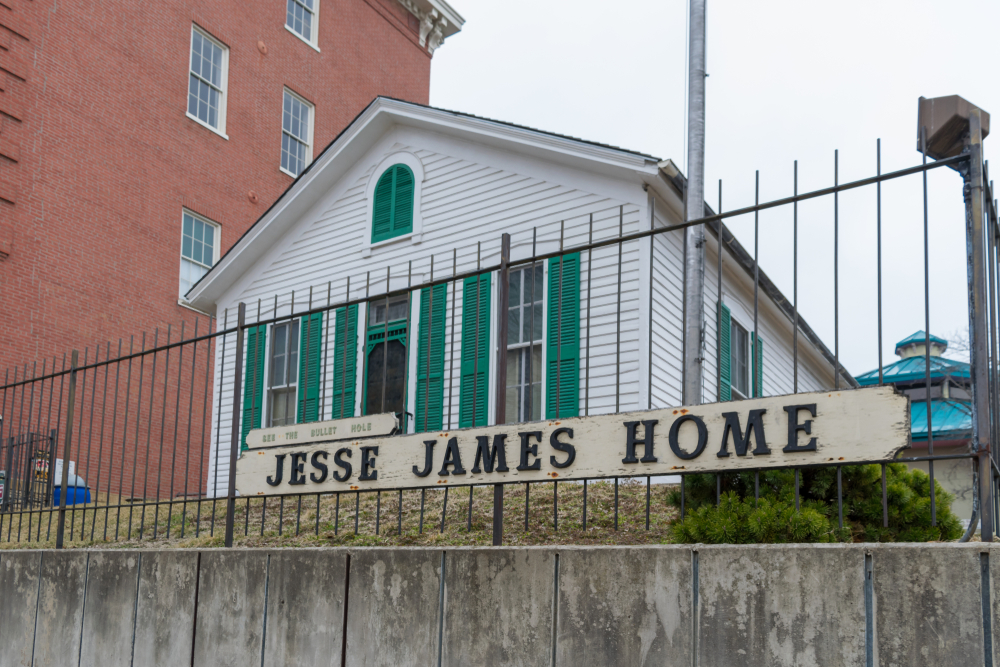 Relaxing At Krug Park Is One Of The Best Things To Do In St Joseph MO
Located at the north end of the St. Joseph Parkway if you do get time to explore the park I highly recommend it.
It looks like someone has uprooted the Italian Renaissance and placed it in northwest Missouri.
The 163 acres contain a fishing lagoon, rose gardens, an amphitheater, playgrounds, and what I can only describe as an Italian Castle. If you are into whimsy and fairytales you will love this place.
It's a wonderful place for a picnic on a sunny day, a stroll with a loved one, or letting the children roam free.
And talking of children if you are here for the Christmas season you have to bring them here it's the largest outdoor light display in Northwest Missouri.
It is one of the attractions in St Joseph not to miss.
Enjoy Some Craft Beer At A Brewery
There are some incredible breweries in Missouri and St Joseph is no exception. There is a thriving craft brewing scene in this city but my favourite is River Bluff Brewing.
Once home to two pre-prohibition breweries they brew award-winning beer that won the silver medal at the Great American Beer Festival.
Houses in the historic 1224 Frederick building there is a certain vibe here. The Angry Swede and the Black Pony Brewing company are also worth a visit, but there are so many so take your pick.
One of the things to do in St Joseph MO on a rainy day perhaps?
Stay At Hampton Inn St. Joseph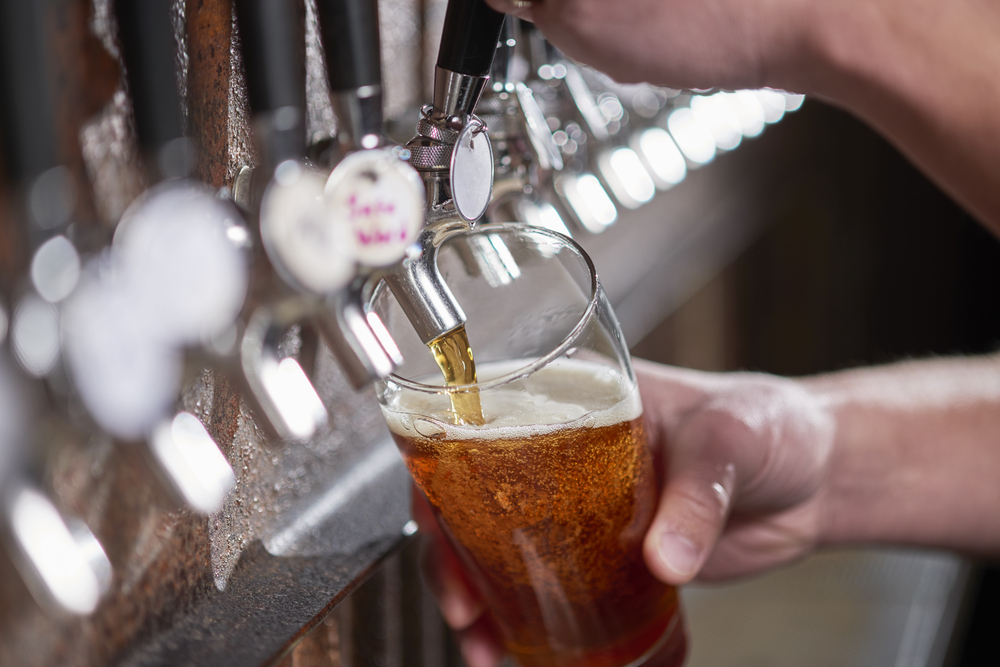 Explore The Macbre At Glore Psychiatric Museum
If you are looking for things to do in Missouri and have a taste for the slightly unusual and macabre then the Glore Psychiatric Museum is for you.
Part of the St. Joseph Museums, Inc. museum complex it houses an extensive collection that chronicles the early history of psychiatric treatment.
You will find reproductions, dioramas, and models of some very strange and sometimes disturbing memorabilia.
You may find the museum familiar as it has been featured in many documentaries and television shows, including Ripley's Believe it Or Not, and national publications.
It is recognized as "One of the 50 most unusual museums in the country".
This a perfect St Joseph attraction if the weather isn't great. Oh, and this is also believed to be one of the most haunted museums in America.
Hiking or Biking The Parkway Is One Of The Fun Things To Do In St Joseph MO
If you are looking for events in St Joseph MO then head to The Parkway as there is always something happening.
It's a 26-mile loop of walkways, bike paths, and drivable byways developed in 1918 and still going strong today.
This system of parkways connects parks and recreation facilities throughout the city running from Krug Park to Hyde Park. It is also on the National Register of Historic Places.
Not only perfect for walking, hiking, or biking The Parkway also holds numerous events especially in Summer and around the holidays,
Fall in Missouri is also an experience you won't want to miss.
One of the best things to do in St Joseph MO.
Stay At Fairfield Inn & Suites by Marriott St. Joseph
One Of The Best Things To Do In St Joseph MO Is Visiting The Remington Nature Center
If you are looking for things to do in St Joe Missouri that will work for all the family then a trip to the Remington Nature Center might be perfect. Most of the family will find something here of interest.
From a 7,000-gallon aquarium to scavenger hunts, the children will love it here and there is also enough to keep the nature and history buffs happy for an afternoon.
The 13,000-square-foot center provides education in an entertaining way with some great interactive displays.
And of course outside the grounds also provide educational content on nature and wildlife habitats.
There is so much to see and do here and it is one of the top MO attractions.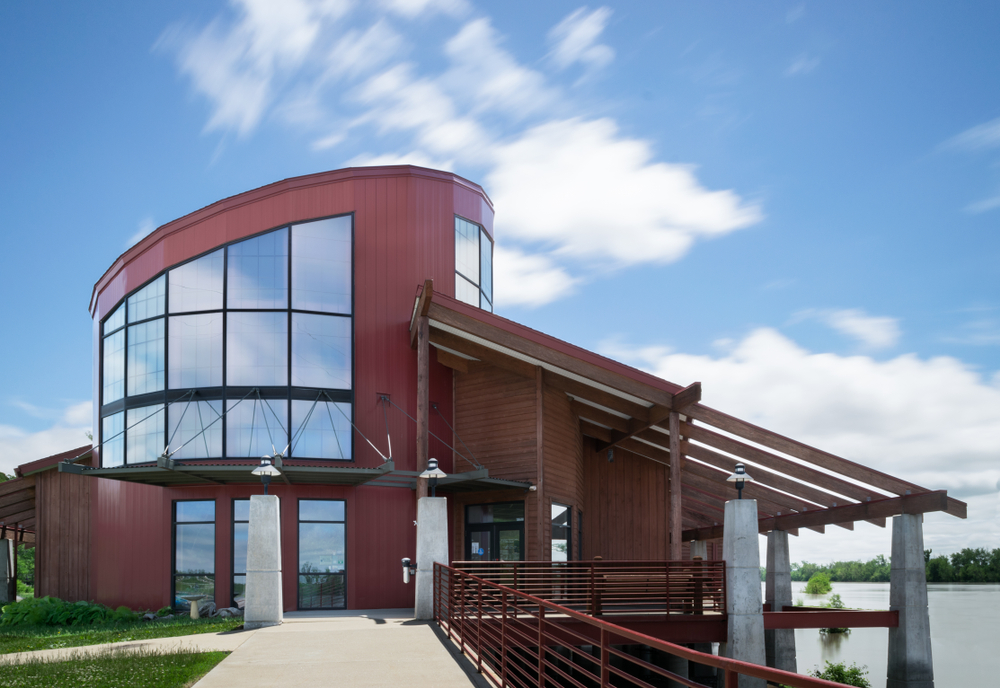 Stay At America's Best Value Inn St. Joseph
Packing List When Visiting Things To Do In St Joseph MO
If you will be traveling, either by plane or by car to St Joseph Missouri, here are some tips on how to pack lightly.
A concealed travel pouch may be one of the most important items you bring along when looking for things to do in St Joseph MO.
It is always important to protect your personal information. Identity thieves are everywhere.
This unisex RFID-blocking concealed travel pouch is lightweight and comes in several colors. It has lots of organization to give you peace of mind.
You can place it under your clothes next to your body to carry your ID safely.
If you have a pouch already that does not come with RFID protection, as I do, these RFID sleeves are the perfect solution.
This configuration comes with enough credit card sleeves that the entire family would be protected. They are slim too, so they will easily fit into your pouch or wallet.
If you are planning on taking a lot of pictures with your phone you will definitely want to consider an external charging battery.
This Anker high-speed phone charging battery is the exact one I carry with me on all of my trips.
It can be used on a variety of phones, not just an iPhone as I have. And wow is it fast!
My daughter gifted me with this FugeTek selfie stick and tripod setup for my birthday. I absolutely love it! It is made of lightweight aluminum and so easy to use.
It has Bluetooth connectivity and is a breeze to use for taking photos during your London activities.
You will want to bring your own refillable water bottle with you.
I never leave home on a trip without my Bobble filtration bottle. The 18.5-ounce size is perfect for hiking and it fits nicely in the pocket of a backpack.
The replaceable carbon filter ensures clean drinking water when you want it.
Then this collapsible silicone foldable water bottle would work well for you. Would not take up much space at all.
You will want a backpack or daypack with you to store snacks, your water bottle, phone, extra clothes, etc…. No matter the time of day or evening.
This foldable water-resistant backpack would be great.
It is very affordable and is available in many color options for you to choose from. The fact that it folds down into a zippered pouch will make it easy to pack.
—
As you can see when it comes to things to do in St Joseph MO there are so many to choose from and this list is only the start. I love this city and I'm sure you will too.
It is about 30 miles from Kansas City and is in the northwest of the state.
Whichever attraction or event in St Joseph MO you attend I hope you have a great time and please do come back and tell me all about it.