Looking for some small towns in Missouri to explore? We have you covered!
Missouri has many rural and historic small towns where you can spend a wonderful day or two relaxing away from big city life. These towns have great bed and breakfasts that make ideal romantic getaways, too.
While Missouri has its fair share of large cities like Kansas City and St. Louis, the state is primarily made of small towns. You have plenty to choose from if you want to see the more rural side of this Great Plains state.
From pretty downtown shops to interesting museums to awesome parks, these towns are some of the best places to visit in Missouri. No matter your interests, you will have a good time.
Now let's take a better look at these Missouri small towns!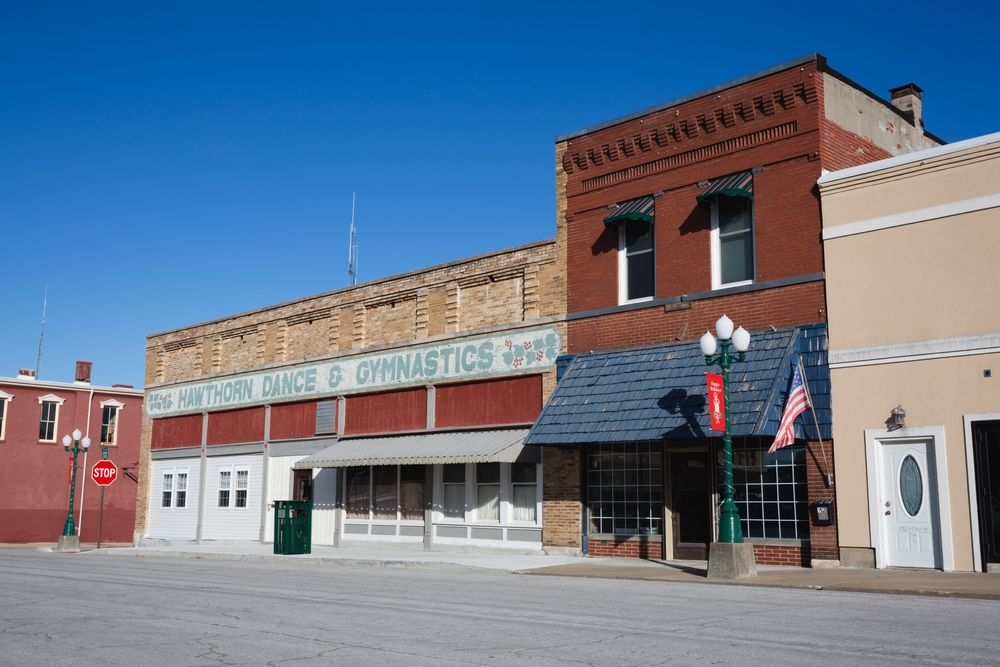 15 Small Towns in Missouri You Must Visit
Boonville
Boonville is found in the middle of the state on the Missouri River. This is one of the best small towns in Missouri because it has the perfect mix of history, nature, and hospitality.
This Missouri town was named after the sons of the famous frontiersman, Daniel Boone. The two men settled in the area in the early 1800s and called it Boone's Lick.
Maybe it's a good thing that name didn't stick! Boonville was officially incorporated in 1839.
Today, you can visit some of the historic buildings that still stand including the Roslyn Heights Mansion, the Old Jail, and Thespian Hall.
If you visit in December, the Christmas in Historic Homes Tour is a must-do activity.
A couple of cool, history museums in town are the River, Rails, & Trails Museum and the Mitchell Antique Motorcar Museum.
The famous Katy Trail runs through town as well, so if you are undertaking this 237-mile bike ride, you will end up here at some point.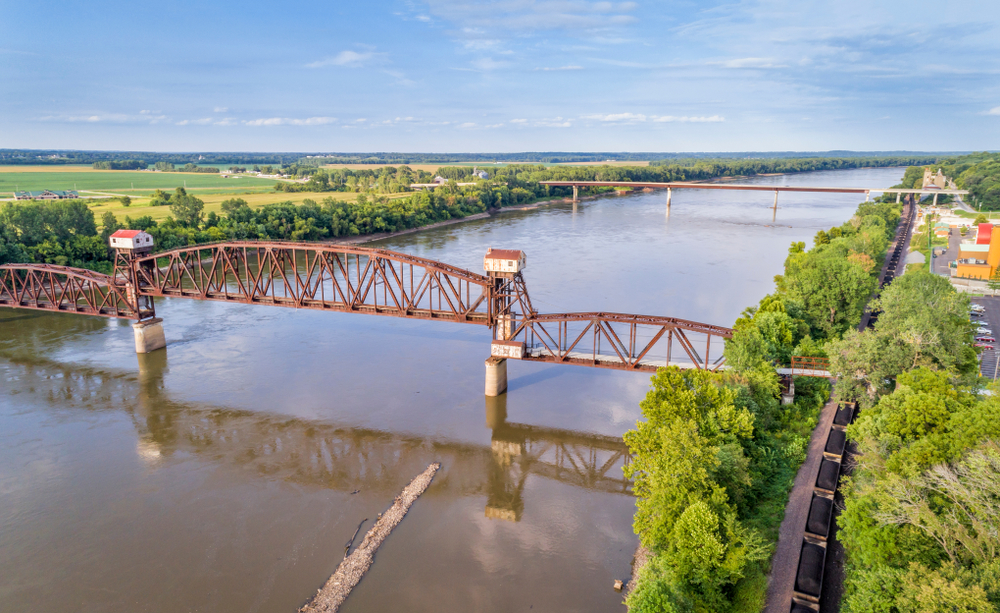 Hannibal
Found on the Mississippi River, Hannibal is best known for the Mark Twain Boyhood Home and Museum.
Many things in town are named after this famous writer. Step into the world of Tom Sawyer and Huck Finn as you explore this beautiful and historic town.
If you love nature, you will have fun exploring the Mark Twain Cave. At Cardiff Hill, you can climb to the base of the Mark Twain Memorial Lighthouse for amazing views of the river and town.
If you want to get out on the river, you will want to book a relaxing sightseeing cruise on the Mark Twain Riverboat.
If you are wanting more of a thrill, there are ghost tours that will send a shiver down your spine.
History buffs will want to visit the Molly Brown Birthplace Museum, Hannibal History Museum, Rockcliffe Mansion, and Big River Train Town & Museum.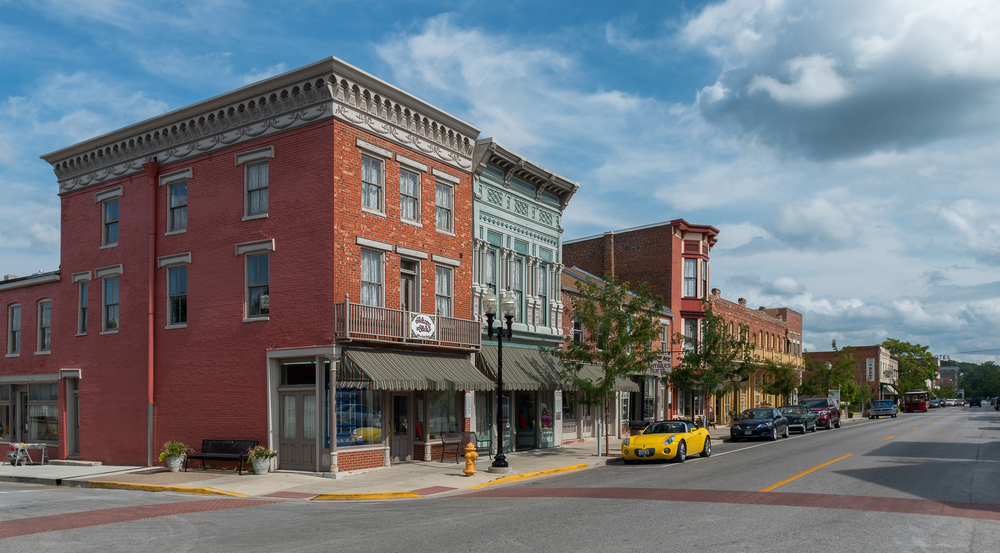 Carthage
Carthage is found on Route 66 and is super historic. During the Civil War, the two Battles of Carthage took place here, one in 1861 and one in 1863. The city was rebuilt after being burned down during the war.
Now, people interested in American history come to visit the old battlefield and the Battle of Carthage Civil War Museum. But the town is so much more than bloodshed!
Downtown is very photogenic, especially the Jasper County Courthouse and the historic homes the locals refer to as the Old Ladies.
Art lovers will want to make time to visit the art museums and galleries. You can also introduce your kids, or yourself, to the wonder of a drive-in movie at the 66 Drive-In Theatre.
If you visit in the fall, you are in for a treat, since they do not call Carthage "America's Maple Leaf City" for nothing!
There are over ten thousand maple trees in the historic district! Every October, there is a festival to honor the beautiful leaves.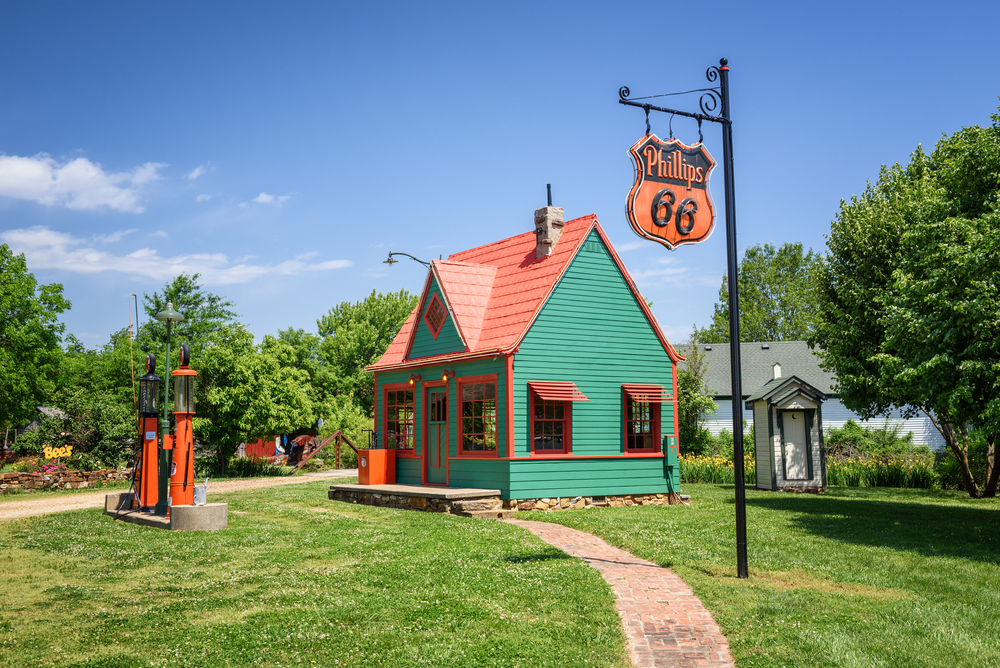 Parkville
Parkville is only a few miles north of Kansas City, so it makes for an awesome day trip. This is the home of Park University. Even if you don't come for an education, come for the historic downtown and local shops.
There are so many places to spend a little money, including antique shops, art galleries, candy shops, clothing boutiques, and cafes. There is also a farmers market on Saturdays from April through October.
Another great thing to do in Parkville is to visit English Landing Park. This 68-acre nature area hugs a curve in the Missouri River. There are three miles of scenic walking trails and a boat ramp if you want to get out on the water.
Kids will love climbing on the playground or enjoying a picnic. There are volleyball courts, baseball fields, and a disc golf course too.
Located in this area are some of the best wineries in Missouri.
Hermann
Hermann is found in wine country, making it one of the best small towns in Missouri for a romantic getaway or a girls' trip. You will have fun exploring the scenic Herman Wine Trail as you taste test local, family-owned wineries.
The town has been cultivating grapes since the 1800s and has many award-winning wineries. There are also distilleries and breweries in the area if you want to mix things up. In October, the town has an Oktoberfest celebration.
Even if you are not into drinking, Hermann is a great place to visit. For a dose of history, visit the Historic Hermann Museum, tour the Herzog Mansion which was built in 1885, or explore the Deutschheim State Historic Site for German heritage.
There are a ton of antique shops and art galleries to check out. Bakeries and cafes provide a place to get a bite to eat. Stroll Riverfront Park for views of the water.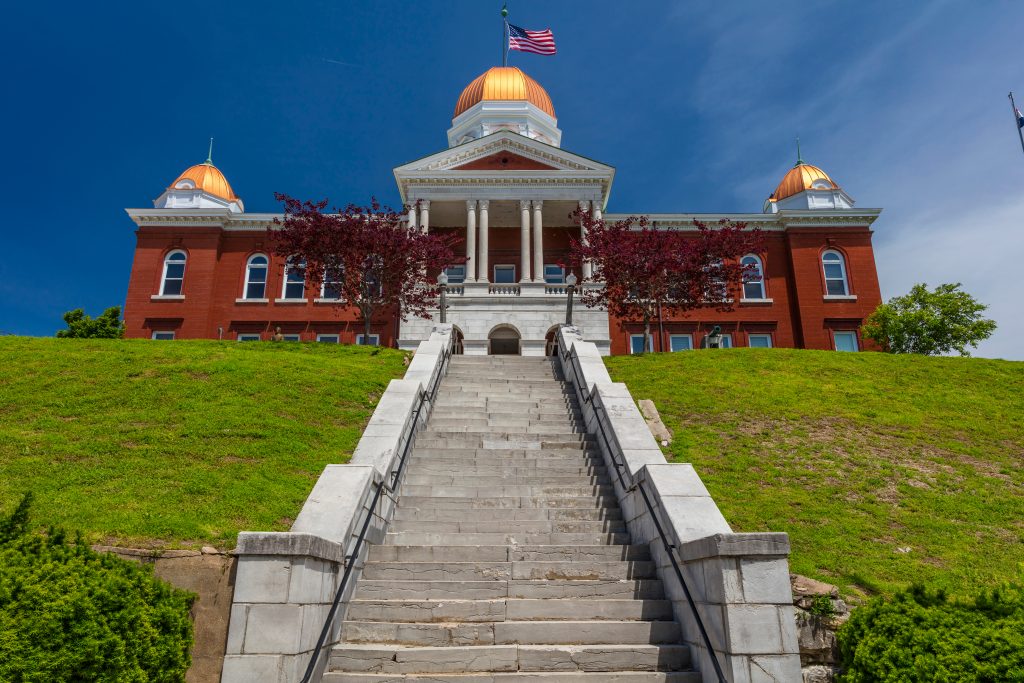 Cuba
Cuba, Missouri, might not be as tropical as the island country, but it still makes for a great vacation. Found on Route 66, this small town appears frozen in time. Places like the historic Wagon Wheel Motel and Shelly's Route 66 Cafe hold onto the past.
If you love street art, you 100% need to add Cuba to your Missouri itinerary. The town is known as Mural City and a beautification project has made it their mission to turn the city into a piece of art.
There are dozens of large and detailed murals around town. Most are inside, but some can also be found in restaurants, museums, and more. They all make for fantastic Instagram backdrops. Make it your goal to see all of them when you visit Cuba.
Cuba is also home to the World's Second Largest Rocking Chair. (The largest is in Casey, Illinois!)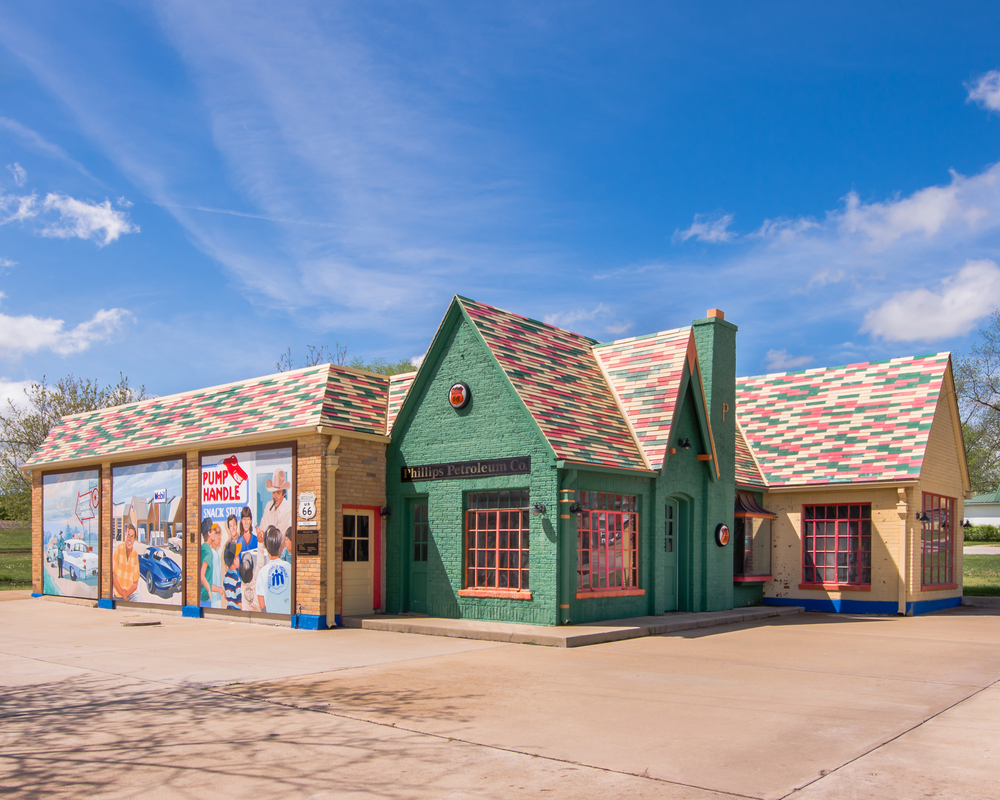 Branson
Branson is a hub for entertainment and is a huge tourist destination. But, with a population of under 12,000, it is still classified as a small town in Missouri. People from all over the Midwest flock here for a fun vacation in the Ozark Mountains.
There are a ton of theaters here where you can catch a show or concert. You can take a short ride on the Branson Scenic Railway. There are also many restaurants to enjoy and shopping opportunities.
Probably the biggest attraction in Branson is Silver Dollar City. This 1800s themed amusement park is fun for the whole family. There are lots of rides, craft shops, and other cool attractions. In winter, the park is lifted to a whole other level for Christmas.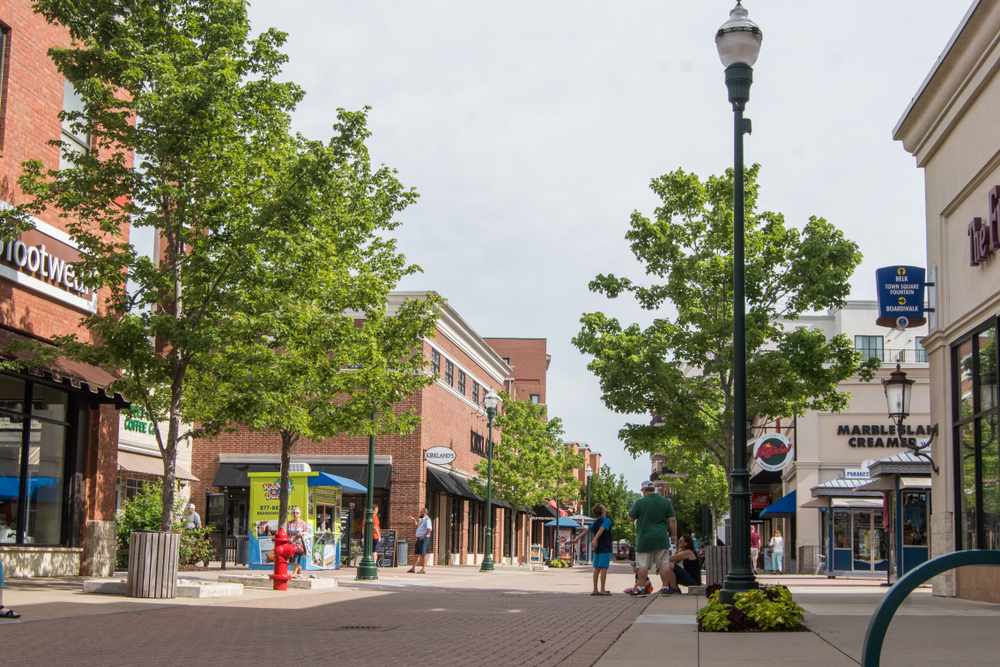 Hollister
Hollister is just on the other side of the Missouri River from Branson and is another great Missouri town to visit. While it is one of the most adorable towns in the Ozarks, it will make you think you are walking the streets of Stratford-Upon-Avon, England.
The historic Downing Street is modeled after English villages. You will not be able to resist doing a photo shoot here. Every little restaurant, shop, and cafe is picture perfect.
Take a short drive down the highway to Table Rock State Park. This is a popular place in Missouri for outdoor recreation. You can spend time hiking, swimming, and fishing. There are also boats available to rent.
This is one town in Missouri to put on your Missouri to-do list!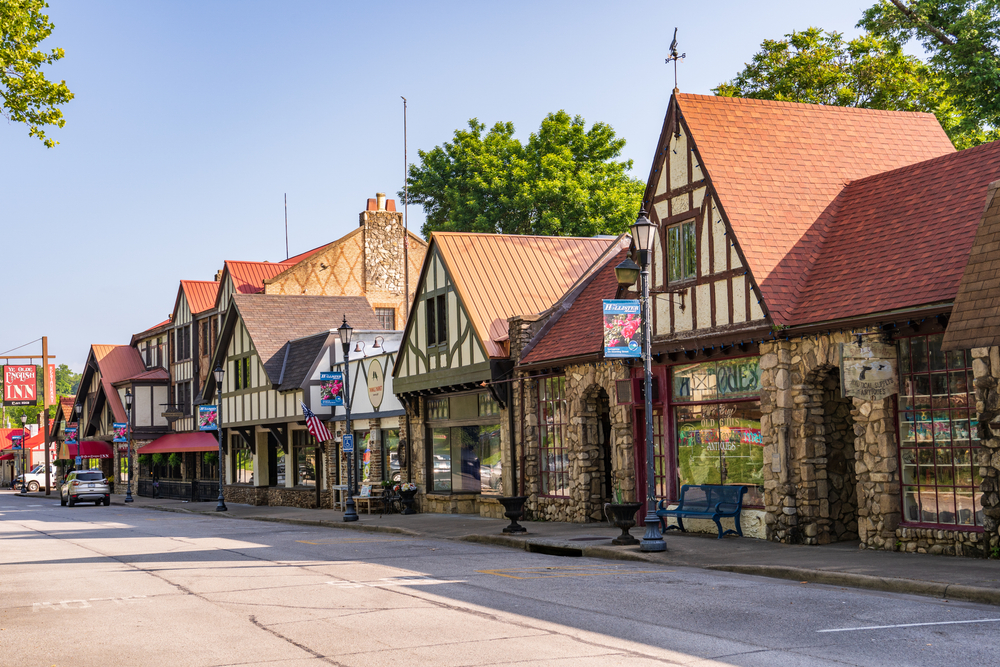 Rolla
Halfway between Springfield and St. Louis, you will find Rolla, another of the best Route 66 towns in Missouri. This town has a great theater scene. You can catch a show or concert at the Ozark Actors Theatre or the Leach Theatre.
There are a ton of museums and historic buildings, including a jail, a log house, a courthouse, and a footbridge. Kids will have fun exploring the many parks and nature trails.
One really unique Missouri attraction found in Rolla is a replica of the famous Stonehenge. It is half the size of the real one and is found on the campus of the Missouri University of Science and Technology.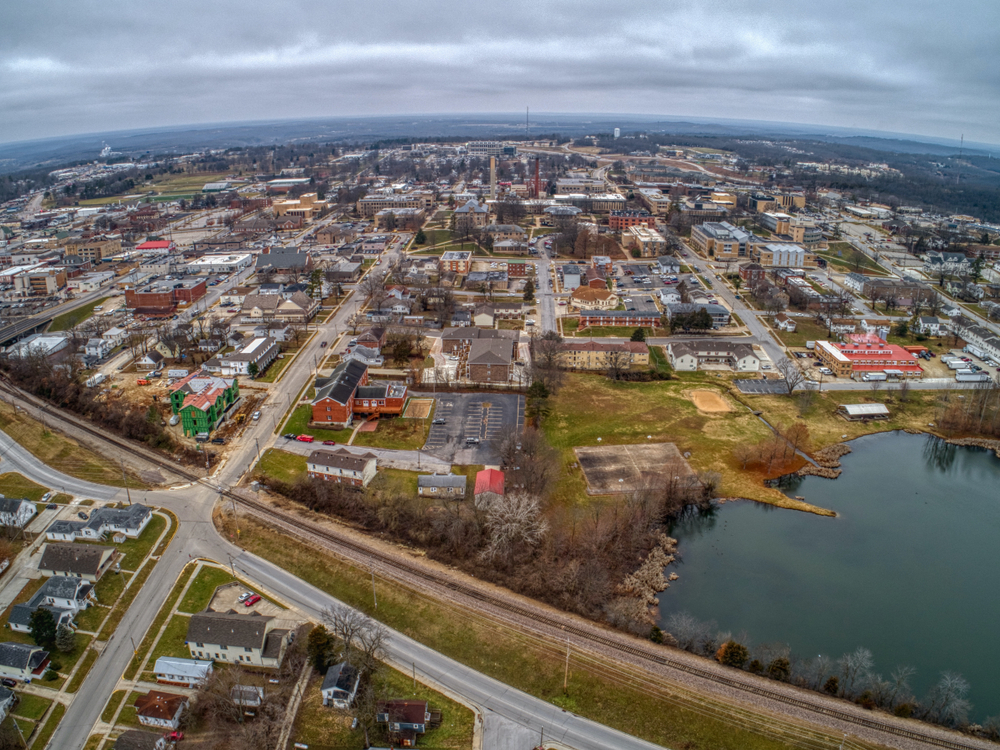 Chillicothe
In Shawnee, Chillicothe translates to "big town". Even so, with a population under ten thousand, it is one of the best small towns in Missouri.
You might not have heard of Chillicothe before, but it is famous for a very interesting thing. In 1928, it became the first place to commercially sell sliced bread. The town holds this title with great honor. Take a picture in front of the "Home of Sliced Bread" mural.
Chillicothe is also within thirty to forty minutes from other awesome small towns. If you stay in the area, make time to visit Jamesport, the largest Amish community in the state, and Marceline, the hometown of Walt Disney.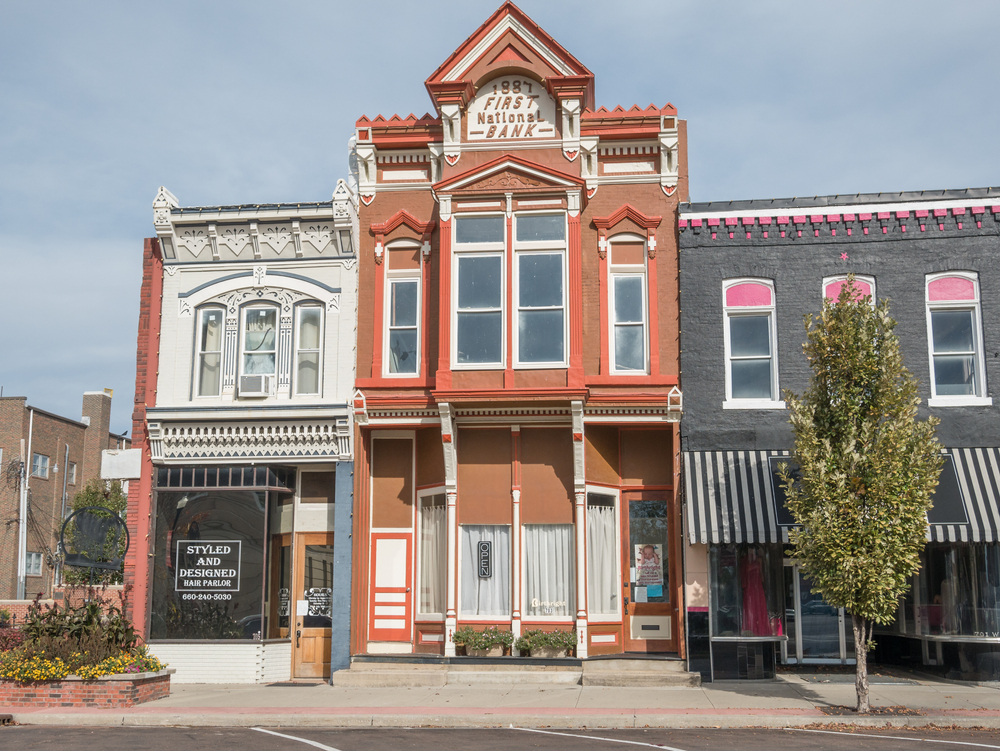 Rocheport
Rocheport's population is under three hundred, but it is still a must-see town in Missouri. During pioneer times, the area was a trading post and was visited by Lewis and Clack as they journeyed west.
Today, the Katy Trail goes through town and many cyclists make a stop. If you are looking for a quaint place to visit for a Midwest road trip, this MO town fits the bill perfectly.
There are a few vineyards to check out as well. The town is also surrounded by conservation areas. There are plenty of places to hike, fish, and view wildlife.
Sainte Genevieve
Ste. Genevieve is the oldest town in Missouri with a history that dates back to 1735 when it was founded by French-Canadian colonists. It is named after the Patron Saint of Paris.
The town is very well preserved, and you can visit many historic homes, taverns, churches, and more. Visit the Sainte Genevieve Art Center and Art Museum to see local art or take a class.
There are plenty of specialty craft shops if you want to pick up a cool souvenir. Kids will want to drag their parents to the River Rapids Waterpark. A ghost tour would be fun for older kids and adults alike.
Ste. Genevieve hosts many festivals throughout the year dedicated to its history and French culture. The annual French Heritage Festival in June is full of dancing, concerts, demonstrations, tours, and more.
One Of The Coolest Small Towns in Missouri Is Sedalia
Sedalia Missouri might not be the smallest Missouri town on this list with a population of around 21,000, but it still has a ton of small-town charm. People gather here every year for the Missouri State Fair.
Find beauty and inspiration at the Daum Museum of Contemporary Art. Step back in time at the Bothwell Lodge State Historic Site or the Trails End Monument. The Katy Depot is a cool train station turned history museum.
There are a few different parks to check out for some fresh air. Kids will have a blast playing a game of mini-golf or zooming around on a go-kart. This is definitely one of the most popular towns in Missouri.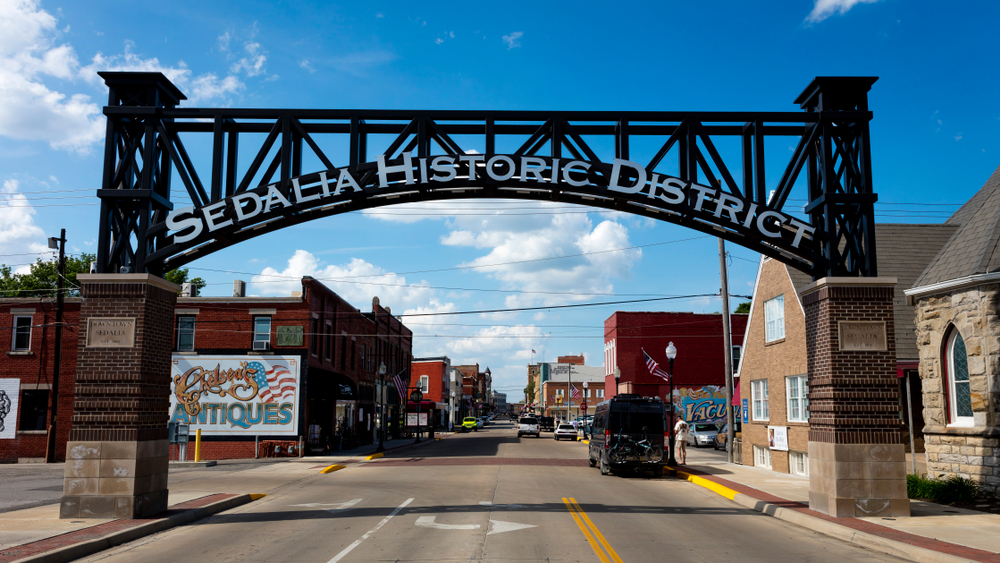 Versailles Is An Opulent Town In Missouri
Versailles, Missouri, is not as opulent as the Chateau de Versailles, and, in fact, it is not pronounced the French way either, but rather how it is spelled. This small town is not for aristocrats but instead welcomes down-to-earth visitors.
Take time to relax in this cute, historic town full of charm and interesting activities for the whole family. Shop downtown or watch a show at the Royal Theater. Have fun exploring the underground at Jacob's Cave.
Versailles is found in Mennonite country and there are plenty of stores and restaurants to visit. At the Mennonite stores, you can pick up homemade baked goods, fresh and canned produce, handmade furniture, and more!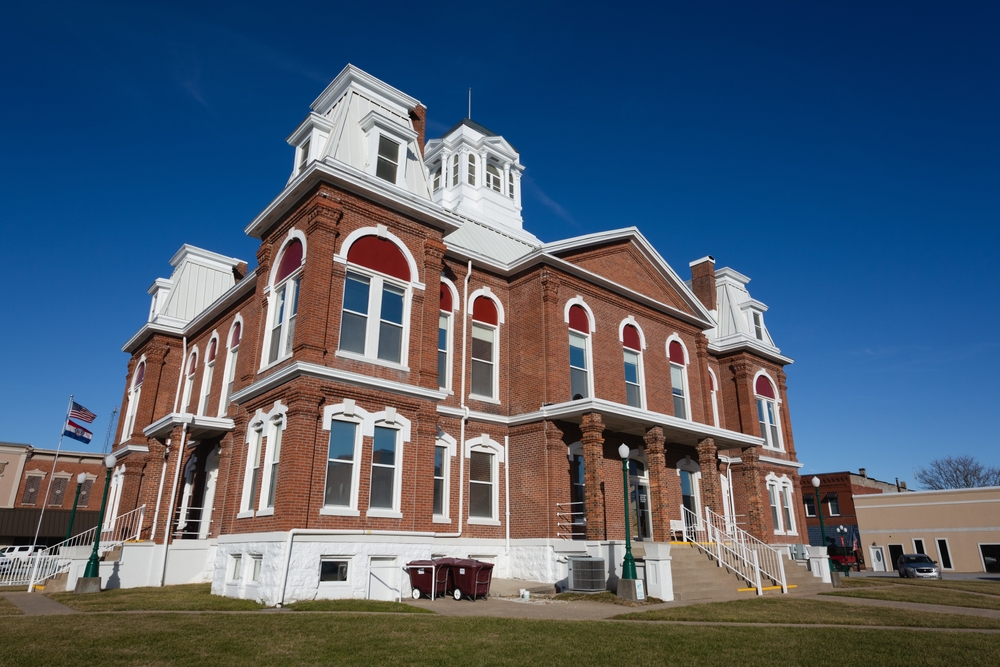 New Franklin Is Another Town In Missouri On The Katy Trail
New Franklin is yet another Missouri small town on the Katy Trail. It is just north of Boonville and is a day trip from Columbia. It gained its "new" status when the original town was rebuilt after floods in the late 1820s.
This Missouri small town is steeped in history. The Santa Fe Trail, which led settlers across the country in the 1800s, originally began in Franklin. You can visit "The Rock" which signifies the start of the trail.
If you want more history in your life, visit the Thomas Hickman House from 1819 or stop by the South Howard County Historical Society. This is one of the best small towns in Missouri to visit if you love American history.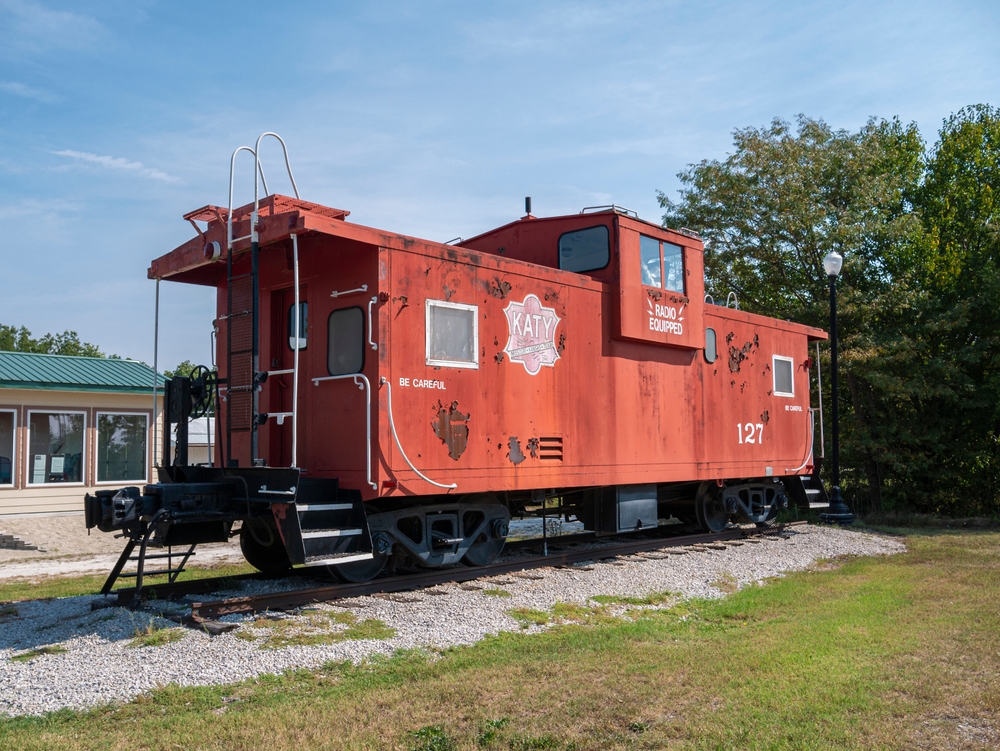 Packing List For Visiting Small Towns in Missouri
If you will be traveling, either by plane or by car to Missouri here are some tips on how to pack lightly.
A concealed travel pouch may be one of the most important items you bring along when visiting Missouri. It is always important to protect your personal information. Identity thieves are everywhere.
This unisex RFID blocking concealed travel pouch is lightweight and comes in several colors. It has lots of organization to give you peace of mind.
You can place it under your hiking clothes next to your body to carry your ID safely.
If you have a pouch already that does not come with the RFID protection, as I do, these RFID sleeves are the perfect solution.
This configuration comes with enough credit card sleeves that the entire family would be protected. They are slim too, so they will easily fit into your pouch or wallet.
If you are planning on taking a lot of pictures with your phone you will definitely want to consider an external charging battery. This Anker high-speed phone charging battery is the exact one I carry with me on all of my trips.
It can be used on a variety of phones, not just an iPhone like I have. And wow is it fast!
I like that it holds its charging capabilities for several uses so I do not have to worry about it while out and about, and if I forget to recharge it at night, it will still be good to go the next day.
My daughter gifted me with this FugeTek selfie stick and tripod setup for my birthday. I absolutely love it! It is made of lightweight aluminum and is so easy to use.
It has Bluetooth connectivity and is a breeze to use for taking selfies when staying in one of the best Airbnbs in Illinois.
Hydration is so important when traveling. You want to remain hydrated throughout your travels to support your immune system which in turn will be stronger to fight off any germs you will encounter during your travels.
You will want to bring your own refillable water bottle with you.
I never leave home on a trip without my Bobble filtration bottle. The 18.5-ounce size is perfect for hiking and it fits nicely in the pocket of a backpack.
When filled with water, it is not too heavy to carry. And the charcoal filter ensures fresh clean water whenever you fill the Bobble.
Perhaps you are traveling a long distance and packing space is a premium in your suitcase, or in your car.
Then this set of collapsible silicone foldable water bottles would work well for you. Would not take up much space at all.
You will want a backpack or daypack with you to store snacks, your water bottle, phone, extra clothes, etc.. when hiking This foldable water-resistant backpack would be great
It is very affordable and is available in many color options for you to choose from. The fact that it folds down into a zippered pouch will make it easy to pack.
---
You cannot pass up visiting small towns in Missouri.
These towns are full of historic sites, interesting museums, and fun activities the whole family will enjoy.
From views of the Missouri River to awesome amusement parks, these are some of the best places to visit in Missouri.