There are so many things to do in Illinois waiting to be explored!
There is a special allure to Illinois small-town life. With historic downtowns and a friendly atmosphere, why wouldn't you want to take a break from a busy life in these quaint towns in Illinois?
Escape from city life and relax in the quiet peace of a destination with a small population but a big heart. There are more places to visit in Illinois besides Chicago and Springfield.
Whether you are just driving through the state and are looking for cool stops to make or you want a town to spend a weekend in, Illinois small towns have you covered? Have a romantic getaway or a family vacation to remember.
Get ready to discover some of the best small towns in Illinois to visit the next time you come through the Prairie State.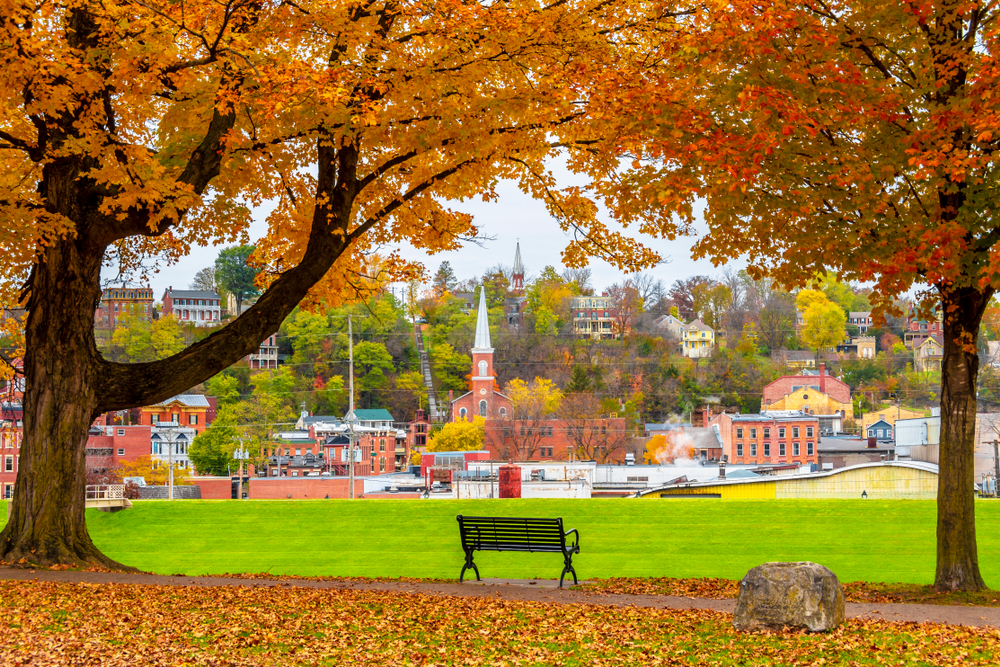 15 Charming Small Towns In Illinois
Oregon
Oregon is found on the Rock River and with a population of just under four thousand, it can easily be classified as small and quaint. This artsy and historic town is perfect for an Illinois weekend getaway.
Visiting Lowden State Park is one of the most popular things to do here. You can hike, boat, or fish. Bring a picnic to dine among nature. Make sure to visit the fifty-foot statue of Chief Black Hawk.
Another memorable thing to do in this small town is take a ride on the Pride of Oregon riverboat. This is a great way to see the area, and you can enjoy a meal as well.
Oregon hosts many fun events throughout the year, including parades, concerts, and art festivals. There is always something to keep you entertained in this awesome community.
There are so many things to do in the Midwest, and visiting the small towns in Illinois should be on your list.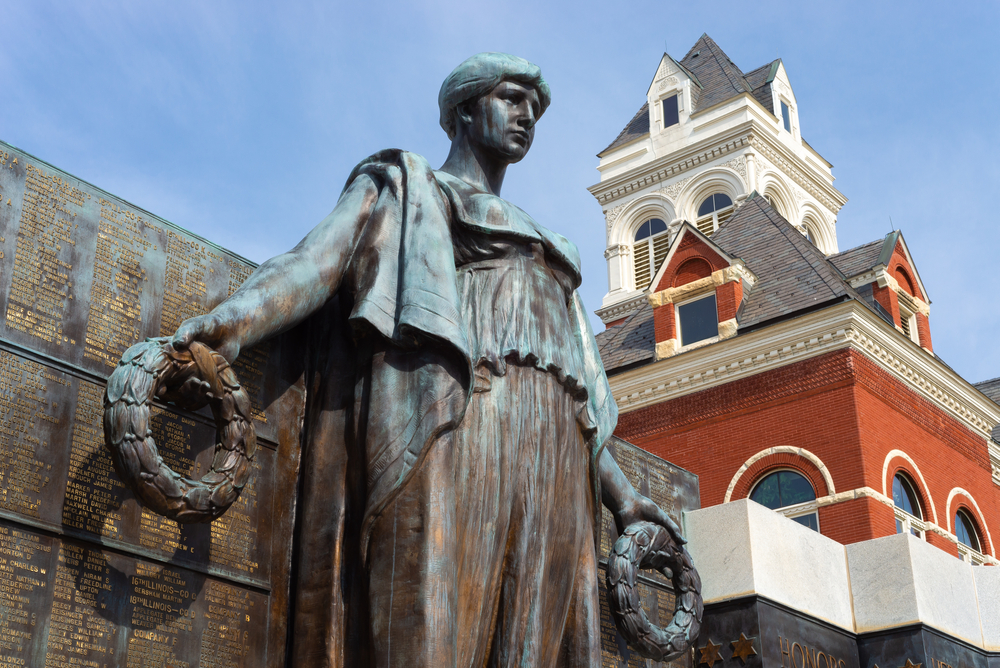 Odell
If you are taking a Route 66 road trip, you will end up in Odell, Illinois. This preserved town allows you to see what American life was like during the height of Route 66 travel.
One of the best attractions here is the Standard Oil Station which was built in 1932. While gas was once sold here at twenty cents a gallon, it has now been converted into a Route 66 Visitor's Center.
Another historic place to see is the Mobile Station dating back to the 1950s. Though this town might have had lots of traffic back in the day, it is now a town of about a thousand people and a few blocks caught in time.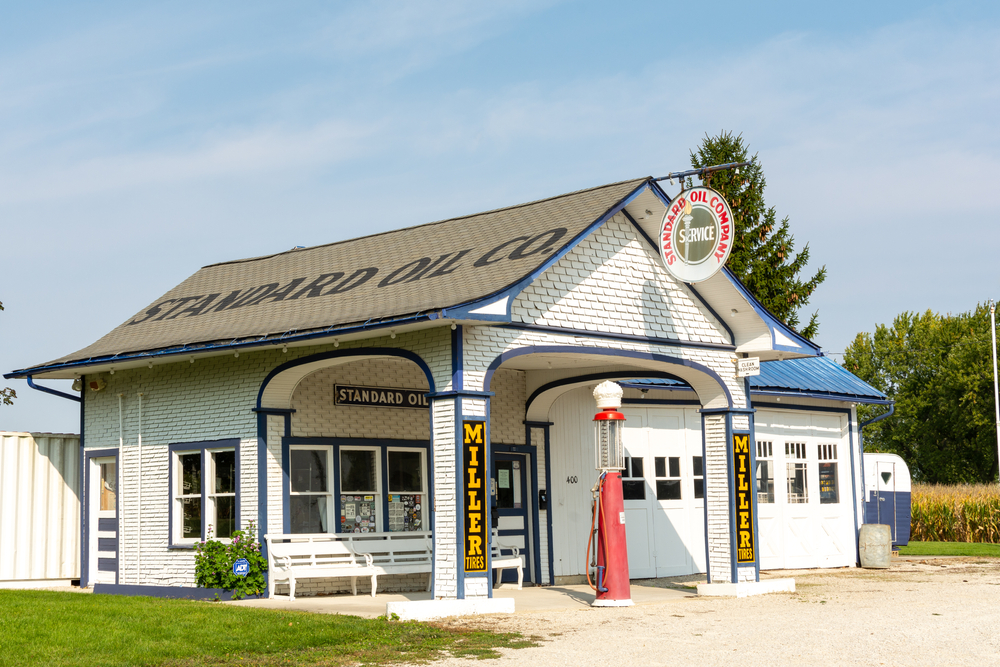 Dixon
Dixon is proud to be one of the best small towns in Illinois. There is a darling downtown perfect for shopping as well as parks to explore or let your kids run around in.
This small Illinois town is best known for being the boyhood home of President Ronald Reagan. Come take a tour of the cute house where the Reagans lived in the 1920s.
If you can time your trip to Dixon for the first week of July, then you can enjoy the annual Petunia Festival.
This pretty, flower event has a ton of activities, such as craft shows, concerts, and opportunities to make art.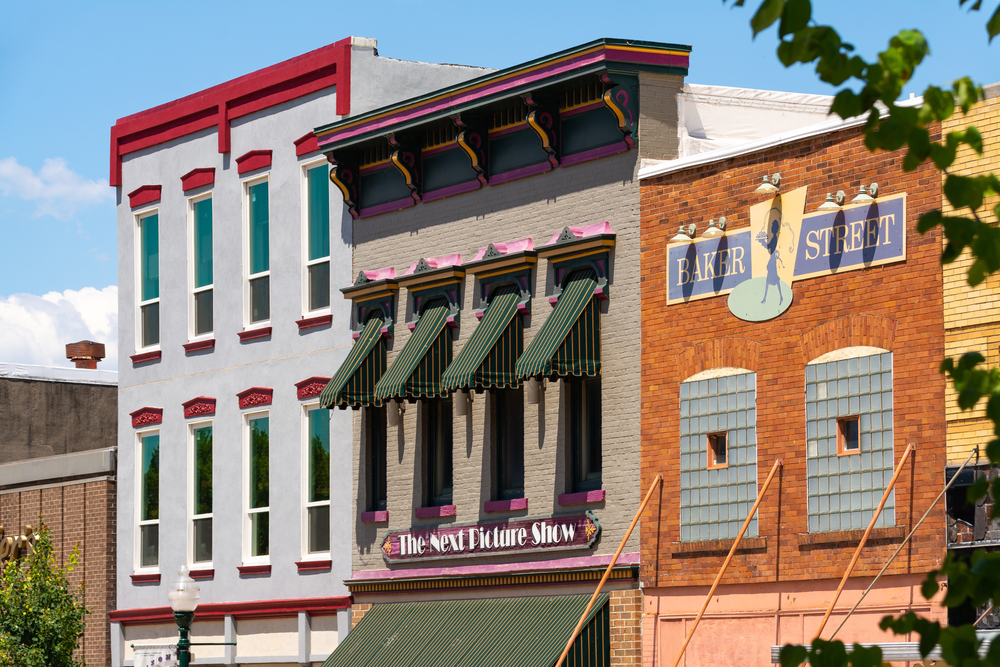 Lebanon
Lebanon is one of the most beautiful and historic, small towns in Illinois. If you love architecture, you will enjoy admiring the Southern colonial, Greek revival, and gothic buildings.
Take a tour of the Mermaid House which dates back to 1830. It was built by a retired sea captain named Lyman Adams who believed in mermaids.
Charles Dickens even stayed at this inn in 1942. He mentions it in his American Notes.
The Emerald Mound is a preserved Native American village full of history. The oldest college in the state is also found here. McKendree College was founded in 1828.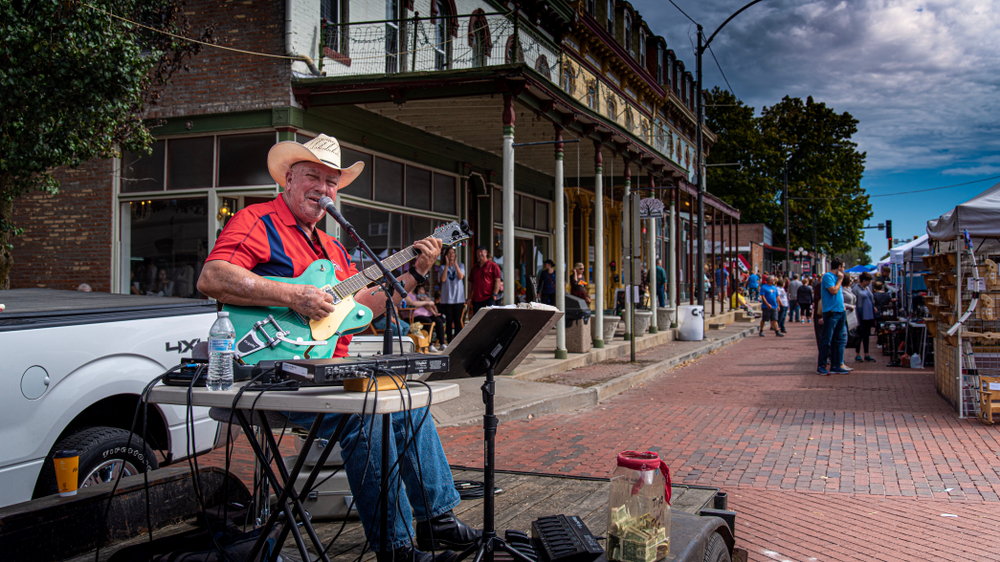 Niles
If you are looking for an awesome day trip from Chicago really worth your effort, try Niles. If you love quirky attractions, then this town should be on your Illinois bucket list!
The star of Niles is a replica of the Leaning Tower of Pisa. If you can't make it to Italy, come to Pisa's sister city in the United States.
This tower was built in 1934 and is about half the size of the original at 94 feet high.
The area around the tower is a beautiful place for a picnic and, of course, you have to take a cheesy photo. Niles also has great parks, hiking trails, and history museums.
With all these amenities, it is clear Niles is one of the best Illinois small towns you can visit!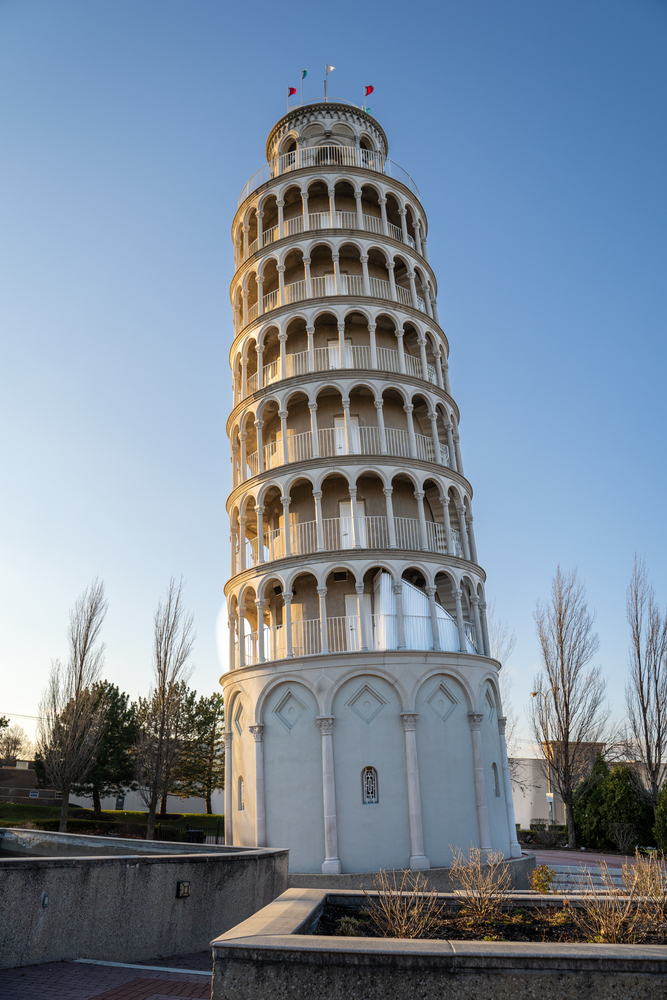 Casey
Another great place for unique attractions in Illinois is Casey. The motto of this town is "Big Things in a Small Town."
Dust off your Instagram poses because you will want to take a lot of selfies with some Guinness World Records objects.
This town is full of giant Illinois attractions, including eight "World's Largest" items. From a 56-foot-tall rocking chair to 54-foot wind chimes, you will be amazed.
You can even send a letter from the world's largest mailbox.
There are also many big things that don't qualify as the largest in the world but are still super cool.
You and your family will have fun running around and taking pictures with a big birdcage, mousetrap, antlers, and more.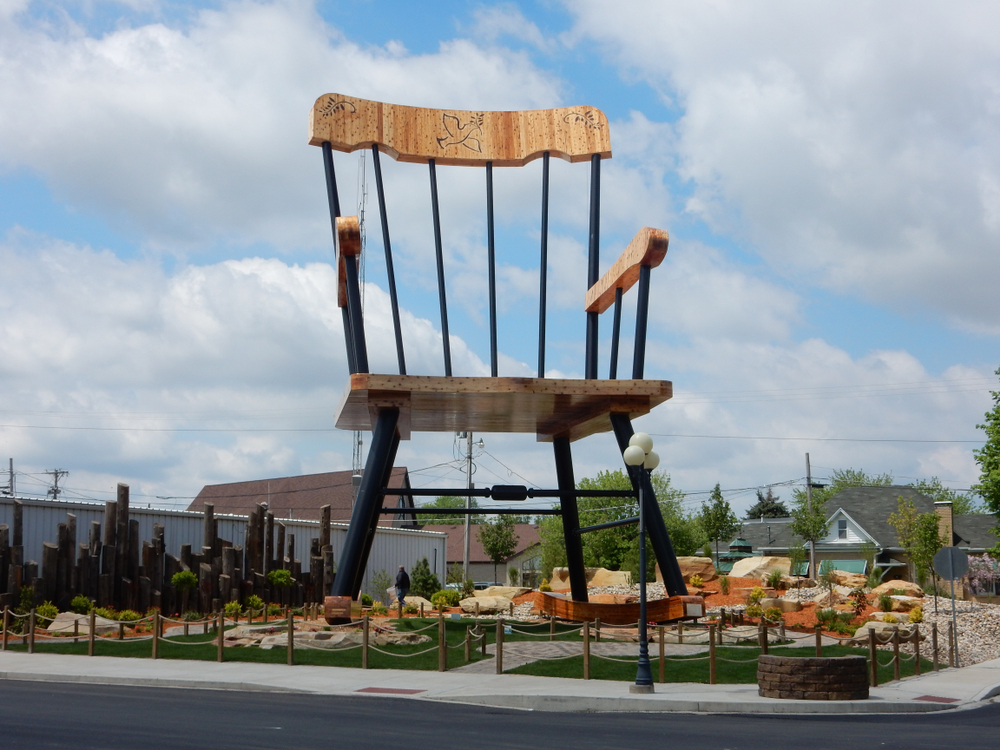 Galena
Galena is one of the most popular small towns in Illinois, and it will quickly become apparent why. This Midwest town is incredibly picturesque with beautiful scenery around every corner.
It is one of the best places to experience fall in Illinois.
About 3,500 people call this place home, and President Ulysses S. Grant was once counted among the population. Visit the regal Ulysses S. Grant Home Historic Site and see the original furnishings and views of the town nestled below.
If you want some outdoor time, head to Grant Park. This is a great place to walk or picnic with fountains and historic cannons. The Galena River will get you out on the water in a canoe or kayak.
There are so many historic buildings to admire, including some grand mansions. There are also a ton of wineries, art galleries, and museums to check out as well.
There are so many more fun things to do in Galena!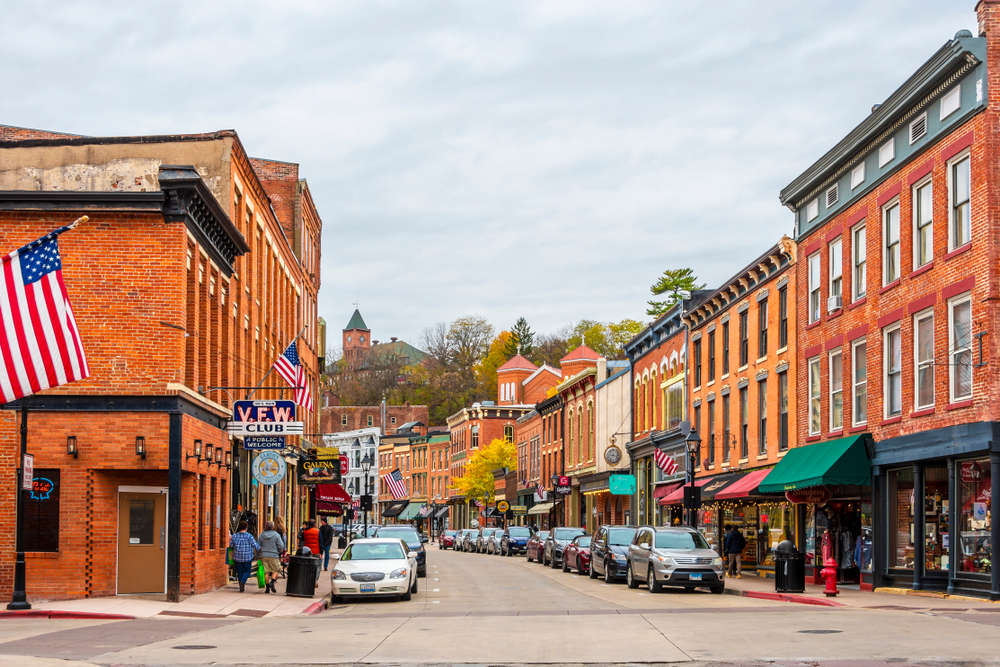 Elmhurst
Elmhurst is a fun and lively, little Illinois town perfect for a family vacation or couple's getaway. Visit the art and history museums, play a round of golf, or shop locally.
What more could you ask for in Illinois towns?
The Wilder Park Conservatory is a beautiful and historic place to enjoy some peace. Head to the farmers' market to pick up some local produce and goodies. A concert at the Elmhurst Symphony Orchestra is a great place to soak in the culture.
The Fischer Windmill is a wonderful place to take pictures. This pretty feature is found in the Mount Emblem Cemetery and is the oldest custom windmill in the state.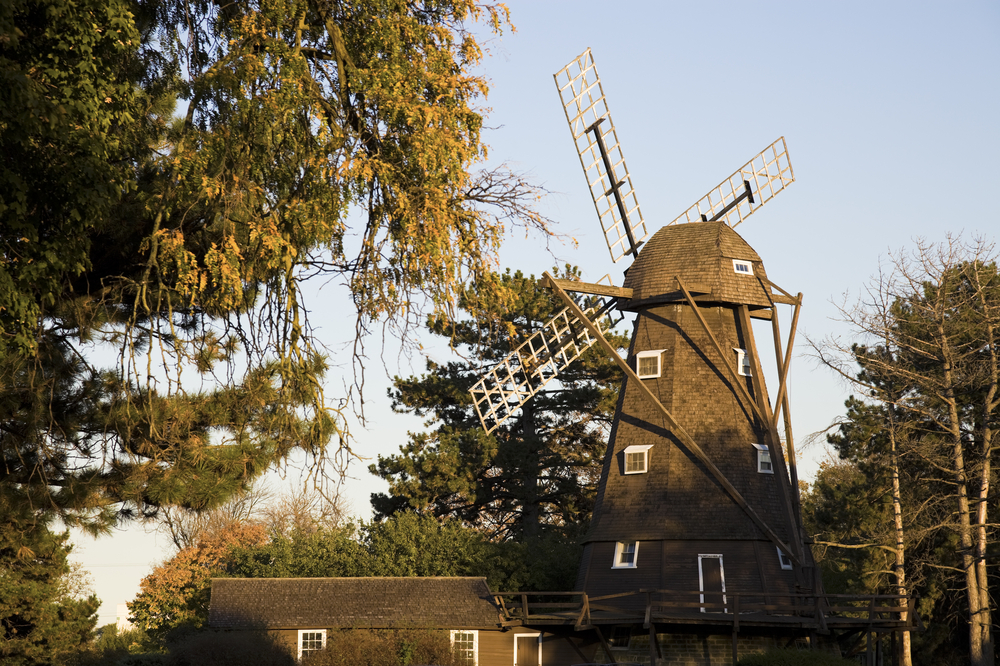 Nauvoo
Nauvoo is definitely one of the must-visit small towns in Illinois. Sitting along the Mississippi River, this town is steeped in history. In the 1840s, Joseph Smith made it a home for his Mormon followers.
Visit the reconstructed Mormon temple which replaced the 1840s temple that had been burned down. You can also visit the Joseph Smith Historic Site and the jail where he was killed.
Along with Mormon history, there are many other old buildings. You can also watch historical reenactors do demonstrations of blacksmithing, candle-making, and more.
There are many museums, shops, and vineyards to visit as well. Taking a horse-drawn carriage ride is one of the best ways to see this quaint Illinois town.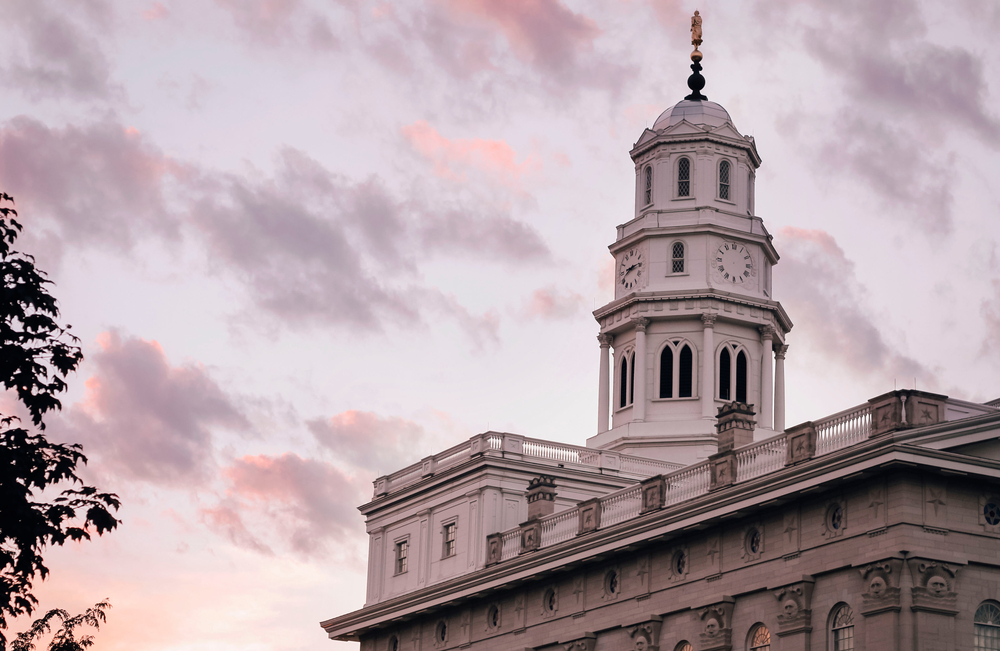 Fulton
If you like all things Dutch, then come to Fulton, where this heritage is prominent. There is a Dutch Days celebration every May, but even if you do not visit then it is easy to find Ditch influences around every corner.
The city's windmill was delivered from the Netherlands in 2000. At about one hundred feet, this fully operational structure stands tall above the city and is absolutely picture-perfect.
Another thing to do in Fulton is explore Heritage Canyon. This twelve-acre nature area is a place to step back in time. Walk the scenic trail and find buildings and a quarry dating back to the 1800s.
You will find some of the best hiking in Illinois here.
Fulton also has many other history museums, a beautiful downtown, and a nature center. Ride along the Great River Bike Trail or kayak in the river.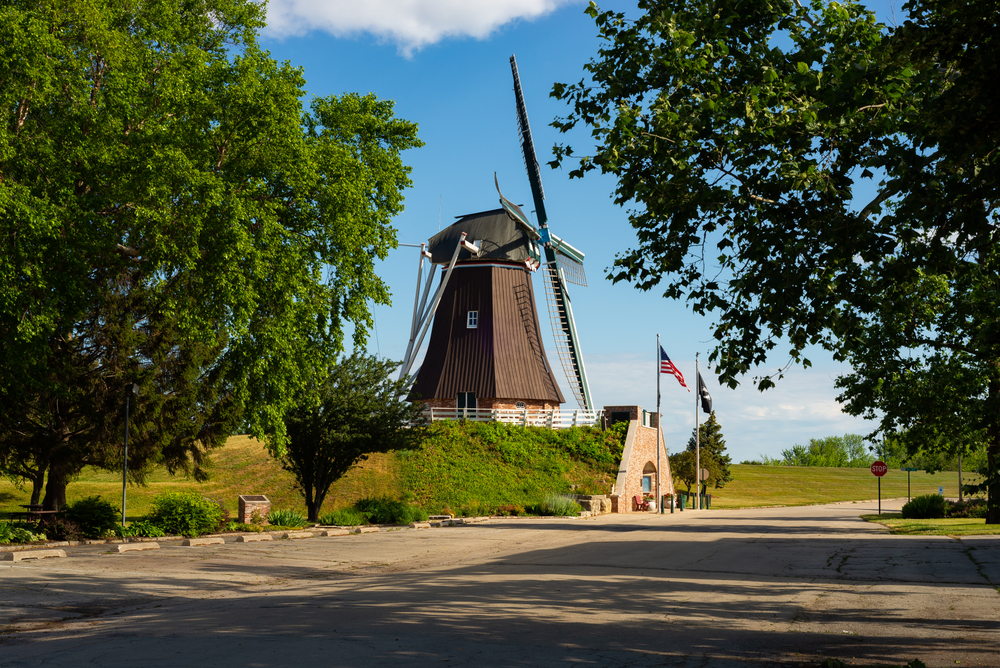 Bishop Hill
With a population under 150, it is hard to find a smaller town in Illinois than Bishop Hill. Even though it is so tiny, it is still worth a visit. The town was founded in 1846 by Swedish immigrants.
The thing that draws tourists to this little dot on the map is the outstanding history the place provides. Bishop Hill still very much resembles the town it was in the 1800s. If you love visiting or photographing old buildings, you need to come here.
There are fun, Swedish events throughout the year. Jordbruksdagarna is a harvest festival in September. Julmarknad is a Christmas market full of traditional food and handmade gifts.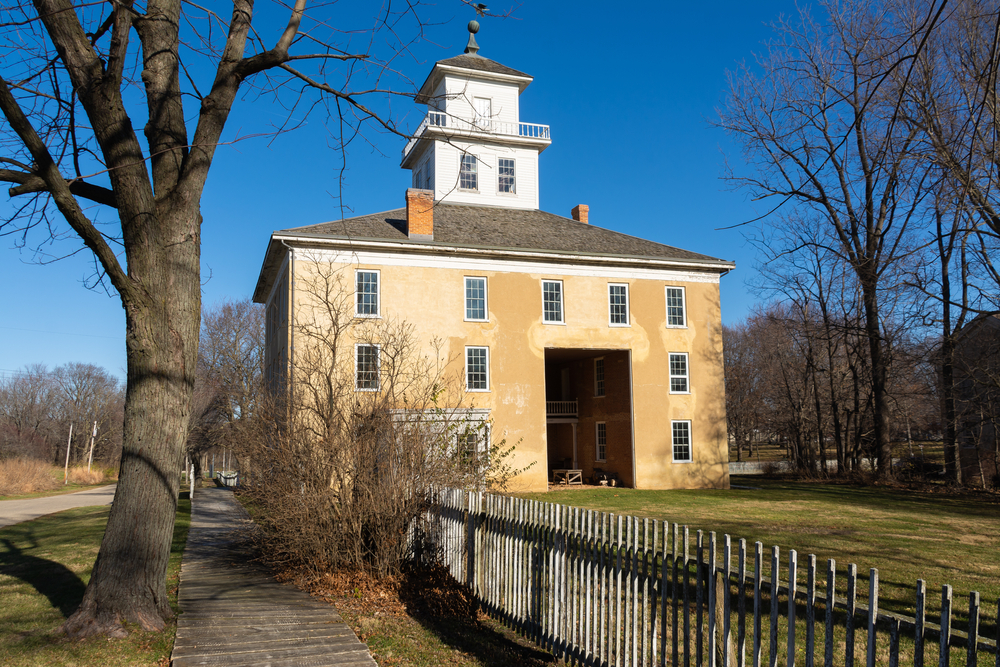 Wheaton Is One Of The Small Towns In Illinois Not To Miss
Wheaton is a beautiful college town in Illinois. Wheaton College is a private, Christian college. You can visit the campus if only for the architecture, but there is so much more to do in town.
Cantigny Park is a pretty, nature area with trails, gardens, a golf course, and two history museums. If you want more plants in your life, head to the Morton Arboretum. This "museum of trees" is 1,700 acres of beauty.
Attending the Wheaton French Market is a great way to feel as if you are in Europe. Here you can pick up flowers, food, jewelry, and crafts. The market is open from April to November every Saturday.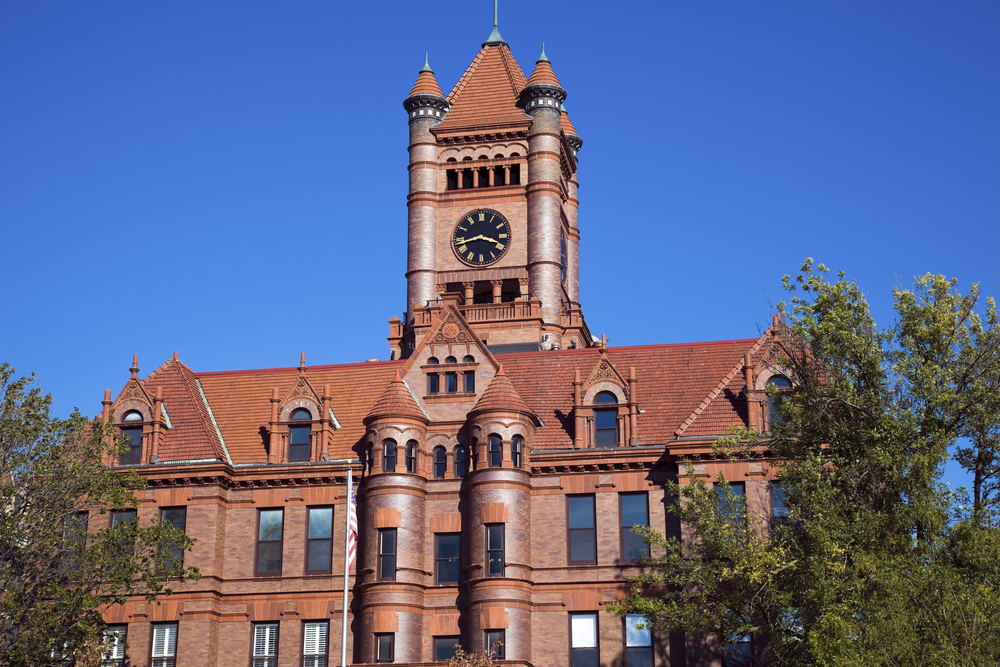 Woodstock Is A PhotoGenic Small Town In Illinois
You know Woodstock must be photogenic because many blockbuster movies have been filmed here. This cute Illinois town was the filming location for movies such as Planes, Trains, and Automobiles, and Groundhog Day.
Orson Welles even lived here as a child and directed his first play here. Make sure to take a picture with his statue. Even if you are not a movie buff, you need to add Woodstock to your Illinois bucket list.
Woodstock is so adorable you will not want to leave. The entire downtown is on the National Register of Historic Places so you know it is a great place for a romantic wander. The town square has fun festivals throughout the year.
There are a ton of awesome museums, shops, and restaurants to check out too. If you come in December, you will make memories at the Victorian Christmas celebrations.
St. Charles, A Vintage Illinois Small Town
St. Charles is a great day trip from Chicago. If you want to stay longer than a day, you can book a room at a vintage riverfront hotel. The Fox River is a pretty place for a stroll as you explore one of the best small towns in Illinois.
The Fox River Trolley Museum is a cool place to visit in St. Charles. You can ride a historic trolley car. For Halloween and Christmas, there are also special events.
There are also many history museums and an old theater. Many parks are found in the town if you want to find a natural retreat. The Primrose Farm is a fun place to visit with kids who love animals.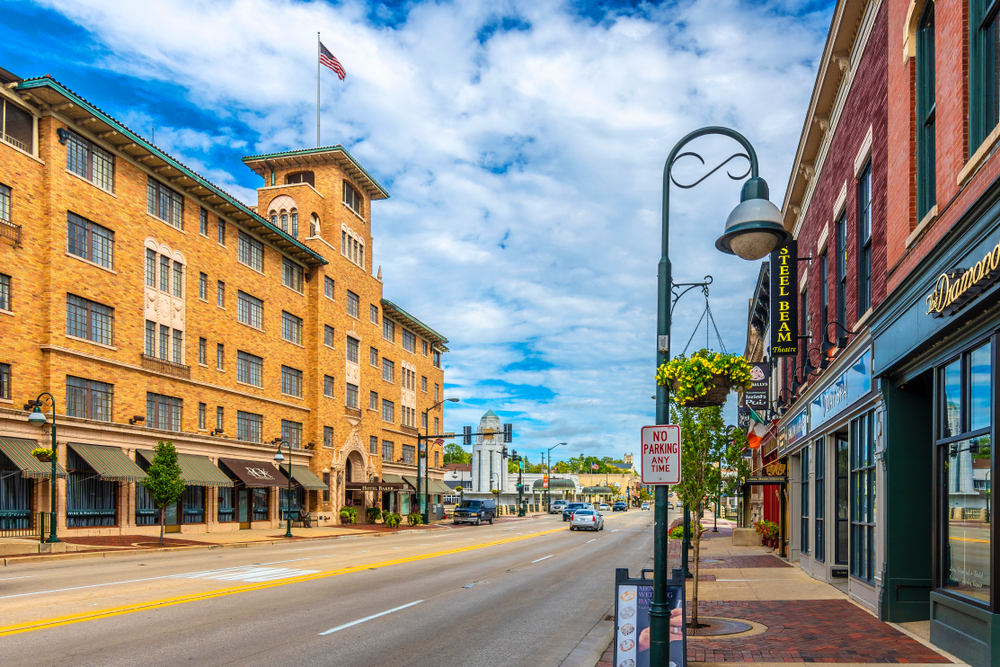 Princeton, One Of The Quaintest Small Towns In Illinois
The last entry on our list of the best small towns in Illinois is Princeton. Visitors come to this quaint town for its beauty and history. The old Main Street is perfect for eating and shopping.
The Lovejoy Homestead is an important piece of history. The home belonged to a reverend who worked for the Underground Railroad during the 1840s and '50s. Today you can visit this place where enslaved people were kept safe.
Another huge draw of Princeton, especially for photographers, is the two covered bridges. One is modern while the other dates back to 1863, but they are both waiting to get their photo taken.
Princeton also has over two hundred acres of parks. There are swimming pools, playgrounds, tennis courts, and more. Hornbaker Gardens has beautiful flowers to admire.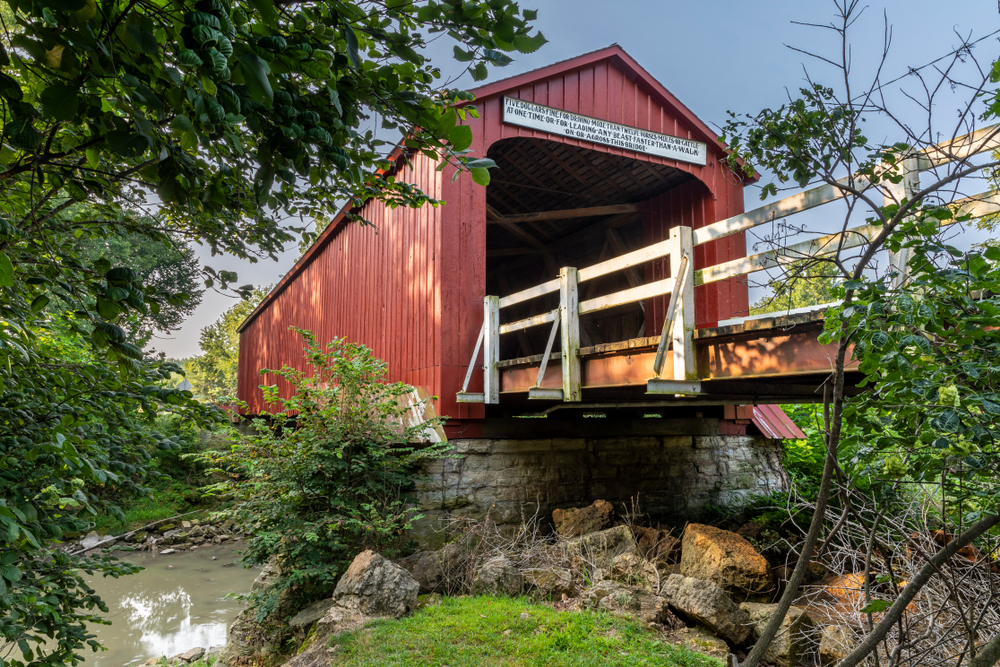 Packing List For Visiting Small Towns In Illinois
If you will be traveling, either by plane or by car to Illinois here are some tips on how to pack lightly.
A concealed travel pouch may be one of the most important items you bring along when visiting Illinois towns. It is always important to protect your personal information. Identity thieves are everywhere.
This unisex RFID blocking concealed travel pouch is lightweight and comes in several colors. It has lots of organization to give you peace of mind.
You can place it under your hiking clothes next to your body to carry your ID safely.
If you have a pouch already that does not come with the RFID protection, as I do, these RFID sleeves are the perfect solution.
This configuration comes with enough credit card sleeves that the entire family would be protected. They are slim too, so they will easily fit into your pouch or wallet.
If you are planning on taking a lot of pictures with your phone you will definitely want to consider an external charging battery. This Anker high-speed phone charging battery is the exact one I carry with me on all of my trips.
It can be used on a variety of phones, not just an iPhone like I have. And wow is it fast!
I like that it holds its charging capabilities for several uses so I do not have to worry about it while out and about, and if I forget to recharge it at night, it will still be good to go the next day.
My daughter gifted me with this FugeTek selfie stick and tripod setup for my birthday. I absolutely love it! It is made of lightweight aluminum and is so easy to use.
It has Bluetooth connectivity and is a breeze to use for taking selfies when staying in one of the best Airbnbs in Illinois.
Hydration is so important when traveling. You want to remain hydrated throughout your travels to support your immune system which in turn will be stronger to fight off any germs you will encounter during your travels.
You will want to bring your own refillable water bottle with you.
I never leave home on a trip without my Bobble filtration bottle. The 18.5-ounce size is perfect for hiking and it fits nicely in the pocket of a backpack.
When filled with water, it is not too heavy to carry. And the replaceable charcoal filter ensures fresh clean water whenever you fill the Bobble.
Perhaps you are traveling a long distance and packing space is a premium in your suitcase, or in your car.
Then this collapsible silicone foldable water bottle would work well for you. Would not take up much space at all.
You will want a backpack or daypack with you to store snacks, your water bottle, phone, extra clothes, etc.. when hiking This foldable water-resistant backpack would be great
It is very affordable and is available in many color options for you to choose from. The fact that it folds down into a zippered pouch will make it easy to pack.
—
Illinois is so much more than the big cities like Chicago. To really understand the history and beauty of this state, you must visit some of the small towns in Illinois.
There are so many resorts in Illinois to explore among these cute Illinois towns!
Do you love photography? Old architecture? Or maybe history? There are Illinois small towns for you to visit and fall in love with soon. Get packing! You will not regret it.