Are you looking for the best things to do in Wichita Kansas? Then you've come to the right place!
I was born and raised in the Midwest and I know it's a great part of the country to explore.
Kansas tends to get overlooked when people begin planning a trip to the Midwest.
But it really shouldn't be! It's a unique state with tons to offer.
From unique cities to stunning prairie lands, there is so much to do and see in Kansas.
One of my favorite places to explore in Kansas is Wichita.
Wichita is in south-central Kansas and is known for having interesting museums, great restaurants, beautiful botanical gardens, and plenty of history.
There are many cool and unique attractions in Wichita that you simply must see when you're in Kansas.
So, let's take a look at the 18 best things to do in Wichita KS that you shouldn't miss!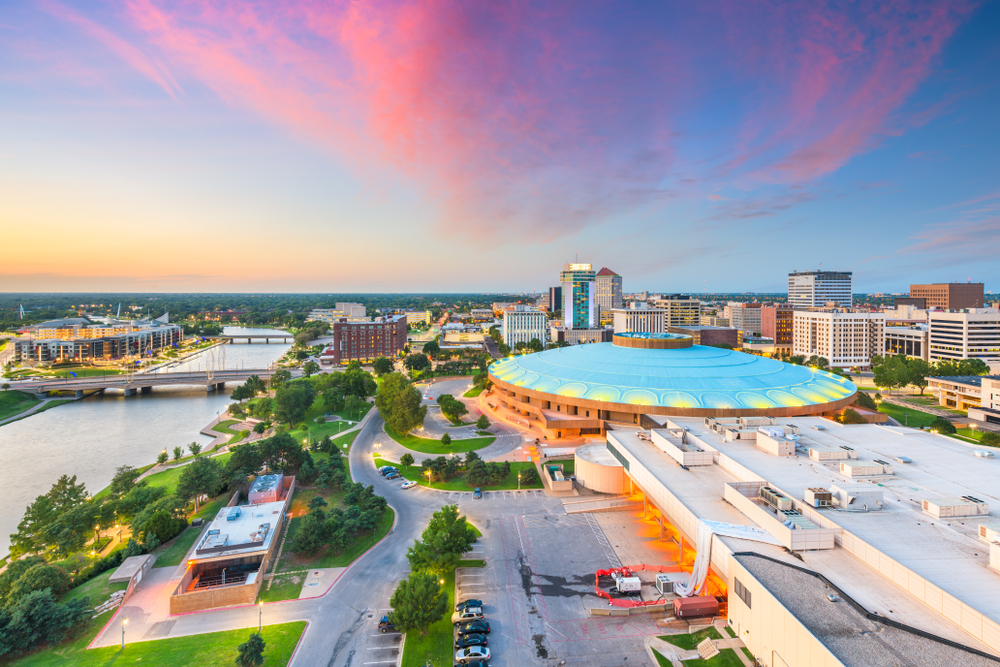 18 Best Things To Do In Wichita KS You Shouldn't Miss
Learn About Science At The Exploration Place
The Exploration Place is a science museum in Wichita.
It is located along the western side of the Arkansas River in the Delano neighborhood in Wichita.
The museum is open daily from 10 am to 5 pm. There is also an admission fee, but it's totally worth it.
Exploration Place is easily one of the most fun things to do in Wichita with kids!
They have live science shows, interactive exhibits, and a dome theater.
There are tons of ways that kids can have a hands-on experience with learning science at Exploration Place.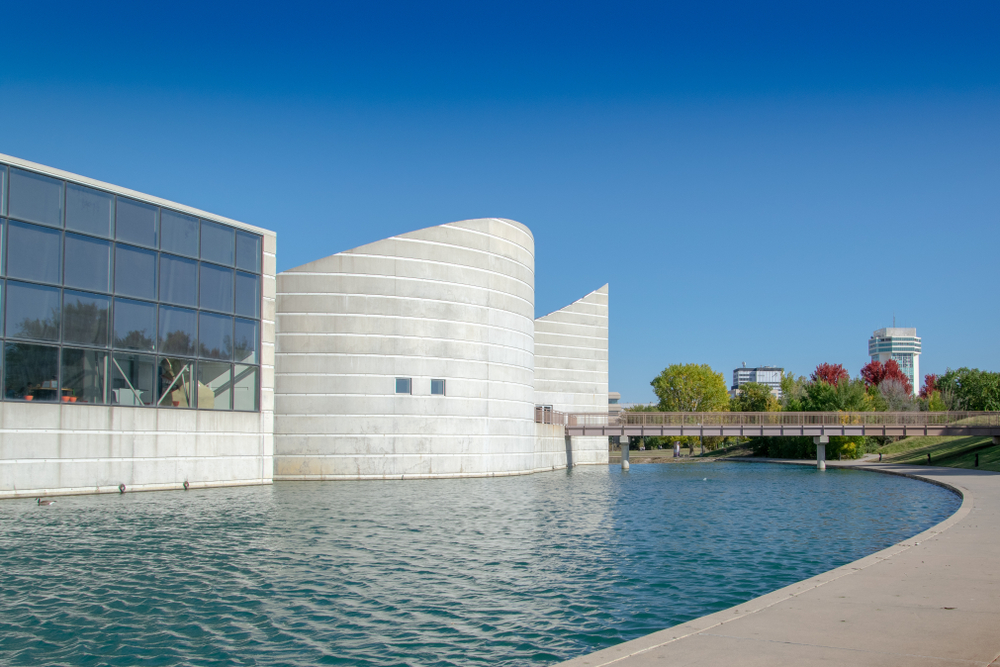 Spend The Afternoon At The Wichita Art Museum
The Wichita Art Museum is one of the most popular attractions in Wichita.
It houses contemporary and historical works throughout several different floors and rooms.
With over 7,000 pieces in the museum's collection, you could easily spend the afternoon admiring the art.
If you're traveling with kids, this museum in Wichita even has a hands-on area that is perfect for kids.
It's a great way for kids to experience art and learn a little bit more about it.
The museum is open Tuesday through Sunday and there is a small admission fee to get in.
If you're wanting to see one of their special exhibits, there is an additional fee.
However, it's completely worth it to spend an afternoon with beautiful art.
Explore The Community At Bontanica, The Witchita Gardens
Botanica, the Wichita Gardens is a community garden experience in Wichita KS.
It's a really unique Wichita attraction because it is an entire garden that is community-run.
The Riverside neighborhood is in the heart of downtown Wichita and they are the hosts of the garden.
It is 17 acres of beautifully maintained gardens and trails that you can explore.
During the different holiday seasons, the garden is decorated and they have seasonal events.
If you're looking for cool things to do in Wichita Kansas, check out Botanica, the Wichita Gardens.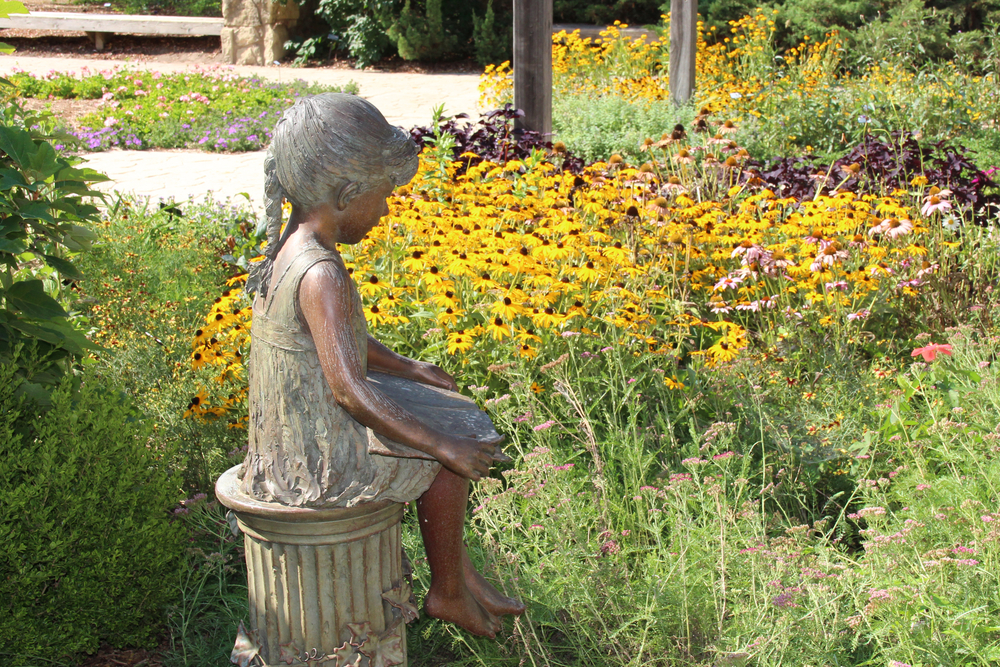 See The Keeper Of The Plains
The Keeper of the Plains is a beautiful statue in Wichita.
It is 13.4 meters and is made of Cor-Ten steel.
The statue was designed by Blackbear Bosin, an artist that is a member of the Kiowa-Camanche nations.
You can find the statue where the Arkansas and Little Arkansas rivers meet in Wichita.
The Keeper of the Plains is also right by the Mid-America All-Indian Center.
If you want to see a unique piece of art that honors the history of Wichita, go see the Keeper of the Plains.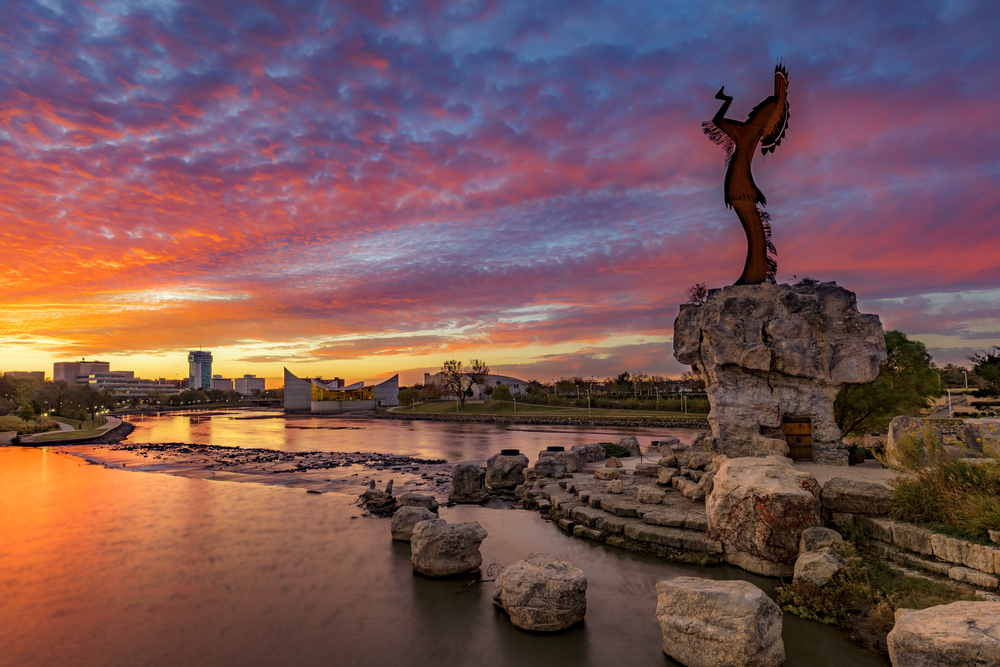 The Museum Of World Treasures Is One Of The Coolest Things To Do In Wichita
One of the coolest things to do in Wichita is the Museum of World Treasures.
The Museum of World Treasures is easily one of the most unique museums in Wichita.
Inside, you'll find something for everyone to enjoy and it's full of some awesome world treasures.
On display, you'll find dinosaurs, mummies, a shrunken head, a piece of the Berlin Wall, and even signatures from every American president.
There is a small fee to pay to tour the museum, but it's worth it.
With so many unique items from throughout the world on display, you could easily spend hours at this fun museum in Wichita.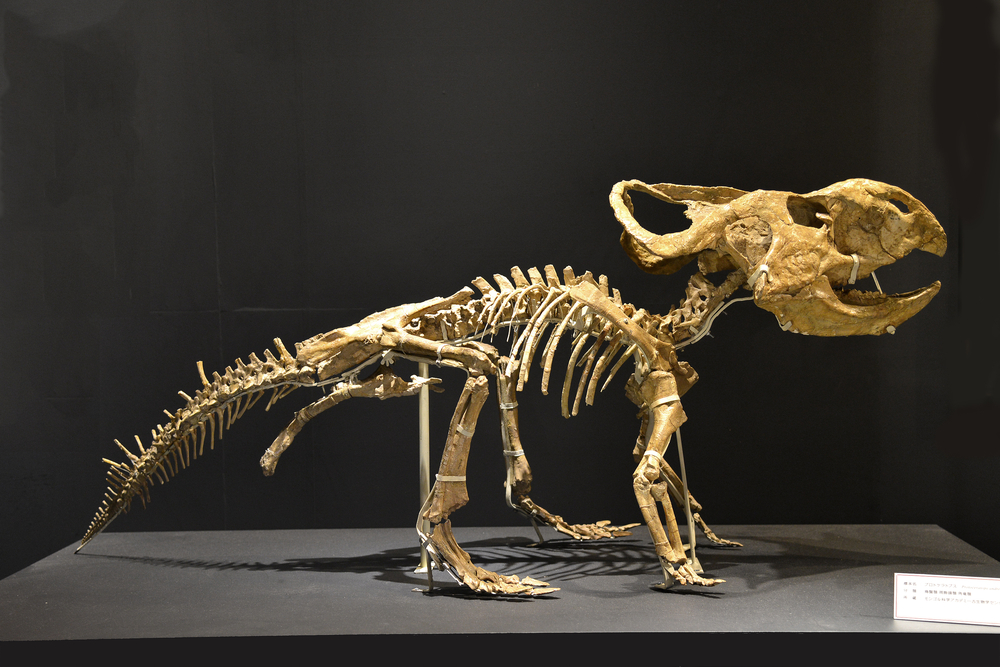 Head Just Outside Of Wichita To Warren Riverview Park
Warren Riverview Park is actually not in Wichita, but it's still one of the best places to visit near Wichita.
The Warren Riverview Park is in Derby Kansas, which is just under 20 minutes away from Wichita.
So, it's a close drive and totally worth it.
Warren Riverview Park is fairly new. It opened in October 2018.
You can find it on the banks of the Arkansas River.
This beautiful new park is a great place to find entertainment in Wichita.
You can canoe or kayak on the river, watch live performances at the outdoor pavilion, or let the kids run around on the playground.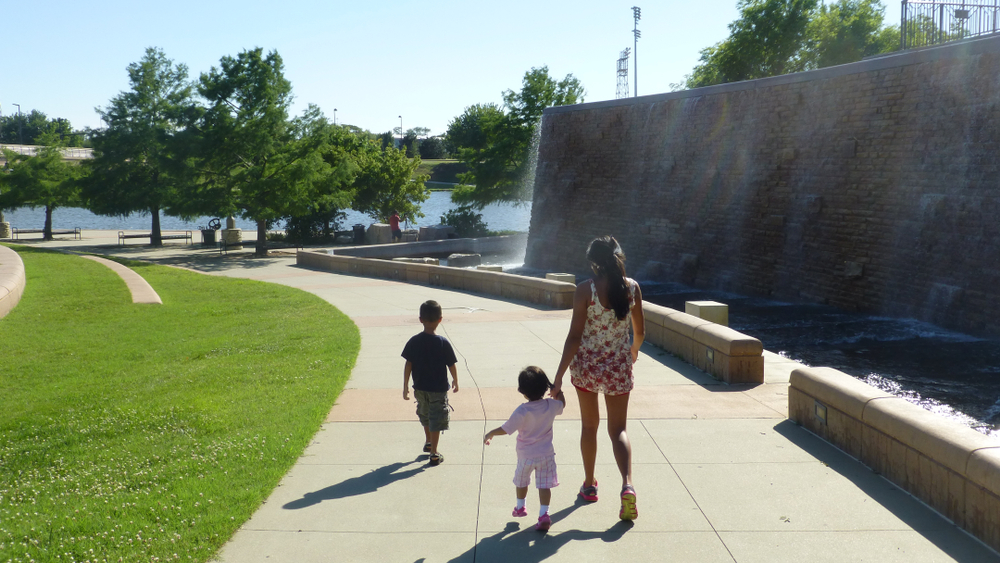 Tour Frank Lloyd Wright's Allen House
If you've never seen a Frank Lloyd Wright-designed home, this is a great opportunity.
Frank Lloyd Wright designed the Allen house in 1915 for the former Kansas Governor, Henry Justin Allen, and his wife Elise.
The Prairie-style home is a classic example of Wright's work and is now a house museum.
Construction ended in 1918 and is actually the last Prairie house design Wright did.
Inside the home, you'll also find 30 pieces of Wright-designed furniture as well.
There are docent-led tours throughout the house.
So you'll learn all about the house's history while getting to experience some stunning architecture.
It's one of the best attractions in Wichita, especially if you're a fan of architecture. And one of the coolest places to visit in the Midwest.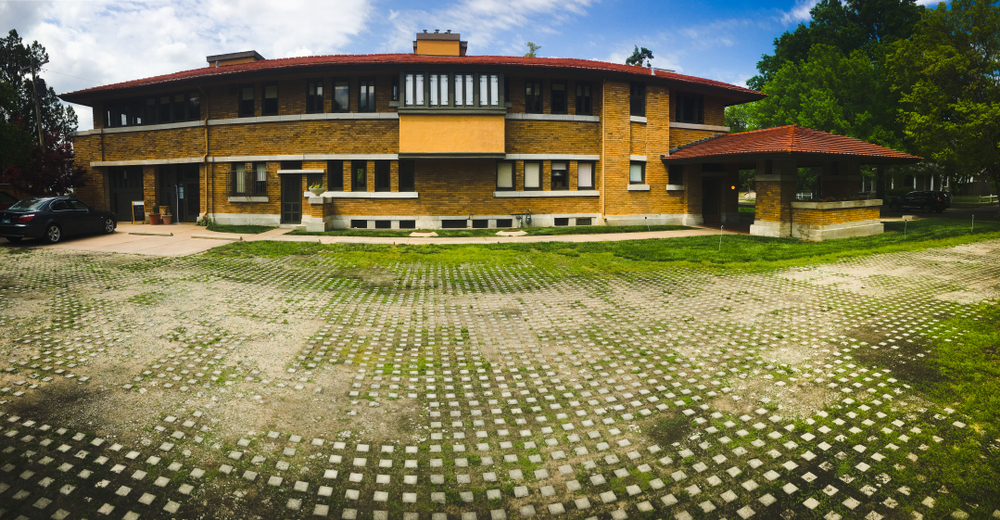 Learn About The Local Flora And Fauna At The Great Plains Nature Center
When you need a break from the city, head to the Great Plains Nature Center.
The Great Plains Nature Center is a beautiful plot of natural landscape in the heart of Wichita.
On the grounds, you'll find a large nature center, Chisholm Creek Park, trails, and picnic shelters.
They have educational programs at the nature center as well as displays about the local flora and fauna.
The nature center is connected to Chisholm Creek Park where you'll find plenty of hiking trails along the creek and a pond.
If you want to make a day of it, there are also picnic shelters where you can hang out and enjoy the landscape.
It's a great Wichita KS activity when you want to get out and into nature.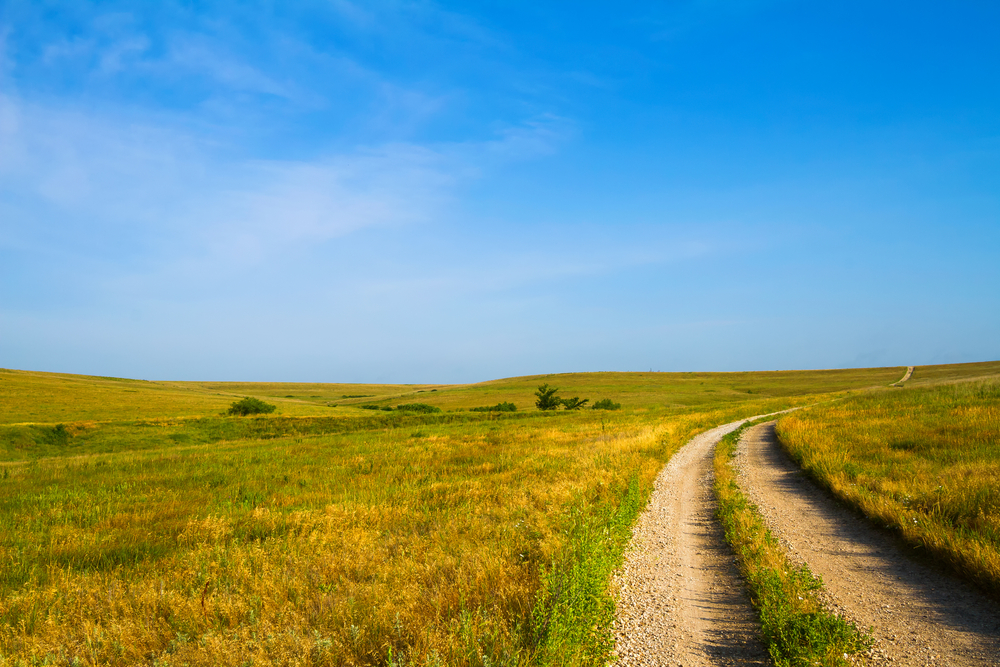 Visit The Kansas African American Museum
To learn about Black history in the plains, I suggest going to the Kansas African American History Museum.
The goal of this museum in Wichita is to make sure that the people of Kansas know the history of Black people who call the state home as well.
Part of this is actually in the building that once held the Calvary Baptist Church.
The Calvary Baptist Church was a cornerstone of the Black community in Wichita.
Today, the museum houses exhibits detailing the varied history of different Black cultures that helped shape Kansas and Wichita.
There is a small entrance fee, but you'll get to experience a truly unique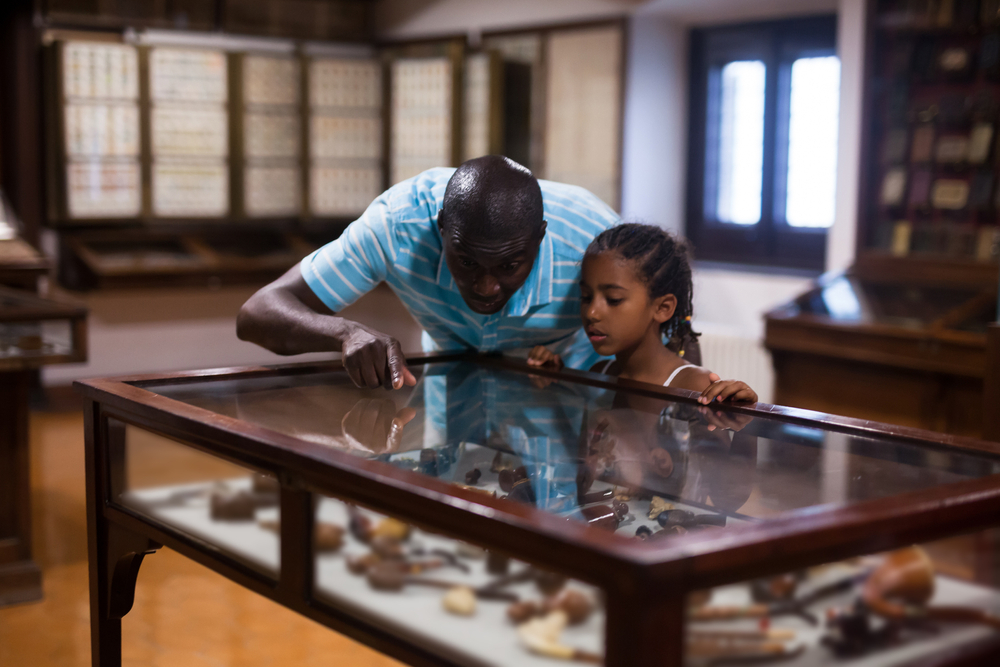 Taking The Family To All Star Adventures Is One Of The Best Things To Do In Wichita KS
All Star Adventures is a great place to find some fun entertainment in Wichita.
At All Star Adventures, your entire family will have a day full of fun on their many rides.
They have rides for little kids, thrill rides, go-karts, mini-golf, bumper boats, batting cages, and so much more.
There is even a mega arcade where you can easily spend hours playing fun games.
The park also hosts events like birthday parties, team outings, and even occasionally seasonal events.
If you're looking for a day of entertainment, head to All Star Adventures!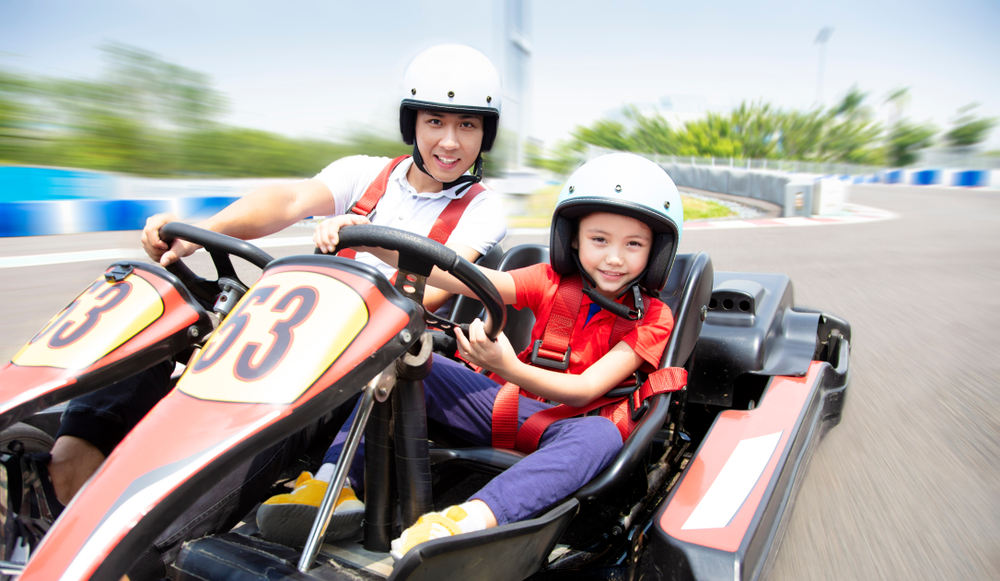 Soak In The Sun At Osage Park
Osage Park is a park that was established in 1957.
The park is 20 acres and is located near southwest Wichita.
It is a popular place for locals to spend the day because of its many amenities.
There are sports fields, picnic areas, and playgrounds.
In the summer, kids love the massive splash park that opens up.
If you're looking for a fun way for your family to spend a day in Wichita, head to Osage Park.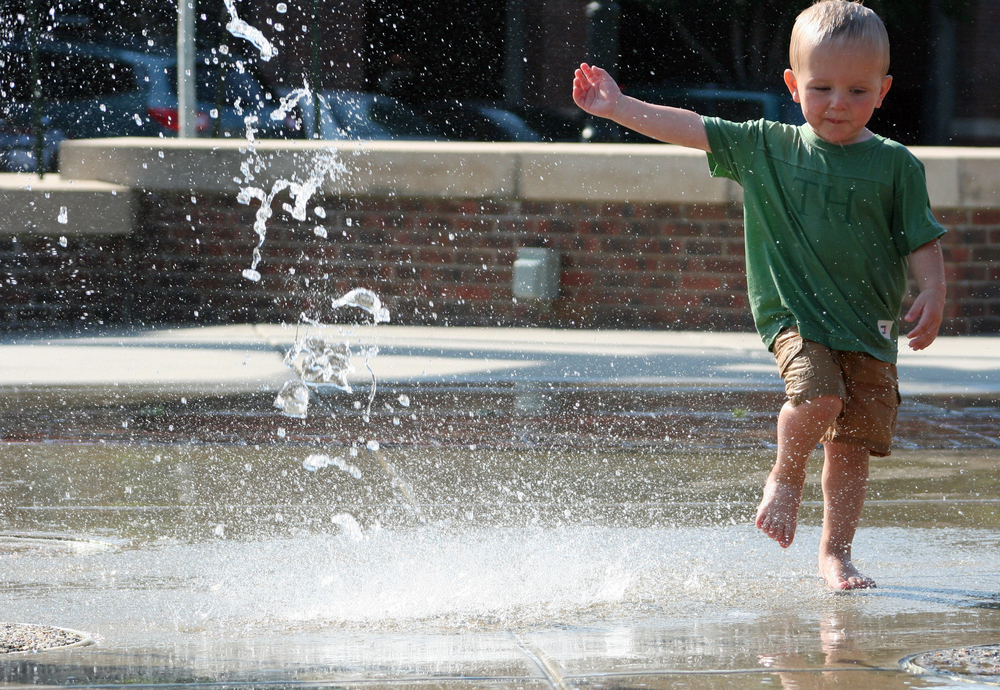 The Original Pizza Hut Museum Is One Of The Most Unique Wichita Attractions
I bet you didn't know that the original Pizza Hut was opened in Wichita Kansas.
The first Pizza Hut was opened in 1958 by two brothers, who were students at Wichita University.
That is where you can find the original Pizza Hut, which is now a museum.
It is on the grounds of Wichita University to this day.
The restaurant eventually closed and became the free Pizza Hut Museum.
It's open to the public and Wichita University students act as docents.
If you're looking for a fun and interesting Wichita KS activity, head to the Original Pizza Hut Museum.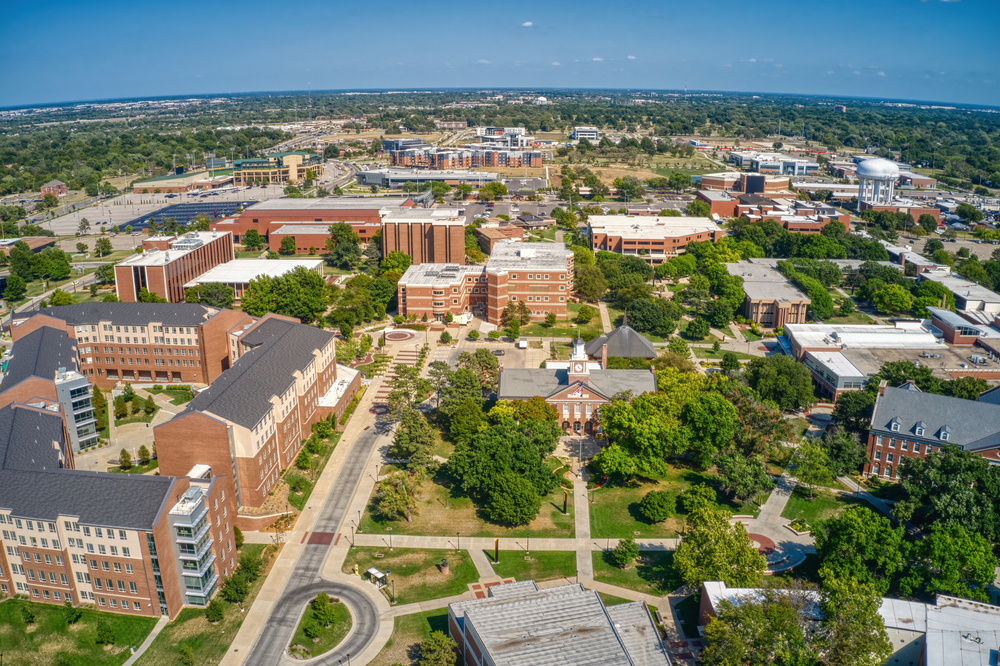 You probably won't find the Prairie Sunset Trail on a ton of visitor's guides, but it should be. Its one of the coolest hidden gems in the Midwest.
Locals love this 15-mile public trail that travels from Garden Plain, passes through Goddard, and ends around South Hoover Road in Wichita.
You can go jogging, walking, or biking on the trail.
All along the trail, you'll learn about local Kansas wildlife.
The portion of Prairie Sunset Trail that ends in Wichita is surrounded by the beautiful plains of Kansas.
Even if you don't want to walk the whole thing because it is very long, many of the stops in Wichita are beautiful.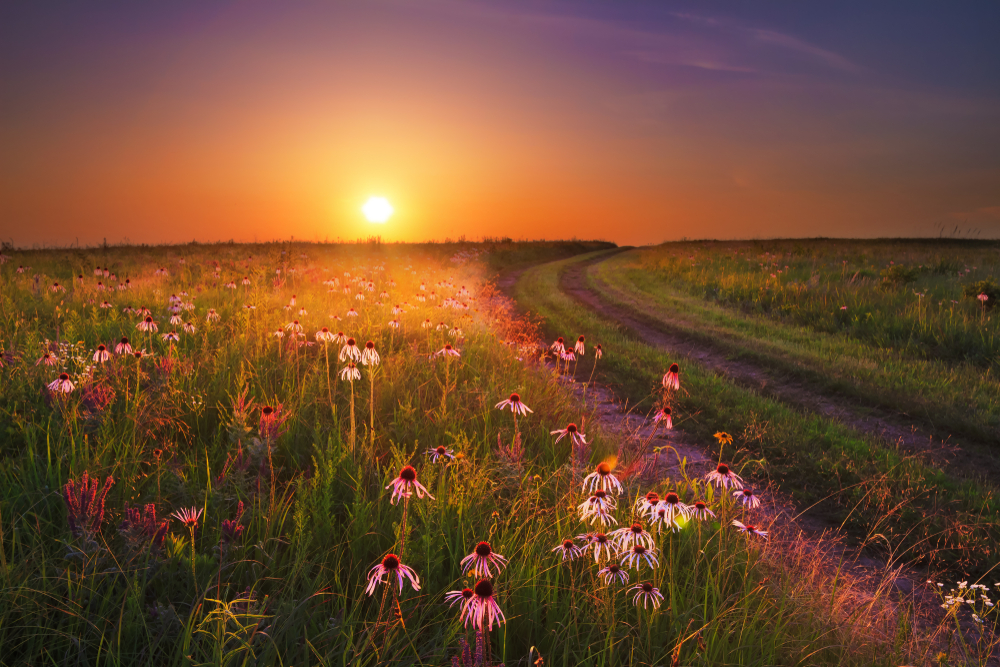 Spend The Day At Swanson Park
Swanson Park is another great place for outdoor entertainment in Wichita.
It is 93 acres and is actually a designated Wild Habitat Area within the city.
In the park, you'll find a trail system that spans a little over a mile.
It is paved, but you can't bike or skate on the trail, it is strictly for walking or jogging.
The park is beautiful with sweeping views of meadows and trees as you walk the trail.
There are also picnic areas if you want to spend a bit longer enjoying the park.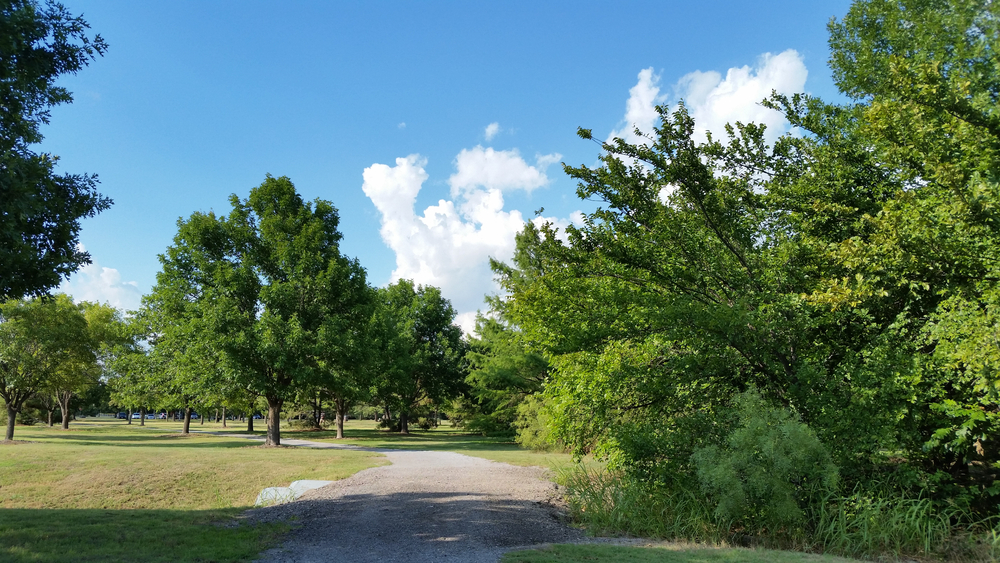 The Fountains At Waterwalk Is One Of The Best Things To Do In Wichita
One of the biggest attractions in Wichita is the Fountains at WaterWalk.
The Fountains at WaterWalk are actually the most elaborate light, music, and water production in the world.
Who would've thought the largest water production in the world would be in Wichita?
The fountains are 110 feet long and there are over 1,200 custom nozzles that create the unique light and water production.
To make the production, the fountains pump over 22,000 gallons of water a minute.
There are scheduled showtimes, so if you want to see the show, make sure you check the schedule.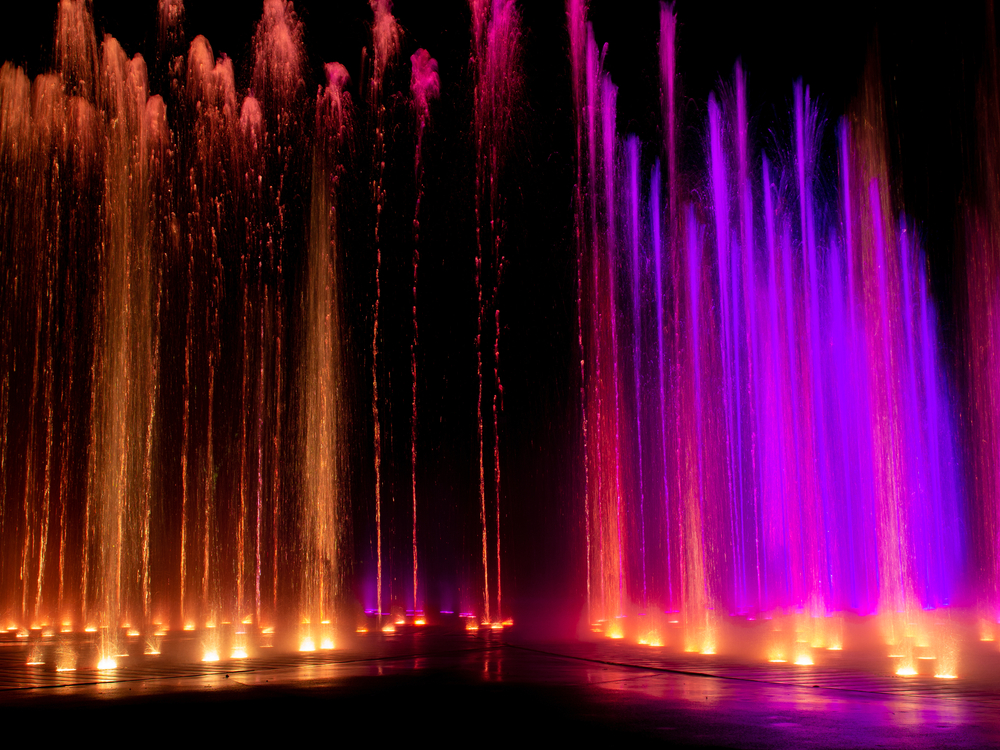 Learn Local History At The Derby Historical Museum
Despite being in Derby, the Derby Historical Museum is a great Wichita KS activity.
The museum is located in Derby, but it focuses on history throughout the area.
So, you'll also learn about Wichita while you're exploring the Derby Historical Museum.
It is housed in a historical building that was built in 1923.
The museum is open only on Sundays from April to October. However, admission is free.
So if you want to learn what it was like to live in this area of Kansas throughout history, check out the Derby Historical Museum.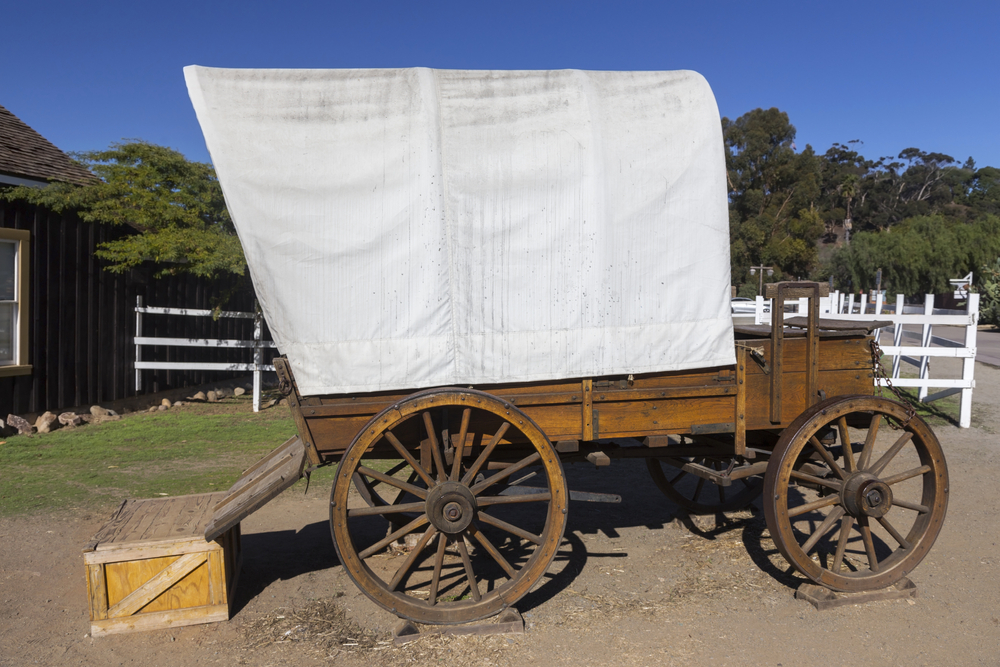 Head To The Old Mill Tasty Shop, One Of The Coolest Things To Do In Wichita
The Old Mill Tasty Shop is one of the best restaurants in Wichita Kansas.
It is actually Wichita's original soda fountain!
Inside, you'll find the restaurant hasn't changed much from when it originally opened in 1932.
They still even have some of their original menu items, along with a few new classics as well.
However, the best part of the menu is the massive amount of delicious ice cream items.
From ice cream sundaes, banana splits, and milkshakes, Old Mill Tasty Shop has it all!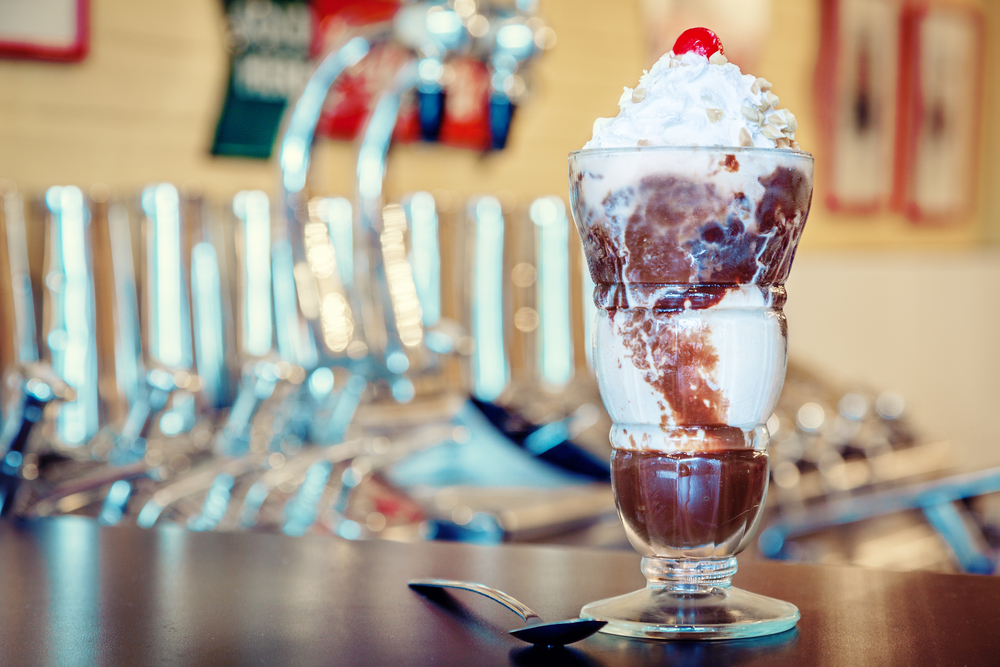 Explore Native American Culture At The Mid-America All-Indian Museum
One of the most interesting Wichita museums is the Mid-America All-Indian Museum.
The Mid-America All-Indian Museum was established in 1969 with the goal of educating people on Native American culture.
It especially focuses on the culture of Native American Nations that once, or still do, call the Kansas Plains home.
Within the museum, you'll find a collection of over 3,000 different Native American artifacts.
The museum also has a wonderful education program where they host visiting experts, give lectures, and more in their goal to teach others about Native American culture.
While you're there, make sure you visit the Keeper of the Plains!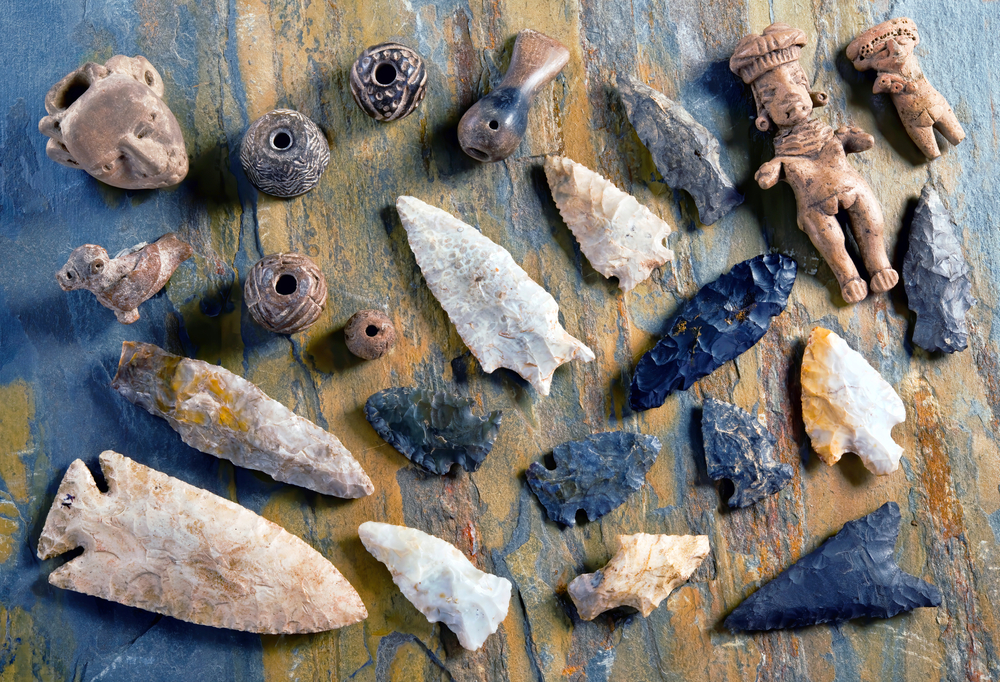 Packing List When Exploring Things To Do In Witchita Kansas
If you are searching, here are some tips on how to pack lightly when packing for your Wichita vacation.
A concealed travel pouch may be one of the most important items you bring along when visiting Wichita Kansas.  It is always important to protect your personal information. Identity thieves are everywhere.
This unisex RFID blocking concealed travel pouch is lightweight and comes in several colors. It has lots of organization to give you peace of mind. You can place it under your hiking clothes next to your body to carry your ID safely.
If you have a pouch already that does not come with the RFID protection, as I do, these RFID sleeves are the perfect solution.
If you are planning on taking a lot of pictures with your phone you will definitely want to consider an external charging battery. This Anker high-speed phone charging battery is the exact one I carry with me on all of my trips.
I like that it holds its charging capabilities for several uses so I do not have to worry about it while out and about, and if I forget to recharge it at night, it will still be good to go the next day.
My daughter gifted me with this FugeTek selfie stick and tripod setup for my birthday. I absolutely love it! It is made of lightweight aluminum and is so easy to use.
It has Bluetooth connectivity and is a breeze to use for taking Insta-worthy selfies while discovering Wichita attractions.
I never much believed in using packing cubes when traveling. That is until I tried them. Now I am hooked. These are the exact cubes I use to stay organized when I pack for a trip!
You will want to bring your own refillable water bottle with you.
I never leave home on a trip without my Bobble filtration bottle. The 18.5-ounce size is perfect for your adventures and it fits nicely in the pocket of a backpack.
Perhaps you are traveling a long distance and packing space is a premium in your suitcase, or in your car. Then this set of collapsible silicone foldable water bottles would work well for you. Would not take up much space at all.
You will want a backpack or daypack with you to store snacks, your water bottle, phone, extra clothes, etc.. during long hours of visiting the cities in the Midwest. No matter the time of day or evening.
This foldable water-resistant backpack would be great. And it comes in many different colors.
—
Wichita Kansas is a great city in the midwest that has so much to offer.
There are so many cool museums in Wichita, beautiful parks, and historical treasures.
It's easy to see why Wichita is a city in Kansas you absolutely must visit.
Have you ever been to this cool Midwest city? If so, I'd love to hear about it in the comments.