Are you looking for state parks in Wisconsin? If so you have come to the right place.
If you have never visited Wisconsin you are in for a treat.
Wisconsin has a wide variety of places to visit with beautiful landscapes, incredible small Wisconsin towns, scenic trails for hiking in Wisconsin, and all outdoor adventures.
Bordered by two of the great lakes this area is also not short of fantastic beaches with opportunities for watersports.
There are over 60 state parks in Wisconsin covering over 60,000 acres of land.
In Wisconsin, nature is the real draw, and with 15,000 inland lakes, 43,000 miles of rivers, and 659 miles of Great Lakes shoreline to enjoy you won't be disappointed.
Each of these state parks offers something different. Some are wilder, some have incredible views, some are well-trodden and some are lesser-known.
Whether you love hiking, kayaking, or swimming, state parks in Wisconsin have something for everyone.
In this article, I will share with you the best state parks in Wisconsin. Some of them are well-known and some are a little less so.
Also to note you will need a Wisconsin State Parks Pass which is required on all motor vehicles visiting state parks, forests, and recreation areas.
Certain trails also require different passes so please check before you go.
So grab a chair and let's plan your next great escape. Here is my list of the state parks of Wisconsin.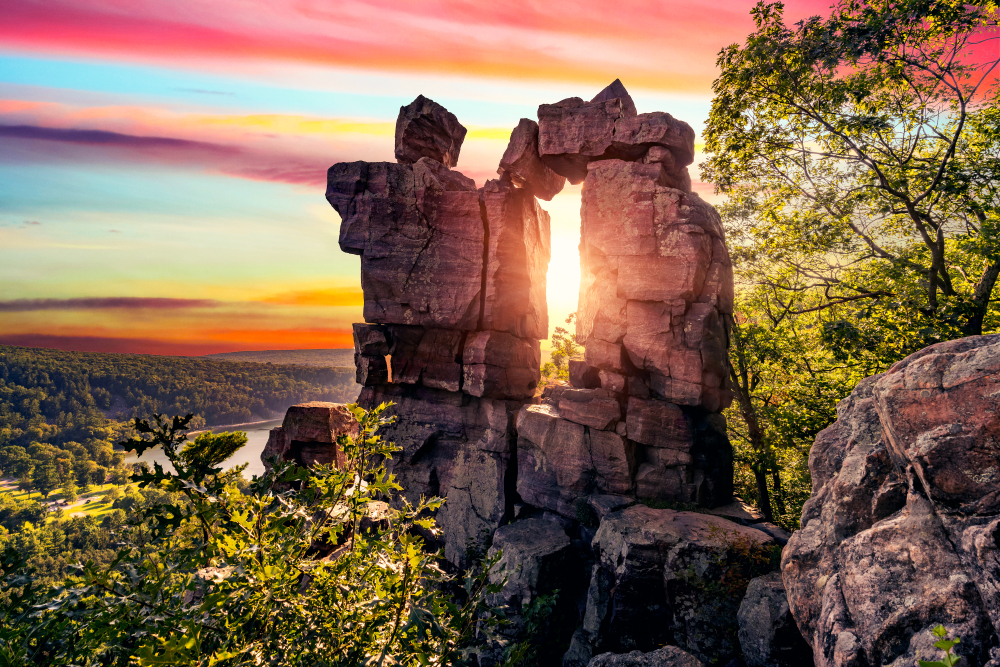 15 Best State Parks In Wisconsin For Your Bucket List
Devil's Lake State Park
The largest and most popular state park, Devils Lake Wisconsin should be high on your list. It's the most popular state park in Wisconsin for a reason as it is stunning.
This is one of those Wisconsin state parks that is incredible in every season taking on a different feel as each season approaches. It is an especially wonderful destination to experience fall in Wisconsin.
Located close to Baraboo in the south-central area of Wisconsin it's an easy park to get to with lots of parking and amenities.
Hiking in Devils Lake State Park Wisconsin is extraordinary. And if you climb the bluffs the view is truly outstanding.
While there is so much to do here I really suggest the climb to the top if you can.
There is also a great beach here around Devils Lake which is fantastic for watersports. This really is the state park that has something for everyone.
Devils Lake Wisconsin camping is also available with three campgrounds so you can stay awhile and really make the best of it.
I can't recommend a trip to Devils Lake State Park Wisconsin enough and if you only visit one park make it this one.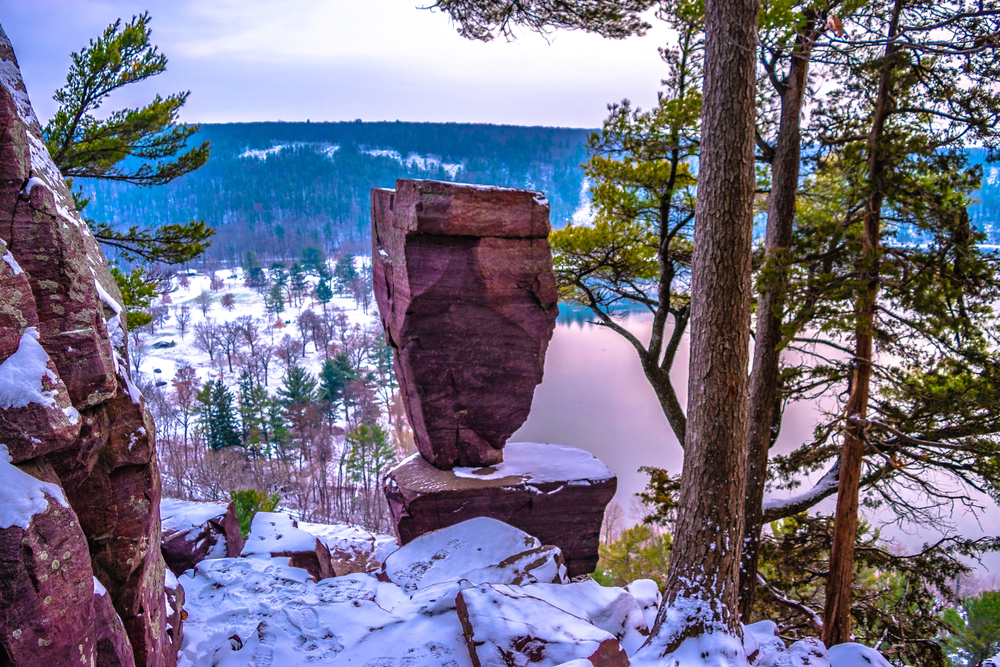 High Cliff State Park
Located in the central east area of Wisconsin close to Green Bay this state park in Wisconsin overlooks the largest inland lake, Lake Winnebago. It's a well-connected park and is easy to get to.
The most popular thing to do here is to visit the 12-foot statue of Winnebago Indian Chief Red Bird standing on a huge granite rock overlooking the lake. The limestone cliffs in this area were considered sacred in Native American culture.
There is a lot to do here and this state park offers a lot. From picnic areas to historic sites from a great beach to an observation tower it's a great park to explore.
Wisconsin state parks camping is available here if you want to make a night of it.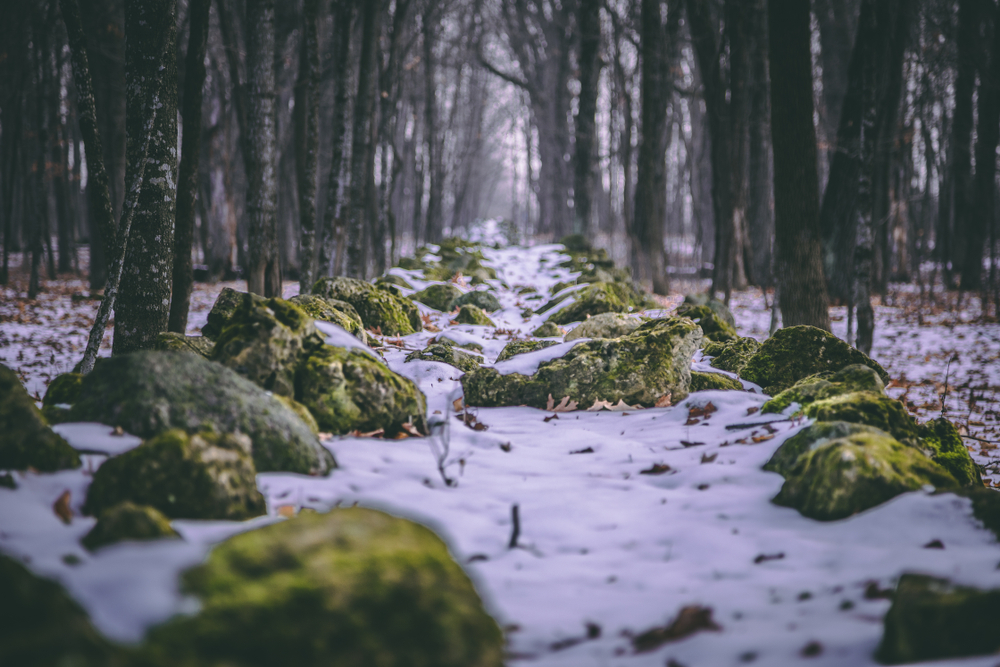 Copper Falls State Park
In northern Wisconsin, if you are in the area pay this state park Wisconsin a visit. It's a beautiful state park particularly if you love waterfalls in Wisconsin.
The park is all deep gorges, waterfalls, and the remnants of the deep lava flow.
It offers something a little different and is beautiful whatever the season even though the waterfalls are best viewed in spring.
It's a great park for picnicking, hiking, and swimming, and the North Country National Scenic Trail offers some great hiking options.
It's an easy park to get to with parking and all the amenities. Wisconsin state parks camping is also available.
This is one of the best Wisconsin state parks for scenery and spectacular waterfalls.
Mirror Lake State Park
Close to the Wisconsin Dells one look at the picture below and you will see why it's called Mirror Lake.
The lake is often so calm that not a ripple marks its surface and it perfectly reflects the incredible scenery.
Mirror Lake Wisconsin is a great family park and really is a great summer and fall state park. Swimming, canoeing, and kayaking are all great activities here.
If you visit in the winter there are cross-country ski trails and in the spring and summer, there are some great picnic spots.
Some of the best state park camping in Wisconsin is available here and you have 2,200 acres to explore.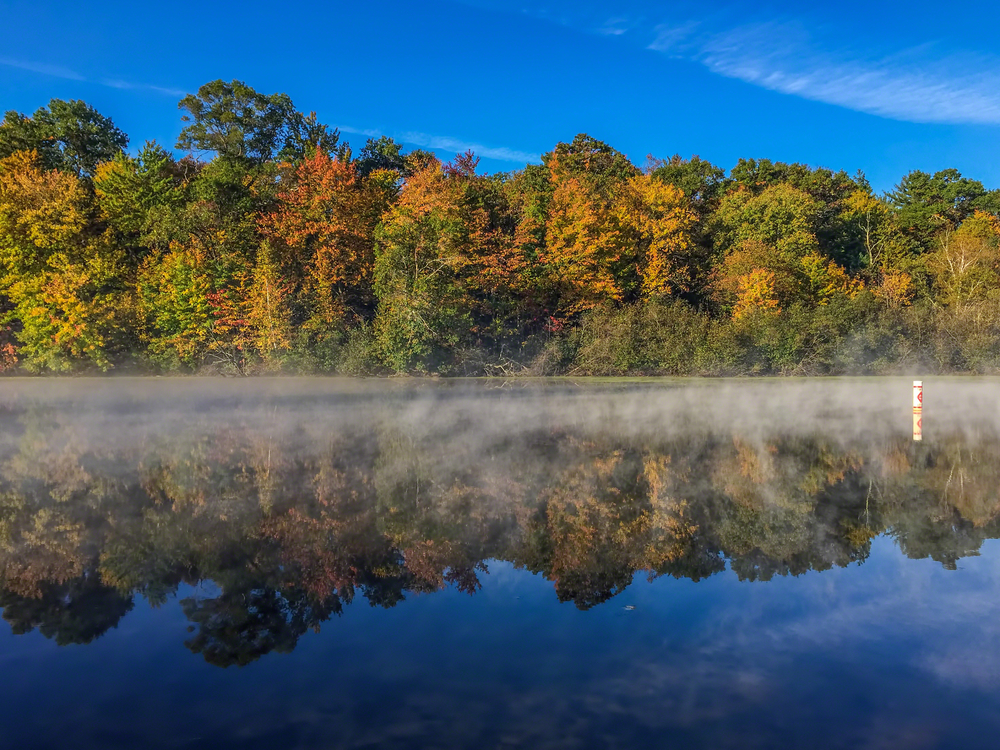 Amnicon Falls State Park In Wisconsin Is Great For Hiking
In northern Wisconsin close to Duluth Minnesota, this state park is so lovely, especially in fall. It's a great park if you love photography.
Amnicon Falls is one of the great state parks in Wisconsin for hiking, walking, and picnicking. And the Horton Bridge is just a beautiful photography location.
Due to the Douglas Fault, there are also some great waterfalls here and the Amnicon River has some great rapids.
Camping in this Wisconsin state park is a little primitive with no electricity, showers, or dump station. It is a perfect park for outdoor enthusiasts and tends to be quieter than some of the other parks.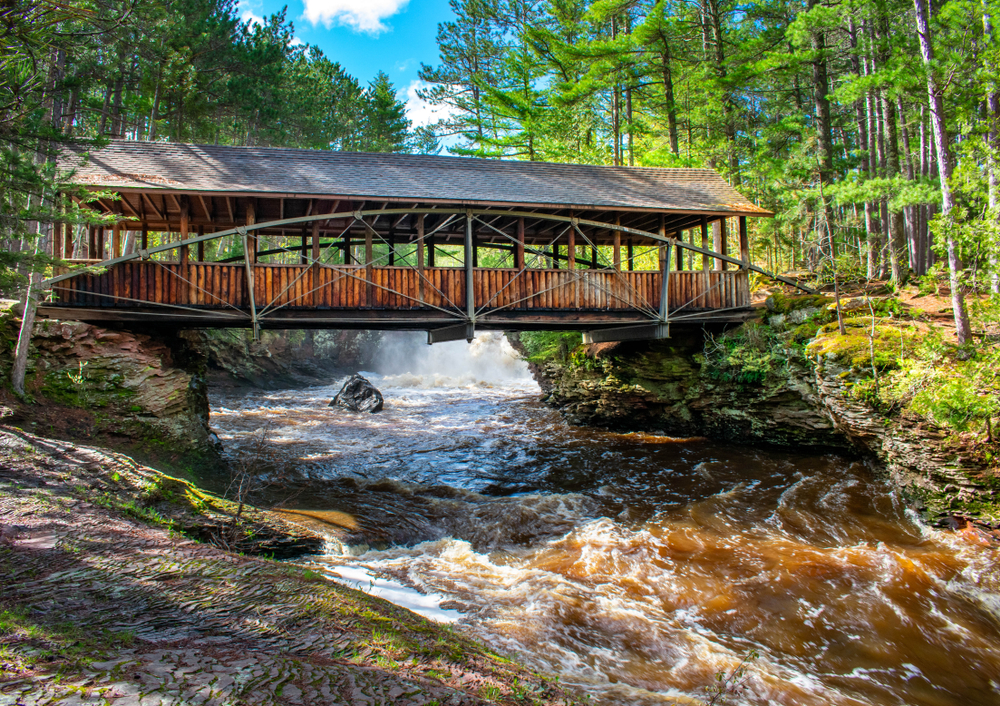 Wyalusing State Park
Located in the southwest area of Wisconsin near Madison. Wyalusing State Park overlooks the confluence of the Wisconsin and Mississippi rivers.
The park is located on a high bluff overlooking the rivers with a landscape of forests and limestone sculpted by the ice age.
Wyalusing State Park is one of the oldest state parks of Wisconsin. It's also a World Heritage Site and features Indian burial mounds.
There is a lot to do here from canoeing, cycling, hiking picnicking, or just enjoying the environment. The WI campsite here is 500 feet above the confluence of the Wisconsin and Mississippi Rivers.
Kettle Moraine State Park
Located between Milwaukee and Madison Kettle Moraine State Park is divided into two parts: the north and south.
The northern park is larger and has some world-famous glacial landforms. The southern part is 22,000 acres of forested glacial hills, kettle lakes, and prairies.
Hiking tends to be better in the northern part and mountain biking better in the southern part. The south also tends to also have better beaches.
The big draw is Kettle Mountain a highly glaciated area. Here you will find hills, lakes forests, and grasslands. WI campsites are aplenty here, some with amenities and some more remote so choose which works best for you.
This is one of the state parks in Wisconsin that really does offer a little bit of everything.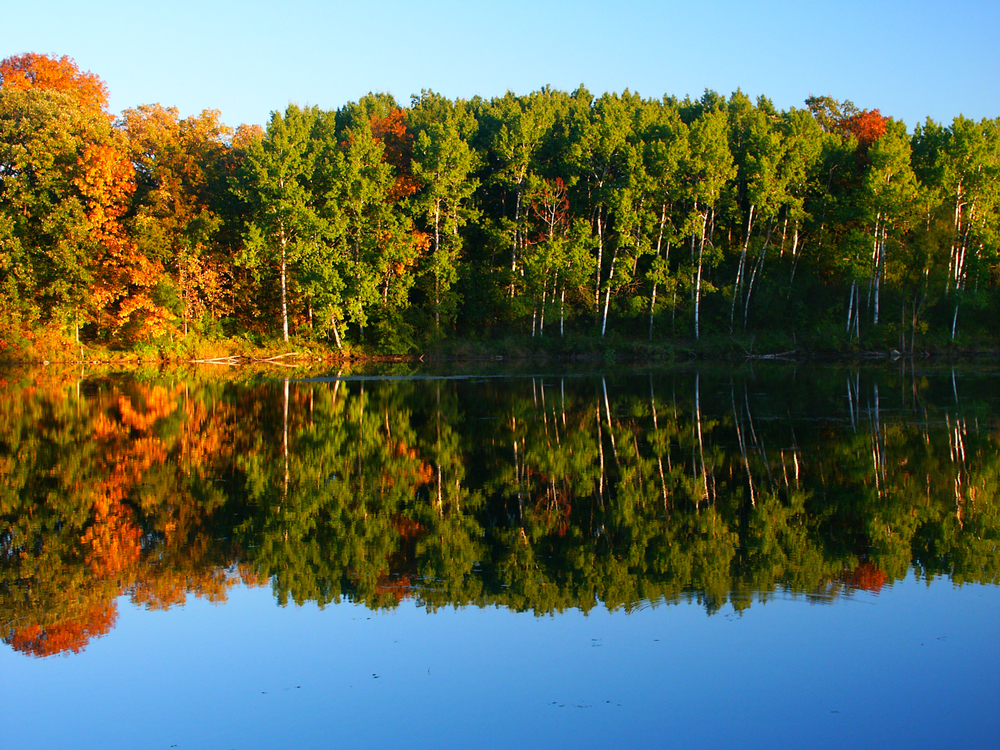 Harrington Beach State Park In Wisconsin Is All About The Beach
If you like your state parks to be more about the beach than the woods then this is the one for you.
Resembling an ocean shoreline the mile-long beach along Lake Michigan offers some great opportunities for watersports and relaxing.
In this Wisconsin state park, you will find places to launch kayaks, an observatory, cedar swampland, campgrounds, and some lovely hiking.
The hike around the old quarry lake is a very scenic walk rimmed with limestone outcrops ad white cedars.
This Wisconsin state park provides something for everyone whatever they love doing. It's a park to relax or be as active as you want.
From the picnic area look out for the sunken remains of the wooden steamship Niagara in the water below there is always something great to do. And if you are a scuba diver you can explore these remains.
This park is lovely in winter in Wisconsin, or any season and is one of the lesser-known parks so consequently not always as busy.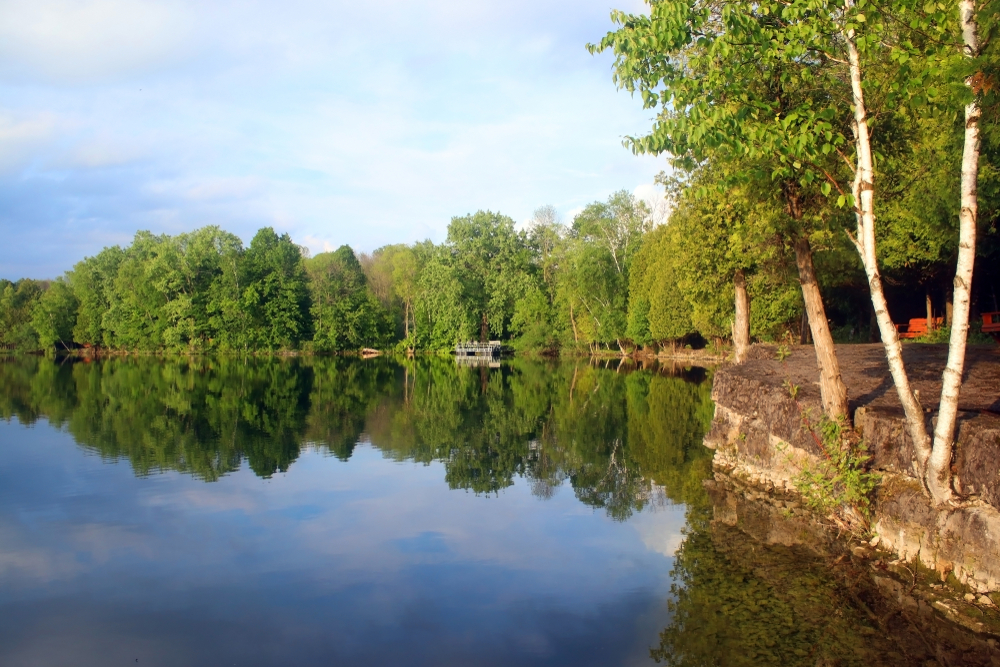 Newport State Park In Wisconsin Is A Wilderness Park
In beautiful Door County, this is one of Wisconsin's only designated wilderness parks. Its also one of the Midwest's only Dark Sky places recognized by the International Dark Sky Association.
And one of the coolest places to visit in the Midwest!
This park is much more natural and less commercialized than other parks and visiting here in the nighttime is a real win. The stargazing here is incredible.
Camping in Wisconsin state parks here is quite primitive and a couple of miles into the park. It's for real outdoor enthusiasts.
This is a park for hikers and mountain bikers with over 30 miles of trails. In the winter the snowshoeing and skinning here are also great.
You have 2,373 unspoiled acres of forests, meadows, and wetlands to explore here and 11 miles of Michigan shoreline. This state park in Wisconsin offers a real wilderness experience.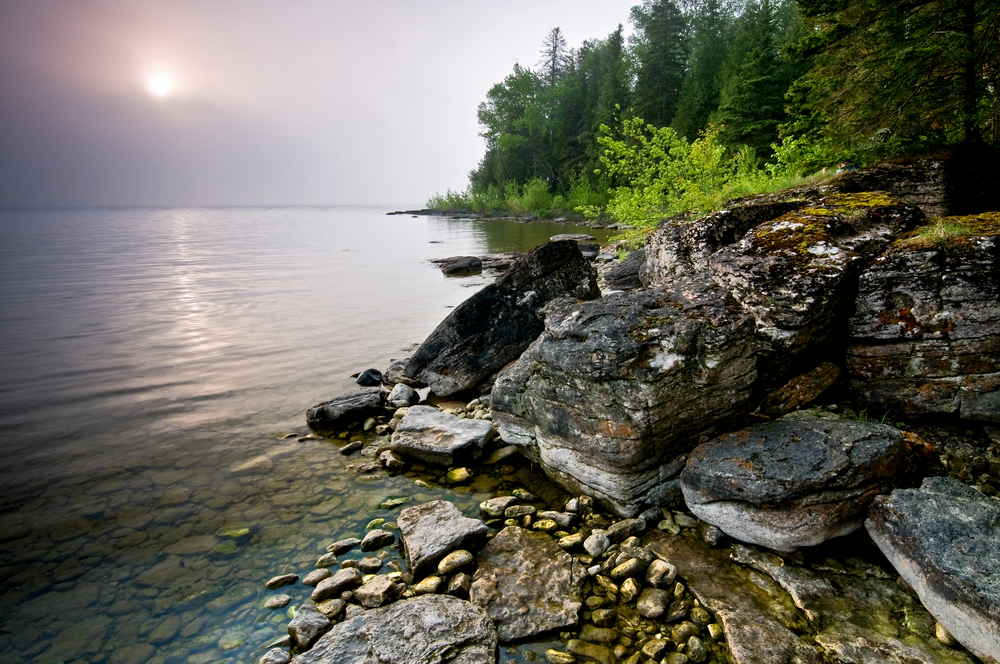 Big Bay State Park
In northern Wisconsin on Madeline Island is Big Bay State Park. Madeline Island is the largest of the Apostle Islands and is a beautiful Midwest Island to experience!
Here you will find rugged wooden cliffs and some incredible views of Lake Superior. There are hiking trails, nature trails, picnic areas, and over a mile of sandy beach.
You will find some of the best Midwest fall foliage in this area and while it's great at any time of the year it really takes on a magical feel in fall.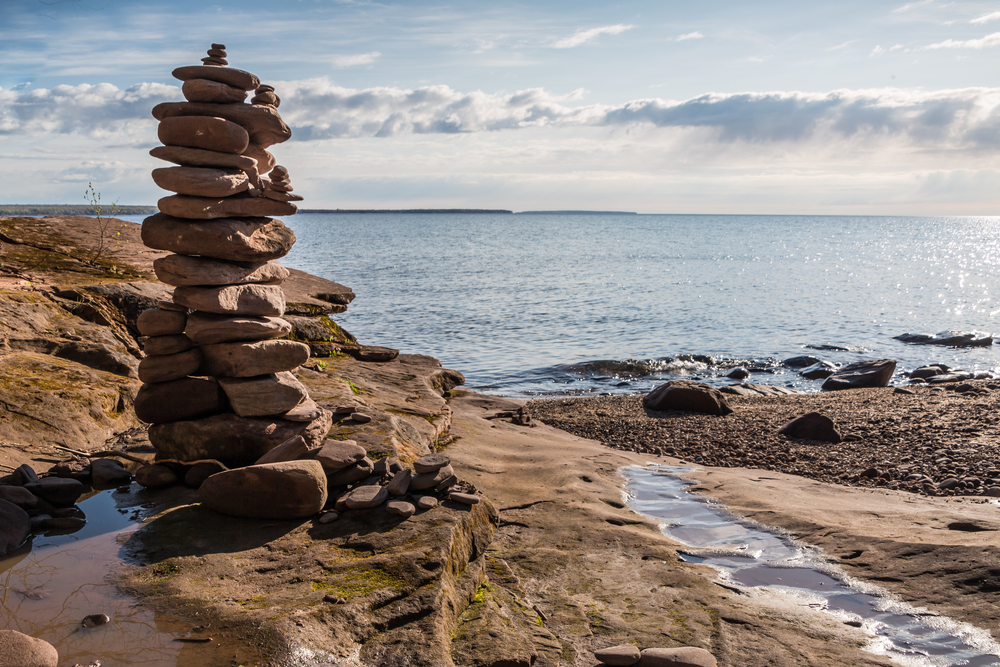 Peninsula State Park
Considered one of Wisconsin's most complete parks Peninsula State Park is a 3,776-acre park to explore in Door County.
It's one of the great state parks in Wisconsin to visit on your Door County vacation as the views here are stunning.
The trails here are lovely and perfect for hiking or biking. There are also some beaches and a lighthouse to explore. WI DNR Camping is also available here with over 460 spots available.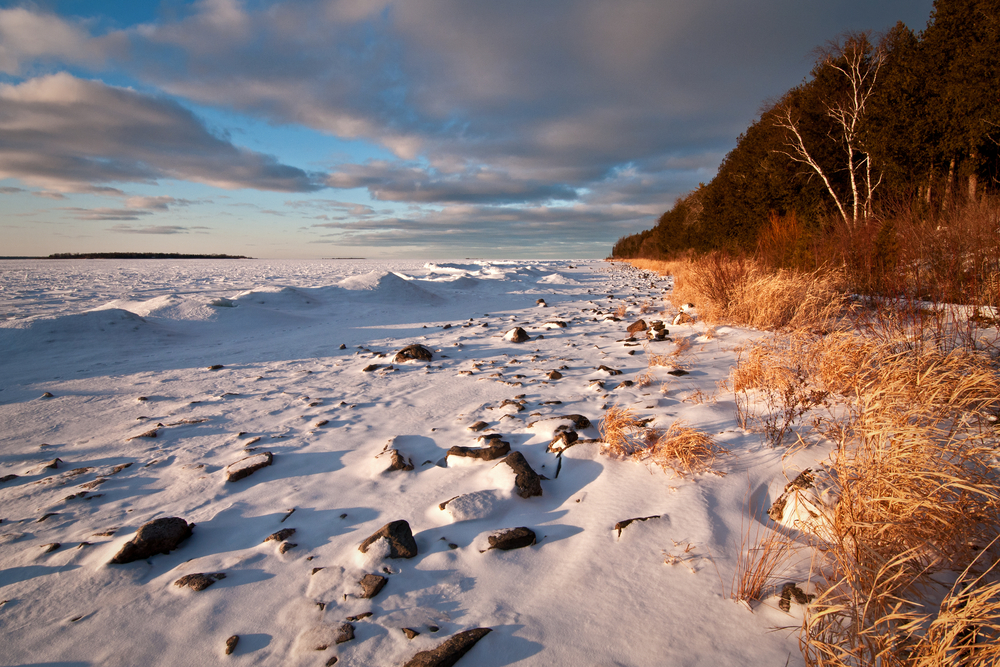 Interstate State Park Of Wisconsin Shares A Border With MN
Sharing its name with the bordering state park of Minnesota, Interstate State Park is located in the western area of the state.
It's Wisconsin's oldest state park and most visit here for Dalles of the St. Croix Gorge. The views from here are stunning.
The park also has a great beach that is perfect for swimming and some great picnic areas. WI DNR Camping is also available.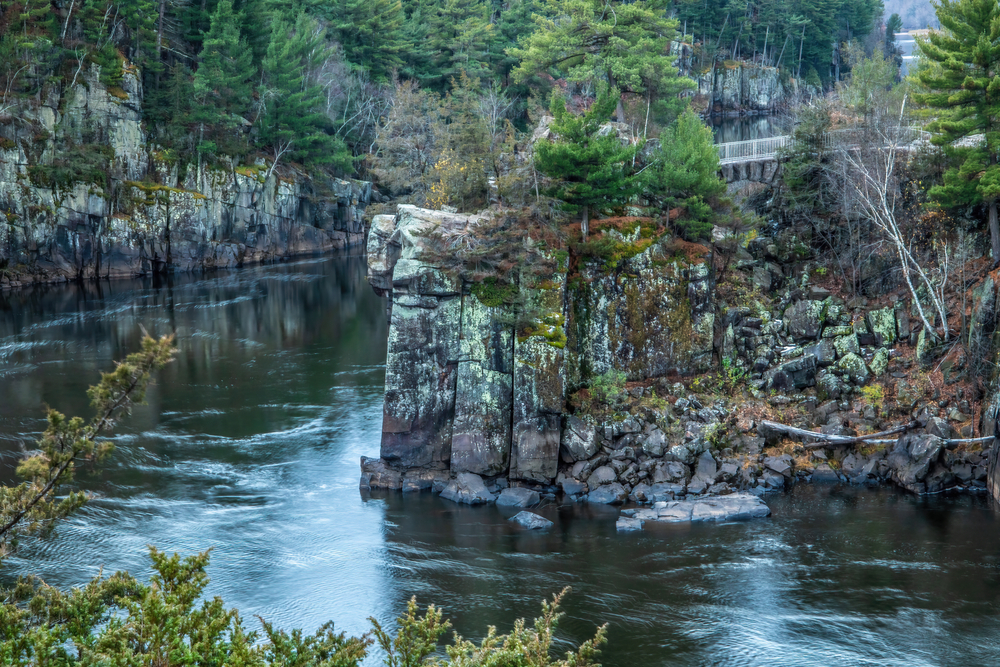 Rock Island State Park
As the name suggests this state park in Wisconsin is located on Rock Island. It's a ferry ride away from Washington Island on the Door Peninsula and is well worth a trip.
It's a state park with a difference as there are no cars or bikes allowed so it's a much more tranquil experience.
With 10 miles of hiking trails for you to enjoy here and a great beach, you won't get bored.
The park also features the Pottawatomie Lighthouse as well as stone buildings built by a wealthy inventor who owned the island between 1910 and 1964.
There is also a small campground if you want to stay awhile on the island.
It is a perfect place to add to a Wisconsin road trip!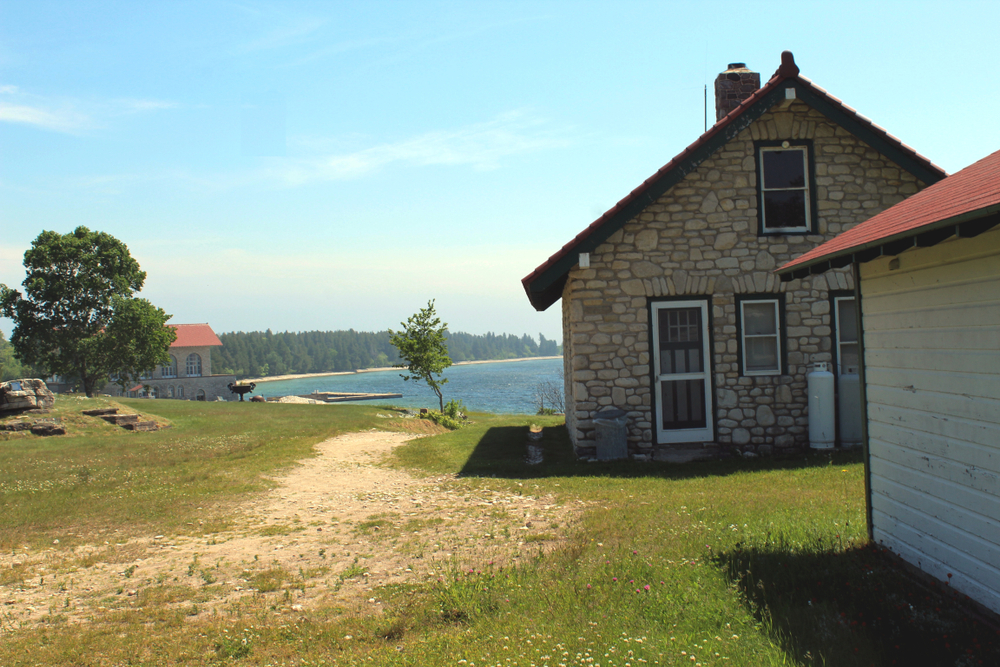 Blue Mounds State Park In Wisconsin Has The Views
In southern Wisconsin, Blue Mounds State Park has one of the highest elevations of all the parks, 1719 feet at the highest. Consequently, the views are incredible.
There is some unique geology here and views afforded from the highest point make it worth the while.
Oh, and it's the only state park with a swimming pool and the pool also has a disability lift. It's a popular state park that offers a little bit of everything.
This park is great for cross-country skiing, hiking, mountain biking, and hiking. There is also a campground and a rustic cabin for people with disabilities.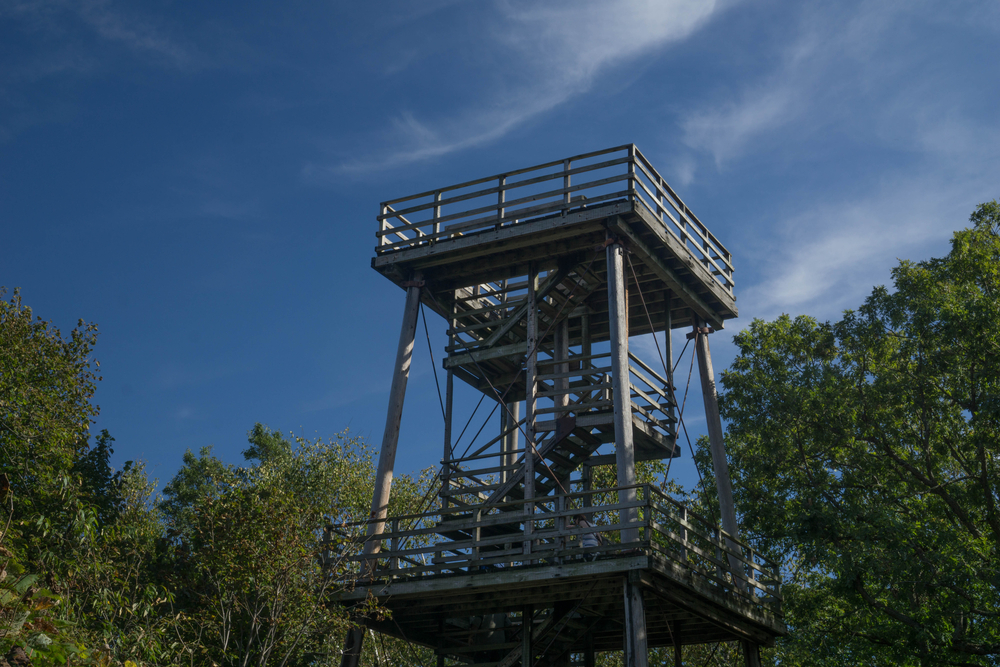 Kohler Andrae State Park
Just a few miles from Sheboygan this state park has some great beaches and offers something a little different.
It's made up of two separate state parks and is comprised of wooded areas and over two miles of sandy beaches.
There are lots to do here from hiking, biking, horseback riding, canoeing, kayaking swimming, and camping.
The park was named after John Michael Kohler and Terry Andrae.
It's a state park full of sand dunes, golden beaches, beautiful Lake Michigan water, and an abundance of wildlife.
It's one of the last natural preserves along the Lake Michigan shore.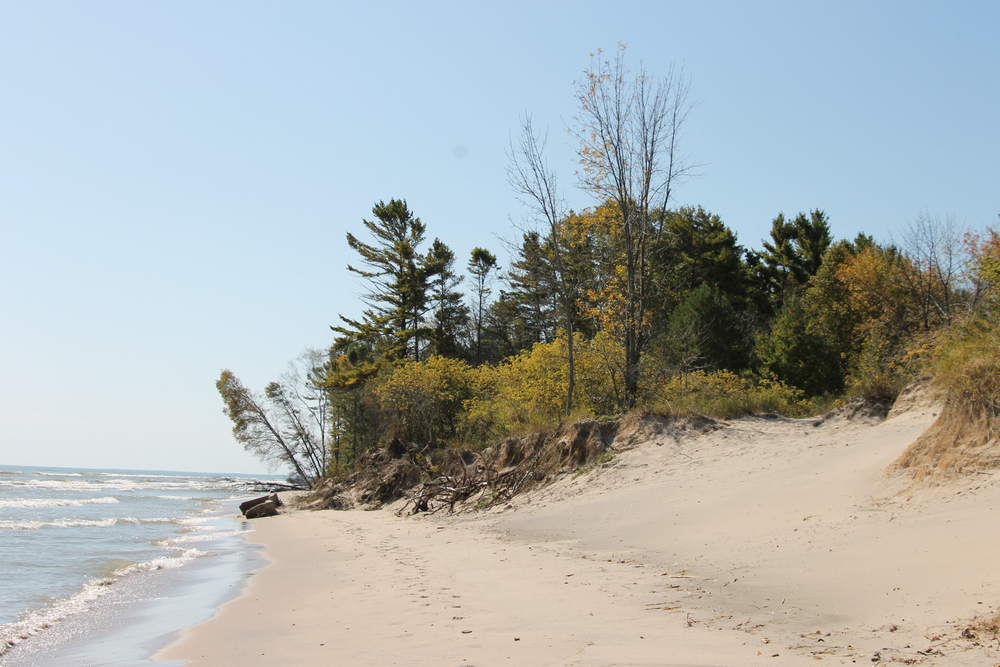 Packing List When Exploring The State Parks In Wisconsin
If you are searching, here are some tips on how to pack lightly when packing for your Wisconsin parks getaway.
A concealed travel pouch may be one of the most important items you bring along when exploring Wisconsin state parks.
It is always important to protect your personal information. Identity thieves are everywhere.
This unisex RFID blocking concealed travel pouch is lightweight and comes in several colors. It has lots of organization to give you peace of mind.
You can place it under your hiking clothes next to your body to carry your ID safely.
If you have a pouch already that does not come with RFID protection, as I do, these RFID sleeves are the perfect solution.
If you are planning on taking a lot of pictures with your phone you will definitely want to consider an external charging battery. This Anker high-speed phone charging battery is the exact one I carry with me on all of my trips.
I like that it holds its charging capabilities for several uses so I do not have to worry about it while out and about, and if I forget to recharge it at night, it will still be good to go the next day.
My daughter gifted me with this FugeTek selfie stick and tripod setup for my birthday. I absolutely love it! It is made of lightweight aluminum and is so easy to use.
It has Bluetooth connectivity and is a breeze to use for taking Insta-worthy selfies while discovering island getaways in the US.
I never much believed in using packing cubes when traveling. That is until I tried them. Now I am hooked. These are the exact cubes I use to stay organized when I pack for a trip!
You will want to bring your own refillable water bottle with you.
I never leave home on a trip without my Bobble filtration bottle. The 18.5-ounce size is perfect for your adventures and it fits nicely in the pocket of a backpack.
Perhaps you are traveling a long distance and packing space is a premium in your suitcase, or in your car. Then this collapsible silicone foldable water bottle would work well for you. Would not take up much space at all.
You will want a backpack or daypack with you to store snacks, your water bottle, phone, extra clothes, etc.. during long hours of visiting the state parks of Wisconsin. No matter the time of day or evening.
This foldable water-resistant backpack would be great. And it comes in many different colors.
—
As you can see when it comes to state parks in Wisconsin there are so many to choose from. Whichever state park in Wisconsin you choose it will not disappoint.
Devils Lake State Park Wisconsin is a great park to visit and Wyalusing state park offers something a little different.
Let us know which of these state parks in Wisconsin you visit and come back and tell us all about your visit.