Are you looking for things to do in Lake Geneva Wisconsin? You are in the right place. I was born and raised in the Midwest and there is so much to do here.
If you haven't been to Lake Geneva before you are in for a treat. It's a charming city in Walworth County, Wisconsin. It's a short drive from Milwaukee and makes a perfect Wisconsin getaway location.
In time gone past it was the place where the wealthy in the area vacationed and many of their mansions and the resorts built to serve them still exist today.
In the summer and during fall in Wisconsin, this place really is stunning.
Lake Geneva, Wisconsin is a beautiful area with some stunning beaches, lots of really cool Wisconsin state parks, and natural beauty.
It's also a place that offers many attractions, activities, and adventures. This cool small town in WI has much more to offer than you might first imagine.
It's the perfect place for all ages and there will have something here to suit everyone.
Whether you want to connect with nature, shop till you drop, entertain children or have a romantic weekend getaway Lake Geneva does it all in style.
So are you ready to see what I have chosen for you? Here are 17 things to do in Lake Geneva Wisconsin.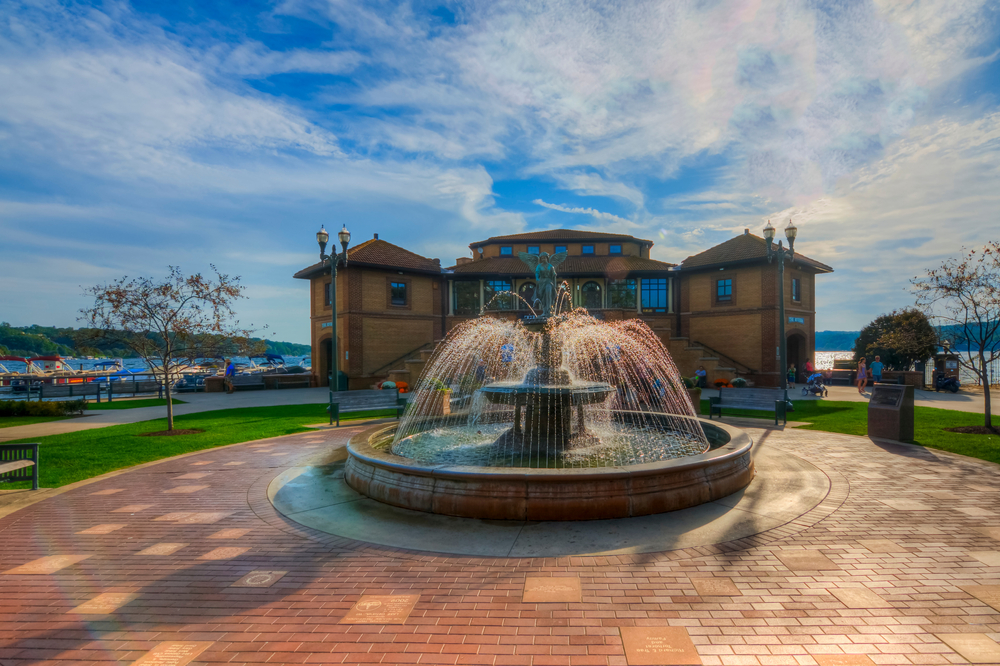 17 Best Things To Do In Lake Geneva WI You Shouldn't Miss
Get Historic At The Geneva Lake Museum
If you like knowing the history of the places you visit then this Lake Geneva downtown attraction is for you.
The museum has artifacts, buildings, and relics that take you through the history of this area, some dating from the 1800s.
Situated in the Lake Geneva downtown area, it is inside the old Wisconsin Power and Light building which was built in 1929.
It's located on a site with 2.5 acres of land and has a huge amount of buildings that have been carefully restored.
There are lots to see here including old car models, train models, ice cutting, and horseshoeing tools. It even has a replica old fire station, a dental workstation, and a classroom.
There will be something at this museum to keep everyone happy. If you are wondering what to do in Lake Geneva you can't go wrong with a trip here.
Children up to high school age go free and it is $8/$9 depending on your age.
Have Tea At The The Baker House
If you love old buildings you are going to love this one. It's on the shoreline of Lake Geneva and really is beautiful.
Originally the home of Robert H. Baker and his family, the house is an incredible example of Queen Anne-style and dates from 1885.
Inside it is very intricate and stunning with inlaid hardwood floors, detailed carvings, and 13 originally tiled fireplaces. Baker passed away before the house was finished so he never saw it.
The house does now operate as a restaurant and hotel but a trip in for a glass of wine or cup of tea is well worth it to see this beautiful building. One of the attractions on Lake Geneva for those that love architecture.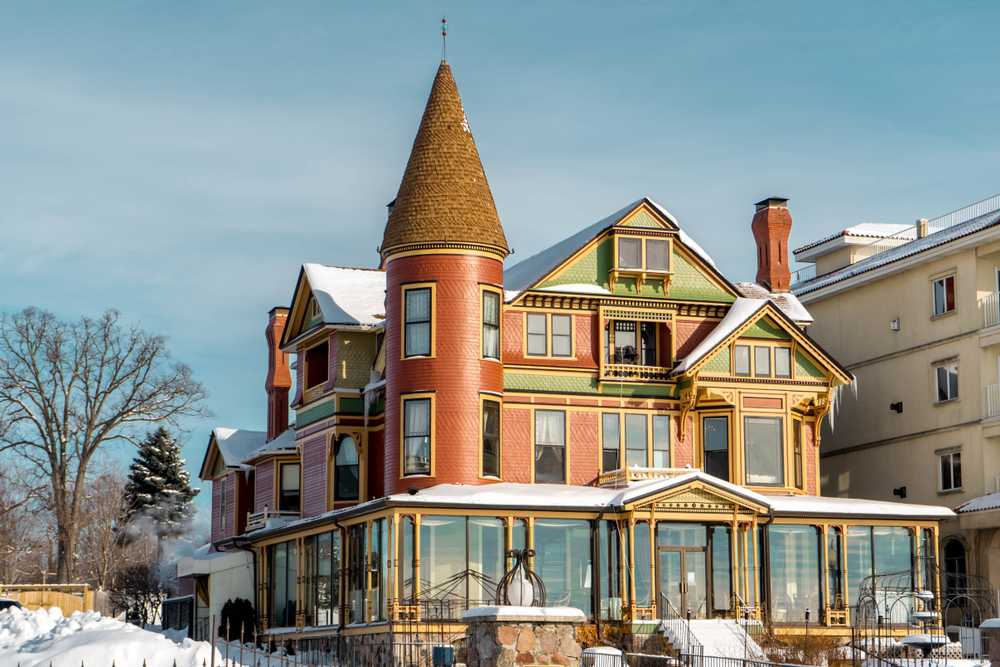 Explore Downtown Lake Geneva
Exploring the downtown area is definitely one of the Lake Geneva activities everyone will love. It's a cute charming and happening place with lots of shops, restaurants, and bars.
Do all the shopping you want in the cute little boutiques and antique shops then quench your thirst at one of the bars. And when you get hungry there are lots of restaurants in Lake Geneva to choose from.
If the shops and bars get too much for you, you can stroll through Flat Iron Park.
It's a lovely park downtown on the lakeshore. It's home to the Brunk Performance Pavilion, Three Graces Fountain, a picturesque gazebo, and a statue of famed cartoon character Andy Gump.
And it's also the home to lots of Lake Geneva events such as Lake Geneva Concerts in the Park, Winterfest, Art in the Park, and VenetiaFlat.
Downtown Lake Geneva is one of the coolest places to visit in the Midwest.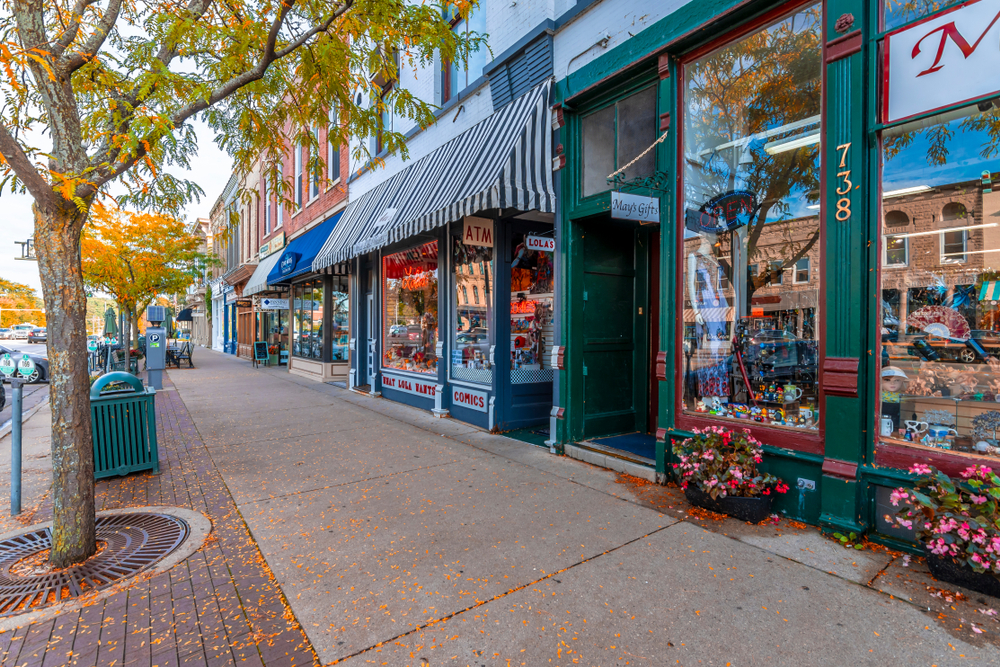 Lazing on a Beach Is One Of The Coolest Things To Do In Lake Geneva
If your ideal day is some rest and relaxation on a cool Wisconsin beach, then Lake Geneva has you covered.
There are several beaches in the area all with a slightly different vibe so choose which one suits you best.
Lake Geneva Public Beach is a great family beach but it can get crowded.
Riviera is a beautiful beach however you have to pay to enter.
Fontana is also a great family beach and again there is a charge here. It's also a great beach for a picnic.
Williams Bay Beach is well maintained and has some great walking trails nearby.
Whichever you choose, going to a beach is one of the activities in Lake Geneva everyone can benefit from.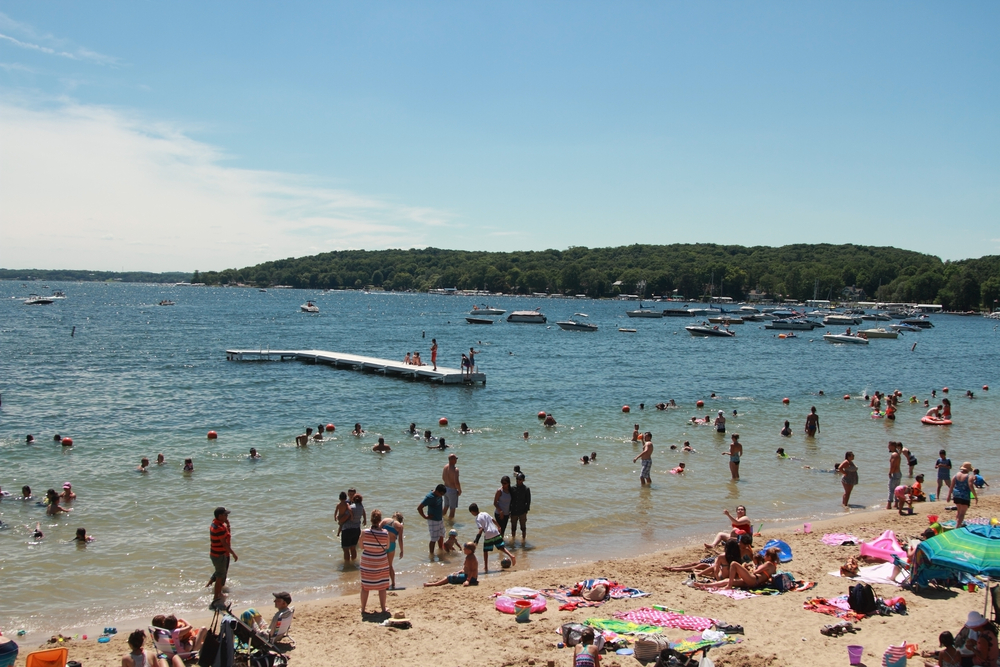 Go On A Boat Trip
There is no better way to see this area than on a boat and there are companies who offer cruises around the lake.
Some offer narration and some don't, some are quick and some tours much longer.
Whichever tour you go on you will get to see the shoreline and the incredible mansions and estate that line it.
The most popular cruise is the US Mailboat Tour. Here you go on a mail route that delivers parcels and packages to houses around the lake.
There are only a handful of places that still get their mail delivered by boat and this is one of them.
And of course, there are cruises that offer evening dinner tours for those that want something a little more special.
One of the coolest things to do in Wisconsin!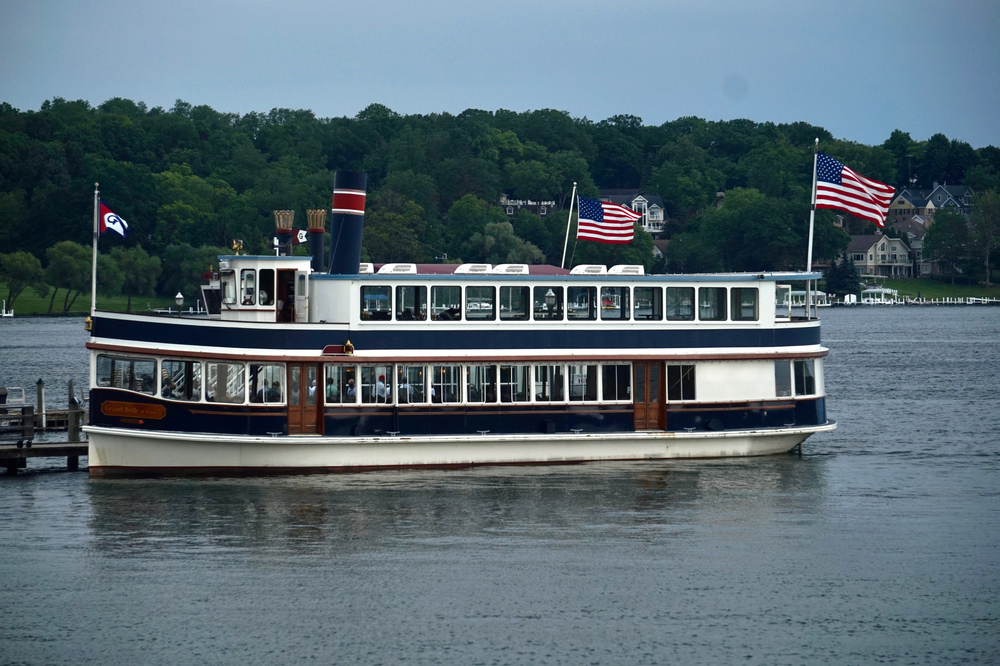 Walk the Lake Geneva Shore Path
If you prefer to get around by foot then the Lake Geneva Shore Path is a great place to start. It is 26 miles end to end but you can just walk, run, or bike a part of it and split it up over several days.
It's a tranquil and charming walk that takes you past some of the mansions that made this area so famous. The scenery is also lovely, especially during fall in Wisconsin.
Just make sure you stick to the path and don't end up on some nearby private property and if you have a dog make sure you have a leash with you.
One of the Lake Geneva activities that everyone can get involved in.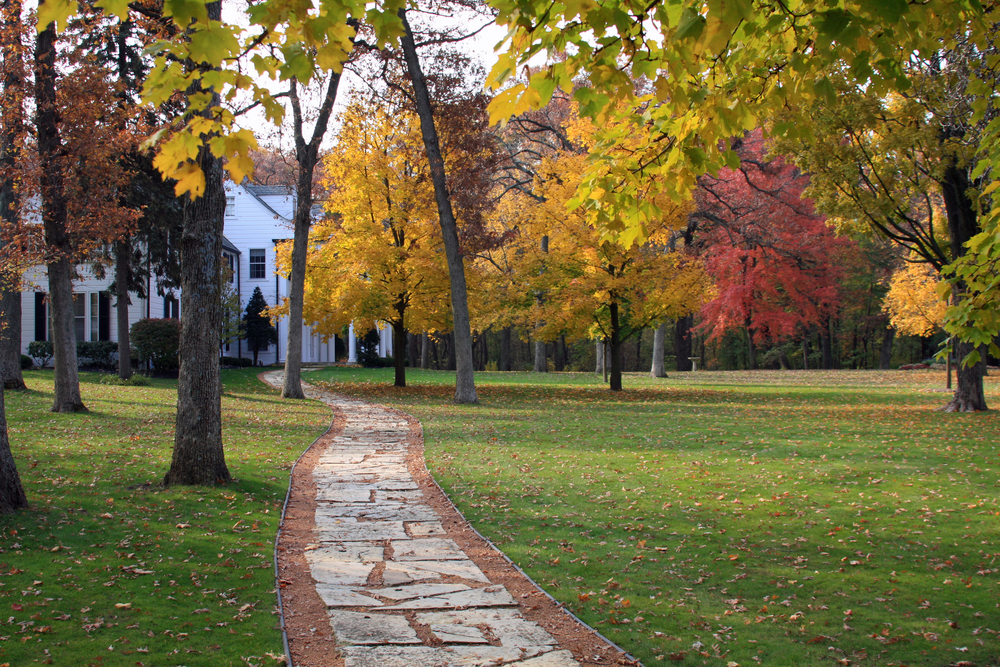 Going Zip-Lining Is A Fun Thing To Do In Lake Geneva Wisconsin
For those a little more adventures Lake Geneva does not disappoint. There are over 100 acres of zip-lining fun for you to enjoy here.
There are a total of nine zip lines in the area each a little different with some suitable for children. There are also three sky bridges and three spiral staircases to enjoy in the trees.
It's not the cheapest thing to do but the equipment is provided and the adrenaline junkies will love it. One of the Lake Geneva activities for those with an adventurous spirit.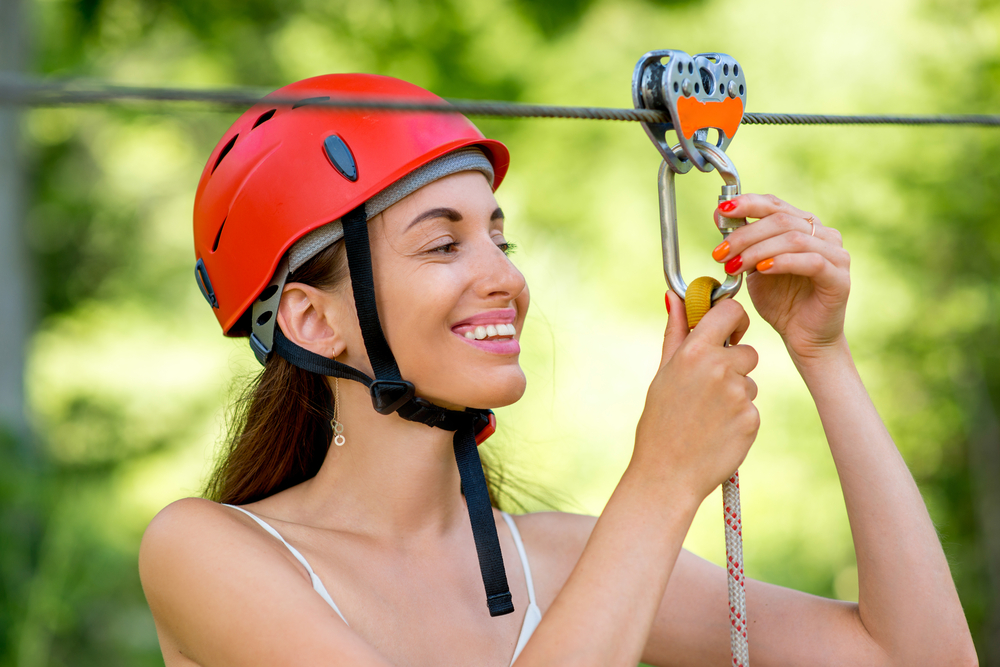 Visit A Brewery
For something a little more relaxation why not take it easy at one of the breweries in Lake Geneva.
It's a great way to support the local economy, unwind and spend some time in conversation.
The three main breweries in the area are The Geneva Lake Brewing Company, Sprecher's Restaurant and Pub, and Topsy Turvy Brewery.
I would suggest picking the one that is nearest to you and making an afternoon or an evening of it.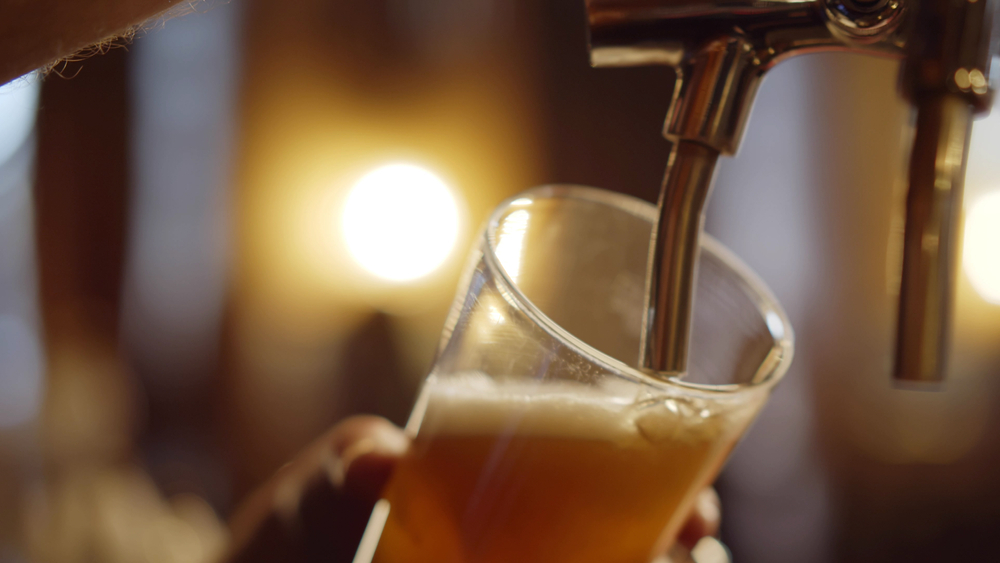 Go Hiking
If you love hiking, it doesn't bet any better than hiking in Wisconsin.
If you want to get enjoy the great outdoors, take a trip to Big Foot Beach State Park.
It's on the shore of the lake and offers over 6 and ½ miles of picturesque trails.
The trails arent that challenging and most agree that the orange trail is the best one. Most trails are wheelchair friendly and dogs are allowed on a leash.
As well as hiking, you can swim, camp and ski in the winter. This is one of those Wisconsin state parks that everyone will love.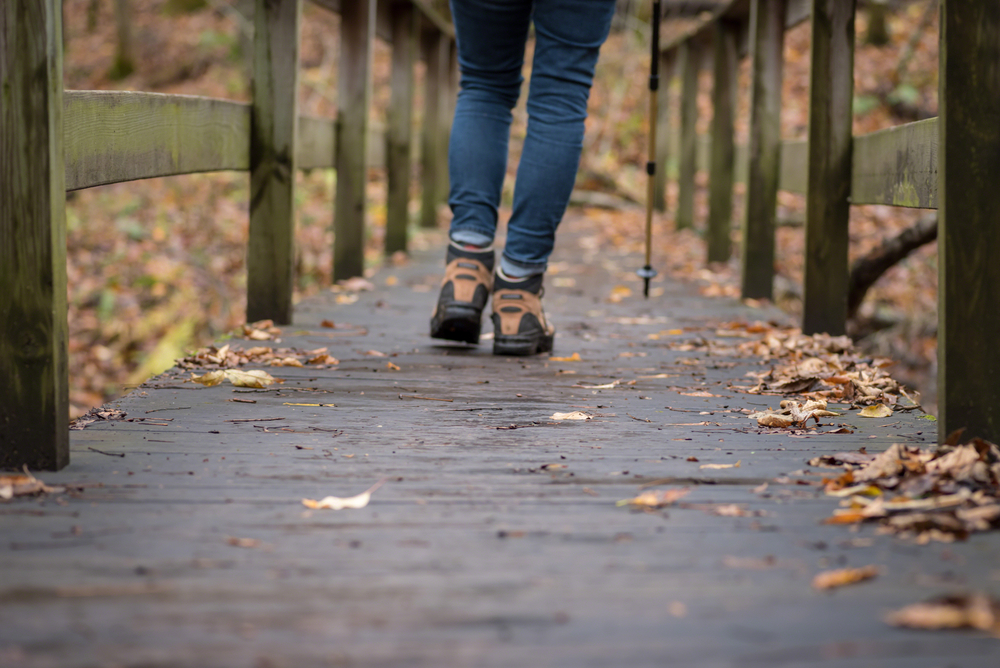 Rent a Scooter
One of the ways to see the attractions in Lake Geneva is by scooter. Yes in Lake Geneva you can hire scooters and go on a self-guided tour.
You are given all the equipment and training you need and you can hire by the hour or day. Lake Geneva is also very scooter friendly with scenic roads, lakeside paths, and some lovely open spaces.
They are really easy to ride and very lightweight. If you can ride a bike you can ride a scooter. It seems like a really fun way to go sightseeing in Lake Geneva.
Marvel At Black Pointe Estate And Gardens
The once the summer home of Chicago businessman Conrad Seipp, Black Pointe was built in 1887 and sits on the shores of the lake.
Seipp's great-grandson donated the house, grounds, and shoreline to the state of Wisconsin. And after renovations, it was opened to the public in 2007.
It's a beautiful 20 room Queen Anne-style home and is full of antiques and memories of lives gone by.
It's majestic and elegant and a lovely place to walk around and explore. It is now managed by the Wisconsin Historical Society.
You do have to take a boat to get there but it's worth that bit more effort. The Geneva Cruise Line tour boat has a tour then and it really is magical.
If you visit Wisconsin in winter, Lake Geneva must be on your list!
Get On Your Bike
If you fancy seeing Lake Geneva under the power of your own legs how about taking to your bike? It's one of the popular things to do in Wisconsin.
While this area is pretty bike-friendly the place to go is the White River Bike Trail. It's an 11.4-mile bike trail that is moderately trafficked.
It's a pretty easy trail on a former rail line Elkhorn to Burlington, WI. You travel through some beautiful glaciial landscape which features some lovely vistas and wildflowers.
It's best April through October and there are places to rent bikes in the town if you didn't bring one. A great way to get out of downtown Lake Geneva and see some of the surrounding areas.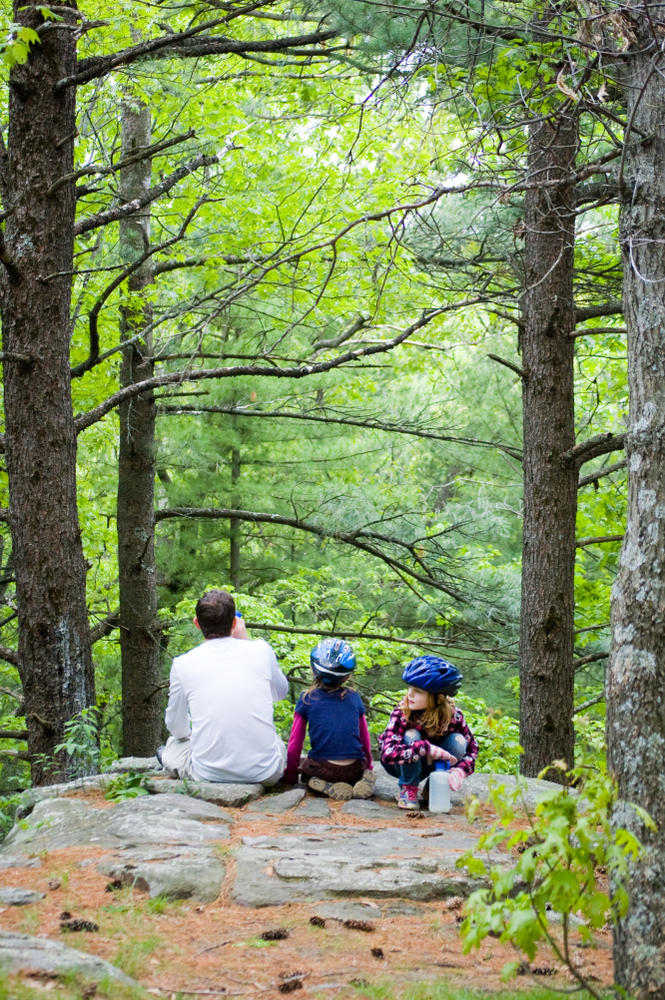 Get the Best View Ever
Want to get the best view of Lake Geneva? How about taking to the air?
Why not do something really special and take a sunset or sunrise hot air balloon flight?
The one-hour journeys end with a champagne toast. The company in the area has a faultless safety record and they really offer delightful experiences.
It's a great way to see the sights from a different perspective and definitely a different way to see downtown Lake Geneva.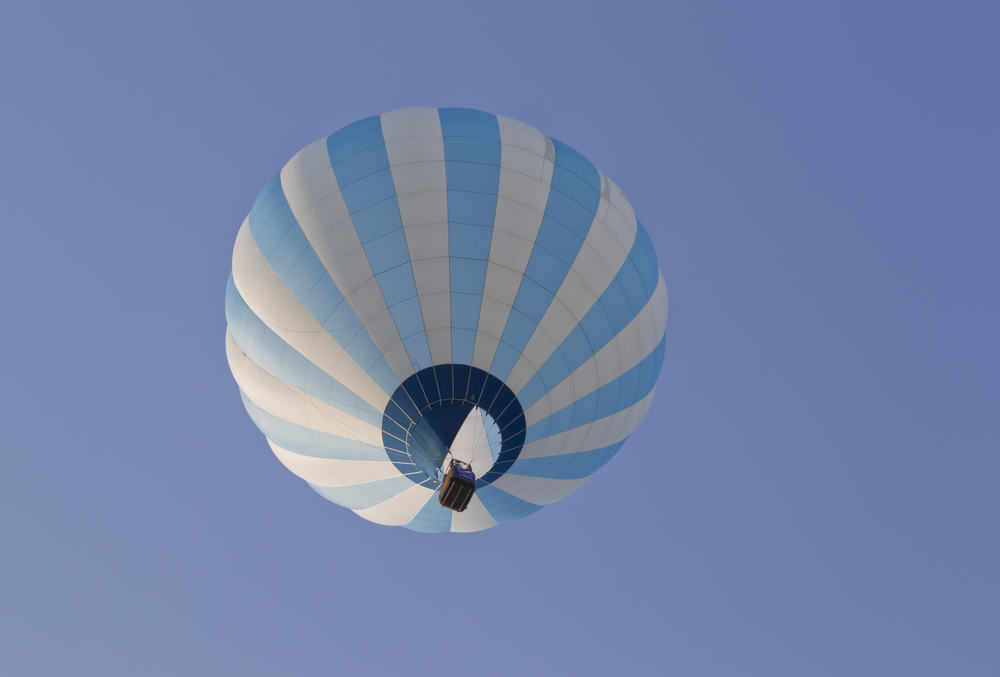 See A Show
One of the events in Lake Geneva WI you need to participate in is the Tristan Crist Magic Theatre. This magic/Illusion show has all the thrills that have become associated with illusionists. Think Vegas style.
The show lasts an hour and it's always fun. It changes often so people don't get bored. These are the kind of tricks that leave you thinking 'how did he do that?'
Its illusions, comedy, and magic all rolled into one and is one of the most popular Geneva attractions.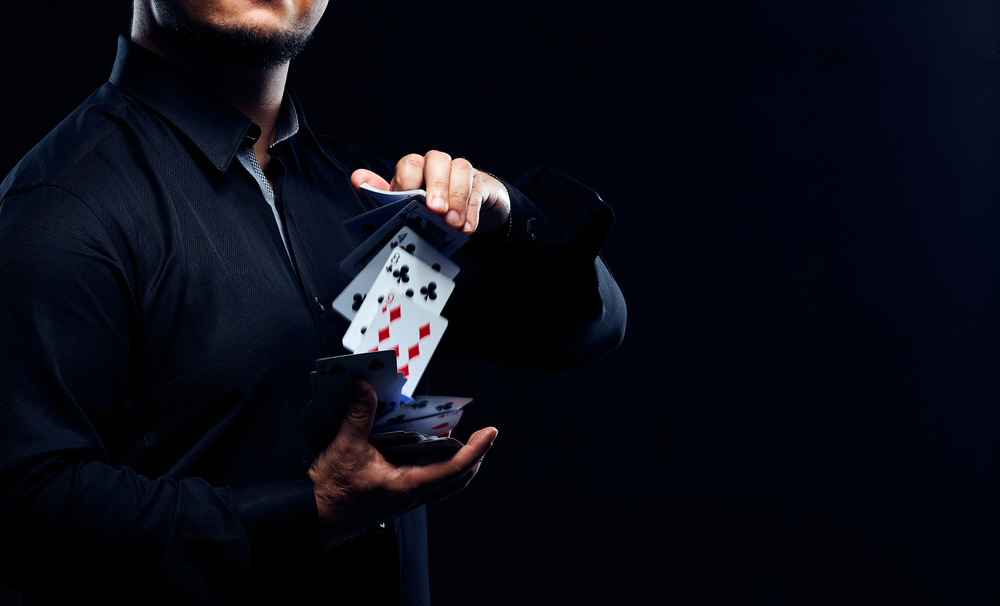 Visit A Winery
A winery and an artist studio mixed into one is why a trip to Studio Winery is a must. The two artists make their own artisanal wines on-site and offer daily wine tastings.
The tasting room is more like an art studio and sometimes they also have local music there.
This is more than a winery it's like a trip into someone else's passion and it's a somewhat relaxing and creative experience all mixed into one.
It has a vibrant and welcoming feel and they take a really lighthearted approach to everything they do here.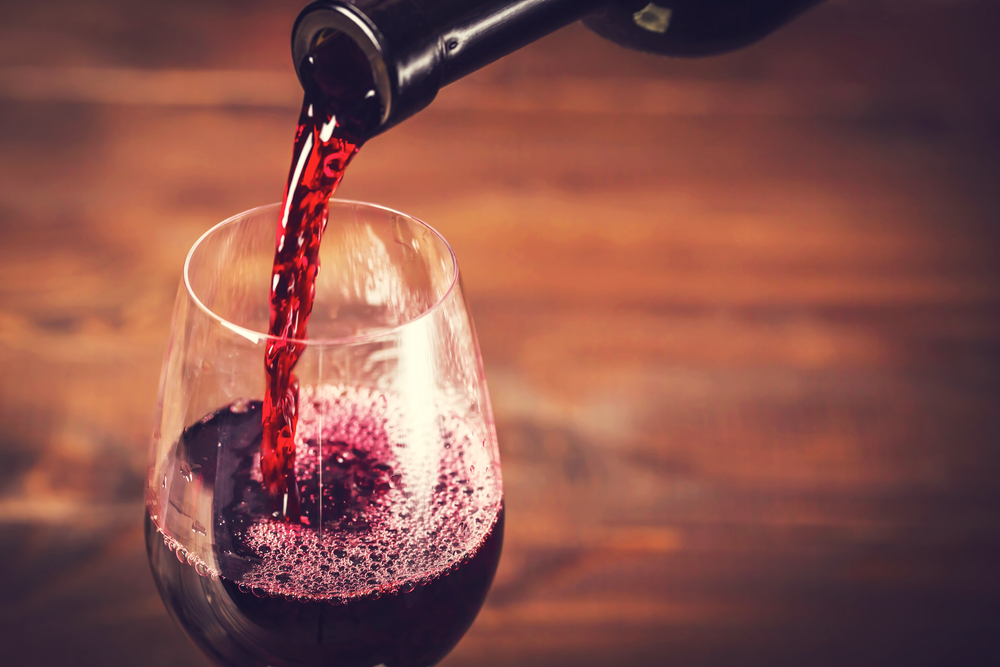 Explore A Nature Reserve
Kishwauketoe Nature Conservancy is about a 10-minute drive away from Lake Geneva and is definitely one of the things to do if you want to get away from the busy Lake Geneva downtown.
It's a 231-acre park with a mix of diverse habitats and ecosystems. You will find wetlands, wood, forest, prairies, and meadows.
There is also an arboretum and several creeks. It's a great place to get lost in nature.
There are various trails and boardwalks to walk along and capture nature at its best. The park is full of interesting flora and fauna as well as birds and wild animals so keep an eye out.
It's definitely one of the scenic trails for hiking in the Midwest.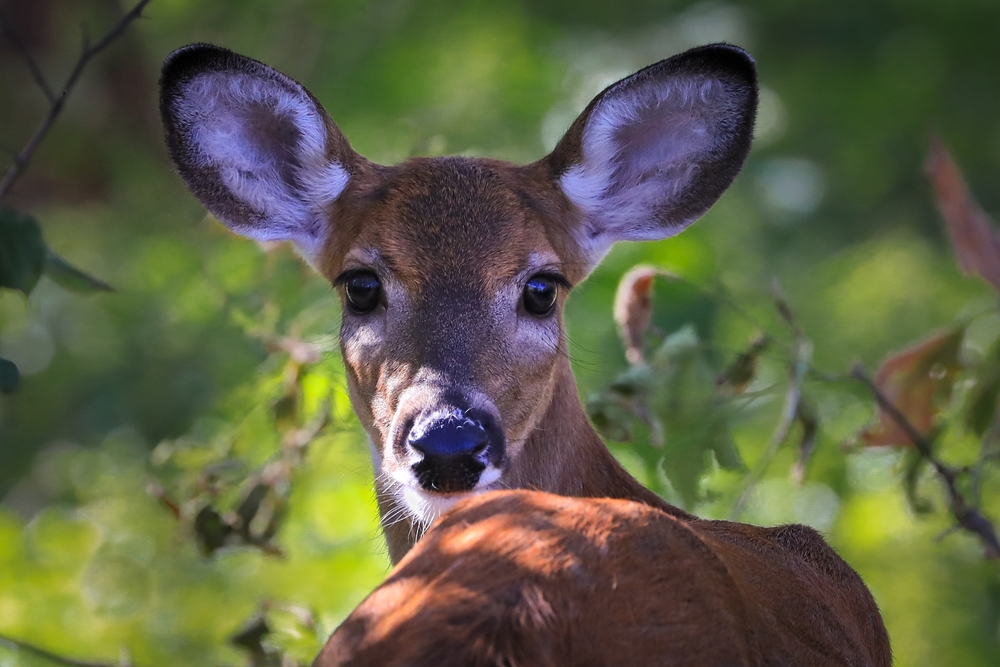 Go To A Waterpark
If you want a day off sightseeing and just want to have some fun then head to Timber Ridge Lodge & Waterpark.
This all-season waterpark has over 50,000 square feet of indoor and outdoor places for you to enjoy. You will find a lazy river, heated pools, water slides, and all kinds of water fun here.
The resorts also have more than 60 arcade games and a variety of activities for children. If you are wondering what to do with children then this is perfect for you.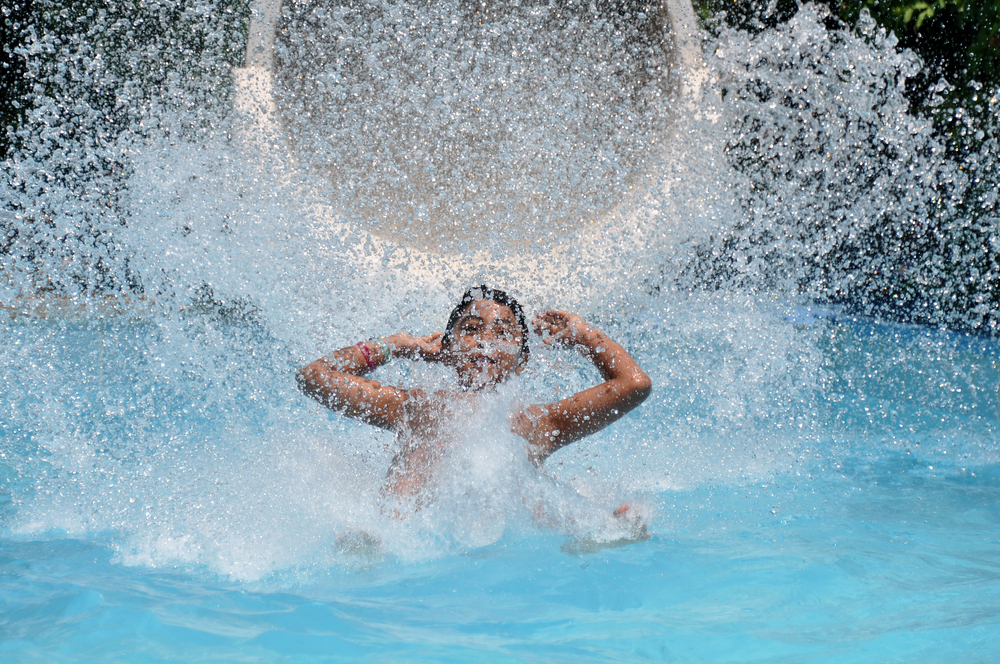 Packing List When Discovering Things To Do In Lake Geneva
If you are searching, here are some tips on how to pack lightly when packing for visiting Lake Geneva Wisconsin.
A concealed travel pouch may be one of the most important items you bring along when exploring the best activities in Lake Geneva. It is always important to protect your personal information. Identity thieves are everywhere.
This unisex RFID blocking concealed travel pouch is lightweight and comes in several colors. It has lots of organization to give you peace of mind. You can place it under your clothes next to your body to carry your ID safely.
If you have a pouch already that does not come with the RFID protection, as I do, these RFID sleeves are the perfect solution.
If you are planning on taking a lot of pictures with your phone you will definitely want to consider an external charging battery. This Anker high-speed phone charging battery is the exact one I carry with me on all of my trips.
I like that it holds its charging capabilities for several uses so I do not have to worry about it while out and about, and if I forget to recharge it at night, it will still be good to go the next day.
My daughter gifted me with this FugeTek selfie stick and tripod setup for my birthday. I absolutely love it! It is made of lightweight aluminum and is so easy to use.
It has Bluetooth connectivity and is a breeze to use for taking Insta-worthy selfies while discovering island getaways in the US.
I never much believed in using packing cubes when traveling. That is until I tried them. Now I am hooked. These are the exact cubes I use to stay organized when I pack for a trip!
You will want to bring your own refillable water bottle with you.
I never leave home on a trip without my Bobble filtration bottle. The 18.5-ounce size is perfect for your adventures and it fits nicely in the pocket of a backpack.
Perhaps you are traveling a long distance and packing space is a premium in your suitcase, or in your car. Then this set of collapsible silicone foldable water bottles would work well for you. Would not take up much space at all.
You will want a backpack or daypack with you to store snacks, your water bottle, phone, extra clothes, etc.. while attending any of the events in Lake Geneva. No matter the time of day or evening.
This foldable water-resistant backpack would be great. And it comes in many different colors.
—
As you can see there is so much to do in this area. From attractions to outdoor WI camping spaces and events, this place has it all.
I do hope that this has given you some ideas and whatever you choose to do I know you will have an amazing time. Please come back and tell me all about it.