Are you looking for cozy cabins in Wisconsin? You are in the right place. In this article, I will walk you through Wisconsin cabins, log cabins in the woods, and Wisconsin VRBOs.
Wisconsin is the perfect state for a cabin rental with its beautiful beautiful beaches and shorelines, charming small towns, incredible scenery, epic camping opportunities, and interesting typology.
It's a state perfect for nature lovers and outdoor enthusiasts with lots of hiking and outdoor activities available. It's also a great state for those that like to get close to nature or perhaps watch it through the windows in their cabin rental.
Cabins in Wisconsin come in all shapes and sizes from the stereotypical log cabins in the woods to the cabins on the beach, to cabins in more urban areas. In this article, I have picked a large option for you to choose from.
All these cabin rentals in WI are highly rated and have very positive reviews. I've included cabins in the Wisconsin Dells, cabins in Door County, and Lake Geneva cabins. All these Wisconsin VRBOs are beautiful whatever the season but especially if you are wanting to enjoy autumn in Wisconsin.
Here are 15 cozy cabins for your next Wisconsin getaway.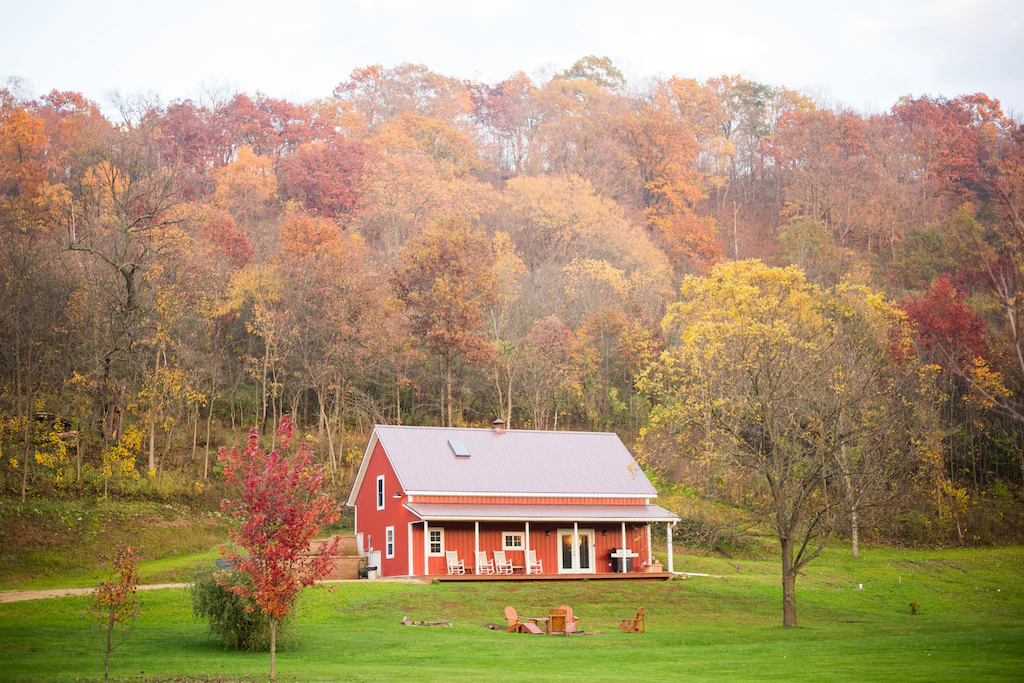 15 Cozy Cabins In Wisconsin For A Getaway
Seagull Beach Guest House
This cabin in Wisconsin has a spectacular view of your own private beach and the woods beyond. Seagull Beach Guest House is in a quiet and peaceful setting near Sheboygan in three acres of secluded woodland.
The sunrises here are incredible and there is nothing like the view from the balcony when the moon is full. Scenic trails are right on your doorstep and you are steps away from the state park.
The property sleeps four and there are two queen beds. The living room has sliding doors to the balcony deck and there is a large fireplace and a sleeper sofa.
The property is light and airy with a seaside feel and has stained glass windows which provide some incredible interesting light.
Bikes, paddleboards, kayaks, kites, beach chairs, and firewood are all provided. This property is perfect for families with small children. When it comes to Wisconsin cabins this one is a really great find.
Click Here To Check The Rates On VRBO.com.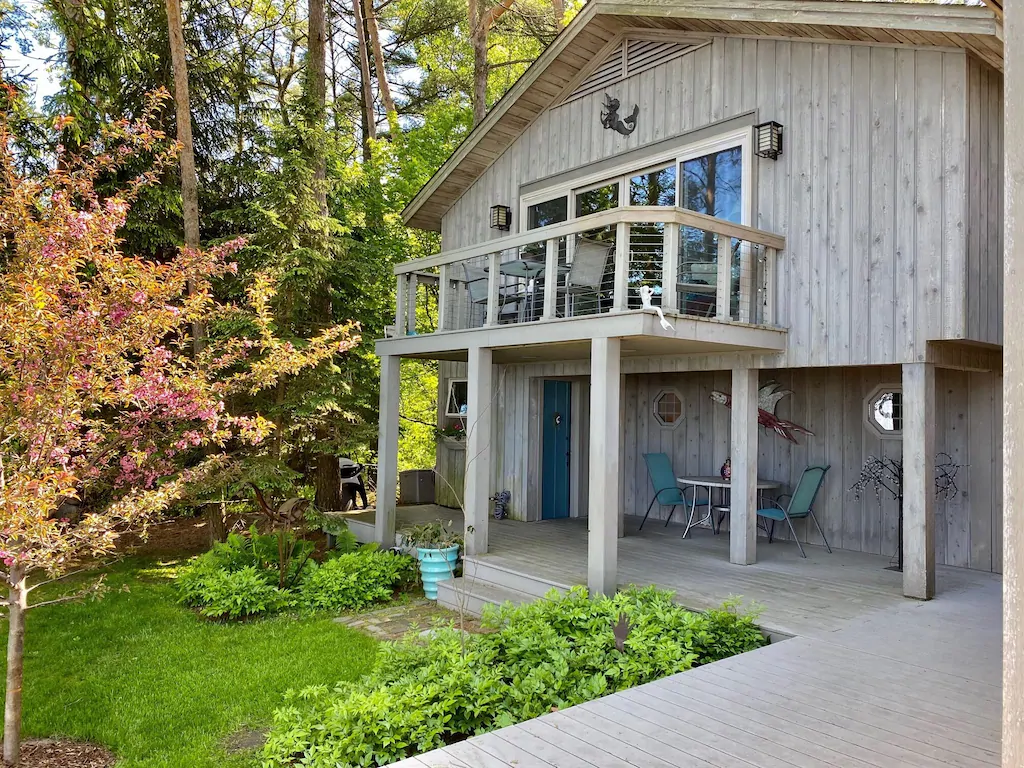 Surf Daze
Nestled on the shores of Lake Michigan in Sheboygan County Surf Daze WI cabin looks right out over the lake. The large balcony means you can make the most of the view.
There is a lovely fireplace for a cozy evening in the large living room. There is a full kitchen and everything you need to have a great vacation.
The cabin sleeps six comfortably and really is a lovely property. There is so much to see and do nearby including the Kohler-Andrae State Park.
Click Here To Check The Rates On VRBO.com.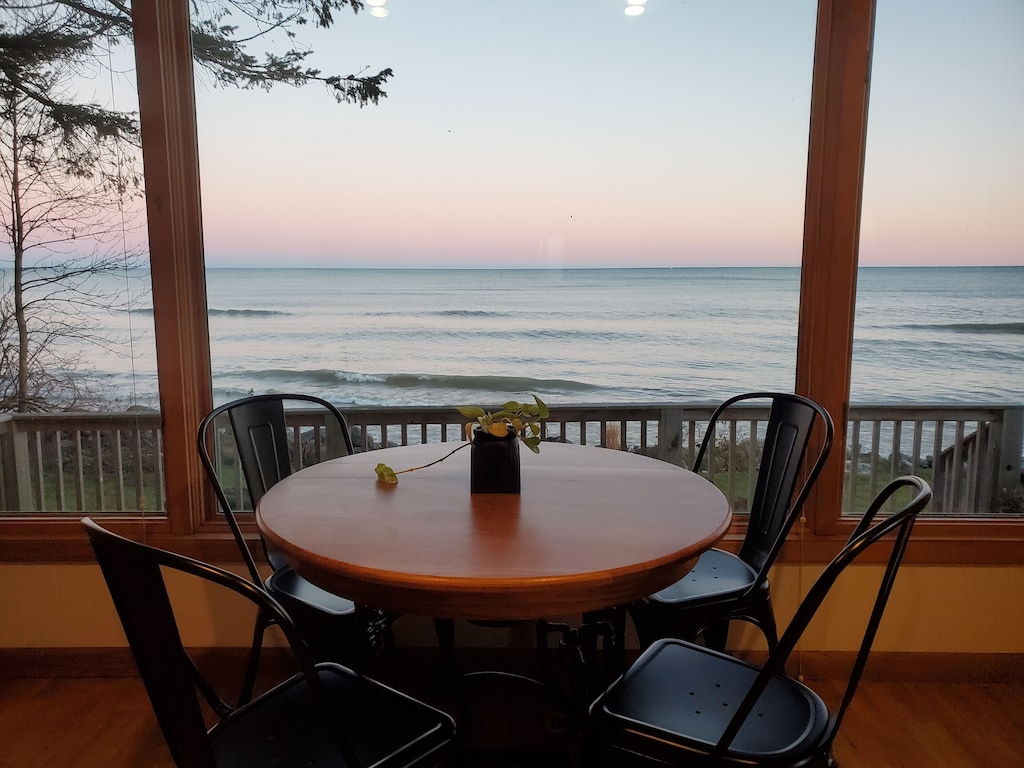 5 Bedroom Chalet On WI River
If there is a group of you then this VRBO Wisconsin rental might be perfect for you. This Epic Family Chalet on the Wisconsin River near Merrill sleeps 12 in nine bedrooms.
In over an acre of private land with 150 feet of Wisconsin River frontage, this property is perfect if you are trying to get away from it all. The property has a well-equipped games room and four large TVs throughout the property.
The kitchen has all you need and there is a firepit and outside grill. The property also comes with a 3 person canoe and 2 kayaks.
This cabin rental is perfect for a group of friends or a large family.
Click Here To Check The Rates On VRBO.com.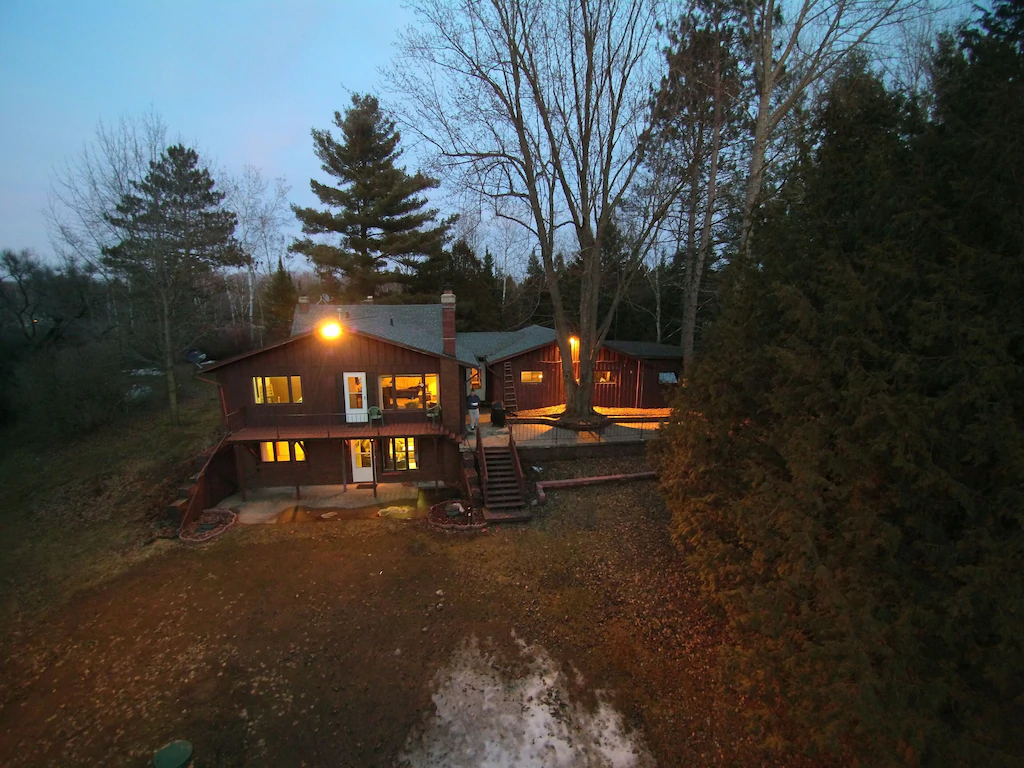 Downtown Lake Geneva Cottage
This charming two-bedroom cottage sleeps 5 and is only minutes from Lake Geneva. Downtown Lake Geneva Cottage has private parking a private deck and a yard with a fire pit.
There is a gallery kitchen and everything you need is here. This is a great Wisconsin VRBO for families with small children as the yard is large and it's so close to downtown if you need anything.
Lake Geneva cabins don't get much more central than this one.
Click Here To Check The Rates On VRBO.com.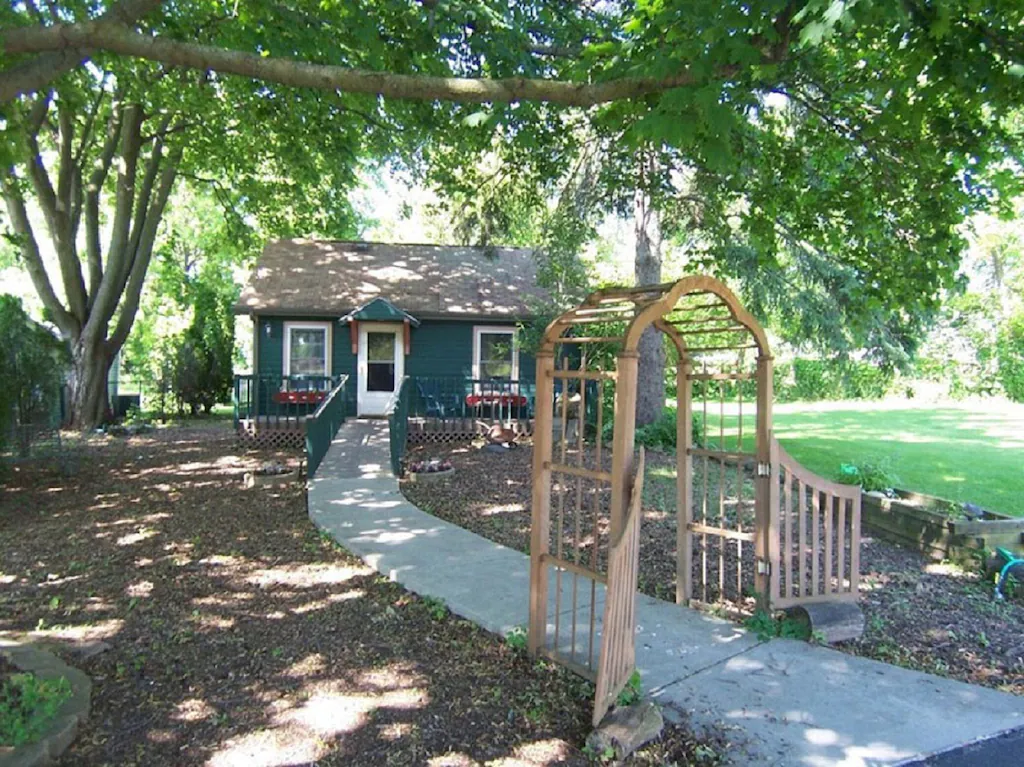 A-Frame On Horseshoe Lake
Near Newton A-Frame On Horseshoe Lake sleeps four and is right on the lakeshore. There is a large deck, fire pit, gas grill, dining table, and chairs all helping you enjoy the view.
There are also 2 kayaks and a rowboat for you to enjoy. The A-frame is set over two floors and has two bedrooms and a walk-in shower.
There is a fully equipped kitchen and indoor and outdoor dining areas.
Click Here To Check The Rates On VRBO.com.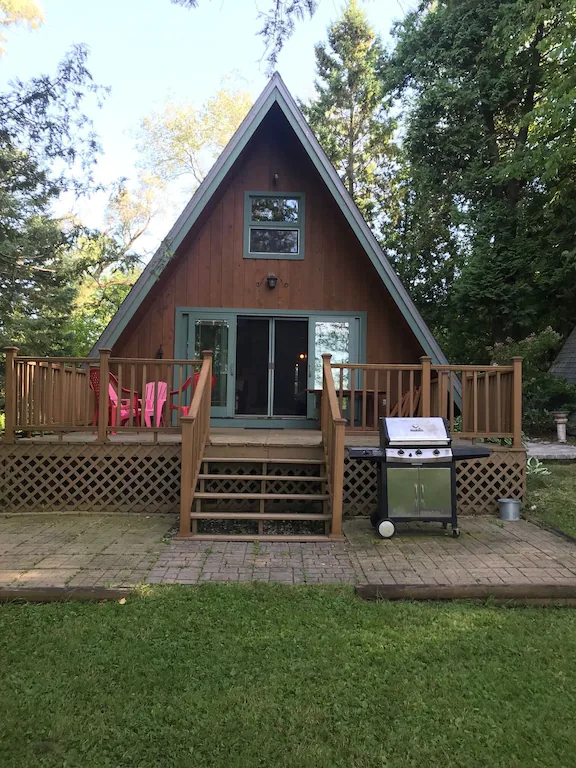 Cabin On The Kickapoo
If you are after a perfect romantic getaway then this Wisconsin cabin near Readstown might be perfect for you. The Cabin on the Kickapoo sits in just over 6 1/2 acres of land that connects to the Kickapoo River.
There is everything you need here including a firepit for relaxing. Readstown is also a lovely town to explore with many antique shops. This is also a great area for hiking and exploring.
There is one bedroom and the property can sleep 4.
Click Here To Check The Current Rates On VRBO.com.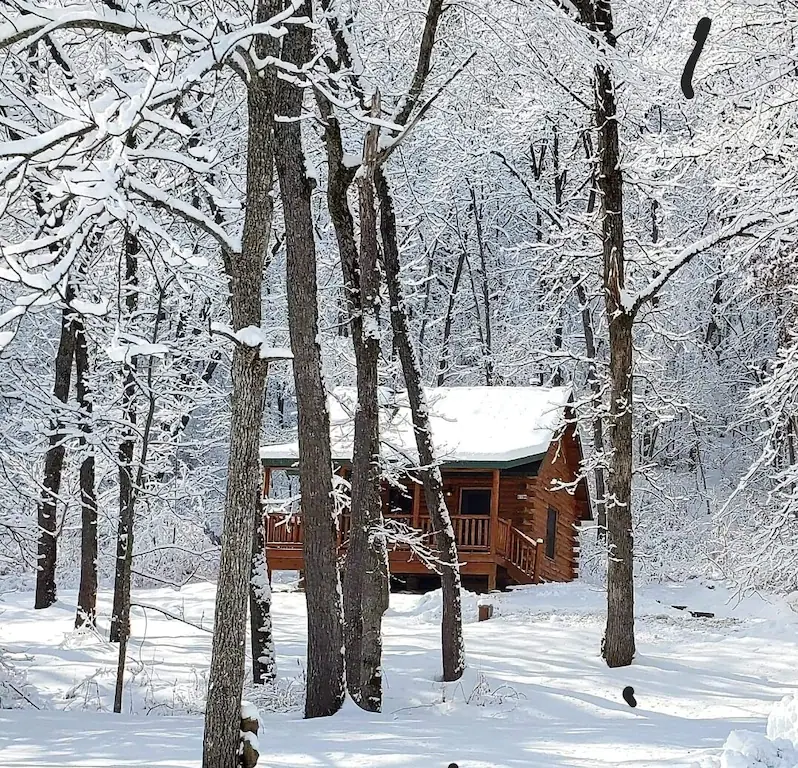 The Honey Barn & Honey House
This cabin in Wisconsin sleeps six and is just stunning inside and out. The Honey Barn & Honey House is located in Vernon County in the beautiful Kickapoo Valley. And this WI cabin is really picture perfect.
It's in a quiet location with easy access to lots of activities. Bike Trails, Kickapoo River Canoeing & Kayaking are all accessible.
The cabin has an open-plan floorplan and two bedrooms.
Click Here To Check The Rates On VRBO.com.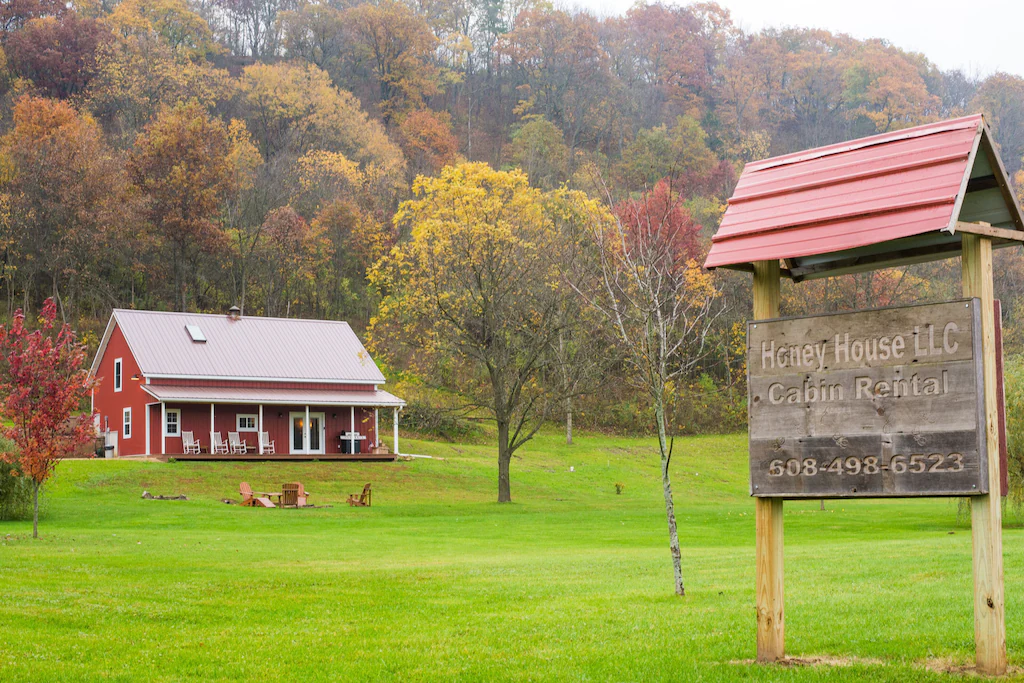 Grand View-Riverview Cabin
This VRBO Wisconsin sleeps 8 and is in the Eagle Mountain area. Grand View-Riverview Cabin is located in a quiet location in the bluffs above the village of Ferryville.
This cabin is lovely with all the amenities and cozy comforts you could wish for. There is a large great room with a fireplace a spacious kitchen and a dining room with plenty of seating.
Upstairs there is a loft with a king-size bed, the lower-level bedrooms have queen-sized beds and the family room has a sofa sleeper. There is also a hot tub on the patio.
Click Here To Check The Rates On VRBO.com.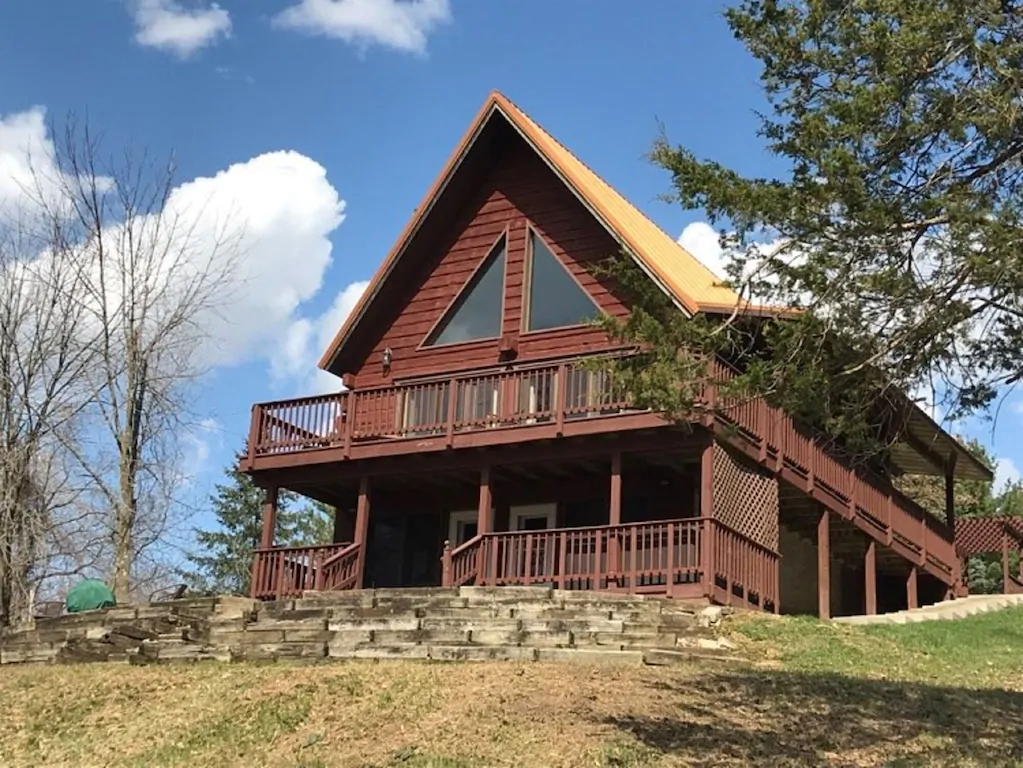 Cozy Lakefront Cabin
Sleeping 6 this cabin for rent in northern WI has three bedrooms and lake views. Cozy Lakefront Cabin is located on Loon Lake less than 10 minutes from Turtle Lake, WI.
Surrounded by the Loon Lake State Wildlife Area this cabin feels very private with a shoreline on two sides. The open design and large windows give great views of the lake.
The dock and swimming area are just 25 feet from the patio door and the lake has a sandy bottom making it perfect for swimming.
The area is great for hiking and you are close to bars and restaurants should you need them.
Please Click Here To Check The Rates On VRBO.com.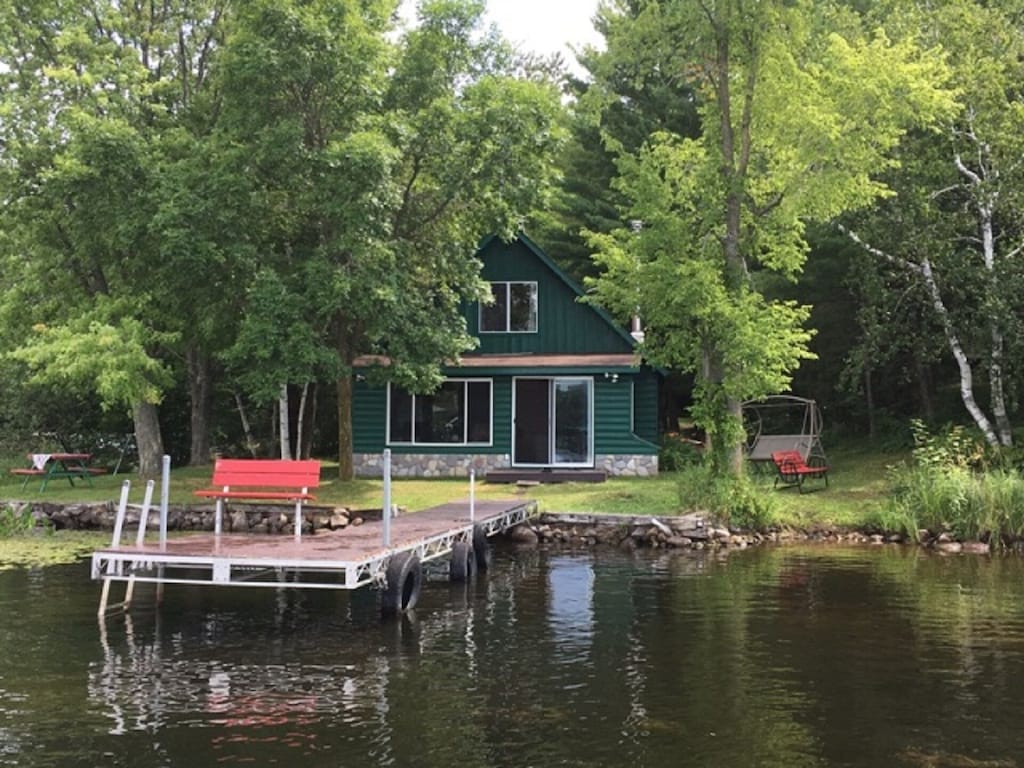 Waterfront Island
Gordan Isle View is situated on Riley's Point, just 10 minutes south of Sturgeon Bay. At Waterfront Island there are two properties side by side each having its own private yard. One of the cabins has two bedrooms and the other has three.
They both sit on their own private waterfront and they have an old-world charm with open living and ample entertaining space. There are also large screened-in porches that overlook the water.
The cabins are equipped with all modern facilities and have everything you will need. There are also outside grills and firepits.
The properties can be booked together or separately. If you looking for Door County cabins one of these might be perfect for you.
Click Here To Check The Rates On VRBO.com.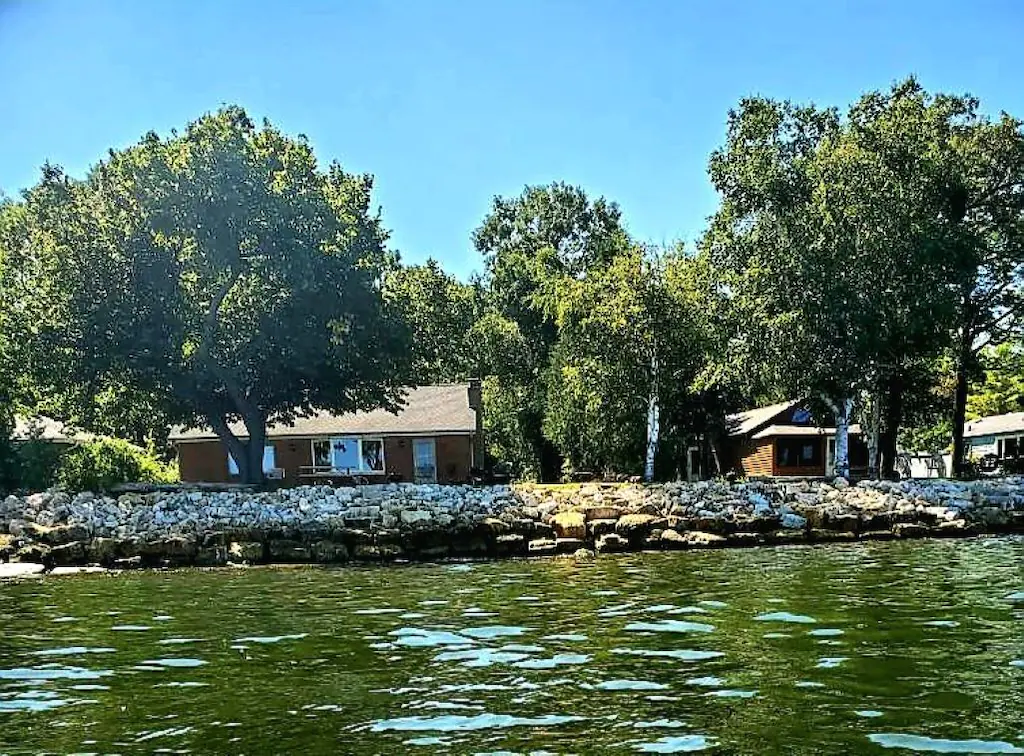 The Driftless Escape
If you bring a log cabin to your mind chances are it will probably look like. The Driftless Escape. Next to a stream and nestled between 2 valleys, it's in the perfect location.
The cabin has loads of space 2150 square feet to be exact. There is a two-story rock fireplace a huge wrap-around porch, a large great room, and a lovely master suite.
The cabin sleeps 8 with six bedrooms. The cabin sits in a large lawned yard surrounded by woods.
Click Here To Check The Rates On VRBO.com.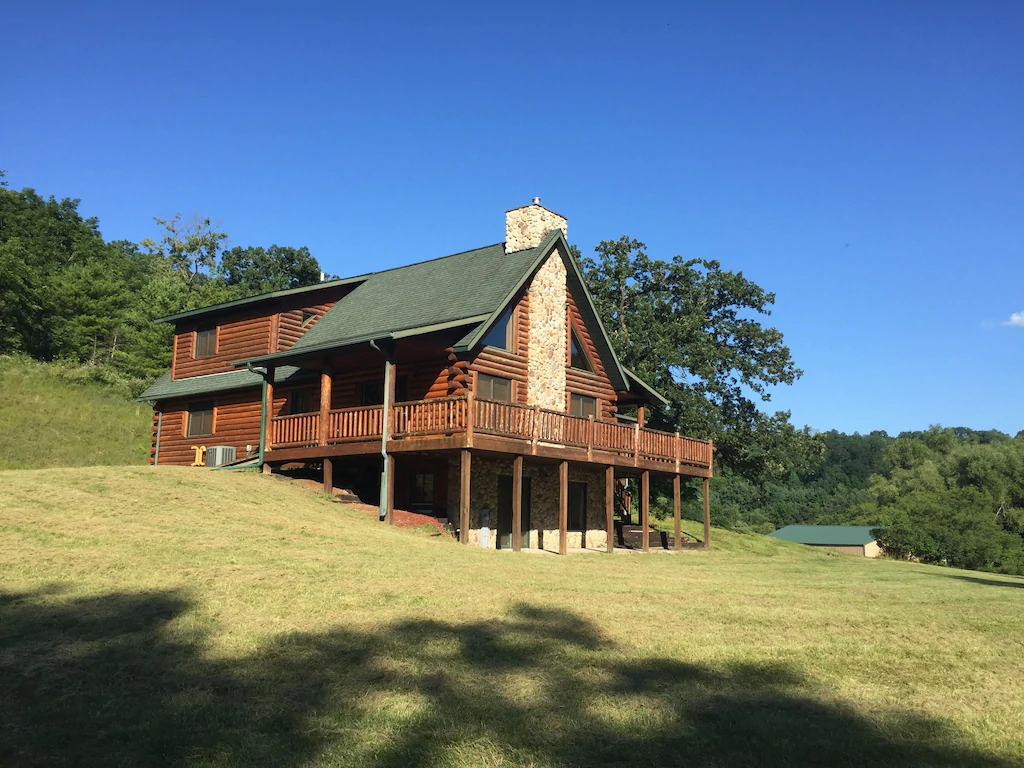 Excellent Lake Home
If there is a large group of you this WI cabin sleeps 23 in 14 bedrooms, this place is huge. In Wautoma in Waushara County, Excellent Lake Home is by far one of the nicest lake houses you have ever seen.
On the shores of Irogami Lake with a hard sand natural beach shoreline, there is plenty to do in the area.
Downtown Wautoma is also full of lovely shops, restaurants, and an old-fashioned ice cream parlor.
The cabin is located across from a natural wildlife area and on a quiet dead-end road.
It'salso west facing so you get the most incredible sunsets. A deck leads into the lake and the shallow shoreline makes it perfect for small children.
This house is large with a huge kitchen,n a large dining table, and a family area in the lower level which is an activity/game hub. Outside there is a fire pit, large grill, swings, and climbing frame.
It's just the perfect Wisconsin cabin for a family gathering or to meet friends.
Click Here To Check The Rates On VRBO.com.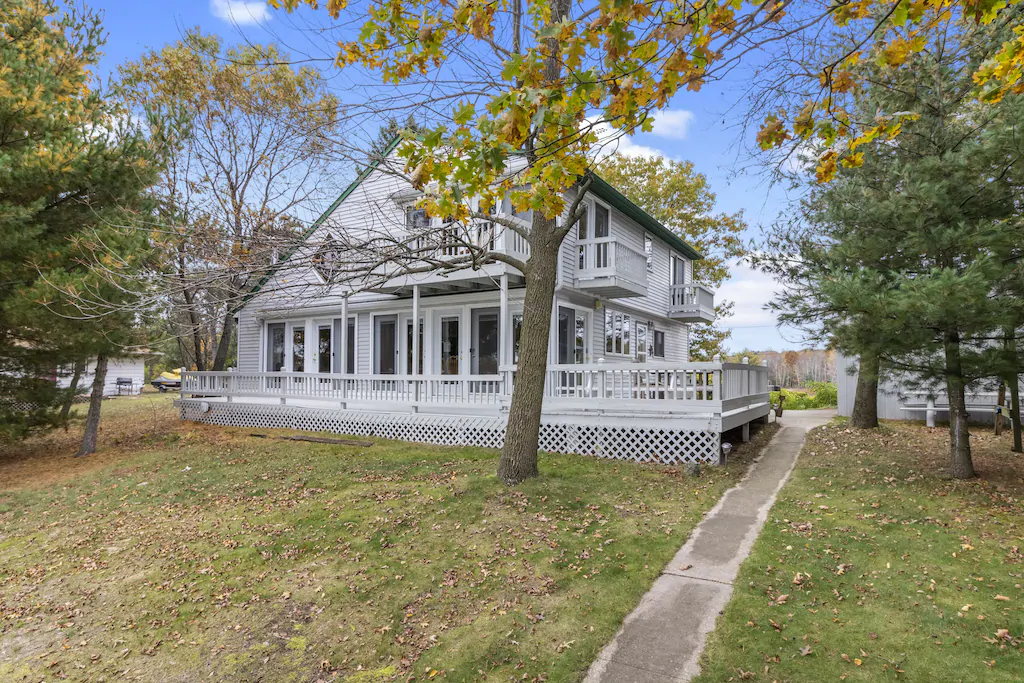 Wisconsin Dells Cabin
With 6 bedrooms sleeping 12 Wisconsin Dells Dream Cabin is a little bit of luxury for those looking for a special vacation. Adeline is timeless, beautiful, luxurious and the perfect VRBO Wisconsin Dells.
This Wisconsin Dells cabin is located in Green Lake County on Lake Puckaway. This is more like an estate than a cabin with 300 feet of channel frontage and meticulously maintained gardens.
The home is just stunning with over 300 feet of channel frontage and surrounded by a meticulously maintained private estate. The home has a 20-foot long and 6-foot deep custom-built hot tub and a pool table in the game room.
It's really difficult to this place it's the sort of place you have to see to believe. There is even an antique jukebox, a piano, a pinball machine, a slot machine, a fireman's pole, and a 20-foot bar.
The six bedrooms each have private access to the wrap-around porch. The porch has 5 porch swings and 2 swinging day beds and the hot tub room has a swim-up fireplace.
I could talk about this Wisconsin Dells VRBO forever as it really is extraordinary. If are looking for a Cabin in the Wisconsin Dells that is something special then this is it.
Please Click Here To Check Current Rates On VRBO.com
Rustic Personal Retreat Cabin, "Sunrise"
If you are looking for the real 'log cabin' experience then this might be it. Rustic Personal Retreat Cabin, "Sunrise" is nestled in the woods at the end of a 5-mile dirt road.
There is everything you need here including a large sandy beach on the south shore of Lake Superior. It's so quiet here all you will hear is the birds singing and the wind rustling through the trees.
This cabin for rent in northern Wisconsin is just 30 minutes outside Duluth so it is conveniently located if you want to get out and explore Duluth WI!
Click Here To Check The Rates On VRBO.com.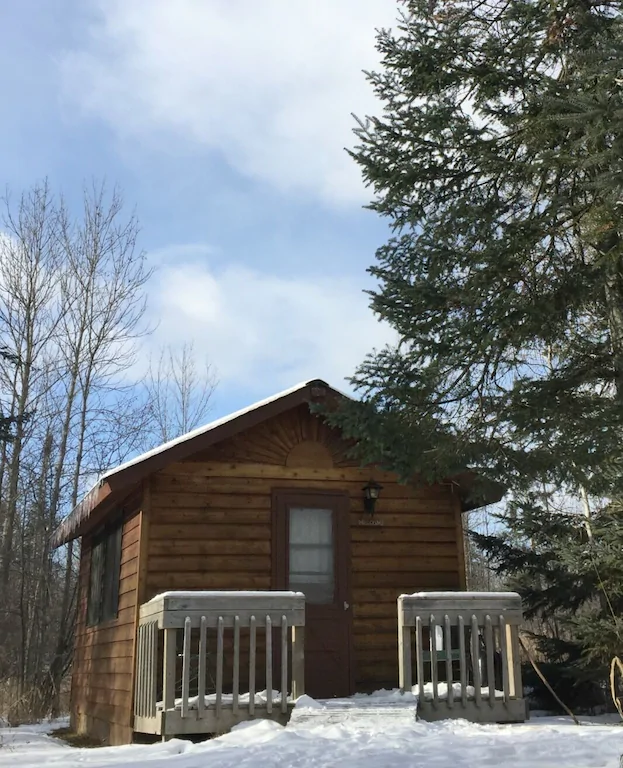 Romantic Log Cabin On Lake Wilipyro
If you are looking for a solitary retreat or a romantic getaway this romantic log cabin situated on Lake Wilipyro might be the one for you. This cabin is one of seven cabins in eight acres of secluded woodland.
You also have access to 950 feet of frontage Lake Wilipyro. The rental includes a canoe so you can enjoy the water.
Surrounded by the Chequamegon National Forest there are lots of incredible hiking trails in this area. Outside the cabin, you will find an outdoor grill, fire pit, and a picnic table.
There is also a wood-fired sauna on the property in a separate building. This is one of the cabins in Wisconsin perfect for a romantic getaway.
Click Here To Check The Rates On VRBO.com.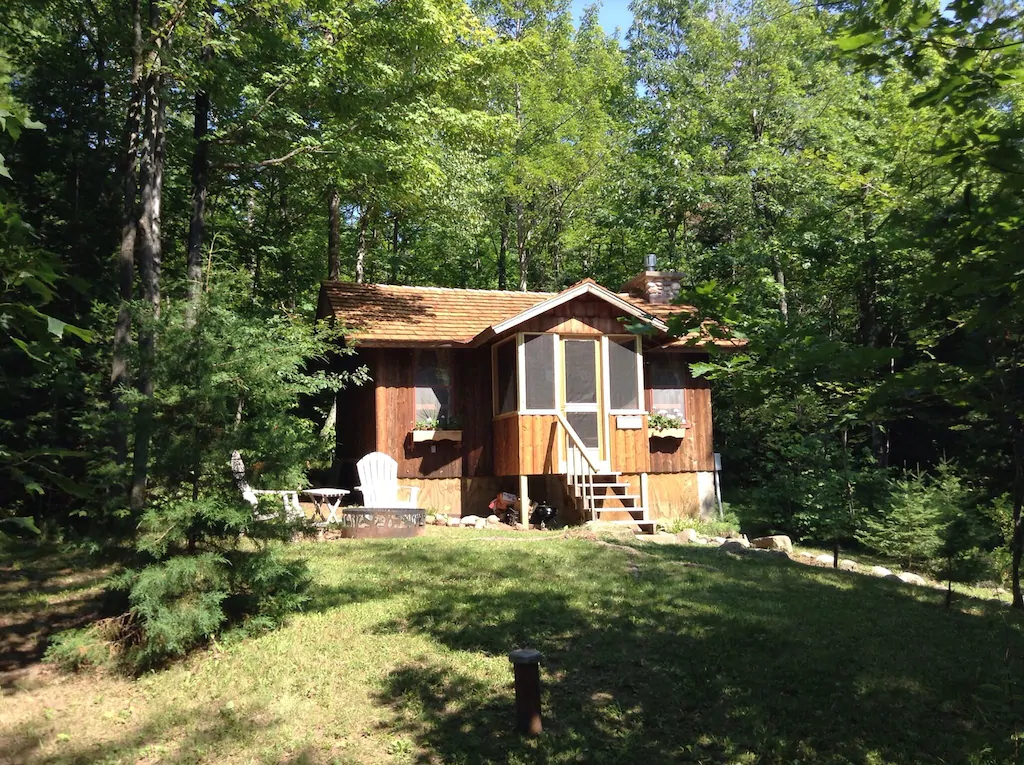 Packing List When Staying In One Of The Epic Cabins In Wisconsin
If you are searching, here are some tips on how to pack lightly when packing for your Wisconsin vacation.
A concealed travel pouch may be one of the most important items you bring along when visiting cabins in WI. It is always important to protect your personal information. Identity thieves are everywhere.
This unisex RFID blocking concealed travel pouch is lightweight and comes in several colors. It has lots of organization to give you peace of mind. You can place it under your hiking clothes next to your body to carry your ID safely.
If you have a pouch already that does not come with the RFID protection, as I do, these RFID sleeves are the perfect solution.
If you are planning on taking a lot of pictures with your phone you will definitely want to consider an external charging battery. This Anker high-speed phone charging battery is the exact one I carry with me on all of my trips.
I like that it holds its charging capabilities for several uses so I do not have to worry about it while out and about, and if I forget to recharge it at night, it will still be good to go the next day.
My daughter gifted me with this FugeTek selfie stick and tripod setup for my birthday. I absolutely love it! It is made of lightweight aluminum and is so easy to use.
It has Bluetooth connectivity and is a breeze to use for taking Insta-worthy selfies while discovering South Bend attractions.
I never much believed in using packing cubes when traveling. That is until I tried them. Now I am hooked. These are the exact cubes I use to stay organized when I pack for a trip!
You will want to bring your own refillable water bottle with you.
I never leave home on a trip without my Bobble filtration bottle. The 18.5-ounce size is perfect for your adventures and it fits nicely in the pocket of a backpack.
Perhaps you are traveling a long distance and packing space is a premium in your suitcase, or in your car. Then this set of collapsible silicone foldable water bottles would work well for you. Would not take up much space at all.
You will want a backpack or daypack with you to store snacks, your water bottle, phone, extra clothes, etc.. during long hours of visiting the cities in the Midwest. No matter the time of day or evening.
This foldable water-resistant backpack would be great. And it comes in many different colors.
—
As you can see when it comes to cabins in Wisconsin there are so many to choose from.
Whether you choose a Wisconsin Dells cabin, one of the Door County cabin rentals, or a Lake Geneva cabin rental you will not be disappointed.
Wisconsin is an incredible state and one of the best places to visit in the Midwest!
With so much to see and do and staying in log cabins in the woods just makes your vacation extra special.
These Wisconsin VRBOs are all perfect for that special vacation. I hope you have a great vacation and come back and tell me all about it.