Wondering what there is to do in winter in Door County Wisconsin? You are in the right place.
In this article, I will walk you through all the things to do in Door County in winter and tell you all you need to know about Door County in winter.
Winter in Wisconsin is truly beautiful the landscape takes on a magical feel and outdoor activities are plentiful. If you love winter you will love Door County winter.
In my mind winter is the best time to visit Door County, Wisconsin. There is so much to see and do in Door County and the winter season only adds to the fun.
So are you ready to see what winter activities in Door County I have chosen for you?
Pull up a chair, wrap yourself in a blanket, grab a hot chocolate and let me walk you through what to do in Door County in winter.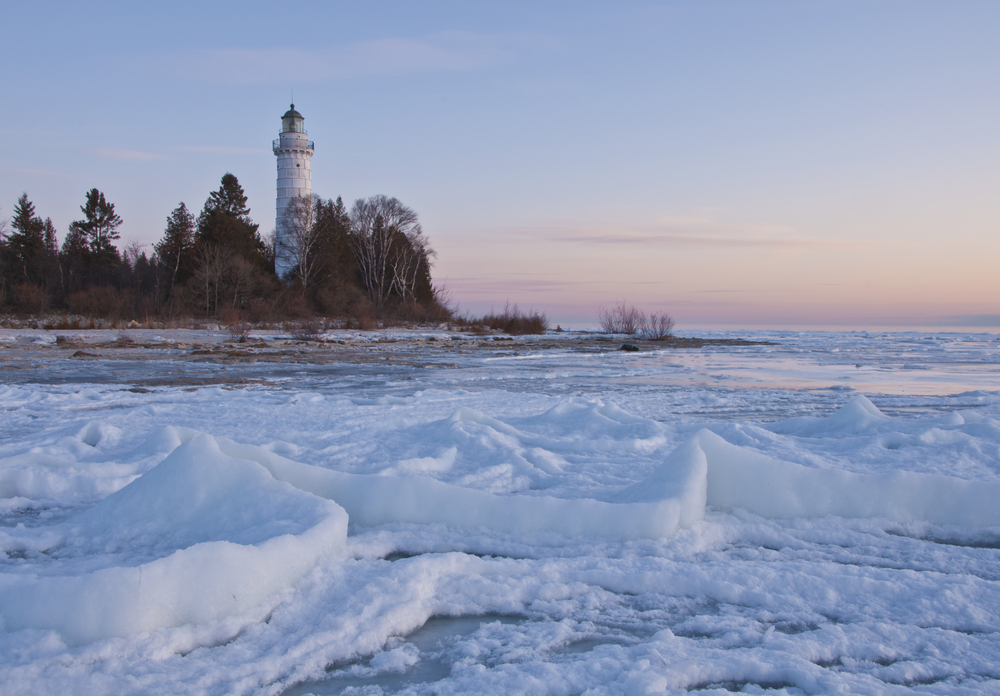 15 Best Things To Do In Winter In Door County WI
Watch The Northern Lights
The main reason that winter is the best time to visit Door County is the northern lights. Yes, those beautiful colors that light the sky can be found in Door County.
If you are looking for things to do in winter then northern light chasing has to be high on the list. You need a cloudless night, a new moon, a view of the northern sky, and a lot of patience.
Door County's dark skies and low levels of light pollution offer some great opportunities to see this phenomenon.
While there are many areas to view them Newport State Park is your best bet to spot the lights.
Newport State Park is a dark-sky designation. It is known for its clear views of the night sky due to low levels of light pollution.
Rock Island State Park and Washington Island are also great locations.
So pack yourself some warm clothes, a blanket, and a flask of hot chocolate, and see if you can catch a glimpse of the brightly colored skies.
Winter in Door County, Wisconsin is truly special, and catching the northern lights is the cherry on the cake.
There are resorts in Door County WI that are open during winter.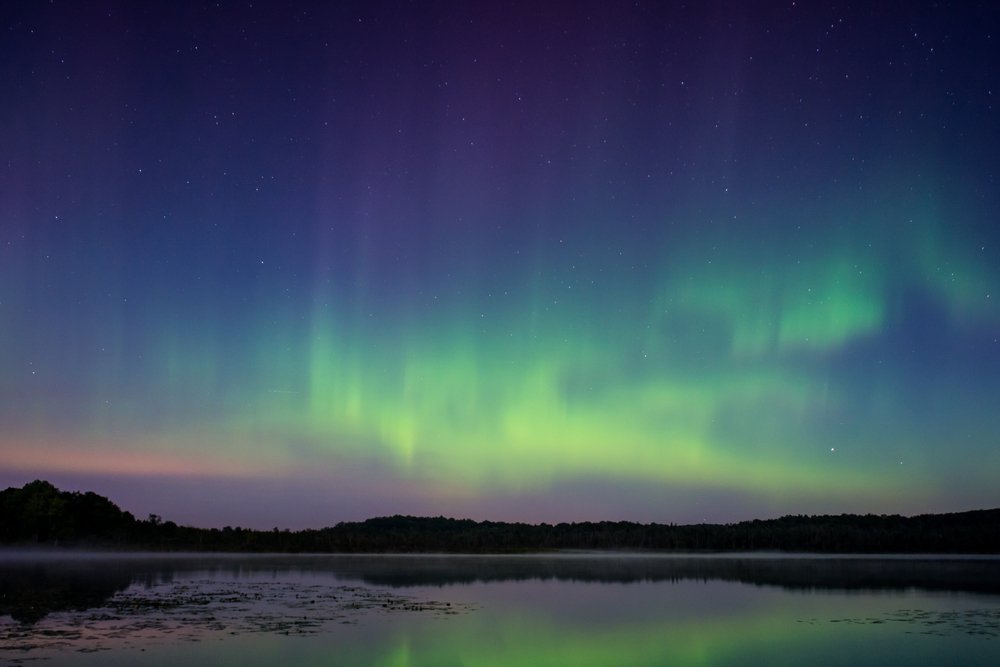 Experience The Winter Candlelight Ski In Whitefish Dunes State Park
If you are looking for outdoor adventures in Door County then how about a ski event with a twist?
Happening every January this winter candlelight ski is well worth joining or watching as a bystander.
The trail in Whitefish Dunes State Park is lit by lanterns creating what is called "flat light".
This "flat light" creates unusual conditions that affect the skiers' depth perception.
For that who are not skiing, there is a fire and refreshments in the picnic shelter and a bonfire outside.
It has a real community feel about it and is one of the things to do in Door County if you are here in winter.
This event is dependent on weather conditions so keep that in mind.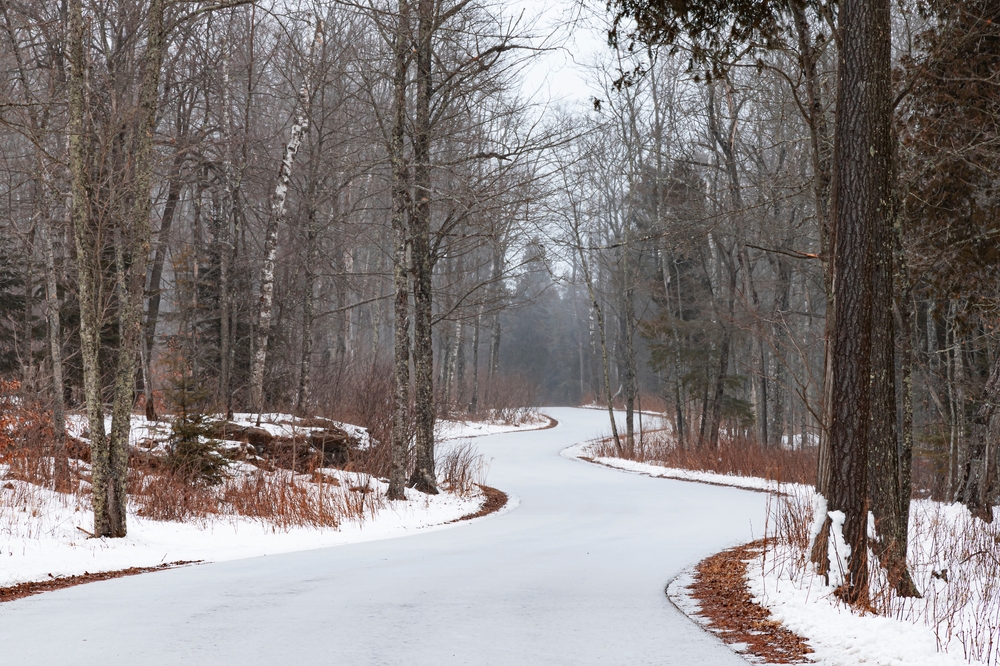 Visit a Door County Winery
There are so many beautiful vineyards and wineries in Wisconsin and visiting one of the ones in Door County is a must.
Door County has some incredible wineries and you will always get a warm welcome in the winter.
The most famous winery in the region is the Door Peninsula Winery which is close to Sturgeon Bay.
This winery produces some great fruit-based wines and is the perfect winter attraction in Door County.
Door Peninsula Winery shares a tasting room with Door County Distillery which makes vodka, gin, whiskey, brandy, and bitters.
So here you get two for the price of one. This is Door County wine tasting at its best.
If you are looking for things to do in Wisconsin in winter then consider visiting one of the wineries in the region. Nothing beats a glass of wine and a roaring fire.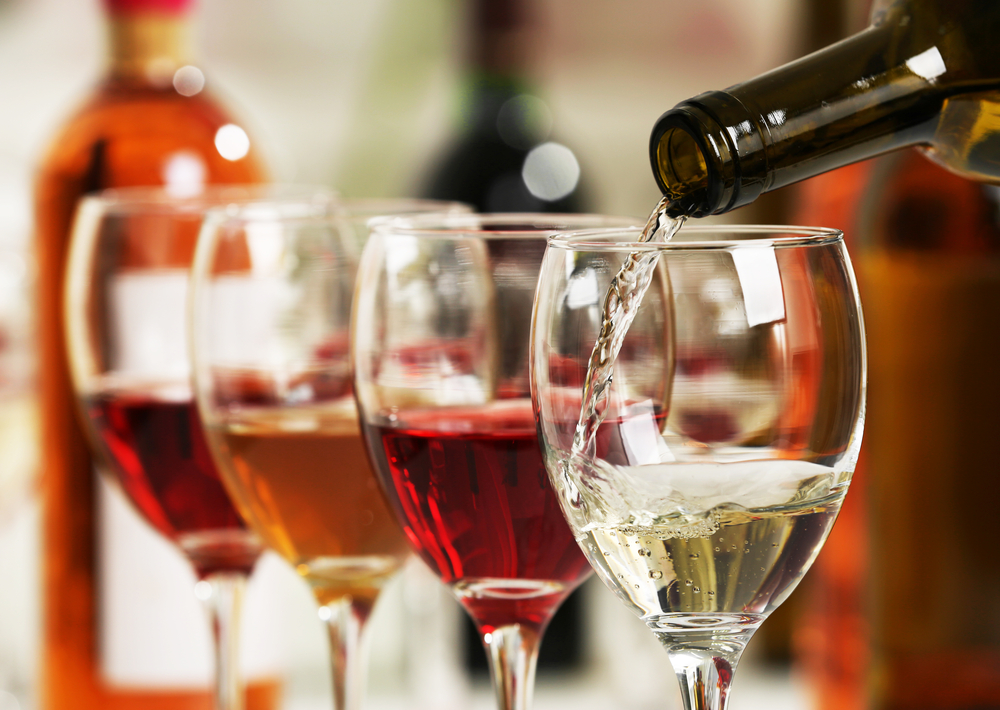 Hike The Door County Winter Trails
Hiking in Wisconsin is something rather special.
And if you have the right equipment and are prepared hiking Door County in the winter is truly spectacular.
Many of the trails are still accessible in the winter and the beautiful landscapes are breathtaking.
You will be greeted by lakes, river bluffs, scenic rolling hills, and beautiful hardwood forests.
Some of the winter trails to try are Lynd Point-Fern Loop in Newport State Park, the trails in Peninsula State Park, and the Ancient Shores Nature Trail in Potawatomi State Park.
Whitefish Dunes State Park's Black Trail is also perfect for winter hiking.
For winter outdoor adventures in Door County head to the hiking trails and don't forget your camera as the views are stunning.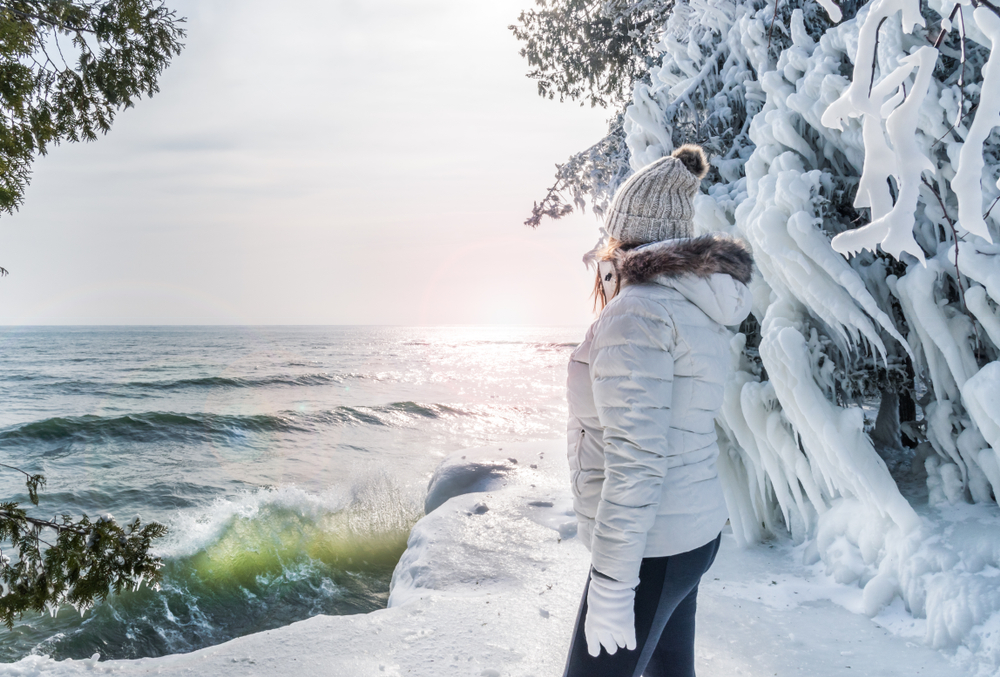 Have A Go On The Largest Sledding Hill
If you are looking for fun things to do in winter and it's snowing then head to Peninsula State Park Golf Course.
Hill 17 is one of the steepest sledding hills in Door County.
Every year the fairway is transformed and room is made for sledding.
Open from 6 am to 11 pm daily children and adults alike will enjoy this thrill.
Just bring your sled and away you go. This is one of the things to do in Door County in winter for those that are looking for fun and thrills. Just be careful.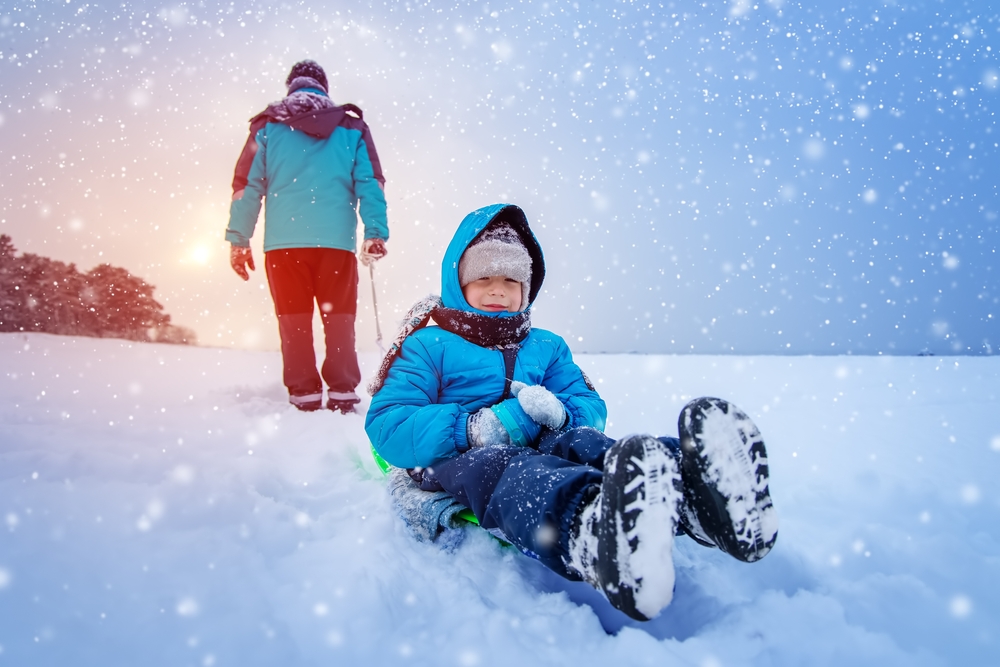 Enjoy Egg Harbor's New Year's Day Parade
If you are looking for things to do in Door County and you are there for New Year's Day then how about the Egg Harbor's New Year's Day Parade?
Taking place from 1 pm on New Year's Day it runs through the Village of Egg Harbor on Hwy 42. It's a unique parade and everyone can take part.
People dress in their festive outfits bring their pets, decorate old cars, and even heavy construction equipment. It truly is a spectacle.
This is one of those events that makes winter in Door County, WI really special.
Egg Harbor is one of the fun places to visit in Wisconsin.
Try the Polar Plunge
While a quick dip into frozen water might not be for everyone it has been a tradition here since 1986. You can just be a spectator though so don't worry if you didn't bring your swimsuit.
The Plunge takes place on the 1st of January and attracts hundreds of swimmers and spectators. It takes place at Lakeside Park in Jacksonport and is supervised by qualified medical personnel.
If you are wondering what to do in Door County in winter then take part or go and watch the Polar Plunge. It's one of the things to do in Wisconsin in winter.
If you are looking for something unusual for a Midwest weekend getaway, this could be it!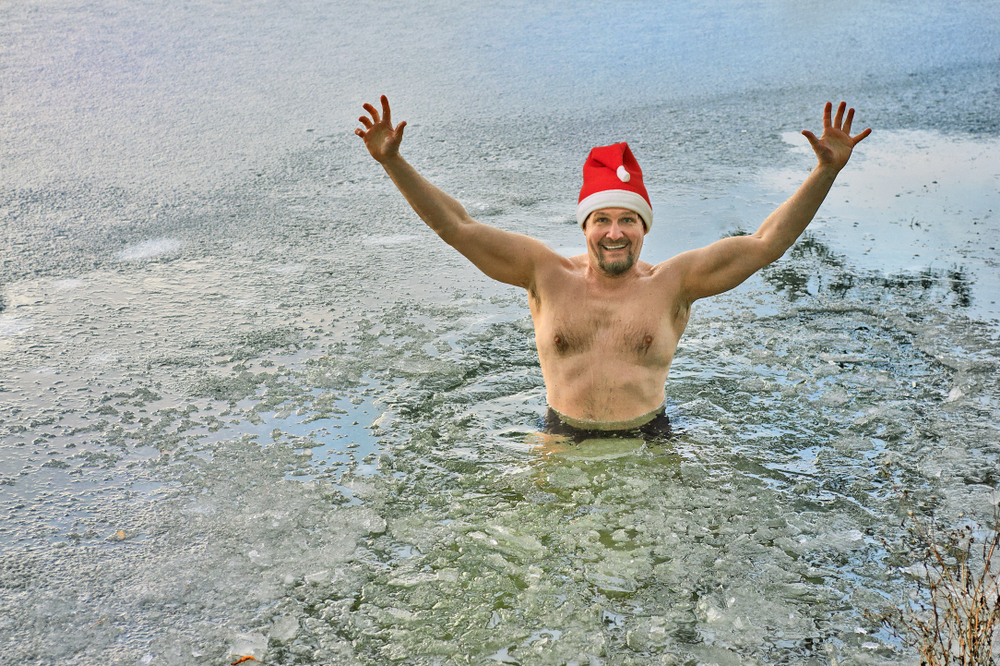 Go Cross-Country Skiing
With over 50 miles of trails to explore cross country skiing is one of the things to do in winter in Door County, Wisconsin.
Most of the park trails are open year-round and cross country is definitely something to do in the winter months.
Every state park excluding Rock Island has groomed cross-country ski trails for both skate and classic skiing. There are also lots of Door County snowmobile trails.
Whether you are a beginner or experienced you will find a trail suitable for you. If you don't have skis there are plenty of places you can hire them.
Most prefer Peninsula State Park for cross-country skiing but all the state parks offer trails.
The Ahnapee State Trail, Door County Land Trust, and Crossroads at Big Creek are also great for cross-country skiing.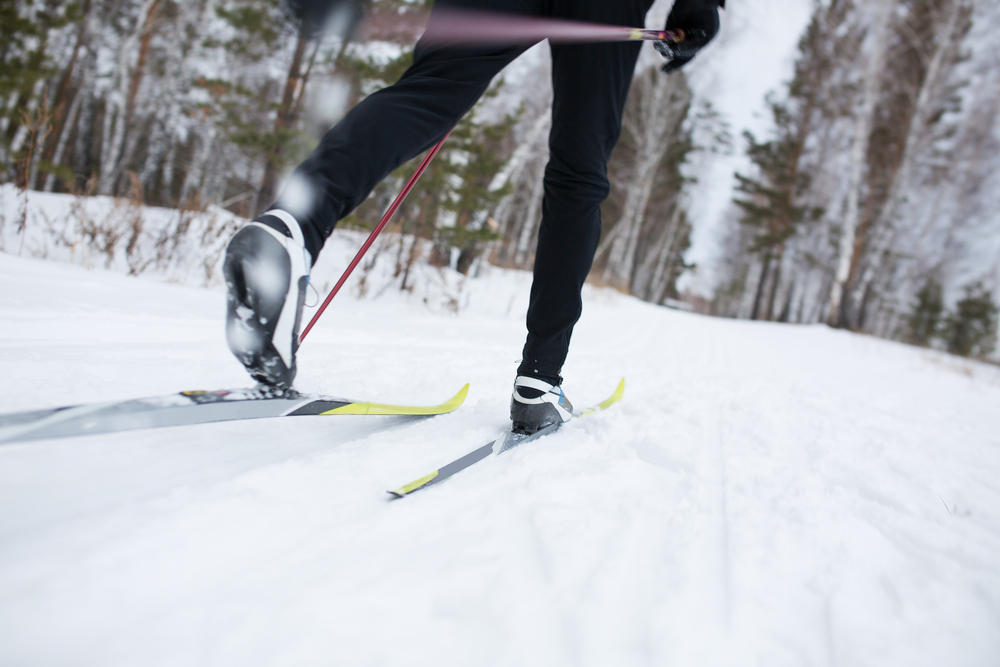 Have Fun At The Fish Creek Winter Festival
If you are looking for winter events in Door County, WI then the Fish Creek Winter Festival should be high on your list.
It takes place in early February and has been running for 26 years.
The event includes live music, food, and some quirky games including the notorious "Fruit Loop" Fun Run.
There is also the Stumpf Fiddle Contest which is very entertaining.
Also, expect things like a "Smokin Hot" Chili Cook-Off, candlelight cross-country skiing, and lots of other fun events.
It all takes place in a heated tent overlooking Green Bay and is finished off with a spectacular fireworks display.
There really is something for everyone at this winter event in Door County.
Go Walking In The Beach
Door County in winter really is spectacular and nowhere is that more prominent than the Door County beaches. The beaches aren't just for summer.
They really are magical during winter. Lightly blanketed in snow with glistening ice and of course uncrowded they are perfect for a romantic stroll with your significant other.
Whitefish Dunes, Newport Beach, and Egg Harbor Beach are some of the most picturesque but really they are all beautiful.
Walking on the beach is one of the best winter activities in Door County.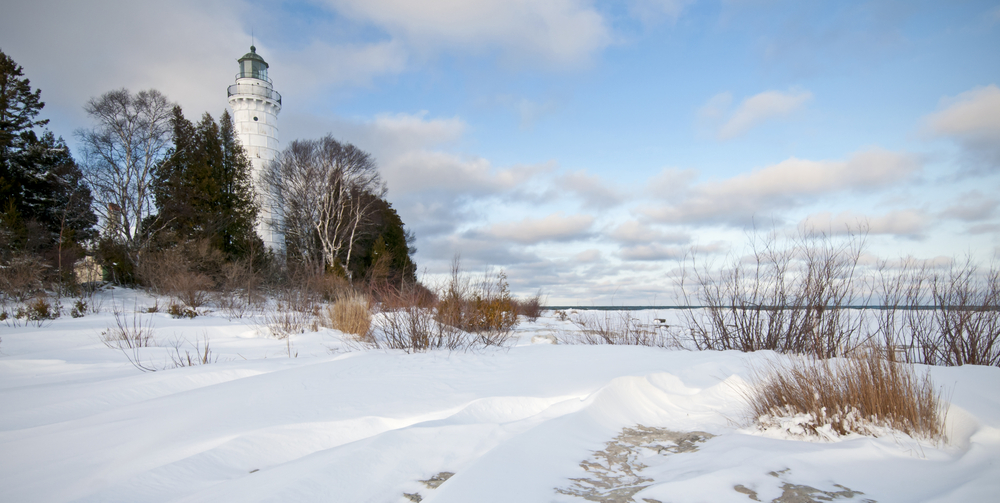 Attend The Sturgeon Bay's Fire And Ice Festival
Taking place in February over a weekend this annual festival has lots of winter activities for you to enjoy. This winter event in Door County is a must-visit loved by everybody in the area.
It starts with a candlelight ski/hike at Crossroads at Big Creek Nature Preserve which is great fun to join.
The next day you can watch snow and ice sculptors create beautiful works of art from 300-pound snow and ice blocks. Then take part in the annual Fire And Ice Dinner.
Other activities include winter bourbon and wine tasting, live music, and fireworks to name just a few. It's a perfect way to get a feel for what Wisconsin winter is all about.
What a fun Wisconsin road trip this would make!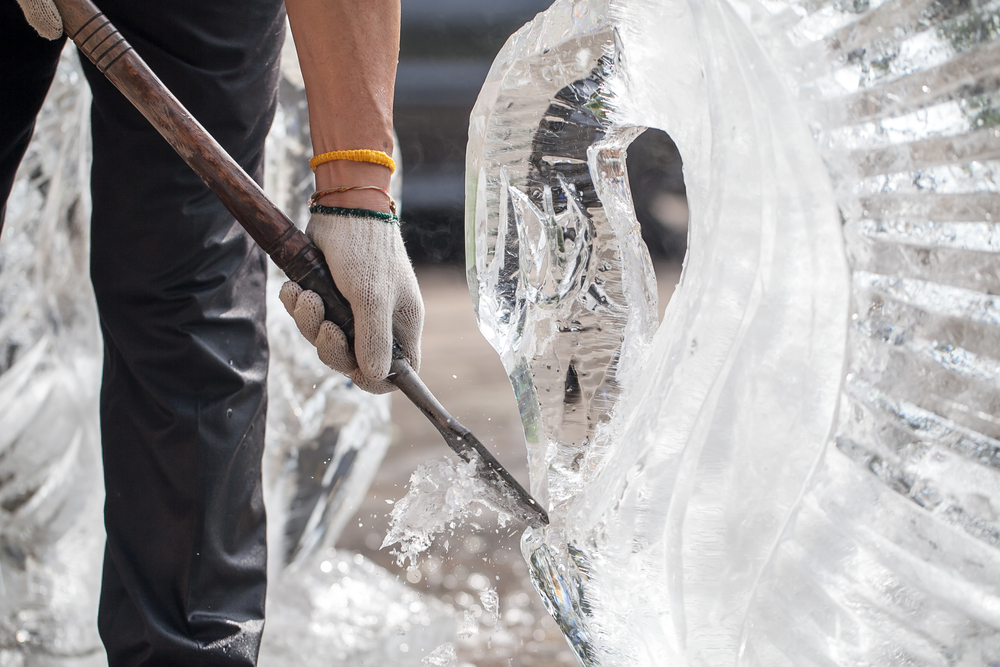 Try a Fish Boil During Winter In Door County
Wisconsin fish boils are quite special and Door County is famous for them.
In summer you will find fish boils everywhere! And while there are fewer of them in the winter you can still find them.
If you are not sure what a fish boil is it's pretty simple to understand.
They are a way to feed large groups and generally take place outside.
Basically, large amounts of fish, potatoes, and vegetables are cooked outside and then eaten often around a fire.
Not only are they delicious but they tend to have a community feel and can be quite entertaining. Let's just say a fish boil is more than just a meal.
In winter most agree the best place to go is The White Gull Inn which has a fish boil every Friday and does have an indoor seating area.
Winter in Door County, WI isn't the same without a fish boil so make sure you experience one.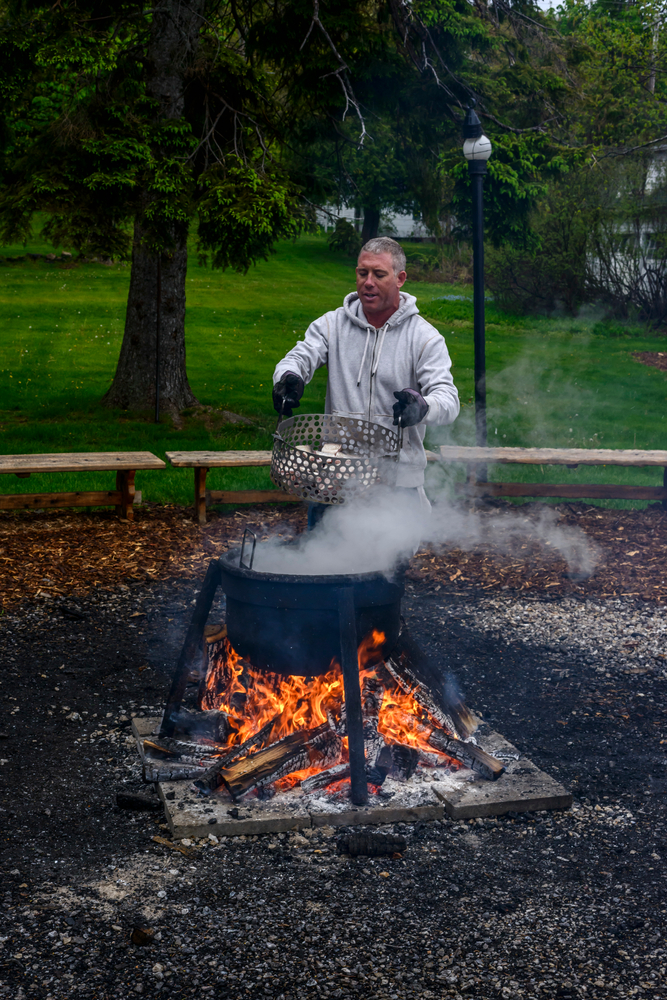 Snowshoeing in Peninsula State Park
One of the best winter activities in Door County, Wisconsin is snowshoeing and most agree that Peninsula State Park is the place to go.
The park has some incredible landscapes and some brilliant trails. That's why it is one of the popular state parks in Wisconsin.
In the winter there are six miles of marked snowshoe and hiking routes. These trails take you over some of the most beautiful and isolated landscapes.
If you are not sure what snowshoeing is it is just hiking in special shoes.
These shoes feature a wide frame to distribute the weight of the person over a larger area. It's a lot of fun if not hard work sometimes.
If you are going snowshoeing stick to the marked trails and be careful.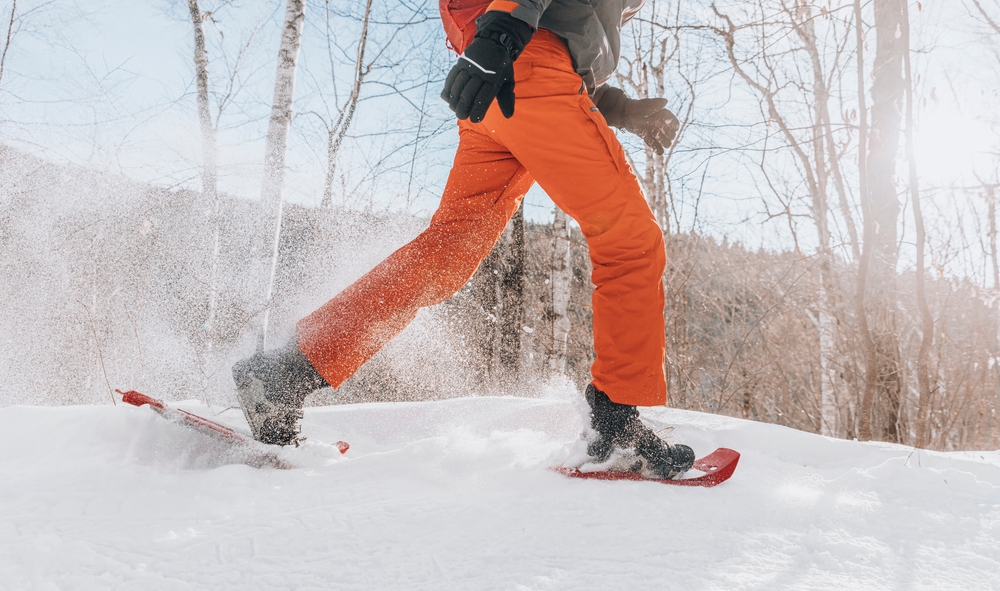 Watch the Door County Pond Hockey Tournament
In February in Sisters Bay the Door County Pond Hockey Tournament takes place and it really is well worth going to watch.
More than 300 players play on 15 rinks until a winner is crowned. It's a great event to watch with food, drink, and entertainment on hand. And you never know you might even get to hit a puck.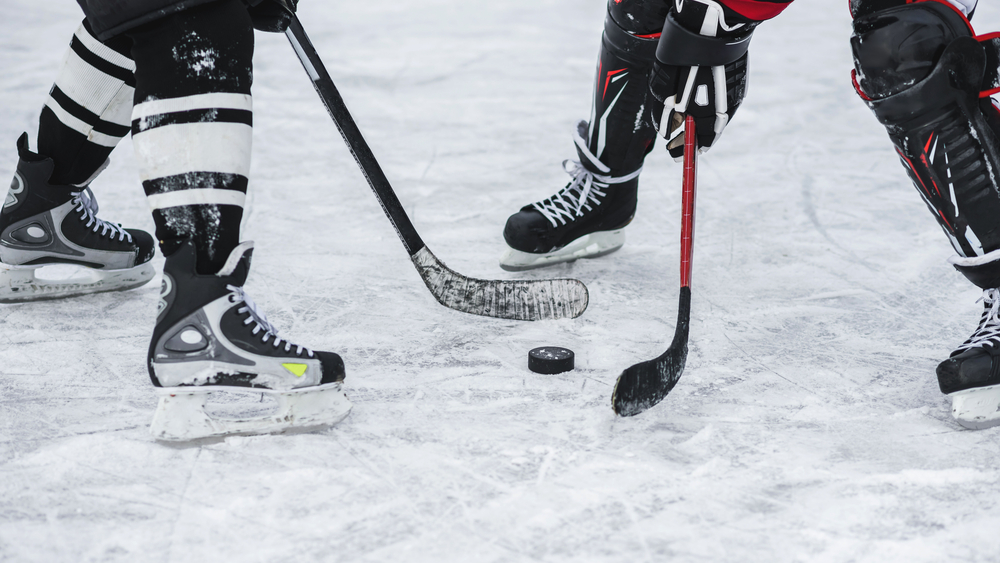 Explore Some Ice Caves
The Wisconsin winter transforms the landscapes, especially along the shoreline. Lakes, rivers, and waterfalls freeze, and ice builds up along the shoreline.
Spectacular ice formations are created from huge jagged ice blocks to delicate wind-molded structures. Nowhere is this more evident than in the ice caves in Door County.
North Bay State Natural Area, Baileys Harbor Boreal Forest, Wetlands, and Peninsula State Park, are all great places to see ice formations.
Whitefish Dunes State Park also has some great glittering ice formations along its beaches.
For ice caves, head to Cave Point Country Park. The surf here creates magical ice sculptures along the park's dolomite cliffs. The cliffs are covered in interesting layers of ice and stalactites.
Winter in Door County is truly spectacular and a visit to one of these locations will show you how beautiful it is.
If you grow hungry after exploring, check out the delicious restaurants in Door County.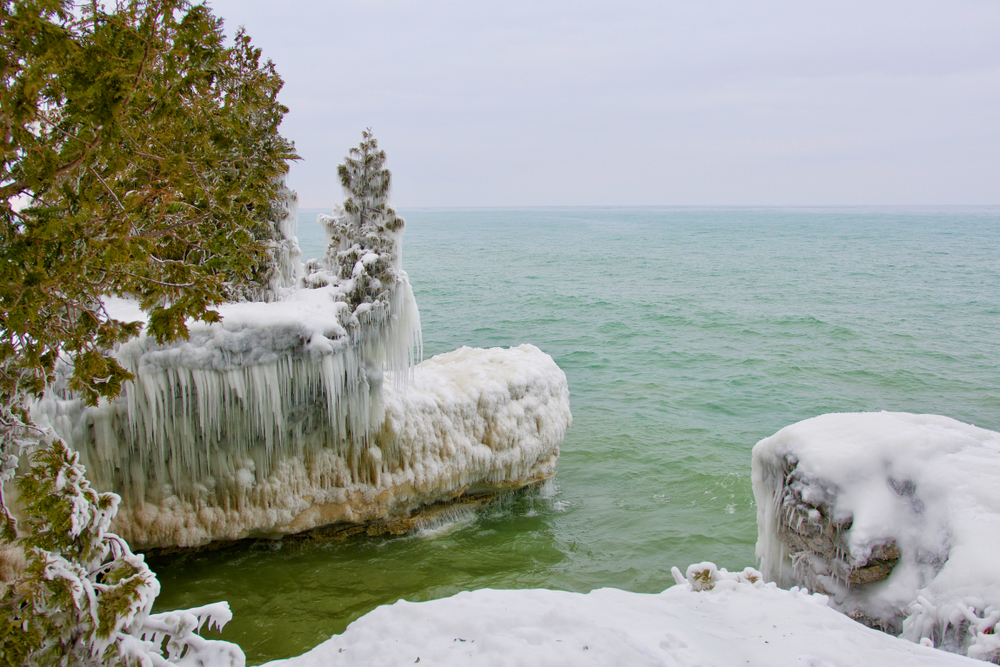 Packing List For Winter In Door County WI
If you are searching, here are some tips on how to pack lightly when packing when heading to Wisconsin in winter.
A concealed travel pouch may be one of the most important items you bring along when visiting Door County in Winter.
It is always important to protect your personal information. Identity thieves are everywhere.
This unisex RFID blocking concealed travel pouch is lightweight and comes in several colors. It has lots of organization to give you peace of mind.
You can place it under your clothes next to your body to carry your ID safely.
If you have a pouch already that does not come with the RFID protection, as I do, these RFID sleeves are the perfect solution.
If you are planning on taking a lot of pictures with your phone you will definitely want to consider an external charging battery.
This Anker high-speed phone charging battery is the exact one I carry with me on all of my trips.
I like that it holds its charging capabilities for several uses so I do not have to worry about it while out and about, and if I forget to recharge it at night, it will still be good to go the next day.
My daughter gifted me with this FugeTek selfie stick and tripod setup for my birthday. I absolutely love it! It is made of lightweight aluminum and is so easy to use.
It has Bluetooth connectivity and is a breeze to use for taking Insta-worthy selfies while exploring Door County attractions!
I never much believed in using packing cubes when traveling. That is until I tried them. Now I am hooked. These are the exact cubes I use to stay organized when I pack for a trip!
You will want to bring your own refillable water bottle with you.
I never leave home on a trip without my Bobble filtration bottle. The 18.5-ounce size is perfect for your adventures and it fits nicely in the pocket of a backpack.
Perhaps you are traveling a long distance and packing space is a premium in your suitcase, or in your car. Then this collapsible silicone foldable water bottle would work well for you. Would not take up much space at all.
You will want a backpack or daypack with you to store snacks, your water bottle, phone, extra clothes, etc… while exploring Door County in winter.
This foldable water-resistant backpack would be great. And it comes in many different colors!
—
As you can see when it comes to winter in Door County Wisconsin, there really is so much to offer.
Whether you choose a Wisconsin romantic break in a cozy cabin, enjoy one of the many winter festivals, or explore one of the Door County snowmobile trails you will have lots of fun.
This list of things to do in Wisconsin in winter is really just a start there is so much to do in this area.
Whichever of these winter activities in Door County you participate in I hope you enjoy it and have a great time.
Door County in winter is really spectacular and I hope you love this area as much as I do.