Are you wondering which pretty villages and towns in Door County, Wisconsin are worth visiting? You are in the right place.
In this article, I will walk you through the best towns in Door County and tell you which of these Wisconsin towns to take a trip to.
Door country is a beautiful vacation destination. Situated on a peninsula often called the thumb of Wisconsin it has 300 miles of shoreline to explore.
Surrounded by Lake Michigan to the east and Green Bay to the west it's an outdoors enthusiasts' paradise.
It's also incredibly quaint with some unique small towns, numerous lighthouses in Door County, and five state parks.
When it comes to things to do in Door County, WI you will be spoilt for choice.
For such a small area it has a lot to offer and touring the Door County towns should be high on your list. Spending a weekend in Door County exploring all it has to offer is time well spent.
So are you ready for me to walk you through what to do in Door County and the towns and villages you need to visit?
Pull up a chair, grab a drink and let me walk you through the towns in Door County.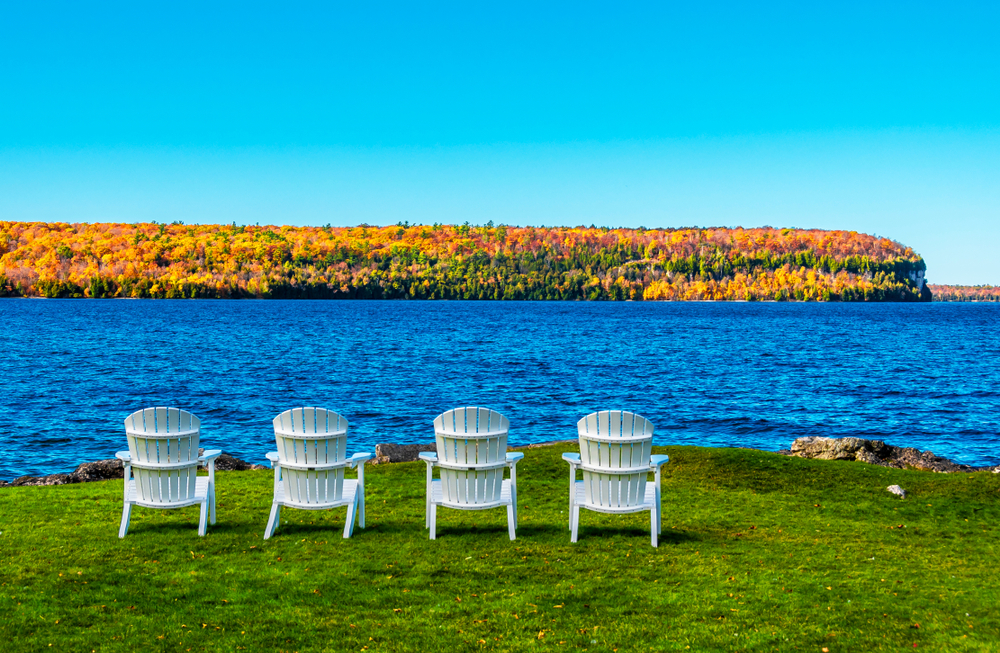 12 Picturesque Villages And Towns In Door County WI
Ephraim For New England Vibes
Ephraim greets you with a wonderfully vintage aesthetic ice cream parlor and things only get better from there. Ephrain is Door County Wisconsin at its best.
This tiny bayside town is as picturesque as they come and looks absolutely stunning in fall.
It's tucked into a hill on the east side of Eagle Harbor and is all church steeples and white clapboard houses.
Bring your camera with you, not only is the setting stunning but the sunsets are incredible and the dock is picture-perfect.
Ephraim is also a perfect base to enjoy the nearby Peninsula State Park.
Small towns in Wisconsin don't come much more beautiful than Ephraim. And the restaurants in this Harbour Town are well worth a mention too.
Stay in this Ephraim harborside home with a private deck.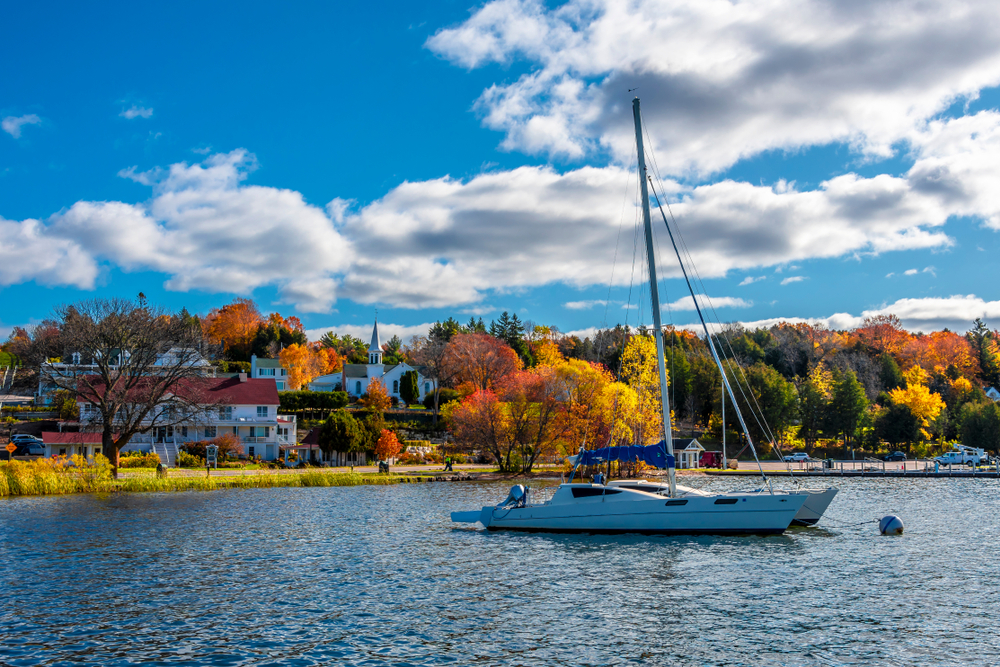 Egg Harbor For Convenience
Egg Harbor Door County Is one of the busier towns in Wisconsin.
It is alive with shops, restaurants, and places to stay and makes a great base for exploring.
Every Friday they have a Farmer's Market at Harbor View Park which is worth a visit. Whatever you need you will be able to find it in this town.
This Door County village is also where you will find the Door County Trolley.
A red vintage trolley bus that does tours to lighthouses, wineries, and scenic tours. These trolly tours are a great way to get around, receive local knowledge, and make sure you see everything.
Egg Harbour makes the perfect base if you want to make use of all the tourist amenities. The weather in Egg Harbor, WI sees warm and humid summers and cold and snowy winters.
Stay at Bay Shore for great sunsets.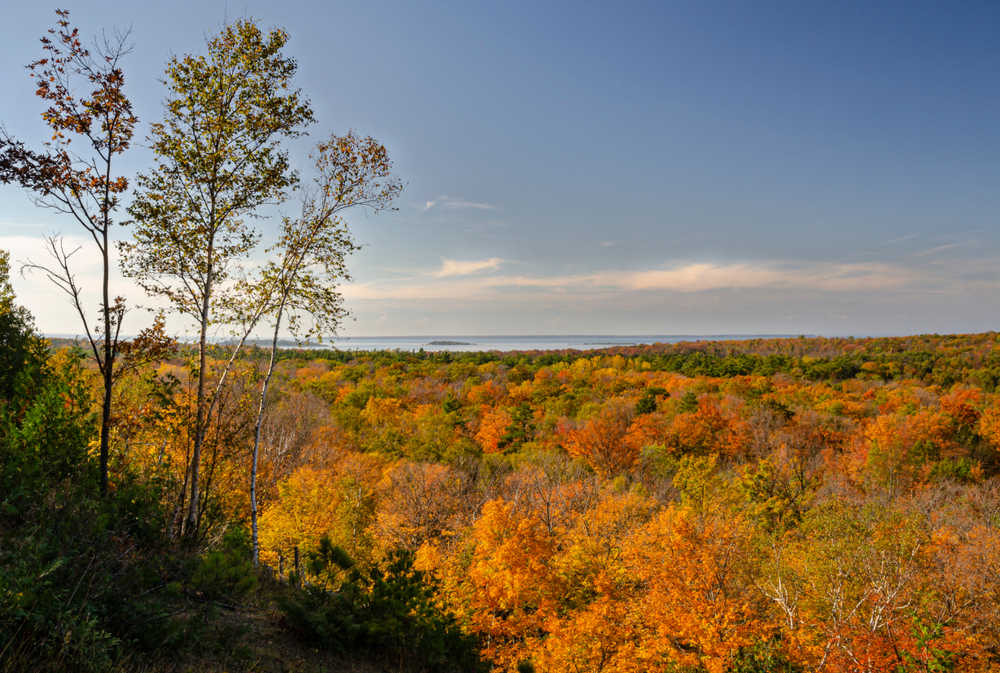 Sister Bay For Shoreline
A weekend in Door County, Wisconsin wouldn't be complete without a trip to Sister Bay.
Not only does it have the largest expanse of public shoreline in Door County but it's home to a very famous Door County restaurant you won't want to miss.
Yes, Sister Bay is home to Al Johnsons a restaurant not only famous for its pancakes but the goats that eat grass off the roof. You did hear me right, and the goats really pull in the crowds.
It's a busy area that draws in families and couples alike. You can rent outdoor gear here for most outdoor/water adventures.
It is also the closest town to the dark sky Newport State Park which is one of the best state parks in Wisconsin.
This is one of the best towns in Door County particularly if you love watersports. If you are wondering what to do in Door County a trip here is a must.
Stay at Hinterhaven Cottage for 2.5 acres of secluded beauty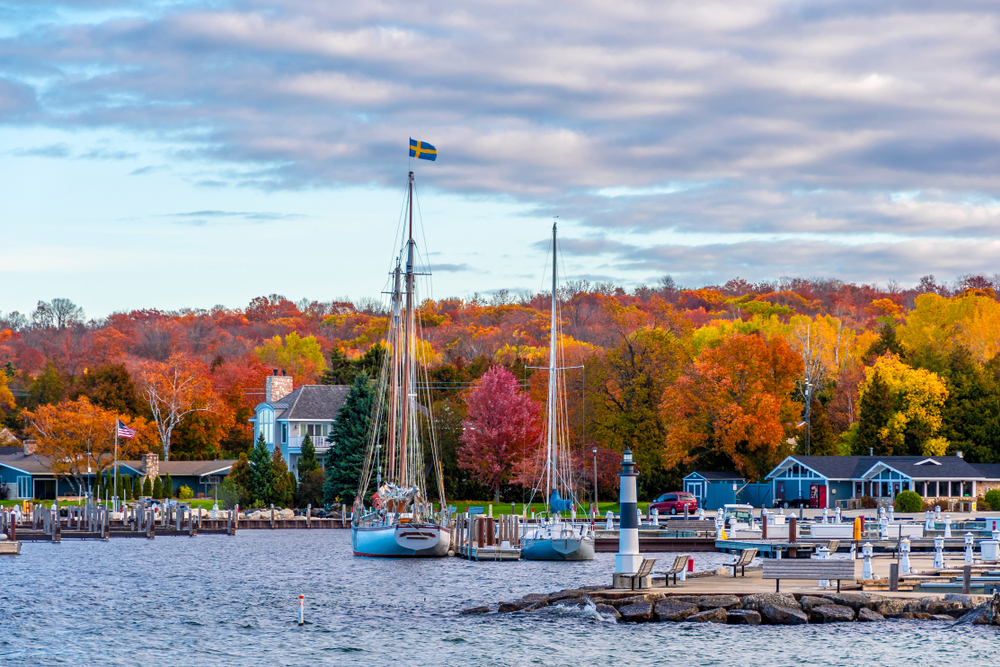 Fish Creek For The State Park Is One Of The Pretty Towns In Door County WI
This town in Door County is sometimes known as the gateway to Penninsula State Park. Just like Ephrim, it makes a perfect place for exploring the region.
Fish Creek Door County sits on the south side of the state park and caters well to tourists with plenty of bars, restaurants, and boutiques.
This is one of those Wisconsin towns that is perfect for everybody.
Expect this place to get busy at weekends and holidays as there is a lot to do here.
As well as a lighthouse, and numerous hiking and walking trails it also has one of the best Door County beaches.
When it comes to Fish Creek restaurants they have the original Wild Tomato Pizza here and the White Gull Inn is famous for fish boils.
Stay At Yellow Birch Cottage which is right off the main street.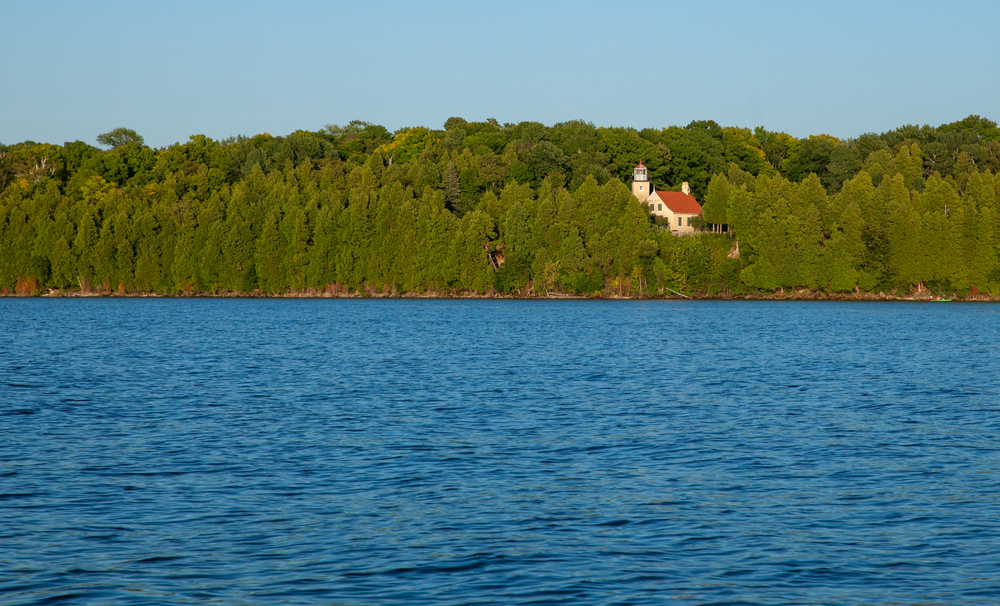 Baileys Harbor For Wineries And Breweries
If you want to visit Door County but want to be in a slightly quieter area then Baileys Harbor might be perfect for you. This Door County village is perfect for those that like things low-key.
It sits on the east side of the peninsula so you swap sunsets over Green Bay for sunrises over Lake Michigan.
It's the biggest town on the east side so there are bars, restaurants, and shops but it's far fewer than in some of the other tourist towns.
When it comes to things to do in Door County, Baileys Harbor delivers. It is home to the Door County Brewing Company and within easy reach of some wineries.
Bailey Harbor is also within easy reach of the Whitdunes State Park, Cave Point Country Park, and the Cana Island Lighthouse which is well worth a visit.
This is one of the best towns in Door County.
Stay in a Century Old Door County Farmhouse.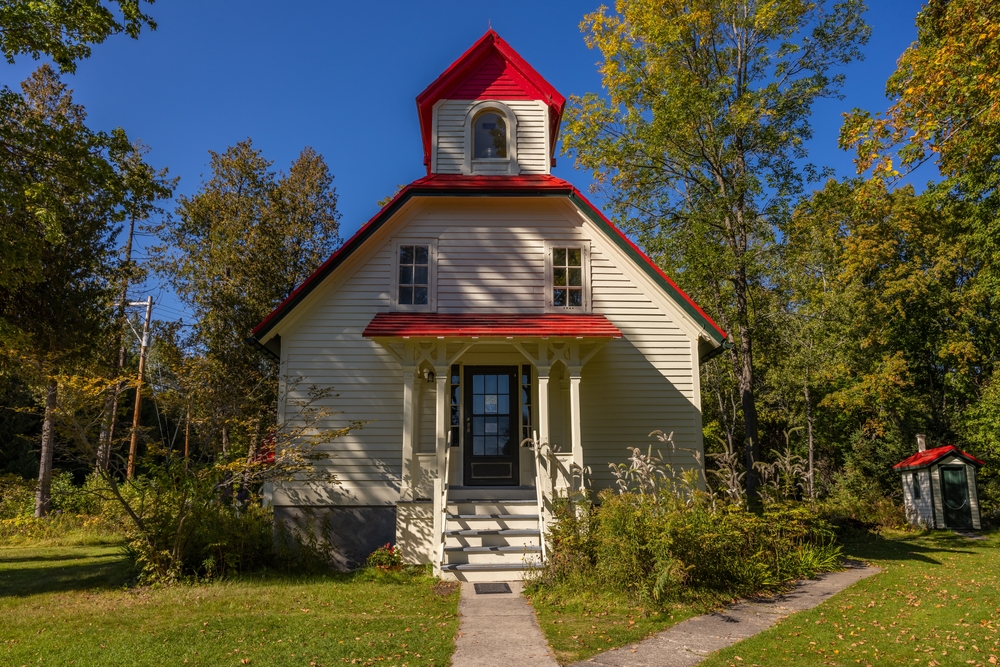 Washington Island For Peace And Quiet
If you are really looking to get away from it then Washington Island might be perfect for you. It's one of the best Islands in the Great Lakes and is beautiful.
This is a great place to spend a weekend in Door County.
You can only get there by ferry which is why it tends to be a little quieter but once there are lots to see and do. Schoolhouse Beach is a definite visit when here as is the Lavender Farm.
The ferry runs from Newport to the island which sits about five miles off the northern tip of the peninsula.
The island measure 5 miles across and 6 miles long so you might want to take bikes with you. You can take your car on the ferry.
When it comes to things to do in Door County a visit to Washington Island is a must and staying here is even more special. When it comes to small towns in Wisconsin this place is perfect.
Stay in a Shore Front Cottage On Washington Island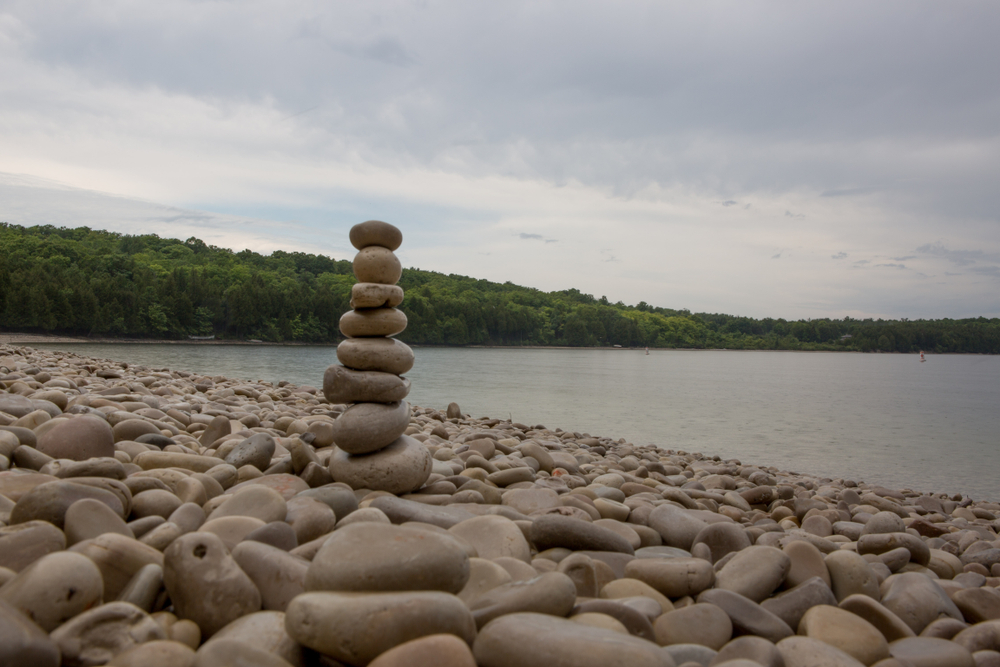 Sturgeon Bay For That City Feel
Known as the door to the Door, this Door County town has more of a city feel and certainly has a lot to offer. Sturgeon Bay is the largest town in Door County and always has something going on.
That's why this is the perfect place to visit during winter in Wisconsin.
The Sturgeon Bay lighthouse draws in visitors here but in fact, it is home to three of the lighthouses in Door County.
It is also home to Potawatomi State Park which contains the eastern terminus of the 1,200-mile Ice Age National Scenic Trail.
While it may not have the charm of some of the other towns in Wisconsin Sturgeon Bay has a lot to offer and makes a great base.
Stay at Lazy Daze Lagoon in the heart of Sturgeon Bay.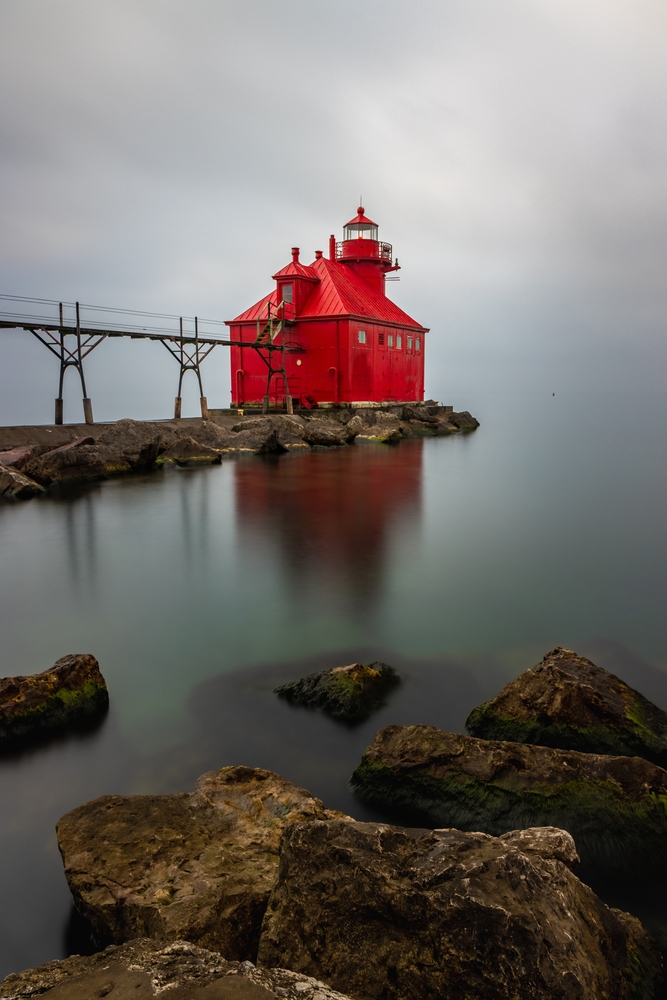 Ellison Bay Is A Pretty Village In Door County With A Touch Of Class
This village in Door County is home to Wickman House which is one of the best fine-dining restaurants in the region.
It is also home to one of Wisconsin's largest and most expensive homes, called Sur la Baie.
A Door county weekend here will be more peaceful than some of the other towns. It's removed from the crowds and has a certain vibe that makes it very different.
Ellison Bay Bluff County Park provides an incredible overlook of the limestone bluffs and Door County scenery and the nearby Door Bluff Headlands provide a more undeveloped view of the area.
Ellison Bay is one of the Wisconsin towns that give you the peace and quiet you need while also delivering on things to do.
Stay at Country Haven which is right on the river.
Gills Rock For Wisconsin Small-Town Tradition
If you are looking for a Door County village that is pretty untouched by tourism this is it. Gills Rock is a tiny commercial fishing hub that has all the charm you could wish for.
This is Wisconsin Door County how it use to be so don't expect lots of things to do.
What you must do though is take a boat ride on the Shoreline Scenic Cruises and Charter which offers themed excursions.
And while you are here take a trip to Charlie's Smokehouse this family business has been running since 1932 and sells some of the best-smoked fish around.
If you are after a Door County town that is low-key and traditional then Gill Rock is perfect for you.
Stay at this Waterfront Cottage Nestled in a Picturesque Setting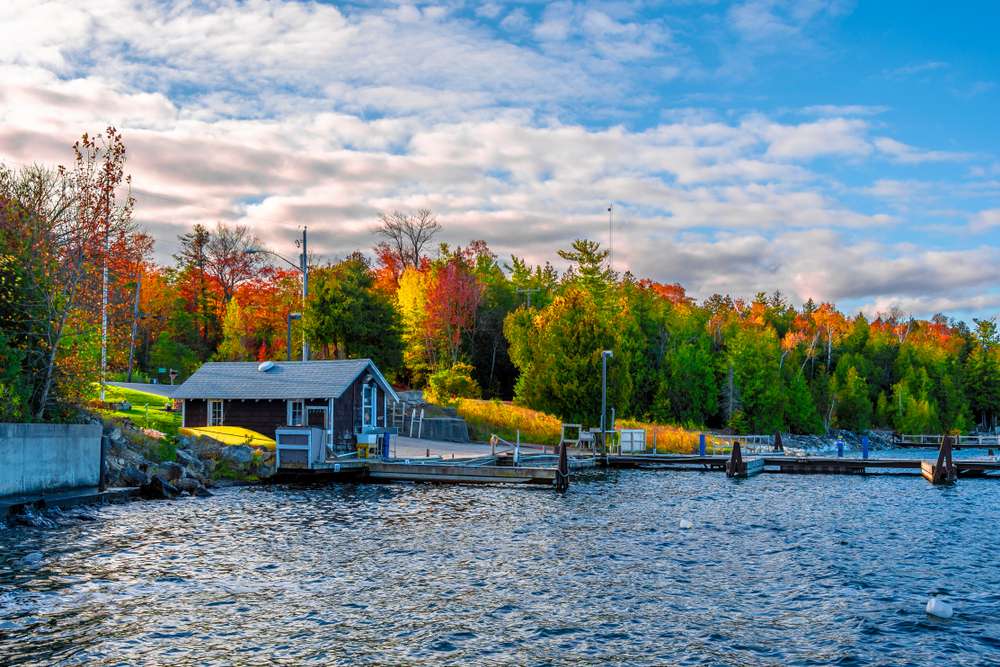 Jacksonport Is A Small Town In Wisconson For Relaxing And Exploring
This is one of the small towns in Wisconsin that sits on the shores of Lake Michigan. When it comes to Door County towns Jacksonport is one of the less popular but has a lot to offer.
It's a town that manages to offer relaxation and exploration in equal amounts it's just up to you which track you take.
You can relax on the back, go kayaking, and explore the area on foot. However, what most come here for is to visit Cave Point County Park which is just 10 minutes away.
No visit to Door County would be complete without a trip to this incredible park.
Stay at Sunrise Shore Condos directly on the beach.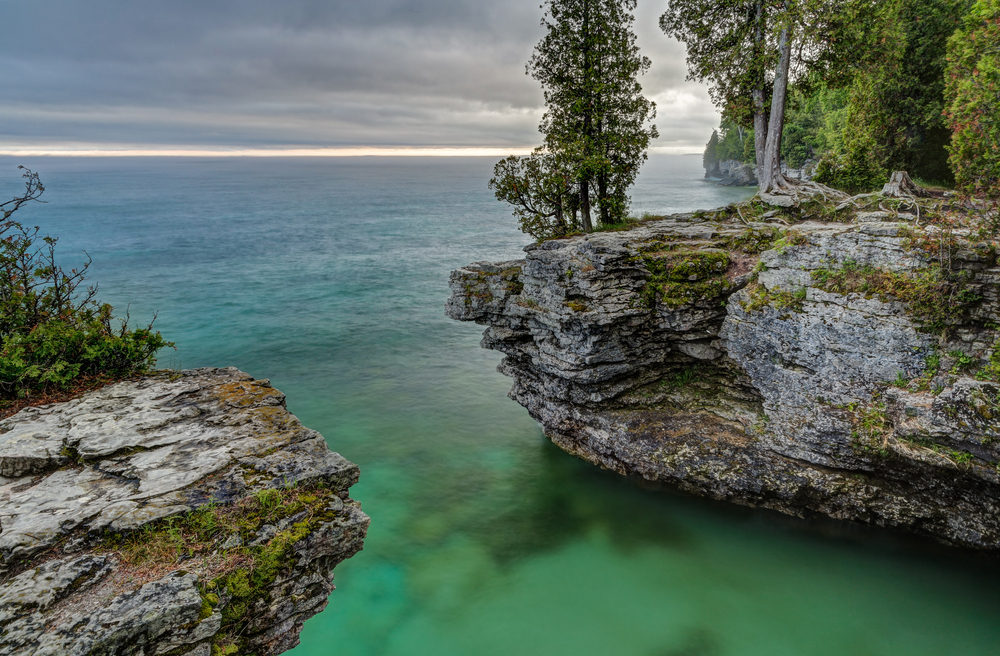 Liberty Grove Is A Cute Town In Door County With Natural Beauty
If you look at a map of Door County Liberty Grove is at the very tip. It's quiet, quaint, and away from the tourist trail.
When it comes to things to do in Door County Liberty Grove delivers in the natural beauty category.
With 45 miles of shoreline to explore and more than 11 parks, there is something to see around every corner.
You can even explore some beautiful scenic trails for hiking in Wisconsin.
If you are after scenery this is the place for you but don't expect the unusual tourist trappings.
Stay in this Door County Cabin in the Woods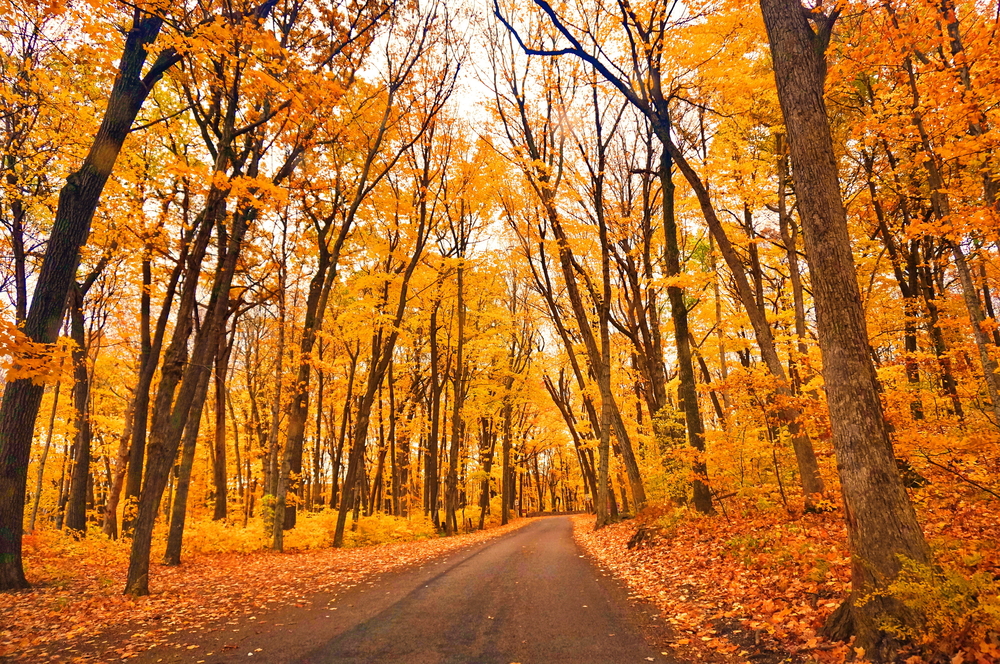 Northport For Scenic Drives
This village in Door County is known mostly as the place you get a ferry to Washington Island but it has more to offer.
Watching the ferry coming and going can be somewhat captivating, especially in the fog but there are other things to take up your time.
Firstly the famous Door County curvy road is close by. In fact, you will travel down it to get here. Highway 15 was designed to slow people down to take in the scenery with 15 curves.
It is one of the best places to experience fall in Wisconsin.
It has become somewhat of a tourist attraction and photo opportunity.
Sand Bay Town Park is also worth a visit it's a great beach frequented by the locals. The waters here are great for swimming and the picnic areas are perfect for a summer brunch.
While most won't think of Northport for a Door County weekend it is worth spending some time here rather than just passing through.
Stay at this eclectic studio set in lush gardens.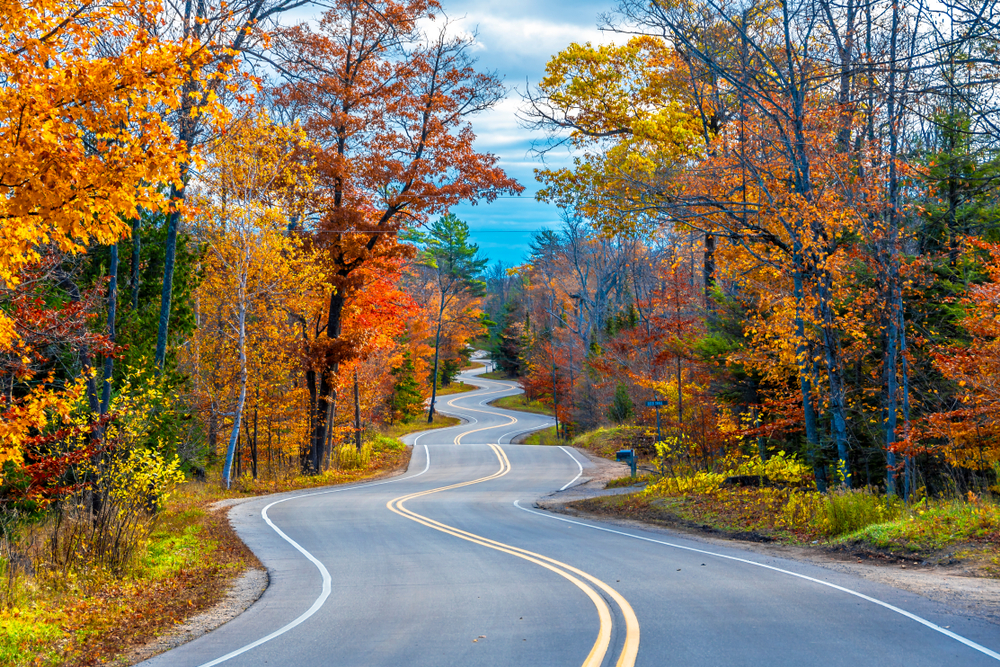 Packing List For Visiting Villages And Towns in Door County
If you are searching, here are some tips on how to pack lightly when packing when heading to Door County towns and villages.
A concealed travel pouch may be one of the most important items you bring along when visiting Door County WI.
It is always important to protect your personal information. Identity thieves are everywhere.
This unisex RFID blocking concealed travel pouch is lightweight and comes in several colors. It has lots of organization to give you peace of mind.
You can place it under your clothes next to your body to carry your ID safely.
If you have a pouch already that does not come with RFID protection, as I do, these RFID sleeves are the perfect solution.
If you are planning on taking a lot of pictures with your phone you will definitely want to consider an external charging battery.
This Anker high-speed phone charging battery is the exact one I carry with me on all of my trips.
I like that it holds its charging capabilities for several uses so I do not have to worry about it while out and about, and if I forget to recharge it at night, it will still be good to go the next day.
My daughter gifted me with this FugeTek selfie stick and tripod setup for my birthday. I absolutely love it! It is made of lightweight aluminum and is so easy to use.
It has Bluetooth connectivity and is a breeze to use for taking Insta-worthy selfies while exploring the towns in Door County!
I never much believed in using packing cubes when traveling. That is until I tried them. Now I am hooked. These are the exact cubes I use to stay organized when I pack for a trip!
You will want to bring your own refillable water bottle with you.
I never leave home on a trip without my Bobble filtration bottle. The 18.5-ounce size is perfect for your adventures and it fits nicely in the pocket of a backpack.
Perhaps you are traveling a long distance and packing space is a premium in your suitcase, or in your car. Then this collapsible silicone foldable water bottle would work well for you. Would not take up much space at all.
You will want a backpack or daypack with you to store snacks, your water bottle, phone, extra clothes, etc… while exploring Door County attractions.
This foldable water-resistant backpack would be great. And it comes in many different colors!
As you can see when it comes to towns in Door County, Wisconsin there are so many to choose from. Whichever of these small towns in Wisconsin you visit I know you will have a great time.
Visiting Door County is one of the best things to do in Wisconsin!
Whether you visit some of the lighthouses in Door County, explore the state parks, relax on the beaches or just spend some time in one of the towns you will enjoy it.
A weekend in Door County is a great way to spend some time.