There are a ton of beautiful islands in the Great Lakes perfect for a Midwest vacation!
Whether you are wanting a resort hotel for a romantic weekend or a place crisscrossed with scenic Midwest hiking trails, there are perfect Great Lakes islands for you!
These islands are fun places to visit at any time of the year depending on what you want out of your trip.
In spring, there are flower festivals and farms of blooming lavender. Summer is a great time for swimming and water sports.
Come in experience fall in Minnesota and see the leaves popping in gorgeous colors and avoid the summer crowds.
Winter will give you the opportunity to visit stunning ice caves and try winter sports.
There are some of the best islands in the Great Lakes!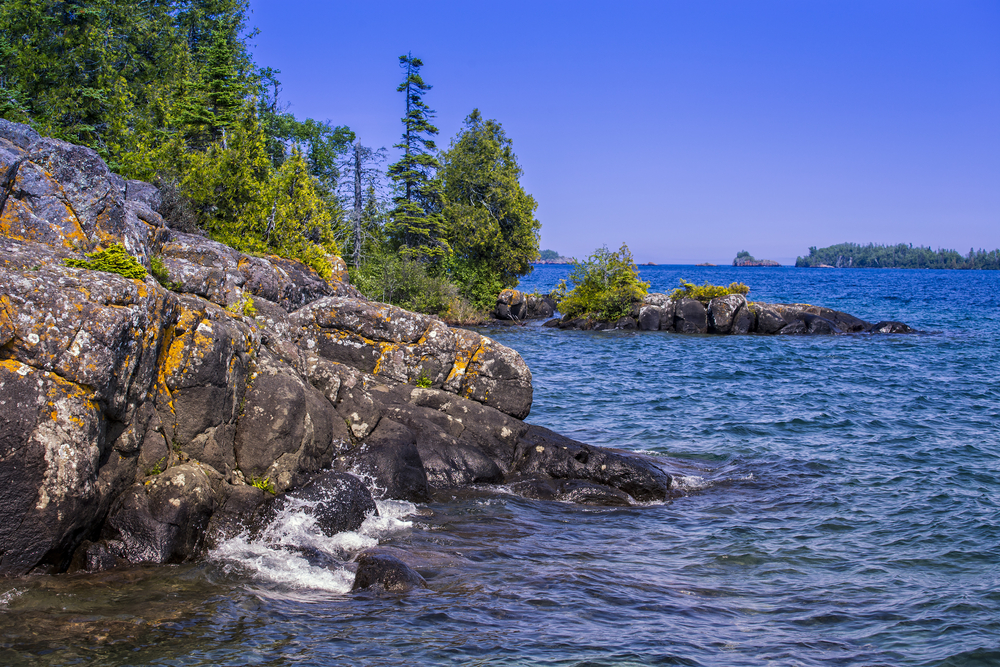 16 Best Islands in the Great Lakes to Discover
Mackinac Island
Mackinac Island, Michigan, is one of the most popular islands in Lake Huron. It is located between the Upper and Lower Peninsulas near where Lake Huron and Lake Michigan touch.
This pretty island can be reached by a 15-minute ferry or by flying.
Visiting this Great Lakes island is like stepping back in time to the Victorian age. There are no cars on the island, so you can get around by foot, bike, or horse-drawn carriage.
Admire the Victorian buildings, shop at specialty stores, and soak in the small town charm. If you want pure relaxation, you can stay at the Grand Hotel or go to one of the spas in town.
Mackinac Island State Park offers a place for hiking and viewing amazing rock formations. There are also a couple of historic forts to visit.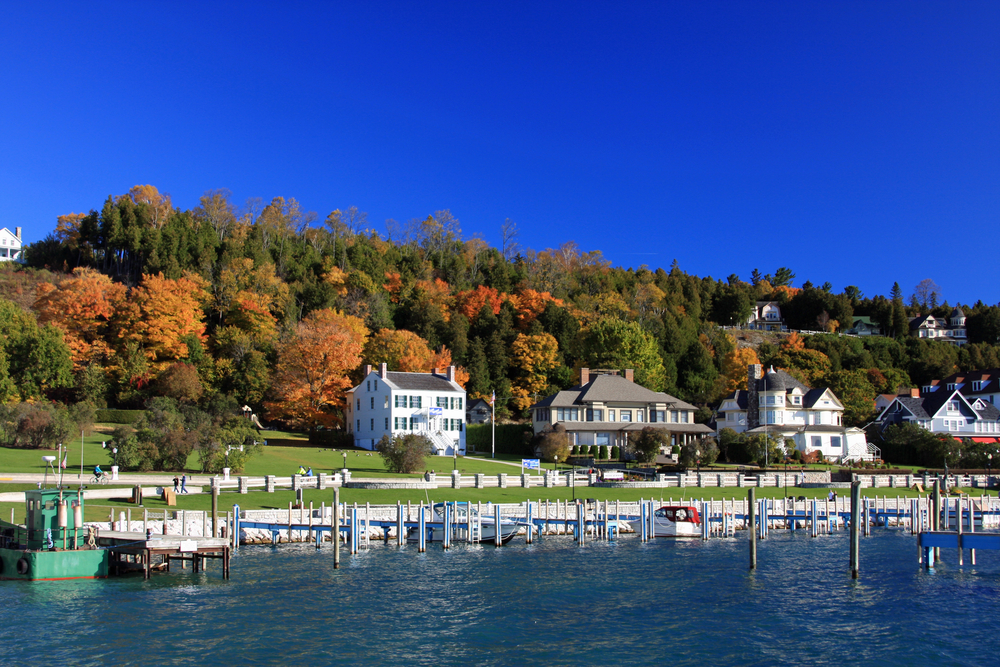 Drummond Island
Drummond Island is the"Gem of the Huron" and is actually the seventh-largest lake island in the world. It is found at the tip of Michigan's Upper Peninsula next to the Canadian border.
The ferry ride is ten minutes and allows you to bring a vehicle. It's a pretty neat Michigan day trip, and once you arrive, you can spend time exploring nature and having thrills.
This Great Lakes island is popular with ATV and ORV enthusiasts who want to race along the 100 miles of off-roading trails.
If you are more into water adventures, you can kayak the Drummond Island Heritage Water Trail.
You will find cool coves and barrier islands along the way. The DeTour Passage Underwater Preserve also has a ton of shipwrecks if you want to go scuba diving.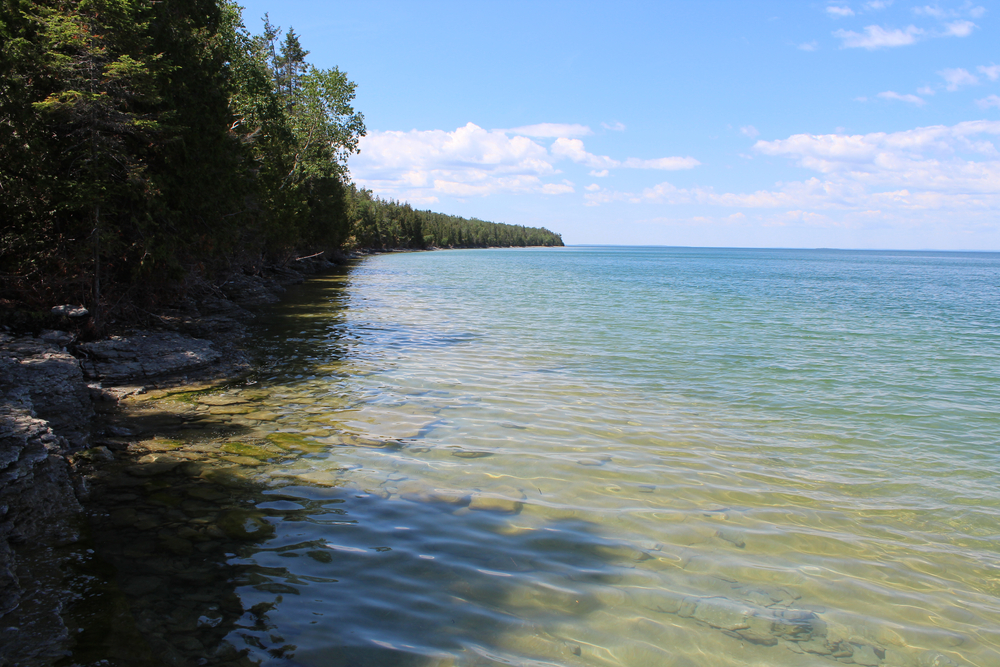 Isle Royale
Isle Royale National Park is one of the best islands in the Great Lakes for escaping into nature. If you love incredible hikes and backpacking to primitive campsites, then plan a trip here.
Isle Royale is close to the northeastern tip of Minnesota and Canada, but it is technically part of Michigan. You can take the ferry from four different locations, two in Minnesota and two in Michigan.
The remoteness of the island is what adds to its appeal. You are so far from the real world and can become one with nature. Have fun hiking in Michigan, boating, kayaking, and wildlife viewing.
This is also one of the best places for scuba diving in the Great Lakes. Some of the best intact shipwrecks are found in these waters.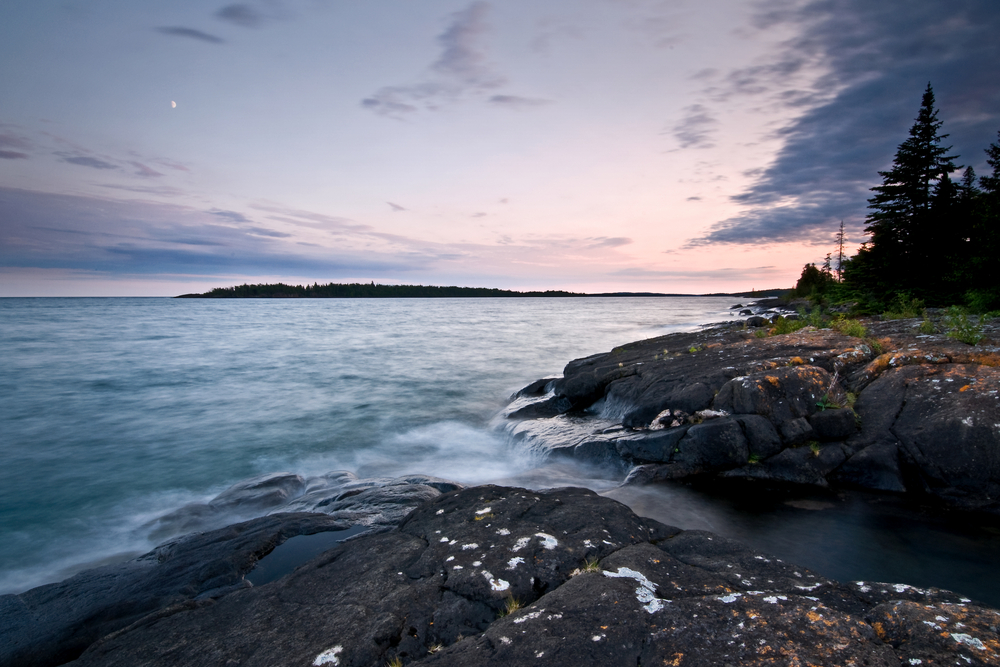 Beaver Island
Known as America's Emerald Isle, Beaver Island is an area of bliss on Lake Michigan. You can fly in or save money by taking the ferry. It is a two-hour boat ride with beautiful views of the water.
This 13-mile long island has an interesting history involving Mormonism and Irish immigrants, but today it is a place to relax off the shore off the shores of Michigan.
In warm months, spend time hiking, visiting the beach, Michigan camping, and stargazing. If you visit in winter, you can go cross country skiing or snowshoeing. You might also spot the Northern Lights!
You can also visit museums, shop, photograph lighthouses, or try out some pubs and breweries.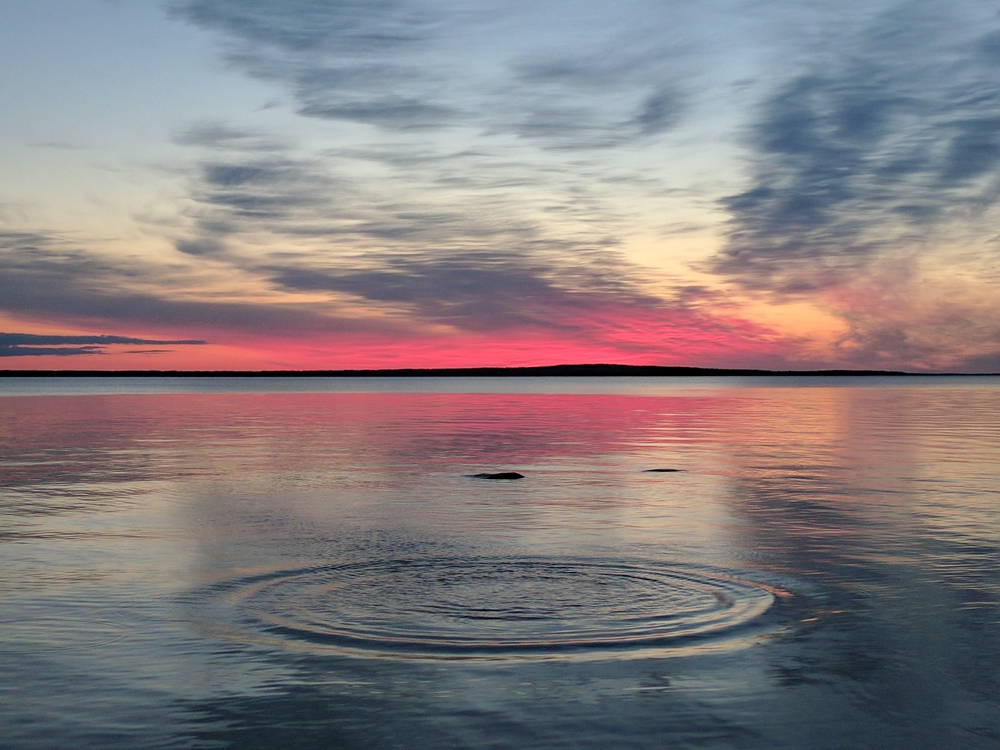 Grand Island
Off the shore of Munising, Michigan, you will find the pretty Grand Island. With only a five-minute ferry ride, this is one of the more easily accessible islands of the Great Lakes.
Grand Island is part of the Hiawatha National Forest and is a nature lover's dream on Lake Superior, the biggest Great Lake.
There are multiple hiking and mountain biking trails with lengths varying from two to twenty miles.
If you want a serene beach day, there are many Michigan sandy beaches where you can swim or soak in the sun. You can also rent a kayak and explore the water and rock formations.
If you are looking for something really epic for your Great Lakes itinerary, then come to Grand Island in the winter when the caves become sheeted in ice. It is an amazing and unique sight to see!
Overall, this is an awesome island of the Great Lakes to visit year-round!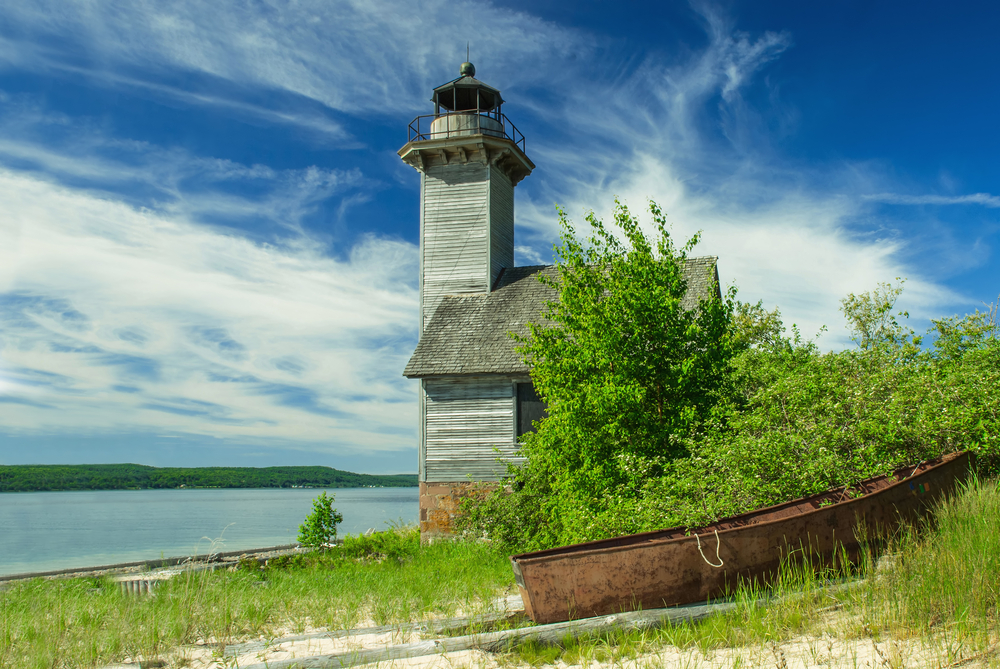 Manitou Islands
North and South Manitou Islands are part of the Sleeping Bear Dunes National Lakeshore and are some of the best islands in Lake Michigan. The ferry to both leaves from Leland, MI, and takes about an hour and a half.
North Manitou is the more natural of the two islands, making it a great place for fishing and birdwatching. It is one of the really unique places to visit in MIchigan.
Many birds stop here on their migration and some nest here as well. You can explore a historic village, sand dunes, and rugged bluffs.
On South Manitou, you will find another historic village dating back to the 1830s. At the visitor's center, you can learn about the entire history of the island.
If you want really great views of the island, climb to the top of the 100-foot tall South Manitou Island Lighthouse. The hiking trails will take you through old forests and to pebble beaches.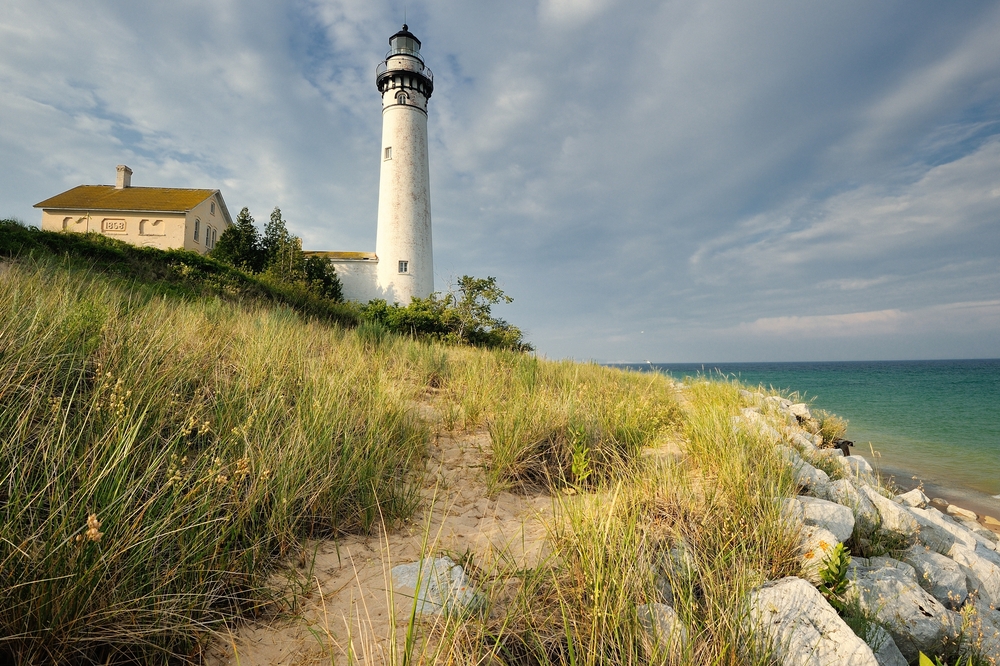 Les Cheneaux Islands
Les Cheneaux Islands, meaning "The Channels" in French, are the best islands on Lake Huron for a resort vacation. It is a wonderful place for a Midwest romantic getaway.
This area is made of 36 small islands and there is so much to do. Take time to Les Cheneaux Historical Museum and the Les Cheneaux Maritime Museum.
A lighthouse cruise is a great activity for couples. Kayaking and sailing are also really popular.
If you visit in August, you can attend the Les Cheneaux Islands Antique Boat Show & Festival of the Arts.
The event has been happening since the '70s and is the largest antique wooden boat show in the world.
what a really fun Michigan road trip this would make!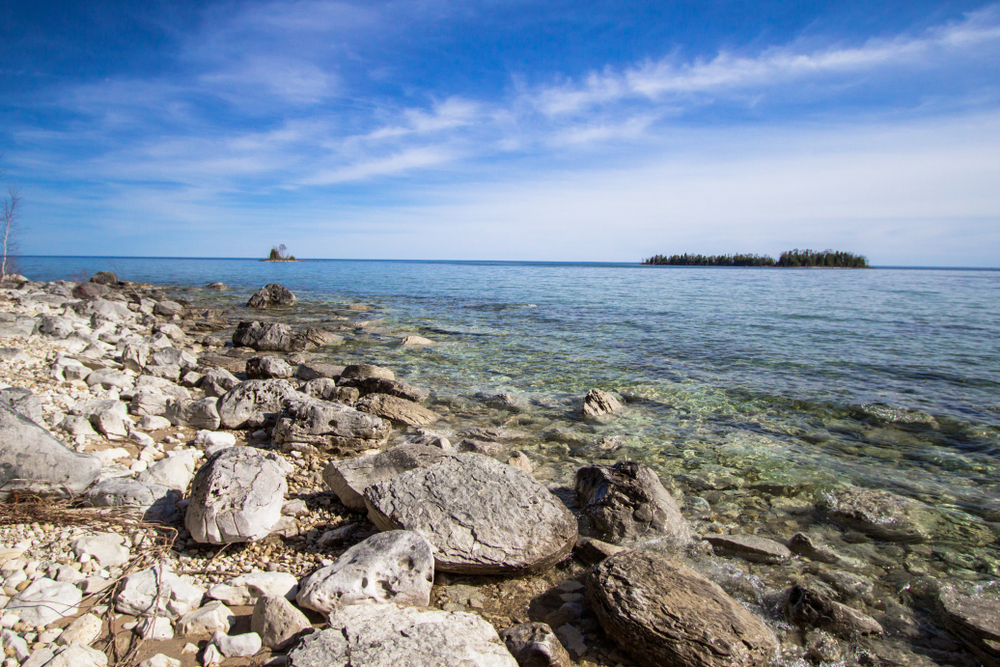 South Bass Island
Moving on to epic places to visit in Ohio, you can find the Bass Islands in Lake Erie, the shallowest Great Lake. South Bass Island is a super popular tourist destination, drawing people in from all over to one of the coolest places to visit in the Midwest.
There is so much to do in Put-In-Bay the charming town found here offering shops, restaurants, lighthouses, and museums. Head to the top of Perry's Victory and International Peace Memorial for awesome views.
Visit South Bass Island State Park for scenic hiking, biking, and camping in Ohio. There are two ferry lines that run to South Bass Island.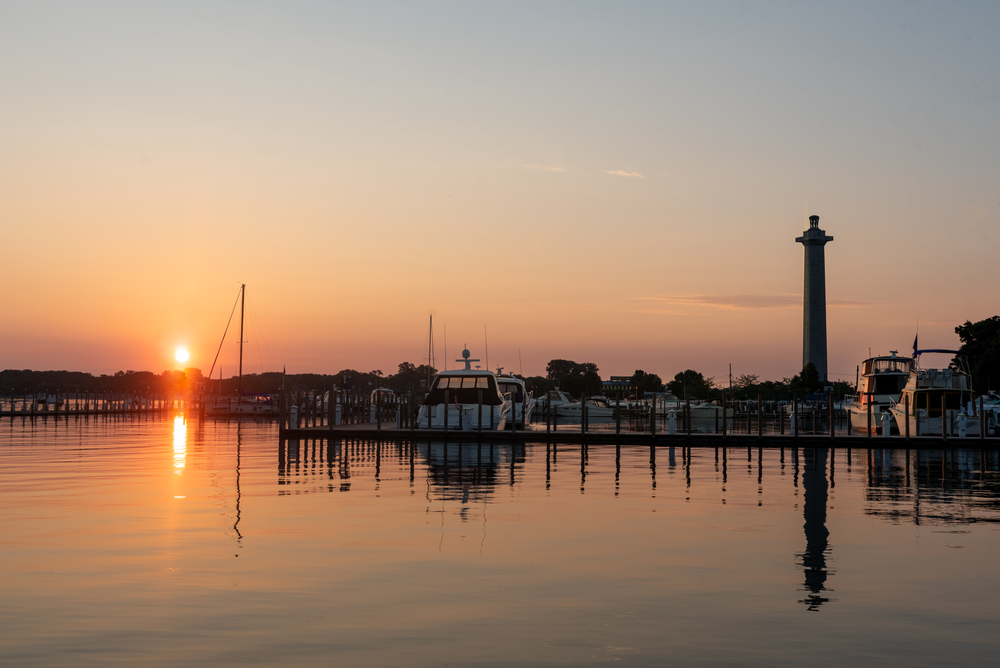 Middle Bass Island
Next, Middle Bass Island is just north of South Bass and is less developed. Middle Bass Island State Park is a beautiful place for an island escape in the Midwest.
The wildflowers here are so amazing that French explorers called it the Isle des Fleurs. Enjoy hiking and biking trails to see the beauty of the land.
You can explore by water as well by renting kayaks or paddleboards. Kayaks will give you access to East Point Nature Preserve which is a great place for birdwatching.
One of the biggest attractions on Middle Bass is the historic Lonz Winery. This museum will teach you about the vineyard's rich history that started with German immigrants in the 1850s.
With so many amenities, it is no wonder this is one of the best places to visit in Ohio.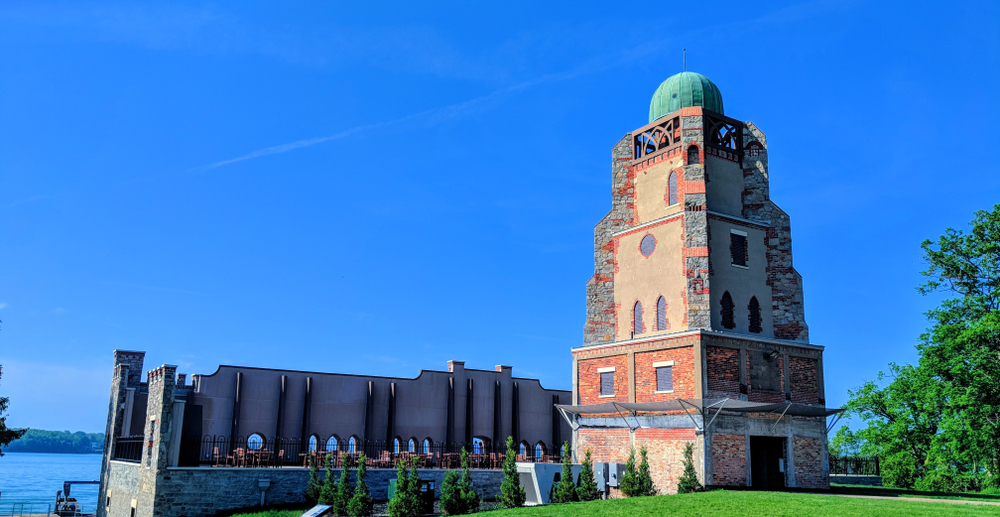 Gibraltar Island
Gibraltar Island is small compared to many of the other islands in the Great Lakes on this list, but this 6.55 acre-island is still worth a day trip. It is only open to the public during summer tours.
Known as the "Gem of Lake Erie," this island is found just off the coast of Put-In-Bay. If you love visiting historic sites, you will want to book the tour here.
There are many historic buildings and geological sites on the island. One of the coolest attractions is Cooke Castle, a Victorian-Gothic mansion built in 1865. You can't go inside, but the architecture is gorgeous.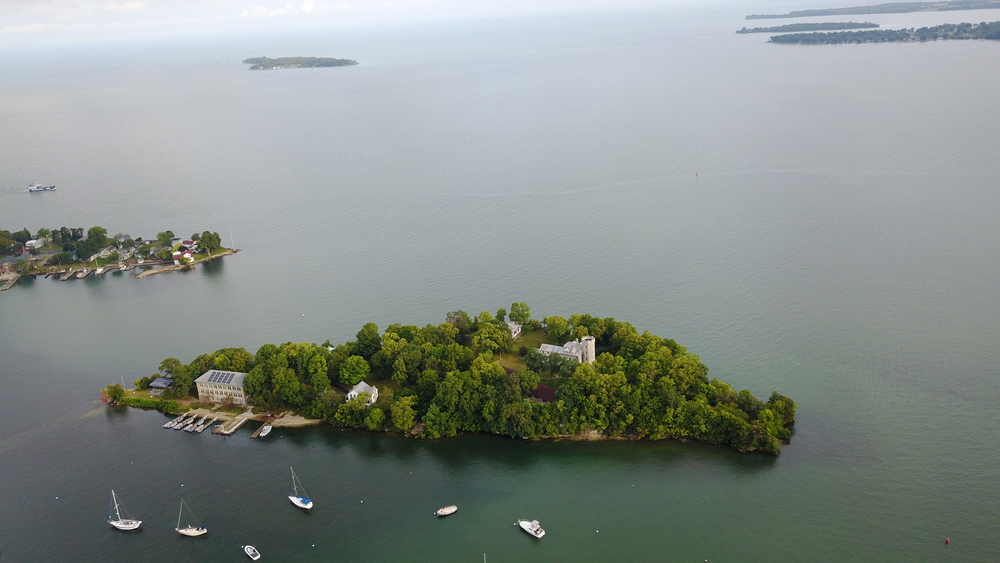 Kelleys Island
To get to Kelleys Island, take the 20-minute ferry from Sandusky. This is the largest island in Ohio and offers plenty of fun and unique things to do.
Historically, the island was used for wine production, and you can still enjoy a glass at one of the wineries. The Monarch Winery and Butterfly Box has a beautiful greenhouse and monarch butterfly farm.
If you want to experience one-of-a-kind natural features, visit the Glacial Grooves Geological Preserve in Kelleys Island State Park. These are the largest accessible glacier grooves in the world.
This pretty state park also has hiking trails, a beach for swimming, kayak rentals, and campgrounds.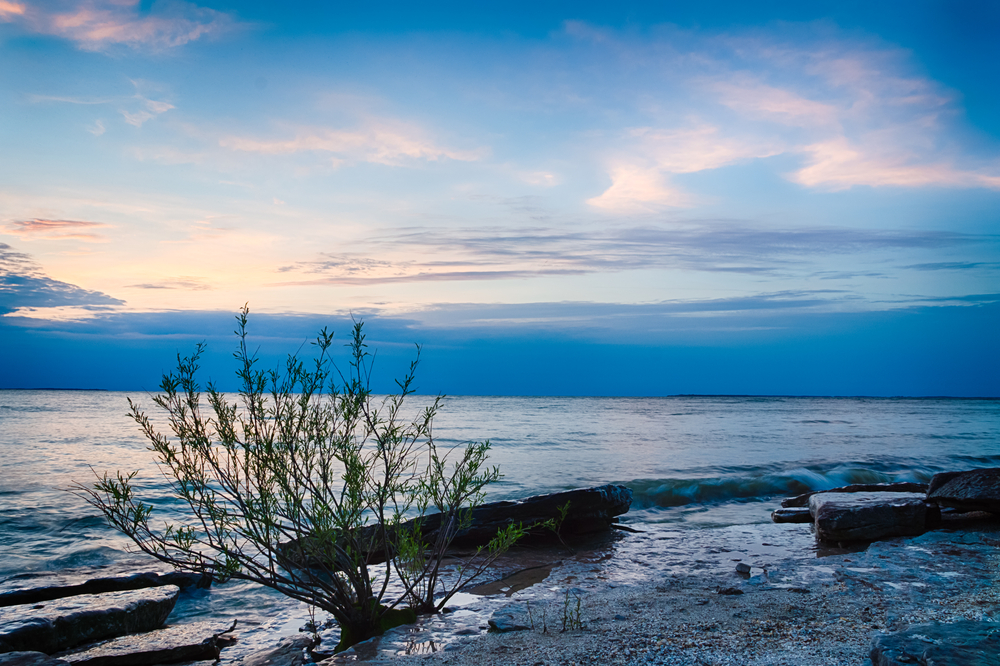 Apostle Islands
The Apostle Islands consist of 22 islands on the northern tip of Wisconsin. They are some of the most beautiful islands in Lake Superior.
The largest is Madeline Island, which is the only one not part of the Apostle Islands National Lakeshore. Tourism is huge here with people coming to hike, bike, and sail. There are also museums to visit.
Taking a sightseeing cruise of the Apostle Islands is a really cool thing to do in Wisconsin. It will allow you to see many lighthouses and iconic rock formations. You can also kayak along the rocks and caves.
This is also another awesome place for scuba diving in one of the coolest islands in Great Lakes with shipwrecks from the 1800s.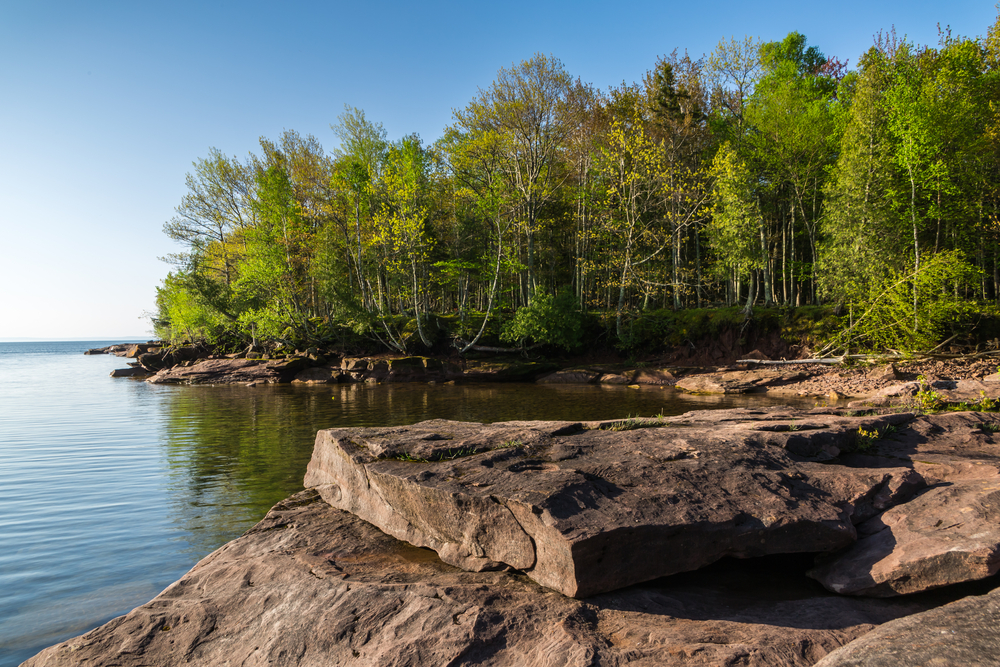 Washington Island
Another of the best islands in Wisconsin is Washington Island in Door County. When you take the ferry here, you will be met with beautiful landscapes.
If you visit in July and August, you might catch a whiff of lavender on the breeze. The largest lavender farm in the Midwest is found here.
The Fragrant Isle Lavender Farm is a gorgeous place to walk around. Check out their shop for an assortment of lavender-scented bath and body products.
You can also have fun exploring beaches in Door County, hiking trails, and parks.
If you love museums, take time to visit the Washington Island Farm Museum, the Jackson Harbor Maritime Museum, the Historic Island Dairy, and the Jacobsen Museum.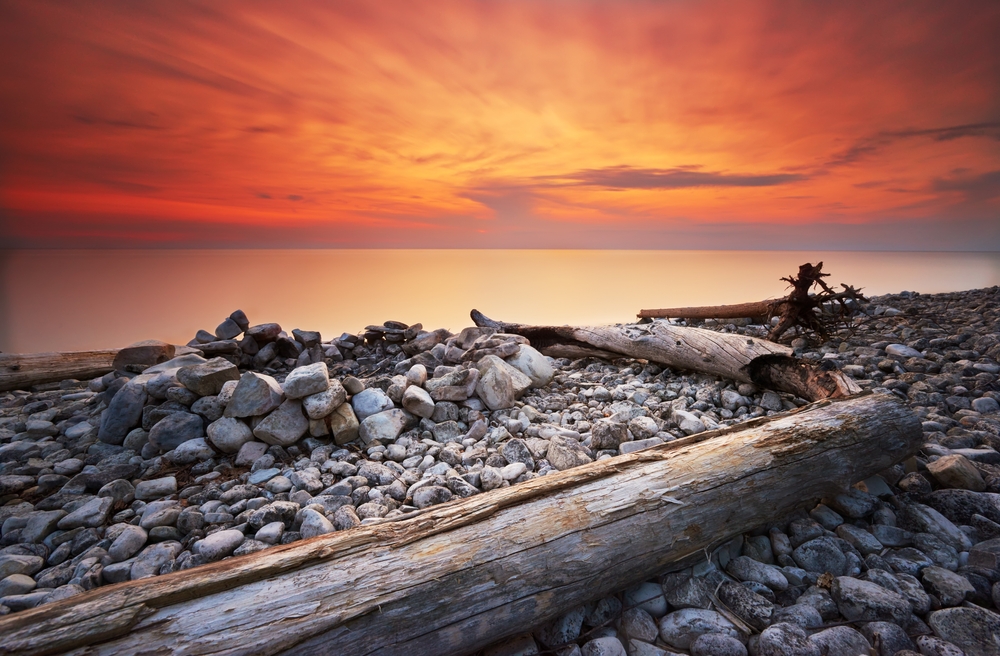 Chambers Island Is One Of The Beautiful Islands In The Great Lakes
Chambers Island is another island in Door County found in Green Bay. To get to the island, you will need to either book a charter or take your own boat. It is about a 45-minute journey.
Once you reach the island, you can enjoy nature and history. Wisconsin hiking trails weave through the wilderness and the beaches of Wisconsin act as a perfect place for a summer picnic. There is also an inland lake where you can fish.
The biggest attraction on the island is the Chambers Island Lighthouse. This squat lighthouse was built in 1868 and the grounds can be toured in the summer. It is a beautiful place to take pictures.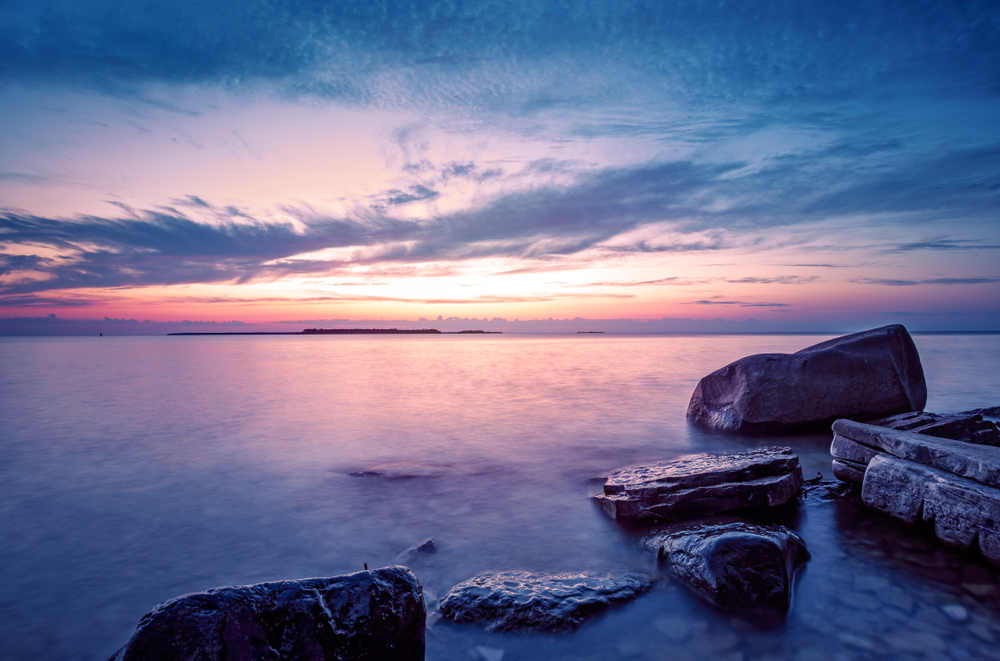 Northerly Island Is One Of The Coolest Islands In The Great Lakes
Northerly Island is part of Chicago, Illinois, and is a great reprise from the city. It is technically more of a peninsula with a harbor on one side and Lake Michigan on the other.
There are plenty of fun things to do at Northerly Island Park. This park is not just devoted to nature, but art and entertainment as well.
The Adler Planetarium is an awesome place for kids and adults alike to learn about science and the stars. There are high-tech shows and interactive exhibits to wow the whole family.
There is also a path around the planetarium that provides panoramic views over the water of downtown Chicago. This skyline walk is a great place for city photography!
Watch a concert at the outdoor amphitheater or visit 12th Street Beach for a peaceful afternoon on the water. Kids will have fun playing in the sand and swimming.
The island is also full of gardens, outdoor sculptures, memorials, and Illinois hiking trails. The natural area is a great place for birdwatching.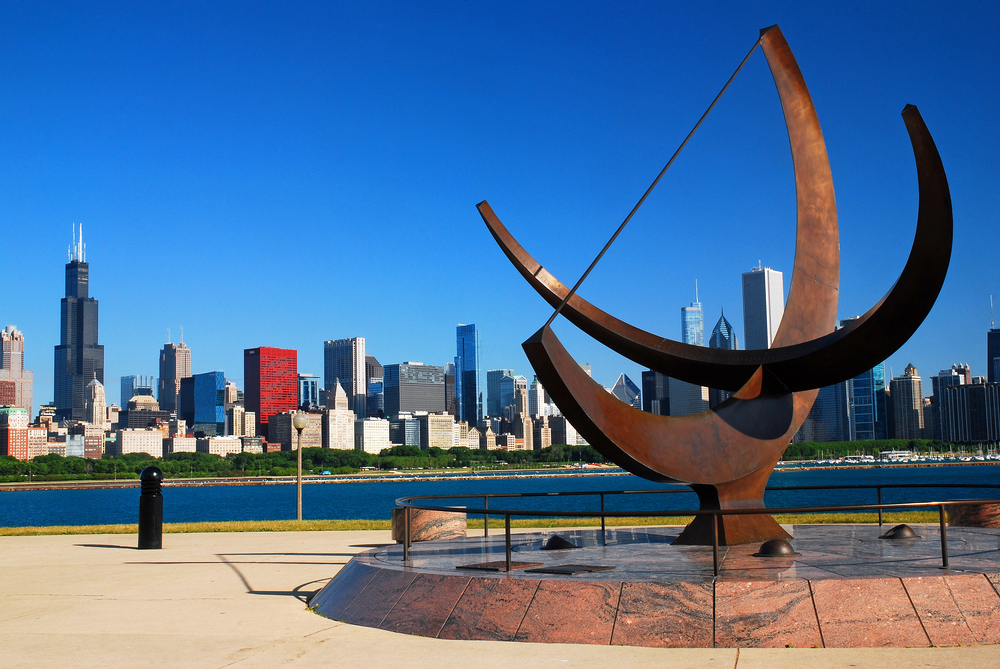 Thousand Islands Is One Of The Coolest Islands In Lake Superior
The Thousand Islands region has some of the best islands in Lake Ontario and the St. Lawrence River. They are scattered among New York State and Canada, all ranging in size.
Interestingly, there are actually closer to two thousand individual islands, and they are spread over a fifty-mile span.
The tiny Just Room Enough Island is the smallest inhabited island in the world and holds a single house.
The Thousand Islands are a beautiful place to kayak and boat from island to island as you take in the natural scenery and historic sites. You can also take a sightseeing cruise.
As you explore the region, you will enjoy lighthouses, art and history museums, hiking trails, and even some castles. In the fall, the trees turn fiery and are perfect for leaf-peeping.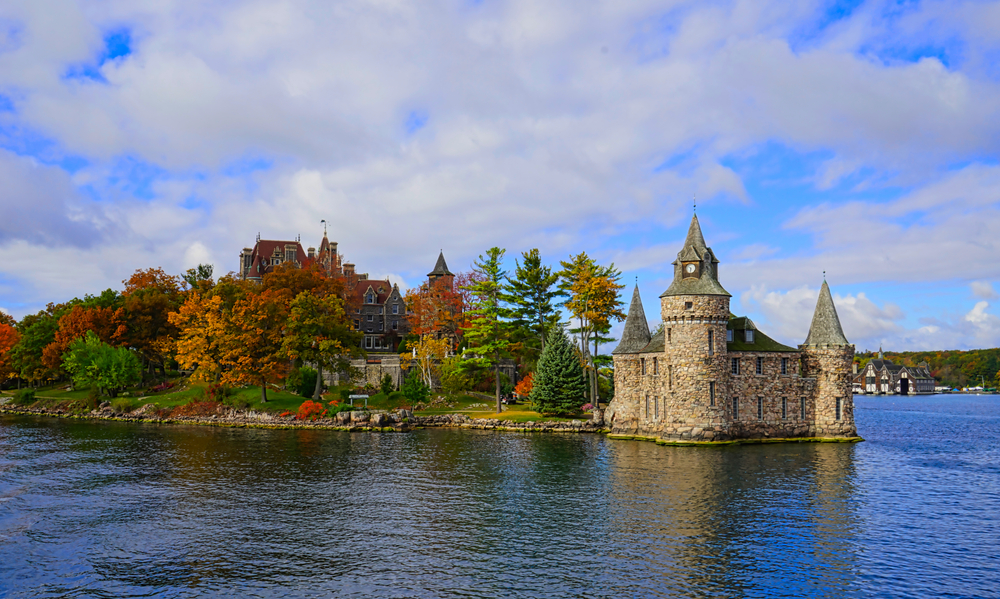 Packing List When Visiting Great Lakes Islands
If you are searching, here are some tips on how to pack lightly when packing for visiting the islands in the Great Lakes.
A concealed travel pouch may be one of the most important items you bring along when visiting the islands of the Great Lakes.  It is always important to protect your personal information. Identity thieves are everywhere.
This unisex RFID blocking concealed travel pouch is lightweight and comes in several colors. It has lots of organization to give you peace of mind. You can place it under your hiking clothes next to your body to carry your ID safely.
If you have a pouch already that does not come with the RFID protection, as I do, these RFID sleeves are the perfect solution.
If you are planning on taking a lot of pictures with your phone you will definitely want to consider an external charging battery. This Anker high-speed phone charging battery is the exact one I carry with me on all of my trips.
I like that it holds its charging capabilities for several uses so I do not have to worry about it while out and about, and if I forget to recharge it at night, it will still be good to go the next day.
My daughter gifted me with this FugeTek selfie stick and tripod setup for my birthday. I absolutely love it! It is made of lightweight aluminum and is so easy to use.
It has Bluetooth connectivity and is a breeze to use for taking Insta-worthy selfies while discovering island getaways in the US.
I never much believed in using packing cubes when traveling. That is until I tried them. Now I am hooked. These are the exact cubes I use to stay organized when I pack for a trip!
You will want to bring your own refillable water bottle with you.
I never leave home on a trip without my Bobble filtration bottle. The 18.5-ounce size is perfect for your adventures and it fits nicely in the pocket of a backpack.
Perhaps you are traveling a long distance and packing space is a premium in your suitcase, or in your car. Then this set of collapsible silicone foldable water bottles would work well for you. Would not take up much space at all.
You will want a backpack or daypack with you to store snacks, your water bottle, phone, extra clothes, etc.. during long hours of visiting the islands in the Great Lakes. No matter the time of day or evening.
This foldable water-resistant backpack would be great. And it comes in many different colors.
—
No matter which of the Great Lakes you visit, there are amazing islands to explore. No matter your interests, there are Great Lakes islands you will love.
While many of the islands of the Great Lakes focus on the wilderness, many are developed with cute, small towns and resort vibes.
If you are planning a Great Lakes getaway, make sure to check out some of the islands!