Looking for things to do in Grand Marais? You are in the right place. In this article, I will give you a run-through of this amazing town and how you can make the best of your trip there.
Grand Marais is in Minnesota located on Lake Superior. It's a picturesque harbor town that is surrounded by natural beauty the town is stunning and the scenery is breathtaking.
This town is often seen as a gateway city but it really has so much to offer. It's the gateway to the Gunflint Trail, the North Shore Scenic Drive, Boundary Water Canoe Area Wilderness, and the last stop before the Canadian border.
This town has earned the nickname as American's coolest small town and it's a quirky mix of art, nature, stunning views, and picturesque locations. It's a very easy walkable town with most of the shops, galleries, and restaurants in the same area. And towards the lake is where you will find most of the other attractions.
This gateway location means the history here is rich from the native Ojibwe to French explorers. All have left their mark in some way.
You will need to go out of town to see some of the epic locations but honestly, they are so beautiful. It's really worth getting in the car and packing your hiking boots as they are is stunning.
It's a beautiful town whatever season you decided to visit. The summers are really comfortable, the fall in Minnesota is beautiful and the winters are very cold. And always be prepared for clouds and a bit of rain. Take a raincoat and several layers of clothing.
There are so many great towns in Minnesota and I honestly think this is one of the best.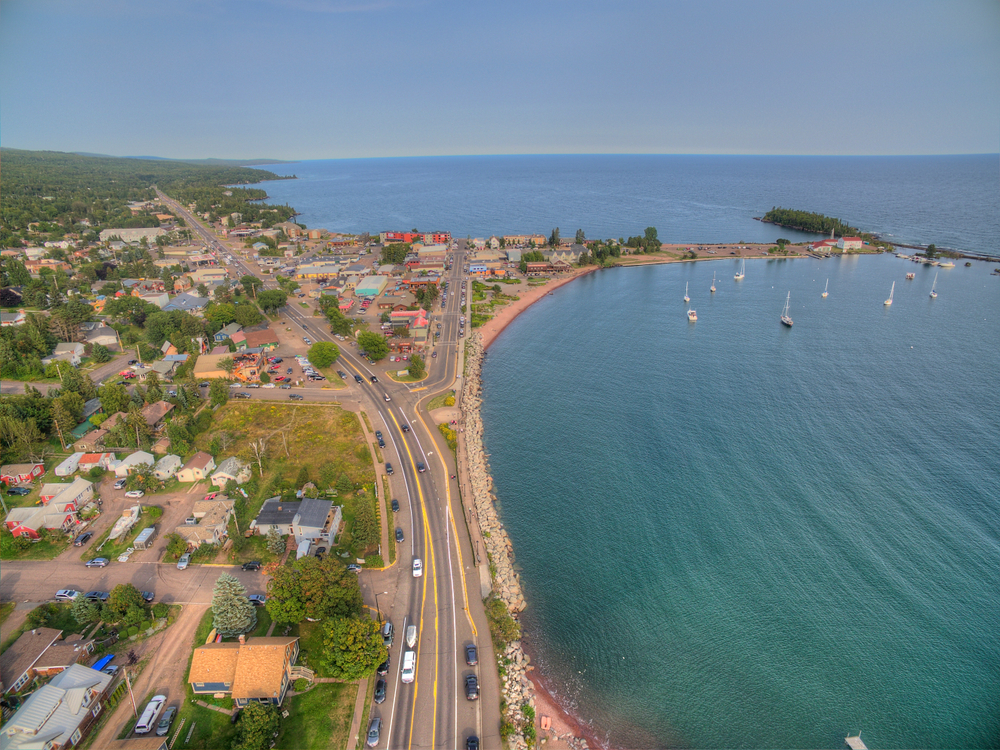 14 Best Things To Do In Grand Marais MN
Explore Artist Point
This is an absolute must-see. Artist Point is a peninsula near the lake and when you see it you will know why they call it Artist Point.
If you approach Lake Superior from the coast guard station you need to turn left and you will be at Artist Point.
You will often see numerous artists painting and drawing here. The jagged rocks and the landscape beyond make this place unusual and beautiful.
If you go in the winter wrap-up warm it can get very breezy here.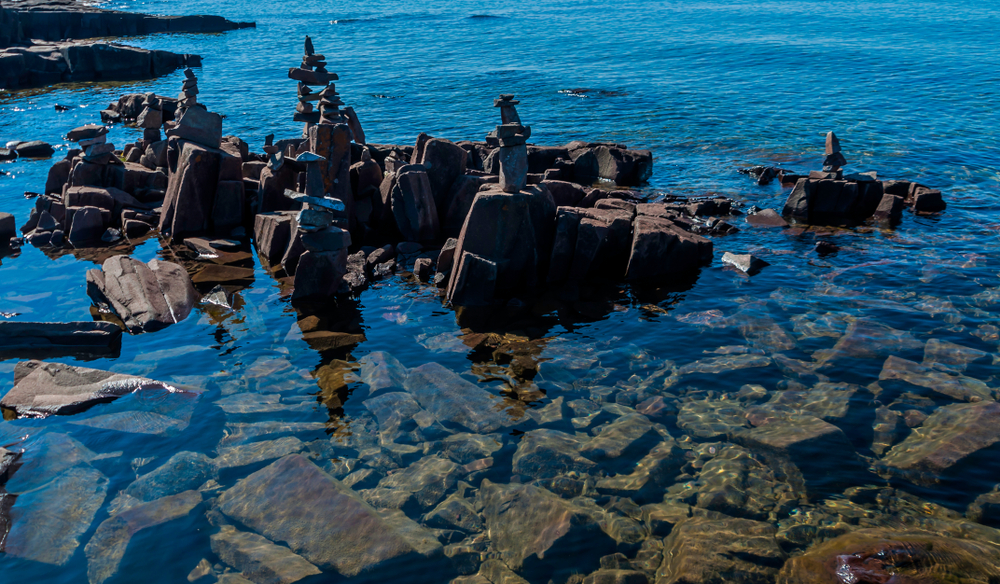 Enjoy The View Of The Lighthouse
One of the most popular things to do in Grand Marais MN is to visit the lighthouse. It's easy to walk there and it is at the opposite end to Artist Point.
Located on the outer end of a breakwater it is a square pyramid style constructed in 1922. The lighthouse is still operational and the original keeper house onshore is now operated as the main museum of the Cook County Historical Society.
The museum features exhibits on the culture, history, and industry of the area. The view from the top of the lighthouse is incredible. You can see the town and the Sawtooth mountain range.
The walk, unfortunately, is not wheelchair friendly and is not recommended if you need assistance in walking.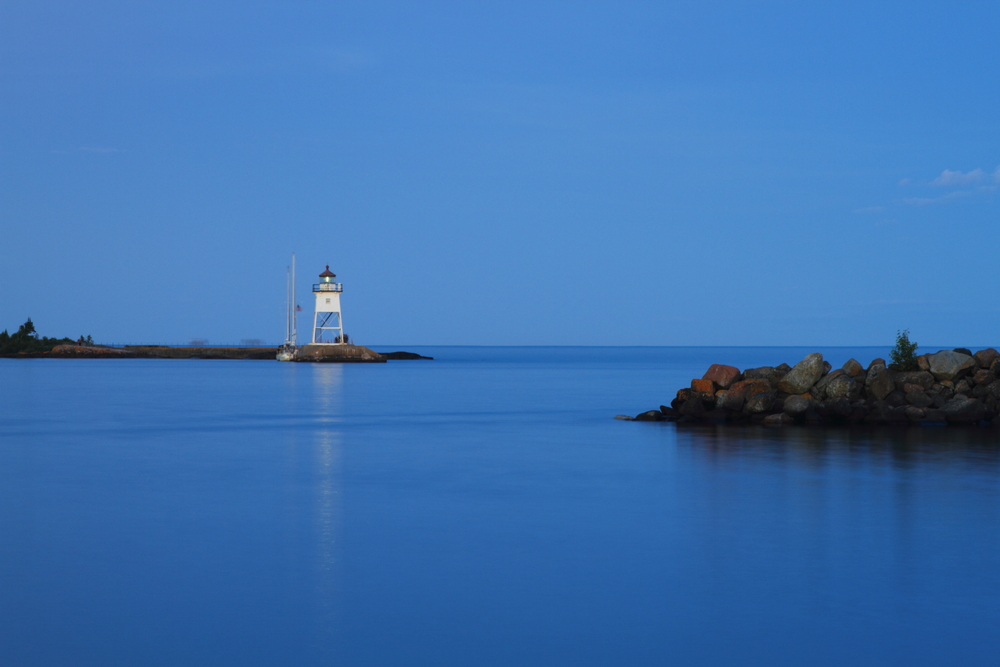 Kayak Lake Superior
If you are searching for ways of seeing Grand Marais from a different vantage point why not hire or rent a canoe or kayak and get into the water!
Several tour companies offer guided tours or go off on your own.
It is a great way to see the beaches, bluffs, islands and the wildlife that you cant see from the land and one of the interesting things to do in Grand Marais.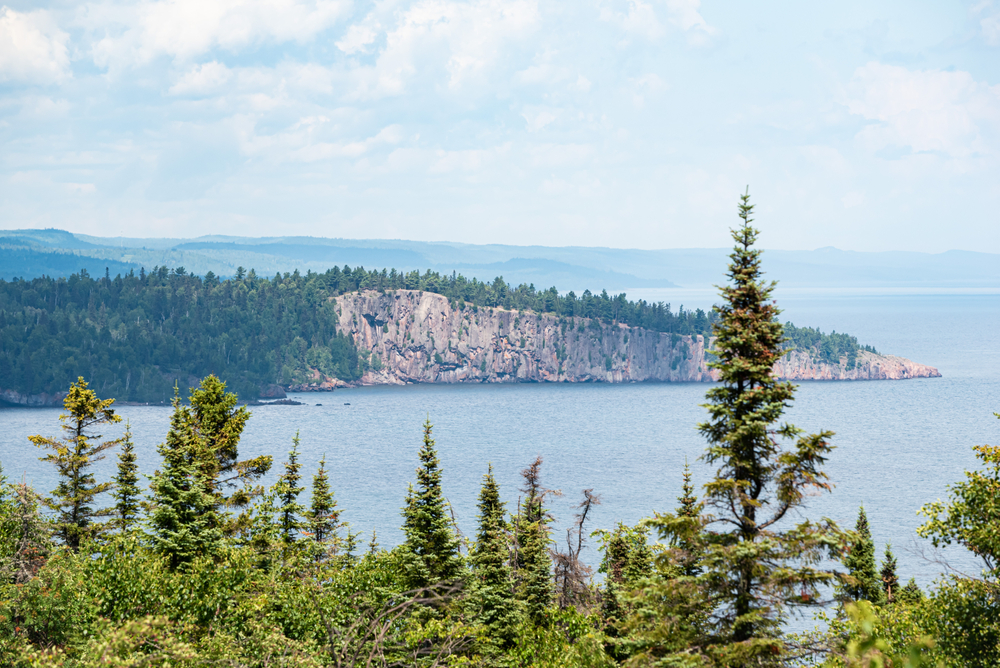 Enjoy The Local Art Scene
The landscape is an artist's dream and hence there is a great art scene here. The town is the site of the annual Plein Air Grand Marais Festival which attracts lots of artists from around the country.
Consequently, Grand Marais is a place with a lot of art galleries. In fact, the small town has close to a dozen art galleries and they are all within walking distance.
So take a stroll and enjoy the art that this incredible location has inspired.
And if you are interested in trying your own hand at creating art North House Folk School offers some great courses.
Hike The Superior Trail
If you want to get out into the wilderness then it does not get much better than the Superior Trail. With over 50 miles to explore along with the North Shore forests and mountains, you won't regret it.
Expect to see waterfalls, hills, rivers, creeks, and some incredible wildlife. The Superior Trail takes in the Pincushion Mountains and the Devil River Trail which are both quite spectacular. The views from the trails are incredible.
Some of the trails are steeper and more difficult than others so please make sure you do your research before going out.
Hiking the trails is one of the best things to do in Grand Marais MN.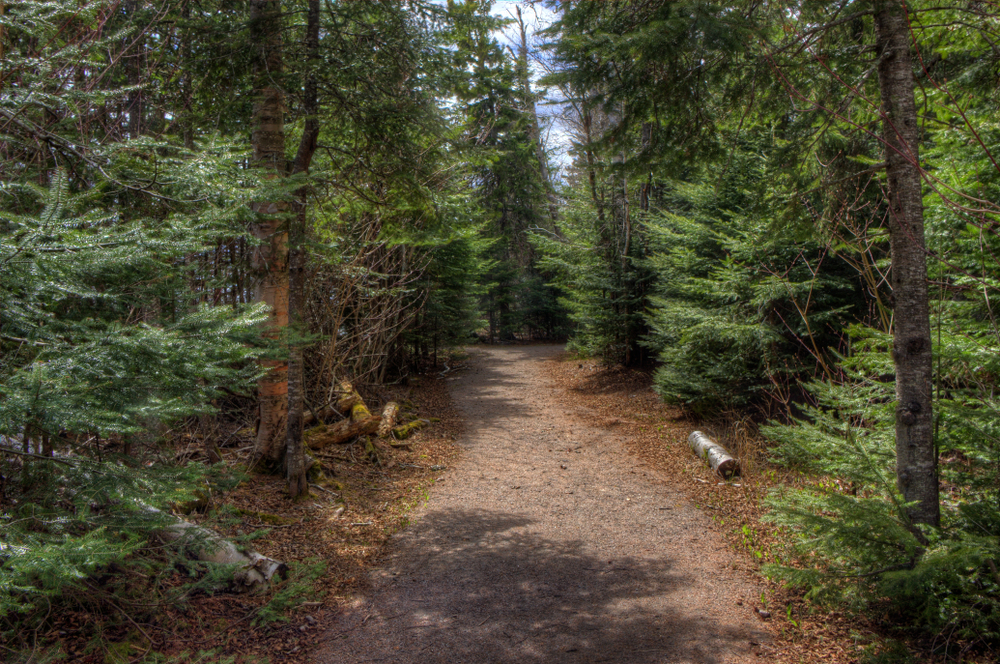 Drive The Gunflint Trail
This drive is spectacular and if you want to see the scenery through the comfort of your car window this is a great way to do it.
It is a 57-mile loop that not only takes in Grand Marais but also Boundary Waters where you can see Canada across the lake.
You will also drive past the National Forest and some lakes and trails. If you fancy exploring take in one of the shorter trails in the area.
Plan to take the drive easy and take a picnic as you will want to explore the area and take in the incredible views. And for the best views of the town stop at the overlook just above Grand Marais.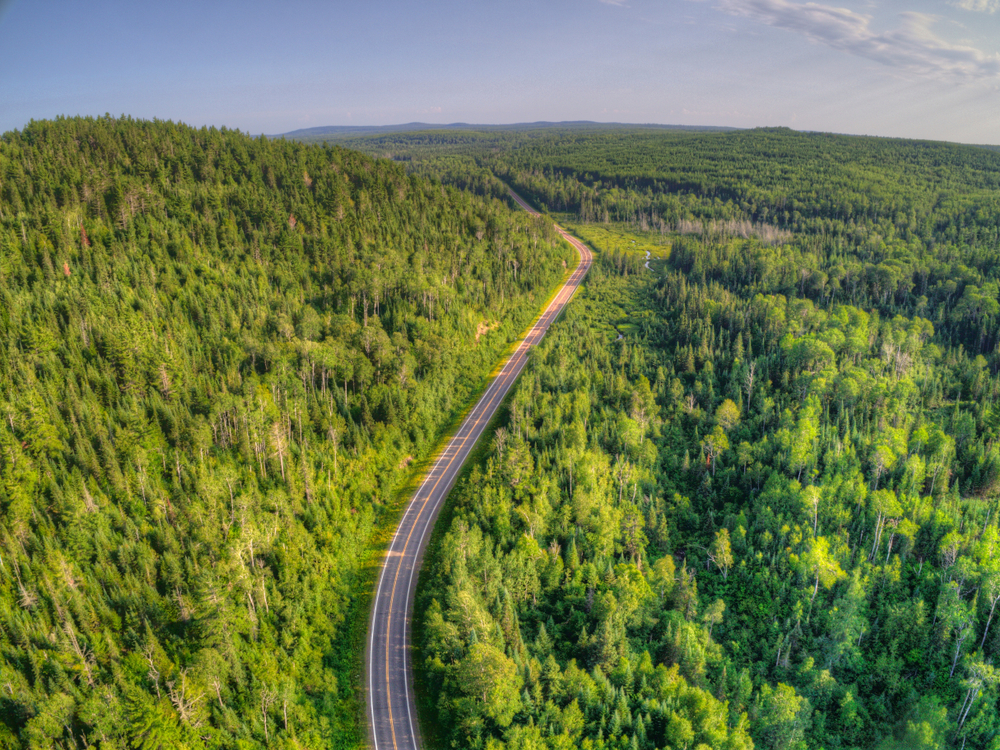 Sampling The Food Is One Of The Best Things To Do In Grand Marais MN
There are a lot of amazing restaurants in Grand Marais with many of them serving local produce.
The Angry Trout Cafe which as the name suggests serves some amazing fish dishes. It is situated in a former fishing shanty making it extra quirky.
Sven and Oles is a great place to build your own pizza and enjoy the vintage vibes.
And well worth a mention is a bakery named the World's Best Donuts. If you are a fan of this sweet treat you must try out this place.
Other places worth a mention are The Crooked Spoon, Harbor House Grille, My Sisters Place, Gunflint Tavern, and Voyageur Brewing.
Shop Till You Drop In Grand Marais MN
While Grand Marais has some lovely boutique shops as well as some great shopping experiences.
Update Minnesota has some great artisan products and some great local products. Lake Superior Trading Post is also a great place to visit. You find the typical tourist items here as well as lots of local items that reflect the local artisans.
And for those with a sweet tooth, you must head to Gunflint Mercantile who makes the most amazing fudge and chocolates. They sell specialty coffees, bread, jams, and local products.
Marvel at Nniboujou Lodge
In 1927 The founding members of the Naniboujou Holding Company formed a unique club. They obtained a lease for 3,330 actors of land along the lakes of Lake Superior and invited the rich and famous to join them.
It was in essence a very exclusive hunting club with members buying into the project. An impressive clubhouse was built and it's still as impressive today.
The clubhouse boasts the largest stone fireplace in the state of Minnesota. It was built by a local Swedish stonemason. The most impressive aspect however is the painted 30-foot dining room.
It was painted by Antoine Goufee, a French artist. It is of Indian design and even covers the domed ceiling. It is an expanse of color and elegance.
You can stay at the lodge and it has a great restaurant. It is open to the public daily from May until October.
It really is a place worth seeing and one of the most impressive places to visit in Grand Marais.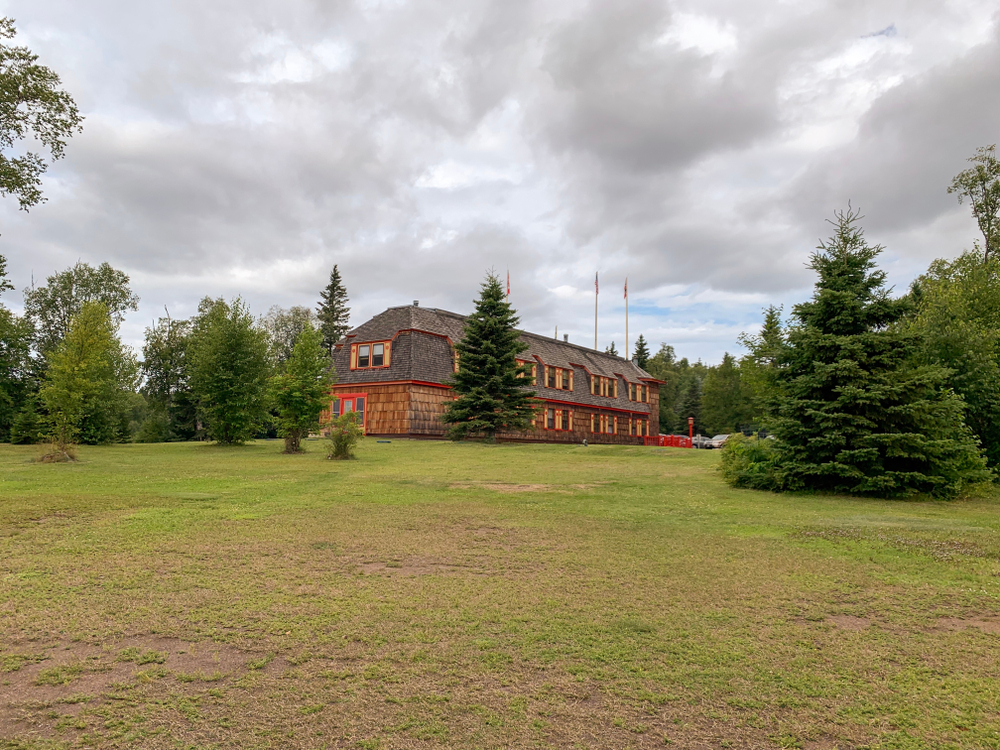 Take in the Local History 
In the Grand Marais recreation area, you will find a historic boat and fishing house on display which is well worth exploring. The recreation also has a camping ground so you can spend some time here.
Grand Portage National Monument is also worth visiting it is about half an hour away. It is an interesting historical place where the Voyageurs and Ojibwe Indians traded with the British North West Company.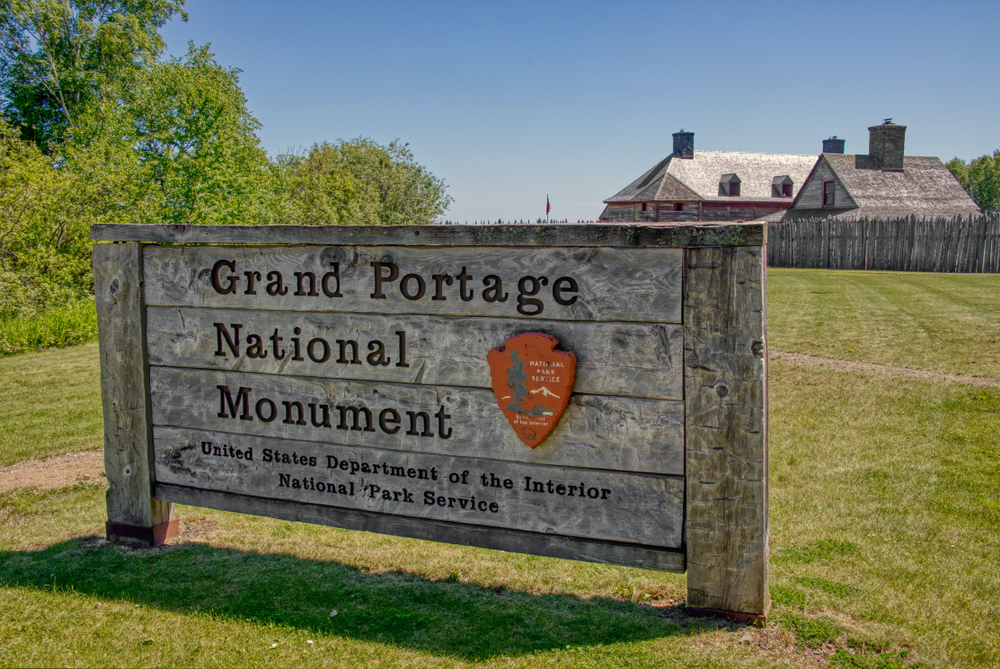 Get Your Hiking Boots On
If you want to get out in the surrounding countryside on your own two feet the Oberg Mountain Trail is spectacular.
The Trails circumnavigates Oberg Mountain and the views are jaw-dropping especially in the fall. Rising to almost 1000 feet above the lake you will want to make sure you get some pictures of the incredible views along the way.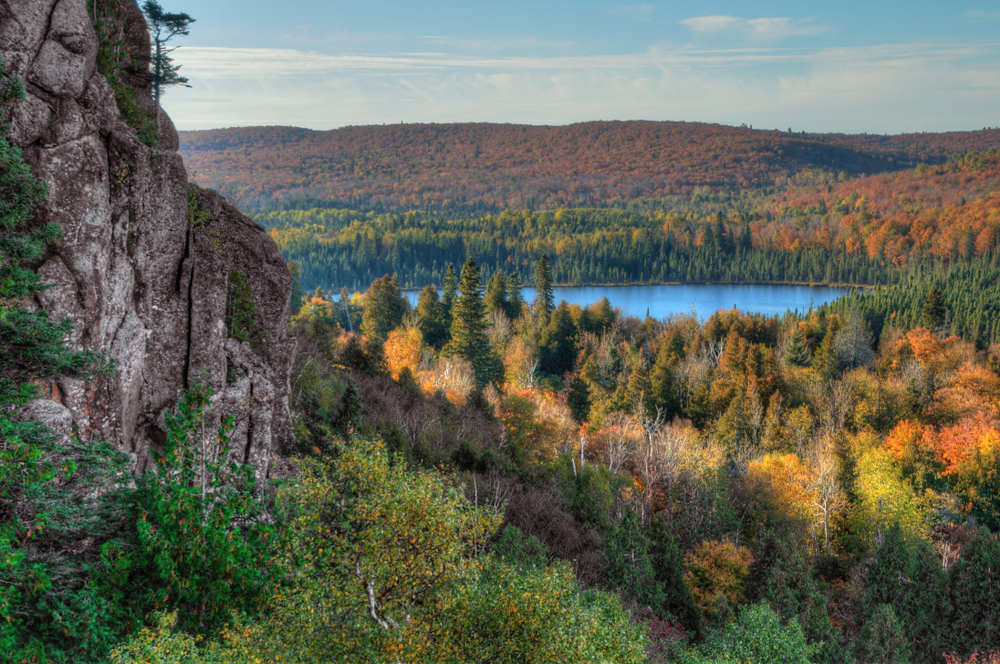 Go Waterall Hunting
If you love waterfall in Minnesota there are two great ones within easy driving distance.
The Falls on the Pigeon River is the highest in Minnesota. The drive is about an hour To Grand Portage Park and the High Falls are really impressive.
On the way there or back make a stop at Judge C.R. Magney State Park and put on your hiking shoes. An uphill 1 ½ mile hike will see the Devils Kettle Falls. You can see the falls from an overlook.
It's an interesting fall that splits at a rock half falling into the River and half falling into what appears to be oblivion. It's a great sight.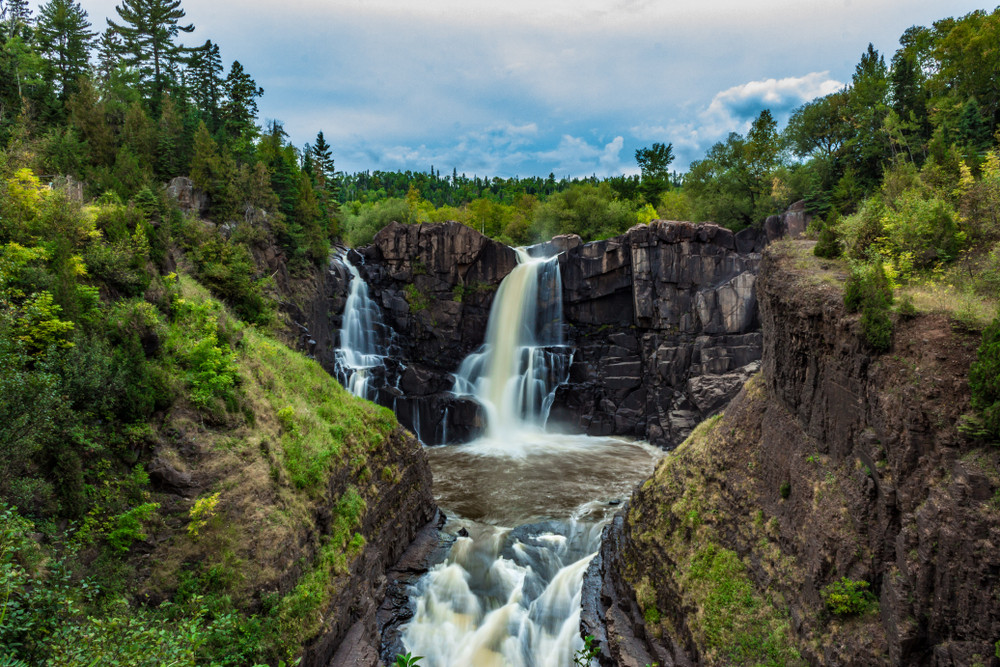 Going Book Shoping Is One Of The Interesting Things To Do In Grand Marais MS
If you like your bookshops cute and quaint they don't get any more picturesque than Dury Lane Books. On the East Bay of Lake Storefront, it's a historic building that is well worth a visit.
They have a hand-curated collection of books and also hold author events and children's story hours.
It was founded by author and former publisher Joan M Drury in 2002 and is now run by her children. The store was originally built as the Mayhew Family home and has had many different uses since then.
Go Canoeing In The Boundary Waters Canoe Area Wilderness
If you are after a true wilderness experience then this is it. There are no motors, electricity, telephone lines. And even roads are few and far between.
It truly is wonderful here with over a million acres of wilderness, 1000 lakes, and 1500 miles of canoe routes.
National Geographic named it as one of the '50 destinations of a lifetime," so that gives you an idea of how incredible this place is.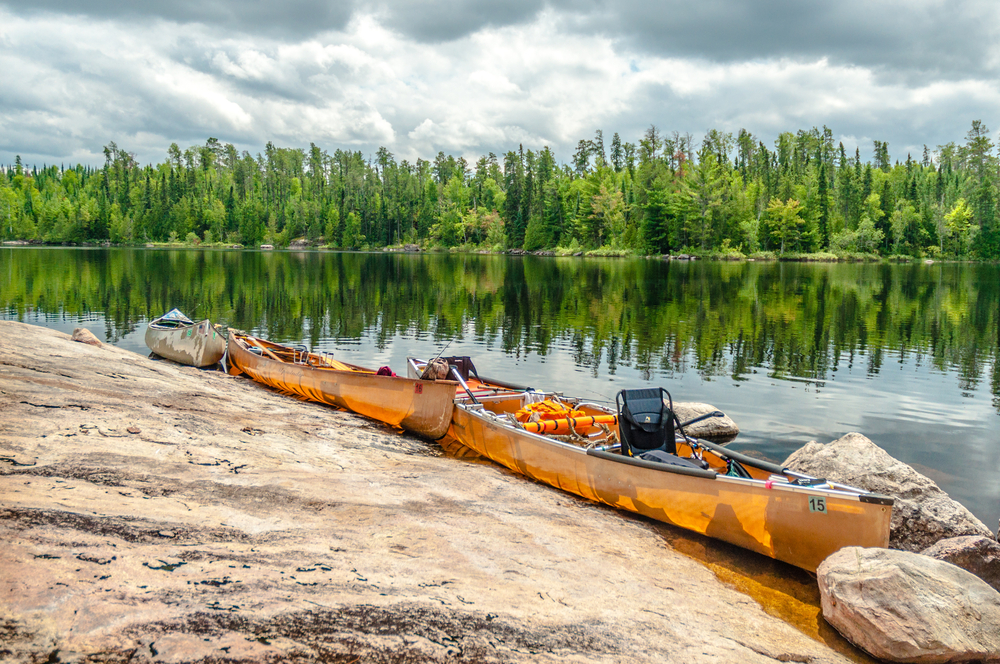 Packing List When Heading To Grand Marais MN
Read about how to travel with just carry-on sized luggage to make your trip easier and more organized.
A concealed travel pouch may be one of the most important items you bring along when searching for things to do in Grand Marais MN.  It is always important to protect your personal information. Identity thieves are everywhere.
This unisex RFID blocking concealed travel pouch is lightweight and comes in several colors. It has lots of organization to give you peace of mind. You can place it under your hiking clothes next to your body to carry your ID safely.
If you have a pouch already that does not come with the RFID protection, as I do, these RFID sleeves are the perfect solution.
This configuration comes with enough credit card sleeves that the entire family would be protected. They are slim too, so they will easily fit into your pouch or wallet.
If you are planning on taking a lot of pictures with your phone you will definitely want to consider an external charging battery. This Anker high-speed phone charging battery is the exact one I carry with me on all of my trips.
It can be used on a variety of phones, not just an iPhone like I have. And wow is it fast!
I like that it holds its charging capabilities for several uses so I do not have to worry about it while out and about, and if I forget to recharge it at night, it will still be good to go the next day.
My daughter gifted me with this FugeTek selfie stick and tripod setup for my birthday. I absolutely love it! It is made of lightweight aluminum and is so easy to use.
It has Bluetooth connectivity and is a breeze to use for taking selfies with all those nature shots in Iowa.
Hydration is so important when hiking. You want to remain hydrated throughout your travels to support your immune system which in turn will be stronger to fight off any germs you will encounter during your travels.
You will want to bring your own refillable water bottle with you.
I never leave home on a trip without my Bobble filtration bottle. The 18.5-ounce size is perfect for hiking and it fits nicely in the pocket of a backpack.
Perhaps you are traveling a long distance and packing space is a premium in your suitcase, or in your car. Then this set of collapsible silicone foldable water bottles would work well for you. Would not take up much space at all.
You will want a backpack or daypack with you to store snacks, your water bottle, phone, extra clothes, etc.. when celebrating Christmas in Ohio. No matter the time of day or evening.
This foldable water-resistant backpack would be great.
It is very affordable and is available in many color options for you to choose from. The fact that it folds down into a zippered pouch will make it easy to pack!
—
As you can see when it comes to things to do in Grand Marais MN you really are spoiled for choices. Whether you stay in the town or go a bit further out you won't be disappointed.
Whenever you go I know you will have an amazing time. Please come back and tell me all about it.