Are you looking for the best things to do in St. Paul Minnesota? Then you've come to the right place!
I was born and raised in the Midwest, in Youngstown Ohio!
St. Paul is one of the sister cities that make up the Twin Cities of St. Paul Minnesota and St. Paul Minneapolis.
The sister city of St. Paul Minneapolis is typically the more visited of the two, but St. Paul Minnesota has tons to offer too!
In fact, St. Paul Minnesota is full of history and actually has some of the country's most significant Victorian era historical sites.
Its full of beautiful historic architecture, unique historic places like prohibition caves, and so much more!
On this list I've included some of my favorite attractions in St. Paul MN to explore and visit.
There are family-friendly parks and museums, unique historic tourist attractions, and plenty of places to shop too!
So, let's take a look at some of the best things to do in St. Paul Minnesota!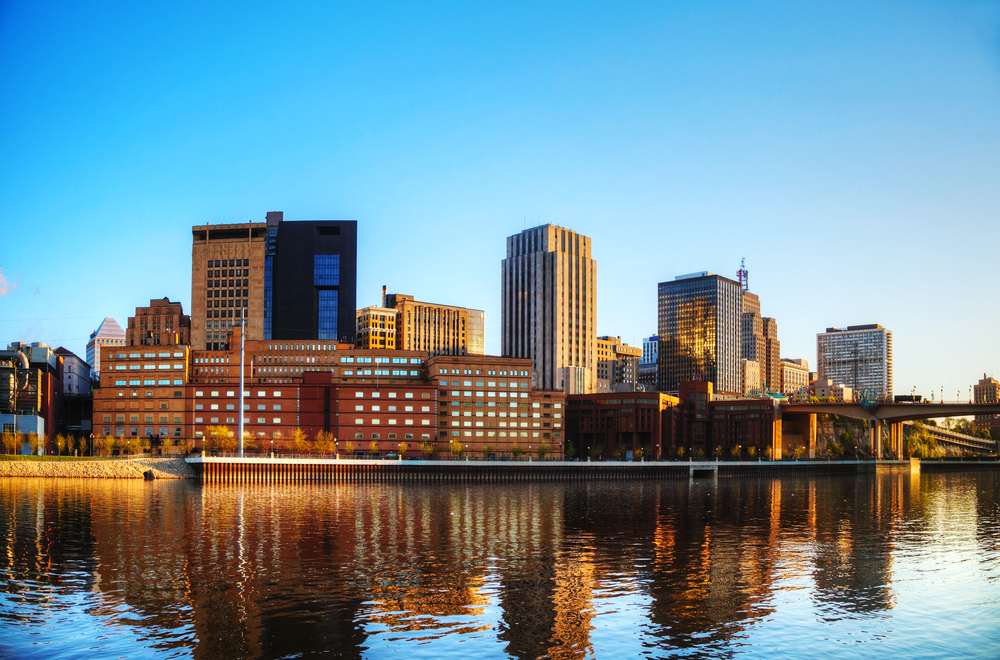 15 Best Things To Do In St Paul MN
Explore The Wabasha Street Caves
The Wabasha Street Caves are a really unique St. Paul Minnesota tourist attraction.
That's because they are the only part of the city that is a restored gangster-era site.
If you want to visit the caves, you'll need to book a tour that is hosted by the city government.
The caves were originally built in the 1800s as a mining venture but were eventually abandoned.
For a bit, they were actually used as a mushroom farm, before becoming a hot spot for St. Paul's gangster scene during the prohibition era.
The caves housed a popular gangster restaurant and casino. In fact, there are bullet holes inside the cave from an unsolved gangland murder that happened there!
Stay Here: Booking.com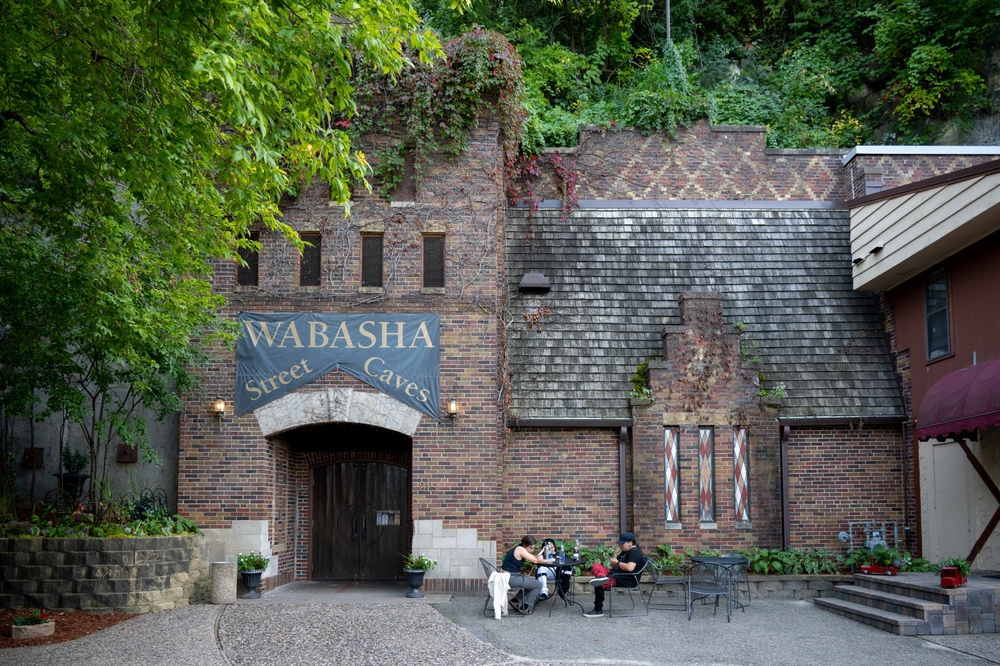 The Minnesota State Fair Is One Of The Best Things To Do In St. Paul MN
People from all over the state come to enjoy one of the best events in Minnesota during the last week of August – the State Fair!
As the second-largest state fair in the country, this is one of the best fun things to do in St. Paul MN for the whole family! It's a week-long event, so you have plenty of time to visit.
You'll find popular rides like the Ferris wheel, carousel, SkyRider, Tilt-A-Whirl, and so much more.
They also have plenty of classic fair food options, but for the adults, they also have a large selection of craft beers and cocktails.
Other things to do at the St. Paul MN fair include live music on multiple stages, the Fine Arts Exhibition, the Milk Run 5K Race, and an assortment of other shows and educational exhibits.
Stay Here: Booking.com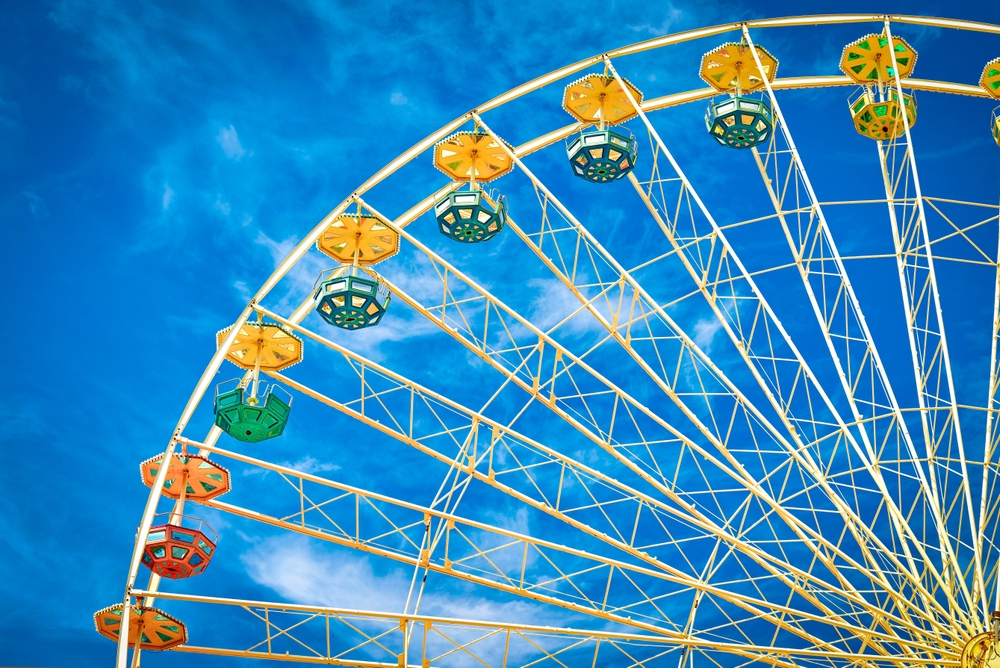 Tour The Gilded Age Era James J. Hill House
The James J. Hill House is a historic Gilded Age mansion in St. Paul MN.
Today, the house is a historic home museum that you can purchase tickets to tour.
The mansion is open for tours Thursday through Sunday, and you can purchase tickets ahead of time, or on-site.
Inside the 36,000-square-foot mansion, there are 22 fireplaces, 13 bathrooms, a 100-foot-long entrance hall, and tons of other incredible details.
The house was built for the railroad titan, James J. Hill, and was designed with all of the modern amenities of the time, to Hill's exact specifications.
Even if architecture tours aren't your thing, you absolutely have to see this incredible St. Paul MN mansion!
Stay Here: Booking.com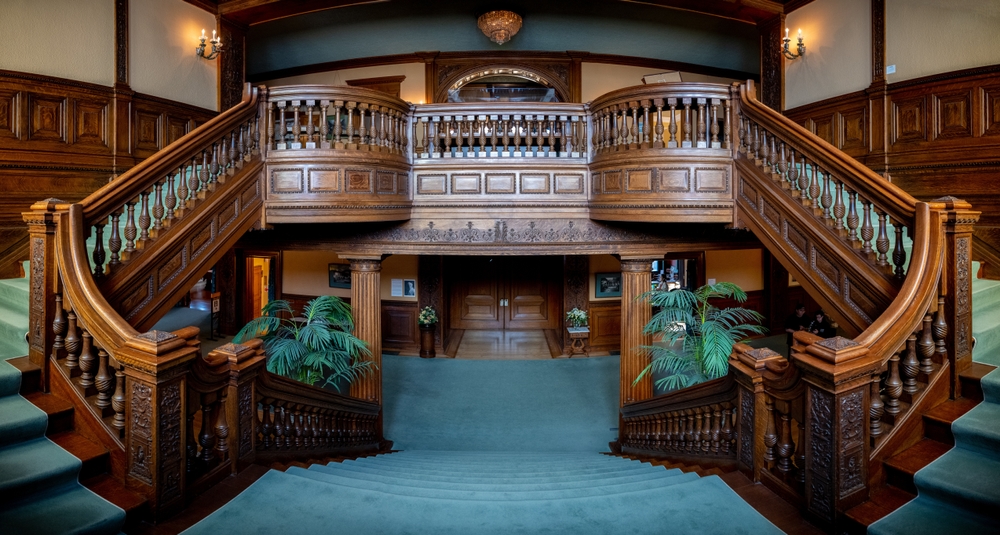 Walking Along Summit Avenue Is One Of The Best Things To Do In St Paul
After you visit the James J. Hill House, I suggest taking a stroll down Summit Avenue, where it is located.
Summit Avenue is a famous street in the city and a cool free thing to do in St. Paul too!
This famous attraction in St. Paul is actually the longest stretch of Victorian-era homes in the United States! So it's an incredibly historic street full of incredible architecture.
In fact, 373 of the street's 440 homes are original Victorian-era homes and mansions. That is super rare to find!
The other homes on the street feature a variety of architectural styles that are also really interesting to admire.
Stay Here: Booking.com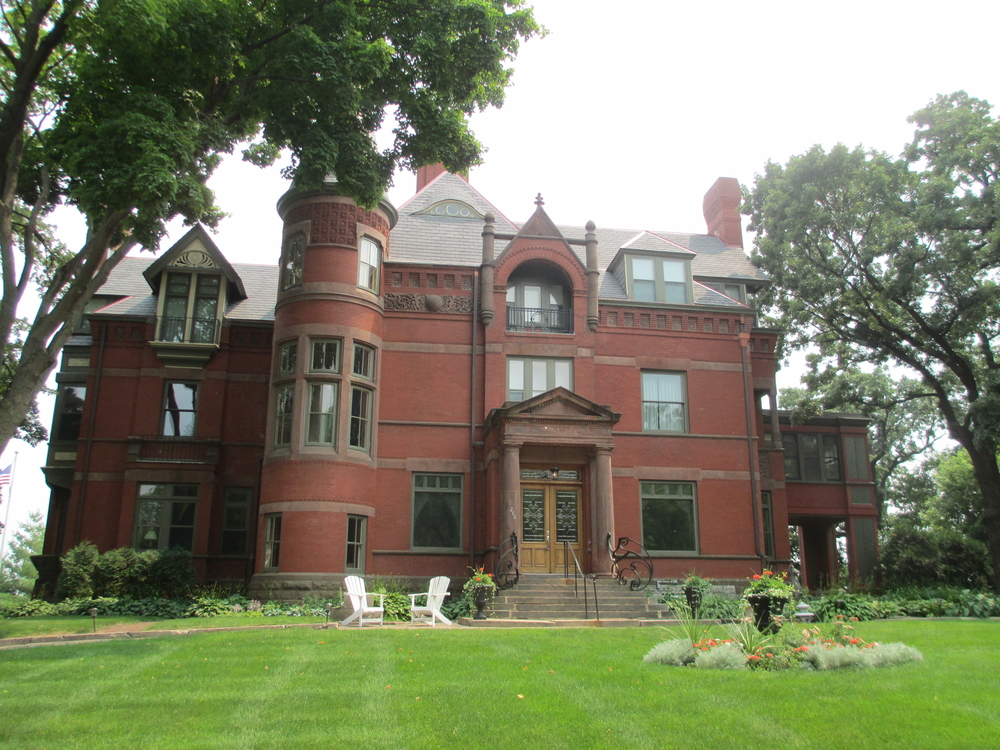 Mansions Of Mystery Twin Cities Ghost Tour
Speaking of mansions in St. Paul, one of the coolest things to do in St. Paul Minnesota at night is a ghost tour!
The Mansions of Mystery Twin Cities Ghost Tour is a walking tour that takes you along Summit Avenue.
On the tour, you'll stop outside 10 of the most famous homes on Summit Avenue.
Your tour guide will uncover the mysteries and secrets of the beautiful mansion's spooky and haunted past.
So you'll learn more about the historic mansions but with a spooky fun twist!
Book Your Tour Here: Getyourguide.com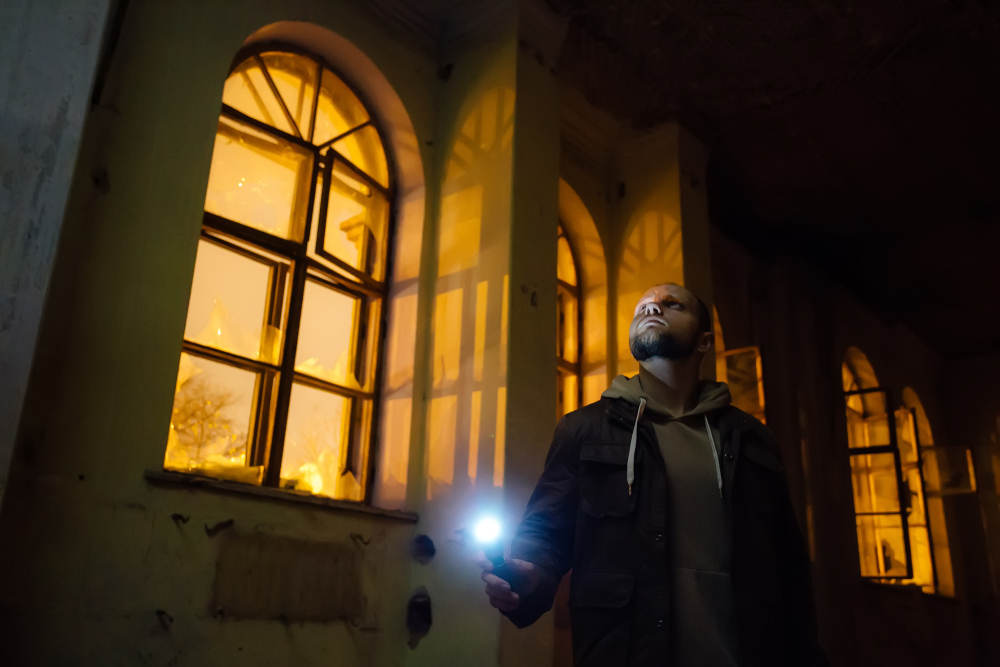 The Cathedral Of St. Paul Is One Of The Best Things To Do In St. Paul MN
The Cathedral of St. Paul is a historic Catholic cathedral known as the 'Great Temple on the Prairie.'
Its exterior was completed in 1914 and the grand interior was completed in time for the first Mass to be held on Easter Sunday of 1915.
The cathedral is incredibly ornate, both inside and outside, and has become an iconic piece of St. Paul MN architecture.
Because of its historic significance, the diocese offers guided tours with a knowledgeable docent.
Architectural lovers will enjoy touring this unique Minnesota tourist attraction.
Stay Here: Booking.com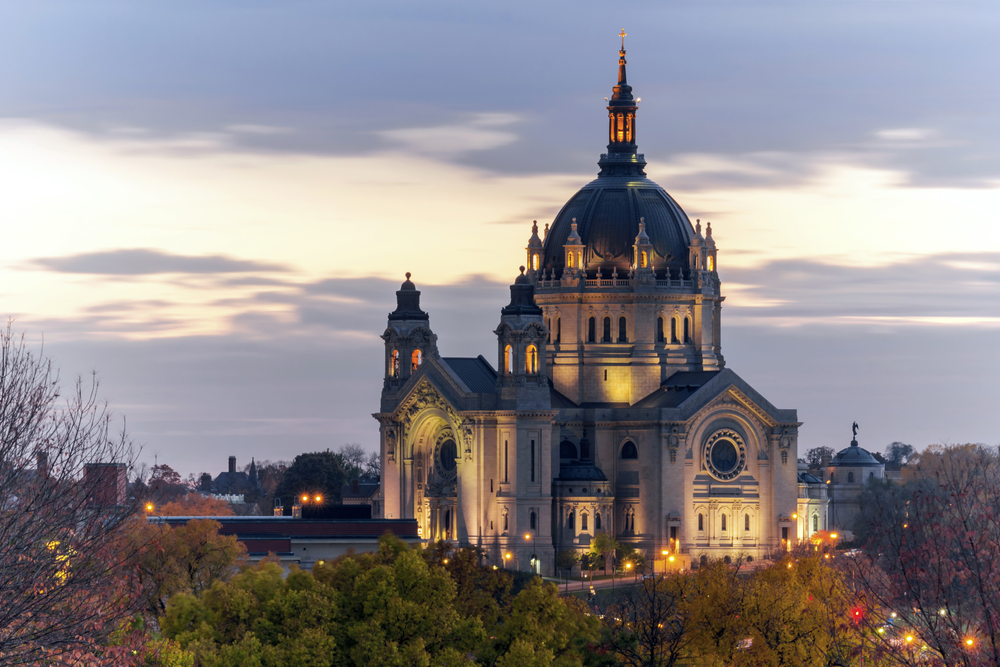 Tour The Minnesota State Capital Building
One of the coolest things to do in St. Paul Minnesota is to tour the Minnesota State Capitol Building.
It is actually the third capital building. The first one burnt down during a massive fire in 1881 and the second one, built in 1883 was too small
The building was designed by renowned architect, Cass Gilbert, and was officially opened to the public in 1905.
Gilbert was just 35 when he was chosen as the architect for the new building in 1893, and it helped cement his rising star in the architectural world.
Today, you can take a self-guided tour of the building year-round.
If you want to participate in a guided tour, they offer those from February to December 1st, yearly.
Stay Here: Booking.com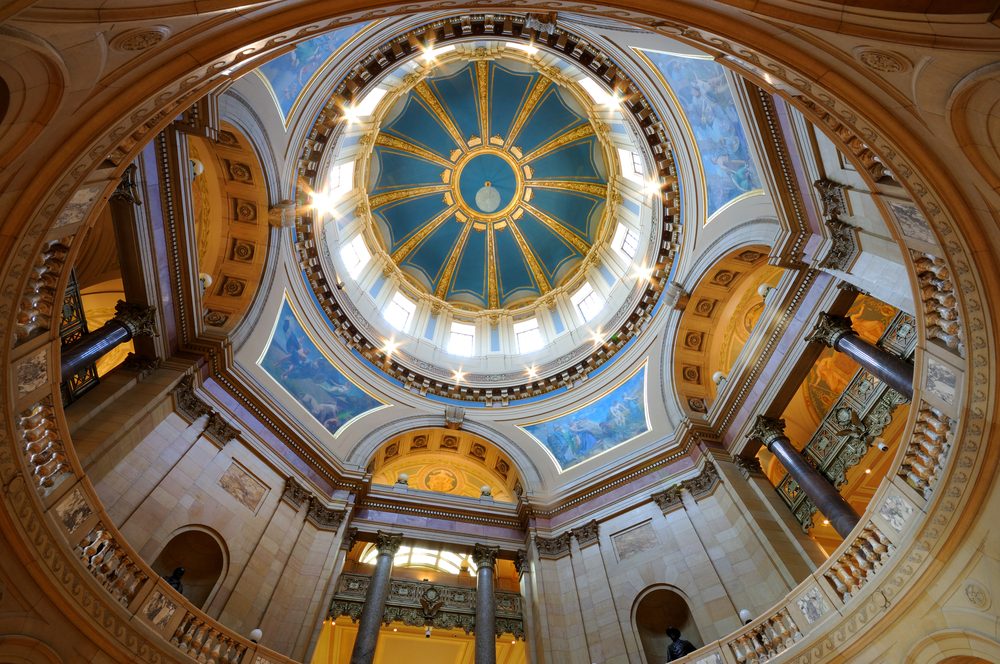 Stroll Through The Keg & Case Market In St. Paul MN
One of the newest additions to the growing list of attractions in St. Paul Minnesota is the Keg & Case Market.
The Keg & Case Market is an indoor market located inside the historic Schmidt Brewery.
Inside, you'll find a selection of culinary and retail stalls – all locally owned and operated.
There is a brewery, coffee shop, a Jamaican restaurant, an arcade, and soap and other vendors.
The space continues to grow and add new shops, events, and fun pop-up markets.
Stay Here: Booking.com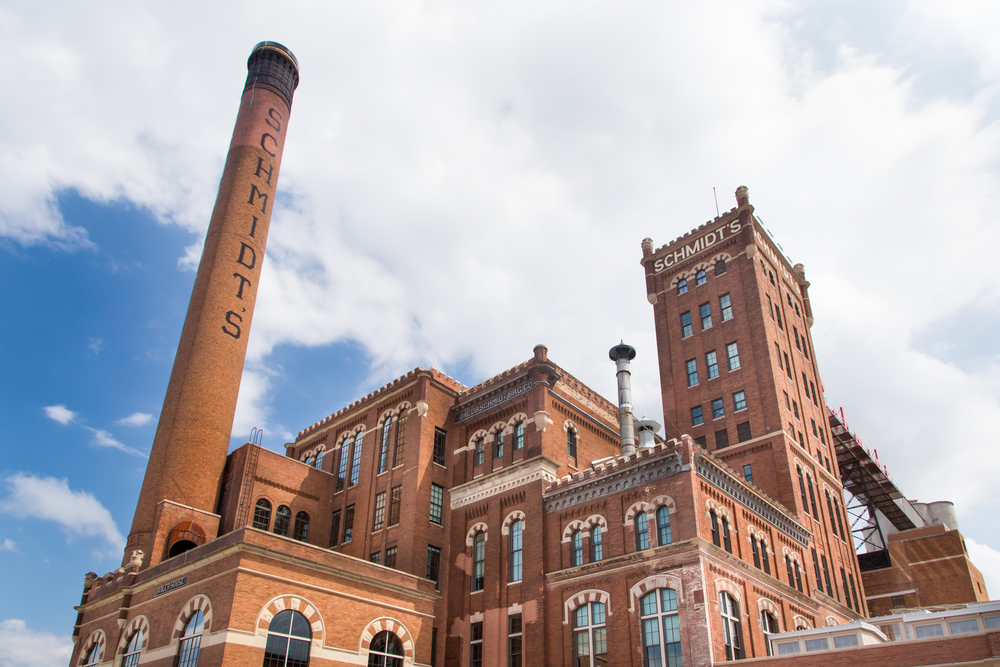 Visit The Alexander Ramsey House
Alexander Ramsey was appointed the Governor of Minnesota Territory in 1849 before Minnesota was officially a state.
He would eventually hold positions as the Mayor of St. Paul, Governor of Minnesota, US Senator, and Secretary of War.
So he was a very prominent and influential government figure early in Minnesota's state history.
Today, his home, which is one of the most well-preserved Victorian mansions in the world, is a house museum.
Originally built in 1872, 3 generations of the Ramsey family lived in the mansion until it was willed to the Minnesota Historical Society in 1964.
On the first Saturday of every month, you can take a guided tour of the home from 10 am to 4 pm.
You'll need to purchase tickets online ahead of time in order to make sure you'll have a saved time slot.
Stay Here: Booking.com
One Of The Interesting Things To Do In St Paul MN Is Finding The Hidden Falls
The Hidden Falls are one of the many fun places to go in St. Paul MN if you'd like to enjoy nature.
These Minnesota Falls are a part of the Mississippi River and are located in the Hidden Falls Regional Park.
There aren't many places where you can head to a city park and see a pretty waterfall! They are easily some of the best waterfalls in Minnesota too.
The Hidden Falls Regional Park was founded in 1887 and is actually one of the four original regional parks in St. Paul.
So if you're looking for a break from the city, make sure to go searching for the Hidden Falls.
Stay Here: Booking.com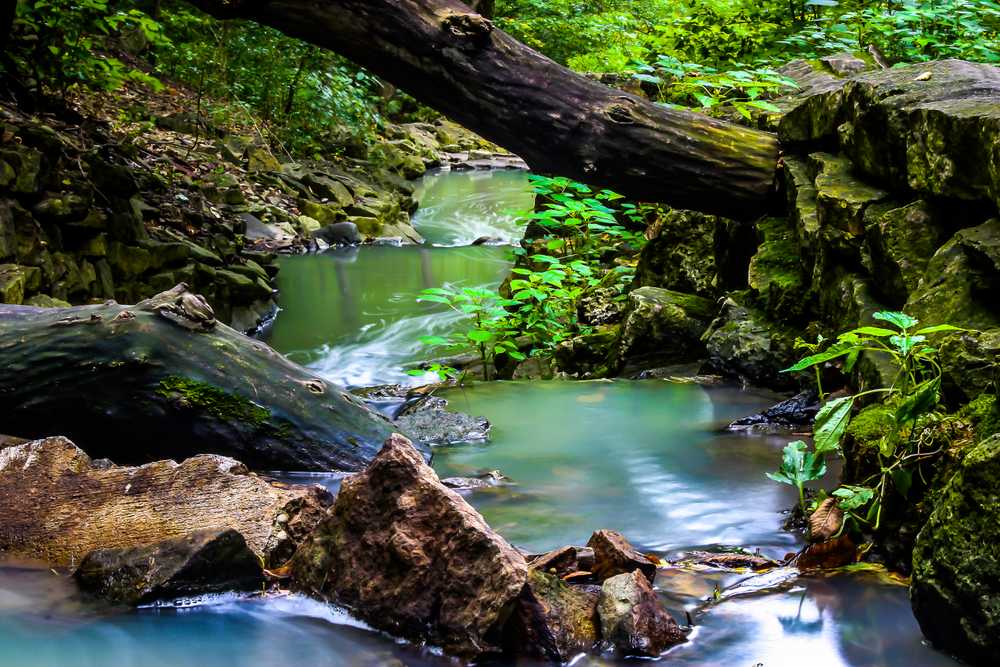 Find Fresh Produce At The St. Paul Farmer's Market
Since 1854 the St. Paul Farmer's Market has had 100% locally grown produce available across the city.
The market is a little unusual because it moves to different locations in the city throughout the week.
You can find it somewhere in St. Paul Minnesota from Tuesday through Sunday. There are no market locations on Monday.
At the market, you'll find locally grown produce, but also a number of other items for purchase.
Such as canned goods, maple syrup, handmade soaps and oils, homemade dog treats, and even pop-up restaurants.
It's a great way to sample the city's local offerings and support the local St. Paul MN community!
Stay Here: Booking.com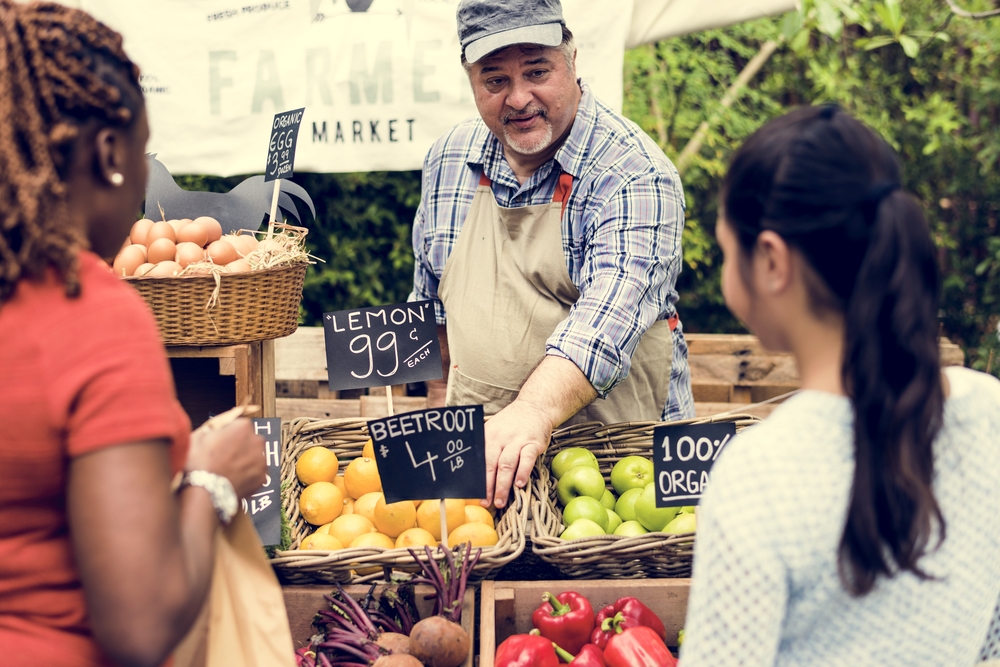 Attend An Event At The Landmark Center
The Landmark Center is a cultural center in the heart of Downtown St. Paul Minnesota.
Throughout the year, they host tons of fun things to do in St. Paul!
From live music, art gallery pop-ups, visiting lecturers, and fun family-friendly events.
The building itself is a pretty iconic piece of St. Paul city architecture.
The building is open to the public daily and you're generally free to tour the building on your own.
Stay Here: Booking.com
Take A Historic St. Paul Walking Tour
If you're short on time but still want to see all that St. Paul has to offer, consider going on a Historic St. Paul Walking Tour.
On this walking tour of St. Paul, you truly will get to see the major highlights of the city.
A St. Paul Minnesota local will guide you through the city, explaining the history behind some of the top sites, and more.
The tour typically lasts around 3 hours and includes Summit Hill, the Capitol Building, and a mid-tour snack stop at a local coffee shop.
Book Your Tour Here: Getyourguide.com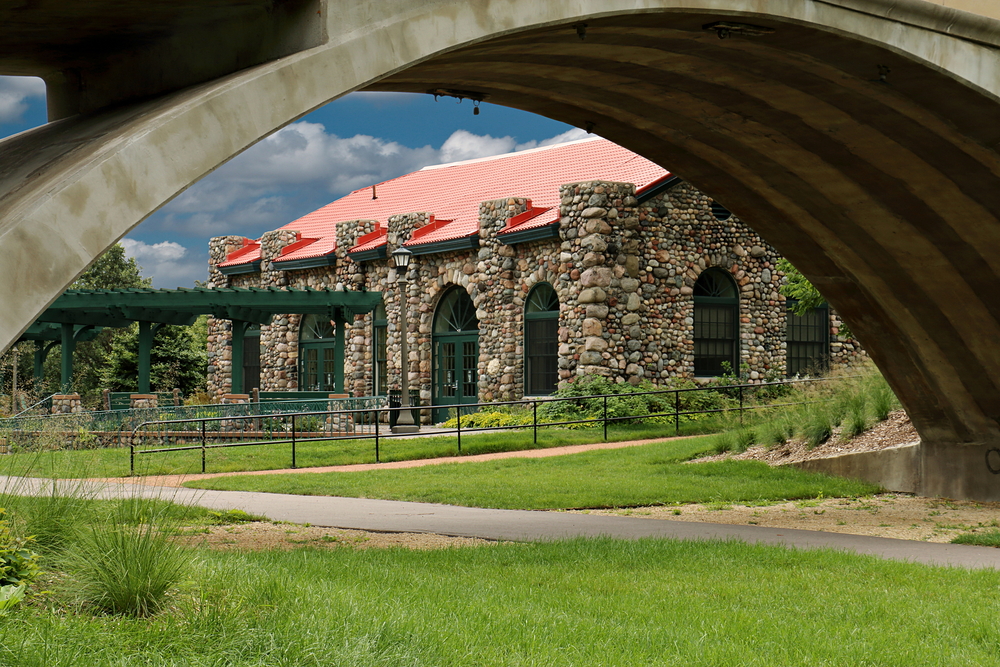 Take The Whole Family To The Science Museum Of Minnesota
If you're looking for a fun family-friendly activity in St. Paul MN, then head to the Science Museum of Minnesota.
The Science Museum of Minnesota is open daily, with extended hours on Fridays and Saturdays.
Inside, you'll find a large collection of scientific specimens, exhibits on everything from dinosaurs to AI technology, and so much more.
There are a lot of hands-on areas in the museum, which aim to make science fun and engaging for kids.
You could easily spend a few hours exploring their experiment gallery!
If you're looking for something fun to do in St. Paul with the whole family, check out the Science Museum of Minnesota.
Stay Here: Booking.com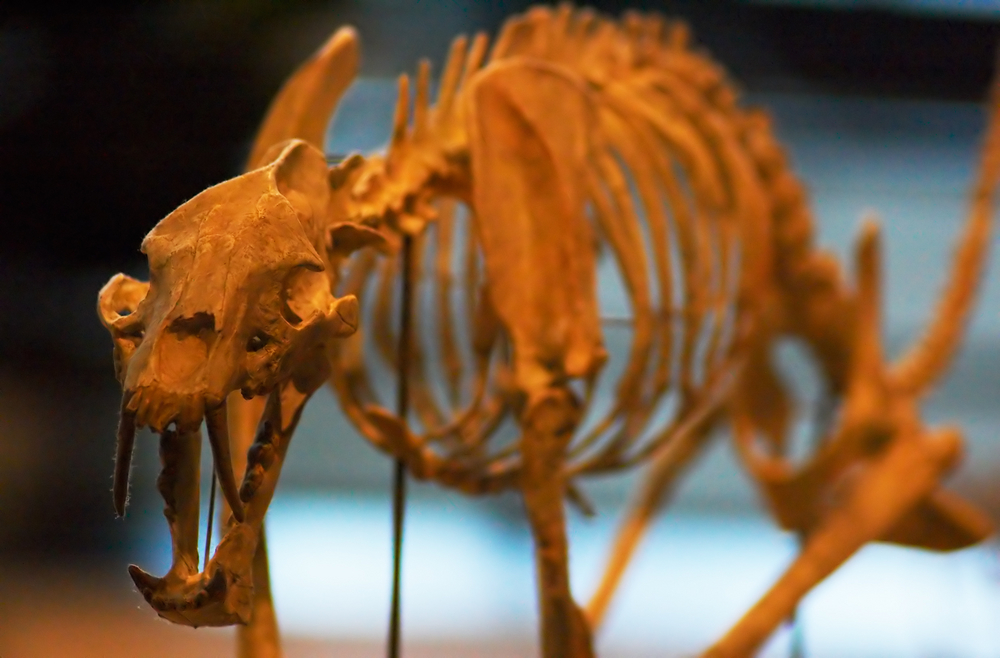 Explore Como Park & Conservatory
The Como Park & Conservatory is a beautiful free thing to do in St. Paul.
There are 16 different garden spaces, sculptures scattered throughout the grounds, a historic working carousel, a small children's amusement park, and a children's gallery.
It's a great place to visit throughout the year, but it's a very popular St. Paul attraction during the spring and summer months.
Throughout the year the park also hosts a number of seasonal events and events like Music Monday and Sensory Safe days for those with sensory sensitivity.
If you're planning to visit, make sure you check their event calendar to see what fun thing the park is hosting that day!
Stay Here: Booking.com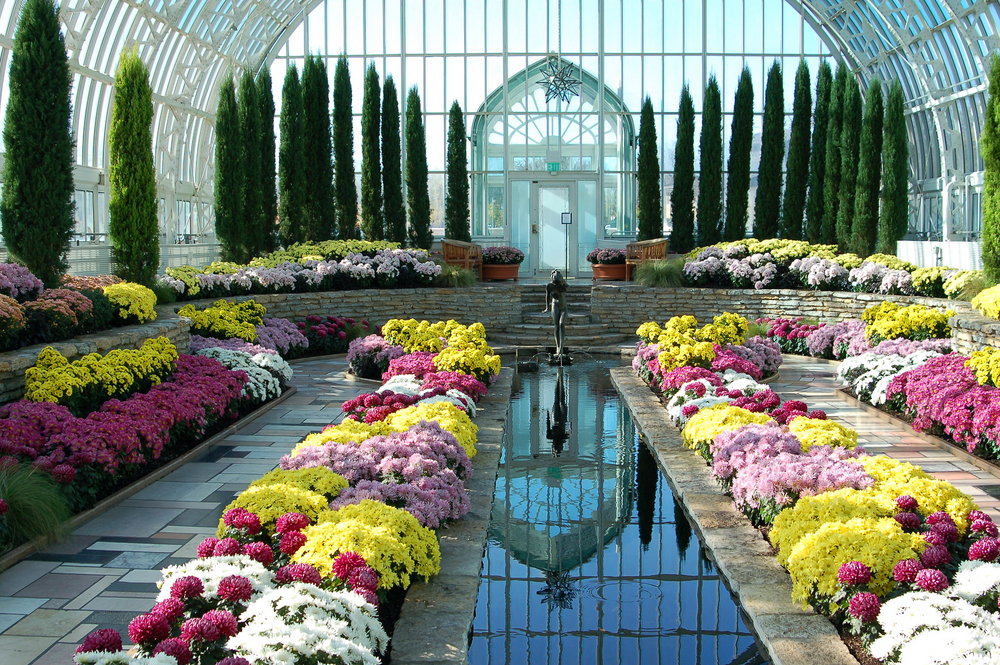 Packing List When Looking For Things To Do In St Paul MN
Whether you are driving or flying into St. Paul MN here are some tips on how to pack lightly into a carry-on.
A concealed travel pouch may be one of the most important items you bring along when visiting attractions in St Paul MN.
It is always important to protect your personal information. Identity thieves are everywhere.
This unisex RFID-blocking concealed travel pouch is lightweight and comes in several colors. It has lots of organization to give you peace of mind.
You can place it under your clothes next to your body to carry your ID safely.
If you have a pouch already that does not come with RFID protection, as I do, these RFID sleeves are the perfect solution.
If you are planning on taking a lot of pictures with your phone you will definitely want to consider an external charging battery.
This Anker high-speed phone charging battery is the exact one I carry with me on all of my trips.
I like that it holds its charging capabilities for several uses so I do not have to worry about it while out and about, and if I forget to recharge it at night, it will still be good to go the next day.
My daughter gifted me with this FugeTek selfie stick and tripod setup for my birthday. I absolutely love it! It is made of lightweight aluminum and is so easy to use.
It has Bluetooth connectivity and is a breeze to use for taking Insta-worthy selfies while discovering island getaways in the US.
I never much believed in using packing cubes when traveling. That is until I tried them. Now I am hooked. These are the exact cubes I use to stay organized when I pack for a trip!
You will want to bring your own refillable water bottle with you.
I never leave home on a trip without my Bobble filtration bottle. The 18.5-ounce size is perfect for your adventures and it fits nicely in the pocket of a backpack.
The replaceable carbon filters ensure fresh drinking water whenever you want it.
Perhaps you are traveling a long distance and packing space is a premium in your suitcase, or in your car.
Then this collapsible silicone foldable water bottle would work well for you. Would not take up much space at all.
You will want a backpack or daypack with you to store snacks, your water bottle, phone, extra clothes, etc.. while visiting Missouri's National Parks. No matter the time of day or evening.
This foldable water-resistant backpack would be great. And it comes in many different colors.
—
St. Paul is the Midwestern city to visit if you love history and Victorian architecture!
But it's also a city that is still growing and creating its own, new, modern identity. That unique mixture of old and new makes it a really fun place to visit.
Have you had the chance to explore St. Paul Minnesota yet?
There are many more events in Minnesota to explore!
If so, I'd love to hear what your favorite St. Paul MN attractions are! Let me know in the comments!