Looking for the best things to do in St. Charles, MO? This city will surprise you with its history and fun attractions.
From great museums to local restaurants, you will find some of the best things to do in Missouri!
St. Charles is such a quaint and historic city! Take in views of old, brick buildings as you shop downtown. Kids will love the parks while adults can enjoy drinks at a brewery or winery.
There really is something for everyone whether you are interested in art, history, or even arcade games!
St. Charles dates back to 1769, and you can really feel the history come alive here. This is a great place for a chill, laid-back vacation.
St. Charles is also the perfect day trip from St. Louis since it is only about thirty minutes from the big city. If you are looking for attractions near St. Louis, MO, St. Charles has much to offer.
This city really is one of the top weekend getaways in Missouri!
Let's look at the top things to do in St. Charles, Missouri!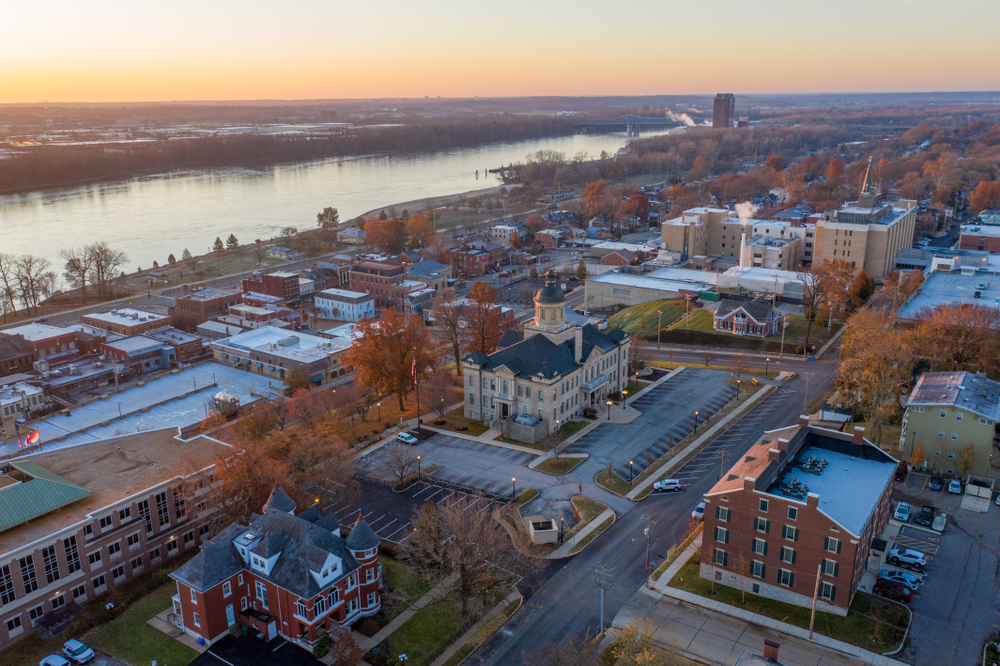 15 Best Things to Do in St. Charles, MO
Stroll the St. Charles Historic District
Walking through the St. Charles Historic District is a great introduction to this beautiful city.
Listed on the National Register of Historic Places, downtown St. Charles is charming with old, brick buildings and cute, local shops and eateries.
If you want to go shopping, there are plenty of things to buy including antiques, clothing, clocks, stained glass, and jewelry.
Grab a tasty snack from Sugar & Slice Bakery on Main or Grandma's Cookies. For a date night, check out the Bella Vino Wine Bar.
If you want to learn even more about this area, join a Hit the Bricks Walking Tour. During this hour-long tour, you will walk in the footsteps of early pioneers and explorers.
As night falls, the lanterns turn on to add even more magic to the scene. This district is one of the great things to see in Missouri!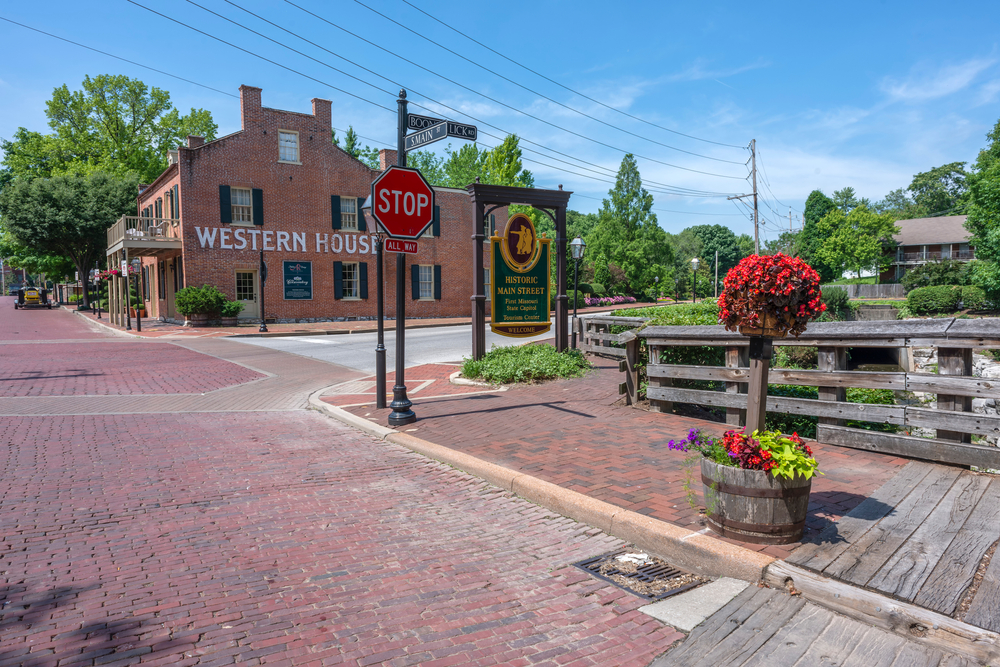 Find River Views in Frontier Park
Set between the St. Charles Historic District and the Missouri River, Frontier Park is a beautiful green space with paved walking and biking paths.
You will also love the amazing views of the river! Bring a picnic to enjoy in the park.
Make sure to check out the 15-foot-tall Lewis and Clark Statue as well. You can also see the Katy Depot which was built in 1893 and has since been restored.
During the Fourth of July, Frontier Park becomes home to the Saint Charles Riverfest. This fun event includes a parade, live music, a carnival, and, of course, fireworks.
Mark this event as one of the top things to do in St. Charles, MO!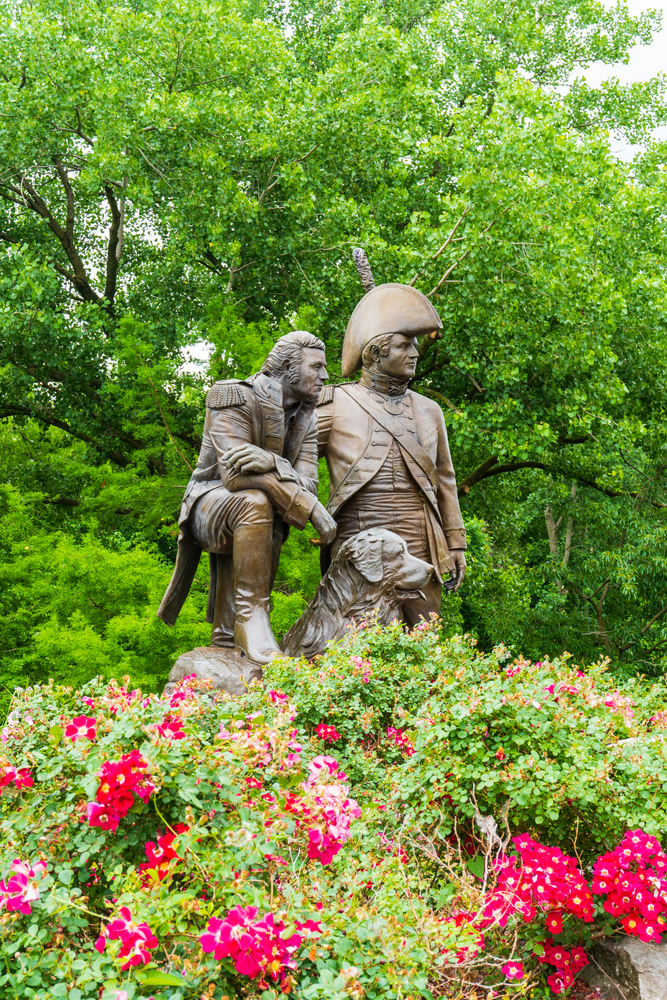 Visit The First Missouri State Capital State Historic Site
Did you know St. Charles acted as Missouri's first capital?
In 1821, when Missouri became a state, a plan was made to develop Jefferson City in the center of the state.
In the meantime, a temporary state capital was needed, and St. Charles was granted the title. It acted as the capital until 1826.
Today, you can visit the First Missouri State Capitol State Historic Site which is made up of four connected brick buildings.
Take a tour of the rooms where Missouri's government began and admire antique furnishings. Step back in time at the recreated Peck Bros. Dry Goods Store.
The interpretive center has two floors of exhibits and a gift shop.
This is one of the best attractions in Missouri and should not be missed!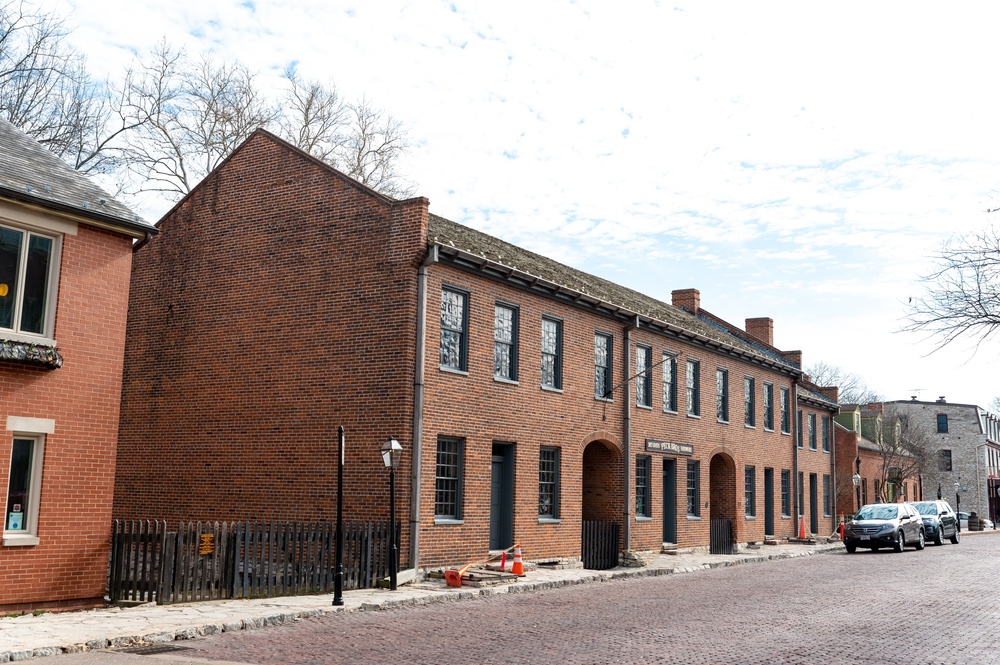 Learn At The Lewis & Clark Boathouse And Museum
Another historical attraction in St. Charles is the Lewis & Clark Boathouse and Museum. Travel back in time to the iconic Lewis and Clark Discovery Expedition.
There is so much to see here including full-size replicas of a keelboat and two pirogues, a type of canoe. These boats were recreated using drawings and journals.
They have been featured in films and documentaries.
The museum also has many great exhibits full of historic artifacts. You will learn about the expedition, Native Americans, and natural landscapes.
The coolest feature here is the reenactors dressed in historic clothing and uniforms.
This museum is part of the Lewis & Clark National Historic Trail, one of the best national parks in Missouri.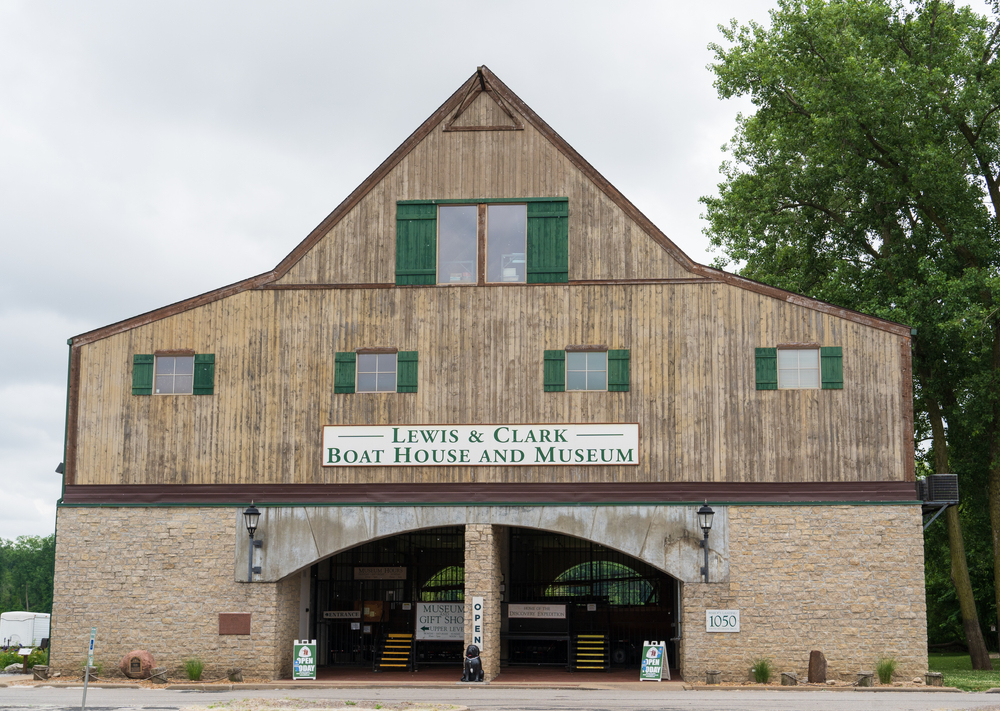 Stopping By Fast Lane Classic Cars Is One Of The Best Things To Do In St. Charles MO
Anyone interested in old vehicles will want to head to Fast Lane Classic Cars. This classic car dealership has an amazing inventory of cars.
Even if you are not in the market for a new vehicle, it is free to explore the showrooms with over 200 classic cars, trucks, and motorcycles. There is also automobile art and memorabilia to check out.
Visitors of all ages will be wowed by the unique, beautifully designed vehicles in all sorts of bright colors.
The gift shop is perfect for automobile enthusiasts. You will find automotive apparel, diecast cars, and more cool things for sale.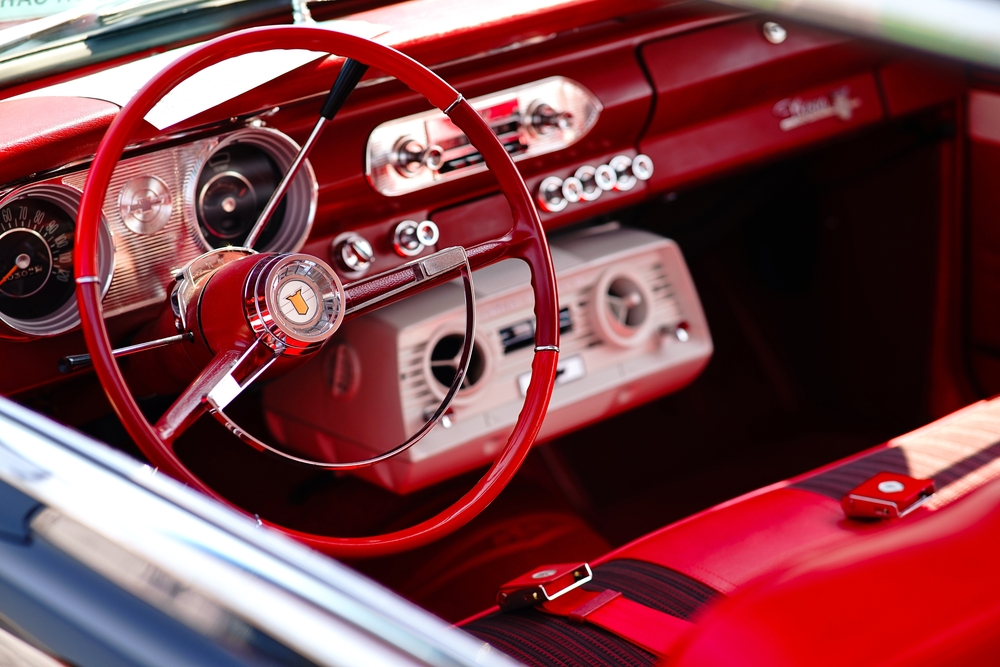 Buy Local Art At The Festival Of The Little Hills
The Festival of the Little Hills is one of the best St. Charles events. It has been happening every August since 1971 and is a fun tradition.
The main feature of the festival is the arts and crafts show with over 300 booths by local vendors. You will be able to find all sorts of unique and handmade pieces.
This is also a great time to get something tasty to eat. Food vendors sell a variety of meals and snacks with proceeds going to different charities and non-profits.
There is live music throughout the event. Kids will love the circus with magic shows and juggling as well as the bounce houses.
If you are looking for the best things to do in St. Charles, MO, for families, mark this festival on your calendar!
This is one of the best local Missouri tourist attractions!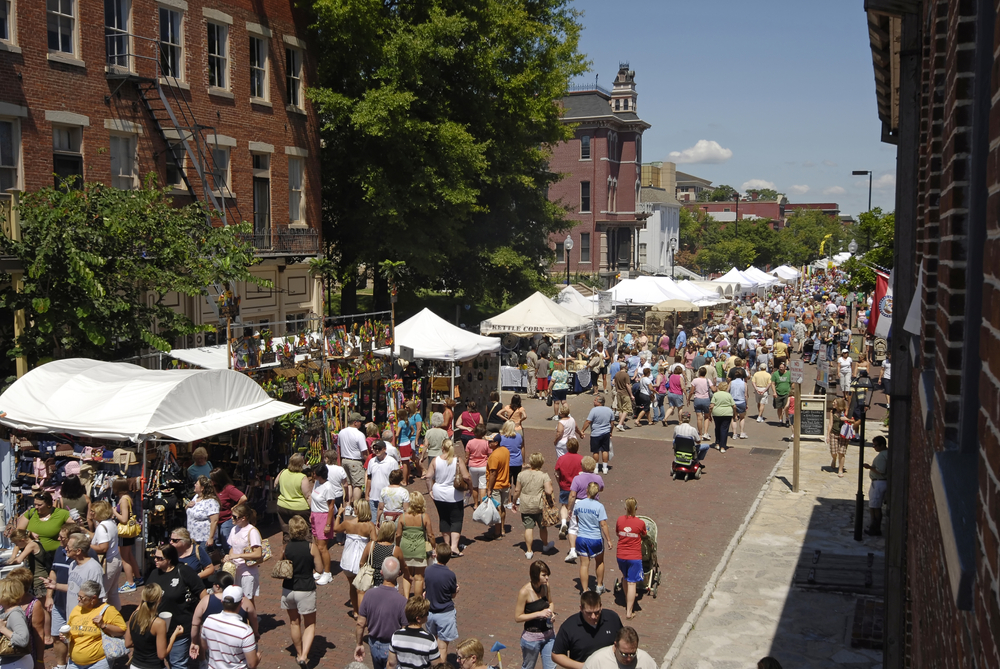 Get Spooked on a Ghost Tour
One of the most unique St. Charles activities is taking a ghost tour! In a city with such a rich and long history, it only makes sense there are some hauntings.
St Charles Ghost Tours offers walking tours year-round on Friday and Saturday nights. They last about an hour and a half to two hours.
As you are led around Main Street, you will visit places known for paranormal activity and hear local legends. Learn about the lost graveyard and the Lady in White.
Remember to make a reservation in advance as the small-group tour does fill up fast.
A ghost tour is one of the most fun things to do in Missouri!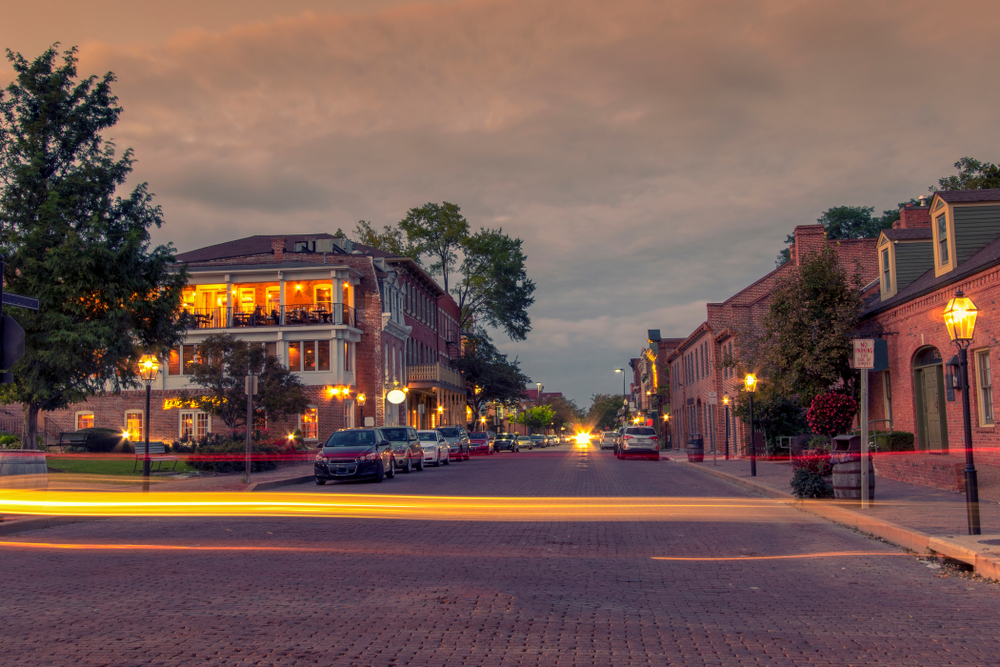 Have Fun at Two Plumbers Brewery + Arcade
If you want to grab a drink while enjoying a lively atmosphere and fun games, then the Two Plumbers Brewery + Arcade is for you!
This craft microbrewery has many delicious ales, IPAs, and ciders on tap. Try the Cretaceous Park, Jalapeno Popplers, or Deadpan.
After ordering a drink, play a mix of retro and new pinball and arcade games. Some classics include Frogger, Street Fighter, Ms. Pac-Man, and Tetris.
This is one of the best things to do in St. Charles, MO, for adults wanting a great night out! Sunday is for all ages if you want to bring the kids.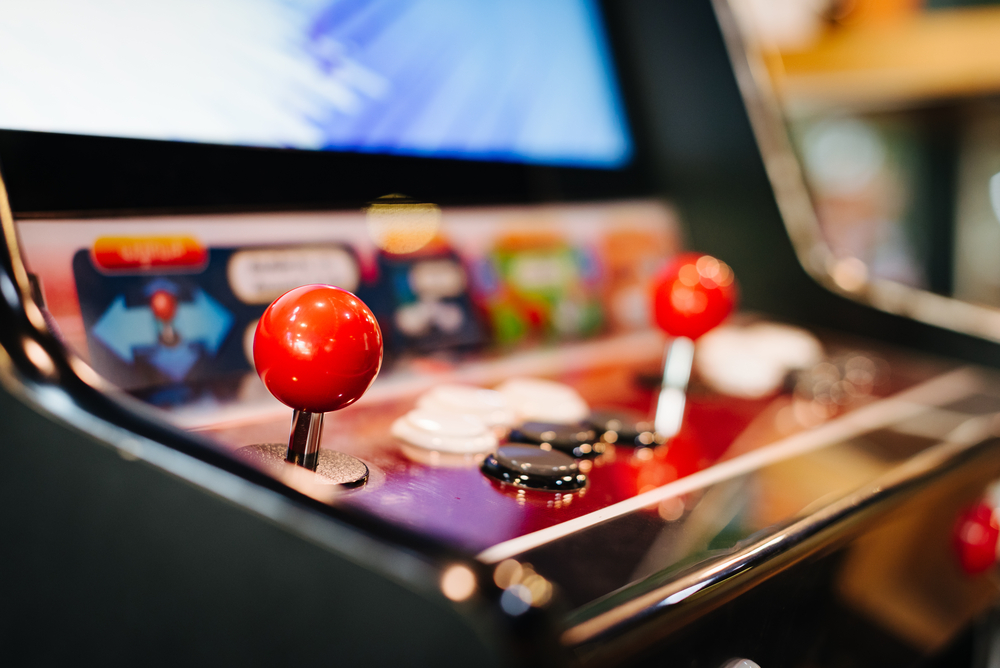 Bring the Kids to the Play Street Museum
If you are visiting St. Charles with children, the Play Street Museum is a must! This indoor play area allows young kids to play hands-on and use their imaginations.
The town square is made of buildings that allow make-believe to run wild. Kids can work as firefighters, doctors, pilots, and more!
Youngsters can get creative in the slime lab or paint something beautiful!
The attraction is designed for kids aged one to eight. Parents can sit back while their kids enjoy open play.
Get Festive During the Saint Charles Christmas Traditions
St. Charles is one of the best places to visit for Christmas in the Midwest! The festive Saint Charles Christmas Traditions are sure to get you in the holiday spirit!
This festival takes place from the end of November until Christmas Eve. There are so many activities to keep the whole family entertained.
Walk through the beautifully decorated Historic District as you listen to Victorian carolers and munch on roasted chestnuts.
You'll be able to see so many holiday characters from Santa Claus to Jack Frost to Ebenezer Scrooge. The Santa Parade on Main Street shows off Santa versions from many cultures and countries.
Other things to do in St. Charles during Christmas include snapping a photo with Victorian Santa Claus, watching the magical Candlelight Procession, and playing at the Krampus Karnival.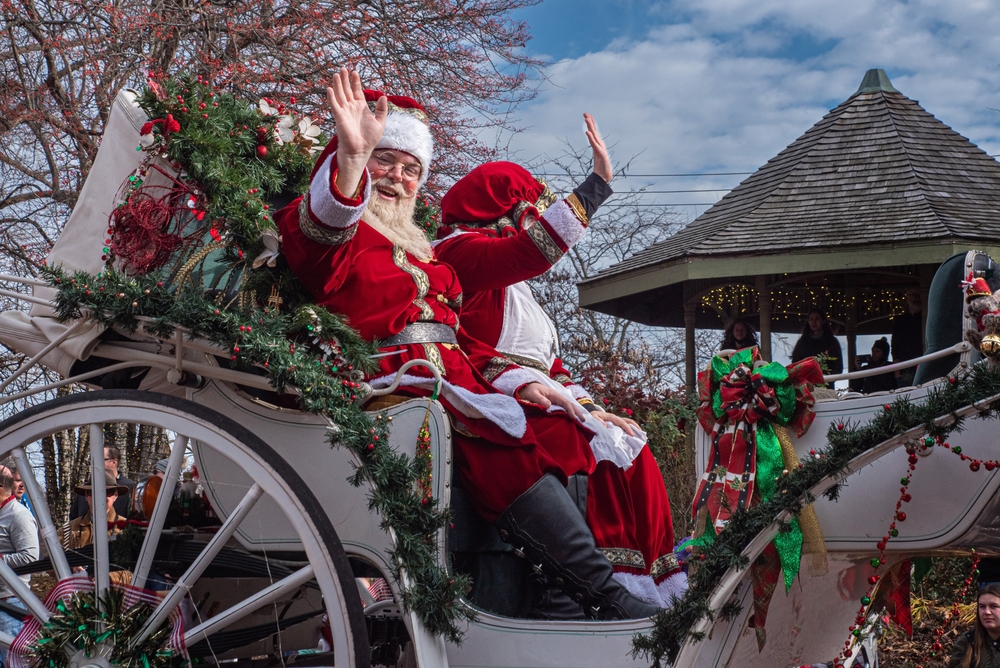 Dine at Main Street Honky Tonk
Looking for one of the best places to eat in St. Charles? You can't go wrong with Main Street Honky Tonk! It is sure to be a memorable experience.
With a mix of country music and Southern food, you will have a fantastic time dancing and drinking the night away. There is live music every night of the week!
For food, there are so many filling options. Order wings, burgers, and BBQ sandwiches.
If you want a local, party atmosphere, add Main Street Honky Tonk to your list of things to do in St. Charles!
Enjoy the Foundry Art Centre Is One Of The Cultural Things To Do In St. Charles MO
Art lovers should head to the Foundry Art Centre to soak in some culture. This is one of the best free things to do in St. Charles, MO!
Explore the curated fine art galleries with a focus on regional artists. There is also a children's gallery with art from local schools.
In-house studios allow visitors to see artists at work and take their classes. You can also buy art directly from the artists.
Workshops allow adults and kids to explore their creative side. There are also free art programs every second Saturday of the month.
Explore the Historic Missouri Wine Country
St. Charles sits on the edge of the Historic Missouri Wine Country making it perfect for anyone wanting to taste test some local wineries.
From St. Charles, drive south on Highway 94 for an amazing wine trail with some of the best wineries in Missouri!
There are over a dozen wineries including Defiance Ridge Vineyards, Sugar Creek Winery, Mount Pleasant Estates, and Balducci Vineyards.
Each winery is beautiful and set among rolling hills. Enjoy a glass of wine on an outdoor patio as you take in the views. Many locations also have live music.
A trip to a winery is what to do in Missouri for couples looking for romantic getaways in the Midwest.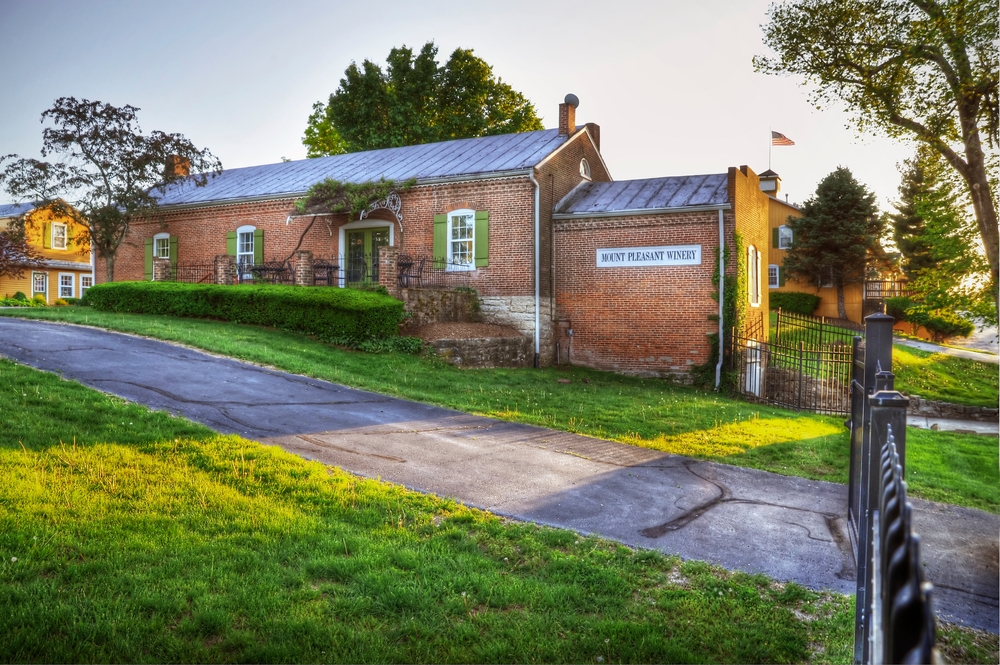 Discover A Live Concert
St. Charles makes listening to live music easy with many concert series and events throughout the year.
Music on Main happens on the third Wednesday of every month from May through September. Bring a lawn chair and enjoy a free concert in this historic location.
In Lakeside Park, the Sunset Concert Series takes place during summer Friday evenings. This is a great community event with food trucks.
For all-year entertainment, the Foundry Art Centre puts on First Fridays with an assortment of performances.
You can also check upcoming events at the Family Arena, which hosts musical artists all year. Along with concerts, sports, tradeshows, and other shows occur here.
These are only some of the ways to hear live music in St. Charles. If you love to discover local bands and singers, you've come to the right place.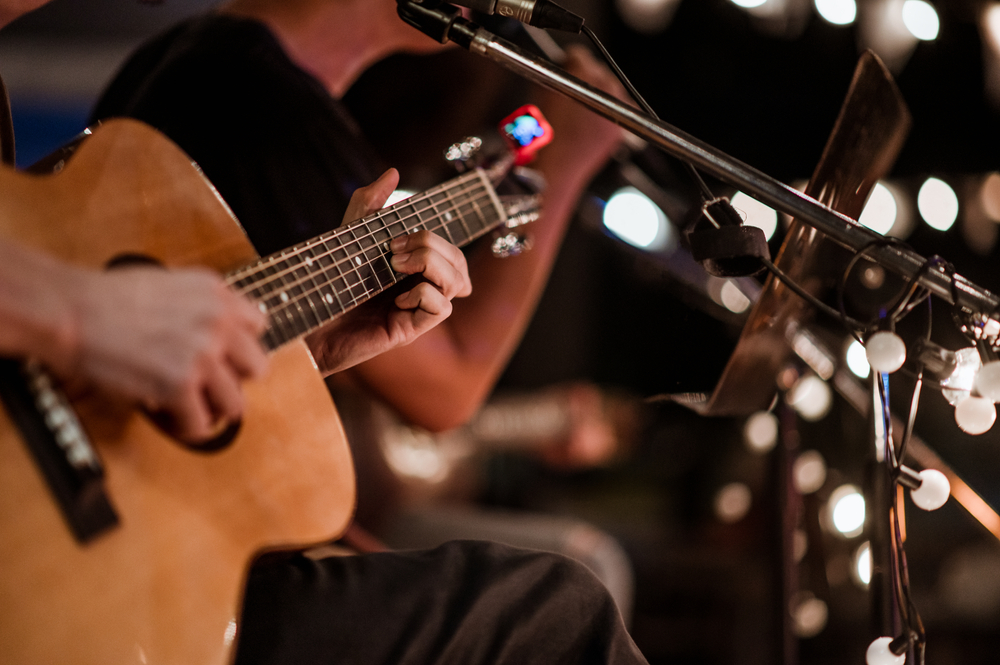 Visit The Historic Daniel Boone Home Is One Of The Interesting Things To Do In St. Charles MO 
The Historic Daniel Boone Home is found in Defiance about 35 minutes from downtown St. Charles. It is worth the drive for anyone interested in pioneer history.
Frontiersman Daniel Boone lived in the Missouri Territory from 1805 until his death in 1820.
At the Historic Daniel Boone Home site, you will discover the limestone home built by Daniel's son, Nathan. It is here that Daniel lived with his family for the final years of his life.
You can take a guided tour of the house and learn all about the Boone family and pioneer living.
The historic site's 300 acres also includes a reconstructed 19th-century village. Check out the general store, schoolhouse, and Old Peace Chapel.
Living history programs and artisan demonstrations happen seasonally. This is a fun time to see people dressed in period clothing as they showcase pioneer skills.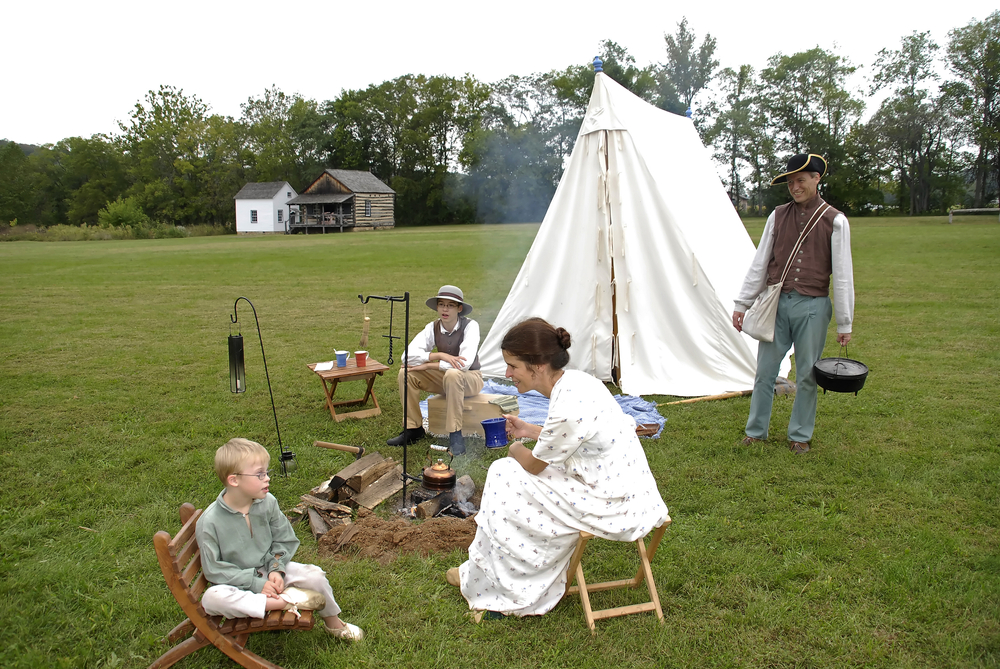 Packing List When Looking For Things To Do In St Charles MO
Whether you are driving or flying into St. Charles MO here are some tips on how to pack lightly into a carry-on.
A concealed travel pouch may be one of the most important items you bring along when visiting attractions in St. Charles MO.
It is always important to protect your personal information. Identity thieves are everywhere.
This unisex RFID-blocking concealed travel pouch is lightweight and comes in several colors. It has lots of organization to give you peace of mind.
You can place it under your clothes next to your body to carry your ID safely.
If you have a pouch already that does not come with RFID protection, as I do, these RFID sleeves are the perfect solution.
If you are planning on taking a lot of pictures with your phone you will definitely want to consider an external charging battery.
This Anker high-speed phone charging battery is the exact one I carry with me on all of my trips.
I like that it holds its charging capabilities for several uses so I do not have to worry about it while out and about, and if I forget to recharge it at night, it will still be good to go the next day.
My daughter gifted me with this FugeTek selfie stick and tripod setup for my birthday. I absolutely love it! It is made of lightweight aluminum and is so easy to use.
It has Bluetooth connectivity and is a breeze to use for taking Insta-worthy selfies while discovering island getaways in the US.
I never much believed in using packing cubes when traveling. That is until I tried them. Now I am hooked. These are the exact cubes I use to stay organized when I pack for a trip!
You will want to bring your own refillable water bottle with you.
I never leave home on a trip without my Bobble filtration bottle. The 18.5-ounce size is perfect for your adventures and it fits nicely in the pocket of a backpack.
The replaceable carbon filters ensure fresh drinking water whenever you want it.
Perhaps you are traveling a long distance and packing space is a premium in your suitcase, or in your car.
Then this collapsible silicone foldable water bottle would work well for you. Would not take up much space at all.
You will want a backpack or daypack with you to store snacks, your water bottle, phone, extra clothes, etc.. while visiting Missouri's National Parks. No matter the time of day or evening.
This foldable water-resistant backpack would be great. And it comes in many different colors.
—
Hopefully, you have discovered some of the best things to do in St. Charles, Missouri! You should not miss this beautiful and historic city tucked on the Missouri River!
Make sure to check out more places to visit in Missouri!