There are so many cute, small towns in North Dakota perfect for a weekend getaway or a day trip.
North Dakota has the smallest population of all the Midwest states. Even the big cities here are small in comparison to midsize cities in neighboring states.
Dotted throughout this Great Plains state are many small towns full of nice people, beautiful nature, and unique attractions. A trip to one of the small towns is one of the best things to do in North Dakota.
The towns may be tiny specks on the map, but what they don't have in size, they make up for in charm and friendliness. You will remember your fun times here for years to come!
Now let's explore some of the best towns in North Dakota!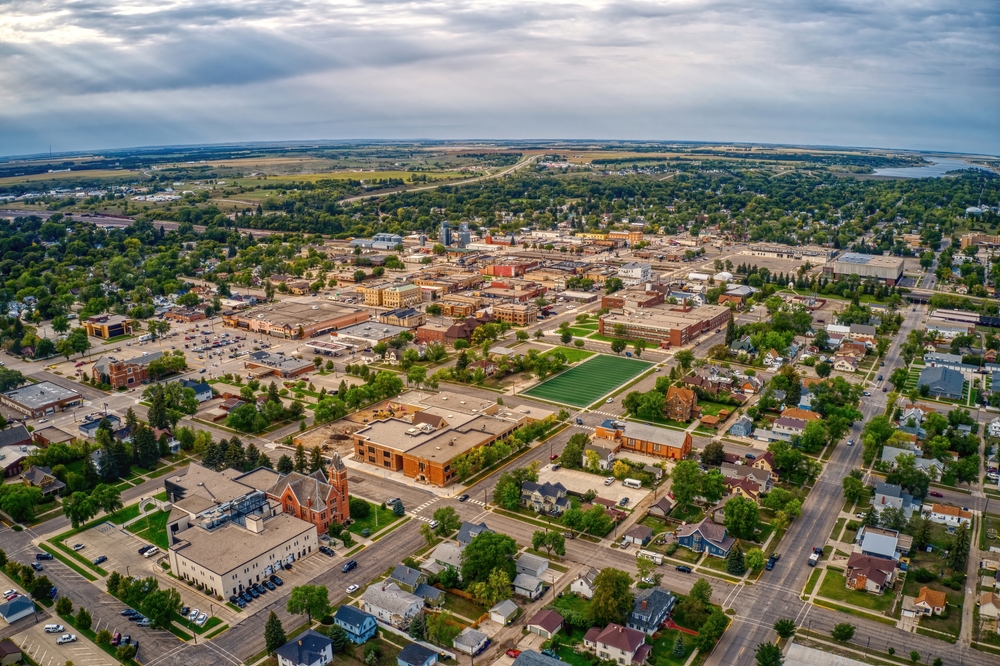 15 Small Towns in North Dakota You Must Visit
Medora
Medora is a charming, little town found inside Theodore Roosevelt National Park, one of the best national parks in the Midwest! This location means the town is surrounded by some of the prettiest North Dakota scenery, including the North Dakota mountains.
Although the town has a population of under 200, plenty of tourists come through to see the historic sites and museums. There are also a couple of campgrounds where you can extend your stay.
Some of the museums include the North Dakota Cowboy Hall of Fame, the Billings County Courthouse Museum, and the Maltese Cross Cabin where Theodore Roosevelt stayed in the late 1800s.
As you explore the small town, check out the Old West-themed restaurants, play mini golf, or have thrills on the Manitou Point to Point Zipline.
Medora is a great base for exploring the Theodore Roosevelt National Park with its many scenic drives and some of the best trails for hiking in North Dakota.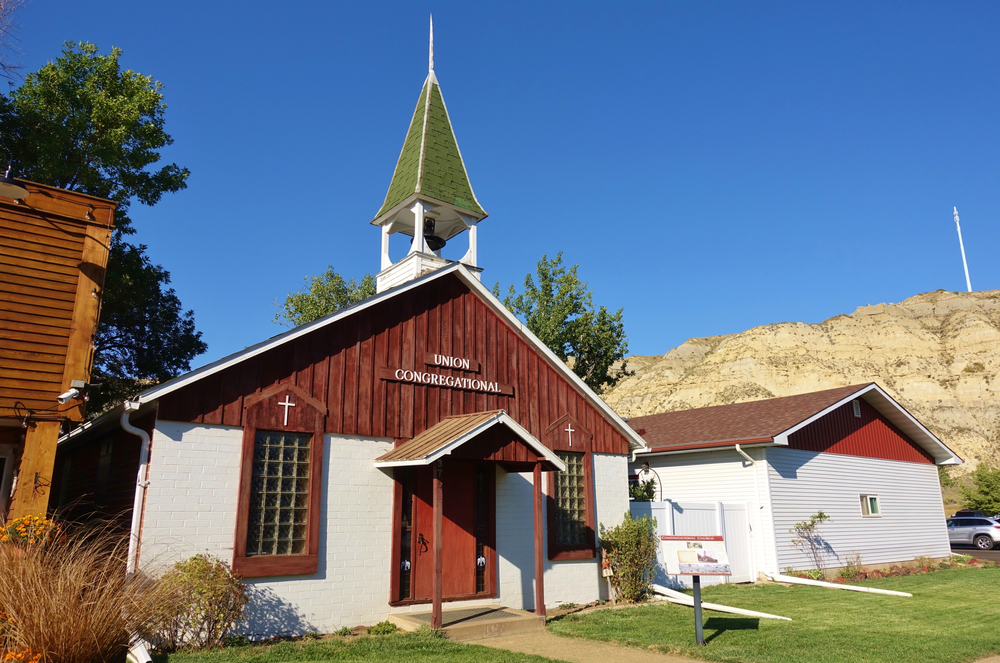 New Salem
New Salem is best known for being home to the World's Largest Holstein Cow named Salem Sue. This black and white cow stands 38 feet tall and is 50 feet long.
As you drive into town, you will see her from miles away atop School Hill. Salem Sue was built in 1974 as a tribute to the dairy industry. Of course, you have to snap a photo with her when you visit!
While in town, you can also sample some local dairy products, visit the Custer Trail Museum, or see a show at the New Salem Auditorium.
If you visit in July, you can enjoy the big Cow Town Hoe Down event. There is a parade, food and craft vendors, live music, competitions, games for the kids, and more.
This is one of the best places to visit when it is fall in North Dakota.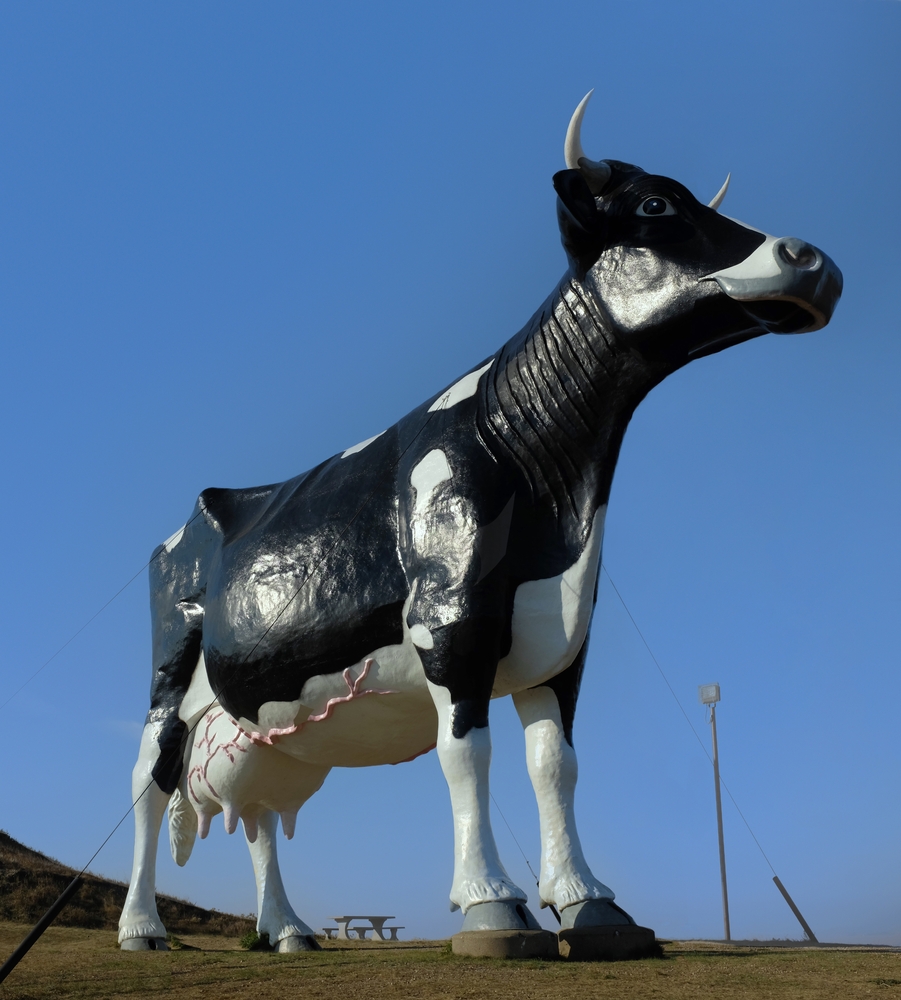 Jud Is One Of The Smallest Towns In North Dakota
If you are looking for one of the smallest towns in North Dakota, head to Jud with a population under 100.
The town was founded in 1904 and is named after Judson LaMoure, one of the first members of the North Dakota state legislature.
While the town is tiny, the residents take great pride in their home and have turned it into a work of art with many murals on the buildings. Jud is even known as the City of Murals.
As you explore, you will see big, intricate murals depicting nature scenes perfect for a photo shoot.
You will also want to stop by Dagen's Grocery which was built in 1905.
It is listed on the National Register of Historic Places and has acted as a post office, a department store, and a hotel throughout the years.
Valley City
Known as the City of Bridges, Valley City is found on the Sheyenne River. There are over a dozen historic bridges, eight of which are part of the Historic Bridges Tour.
Stroll along the river and read the interpretive panels next to each bridge.
The Hi-Line Bridge is one of the most famous in town. This railroad bridge was built between 1906 and 1908. It is 3,860 feet long and 162 feet wide. Still today, it is an engineering wonder.
After admiring the bridges, visit Medicine Wheel Park to see a massive Medicine Wheel created in 1992 that acts as a calendar. There are also Native American Burial Grounds.
Valley City also has other parks and golf courses. Don't forget to drive the Sheyenne River Valley National Scenic Byway for beautiful North Dakota Scenery.
It is one of the best places for fall in the Midwest.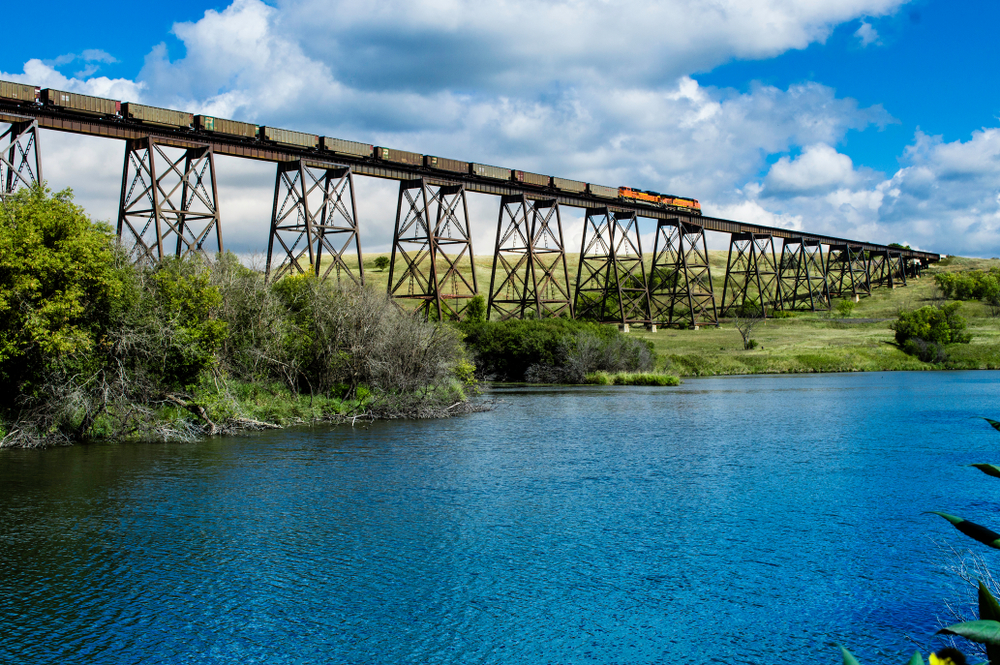 Jamestown
Jamestown is one of the larger towns on this list, but it still holds onto its small-town charm. Found halfway between Fargo and Bismarck, this is a great stop on a North Dakota road trip through the Midwest
Known as the "Pride of the Prairie," this town has a long history dating back to 1872. Visit the Stutsman County Memorial Museum to learn more about the area.
Bison are also a big deal here. Literally big since the World's Largest Buffalo Monument is found here. Named Dakota Thunder, this sculpture is 26 feet tall and was built in 1959.
To learn more about bison and see some grazing in the prairie, stop by the National Buffalo Museum. This museum covers the extensive history and significance of the American bison, or buffalo.
For more Old West fun, visit the Jamestown Frontier Village with historic reenactments or see a rodeo. Kite Fest takes place annually in June and has all sorts of contests and games.
Although not a small North Dakota town, there are so many things to do in Fargo you should explore!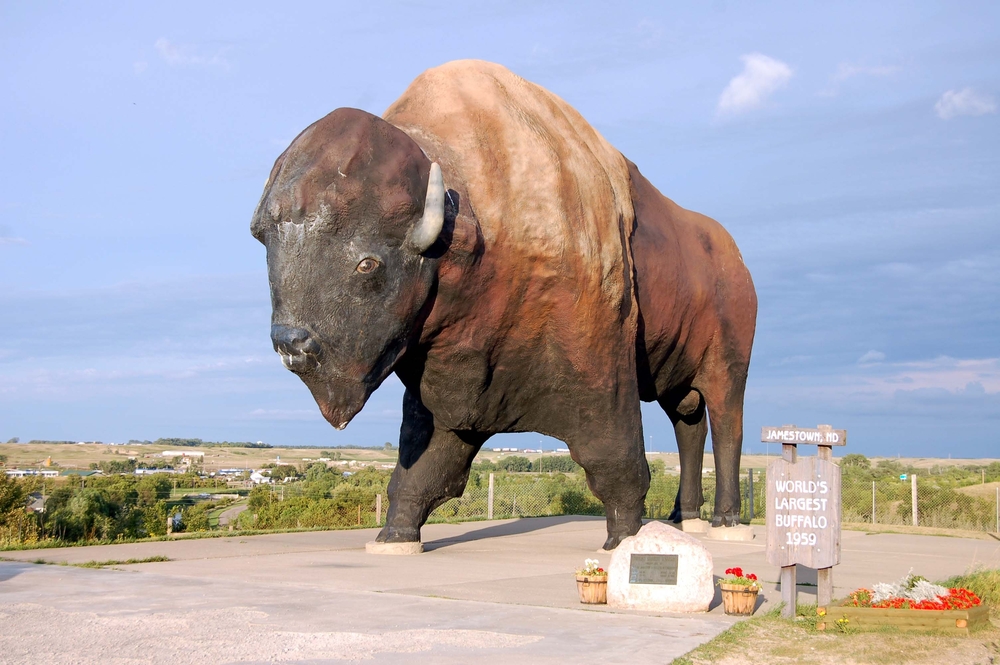 Garrison
Found on Lake Sakakawea, Garrison is known as the Walleye Capital of the World and is a popular North Dakota getaway for anglers. Before casting a line, take a photo with the Wally the Walleye statue.
When you aren't fishing, you can enjoy the lake by swimming, kayaking, and boating. Fort Stevenson State Park is one of the best for places hiking, camping, mountain biking, and getting out on the water.
If you like museums, Garrison has you covered. Visit the North Dakota Fishing Hall of Fame, North Dakota Firefighters' Museum & Fallen Firefighters' Memorial, or the Heritage Park & Museum.
Come to Garrison in December to soak in the holiday spirit of the "Christmas Capitol of North Dakota!" Go back to the Victorian age at the Dickens Village Festival.
This is one of the best places for Christmas in the Midwest!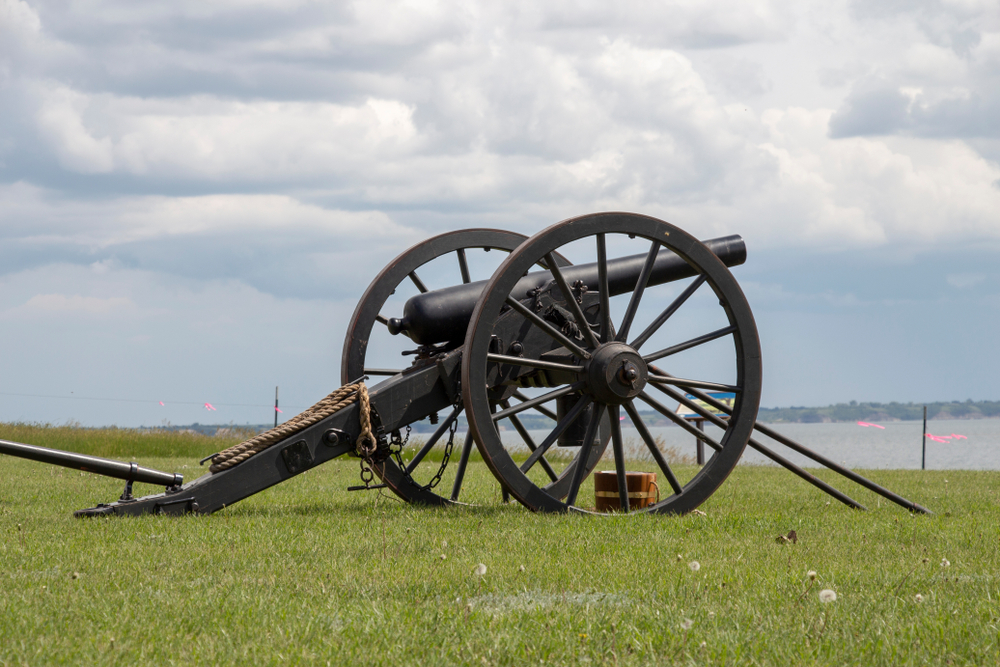 Bottineau
Bottineau is one of the most unique towns of North Dakota, and you will not forget your fun time here. You will know you have arrived when you see the 26-foot-tall Tommy the Turtle riding a snowmobile.
You have to take a photo with Tommy since it is a two for one of "World's Largest" things. Tommy is the Largest Turtle in the World while his 34-foot-long snowmobile is the Largest Snowmobile in the World!
Built in 1978, Tommy is the mascot of Bottineau, which is the gateway to the Turtle Mountains. This statue is one of the best hidden gems in the Midwest.
Bottineau is a great place to visit year-round and is even known as the "Four Seasons Playground."
In the warmer months have fun exploring the many lakes and wildlife refuges that surround the town.
Winter is dedicated to skiing, snowboarding, ice fishing, and snowshoeing. A drive along the Peace Garden Snowmobile Trail can't be beaten!
Fort Ransom
Fort Ransom is a tiny North Dakota town perfectly located on the Sheyenne River between Fort Ransom State Park and the Sheyenne River State Forest. It is a nice slice of North Dakota scenery.
Fort Ransom State Park, named after the 1860s military fort, offers peaceful nature where you can enjoy hiking, bird watching, canoeing, fishing, and horseback riding.
Along with traditional camping, the park has some really cool accommodations including a renovated pioneer homestead house from 1879, yurts, and even a covered wagon!
In town, you can visit the Ransom County Historical Museum or one of the historic buildings.
There are also a few events to check out throughout the year including the Sheyenne Valley Arts and Crafts Festival and Sodbuster Days dedicated to the pioneer days.
Some of the best cabins in North Dakota are around here.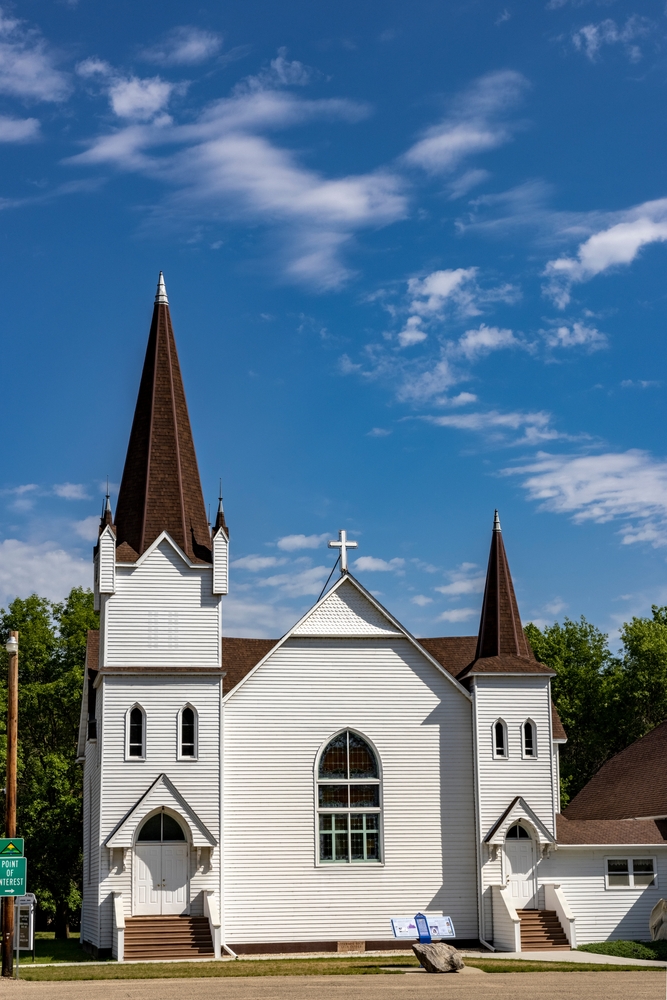 Devils Lake
Found on the lake of the same name, Devils Lake is the place to go if you love spending time in the great outdoors. Spend time on the water boating, jet skiing, kayaking, and swimming.
The lake is popular for fishing as well, especially for reeling in perch. Other outdoor activities include golfing, hiking, birdwatching, and skiing.
Head to Graham's Island State Park if you are looking for a place for camping in North Dakota. This is one of the best state parks in North Dakota for making memories with your family.
A drive or hike through White Horse Hill National Game Preserve will give you the chance to spot elk, bison, prairie dogs, bald eagles, and more wildlife.
Devils Lake is more than a nature lover's haven, though. Anyone interested in history, art, or fun festivals will want to add this place to their bucket list.
The Fort Totten State Historic Site holds many exhibits and artifacts from when the fort was built in 1867. The Lake Region Heritage Center has recreations of a historic doctor's room, law office, barber shop, and more.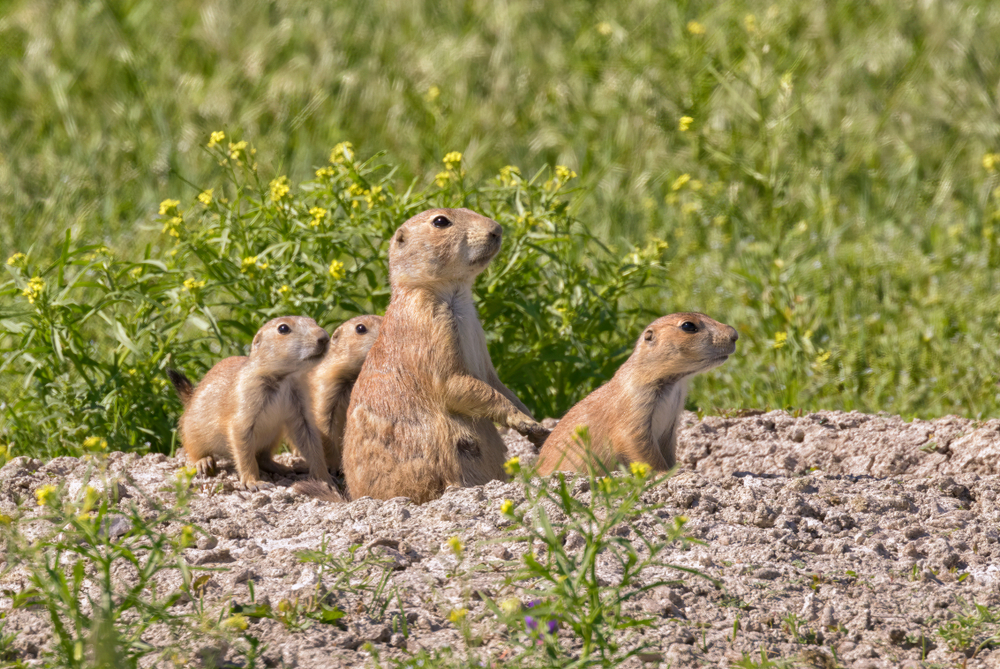 Rugby
If you have ever wanted to stand in the Geographical Center of North America, you should visit Rugby, ND. Although this location has recently been debated, Rugby is where you will find a 21-foot-tall monument for the designation.
This stone tower has stood in town since 1931 and while it might not be quite accurate anymore, you will still want to take a photo with it. Then check out the nearby 88-foot-tall, illuminated Northern Lights Tower.
If you love history, Rugby has plenty of fun and informative attractions. Take time to visit the Prairie Village and Museum which has 23 historic buildings full of extensive exhibits.
You might also enjoy the Victorian Dress Museum, the Niewoehner Bell Tower, the Pierce County Courthouse, and the Slavic Heritage Farm.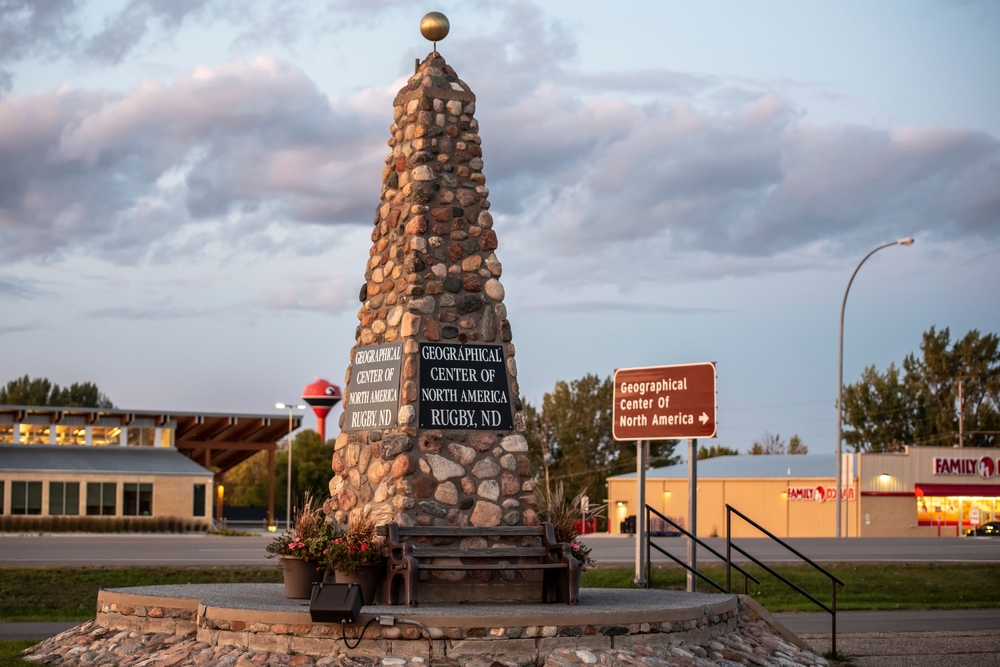 Wilton Is A Very Interesting Town In North Dakota
Wilton is a half-hour north of Bismarck, making it a great day trip from the capital.
This quaint town was founded in 1899 and was home to many Ukrainian immigrants. Today, the population remains under 1000, and there are many historic buildings around town.
One such building is the Holy Trinity Ukrainian Greek Orthodox Church. Built in 1913 and is listed on the National Register of Historic Places. The cute church stands out with its white-washed wood and green domes.
After checking out the local shops and restaurants, you can make the short drive to Cross Ranch State Park on the Missouri River. You will have fun camping, hiking, fishing, kayaking, and looking for wildlife.
Walhalla Is One Of The Oldest Towns In North Dakota
On the Pembina River and close to the Canadian border, you will find Walhalla, one of the oldest communities in North Dakota.
Founded in 1850 by German immigrants, this town is full of history and opportunities for outdoor recreation.
You will find the oldest building in the state, the 1843 Kittson Trading Post, in the Walhalla State Historical Park.
Nature lovers will enjoy exploring the many parks and the chance to navigate the river in kayaks and canoes. Hiking, biking, and photographing the beautiful Pembina Gorge are popular summer activities.
In winter, head to the Frost Fire Lodge and Ski Area to enjoy great ski runs or dine in the amazing lodge. You can also go snowmobiling in Tetrault Woods State Park.
Mayville
Mayville is home to Mayville State University, which was established in 1889. The Old Main building is a landmark in this North Dakota small town and is worthy of a photo with its red brick design.
Take a stroll around campus or catch a college sports game while in town. You could also see a show put on by the drama department.
Outside of the campus, Island Park and the Rainbow Garden are great places for a walk or picnic. Mayville also has a golf course, water park, and art gallery dedicated to local and regional artists.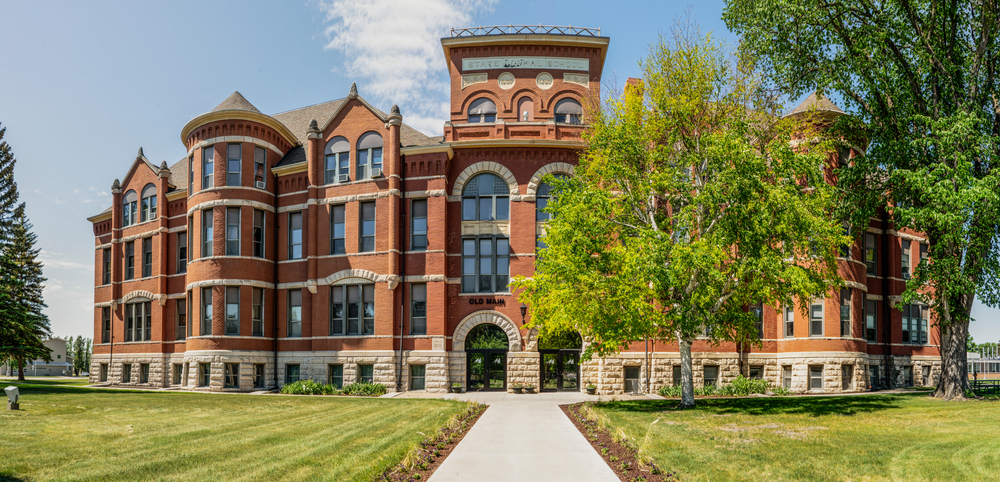 Lisbon
Founded in 1880, Lisbon was a hub for the Northern Pacific Railroad. Today, the town holds onto its history as seen in the old downtown.
You will find many local shops, restaurants, and theaters here. The Lisbon Opera House dates back to 1889 and still puts on concerts and plays.
When you aren't strolling the historic downtown, you can explore Sandager Park, watch a race at the Sheyenne Speedway, or do a tasting at Prairiewood Winery.
Towner
Towner is another town in North Dakota rich with Northern Pacific Railroad history. It was founded in 1886 and named after rancher O. M. Towner.
As you drive through the small town, you will see many historic structures including an old railroad depot. The McHenry County Courthouse was built in 1907 and is an example of Beaux-Arts architecture.
A few miles outside of town, you will find the Denbigh Experimental Forest. Established in 1931 for environmental research, this park is 640 acres of trees, shrubs, and prairie.
Today, this is a great area for biking and camping. And one of the best places for hiking in North Dakota.
You'll find many wildflowers and butterflies. Birdwatching is popular as well with over 200 species recorded.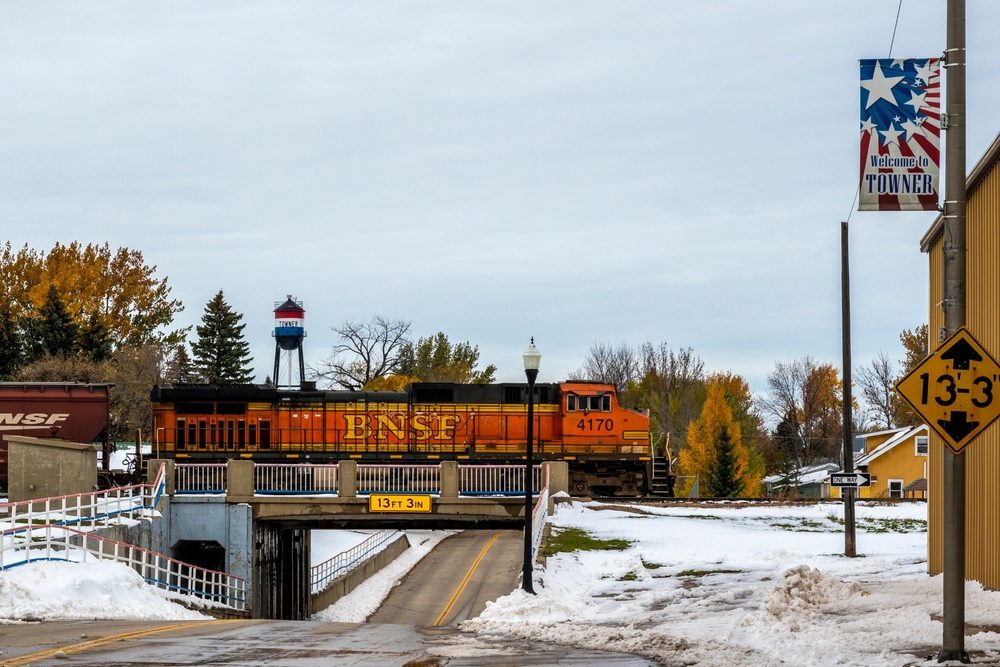 Packing List When Visiting Towns In North Dakota
A concealed travel pouch may be one of the most important items you bring along when searching for things to do in the small towns in North Dakota.
It is always important to protect your personal information. Identity thieves are everywhere.
This unisex RFID blocking concealed travel pouch is lightweight and comes in several colors. It has lots of organization to give you peace of mind.
If you have a pouch already that does not come with the RFID protection, as I do, these RFID sleeves are the perfect solution.
This configuration comes with enough credit card sleeves that the entire family would be protected. They are slim too, so they will easily fit into your pouch or wallet.
If you are planning on taking a lot of pictures with your phone you will definitely want to consider an external charging battery. This Anker high-speed phone charging battery is the exact one I carry with me on all of my trips.
It can be used on a variety of phones, not just an iPhone like I have. And wow is it fast!
I like that it holds its charging capabilities for several uses so I do not have to worry about it while out and about, and if I forget to recharge it at night, it will still be good to go the next day.
My daughter gifted me with this FugeTek selfie stick and tripod setup for my birthday. I absolutely love it! It is made of lightweight aluminum and is so easy to use.
It has Bluetooth connectivity and is a breeze to use for taking selfies when seeing the beautiful North Dakota scenery.
Hydration is so important when traveling. You want to remain hydrated throughout your travels to support your immune system which in turn will be stronger to fight off any germs you will encounter during your travels.
You will want to bring your own refillable water bottle with you.
I never leave home on a trip without my Bobble filtration bottle. The 18.5-ounce size is perfect for hiking and it fits nicely in the pocket of a backpack.
When filled with water, it is not too heavy to carry. And the charcoal filter ensures fresh clean water whenever you fill the Bobble.
Perhaps you are traveling a long distance and packing space is a premium in your suitcase, or in your car.
Then this set of collapsible silicone foldable water bottles would work well for you. Would not take up much space at all.
You will want a backpack or daypack with you to store snacks, your water bottle, phone, extra clothes, etc.. then this foldable water-resistant backpack would be great.
As you can see that North Dakota deserves more visitors! These small towns are some of the best places to live in North Dakota, full of history, art, and friendly faces!