Are you looking for fun things to do in Fargo ND? If yes, then you have come to the right place!
One of the top cities in the Midwest, Fargo is the largest city in North Dakota with plenty of attractions and recreational activities to enjoy. This historic frontier town is a great place to visit for museum junkies and history buffs.
Visit the Plains Art Museum to admire art, learn about the history at Bonanzaville USA or take a walk into the past when this town served as a fur-trading post.
There are a lot of Fargo attractions to explore on your trip here.
So, if you are planning to visit, then check out our list of top things to do in Fargo North Dakota. You will easily find something that interests you and makes your trip memorable.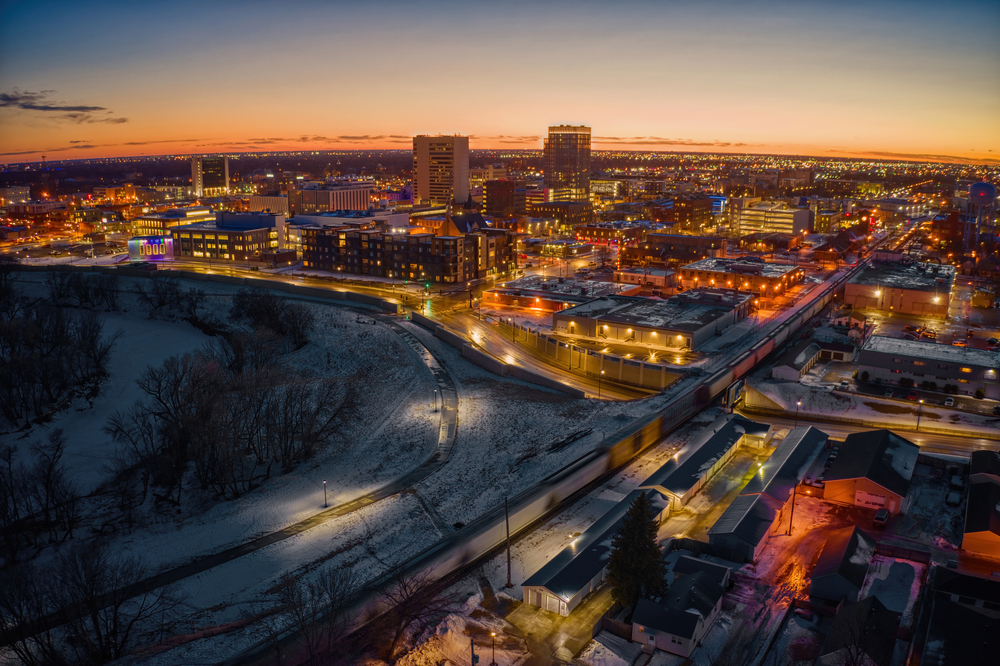 15 Best Things To Do in Fargo ND You Shouldn't Miss
Admire the Artwork at Plains Art Museum
The Plains Art Museum is the largest fine arts museum and one of the best things to do in North Dakota.
With over 4,000 artworks including contemporary art, local art, traditional Native American art, and more, this is the perfect attraction in Fargo for art lovers.
Walk through the numerous exhibits, both temporary and permanent, to learn about the local artists.
In the permanent art collection, you will be greeted with works by George Morrison, David Bradley, Andy Warhol, and Edward S. Curtin.
You can check the museum's calendar to know what's on display and what the next exhibit is going to be.
Since there is no ticket for entering this museum, it is one of the top things to do in Fargo ND for free.
Watch a Movie at Fargo Theatre
If you are looking for some fun things to do in Fargo, then you should catch a movie or show at the historic Fargo Theatre.
Built in 1926, this art deco theatre was famous for vaudeville shows and films. This restored theatre has also been listed on the National Register of Historic Places.
Visitors come to this theatre to watch independent films, foreign films, plays, live events, and more.
This attraction in Fargo is a great place for a romantic date night too.
If you are looking for some fun time, then one of the best things to do in Fargo North Dakota is to watch some classical movies or some fun comedy shows at the theatre.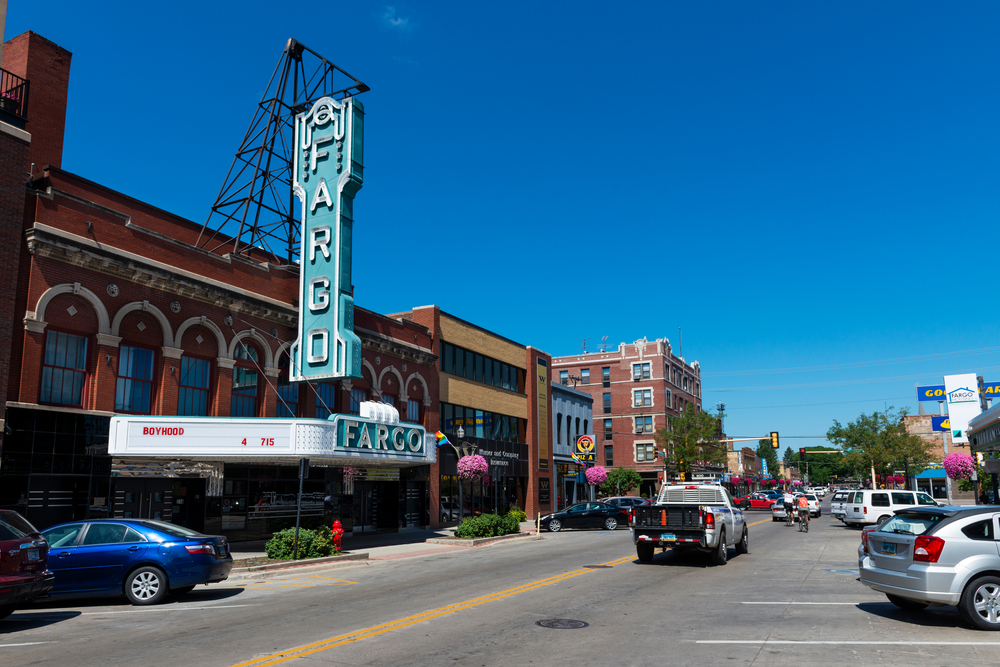 Fargo Air Museum
Are you an airplane aficionado? If yes, then one of the best things to do in Fargo ND would be visiting the Fargo Air Museum.
Located on 19th Avenue North at the Hector International Airport, Fargo Air Museum is home to a wide range of historical aircraft.
This cool attraction in Fargo is a great way to learn about the aviation industry and join the Aviation Camp to develop kids' interest in this field.
Many aircrafts displayed here are still functional and were used in WWII as well. P-51D Mustang, Douglas DC-3, Piper J3-C65 Club, etc. are a few of the amazing planes that you can see here.
The museum also features a full-scale replica of the Wright Brothers aircraft from the 1900s.
So, if you would like to check out these cool planes, buy aircraft memorabilia, or access a huge aviation library, then check out this fun Fargo attraction.
You can make visiting Fargo ND part of a Midwest weekend getaway if you want!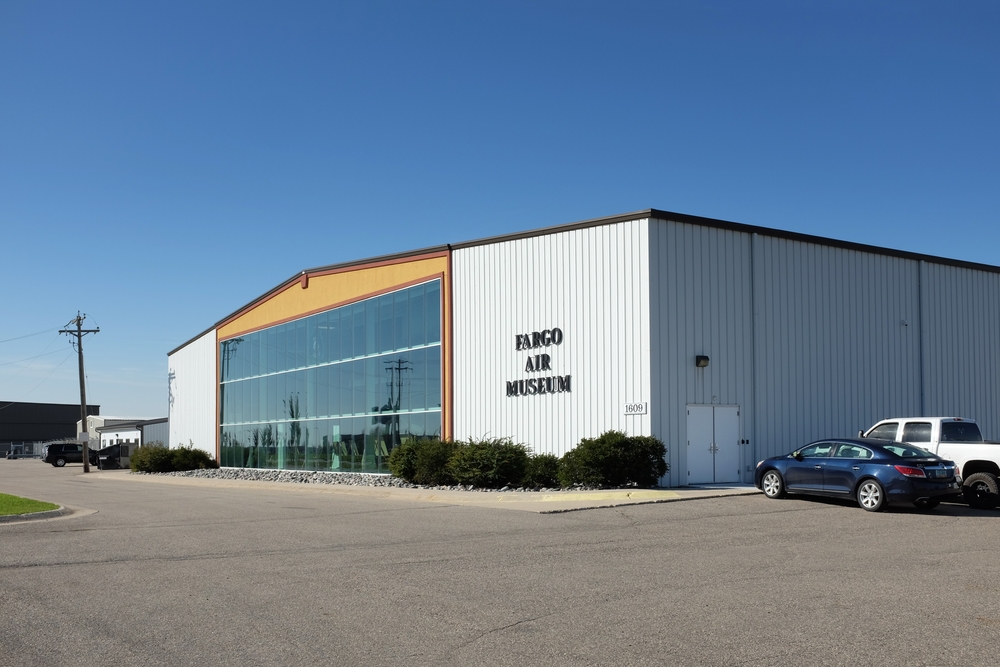 Lindenwood Park
One of the largest multi-use parks, Lindenwood Park is one of the best attractions in Fargo. It is located on the banks of the Red River and is a great place for families, friends, and couples to visit.
The park features seven baseball fields and a large playground for the kids to enjoy.
There are several picnic shelters to hang out with your family or friends and enjoy a delicious picnic meal. If you wish to stay overnight, then you can check out the North Dakota campgrounds here too.
What's amazing about this park is that you will find several Midwest hiking and biking trails to explore in this park.
Learn how to ride a bike, go kayaking on the river, or enjoy a walk on the trails, there is no shortage of activities to keep you engaged here.
Trust me, spending a day here is one of the most fun things to do in Fargo with family.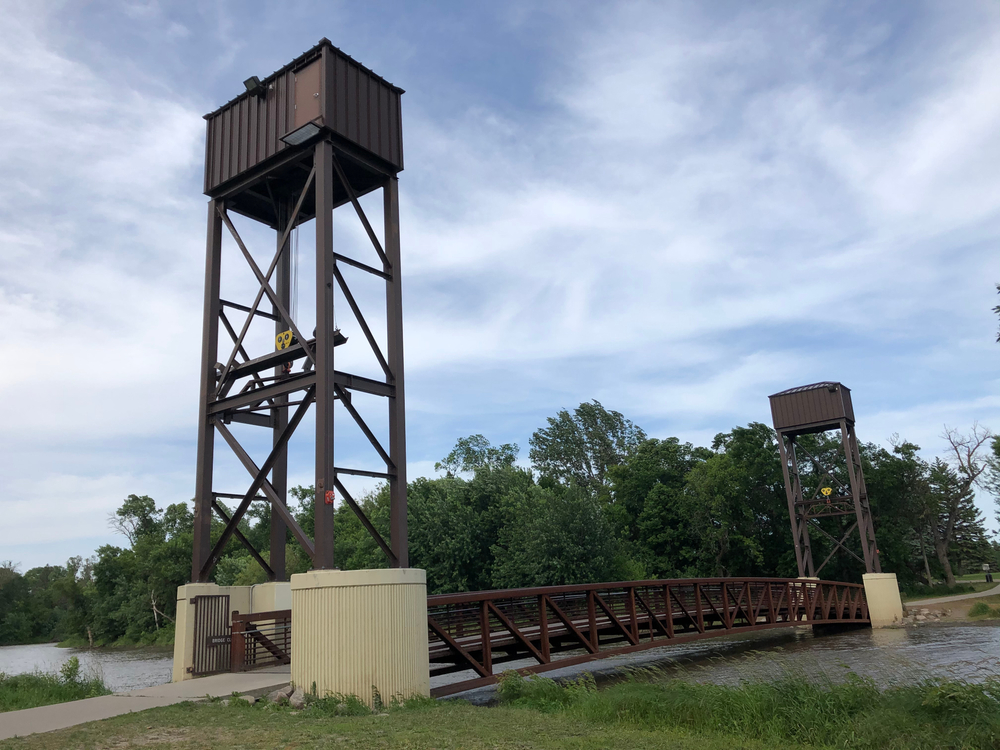 Visiting Moorhead Is One Of The Best Things To Do In Fargo ND
One of the best things to do in Fargo North Dakota is to visit Moorhead. Both these cities together make the Red River Valley and offer a lot of fun attractions for visitors to explore.
With a rich history and culture, Moorhead is home to several fun history sites that you can visit. From Fargo-Moorhead Opera to museums, to theatres, there is a lot to explore in this city.
Visitors can also enjoy many fun outdoor activities here. There is kayaking on the Red River, hiking across the prairies, cross-country skiing, and more available in the city.
If you are looking for more things to do in Fargo ND, then you should definitely visit Moorhead.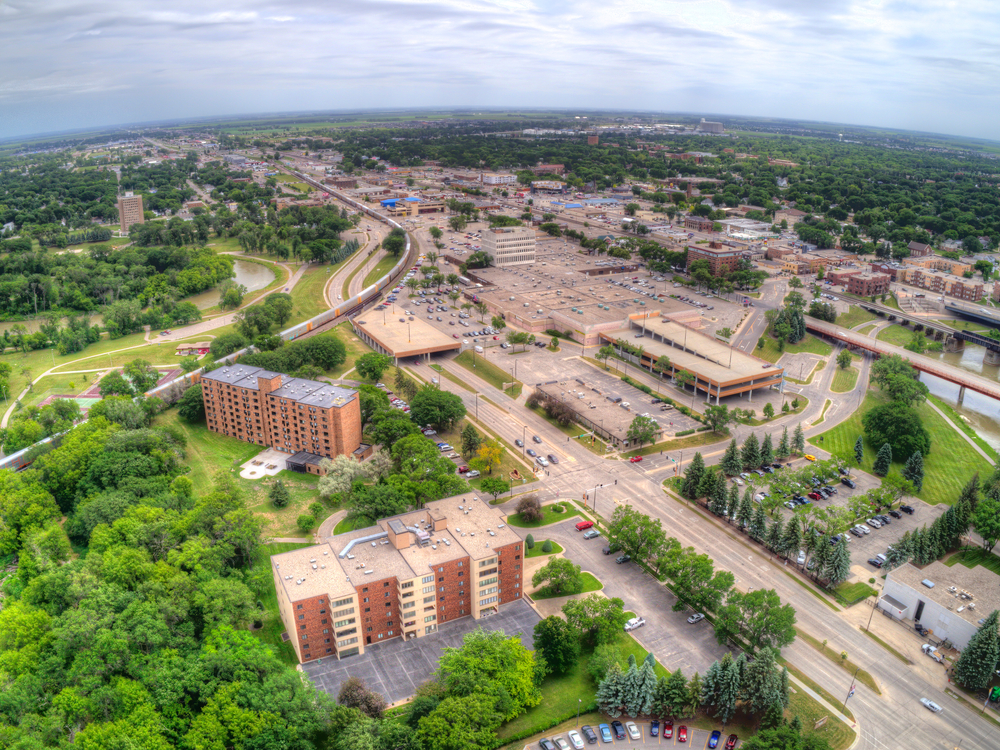 Red River
Looking for fun things to do in North Dakota? Well, then you should definitely spend some time around the famous Red River.
This 550-mile long river is home to over 70 fish species and a wide range of birds too. As a result, bird watching has become a popular activity to engage in on the banks of the river.
Red River, one of the top Fargo attractions, offers a lot of fun water activities to visitors. Kayaking and canoeing are a lot of fun, especially if you are interested in joining a race on the river.
There are many parks near the river that offer several hiking and biking trails for outdoor enthusiasts. Overall, there is a lot to do and see around the Red River.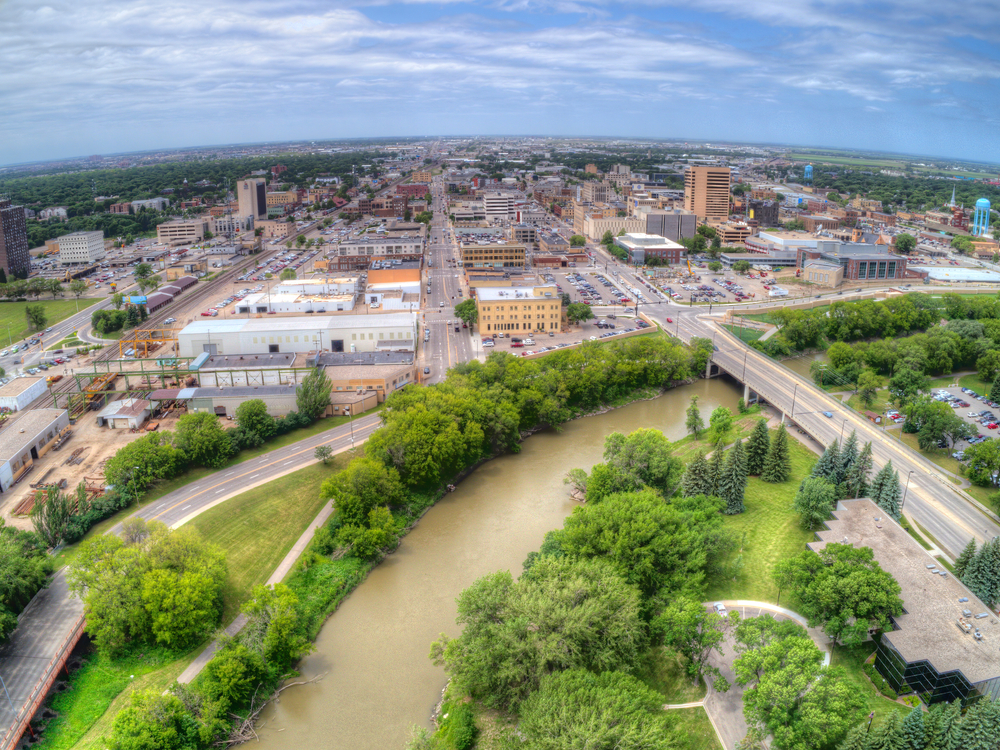 Newman Outdoor Field
With a capacity of 4,600, Newman Outdoor Field has seen many amazing baseball games since 1996. This is why it is one of the top things to do in Fargo for sports enthusiasts.
Visitors can go to this Fargo attraction to witness the official baseball team of NDSU, Fargo-Moorhead RedHawks, practice. Watch a baseball game and cheer with thousands of spectators as the LED display video board shows the score.
This outdoor field also hosts several concerts and festivals throughout the year.
So, if you want to enjoy a heart-pounding game or attend a fun festival with buddies, then this is one of the best attractions in Fargo to visit.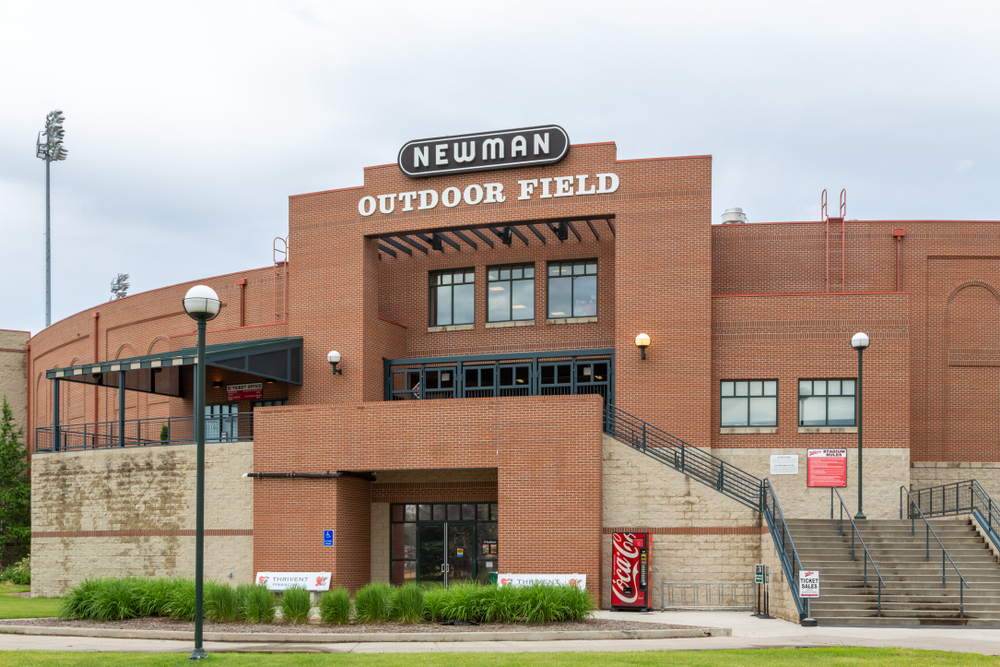 Roger Maris Museum
Another top Fargo attraction, Roger Maris Museum is the perfect place for baseball lovers to visit.
This museum is dedicated to Roger Maris, a famous major league baseball player. He broke the world record by hitting 61 home runs in baseball game season in 1961. You can find artifacts and memorabilia related to his life and career in the museum.
There is also a video room where you can watch the epic footage of Roger Maris breaking the world record. Enjoy the show while sitting on the Yankee Stadium seats.
Visiting Roger Maris Museum to honor one of the greatest athletes of North Dakota is one of the best things to do in Fargo for all the sports fans.
You can make this part of a Midwest road trip for the sports fans in the family!
Fargodome
Sports hold an important place in every Fargo citizen's heart which is why Fargodome is one of the top attractions in Fargo that you cannot miss out on.
This is a popular indoor football stadium on the campus of North Dakota State University. Watch a thrilling game featuring the North Dakota State Bison football team from the front row and experience the adrenaline rush.
The stadium can accommodate around 19,000 people for a football game. It also hosts trade shows, concerts, and events when there is no game scheduled here. Famous artists such as Cher, Katy Perry, and Paul McCartney have performed in this stadium in the past.
Trust me, if you are looking for a unique experience, then one of the best things to do in Fargo North Dakota is to attend a match or a concert in this indoor stadium.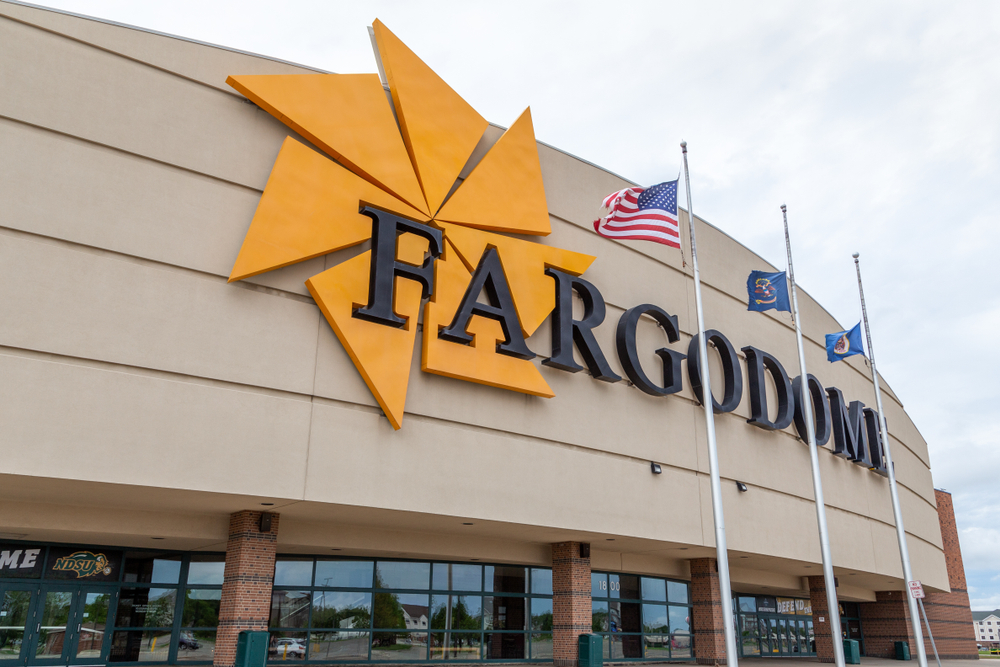 Broadway Square Is A Great Fargo Attraction
Are you looking to have some fun in Fargo? If yes, then one of the best things to do in Fargo is to visit Broadway Square.
Broadway Square is a community space that has multiple uses throughout the year. In the winter, this space is turned into an ice skating rink in the winters.
However, in the summers, it includes a bandshell allowing the visitors to enjoy the outdoor live performances. There are many fun water features for adults and kids alike.
Basically, this Fargo attraction is a great way to gather the locals and the tourists and have some fun time together.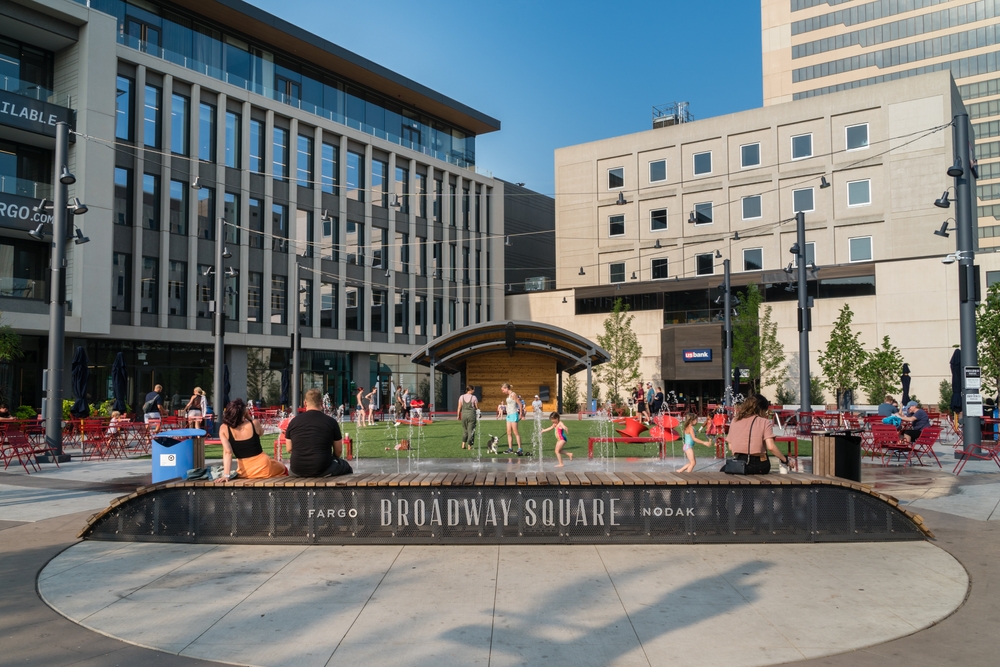 Veterans Memorial Bridge
Veterans Memorial Bridge is a unique Fargo attraction that spans over the Red River and commemorates everyone who served in the USA military.
The bridge has 10 columns that represent the different branches of the military and veteran organizations such as AMVETS, Vietnam Veterans, the American Legion, etc.
This is a great place to learn more about these military people who sacrificed their lives and the history of Fargo. If you are looking for interesting things to do in Fargo, then this is the perfect choice for you!
Island Park
If you are looking for fun things to do in Fargo with your family, then you should visit Island Park.
Located in downtown Fargo, this is the oldest park in the city. This is a family-friendly attraction in Fargo with activities suited for all ages. There is a playground, a basketball court, tennis courts, and a handball court where kids and adults can both play and pass time.
For those who are looking to cool down, there is a swimming pool to enjoy as well. That's not all. Visitors can also use the grills, get rentals, and explore the numerous trails around here.
Scheels Arena, One Of The Best Things To Do In Fargo For Sports Fans
Scheels Arena is one of the top Fargo attractions to visit if you are a sports junkie. This 5,000-seater multi-purpose venue is primarily used for hockey games.
Apart from being a hockey rink, this venue has also hosted many other games and events such as trade shows, concerts, and more. From MMA to broomball, many other fun sports games are hosted here as well.
If you love sports or fun events, then one of the best things to do in Fargo is to attend a match or a show here. Trust me, you are going to love the experience as 5,000 people hoot and cheer with you.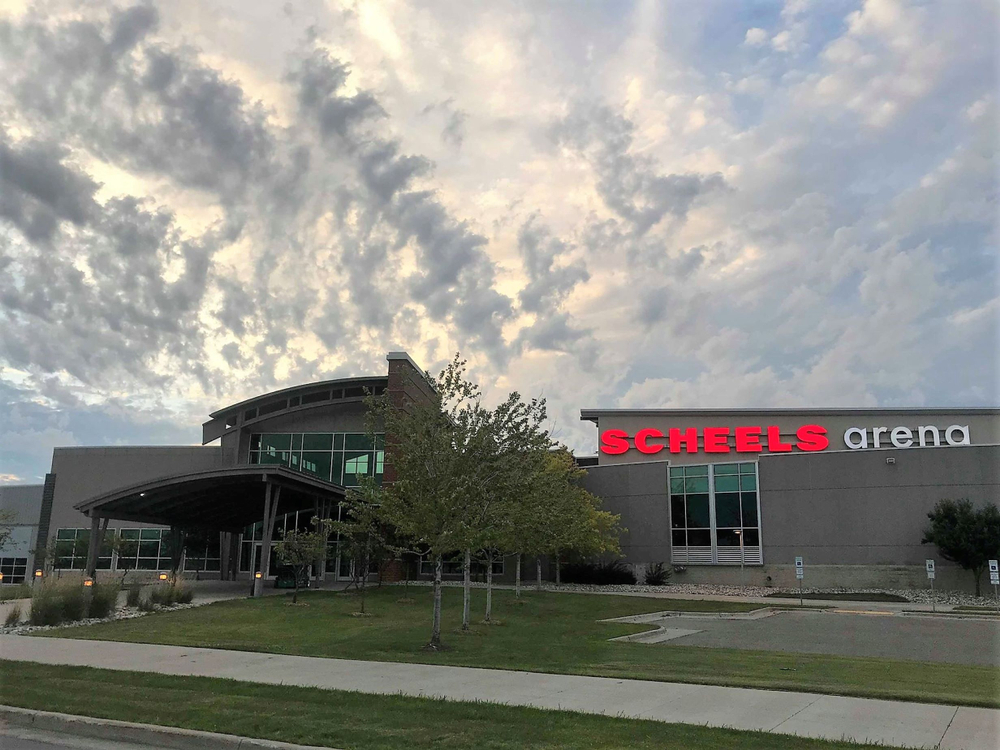 Eating in Fargo ND
One of the top things to do in Fargo ND is to eat. Yes, that's right! This city is a foodie's paradise as you get both modern treats and old-school favorites here.
It is the cultural center of North Dakota and home to several exquisite restaurants that specialize in all kinds of foods. From steak to pizzas, to sushi, there are restaurants in Fargo to suit everyone's tastes.
A few restaurants that you simply must try here are Mezzaluna, Texas Roadhouse, Doolittles Woodfire Grill, and JL Beers. From romantic dining to casual coffee shops, you can find it all here.
Honestly, one of the most fun things to do in Fargo is to try out the different cuisines and restaurants that you can find here.
Learn the History in Bonanzaville
Are you interested in learning the history of North Dakota? If yes, then one of the best things to do in North Dakota is to visit Bonanzaville.
Bonanzaville is one of the top historic attractions in Fargo that will take you into the past. Explore the old village here that features salons, shops, town halls, and a courthouse for an interactive history lesson.
With an area of 12 acres, the outdoor village has over 40 historic buildings to give you a glimpse into life during the 19th century.
Apart from learning the history, you can also join ghost tours that are held every year between September-October.
One of the top things to do in Fargo North Dakota, this outdoor village is open every day during the spring and summer months.
Spend a Day in Downtown Fargo
A trip to Fargo is incomplete if you don't venture into the vibrant and colorful downtown area. One of the best things to do in Fargo is to explore the shops, diners, cafes, and bars here.
Trust me, this place is a shopper's paradise. Apart from offering options for shopping and dining, the downtown area is also filled with fun and engaging attractions.
One can watch a movie at the local theatre or check out the mall in this area.
That's not all, downtown Fargo is also famous for its stunning street art. From street murals to decorated electric boxes, one can see the work of the local artists all over the downtown area.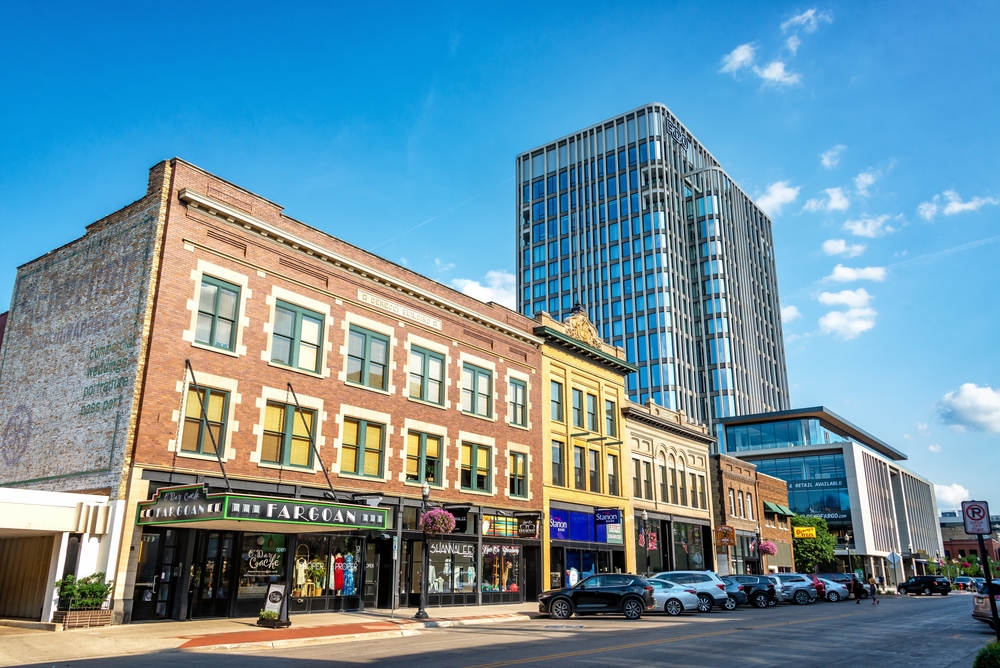 Packing List For Visiting Fargo North Dakota Attractions
If you will be traveling, either by plane or by car to Fargo ND here are some tips on how to pack lightly.
A concealed travel pouch may be one of the most important items you bring along when visiting Fargo North Dakota. It is always important to protect your personal information. Identity thieves are everywhere.
This unisex RFID blocking concealed travel pouch is lightweight and comes in several colors. It has lots of organization to give you peace of mind.
You can place it under your hiking clothes next to your body to carry your ID safely.
If you have a pouch already that does not come with the RFID protection, as I do, these RFID sleeves are the perfect solution.
This configuration comes with enough credit card sleeves that the entire family would be protected. They are slim too, so they will easily fit into your pouch or wallet.
If you are planning on taking a lot of pictures with your phone you will definitely want to consider an external charging battery. This Anker high-speed phone charging battery is the exact one I carry with me on all of my trips.
It can be used on a variety of phones, not just an iPhone like I have. And wow is it fast!
I like that it holds its charging capabilities for several uses so I do not have to worry about it while out and about, and if I forget to recharge it at night, it will still be good to go the next day.
My daughter gifted me with this FugeTek selfie stick and tripod setup for my birthday. I absolutely love it! It is made of lightweight aluminum and is so easy to use.
It has Bluetooth connectivity and is a breeze to use for taking selfies when visiting Fargo ND.
Hydration is so important when traveling. You want to remain hydrated throughout your travels to support your immune system which in turn will be stronger to fight off any germs you will encounter during your travels.
You will want to bring your own refillable water bottle with you.
I never leave home on a trip without my Bobble filtration bottle. The 18.5-ounce size is perfect for hiking and it fits nicely in the pocket of a backpack.
When filled with water, it is not too heavy to carry. And the charcoal filter ensures fresh clean water whenever you fill the Bobble.
Perhaps you are traveling a long distance and packing space is a premium in your suitcase, or in your car.
Then this set of collapsible silicone foldable water bottles would work well for you. Would not take up much space at all.
You will want a backpack or daypack with you to store snacks, your water bottle, phone, extra clothes, etc.. when hiking This foldable water-resistant backpack would be great
It is very affordable and is available in many color options for you to choose from. The fact that it folds down into a zippered pouch will make it easy to pack.
---
Here we have presented to you 15 of the best things to do in Fargo North Dakota. There is something for everyone on this list!
We hope you have inspired you to explore the great state of North Dakota. Let us know if you have visited any of these Fargo attractions. And if you have any others to add, please do so in the comment section below.
And if you are looking for accommodations during your stay in Fargo, you can begin your search with these epic Midwest cabins!