There are a bunch of great trails for hiking in Kansas for your next outdoor adventure!
When you think of hiking in the Midwest, you might not think of Kansas first.
It is known for being very flat, but in fact, there is a mix of different landscapes ideal for hiking.
From prairies of swaying grass to tree-lined lakes to unique rock formations, hiking trails in Kansas will show you the best natural features the Sunflower State has to offer.
As you enjoy these Kansas trails, keep an eye out for birds and other wildlife.
Remember to Leave No Trace and respect nature. Pack out all trash and stay on the marked paths.
Lace up your hiking boots and check out these awesome Kansas trails!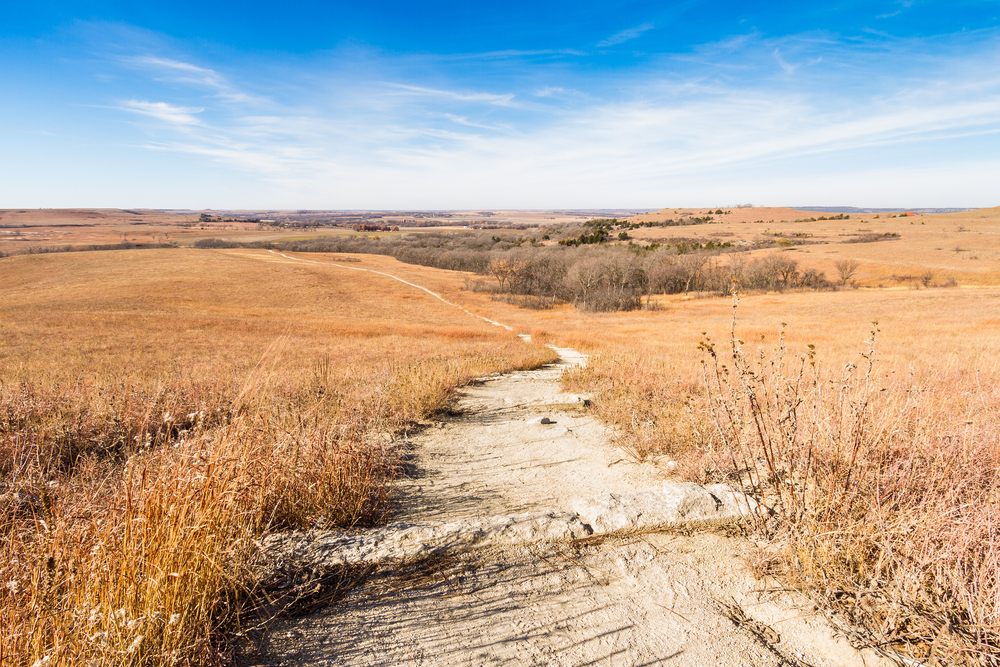 15 Scenic Trails for Hiking in Kansas
Konza Prairie Nature Trail
The Konza Prairie Nature Trail outside of Manhattan is one of the best hiking trails for classic Kansas scenery.
This trail is found in a native tallgrass prairie preserve owned and studied by the Nature Conservancy and Kansas State University.
This is a great place to appreciate this endangered ecosystem as you enjoy hiking outdoors.
The 2.6-mile loop trail is moderate with some inclines. As you hike, look for birds, butterflies, and wildflowers among the prairie grasses.
A short spur trail will bring you to the historic Hokanson Homestead which was built in 1878.
The trail is open from dawn to dusk and is closed during controlled burnings.
You will thoroughly enjoy the Konza Prairie Trail in Kansas!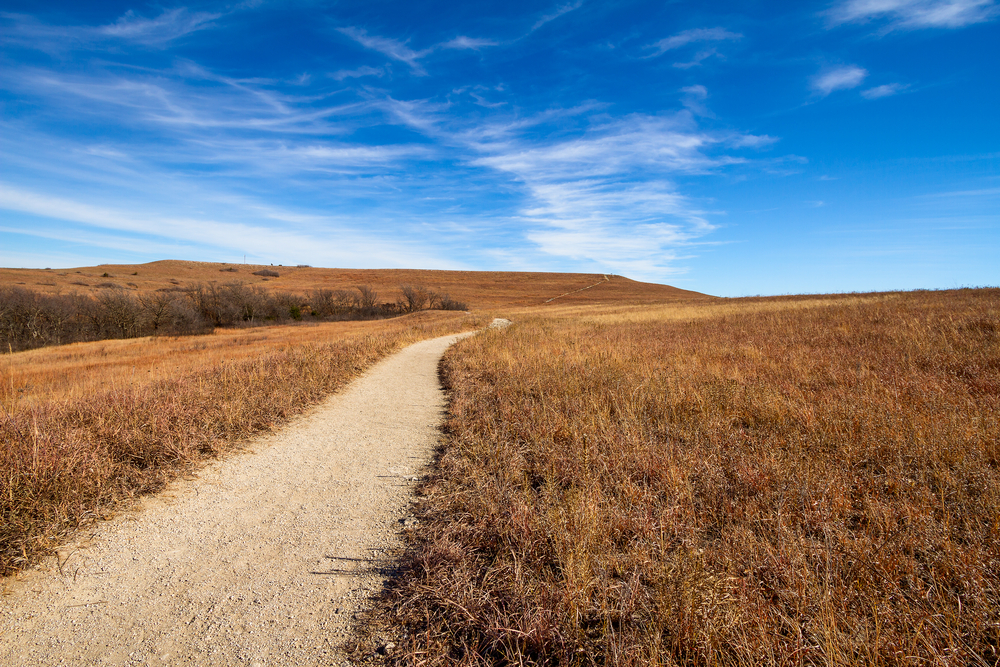 Elk River Trail
If you are wanting a hike with a challenge, try out the 15-mile point-to-point Elk River Trail. This trail provides pretty views of the Elk River and Elk City Lake.
There are primitive campsites along the trail so you can spend a couple of days exploring the area. You will find rock bluffs, caves, waterfalls, and plank bridges.
The trail is rugged with boulders and steep ridges. Bring plenty of water as you attempt this moderate to difficult hike in Kansas.
After your hiking activities, stop by Elk City State Park where you can cool off in the water at the swimming beach.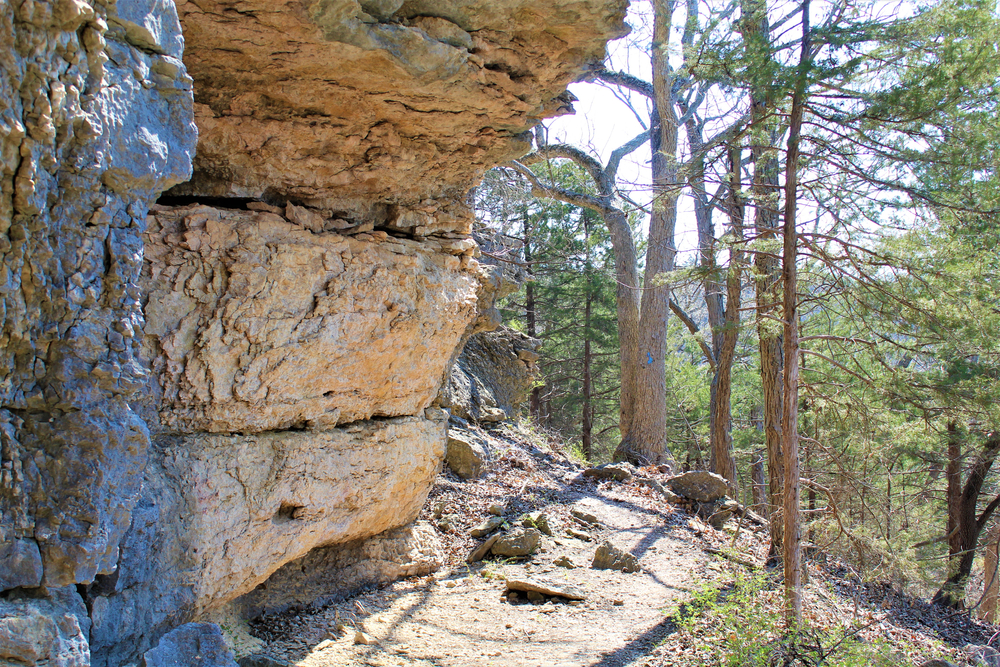 Mushroom Rock State Park
Mushroom Rock State Park is a small park in central Kansas. The Mushroom Rock Trail is perfect for anyone looking for an easy and short hike while still wanting to see cool natural sites.
This trail is just under a quarter mile and is great for all skill levels. The path is mostly flat and easy to follow.
As you walk, you will enjoy spotting the unique, mushroom-shaped rocks the park is named after. They date back to the Cretaceous Period!
The largest is 27 feet in diameter. Snap a photo with it when you visit!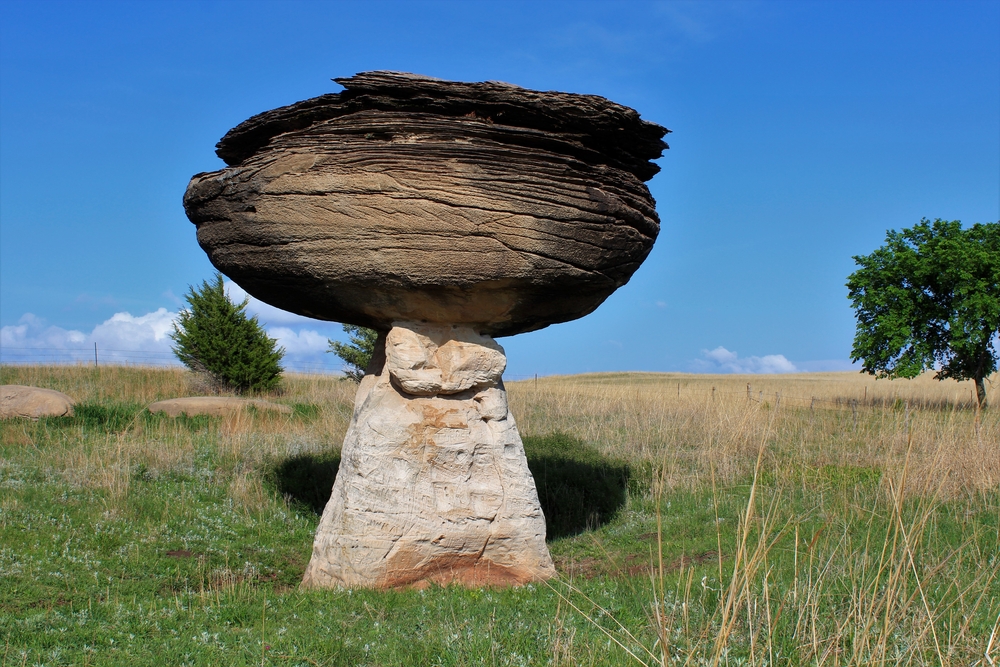 Kanopolis Lake State Park
If you want to do more hiking in KS state parks, head about eleven minutes south of Mushroom Rock State Park to Kanopolis Lake State Park.
Found on the shores of a beautiful lake, this is one of the best places for hiking and camping in Kansas. The 30-mile trail system will give you views of the lake, caves, bluffs, and forests.
One of the most popular trails here is the Horsethief Canyon Trail. It has multiple trailheads, so you can choose how much or how little of the loop to hike. The full loop is about 7 miles.
You can also enjoy the shorter Buffalo Track Canyon Nature Trail which is just under a mile.
Mountain biking and horseback riding are very popular at this state park as well.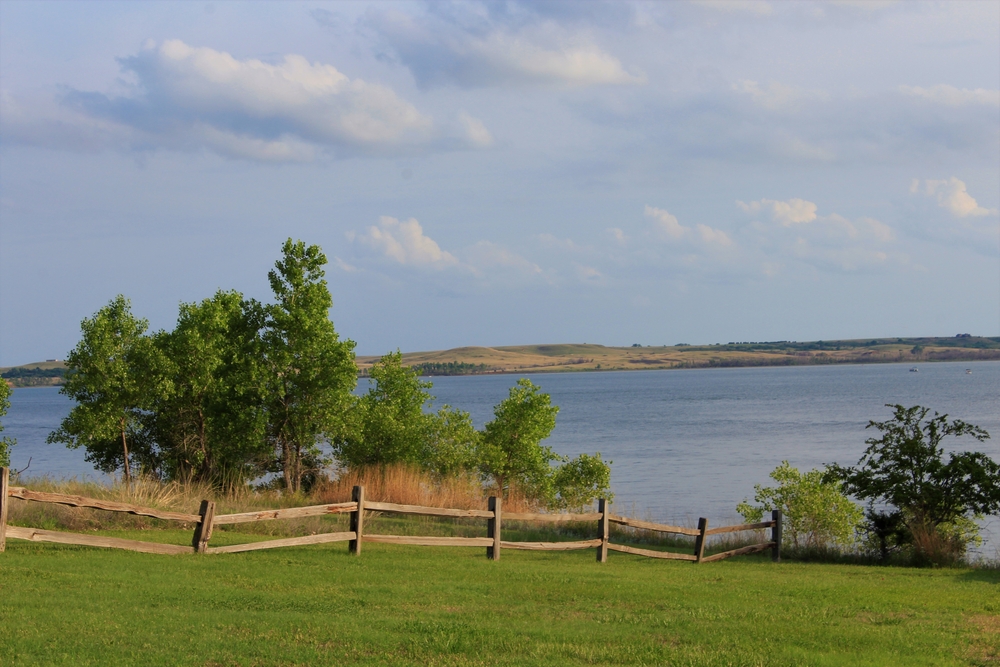 Chisholm Creek Park
If you want some of the best Wichita hiking trails head to Chisholm Creek Park.
There are 2.5 miles of paved and unpaved trails as well as boardwalks that will bring you through prairies, wetlands, and woodlands. They are easy paths with benches along the way.
Bring binoculars to spot the herons, ducks, hawks, deer, turtles, and more that make this place home.
There are many wildflowers as well. You will love this beautiful spot for hiking in Wichita, KS.
There is also an 11.2-mile bike trail here. You will agree this is one of the best things to do in Wichita.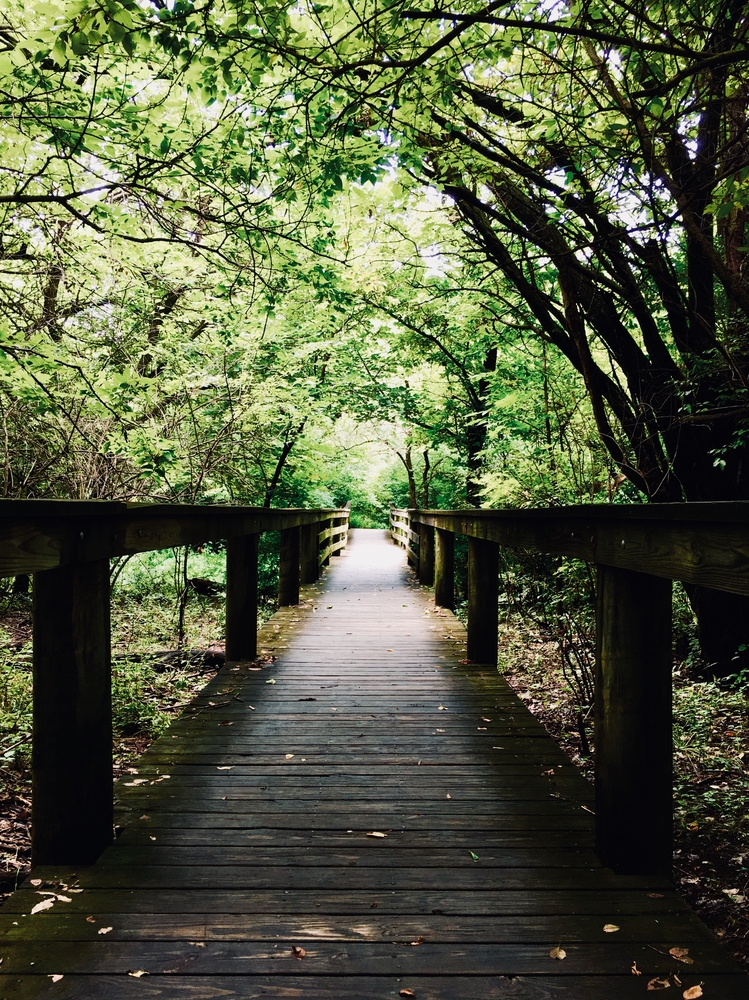 Tallgrass Prairie National Preserve
The Tallgrass Prairie National Preserve in Strong City is about 11,000 acres, encompassing vistas, wildflowers, a bison herd, and historic buildings.
There are over 40 miles of trails to explore. They are open 24/7 every day of the year, except during controlled burns. If you visit at night, you will be amazed by the stars.
The trails are well maintained and vary in length and difficulty so there is a Kansas hiking trail for everyone. The trails start at half a mile and get longer.
If you want a short hike, but still want a good feel of the prairie ecosystem, check out the 1.75-mile Southwind Nature Trail.
The best trail to see bison is the Scenic Overlook Trail. The path is 3.2 miles one way through the Windmill Pasture.
Remember to stay at least 125 yards away from the bison. They can be dangerous.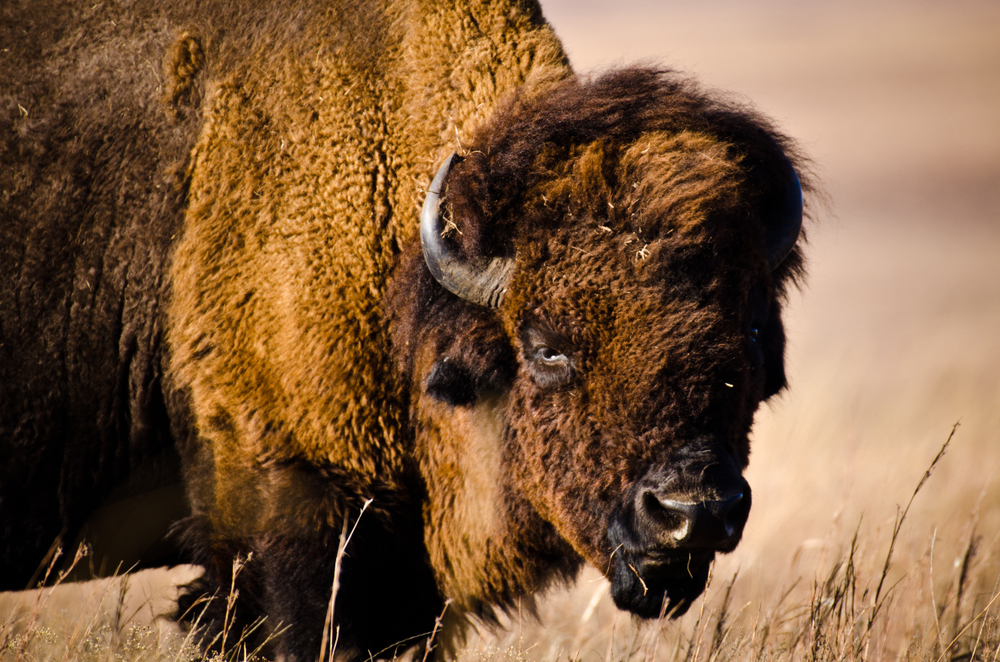 Kill Creek Park
If you are looking for hiking trails near Kansas City, then head to Kill Creek Park near Olathe.
This beautiful 897-acre park has 12 miles of trails for hiking and mountain biking.
The trails are rated easy to moderate with some paved portions.
One cool feature here is the Russell and Helen Means Observation Tower which gives awesome views of the park.
The lake here has a swimming beach, a marina, and great fishing opportunities. This park is one of the best things to do near Kansas City, KS!
This is also one of the best places to experience fall in Kansas when the leaves change colors!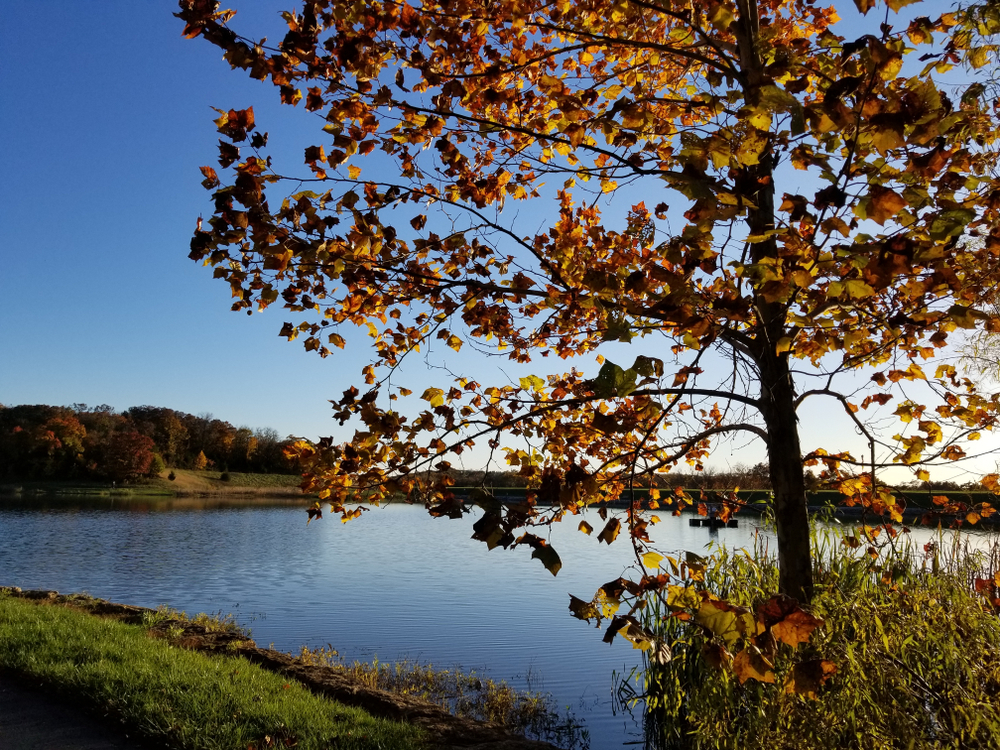 Little Jerusalem Badlands State Park
Another great state park for hiking in Kansas is Little Jerusalem Badlands State Park. When you arrive here, you will think you have left Kansas.
There are no mountains in Kansas, but this rugged badlands landscape is a great alternative for Kansas hiking.
This is a unique habitat for plants and animals you might not see elsewhere in Kansas.
There are two trails here to explore. The easy Overlook Trail is a quarter-mile one-way, ending with an epic viewpoint.
The Life on the Rocks Trail is a little harder with bigger slopes. It is 1.2 miles one-way with two overlooks. Whichever trail you choose, you will be rewarded with some of the most diverse Kansas scenery.
This is one of the best places to hike in the United States if you are looking for a unique landscape to traverse.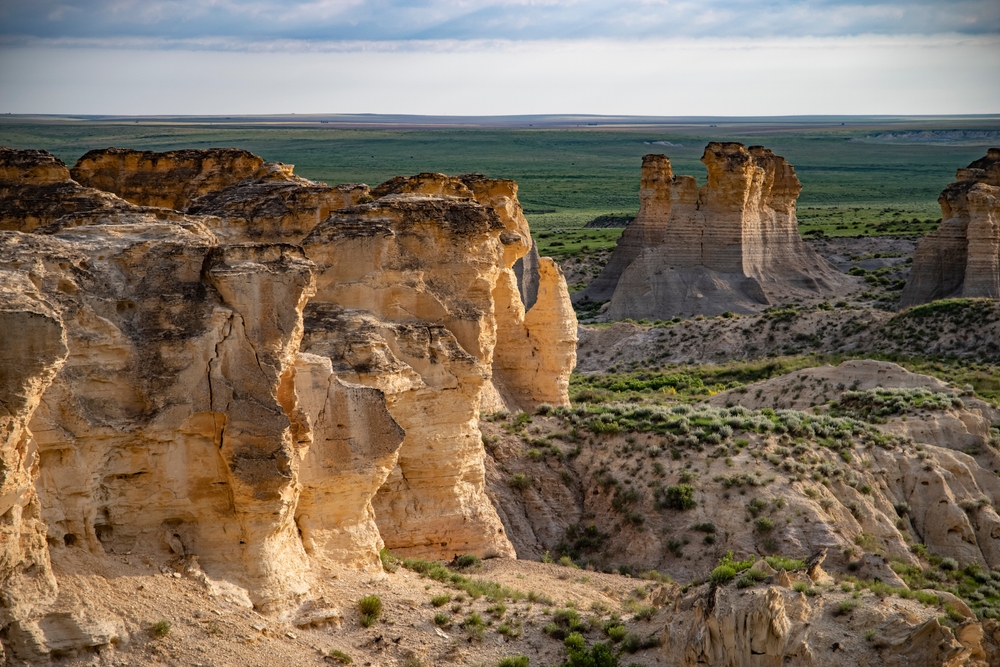 Indian Creek Trail
Another great hiking spot in the Kansas City area is the Indian Creek Trail. This hiking and biking trail is paved and connects many cities along Indian Creek.
The 26-mile point-to-point trail will bring you through nature and residential areas in Overland Park, Leawood, and Olathe. A small portion is also in Missouri.
It is an easy route with many parks along the way. This is a great place for a casual bike ride with the family or to train for a run.
This Kansas hiking trail is one of the best things to do in Overland Park!
Shawnee Mission Park
Shawnee Mission Park has an assortment of easy and moderate hiking and mountain biking trails for every skill level.
The are a few connecting loops all named after colors. They range from about a mile to 4.6-miles. You can hike or mountain bike.
The South Shore Trail is about 6.3 miles roundtrip. It is ranked easy and provides views of the lake.
The Gary L. Haller Trail is another popular hiking trail in Kansas that passes by Shawnee Mission Park.
The over 17-mile pave path connects Nelson Island on the Kansas River to Mill Creek Streamway Park.
With so much to offer this would make a great Midwest weekend getaway!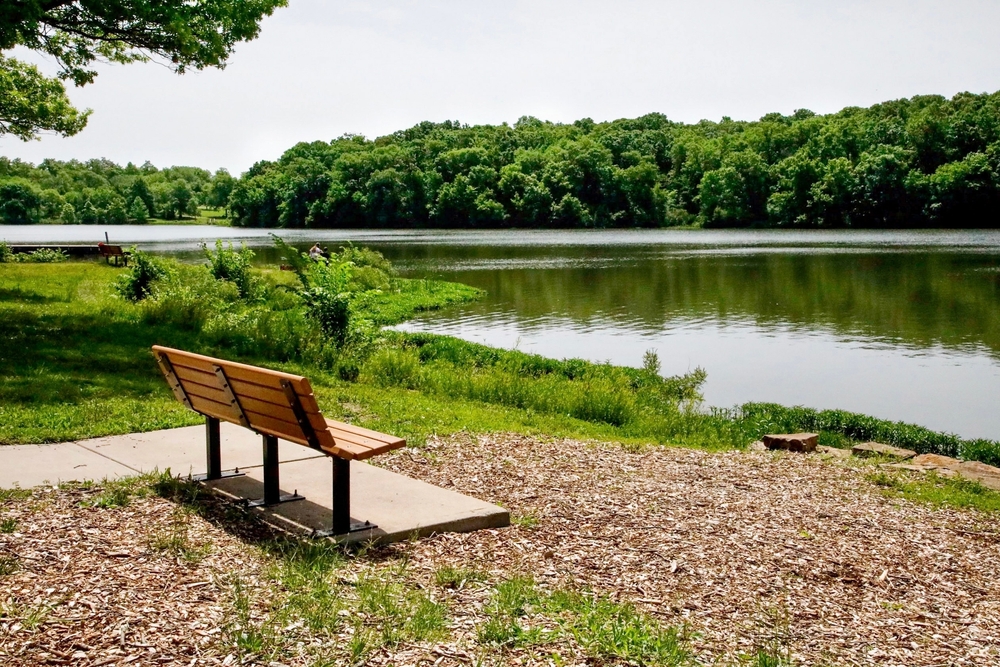 Cedar Bluff State Park
A visit to Cedar Bluff State Park is one of the best things to do in Kansas. Found on the shores of the Cedar Bluff Reservoir, this 350-acre park is a great place for a day of outdoor recreation.
You will love the 100-foot-tall limestone bluffs and the chance to go fishing, swimming, and boating. It is also one of the best places for camping in Kansas.
Cedar Bluff is also one of the best hiking parks in the state. The Agave Ridge Nature Trail here is a chance for hikers to see some native flora and fauna.
The first mile of the trail is paved and easy for any age or skill level. It then extends to a mowed trail that has more of an elevation gain.
As you hike along, read the interpretative signs and keep an eye out for wildlife.
The trail is named after the many Great Plains yucca pants found here. Agave is the genus name of the spiky plant.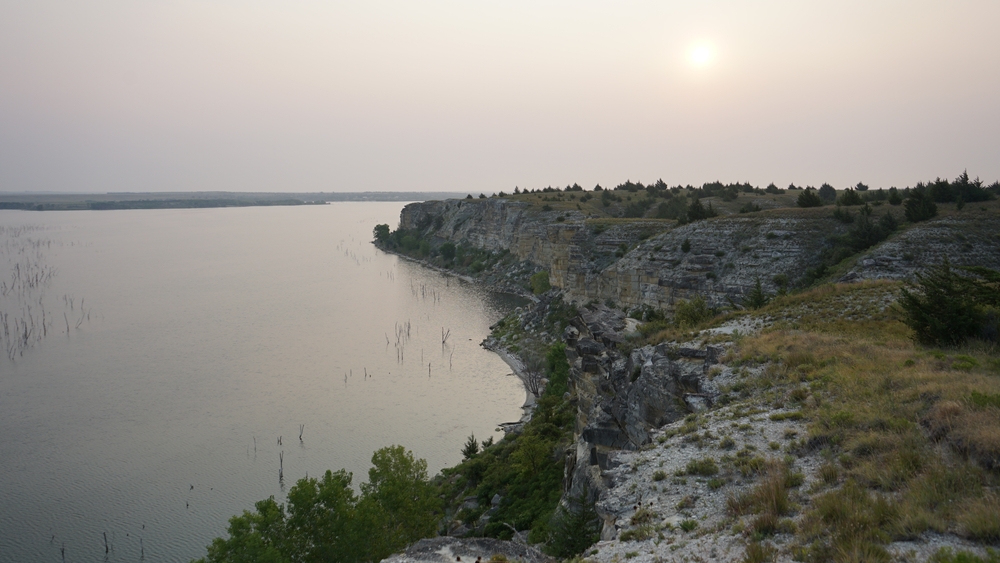 Riverwalk Trail
In Junction City, the Riverwalk Trail follows the Republican River for about 4.8 miles. It is an easy route made of crushed limestone.
The trail ends in Outlet Park, but if you want to keep hiking you can connect to the Old River Bluff Trail which will lead you to the trail system in Milford State Park.
With these added trails, you'll get a length of about 14 miles. This is great for a workout. You can also ride your bike.
In Milford State Park, you'll find campgrounds, a marina, swimming beaches, picnic tables, and a splash pad for the kids to cool off.
Perry State Park
Perry State Park is one of the best places for hiking near Topeka and Lawrence. Nestled on Lake Perry, there are many trails of varying lengths and difficulties.
There are over 20 miles of trails with the shortest starting at just under a mile. As you walk, run, or bike the trails, you will pass through hardwood forests and along the lake.
On the opposite side of the lake, you will find the 29-mile Perry Lake Trail. It is an overall moderate loop with some rugged areas.
It is also a great place to spot bald eagles! Add this park to your list of things to do in Lawrence!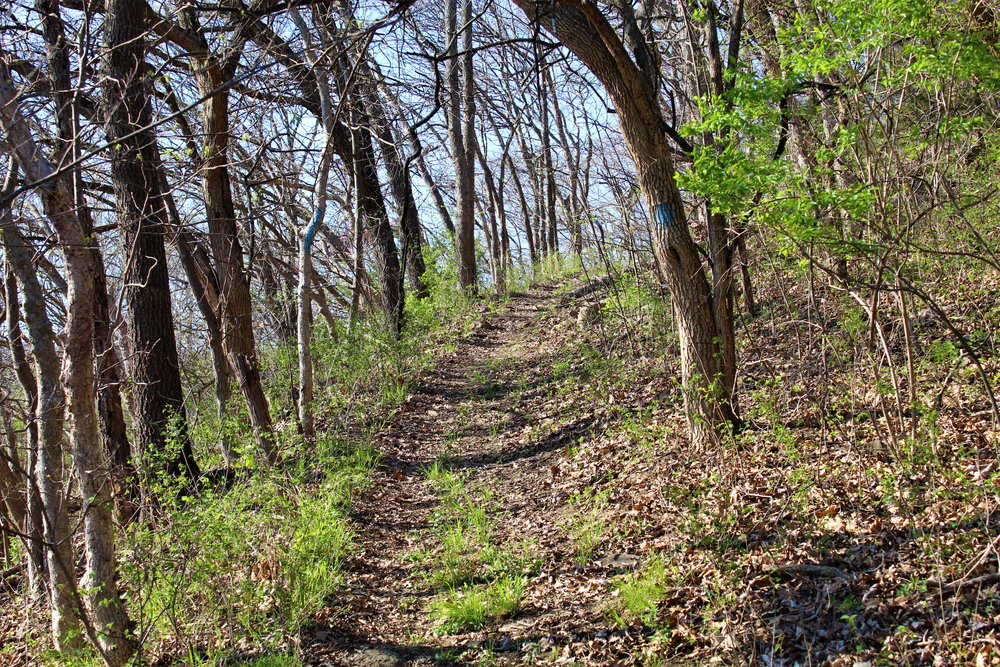 Castle Rock Badlands Trail Is Great For HIking In Kansas
The Castle Rock Badlands is similar to Little Jerusalem Badlands State Park and is about an hour and ten minutes from the state park.
You could visit both on the same day, but know that the road to Castle Rock is gravel and better suited for 4×4 vehicles.
However, you are more likely to have the spot to yourself. This is one of the hidden gems in the Midwest.
Castle Rock stands oddly alone in the prairie, reaching up 70 feet into the wide Kansas sky.
The rest of the badlands are set a little apart and this is where you will find the Castle Rock Badlands Trail.
This easy, out-and-back trail is 1.4 miles and will lead you through the unique and rugged hoodoos. Make sure you do not climb on the rocks since they are fragile.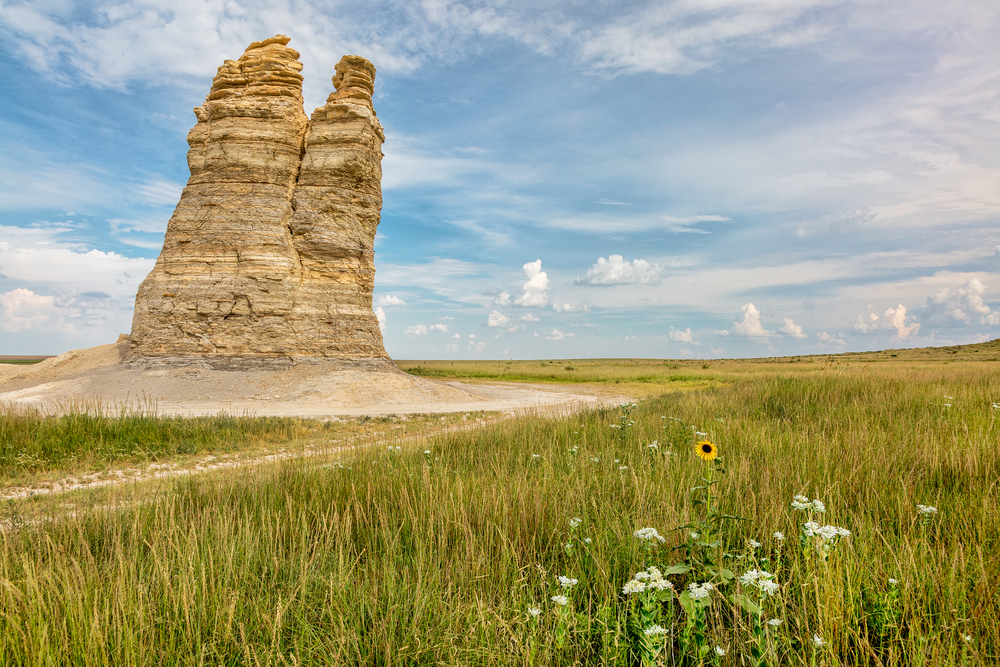 George Lathan Hiking Trail Offers Some Of The Best Hiking In Kansas
The George Latham Hiking Trail is in the Woodridge Primitive Area on Clinton Lake just outside of Lawrence.
At 4 miles, it is a pretty place to enjoy the woods, meadows, and lakeshore.
It is also a great place to see wildlife. Keep an eye out for copperhead snakes since they are venomous.
It is an easy loop with campsites and benches along the way.
This Kansas trail is not as popular as some of the others on this list, so it is a great choice if you want some quiet and solitude.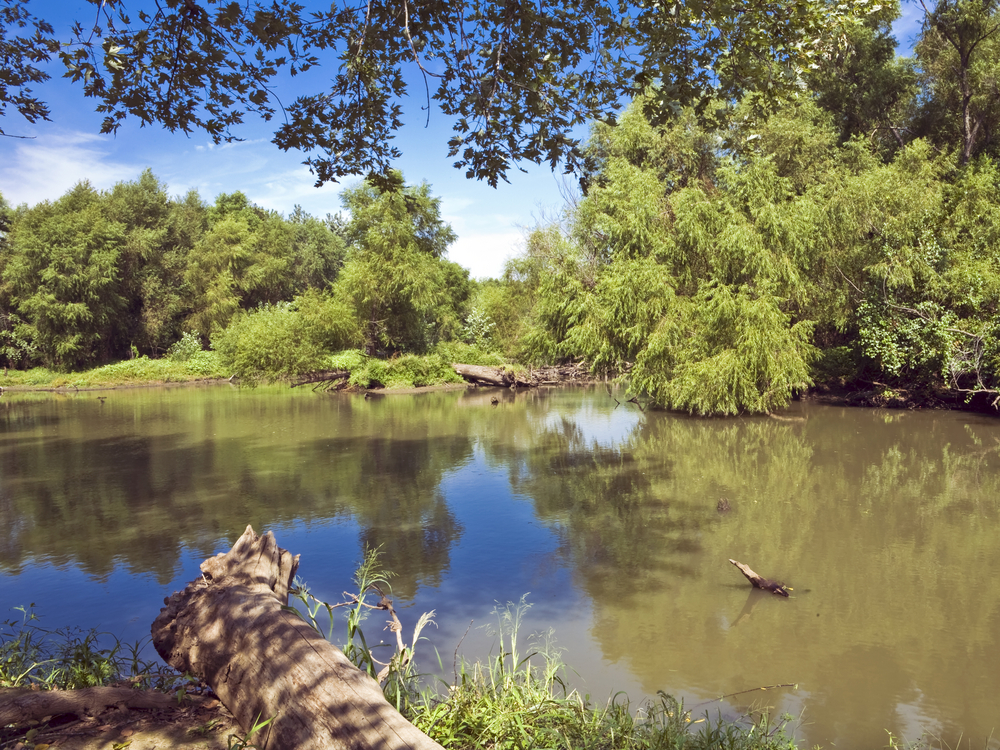 Packing List When Hiking In Kansas
If you are searching, here are some tips on how to pack lightly when packing when heading to Kansas scenic trails.
A concealed travel pouch may be one of the most important items you bring along when hiking in.  It is always important to protect your personal information. Identity thieves are everywhere.
This unisex RFID blocking concealed travel pouch is lightweight and comes in several colors. It has lots of organization to give you peace of mind. You can place it under your clothes next to your body to carry your ID safely.
If you have a pouch already that does not come with the RFID protection, as I do, these RFID sleeves are the perfect solution.
If you are planning on taking a lot of pictures with your phone you will definitely want to consider an external charging battery. This Anker high-speed phone charging battery is the exact one I carry with me on all of my trips.
I like that it holds its charging capabilities for several uses so I do not have to worry about it while out and about, and if I forget to recharge it at night, it will still be good to go the next day.
My daughter gifted me with this FugeTek selfie stick and tripod setup for my birthday. I absolutely love it! It is made of lightweight aluminum and is so easy to use.
It has Bluetooth connectivity and is a breeze to use for taking Insta-worthy selfies at all the cool hiking trails in Kansas.
I never much believed in using packing cubes when traveling. That is until I tried them. Now I am hooked. These are the exact cubes I use to stay organized when I pack for a trip!
You will want to bring your own refillable water bottle with you.
I never leave home on a trip without my Bobble filtration bottle. The 18.5-ounce size is perfect for your adventures and it fits nicely in the pocket of a backpack.
Perhaps you are traveling a long distance and packing space is a premium in your suitcase, or in your car. Then this set of collapsible silicone foldable water bottles would work well for you. Would not take up much space at all.
You will want a backpack or daypack with you to store snacks, your water bottle, phone, extra clothes, etc.. . No matter the time of day or evening.
This foldable water-resistant backpack would be great. And it comes in many different colors!
–
Kansas hiking trails offer all sorts of landscapes for outdoor enthusiasts! Prairies, meadows, forests, lakes, and even badlands can all be enjoyed.
Hiking Kansas is one of the best places to visit in the Midwest!