There are so many cool places to visit in Missouri that you should not overlook!
Missouri is a beautiful Midwest state full of activities for every type of traveler. Whether you want to make memories with your family, are looking for a romantic getaway, or would love to enjoy an empowering solo trip, Missouri should be on your bucket list!
From lively cities full of art and culture to cute, small towns drenched in history, there are so many Missouri tourist attractions to make the perfect itinerary. You can road trip along the historic Route 66 or spend time deep in the wilderness.
No matter what you do on your Missouri vacation, you are sure to have a great time and want to come back! Missouri is the Show-Me State, so get ready to be shown beautiful nature, fascinating history, and cool cities.
Here are some of the best attractions in Missouri for your next trip!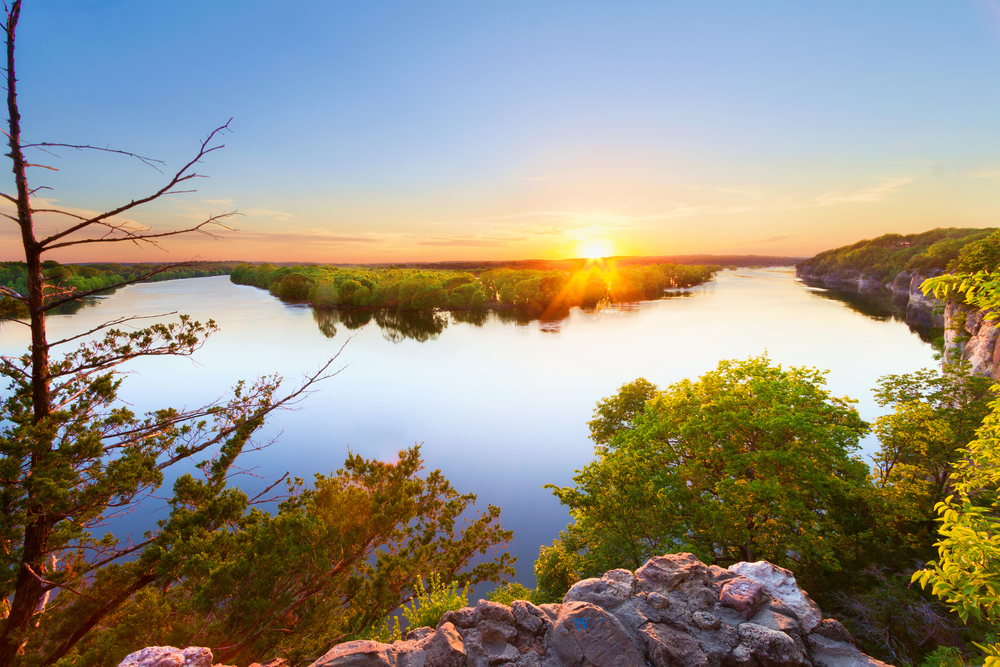 15 Places to Visit in Missouri for Your Bucket List
Gateway Arch National Park
The Gateway Arch in St. Louis Missouri is one of the most famous places to visit in Missouri. Constructed from 1963 to 1965, this elegant, stainless steel structure is the tallest arch in the world at 623 feet.
The Arch and the area around it became the smallest U.S. National Park in 2018.
Ride the tram to the top to get amazing views of the city and the Mississippi River.
Since this is one of the most popular tourist attractions in Missouri, it is recommended you buy tickets in advance. They often sell out, and you do not want to miss out on this awesome experience!
If you are afraid of heights, visit the museum on the ground to learn about the history of the Arch, America's westward expansion, and the story of Native Americans and pioneers.
Admission to the museum is free!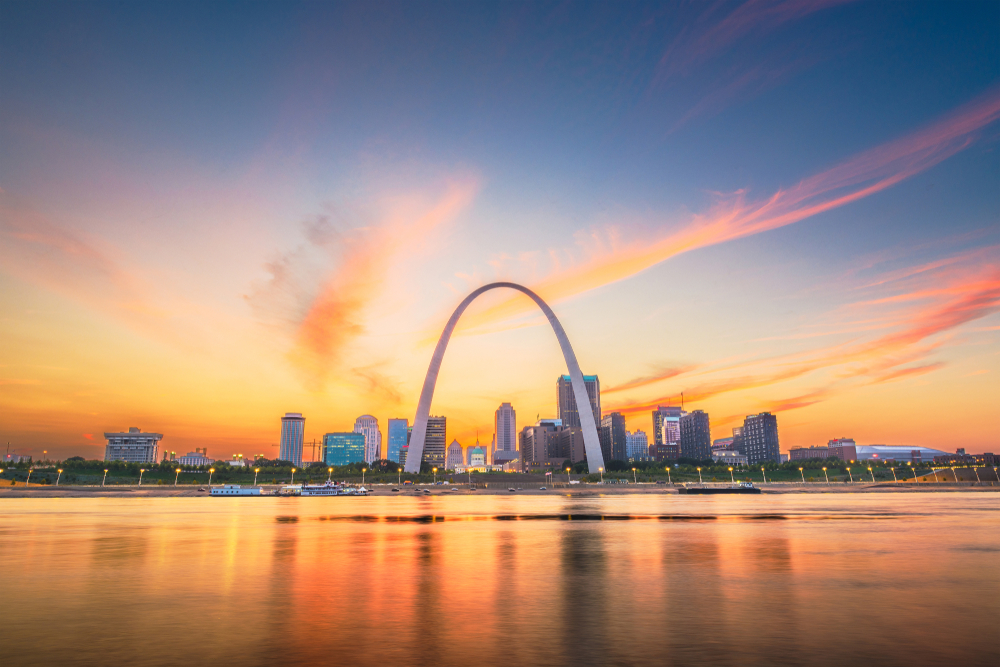 Mark Twain Boyhood Home
Head to Hannibal Missouri to visit the Mark Twain Boyhood Home and Museum. The famous writer was born Samuel Clemens in Florida, Missouri, in 1835.
He then moved with his family to Hannibal when he was four.
The museum is full of unique, interactive exhibits based on Twain's books. Learn about his life and how his boyhood experiences and friends influenced his writing.
Hannibal is proud of its Mark Twain association and many other things in town have his name. You can visit the Mark Twain Memorial Lighthouse for great views or explore the Mark Twain Cave.
A cruise on the Mark Twain Riverboat is another great Missouri activity.
Hannibal also has a ton of other historic buildings and museums to check out while you are in town. Hannibal is a great day trip from St. Louis.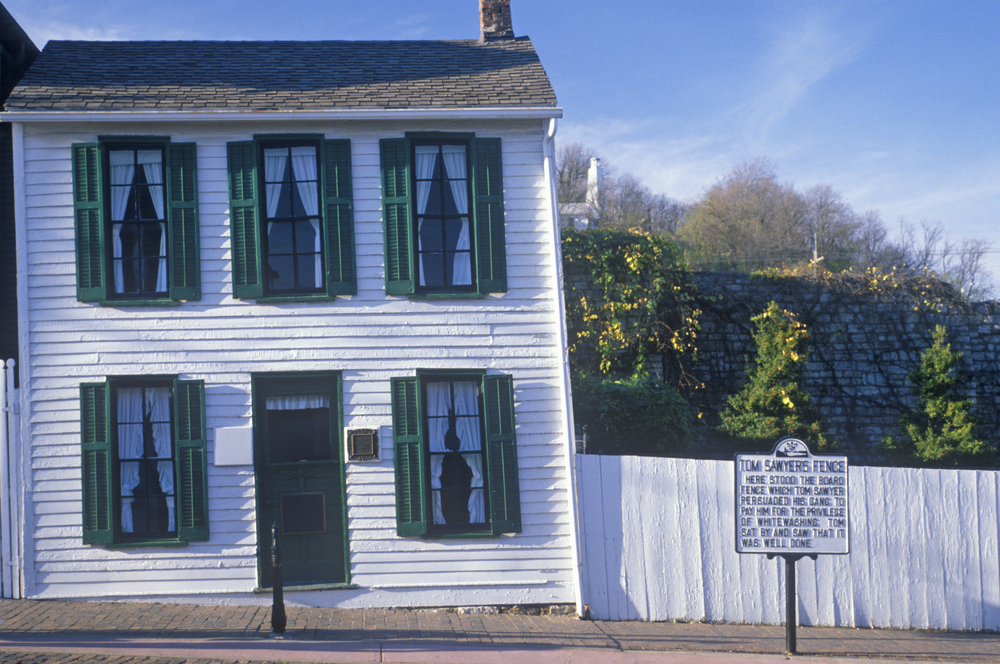 Branson Is One Of the Coolest Places to Visit in Missouri
Branson MO is the Las Vegas of Missouri and with so many things to do, it is easily one of the best places to visit in Missouri. While it is a small town, Branson is a lively place that draws in a ton of tourists.
There are a bunch of theaters where you can catch a show or concert. A trip to the Titanic Museum Attraction will make you feel as if you have stepped onto the famous, doomed ship.
Kids will love learning with a fun twist at WonderWorks. The Aquarium at the Boardwalk looks like a giant, glass octopus and will wow everyone.
Silver Dollar City is probably the most famous Branson attraction. This 1880s-inspired amusement park is full of thrilling roller coasters, a train, and more kid-friendly rides.
There are also demonstrations of things like blacksmithing and candy making. There are shows, shops, and restaurants as well.
Another unique attraction in Branson is Dolly Parton's Stampede. This is an awesome dinner with a show that you will be talking about long after it ends.
This is the perfect Branson attraction to visit if celebrating Christmas in Branson!
You will enjoy a tasty meal while horseback riders put on a Wild West show.
There are many romantic wineries in Missouri located near Branson!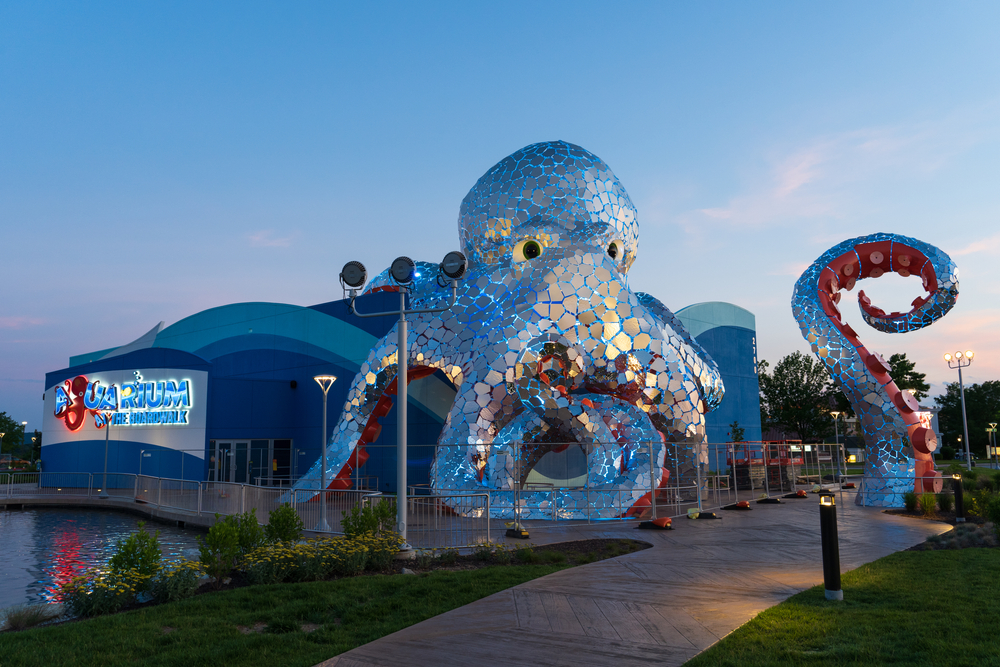 Table Rock State Park
Table Rock State Park is just outside of Branson and is a great place for a weekend trip in Missouri.
There are great campsites here if you are looking for a classic American vacation or you can rent a rustic cabin nearby.
This is one of the best places to visit in Missouri if you want to spend time on the water.
There is an assortment of water equipment you can rent at the lake, including ski boats, kayaks, and paddleboards. You can also have fun swimming or fishing.
There are hiking and mountain biking trails to explore. Bring a picnic to enjoy in a scenic spot. All Missouri state parks are free to enter, so this is one of the best budget things to do in Missouri.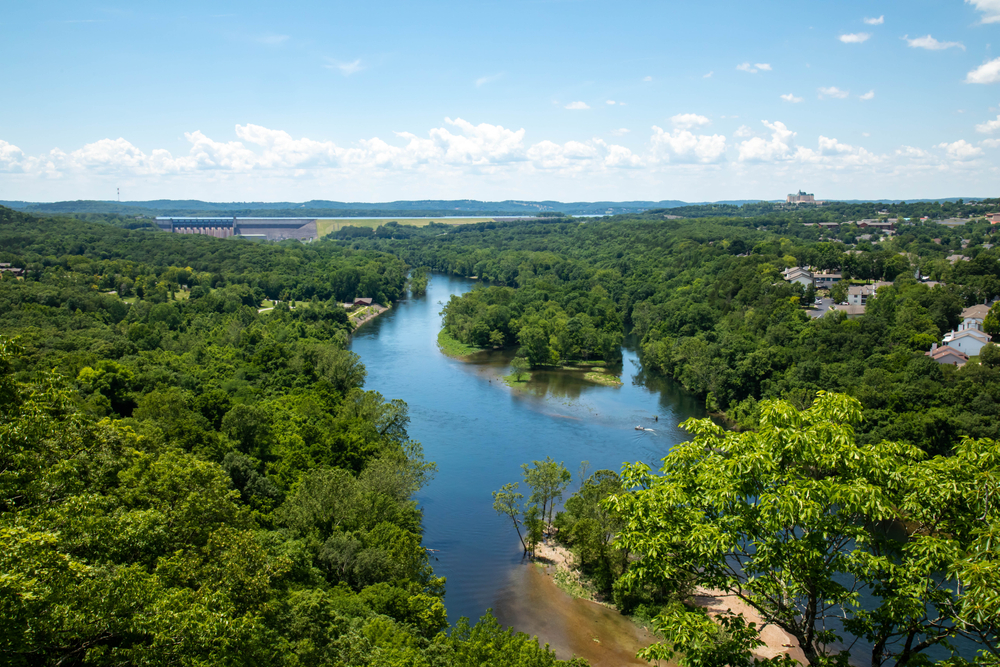 Fantastic Caverns Is One Of The Most Unique Places To Visit In Missouri
There are a ton of caves in Missouri, and Fantastic Caverns is probably the most famous.
Found just outside of Springfield, this natural wonder attracts a ton of people every year.
This cave system is especially great because of how accessible it is. Instead of climbing in like most caves, you ride a tram through during a 55-minute tour.
This is a great way to sit back and admire all the cool stalactites, stalagmites, and other cave formations.
Visiting Fantastic Caverns is not the cheapest thing to do in Missouri, though. Adult tickets are $30 and children six through twelve are $17.
Kids five and under are free. However, it is a great experience and there are not many other caves you can tour in a tram.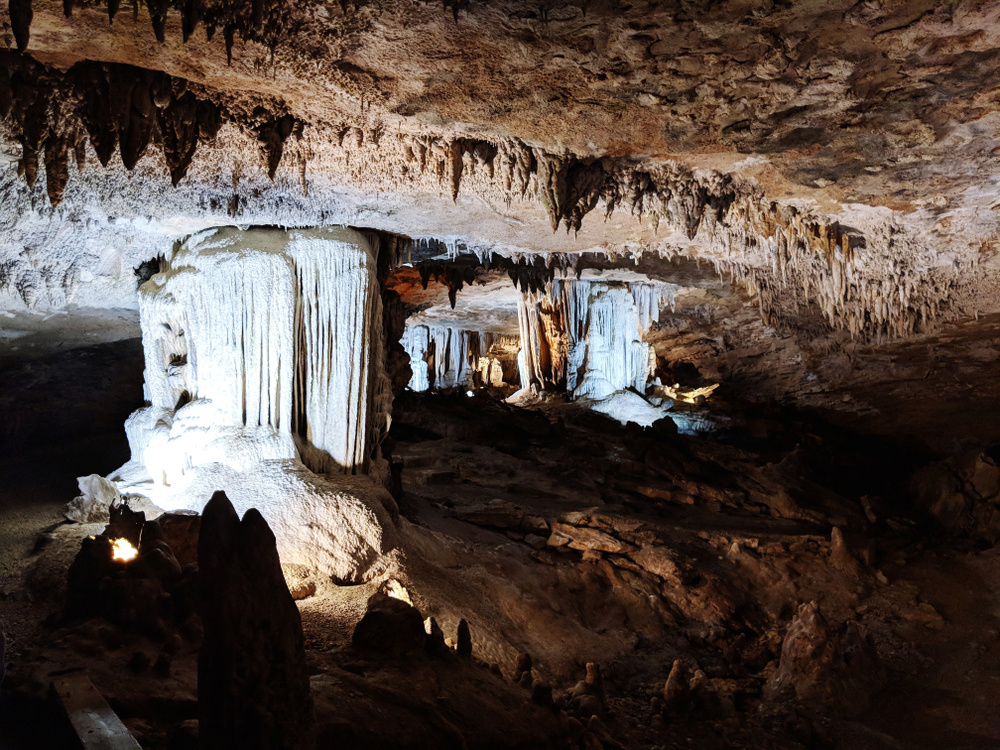 Bass Pro Shops Outdoor World
It might seem a little random, but the Bass Pro Shops Outdoor World is one of the most popular tourist spots in Springfield. Millions of people actually visit every year.
This outdoor specialty store was founded in Springfield in 1972 and has grown country-wide since then. The store is huge and holds more than just shopping opportunities.
Among the rustic, cabin decor, you will find fish tanks, alligators, waterfalls, and mounted animals.
Visit the Bass Pro Shops Museum to see what the original store looked like and learn how it expanded.
After spending the day exploring this unique outdoor shop, you can explore the delicious restaurants in Springfield MO.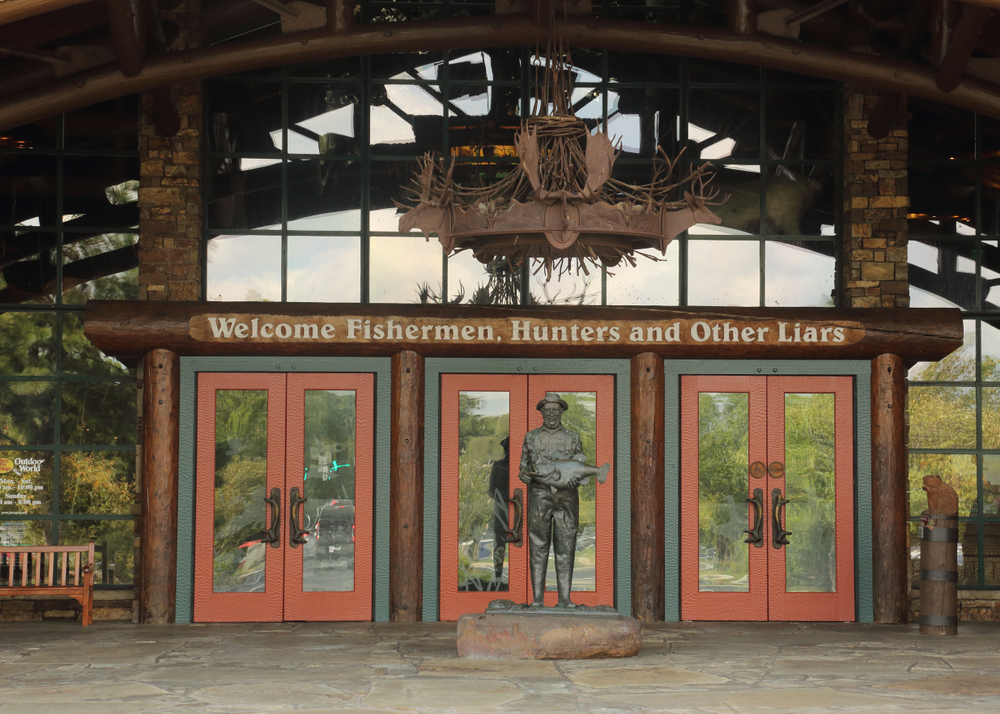 Union Station in Kansas City
Kansas City, MO has so many great things to do.
It is a sprawling metropolitan area and one of the best places to visit in the state.
If you are looking for a place to go in Missouri that will entertain the whole family, then head downtown to Union Station.
This beautiful, historic building is more than a place to catch a train. Bring the kids to Science City where they can learn in a fun, interactive way. Watch a cool show at the planetarium or work together to beat the escape room.
There is a movie theater with a giant, 80-foot wide screen where you can watch the latest movies. Or you can catch a live show when the Kansas City Actors Theatre performs. The Museum of Illusions and the Model Train Gallery are also fun activities.
Union Station also has great Kansas City restaurants. For dessert, you can grab a goodie at the Rocky Mountain Chocolate Factory. There are also different events held throughout the year. Experience Christma in this Midwest City, to see amazing decorations.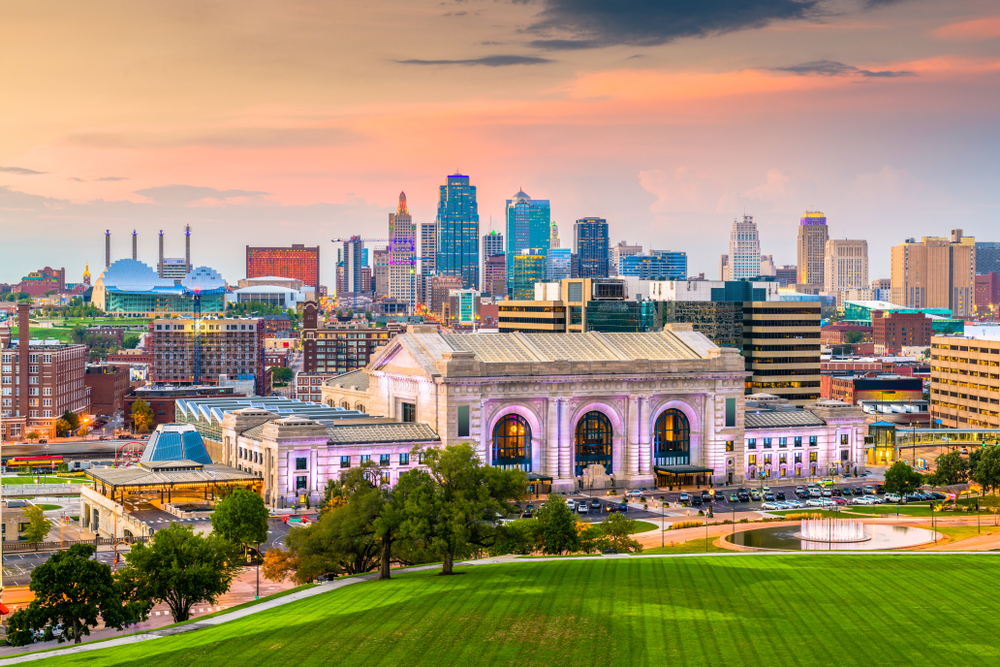 Ha Ha Tonka State Park
Ha Ha Tonka State Park is one of the best state parks in Missouri mostly because there are awesome castle ruins which are true Midwest hidden gems.
This is not the type of thing you would expect to find deep in the Missouri wilderness, but there is an interesting history here.
The castle was begun by Robert M. Snyder in 1905 and was eventually finished by his sons in 1922.
Unfortunately, a fire gutted the building in 1942. Today, the ruins are one of the coolest Missouri attractions to explore.
The park also has cool geological features, including a spring, caves, bluffs, and sinkholes. There are also views of the Lake of the Ozarks. There are hiking trails and places to picnic.
Route 66 Drive-In Theater
If you are driving along Route 66, make sure to stop in Carthage. This small town holds onto its history and is a great place to spend a few hours.
The Route 66 Drive-In Theater is one of the most unique places to visit in Missouri. This is a great activity for traveling back in time.
The theater is open from April to September. Grab some treats at the concession stand and enjoy a movie from the comfort of your car.
This theater first opened in 1949 and has been very well preserved. This is a great place to bring the kids to show them a piece of history or enjoy a classically Americana date.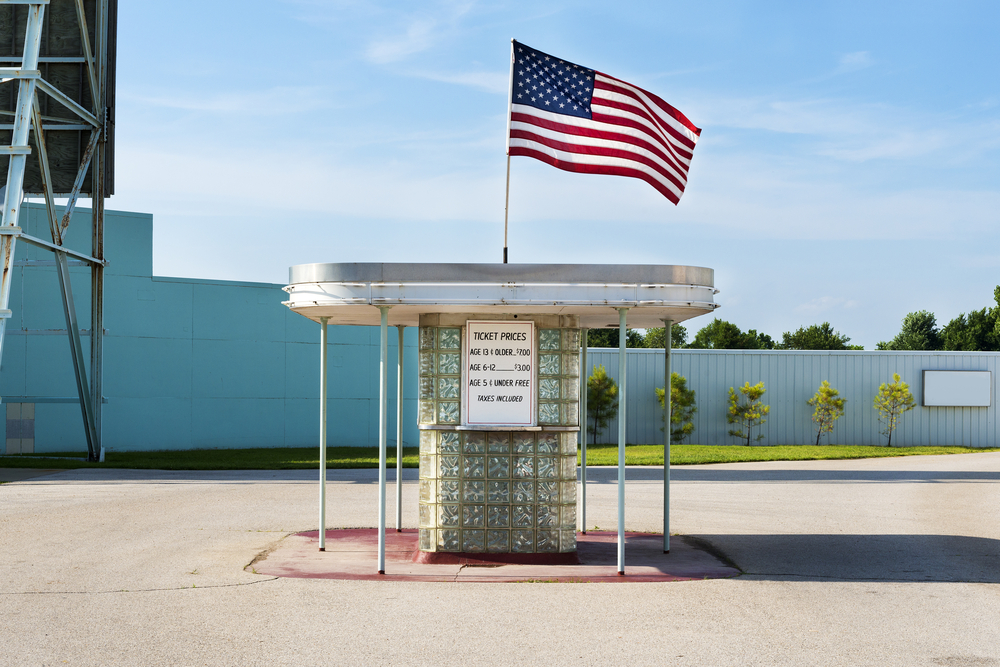 Grand Falls Is One Of The Coolest Places To Visit In Missouri
Grand Falls is one of the best waterfalls in the Midwest and is a pretty place to hike or take pictures. The waterfall is only 12 feet high, but the width is an impressive 163 feet.
You will find this water feature on the Shoal Creek just south of Joplin.
This is the largest continuously flowing natural waterfall in Missouri which means you can visit year-round and still find water cascading down.
The trail to the waterfall is an easy .2-mile loop. The short walk is perfect for all ages and skill levels. Make sure to bring a camera to get some cool snaps of the waterfall.
This is certainly one of the more beautiful places to visit in Missouri!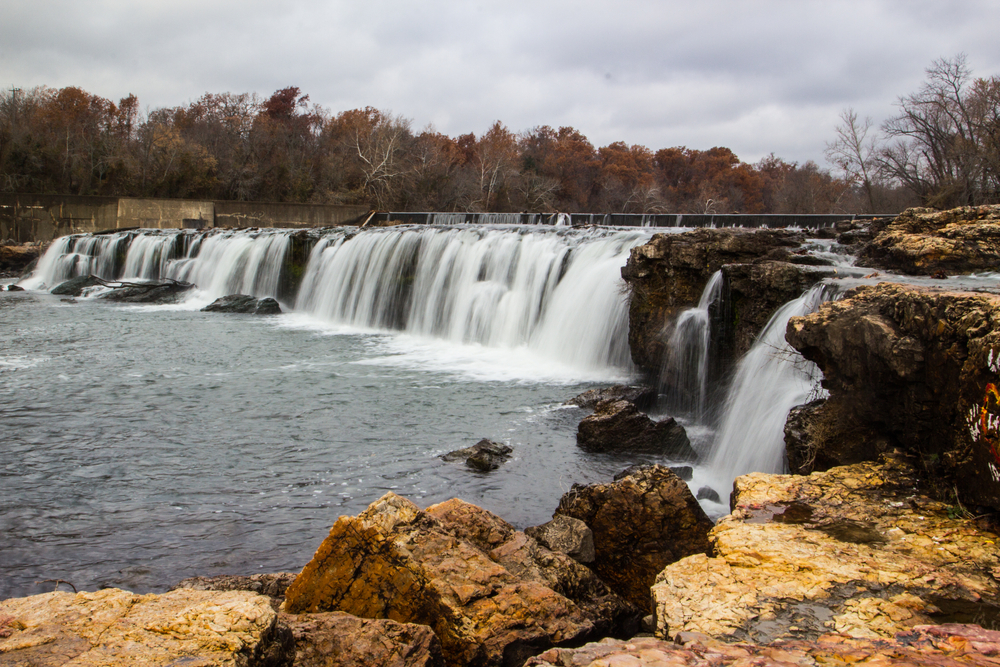 Ozark Mountains
If you want to experience fiery foliage during fall in the Midwest head south to the Ozark Mountains.
This range of ancient mountains covers the bottom half of the state and stretches into Arkansas.
There are a ton of cute small towns, beautiful state parks, and expansive national forests to discover. The Lake of the Ozarks is one of the most popular vacation spots in Missouri for locals.
Rent a lake house and spend time boating, fishing, swimming, and soaking in the party vibe.
The Ozarks is also a photographer's dream with many historic mills, caves, and scenic vistas to capture.
The Ozark Mountains cover such a large portion of the state. It is nearly impossible to miss some of the Missouri attractions held within them. You could not ask for a better vacation in Missouri!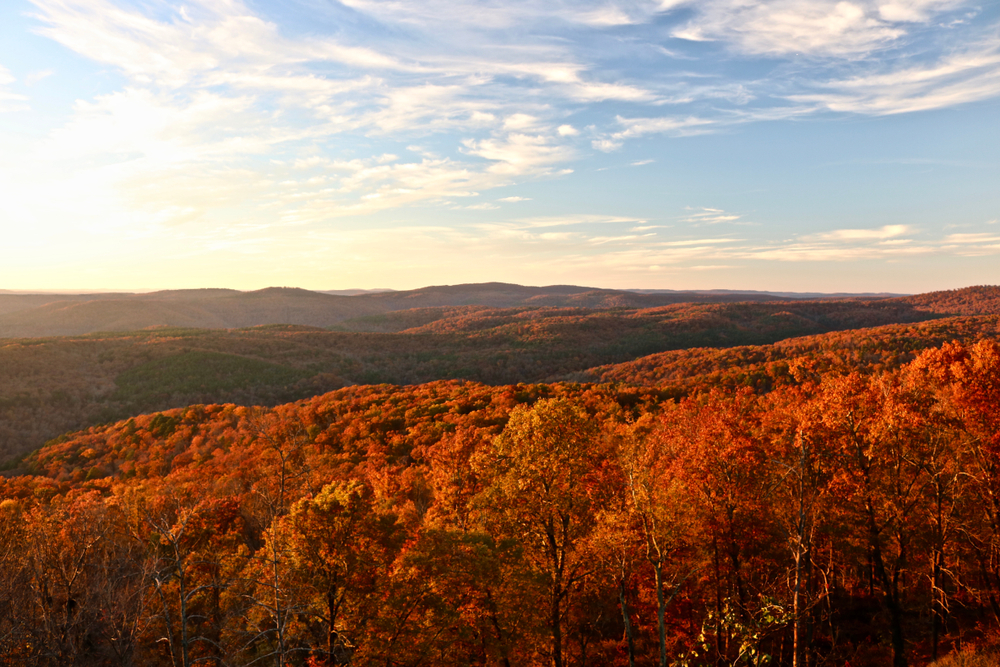 Missouri State Capitol Is One Of The Best Places To Visit In Missouri
If you are even in Jefferson City, then take time to visit the Missouri State Capitol Building.
This is the third state capitol building to sit in the city after fires destroyed the first two. The present building opened in 1924.
Inside the grand building, you can admire the impressive architecture, statues, and paintings. Join a staff member on a 45-minute tour of the building.
Did we mention tours are free? This is a great way to save money and still learn about the history and culture of the building.
The state capitol building is also where you will find the Missouri State Museum. There are extensive exhibits that cover the state's natural and cultural history.
There are plenty of cool artifacts, recreations, and dioramas.
This is one of the coolest places in Missouri to visit.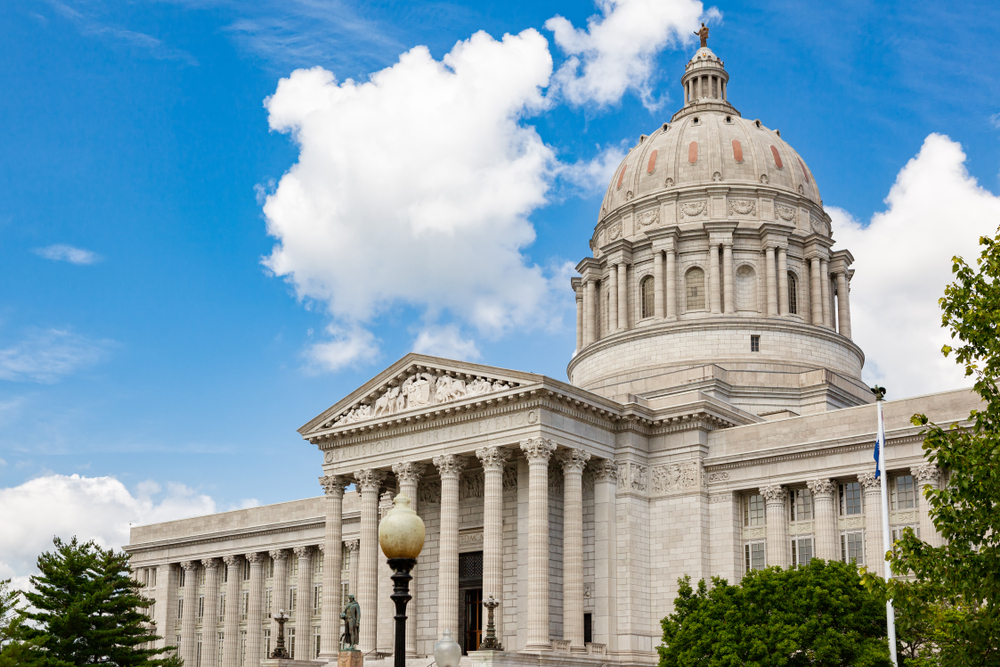 Hermann Wine Trail
Missouri might not be the first place you think of when you imagine wine tastings, but you would be wrong!
German immigrants brought vineyards to Missouri in the 1830s and started the Hermann Wine Trail.
Today, this scenic wine trail stretches for twenty-five miles in central Missouri, connecting seven small town wineries.
You can do a self-guided tour or take part in one of the themed events throughout the year, such as the Chocolate Wine Trail or the Say Cheese Wine Trail.
After tasting some award-winning wines, you can explore the small towns or spend a romantic weekend in a cute bed and breakfast.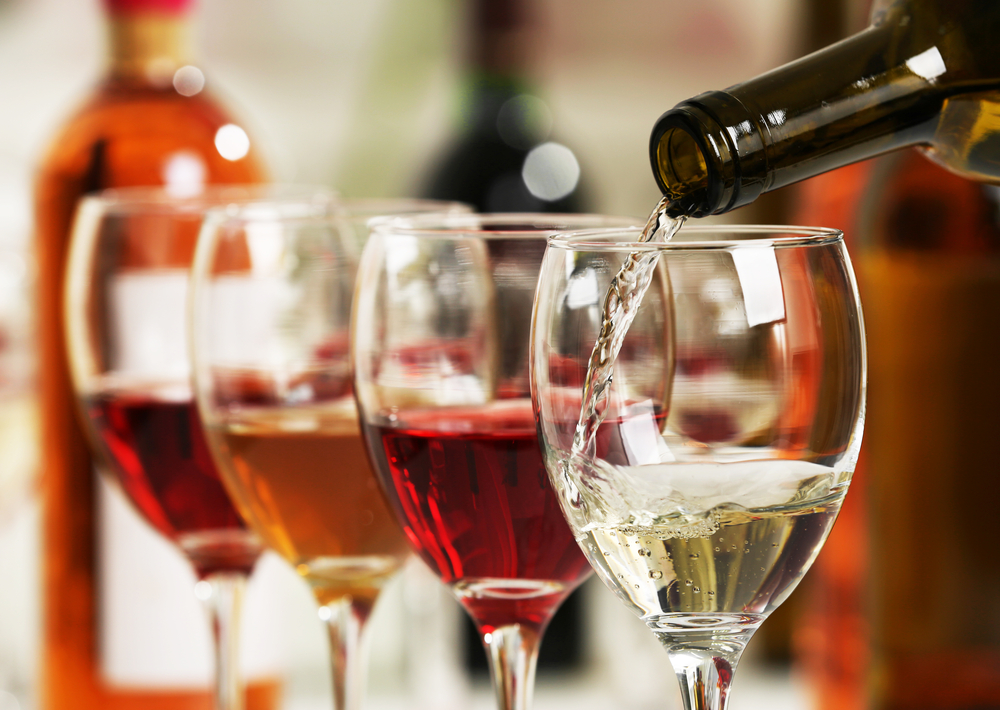 St. Joseph Is A Historic Missouri Attraction
North of Kansas City MO, you will find the historic city of St. Joseph.
Along with beautiful, old architecture and an awesome downtown vibe, there are a ton of cool Missouri attractions here.
If you are interested in the Wild West, then St. Joe is definitely one of the best places to visit in Missouri for you.
This city is where the Pony Express mail line began. Riders would deliver mail all the way down to Sacramento, California. Visit the Pony Express Museum to learn about this fascinating history.
Another crazy event took place in St. Joseph in 1882 when the infamous outlaw Jesse James was killed here.
The Jesse James Home Museum is a little white building and is on the U.S. National Register of Historic Places.
While in town, you can also visit some of the many other museums, admire the mansions in the Hall Street Historic District, or relax at one of the many parks.
With so many Missouri tourist attractions to choose from, it is easy to see why this is one of the best places to visit in Missouri!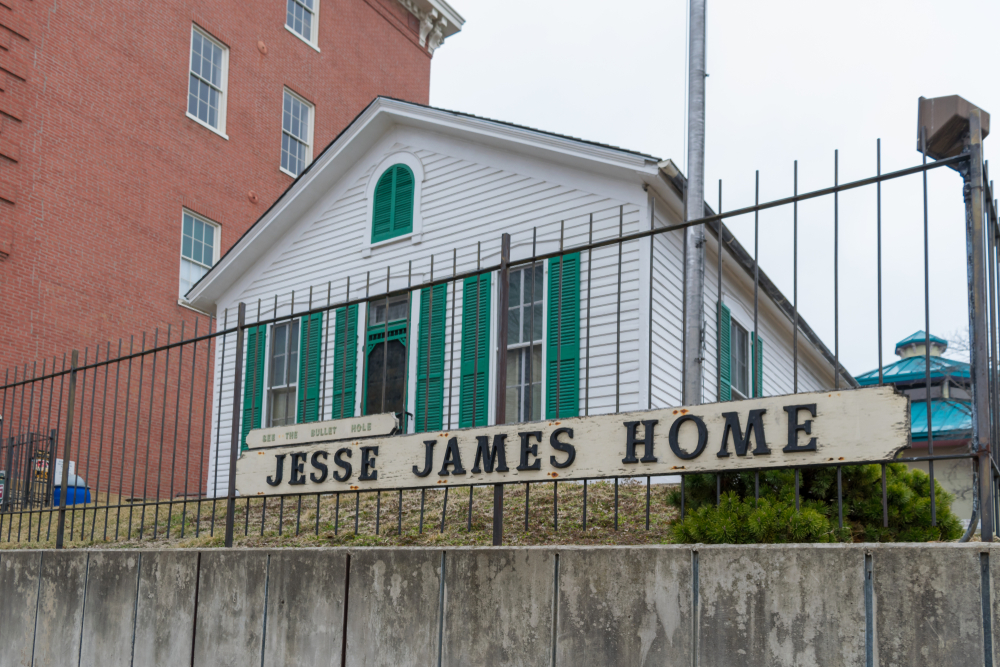 Dogwood Canyon Nature Park Is One Of The Best Places To Visit In Missouri
Dogwood Canyon Nature Park is in Lampe, Missouri, down in the Ozarks. This beautiful attraction in Missouri is 10,000 acres of idyllic nature and picturesque, old buildings.
This is a wonderful place to escape into nature and make memories with your family. The many fun activities make this one of the best places to visit in Missouri.
The hiking and biking trails will lead you through the forest where you can find waterfalls and pretty streams. A horseback ride is a memorable way to spend an afternoon.
Fishing, taking a wildlife tour, and exploring the working Dogwood Mill are more activities to check out.
Conservation is important to the park as well. You can learn more about nature conservation at the Conservation Center or find wildlife resources at the epic treehouse.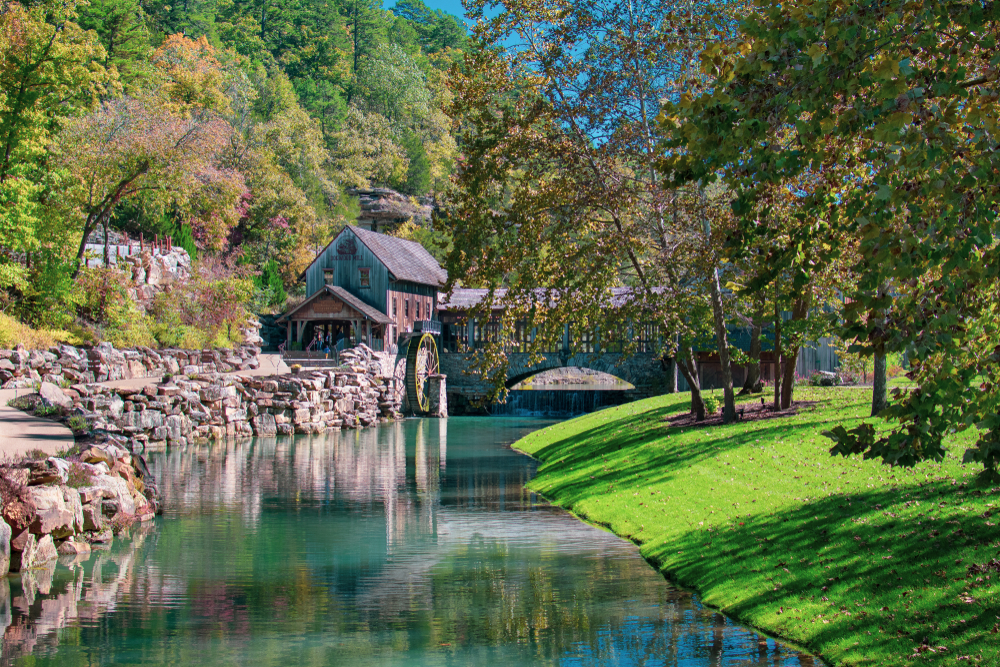 Packing List When Visiting Epic Places in Missouri
A concealed travel pouch may be one of the most important items you bring along when searching for the best places to visit in Missouri.
It is always important to protect your personal information. Identity thieves are everywhere.
This unisex RFID blocking concealed travel pouch is lightweight and comes in several colors. It has lots of organization to give you peace of mind.
If you have a pouch already that does not come with the RFID protection, as I do, these RFID sleeves are the perfect solution.
This configuration comes with enough credit card sleeves that the entire family would be protected. They are slim too, so they will easily fit into your pouch or wallet.
If you are planning on taking a lot of pictures with your phone you will definitely want to consider an external charging battery.
This Anker high-speed phone charging battery is the exact one I carry with me on all of my trips.
It can be used on a variety of phones, not just an iPhone like I have. And wow is it fast!
I like that it holds its charging capabilities for several uses so I do not have to worry about it while out and about, and if I forget to recharge it at night, it will still be good to go the next day.
My daughter gifted me with this FugeTek selfie stick and tripod setup for my birthday. I absolutely love it! It is made of lightweight aluminum and is so easy to use.
It has Bluetooth connectivity and is a breeze to use for taking selfies when visiting Wisconsin attractions.
Hydration is so important when traveling. You want to remain hydrated throughout your travels to support your immune system which in turn will be stronger to fight off any germs you will encounter during your travels.
You will want to bring your own refillable water bottle with you.
I never leave home on a trip without my Bobble filtration bottle. The 18.5-ounce size is perfect for hiking and it fits nicely in the pocket of a backpack.
When filled with water, it is not too heavy to carry. And the charcoal filter ensures fresh clean water whenever you fill the Bobble.
Perhaps you are traveling a long distance and packing space is a premium in your suitcase, or in your car.
Then this set of collapsible silicone foldable water bottles would work well for you. Would not take up much space at all.
You will want a backpack or daypack with you to store snacks, your water bottle, phone, extra clothes, etc.. then this foldable water-resistant backpack would be great.
—
There are so many unique and interesting places to visit in Missouri for everyone! History, culture, nature, adventure! This Midwest state has it all! Get ready to plan your epic Missouri vacation!