Looking for the best things to do in Independence, MO? This city has so much to offer!
With so many notable homes, museums, and historic sites, a visit here is one of the top things to do in Missouri!
Independence is the fifth largest city in the state, but it has a small-town feel. It was founded in 1827 and was the starting point of the Santa Fe, California, and Oregon Trails which led pioneers westward.
Today, much of that history is still seen in the old, brick buildings and historic sites.
For one of the best events in Independence, visit on Labor Day weekend for the SantaCaliGon Days Festival. You can shop from local vendors and enjoy street foods. There is also a carnival.
The city is also known for its close connection with President Harry S. Truman who lived here during most of his childhood and adult life.
Let's take a look at the best activities in Independence, Missouri!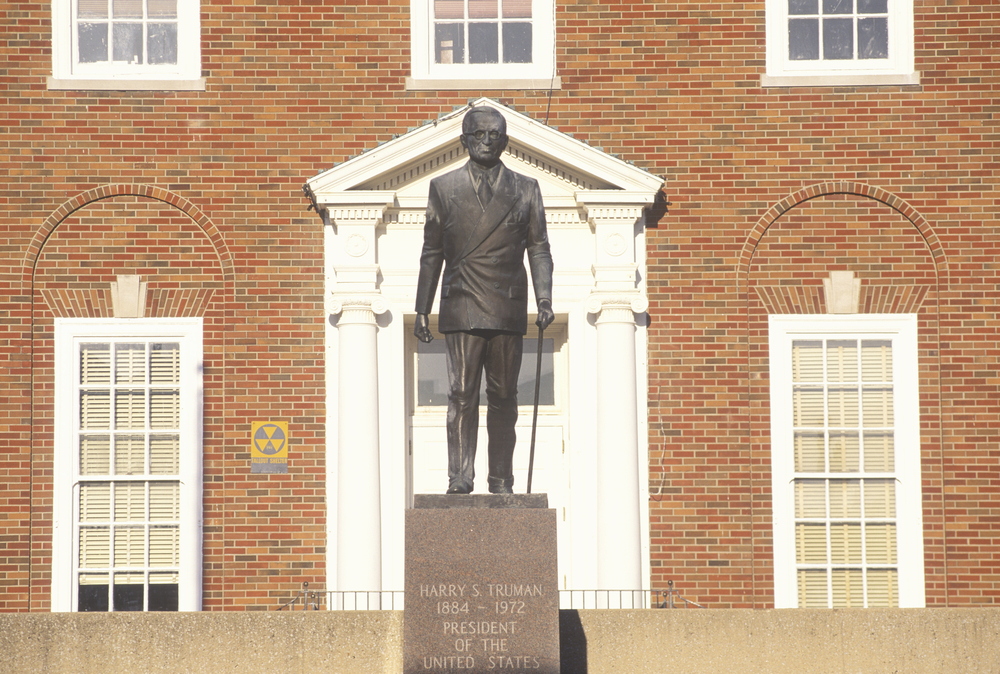 10 Best Things To Do In Independence MO You Should't Miss
Step Back In Time At The Vaile Mansion
The Vaile Mansion is one of the top things to do in Independence for anyone interested in architecture or history.
Completed in 1881, this Second Empire-style, red brick building is now listed on the National Register of Historic Places. The mansion has a long and interesting history.
The original owner, Colonel Harvey M. Vaile, was charged with defrauding the government but was found not guilty.
His wife Sophia died here in 1883 from a morphine overdose after being diagnosed with stomach cancer. The house is said to be haunted by her ghost.
Vaile lived here until his death in 1894. Afterward, the building had many functions including a sanatorium, a nursing home, and a spring water bottling company.
In 1983, the City of Independence, Missouri, acquired the property and restored it to its Victorian splendor.
Inside, tour the 31 rooms and admire the marble fireplaces, painted ceilings, chandeliers, and period furnishings. The mansion had state-of-the-art amenities for the time such as flushing toilets and running hot and cold water.
This beautiful mansion is one of the best places to visit in Missouri!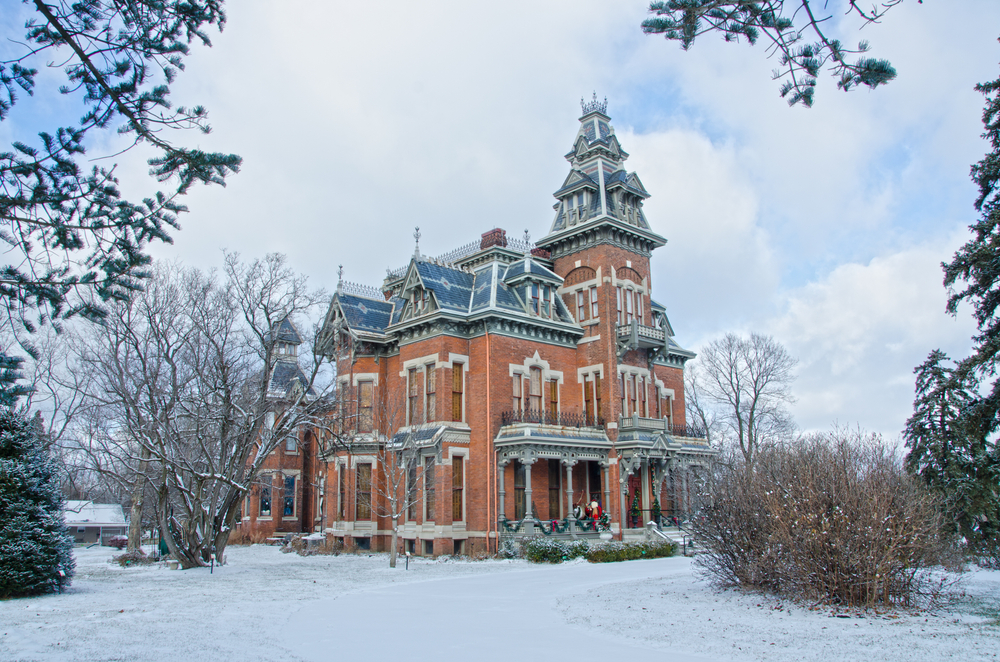 Touring The Harry S. Truman Home Is One Of The Best Things To Do In Independence MO
The Harry S. Truman National Historic Site is one of the best national parks in Missouri and a must-see when visiting Independence.
Truman lived here with his wife, Bess, from 1919 until his death in 1972. The Gothic and Victorian-styled, white house was built by Bess's grandfather between 1867 and 1885.
Come tour the first floor of the former home of the 33rd President of the United States!
You'll see thousands of artifacts and personal belongings of the family. These include a piano, books, their record collection, paintings, and more.
This is one of the top Missouri tourist attractions for people interested in American history.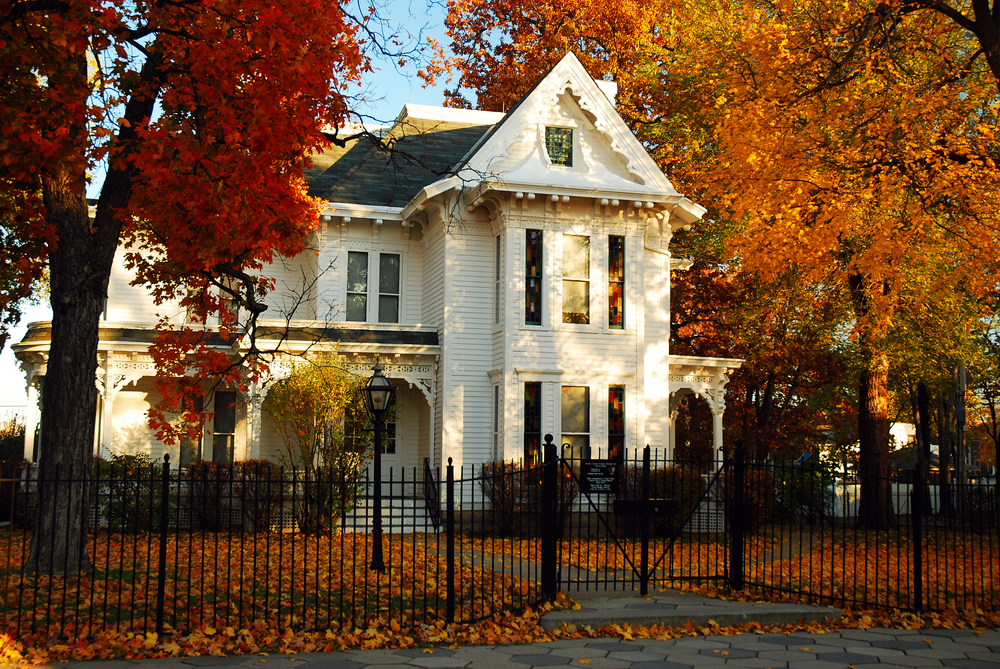 Check Out The Truman Presidential Library And Museum
Another Truman-related site in town is the Harry S. Truman Presidential Library and Museum.
The library was dedicated in 1957 and Truman personally took part in its day-to-day operation. Truman, his wife, and their only child, Margaret, are all buried here.
Adults and kids alike will have a fun time exploring the cool and interactive exhibits.
There are theaters where you can experience different US wars, a 14-foot interactive globe, informative galleries, and complete insight into the Truman administration.
If you are interested in American history, this is one of the best places to see in Missouri!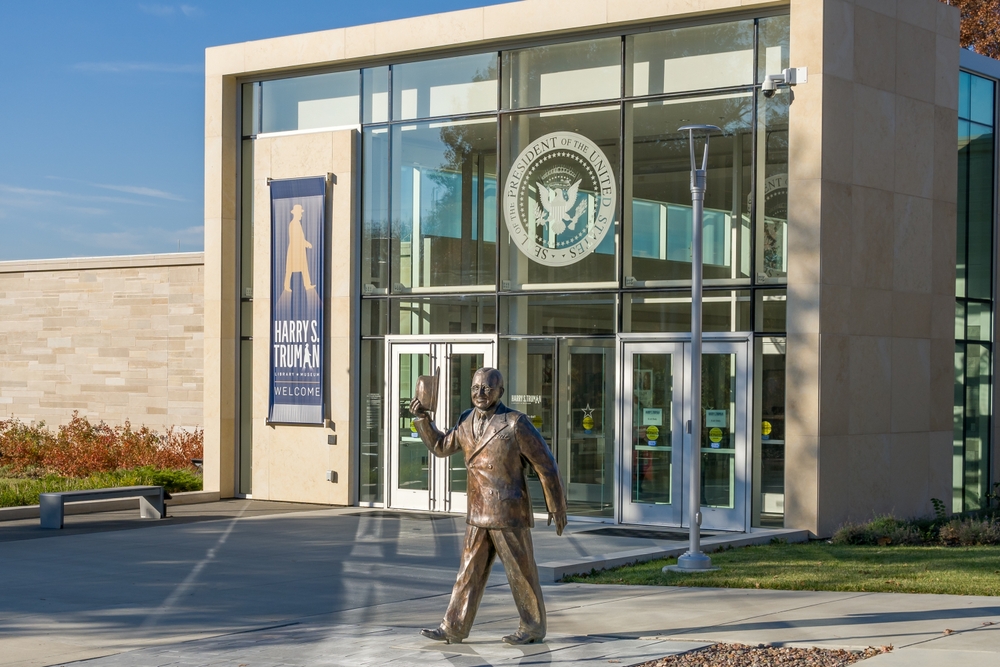 Learn At The National Frontier Trails Museum
As I said, Independence was the historic starting point of the Santa Fe, California, and Oregon Trails. The National Frontier Trails Museum is dedicated to these trails and their impact on American history.
The exhibits are full of artifacts, covered wagons, handwritten letters and diaries, and more.
You will have a great time learning about pioneer life and what it was like to traverse prairies and mountains from first-hand accounts.
There are also exhibits about the Lewis and Clark expedition. Watch an informative film and let the kids pack their own wagon.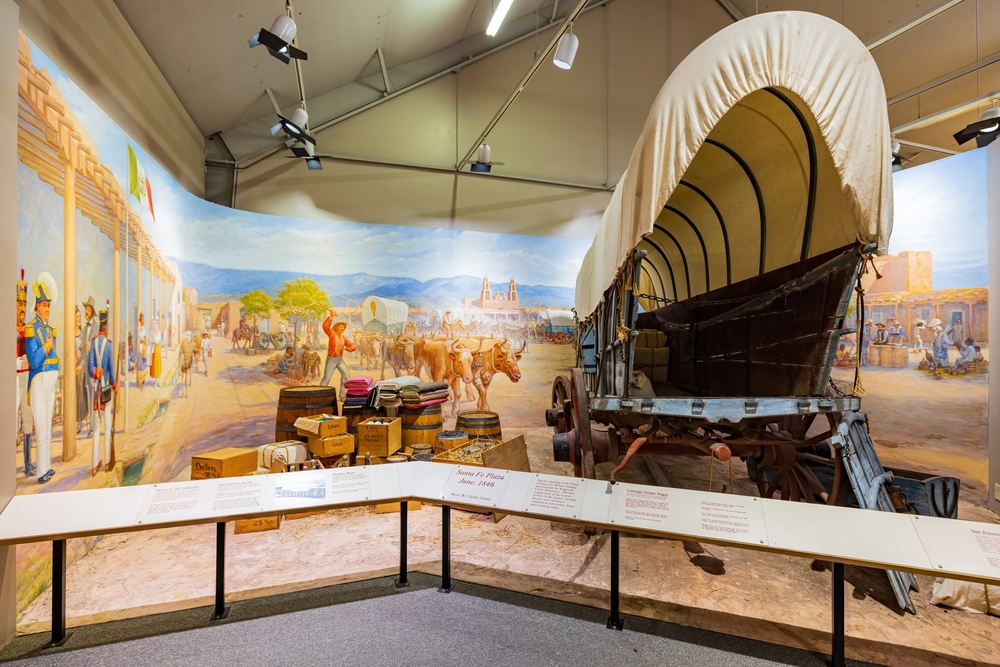 Admire The Community Of Christ Temple
Even if you are not religious, you will want to stop by the Community of Christ Temple, also known as the Independence Temple.
The awe-inspiring temple was completed in 1994. Its spiral-shaped, 300-foot stainless steel steeple pierces the sky over the city.
Inside, you can look up into the spiral ceiling or sit in the Meditation Chapel which overlooks a pretty garden.
The temple also has an award-winning stained-glass window and holds one of the largest free-standing organs in the US with 6,334 pipes.
You can take a guided or self-guided tour on request. It really is one of the most unique things to see in Missouri.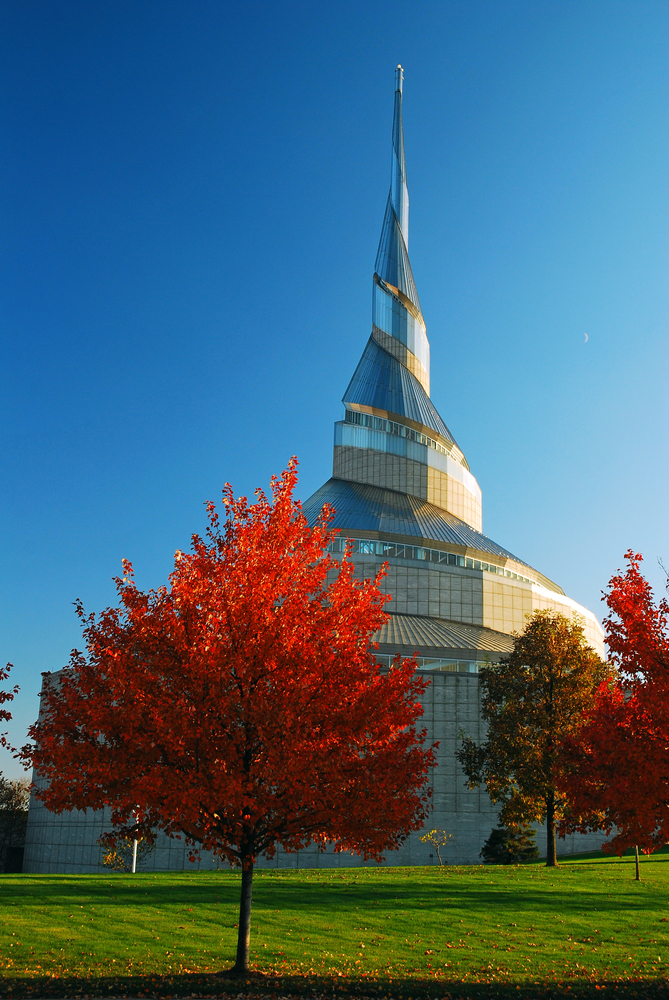 Trace Your Lineage At The Midwest Genealogy Center
Part of the Mid-Continent Public Library system, the Midwest Genealogy Center is a great place to trace your roots into the past. If you have ever been interested in researching your genealogy, this is the place to do it!
The two-story center has over 750,000 materials and databases that allow you to dive deep into your lineage.
As a bonus, all the technology and resource material is free to use!
You can also make an appointment with a genealogist if you need help. A recording studio allows you to capture your own memories too.
Visit The Bingham Waggoner Mansion And Estate
The Bingham Waggoner Mansion and Estate is another of the best historic home attractions in Independence, MO.
The mansion was built in 1852 on the Santa Fe Trail and has had a couple of notable owners.
George Caleb Bingham was a Civil War painter and politician. He resided here from 1864 to 1870 and used one of the rooms as his art studio.
In 1879, the property was bought by the Waggoner family of the Waggoner-Gates Milling Company. At the local mill, they made the "Queen of the Pantry Flour."
The Waggoner family lived here until 1976. In 1979, the estate became a museum.
Come explore the 19.5-acre estate and tour the Italianate Villa-style mansion. The interior is grand with period furnishings, chandeliers, paintings, and preserved history.
The estate holds many events throughout the year, especially during Christmas in the Midwest.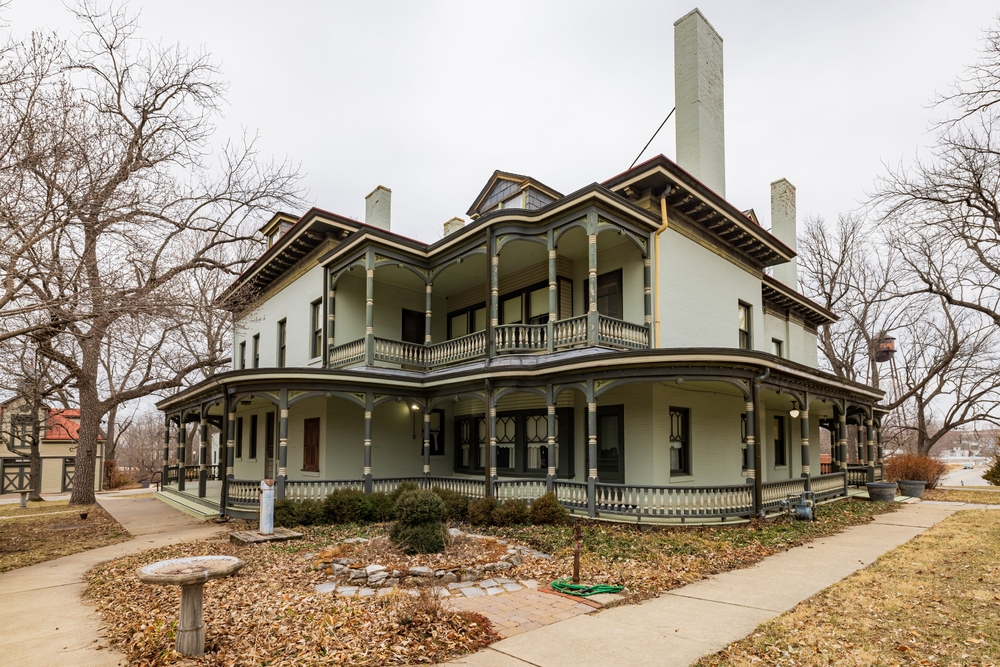 Stop By The 1879 Chicago And Alton Railroad Depot
More history can be discovered at the 1879 Chicago and Alton Railroad Depot. This depot has been restored and the rooms appear as they did in the 1800s.
The building is two stories. You can see the waiting room, stationmaster's room, baggage room, and stationmaster's residence. One other room holds many railroad artifacts.
Interestingly, the depot is not in its original location. In 1996, it was picked up a moved to where it sits now on West Pacific Ave.
This is one of the best free things to do in Independence, MO, perfect for history lovers.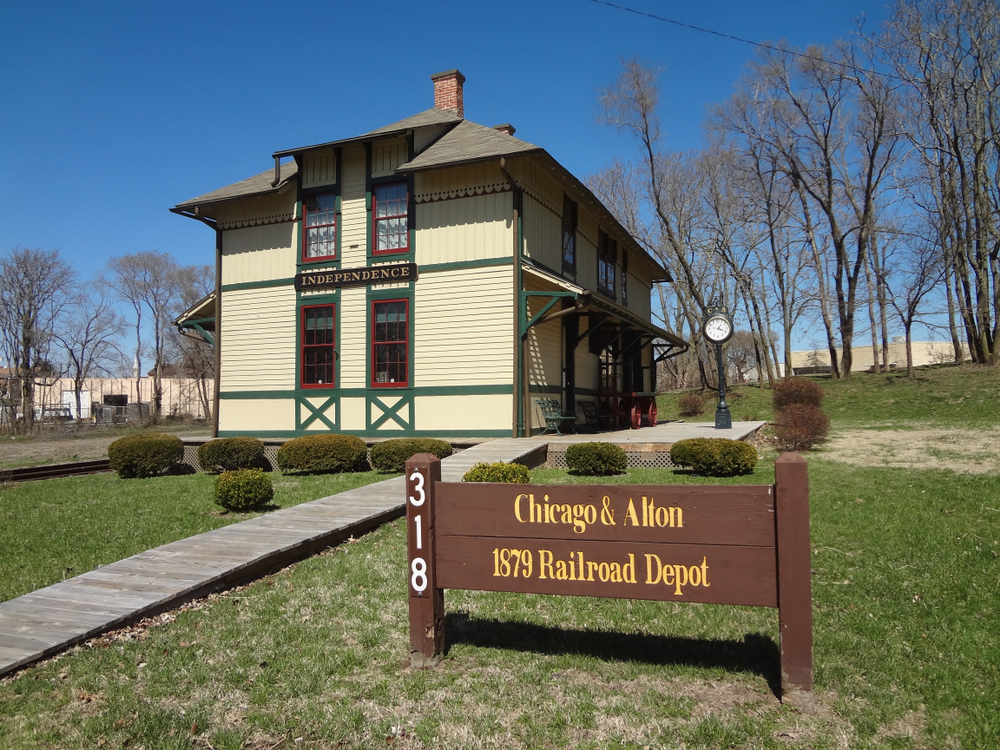 Tour The 1859 Jail Museum
Step back in time to the 1859 Jail Museum and Marshal House in Independence. The unimposing brick building is found on Main Street but make sure not to pass it by.
There were originally twelve cells with more added in 1907. Chain gangs from here worked on public works projects in Jackson County.
One of the most famous prisoners was Frank James, the brother of outlaw Jesse James. Accused of murder, he was held here for six months in the 1880s but was ultimately not charged.
During his time in jail, he had a free run of the place with a cell with fine furniture and carpet. He spent time reading and hosting card games.
When you take a tour, you can see his preserved cell as well as other cells and where the mashals lived.
This is one of the best attractions in Missouri if you are interested in the Old West.
Photographing The Truman Courthouse Is One Of The Interesting Things To Do In Independence Missouri
One of the most iconic landmarks in Independence, Missouri, is the Truman Courthouse. You have to snap a picture when you visit the city.
Set in the center of the historic downtown, this Colonial Revival-style courthouse was built in 1836 and renovated many times.
Harry S. Truman worked here before his presidency as the Presiding Judge of Jackson County from 1927 to 1935.
On the first floor, the Jackson County Historical Society History Center has exhibits about local history with artifacts. There is also a bookstore and gift shop.
Free tours are available for anyone who wants to see Truman's office and the courtroom, visit the Jackson Country Museum of Art, and learn about the building's history.
After checking out the courthouse, you can explore some of the shops and restaurants that line the historic square. Wandering in this area is one of the best things to do in Independence, MO.
And one of the most interesting things to do in Missouri!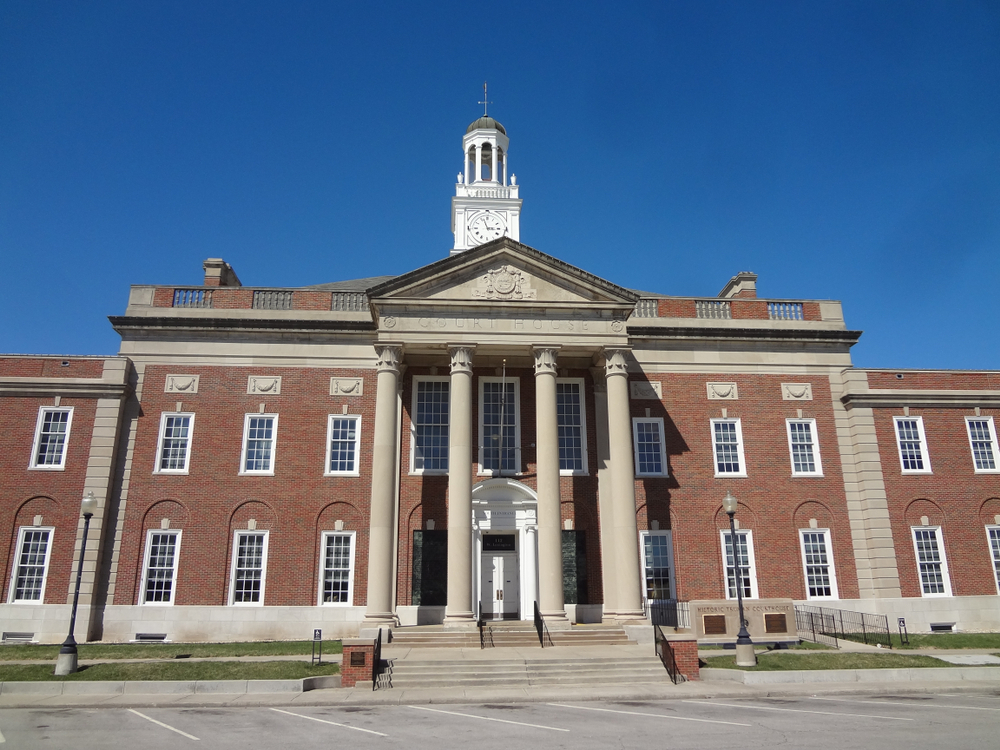 Where To Stay In Independence MO
There are plenty of great places to stay in Independence, Missouri, including hotels, bed and breakfasts, and vacation homes. Here are a few options for your next Midwest weekend getaway.
Affordable Hotel: My Place Hotel-Kansas City/Independence MO. Check Rates: Booking.com
Mid-Range B&B: Silver Heart Inn & Cottages. Check Rates: Booking.com
Luxury Hotel: Stoney Creek Hotel Kansas City – Independence. Check Rates: Booking.com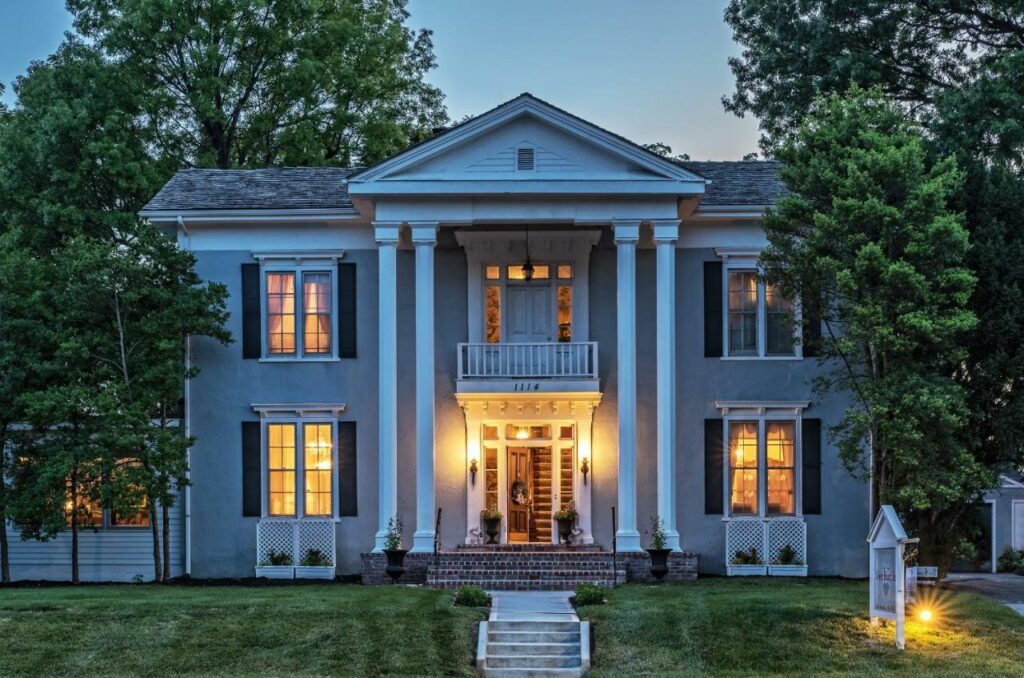 Packing List When Visiting Independence MO
If you will be traveling, either by plane or by car to Independence Missouri, here are some tips on how to pack lightly.
A concealed travel pouch may be one of the most important items you bring along when looking for things to do in Independence.
It is always important to protect your personal information. Identity thieves are everywhere.
This unisex RFID-blocking concealed travel pouch is lightweight and comes in several colors. It has lots of organization to give you peace of mind.
You can place it under your clothes next to your body to carry your ID safely.
If you have a pouch already that does not come with RFID protection, as I do, these RFID sleeves are the perfect solution.
This configuration comes with enough credit card sleeves that the entire family would be protected. They are slim too, so they will easily fit into your pouch or wallet.
If you are planning on taking a lot of pictures with your phone you will definitely want to consider an external charging battery.
This Anker high-speed phone charging battery is the exact one I carry with me on all of my trips.
It can be used on a variety of phones, not just an iPhone as I have. And wow is it fast!
My daughter gifted me with this FugeTek selfie stick and tripod setup for my birthday. I absolutely love it! It is made of lightweight aluminum and so easy to use.
It has Bluetooth connectivity and is a breeze to use for taking photos during your London activities.
You will want to bring your own refillable water bottle with you.
I never leave home on a trip without my Bobble filtration bottle. The 18.5-ounce size is perfect for hiking and it fits nicely in the pocket of a backpack.
The replaceable carbon filter ensures clean drinking water when you want it.
Then this collapsible silicone foldable water bottle would work well for you. Would not take up much space at all.
You will want a backpack or daypack with you to store snacks, your water bottle, phone, extra clothes, etc…. No matter the time of day or evening.
This foldable water-resistant backpack would be great.
It is very affordable and is available in many color options for you to choose from. The fact that it folds down into a zippered pouch will make it easy to pack.
—
Hopefully, you have discovered some unique things to do in MO! From historic buildings to museums, there is a lot of cool Independence attractions.
For more fun activities nearby, check out the best things to do in Kansas City!