Are you looking for the best lakes in Iowa to explore? Then you've come to the right place!
Recreational lakes are actually a super popular place to visit in Iowa, which most people don't know or realize.
In fact, lakes in Iowa are some of the most highly used recreation areas in the entire state!
Once you see what the best lakes of Iowa have to offer, you'll understand why locals and tourists flock to these bodies of water – year-round.
On this list, I've made sure to include some of the most popular recreational lakes that Iowa has to offer.
They are all very popular during the warmer months, but many of them also offer some awesome winter activities as well.
So no matter what time of year you're planning to visit Iowa, and these lakes, you're sure to have a good time.
With that in mind, let's take a look at 10 of the best lakes in Iowa that you need to add to your bucket list!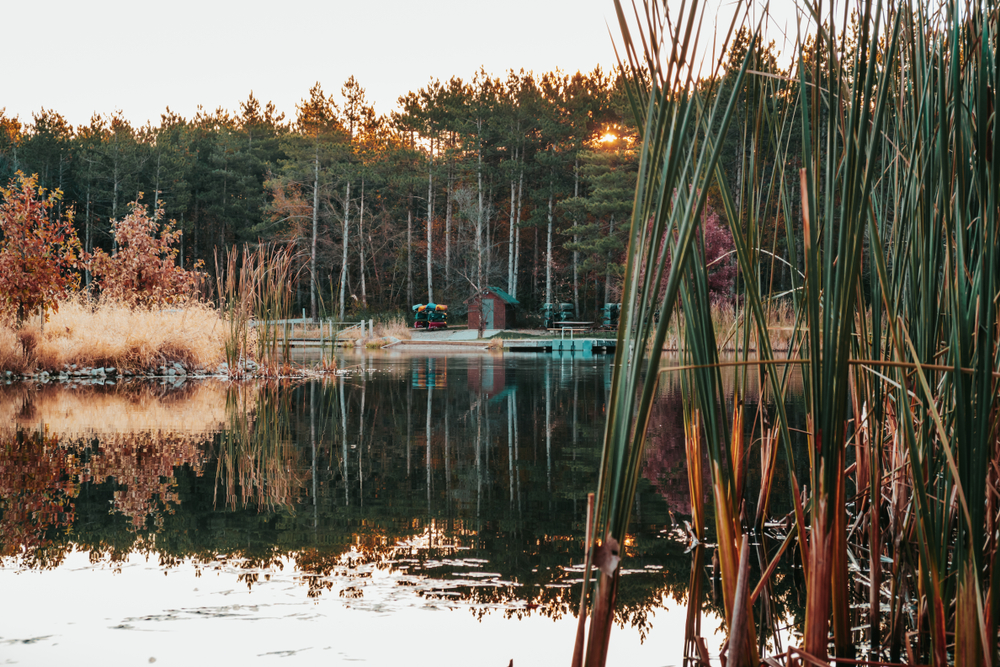 10 Best Lakes In Iowa For Your Bucket List
Head To The Winter Games At West & East Lake Okoboji
West & East Lake Okoboji is part of a group of lakes in Iowa known as the 'Iowa Great Lakes'.
The two lakes are often just referred to as Lake Okoboji, but West Lake Okoboji is one of the more popular of Iowa's lakes to visit.
It is a beautiful spring-fed lake that is a bright blue that is popular year-round.
However, one of the lake's biggest events is its Winter Games, which typically takes place at the end of January every year.
Since the lake is frozen solid, it turns into a giant space for a fun winter games competition.
Teams take to the frozen lake to play softball, flag football, fly kites, watch fireworks, and so much more.
It's the perfect way to explore one of the largest lakes in Iowa during the winter months!
Stay Here: Booking.com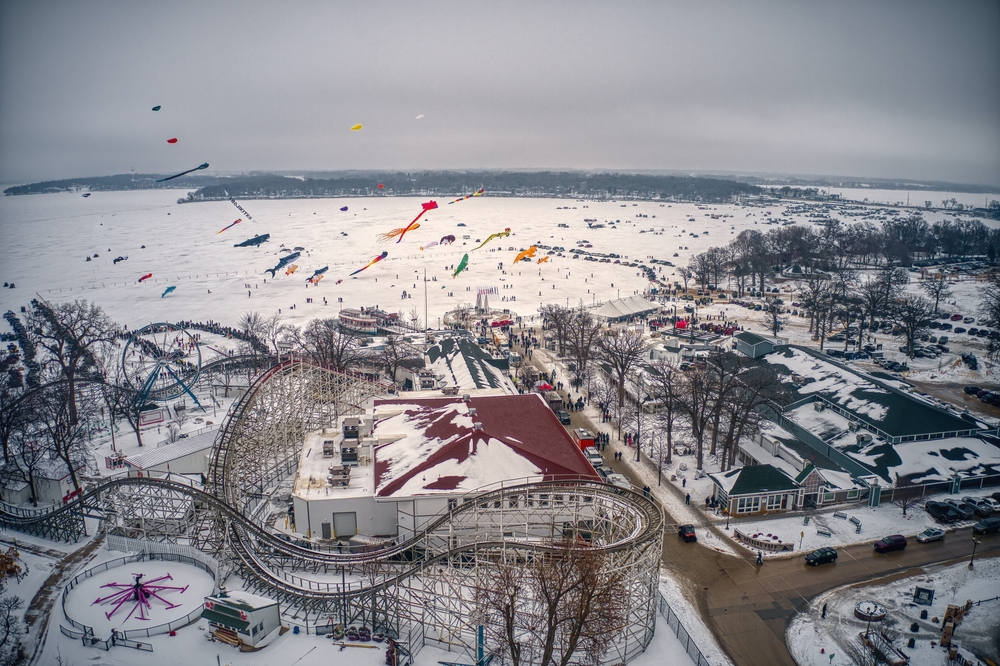 Saylorville Lake Is A Popular Lake Near Des Moines Iowa
Saylorville Lake, or the Saylorville Reservoir, is a man-made lake near Des Moines. It was made by the Army Corps of Engineers in an effort to control flooding in the area.
It's one of the many lakes and ponds in Iowa that is man-made and was originally meant to be a community attraction.
But today, it's a popular Iowa lake, thanks to its abundance of amenities and attractions.
Saylorville Lake is perfect for boating and kayaking, and there is even a boat jetty that makes it easy to get in and out of the lake.
Along with the watersports, this Iowa lake also has a great sandy beach with plenty of space.
Including a picnic area, a playground, a campground, and even hiking trails. It's no surprise this is one of the most popular things to do in Des Moines, Iowa!
Stay Here: Booking.com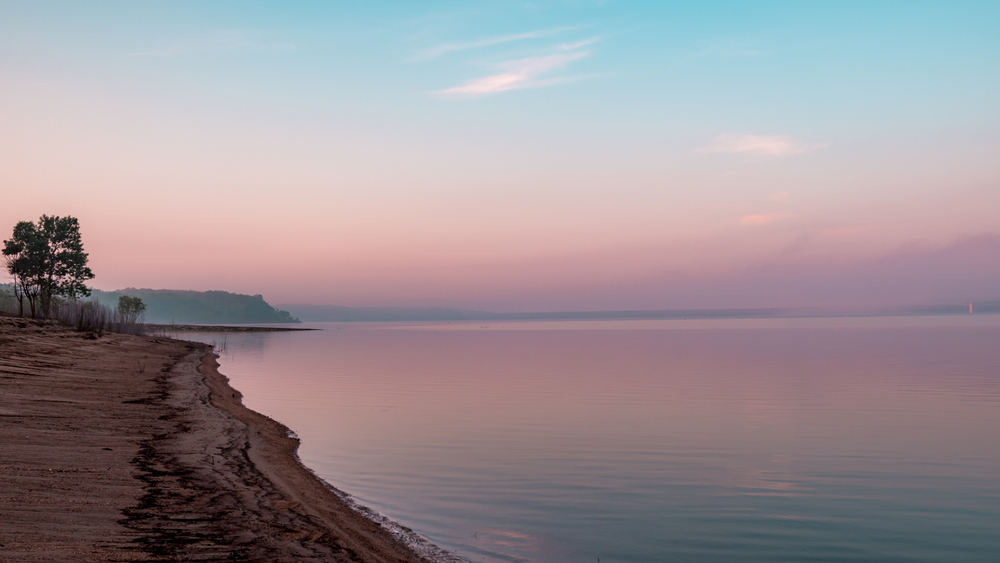 Lake Red Rock
In Knoxville Iowa, you'll find Lake Red Rock. Another man-made lake, Lake Red Rock is a major recreational destination for outdoor lovers.
And there are several things that make this one of the best lakes in Iowa.
It is surrounded by state parks, is perfect for kayaking, has access to a 13-mile paved trail system, and has sandy beaches that are perfect for swimming!
Because it is surrounded by state parks, there are also tons of additional hiking trails, campgrounds, and other recreational activities that are easily accessible from the lake.
If you're in this area of Iowa, you'll definitely want to make a stop at Lake Red Rock!
Stay Here: Booking.com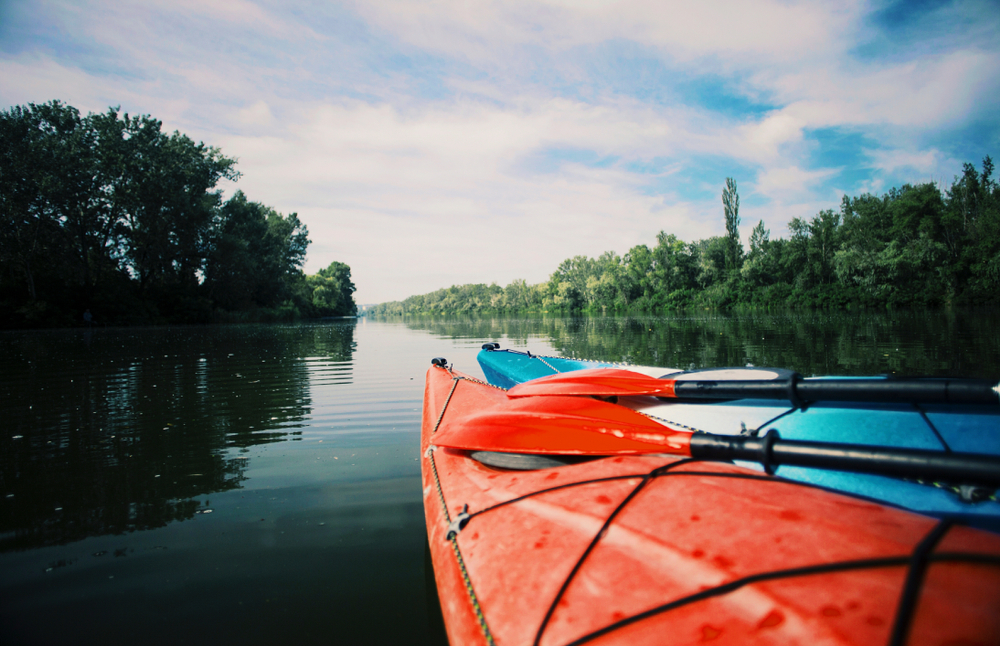 Go Camping At Clear Lake
If you're looking for one of the best beaches in Iowa to pitch your tent on, check out Clear Lake.
Clear Lake is one of Iowa's most popular lakes, at Clear Lake State Park.
The park has over 50 acres to explore but the biggest attraction at this lake in Iowa is the 900 feet of beautiful sandy beach.
There is every kind of lake activity available here and there are numerous picnic locations. But you can also spend a few days there if you like camping!
Because this is one of the most popular lakes in Iowa for camping, I suggest booking a spot well in advance. But they do offer a few first-come-first-serve spots if you show up without a reservation.
The site has all the amenities you, so you'll be able to spend a few days exploring this popular lake in Iowa.
Stay Here: Booking.com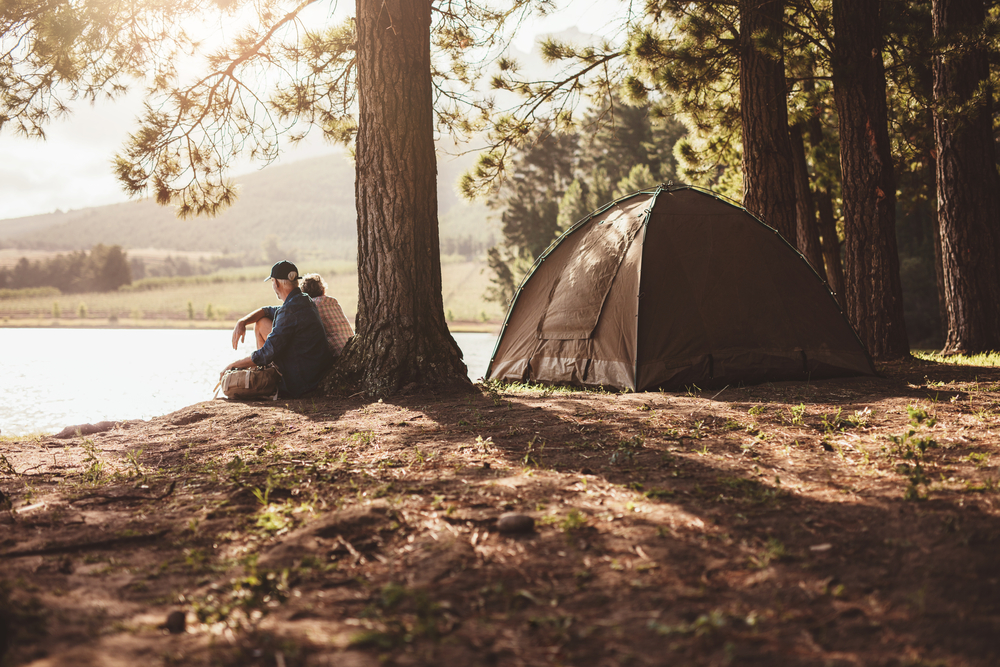 Spirit Lake Is One Of The Best Lakes In Iowa To Visit
One of the best public lakes in Iowa is Spirit Lake. Like most of Iowa's lakes, it has tons of amenities that make it a popular destination in Iowa.
There are 9 state parks right by Spirit Lake, and many of them have access to different parts of Spirit Lake.
Depending on which beach you visit, you'll find a few different amenities.
It's a popular lake for swimming and spending the day on the beach.
If you're visiting with little ones, they also have a bunch of different playgrounds at the different beaches.
You can also go boating, camping, and hiking at many of the access points for Spirit Lake.
At almost 6,000 acres, it's easily one of the largest lakes in Iowa.
Stay Here: Booking.com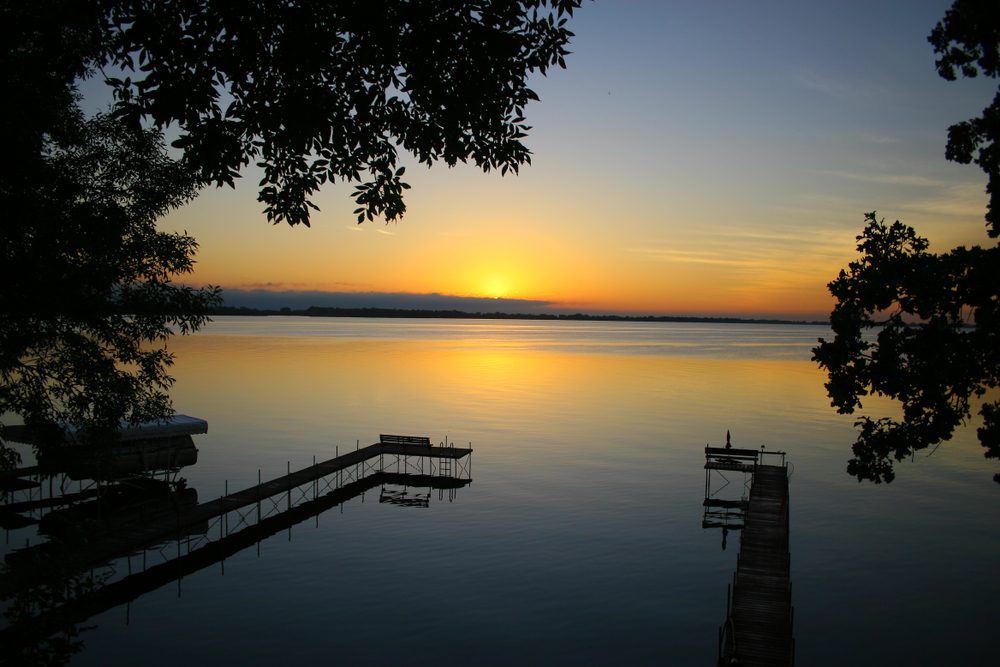 Go Hiking At Lake MacBride
At Lake MacBride State Park, you'll find one of the most popular Iowa lakes.
Especially if you're interested in the scenic hiking trails in Iowa!
On many of the scenic trails, you will come across amazing water views of the popular Lake MacBride.
Lake MacBride also has a stunning Iowa waterfall that is pretty popular!
At this lake in Iowa, you'll also find tons of recreational activities.
You can go swimming, boating, kayaking, hiking, and mountain biking.
They also have a popular campground if you'd like to spend a weekend on the lake!
Stay Here: Booking.com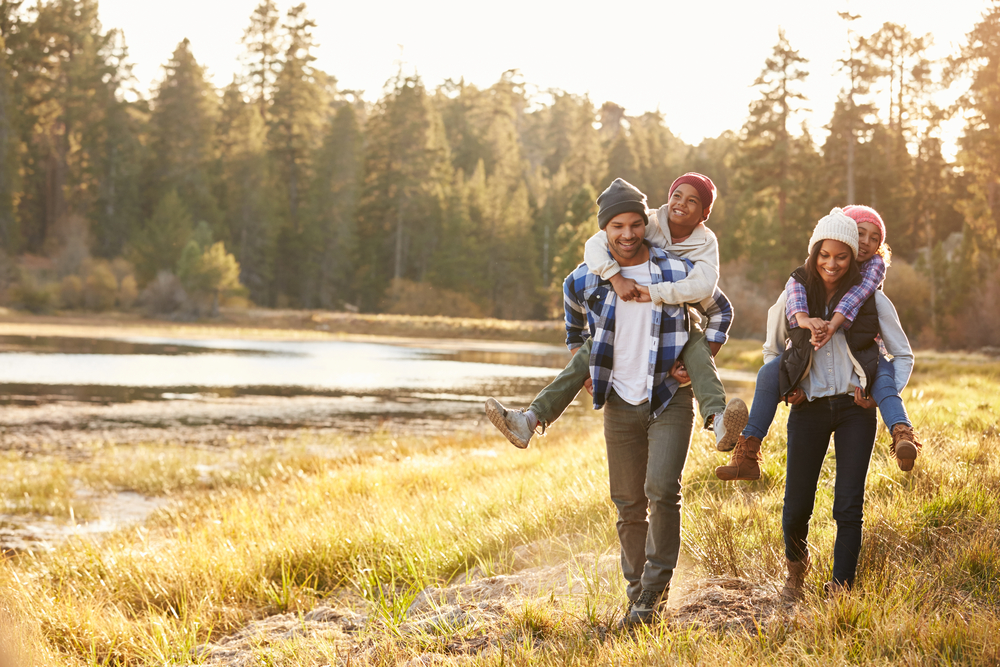 Explore The Big Woods Lake Recreation Area
Big Woods Lake is an Iowa lake near Cedar Falls, Iowa.
In fact, many outdoor recreation activities that are hosted by the city take place at the lake's recreation area.
At over 300 acres, it's one of the smaller lake areas in the state, but it's also one of the most popular.
That's because the recreation area offers tons of amenities.
There are shelters that you can reserve, campgrounds, cabins you can rent, boat ramps, and even an 18-hole disc golf course!
Cedar Falls also hosts events there, like outdoor yoga sessions, festivals, and more.
If you're visiting Cedar Falls, make sure to check out the Big Woods Lake Recreation Area!
Stay Here: Booking.com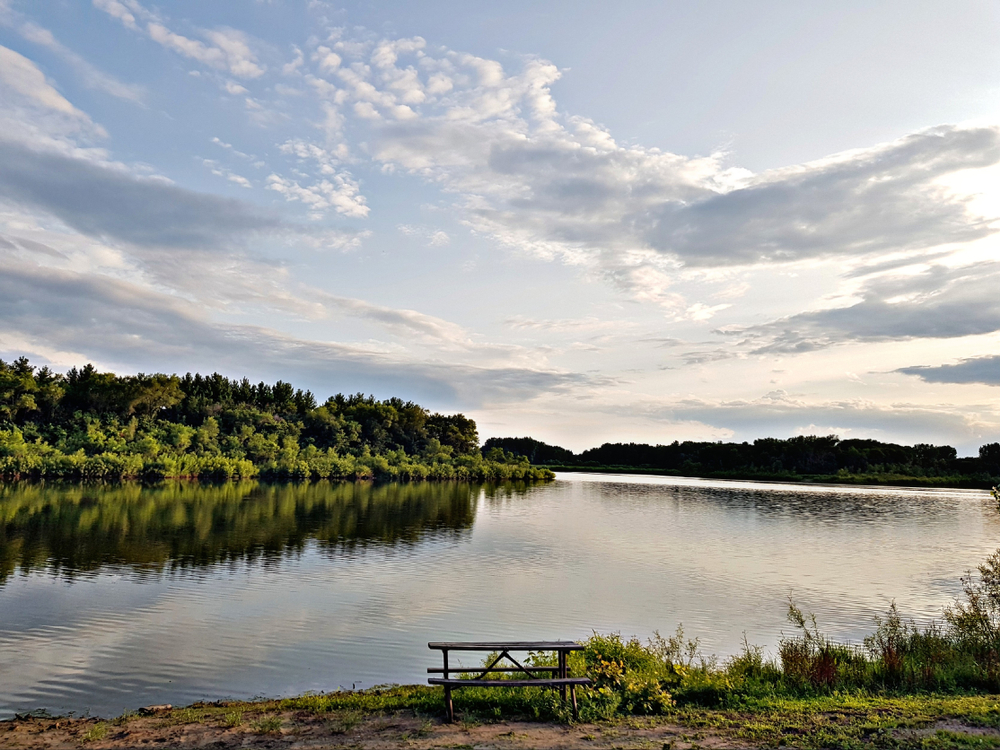 Enjoy The Great Outdoors At Lake Manawa
Lake Manawa is located in western Iowa and is one of the region's premier outdoor recreation destinations.
You'll find this Iowa lake in the Lake Manawa State Park.
It's especially popular for those who enjoy spending time out on the water either boating, kayaking, canoeing, or paddle boarding.
If you don't have your own equipment, don't worry. There is a rental office where you can rent what you need.
There are also a bunch of great hiking trails at the state park that meander around the lake itself.
The kids will also love visiting this Iowa lake thanks to the 'dream playground'.
It is 18,000 square feet of brand new playground fun that is ADA accessible and super popular with the kiddos!
So make sure you take the time to check out all of the great things Lake Manawa has to offer!
Stay Here: Booking.com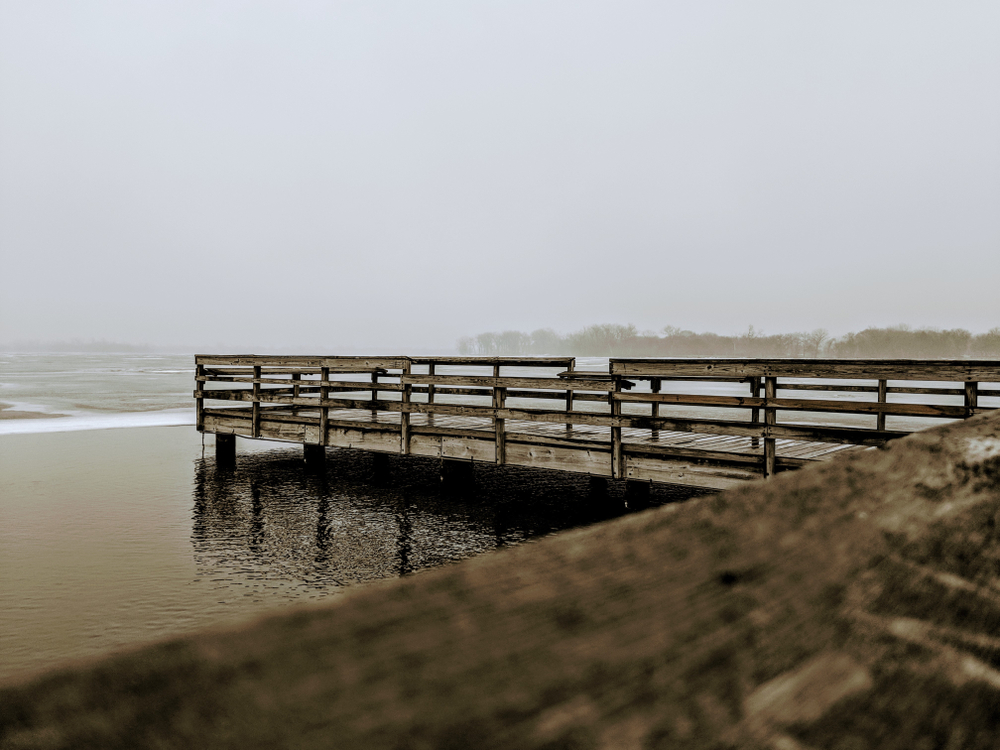 Coralville Lake Is One Of The Most Popular Lakes In Iowa
One of the most popular lakes in Iowa is easily Coralville Lake.
Coralville Lake is a man-made lake in Iowa City, and it's a popular Iowa City attraction.
Its main purpose is to provide flood control for the area, using the Coralville Dam. However, it's also a top recreation area in the city!
At this Iowa lake, you'll find a nice park with a playground, areas for swimming, and boating, and over 500 campsites.
It's one of the best beaches in Iowa, especially on a warm sunny day. So be prepared for crowds and a really fun time!
Stay Here: Booking.com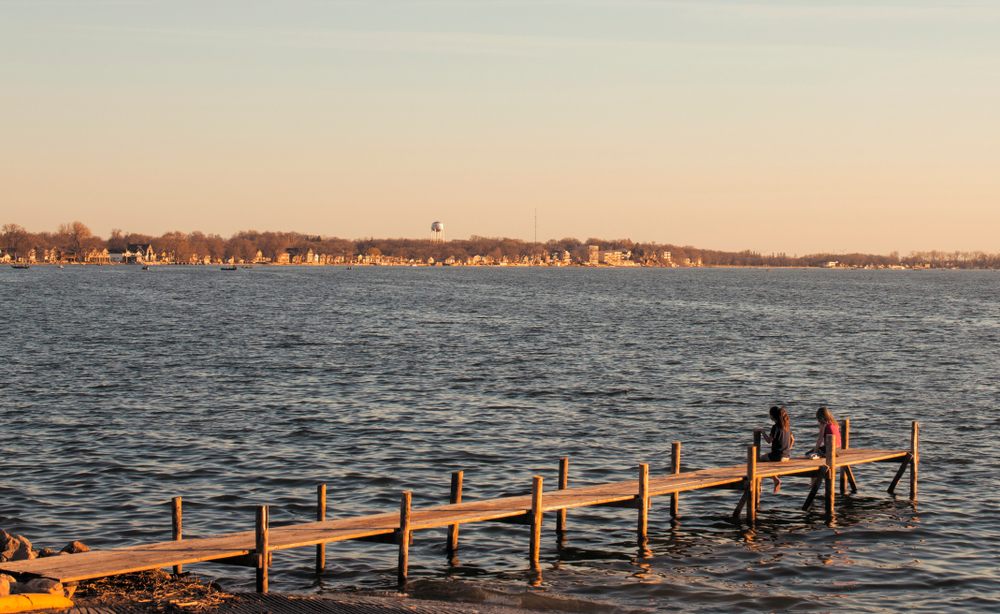 Enjoy Winter Fun At Swan Lake
Swan Lake is located in Swan Lake State Park, a small state park in Carroll Iowa.
The lake itself is 110 acres, which isn't necessarily huge. Especially compared to other Iowa lakes on this list.
But, what makes it unique, is that it's known for its winter activities and amenities!
When the snow falls, this lake and state park are absolutely stunning. And they attract fans of hiking in the snow.
In fact, once it gets cold enough, you can rent a pair of snowshoes and go snowshoeing on the frozen lake and through the beautiful woodlands in the park.
It's a great way to enjoy the winter months in Iowa and get out and experience the great outdoors!
Stay Here: Booking.com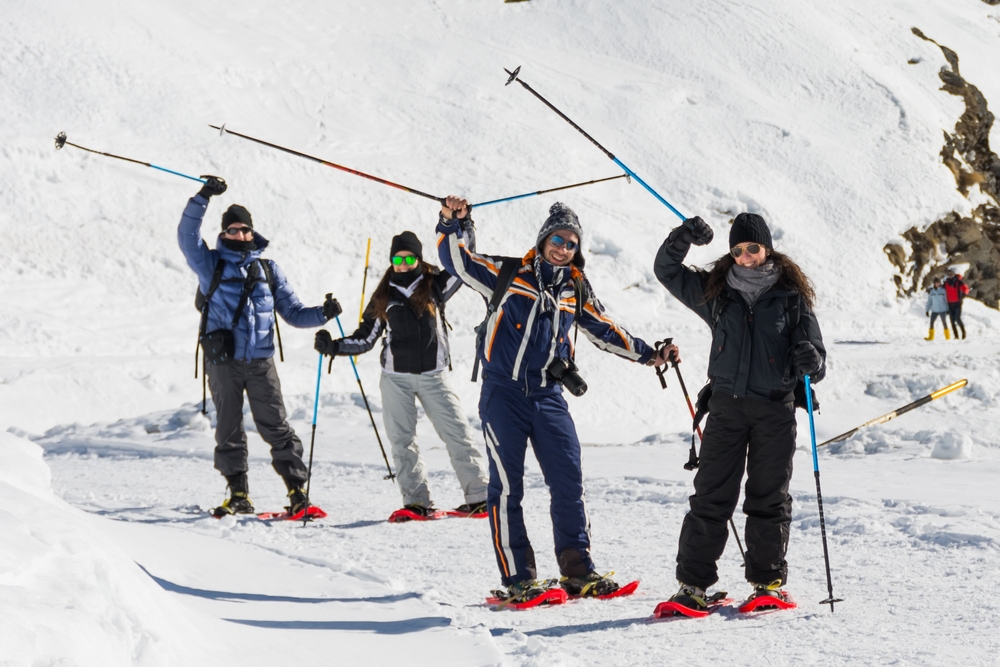 Packing List When Visiting Lakes In Iowa
If you will be traveling, either by plane or by car to Iowa, here are some tips on how to pack lightly.
A concealed travel pouch may be one of the most important items you bring along when vacationing at one of the many lakes in Iowa.
It is always important to protect your personal information. Identity thieves are everywhere.
This unisex RFID-blocking concealed travel pouch is lightweight and comes in several colors. It has lots of organization to give you peace of mind.
You can place it under your clothes next to your body to carry your ID safely.
If you have a pouch already that does not come with RFID protection, as I do, these RFID sleeves are the perfect solution.
This configuration comes with enough credit card sleeves that the entire family would be protected. They are slim too, so they will easily fit into your pouch or wallet.
If you are planning on taking a lot of pictures with your phone you will definitely want to consider an external charging battery.
This Anker high-speed phone charging battery is the exact one I carry with me on all of my trips.
It can be used on a variety of phones, not just an iPhone as I have. And wow is it fast!
My daughter gifted me with this FugeTek selfie stick and tripod setup for my birthday. I absolutely love it! It is made of lightweight aluminum and so easy to use.
It has Bluetooth connectivity and is a breeze to use for taking photos.
You will want to bring your own refillable water bottle with you.
I never leave home on a trip without my Bobble filtration bottle. The 18.5-ounce size is perfect for hiking and it fits nicely in the pocket of a backpack.
And here are the carbon filter replacements.
Perhaps you are traveling a long distance and packing space is a premium in your suitcase, or in your car.
Then this collapsible silicone foldable water bottle would work well for you. Would not take up much space at all.
—
Iowa lakes are super popular, and it's easy to see why! Because there are so many, there's always something to do, no matter the season, at these lakes in Iowa.
Have you been to any of these lakes in Iowa?
If so, I'd love to hear about your favorite one in the comments!