Are you searching for the best things to do in St. Cloud, MN? I have you covered!
Located an hour northwest of Minneapolis, this is a great city to visit for a day trip, as a family vacation, or as a couples getaway in Minnesota.
St. Cloud has so much to offer no matter your interests! There are plenty of chances to experience art and culture, discover pretty nature spots, or catch a college game.
Let's dive into the top activities in St. Cloud, Minnesota!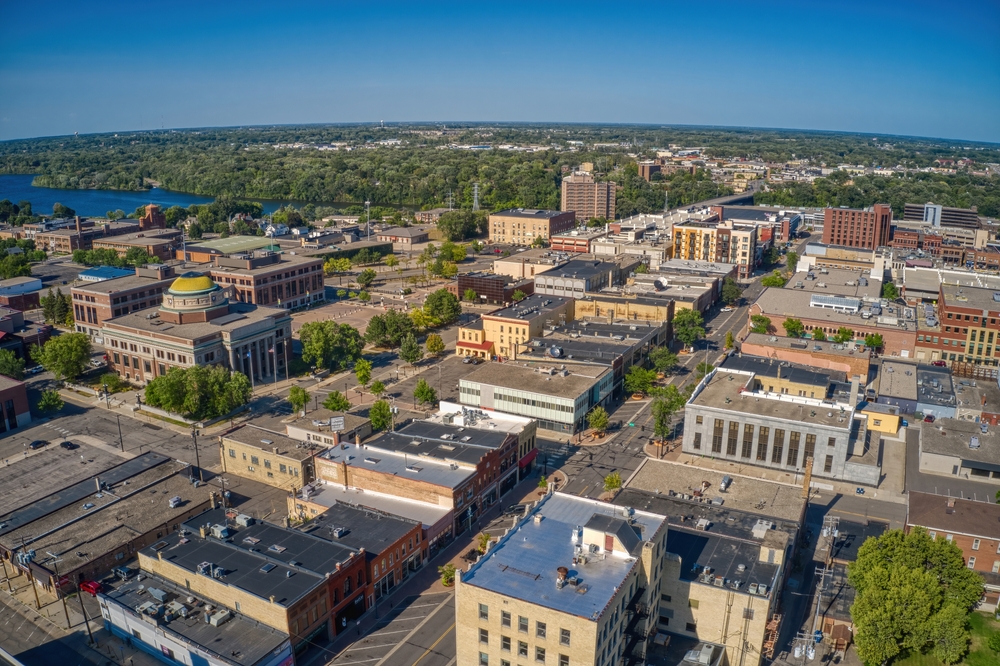 10 Best Things to Do in St. Cloud, MN, Not to Miss
Stroll the Munsinger and Clemens Gardens
The Munsinger and Clemens Gardens are some of the best attractions in Minnesota for nature lovers!
Set on the Mississippi River and separated by Riverside Drive, these two gardens are beautiful, each offering a different atmosphere.
On the riverside, Munsinger Garden is shady with plenty of trees and overgrown with a variety of plants and flowers. You will love the pretty lily pond. Check out Joseph Munsinger's historic cabin as well.
Across the street, Clemens Garden is inspired by the formal gardens of Europe. Follow the geometric, brick pathways to find fountains, a gazebo, statues, and an arbor.
The organized flowerbeds are so pretty. The Virginia Clemens Rose Garden is a sight to see with over 70 varieties of pretty flowers.
In the summer, the concerts held here make the gardens one of the best things to do in St. Cloud, MN, for couples.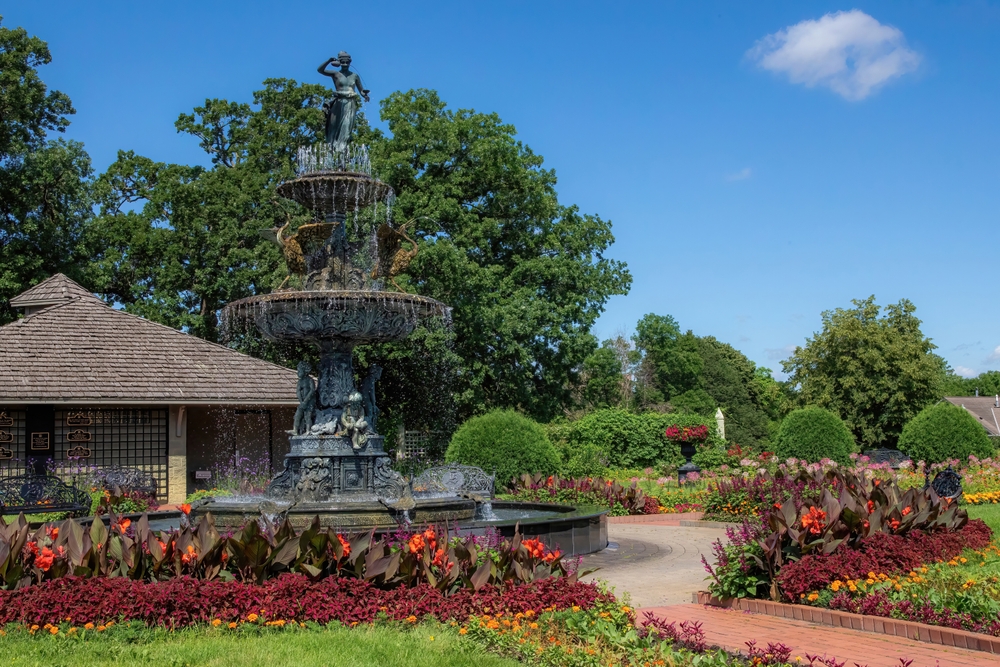 Go Swimming at Quarry Park and Nature Preserve
The 683-acre Quarry Park and Nature Preserve is one of the best outdoor attractions in St. Cloud, MN.
The old mining quarries have created amazing swimming holes perfect for a summer day. There are two quarries where swimming is allowed. Keep in mind that there are no lifeguards and the quarries are deep!
Quarry #2 is surrounded by rock formations and reaches a depth of 116 feet. This is a great place for jumping into the water.
Quarry #11 has a sandy beach and goes up to 40 feet deep. The beach provides the ideal swimming spot for families.
Some of the quarries also allow scuba diving or rock climbing if you are looking for an adventure.
Visitors also have fun hiking, biking, and picnicking. It is a wonderful place to see native flora as well.
In winter, you can enjoy snowshoeing and cross-country skiing.
This park is easily one of the most fun things to do in St. Cloud, Minnesota, for families.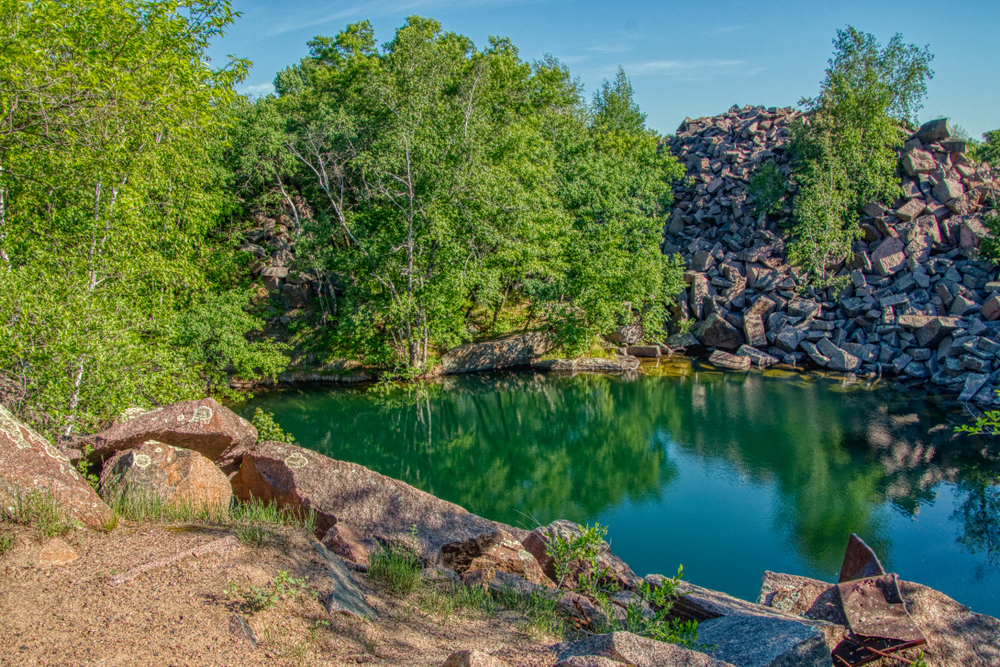 Learn at the Stearns History Museum
Located in Heritage Park, the Stearns History Museum aims to preserve the history and heritage of Stearns County.
There is a mix of permanent and rotating exhibits so you can find something new to discover each time you visit.
The two-story building holds many historic photographs, printed materials, and artifacts that tell the story of the county. You will feel as if you are traveling through time as you explore the exhibits.
The museum also puts on an assortment of events throughout the year.
If learning about local history is important to you, this museum is one of the top places to visit in Minnesota.
Catch a Show at the Paramount Center for the Arts
With a rich history dating back to 1921, the Paramount Center for the Arts is the place to go in St. Cloud for plays, musicals, concerts, and other performances.
You will definitely want to check the upcoming performances when you plan your trip to St. Cloud, Minnesota.
The Center is also home to the Paramount Visual Arts Studios. There are many art classes offered for both youth and adults.
Try your hand at an assortment of art mediums including watercolor painting, pottery, drawing, and woodworking. You will have a great time learning a new craft.
Even if you are not much of an artist, you can admire the different art exhibitions on display throughout the year.
The Paramount is one of the best things to do in St. Cloud, Minnesota, for anyone interested in art and culture.
See a Concert at the Ledge Amphitheater
For another chance to see a live show, check out upcoming concerts and performances at the Ledge Amphitheater.
This beautiful outdoor venue seats up to 6,000 guests. With a stage set between pretty quarries and trees, this is a wonderful place to enjoy some entertainment in St. Cloud.
It is not just concerts you can attend here. Check out Yoga at the Ledge and local events in St. Cloud, MN, as well.
Some of the best events in Minnesota could be held here!
Exploring Lake George Park Is One Of The Best Things To Do In St. Cloud Minnesota
Lake George Park is one of the top things to do in St. Cloud, MN, for kids.
Take a scenic walk around the 7-acre lake or rent paddle boats, canoes, kayaks, or paddle boards to get out on the water.
Kids will love cooling off in the summer at the Lake George Splash Pad! There is also a great playground where they can get their energy out.
The annual Summertime by George concert series takes place weekly for a month of fun in the park. This St. Cloud event is free and perfect for all ages.
Listen to regional bands and shop from local art and food vendors. There are also activities for kids including bounce houses.
This is one of the best places to experience fall in Minnesota.
Try Craft Beer at Beaver Island Brewing Company
A visit to Beaver Island Brewing Company is one of the top activities in St. Cloud, MN, for anyone searching for local craft beer.
This brewery offers beer that is "crafted with heart in the heart of Minnesota."
Pull up a seat in the rustic-styled bar and order an Axe Dagger, Sweet Miss, or Ripple. There are many seasonal and limited-release options as well.
The taproom also hosts live music, comedy nights, and other events.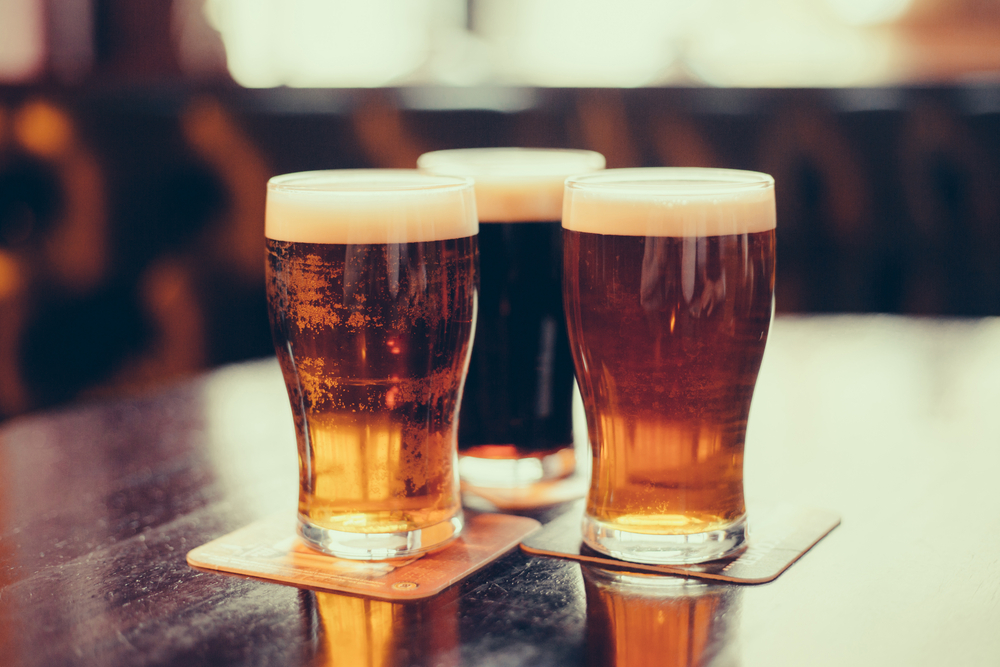 Photograph Some of St. Cloud's Architecture
Architecture lovers will have a fun time wandering the historic downtown. There are so many beautiful, old buildings to admire and photograph.
Start at the Stearns County Courthouse which was built in 1921 in the Beaux-Arts style. Check out the granite columns before heading inside to see the grand staircase, marble furnishings, and incredible murals.
Next, walk just down the street to St. Mary's Cathedral. This 1930 basilica features a tiled roof, polished granite columns, ironwork, and beautifully crafted wooden doors.
For more historic buildings, walk along West St. Germain Street downtown. The history is still evident behind signs for modern shops and restaurants in St. Cloud.
To see more amazing architecture, drive about 25 minutes from downtown St. Cloud to the campus of Saint John's University.
Saint John's Abbey was completed in 1961 and is unique with its modern design. Visitors can take a self-guided tour or request a guided tour.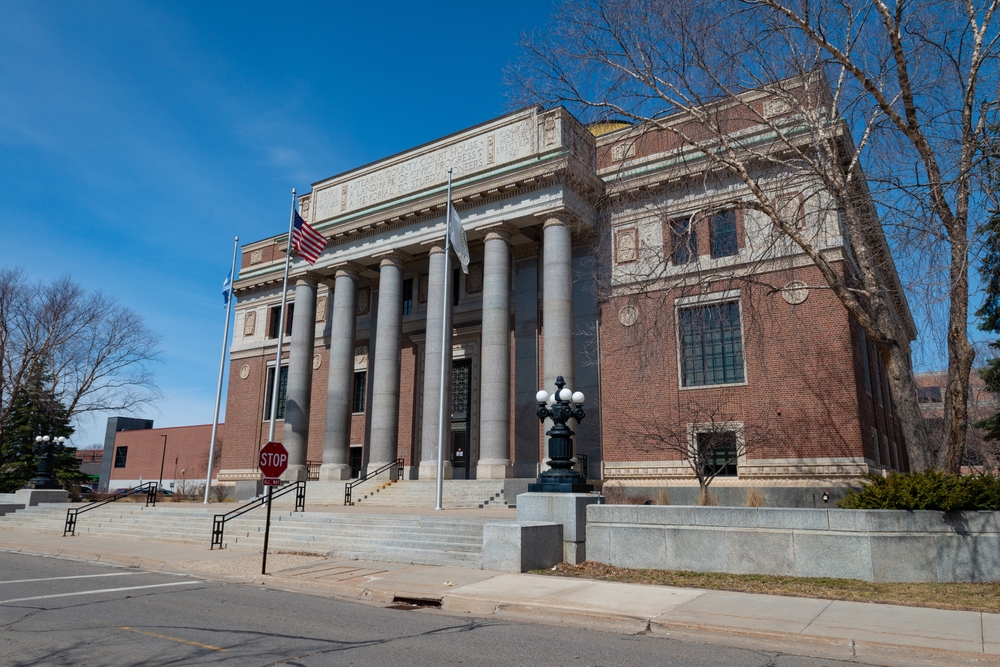 One Of The Fun Things To Do In St Cloud MN Is To Attend a Game at Herb Brooks National Hockey Center
Home to St. Cloud State University, St. Cloud is a college town which means college sports. Attending a game is one of the best things to do in Minnesota!
Since Minnesota is the State of Hockey, you should catch a hockey game while in town. The college hockey season is from October through April.
Cheer on the St. Cloud State Huskies at the Herb Brooks National Hockey Center. The arena seats 6,000 and opened in 1989.
The arena hosts college and high school games as well as different hockey camps. They also have open skate at times.
Hockey is definitely one of the most popular things to do in MN!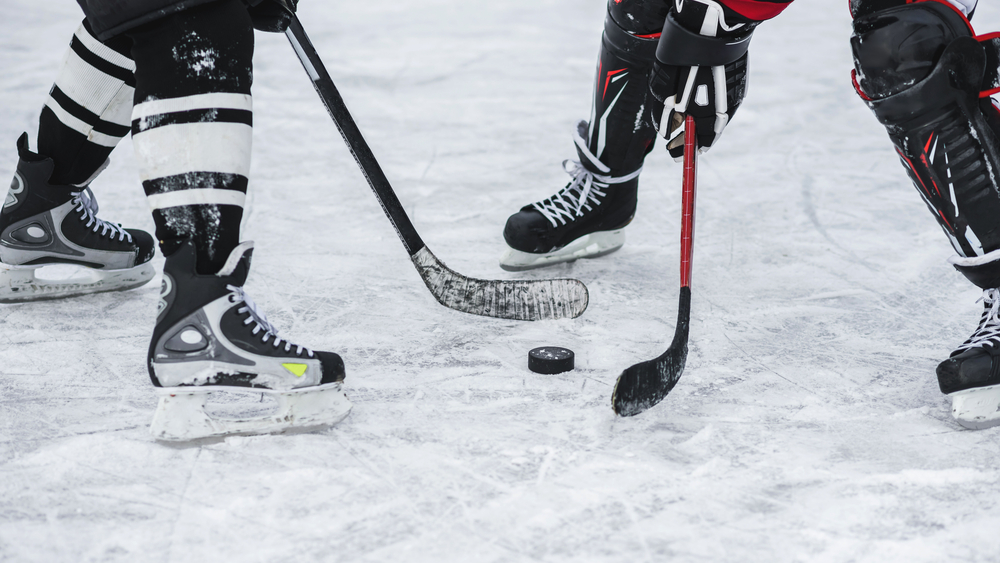 Shopping at the Crossroads Center Is One Of The Fun Things To Do In St Cloud MN
If you want to get some shopping done while in St. Cloud, the Crossroads Center is the place to go. This is the largest regional shopping mall in Minnesota outside of the Twin Cities.
The mall is 900,000 square feet with plenty of popular retailers for anything you want to buy.
Some of the shops include Target, Scheels, Macy's, JCPenny, Hot Topic, Bath & Body Works, Pandora, and more.
There is also a food court and children's play area.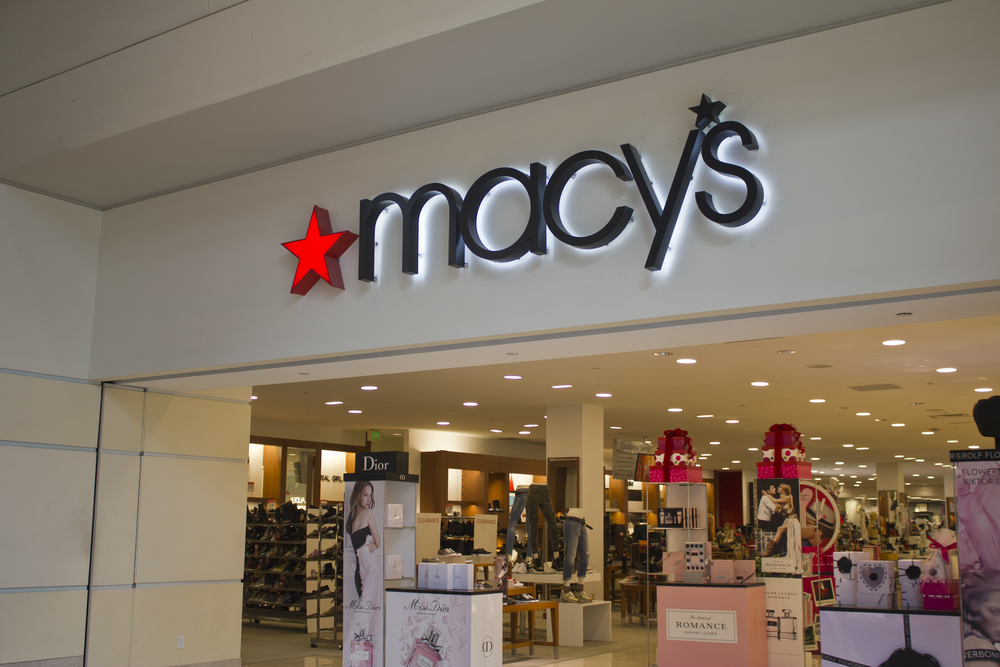 Where to Stay in St. Cloud Minnesota
If you are spending a weekend in St. Cloud, there are plenty of options for where to stay. Here are a few options.
Affordable Hotel: Country Inn & Suites by Radisson, St. Cloud East, MN. Check Rates: Booking.com
Affordable Hotel: Country Inn & Suites by Radisson, St. Cloud West, MN. Check Rates: Booking.com
Mid-Range Hotel: Hilton Garden Inn St. Cloud, Mn. Check Rates: Booking.com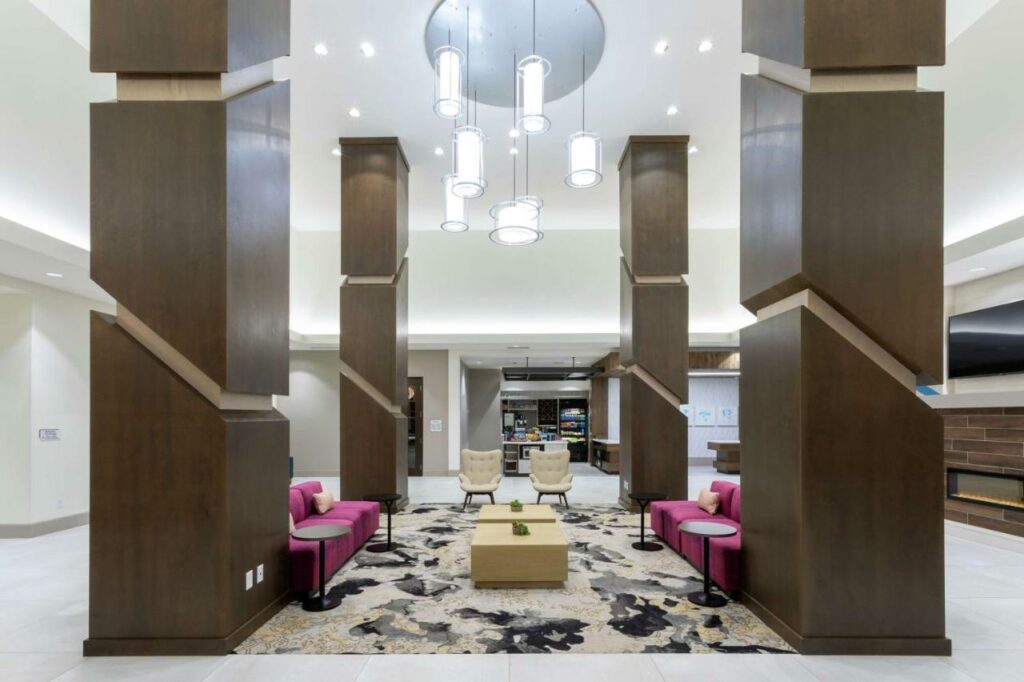 Packing List When Looking For Things to Do In St Cloud MN
If you will be traveling, either by plane or by car to Minnesota, here are some tips on how to pack lightly.
A concealed travel pouch may be one of the most important items you bring along when looking for St. Cloud Minnesota attractions.
It is always important to protect your personal information. Identity thieves are everywhere.
This unisex RFID-blocking concealed travel pouch is lightweight and comes in several colors. It has lots of organization to give you peace of mind.
You can place it under your clothes next to your body to carry your ID safely.
If you have a pouch already that does not come with RFID protection, as I do, these RFID sleeves are the perfect solution.
This configuration comes with enough credit card sleeves that the entire family would be protected. They are slim too, so they will easily fit into your pouch or wallet.
If you are planning on taking a lot of pictures with your phone you will definitely want to consider an external charging battery.
This Anker high-speed phone charging battery is the exact one I carry with me on all of my trips.
It can be used on a variety of phones, not just an iPhone as I have. And wow is it fast!
My daughter gifted me with this FugeTek selfie stick and tripod setup for my birthday. I absolutely love it! It is made of lightweight aluminum and so easy to use.
It has Bluetooth connectivity and is a breeze to use for taking photos during your London activities.
You will want to bring your own refillable water bottle with you.
I never leave home on a trip without my Bobble filtration bottle. The 18.5-ounce size is perfect for hiking and it fits nicely in the pocket of a backpack.
The replaceable carbon filter ensures clean drinking water when you want it.
Then this collapsible silicone foldable water bottle would work well for you. Would not take up much space at all.
You will want a backpack or daypack with you to store snacks, your water bottle, phone, extra clothes, etc…. No matter the time of day or evening.
This foldable water-resistant backpack would be great.
It is very affordable and is available in many color options for you to choose from. The fact that it folds down into a zippered pouch will make it easy to pack.
As an Amazon Associate, I earn from qualifying purchases.
—
Hopefully, you have discovered some of the best things to see in Minnesota for your next trip. With parks, concerts, and historic buildings, St. Cloud has so much to offer.
Next, check out the best things to do in Minneapolis!