If you're looking for the best things to do in Tulsa, Oklahoma, then you've come to the right place!
Tulsa is a city in Oklahoma located along the Arkansas River. A visit to Tulsa is easily one of the best things to do in Oklahoma.
The city is probably best known for its historic Art Deco architecture. This is thanks to the oil industry that was thriving in Oklahoma during the early 1900s.
Many of the buildings that are considered historic today were offices and homes for those in the oil industry at the time.
At one point, Tulsa Oklahoma was one of the most thriving and wealthy cities in the US during the early 1900s. That legacy can still be seen all throughout the city today.
However, that's not all Tulsa has to offer. It also has a thriving food scene full of incredible restaurants.
But architecture and restaurants aren't the only things Tulsa has to offer.
In fact, there are tons of unique and fun things to do in Tulsa if you know where to look!
On this list, I've included museums, family activities, beautiful gardens, and of course, historic sites.
You'll find a wide variety of activities in Tulsa to explore.
It's a city that has something to do with everyone's interests and every budget in mind.
So, if you're planning a trip to Tulsa, make sure you check out some of these fun things to do in Tulsa Oklahoma!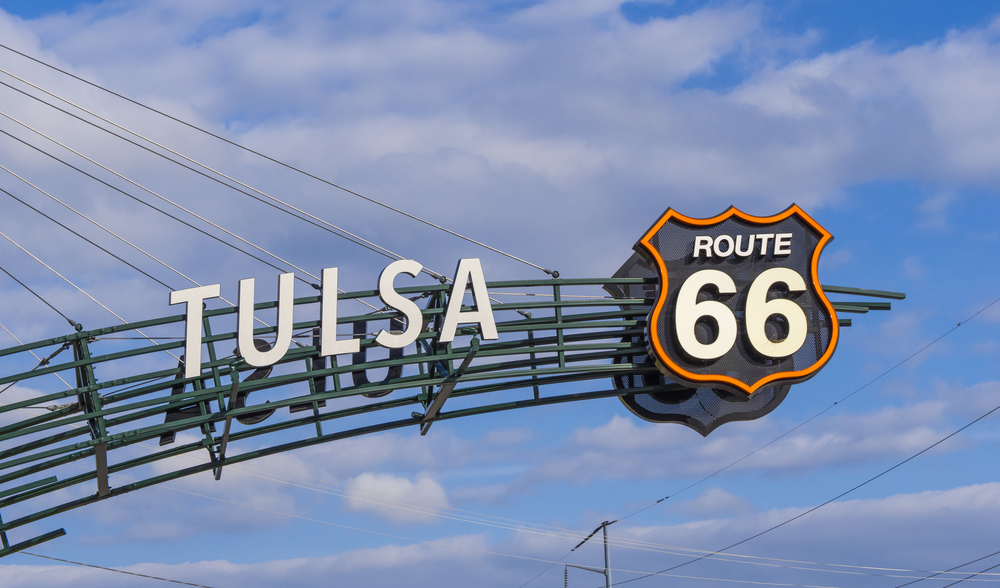 15 Best Things To Do In Tulsa OK You Shouldn't Miss
Explore The Philbrook Museum Of Art
The Philbrook Museum of Art is an expansive art museum housed in the former 'Villa Philbrook'.
Villa Philbrook is a huge mansion that was built by oil tycoons, Waite and Genevieve Phillips.
The villa opened as a museum in 1939. Since then, it has become a popular place to visit in Tulsa.
Not only because of the extensive art collection but also because you get to explore a beautiful Art Deco mansion.
The Philbrook Museum of Art also includes an extensive manicured garden adjoining the mansion that you can explore.
Inside the museum, you'll find works by world-famous artists. They include Rembrandt, Monet, Frida Kahlo, and Salvidor Dali, just to name a few.
Even if you aren't a huge lover of art, an afternoon spent at the Philbrook Museum of Art is well worth it.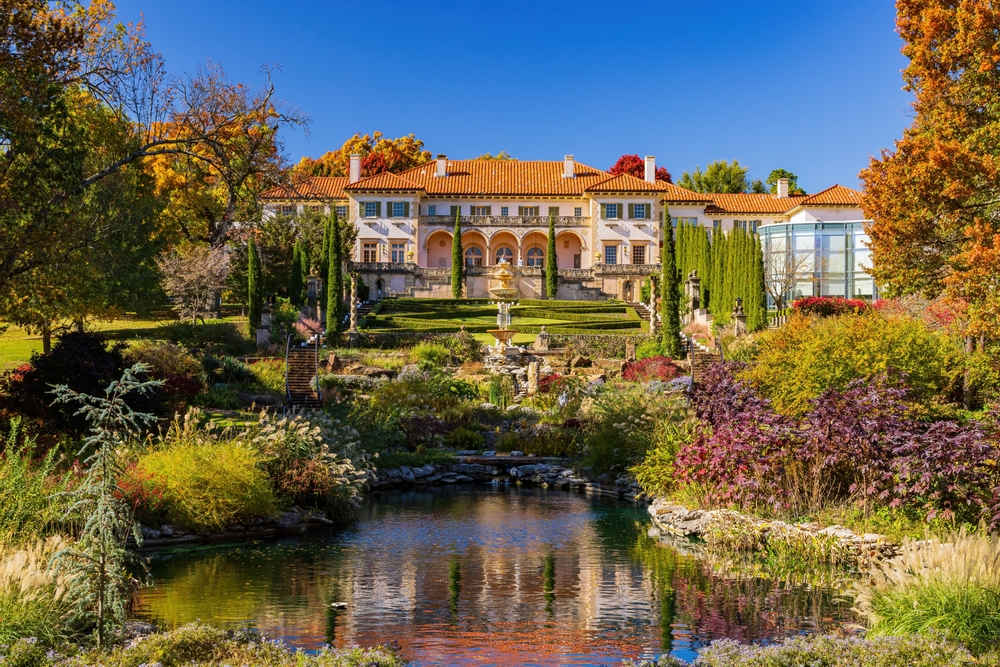 Learn About Local Wildlife At The Oxley Nature Center
If you're looking for cool places to go in Tulsa Oklahoma, you may want to visit the Oxley Nature Center.
The Oxley Nature Center is over 800 acres of green space in Tulsa.
There, you'll find over nine miles of Midwest hiking trails, an interpretive building, and more.
It's an unexpected piece of natural oasis in the heart of a thriving city.
The Oxley Nature Center is a popular thing to do in Tulsa for families.
That's because kids can enjoy playing in the park or learning about local wildlife at the interpretative building!
Inside the interpretive building, you'll find hands-on exhibits, a classroom where park rangers often host classes, and a wildlife viewing area.
It's also where you'll find maps of the hiking trails, the restrooms, and other helpful information for exploring the park.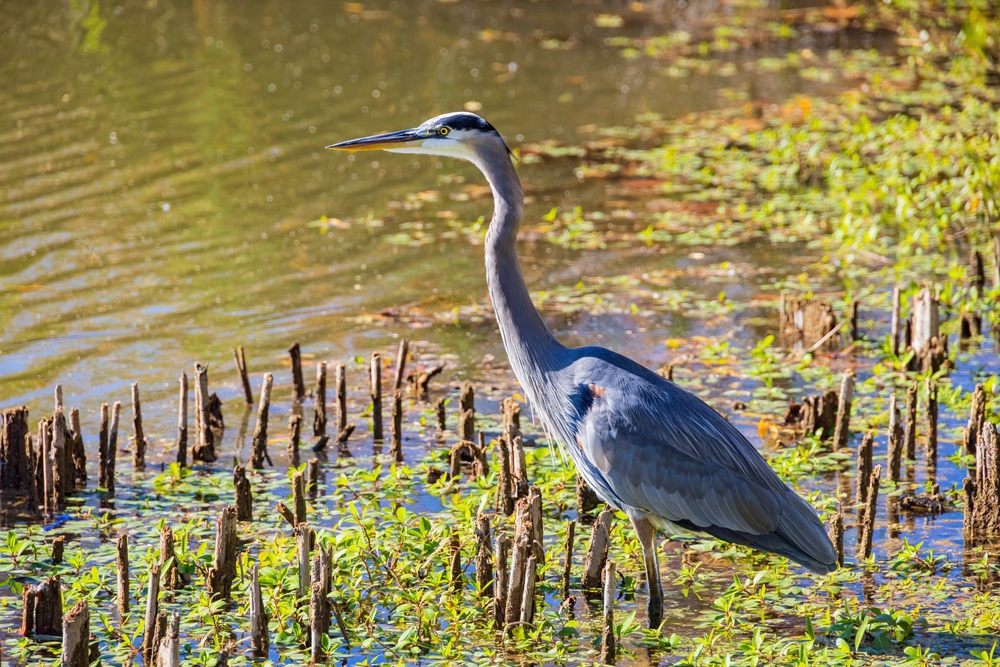 Say Hello To The Golden Driller Statue
Tulsa Oklahoma has a deep history in the American oil industry.
The oil boom in Tulsa was thriving during the early 1900s.
It paved the way for many oil tycoons who ended up opening up a variety of oil industries within the city.
But, it was the locals who really worked these oil fields and refineries.
In 1952, the Golden Driller Statue was built by the Mid-Continent Supply Company as a feature for the International Petroleum Exposition.
Later, in 1959, the company brought the statue out again for another expo.
It was so popular with visitors and locals, that in 1966, the statue was permanently displayed outside of the Tulsa Expo Center.
That's where you'll find this unique piece of American history today! The Golden Driller Statue is over 75 feet tall and 43,500 pounds.
It's a popular photo op stop and a unique attraction in Tulsa Oklahoma that is worth a quick visit!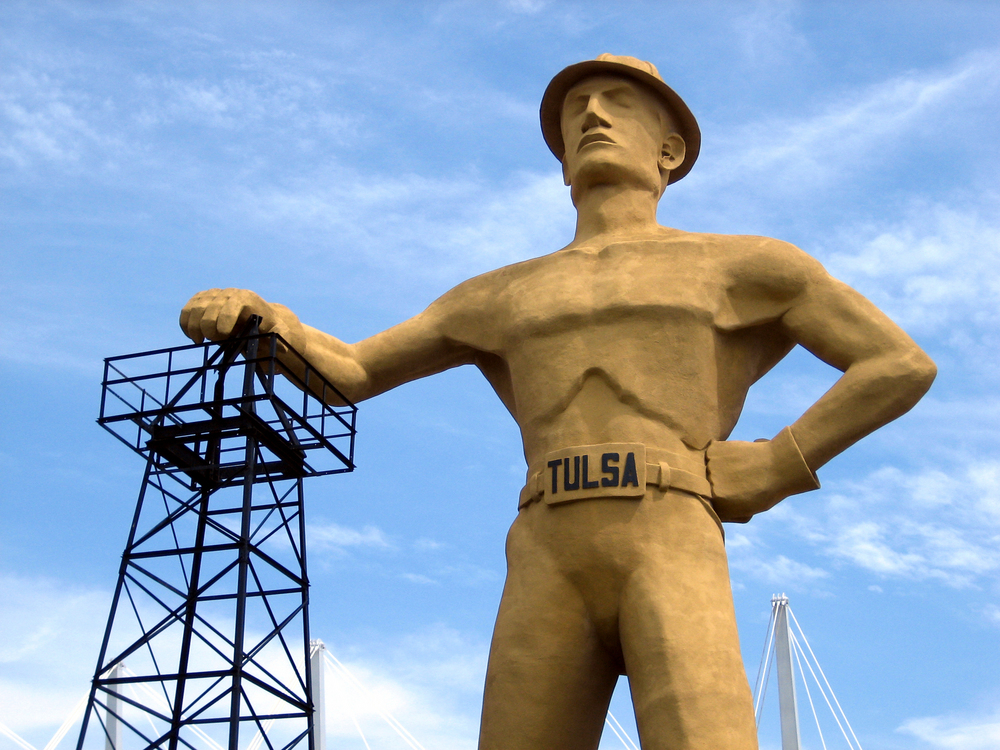 Learn About The History Of North America Through Art At The Gilcrease Museum
The Gilcrease Museum is one of the more unique Tulsa museums.
You'll find it in northwest of downtown Tulsa in a stunning turn-of-the-century home.
This downtown Tulsa attraction houses the world's largest collection of art from the American West.
The museum has also started growing its collection of Central and South American art, which they have on display.
Within the museum's collection, you'll find works by a wide variety of artists. From Olaf Carl Seltzer, Alfred Jacob Miller, Joseph Henry Sharp, and more.
Gilcrease Museum also has a large collection of Native American jewelry, bronze sculptures, and photos.
If you want to learn more about the local history through art, then check out the Gilcrease Museum.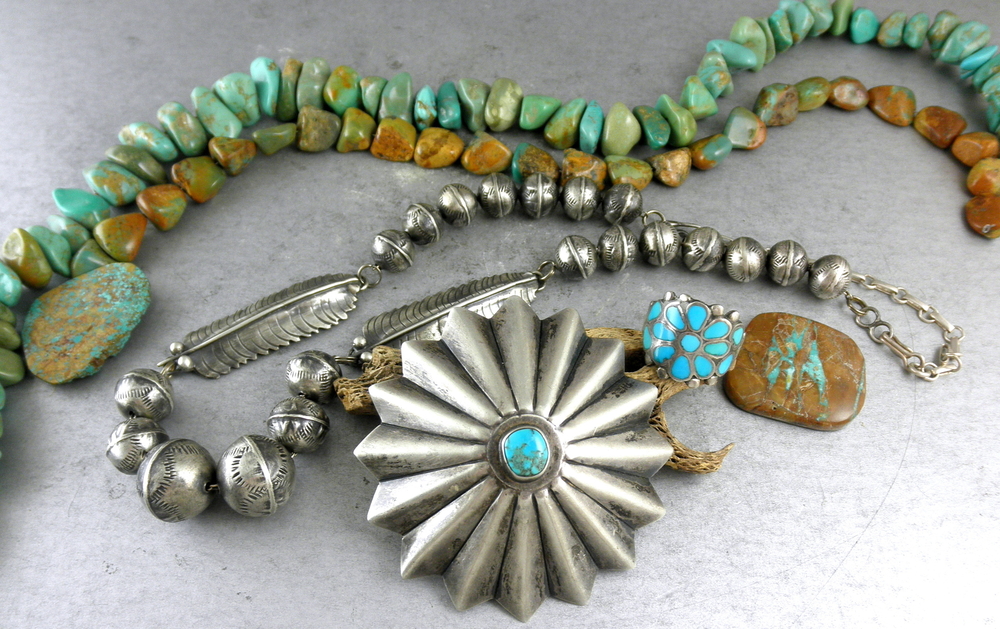 Explore The Life Of A Local Legend At The Woody Guthrie Center
Woody Guthrie was an American Folk Singer and Activist that was born in Okemah Oklahoma.
Okemah is just over an hour south of Tulsa and is a fairly small town.
However, in Tulsa, you'll find the Woody Guthrie Center.
The Woody Guthrie Center is one of the coolest places to visit in Tulsa Oklahoma.
Even if you aren't a folk music fan, it's a really interesting Tulsa museum.
The center is a public museum and it's dedicated to the life and works of Woody Guthrie.
Inside, you'll find exhibits about his life growing up in Oklahoma, his rise to fame, and his activist work.
If you're looking for a unique thing to do in Tulsa Oklahoma, definitely check out the Woody Guthrie Center!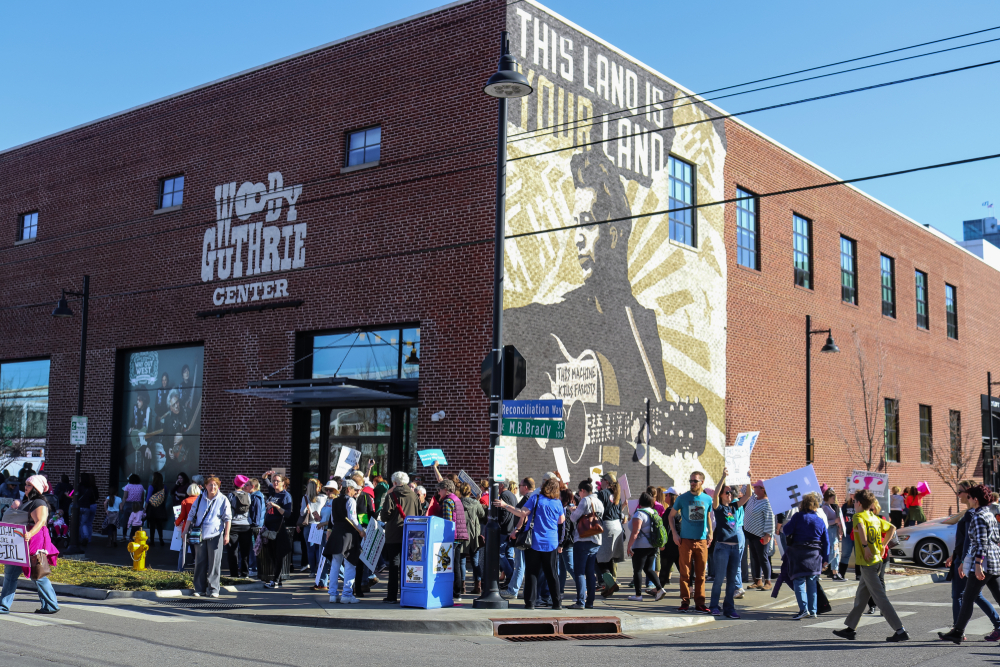 Visit The Center Of The Universe
One of the most unique attractions in Tulsa Oklahoma is also a bit of a mystery.
The 'Center of the Universe' is an acoustic anomaly in downtown Tulsa.
If you stand in the middle of the small concrete circle and make a noise, the sound echoes back to you several times louder.
Essentially, it's an echo chamber. So if you whisper, the echo sounds like you shouted.
Researchers say this anomaly is naturally occurring and they can't pinpoint exactly why. The spot is marked by a concrete circle that you'll find by following a brick path.
It's not much to look at, but it is super unique.
Just a short distance away from the concrete circle, you'll find another iconic Tulsa landmark, the Artificial Cloud statue.
While you're exploring downtown Tulsa, take a few mintues to experience this one-of-a-kind Tulsa attraction!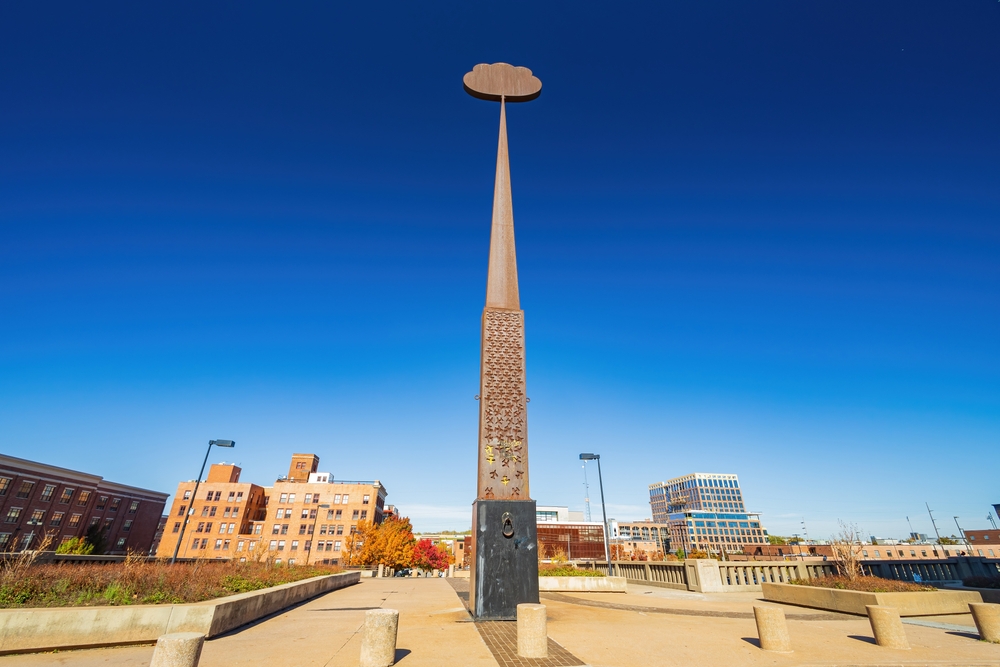 Navigate The Stars At The Tulsa Air And Space Museum And Planetarium
After you've visited the Center of the Universe, why not go and explore the universe?
At the Tulsa Air and Space Museum and Planetarium, you can do just that.
It's a great place to go in Tulsa if you want to learn more about flight and space exploration.
The museum is over 19,000 square feet and originally opened in 1998. In 2006 the planetarium was added.
Inside, you'll find historic exhibits detailing Tulsa's flight history. There are also other pieces of flight and space exploration history.
You'll find exhibits on Pearl Harbor, WWII, the beginning of commercial aviation, and more. The museum also has exhibits on Oklahoma astronauts, a piece of the space shuttle, and tons more.
After you explore the museum exhibits, you can take a trip to the cosmos during one of the planetarium's daily showings.
It's a great activity in Tulsa Oklahoma for the whole family to enjoy!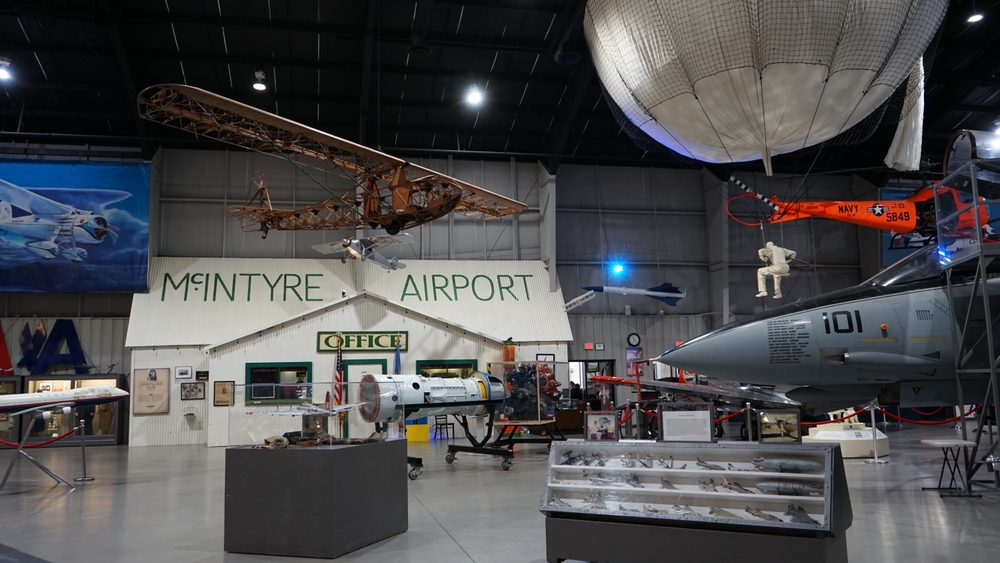 Admire The View At The Tulsa Botanic Garden
Just outside of the heart of downtown Tulsa, you'll find the Tulsa Botanic Garden.
The garden consists of over 170 acres of beautiful gardens with different themes.
As you walk the grounds, you'll find the Children's Discovery Garden, the Floral Terrace, the Lakeside Promenade, and more.
On the grounds, there are also several walking trails and a large area dedicated to preserving the natural flora and fauna of Oklahoma.
In many of the gardens, you'll find large sculptures, a pair of oak thrones, and whirligig insects.
The Tulsa Botanic Garden is still being developed and more gardens are being added every year.
No matter what time of year you plan on visiting, you'll find a beautiful view and a fun afternoon at the Tulsa Botanic Garden.
There are many beautiful lakes in Oklahoma located near Tulsa.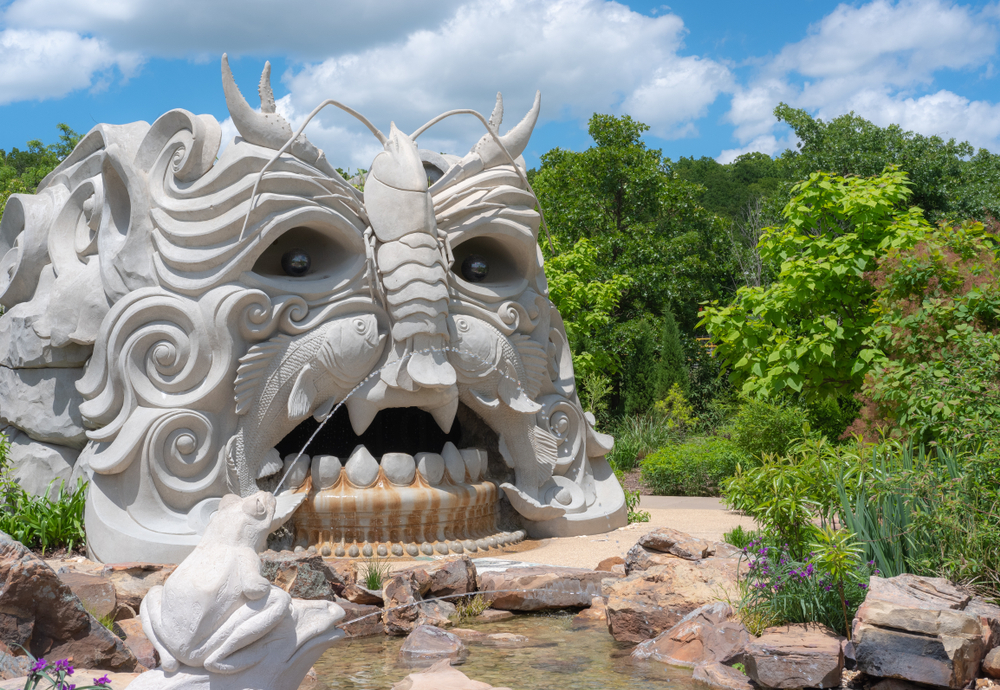 The Oklahoma Jazz Hall Of Fame Is One Of The Best Things To Do In Tulsa OK
One of the best places to go in Tulsa OK is the Oklahoma Jazz Hall of Fame.
The Oklahoma Jazz Hall of Fame is a non-profit museum in downtown Tulsa. Its goal is to honor jazz, blues, and gospel musicians from Oklahoma.
You'll find the museum inside the historic Tulsa Union Depot building, which is now called the Jazz Depot.
Inside you'll find exhibits, artifacts, and memorabilia focusing on famous Oklahoma musicians.
There are exhibits on musicians like Chet Baker, Don Cherry, Pat Kelley, and more.
Not only is the Oklahoma Jazz Hall of Fame a museum, but it's also a music venue.
Throughout the year, you can catch a number of jazz, blues, and gospel performances within the venue.
If you have the opportunity to see one of these performances, you should definitely see a show!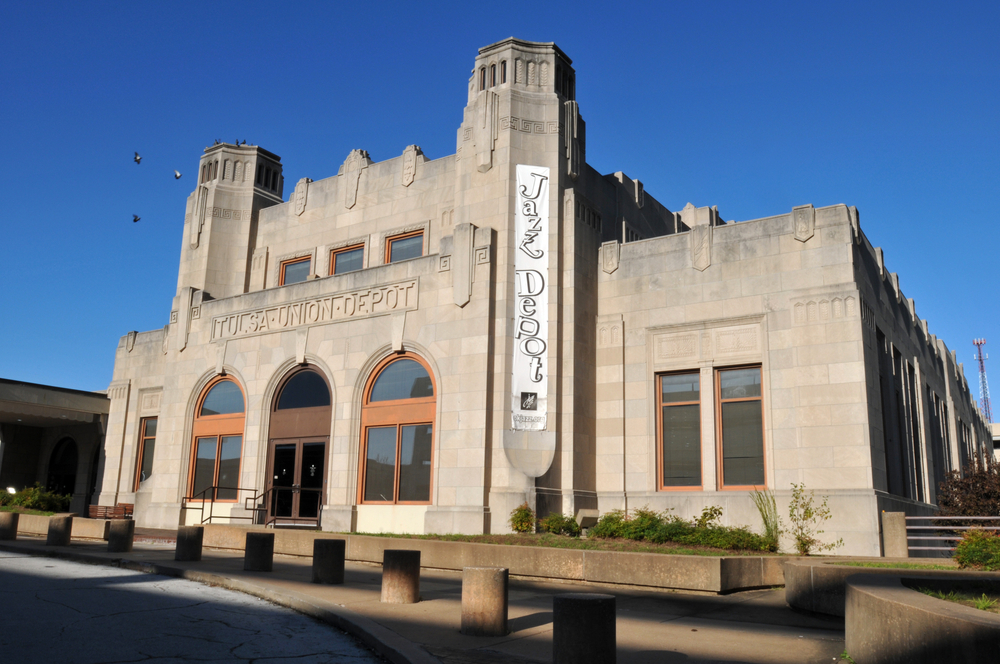 Explore The Sherwin Miller Museum Of Jewish Art
The Sherwin Miller Museum of Jewish Art was founded in 1966 in Tulsa Oklahoma.
Its goal is to preserve and promote Jewish heritage, culture, and history in Tulsa.
The museum does this by exposing the community to Jewish art and a variety of educational programs throughout the year.
Within the museum, you'll find a wide range of exhibits that explore the over 5,000-year history of Judaism.
On display, you'll find ancient artifacts, pieces by local Jewish artists, contemporary fine art, and everything in between.
Recently, they opened the Sanditen/Kaiser Holocaust Center, which focuses on the stories of Holocaust refugees in Oklahoma.
It's one of the best things to do in Tulsa Oklahoma and a great way to learn about Jewish heritage.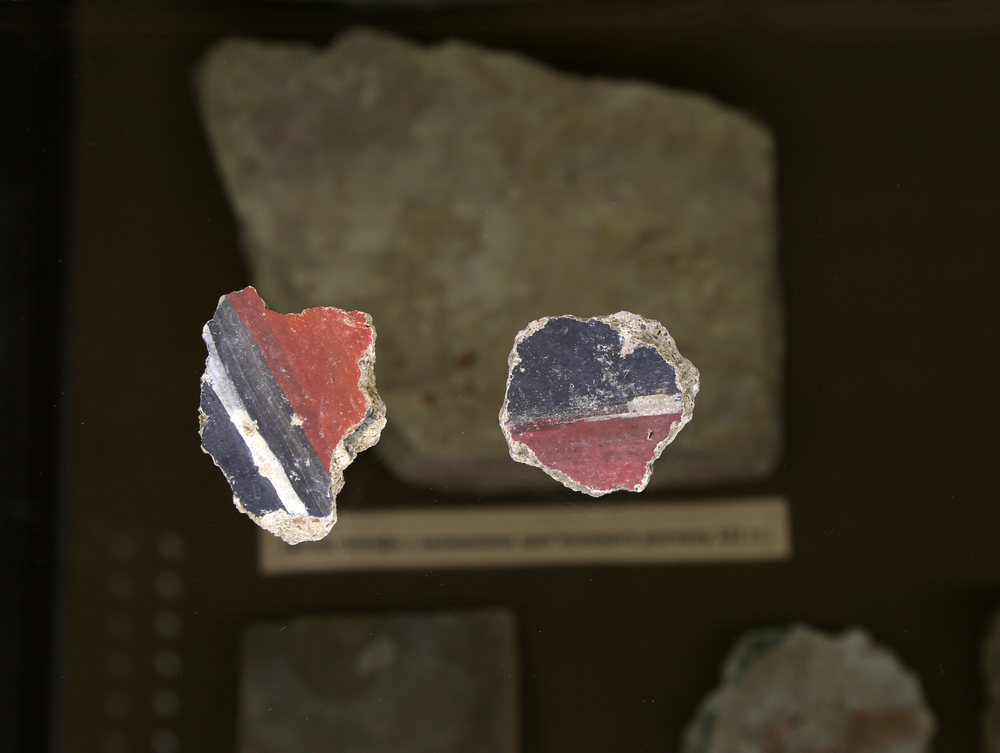 Spend The Afternoon At The Turkey Mountain Urban Wilderness Area
If you want to explore the great outdoors in Tulsa, head to the Turkey Mountain Urban Wilderness Area.
The Turkey Mountain Urban Wilderness Area is a 300-acre area of undeveloped land, just outside of Tulsa Oklahoma.
It's open to the public and managed by the Tulsa River Parks Authority.
In the park, you'll find an untouched area of beautiful natural Oklahoma wilderness.
There are a series of trails you can explore and many of them lead you to the top of Turkey Hill, the highest point in the park.
Unlike some of the other parks in Tulsa, it's a much more rugged park and hiking experience.
So make sure you're prepared and wear appropriate clothes, bring plenty of water, and have a fully charged phone battery!
Around Tulsa, you will find some of the best camping in Oklahoma.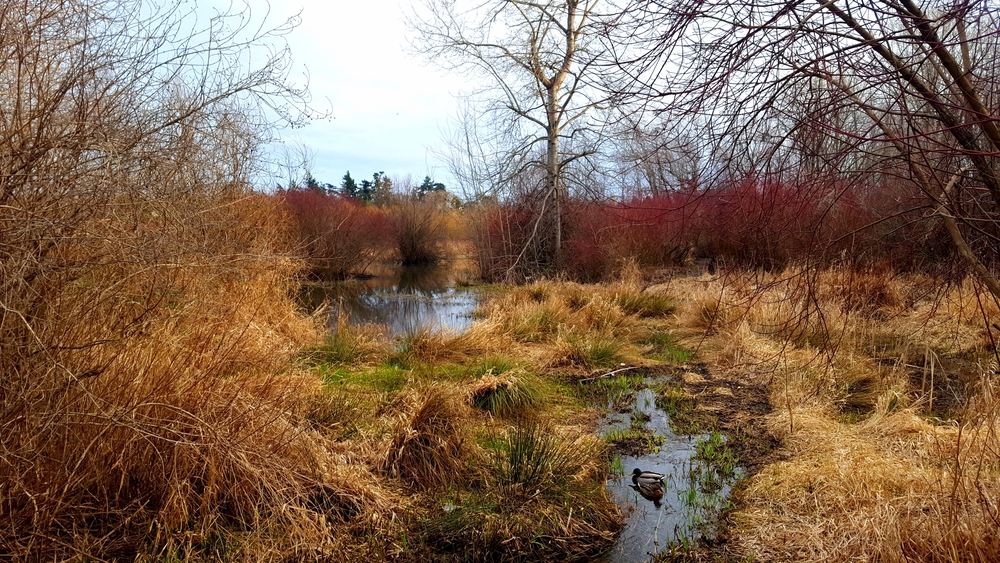 The Gathering Place Is One Of The Best Things To See In Tulsa Oklahoma
The Gathering Place is a 66-acre park along the Arkansas River in Tulsa.
It's a fairly new addition to the city and opened in September 2018.
The park is meant to be a welcoming place for visitors and locals of Tulsa.
On the park grounds, there are playgrounds for kids of all ages, outdoor amphitheaters, a lodge, a boathouse, and lots more.
The park is open, but the city is continuing to build new areas within the park grounds.
It's a great place to go in Tulsa where the whole family can get outside and learn and play together.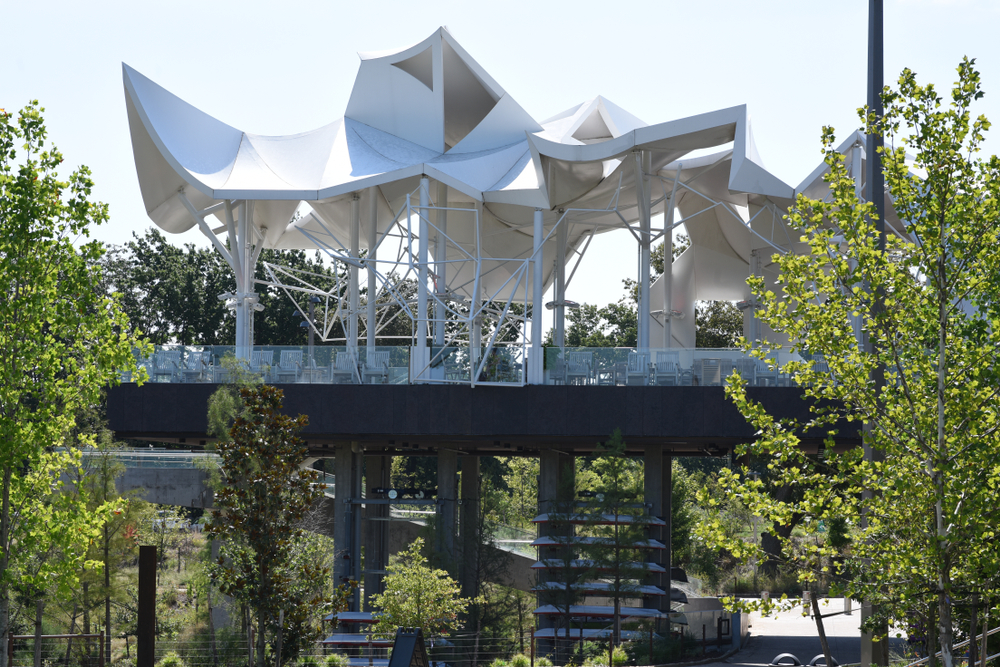 Visit The Route 66 Historical Village
Route 66 is a forgotten highway that spans the length of the United States.
At one time, it was the main highway in the country.
But it eventually was forgotten as larger and more modern highways started opening up around the country and connecting to one another.
Today, Route 66 is full of unique attractions that celebrate the history and heritage of this once-iconic highway system.
One of those attractions is the Route 66 Historical Village in Tulsa.
Inside this Tulsa attraction you'll find a completely rebuilt and restored historically accurate village.
The village depicts what many small towns along Route 66 would have looked like during the highway's height of popularity.
At the Route 66 Historical Village, you'll be able to explore an authentic turn-of-the-century American West village.
It's a really unique Tulsa attraction that you'll definitely want to see.
Learn About Tulsa's Art Deco History At The Decopolis Tulsa Art Deco Museum
Because Tulsa was gaining in wealth and population during the turn of the 20th century, it's full of Art Deco architecture.
In fact, Tulsa's Art Deco architecture offers some of the finest examples of the time period in the Midwest.
To honor that history, the Decopolis Tulsa Art Deco Museum was founded.
At the museum, you'll learn all about Tulsa's Art Deco history.
The museum is small and located in the lobby of the historic Philcade building, in downtown Tulsa.
Within the lobby of the building, you'll see a stunning example of interior Art Deco architecture.
They also have a few exhibits highlighting the history of the building and others within the area.
Online or in the museum, you can get a free map that takes you on a walking tour of the city. On the walking tour, you'll see all the highlights of Tulsa's Art Deco architecture.
Exploring the city's Art Deco history is easily one of the best things to do in downtown Tulsa Oklahoma.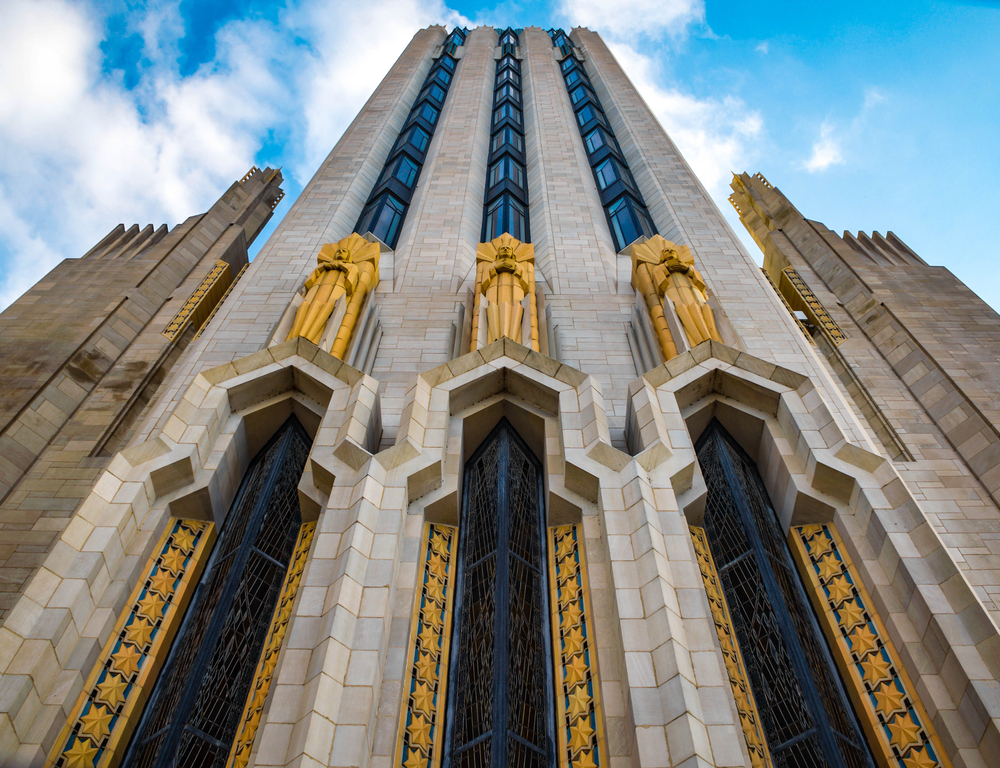 Find All Of The Outsiders Film Locations
The Outsiders is a film adaptation of the S.E. Hinton novel, directed by Francis Ford Coppola.
It's a coming-of-age story that has resonated with young people since it was published in 1967.
In 1983, Coppola released the film, which was filmed almost entirely in Oklahoma.
In fact, the main house in the movie is actually located in Tulsa.
Today, you can visit The Outsiders House Museum and learn all about the filming of the movie in Tulsa.
There are also several other filming locations throughout the city and the state.
Those include Admiral Twin Drive-In, Louis Avenue, Will Rogers High School, and Crutchfield Park.
All of those locations are in Tulsa!
So, if you're a movie buff or simply looking for a unique activity in Tulsa, consider taking a road trip through the city!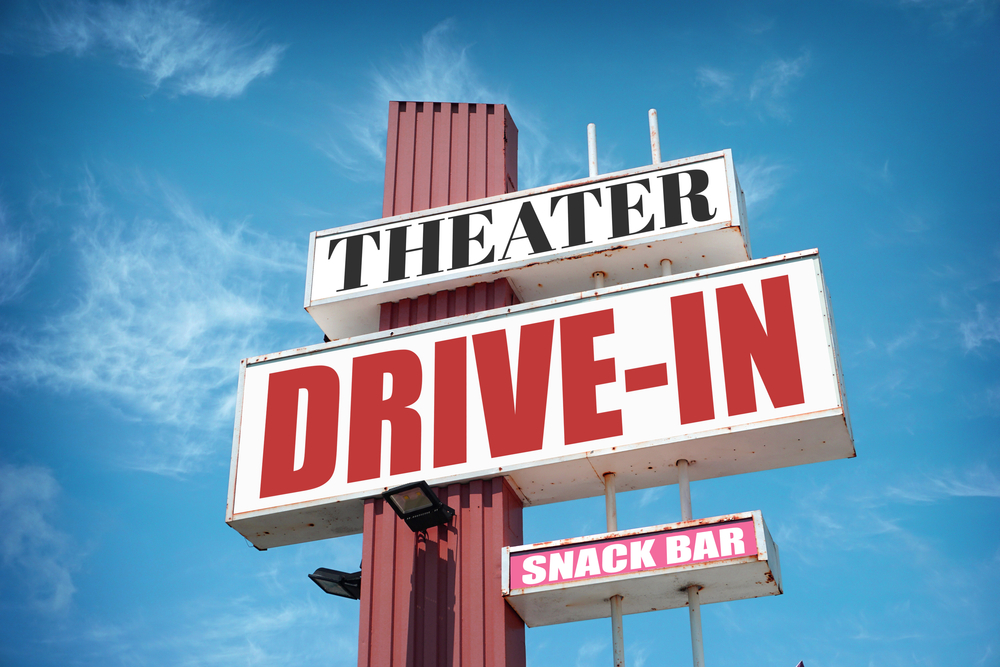 Packing List When Looking For Things To Do In Tulsa Oklahoma
If you will be traveling, either by plane or by car to Oklahoma, here are some tips on how to pack lightly.
A concealed travel pouch may be one of the most important items you bring along when searching for things to do in Tulsa.
It is always important to protect your personal information. Identity thieves are everywhere.
This unisex RFID-blocking concealed travel pouch is lightweight and comes in several colors. It has lots of organization to give you peace of mind.
You can place it under your clothes next to your body to carry your ID safely.
If you have a pouch already that does not come with RFID protection, as I do, these RFID sleeves are the perfect solution.
This configuration comes with enough credit card sleeves that the entire family would be protected. They are slim too, so they will easily fit into your pouch or wallet.
If you are planning on taking a lot of pictures with your phone you will definitely want to consider an external charging battery.
This Anker high-speed phone charging battery is the exact one I carry with me on all of my trips.
It can be used on a variety of phones, not just an iPhone like I have. And wow is it fast!
My daughter gifted me with this FugeTek selfie stick and tripod setup for my birthday. I absolutely love it! It is made of lightweight aluminum and so easy to use.
It has Bluetooth connectivity and is a breeze to use for taking photos during Montana attractions.
You will want to bring your own refillable water bottle with you.
I never leave home on a trip without my Bobble filtration bottle. The 18.5-ounce size is perfect for hiking and it fits nicely in the pocket of a backpack.
When filled with water, it is not too heavy to carry. And the charcoal filter ensures fresh clean water whenever you fill the Bobble.
Perhaps you are traveling a long distance and packing space is a premium in your suitcase, or in your car.
Then this collapsible silicone foldable water bottle would work well for you. Would not take up much space at all.
You will want a backpack or daypack with you to store snacks, your water bottle, phone, extra clothes, etc… No matter the time of day or evening.
This foldable water-resistant backpack would be great.
—
There are tons of cool things to do in Tulsa Oklahoma and the city has a really unique history and background.
Whether you want to admire stunning architecture, visit Tulsa museums, or explore the local wildlife, it's easy to find fun things to do in Tulsa.
Have you had the chance to explore Tulsa Oklahoma? If so, I'd love to hear about your trip in the comments!