If you are looking for the best state parks in Oklahoma, there are so many to choose from across the state!
Each park provides fun activities such as hiking, biking, wildlife viewing, camping, boating, and more. Exploring these state parks is one of the best things to do in Oklahoma!
Visiting Oklahoma state parks is a great way to enjoy nature and experience the diverse landscapes the state offers.
Swim in lakes, hike to waterfalls, explore caves, and discover unique sand dunes and salt plains. Whatever activities you enjoy, you will make great memories.
Let's take a look at the best state parks in Oklahoma to visit!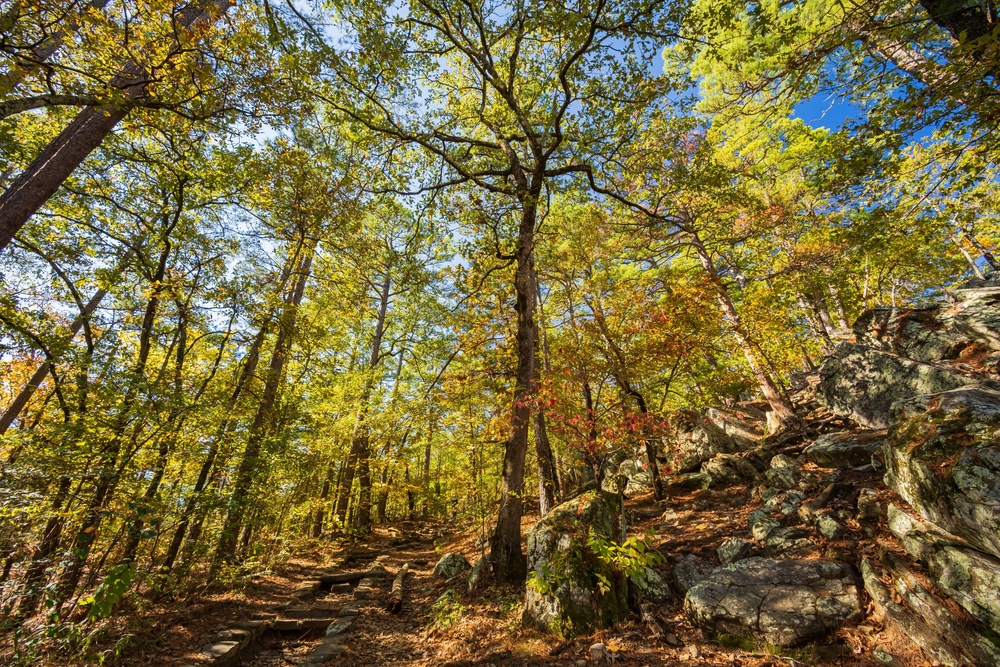 State Parks in Oklahoma: 15 for Your Bucket List
Beavers Bend State Park
North of Broken Bow, Beavers Bend State Park hugs the Mountain Fork River and Broken Bow Lake.
This is one of the most popular Oklahoma state parks for outdoor recreation.
Spend time hiking among the trees, tubing in the river, or boating in the lake. The water in the lake is so clear, it is also an excellent place for scuba diving.
Beavers Bend is also a great area for camping in Oklahoma. There are RV and tent sites as well as both rustic and modern cabins to choose from.
Another place to stay is the Beavers Bend Lodge with a view of the lake.
The park also has a golf course, tennis, volleyball, and a nature center.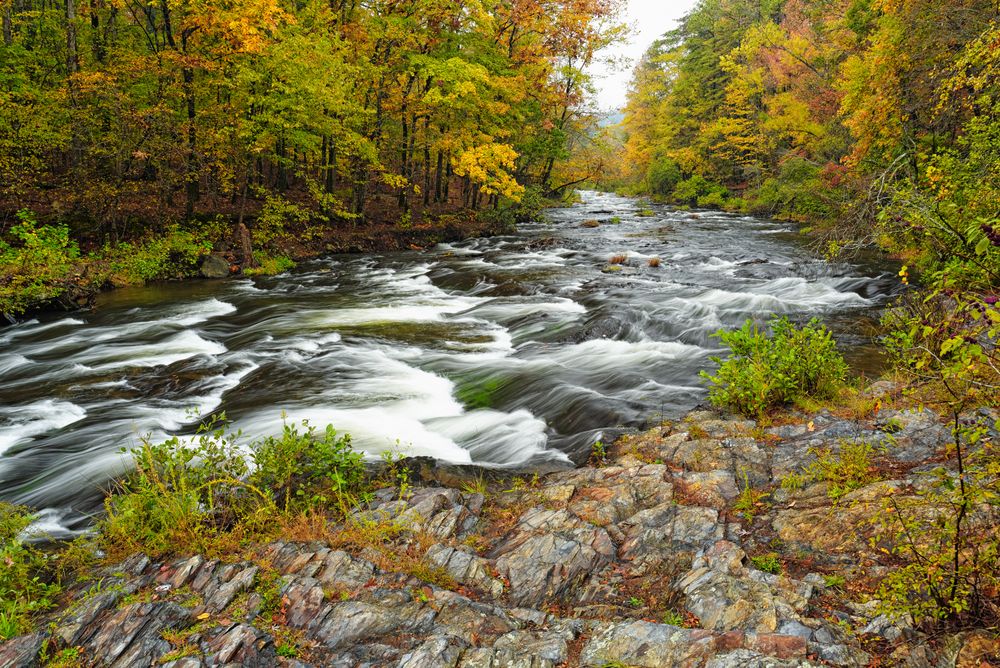 Black Mesa State Park
Located in Oklahoma's panhandle near the New Mexico border, Black Mesa State Park features a scrubby landscape and Lake Carl Etling.
It is named after Black Mesa, the tallest point in the state which is a few miles away from the park. It is one of the best places for hiking in Oklahoma if you love great views.
In the park, you can have fun hiking and camping. Wildlife viewing is popular too as there are mule deer, antelope, bighorn sheep, many bird species, and even black bears.
At night, the area becomes one of the darkest Oklahoma state parks, making it ideal for stargazing. People flock here each year for meteor showers.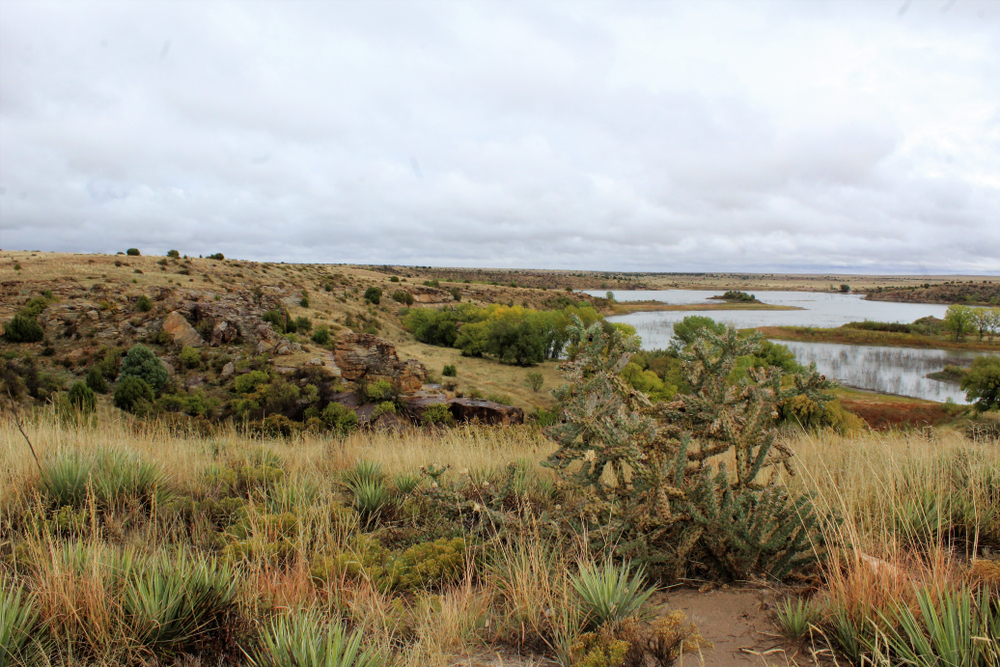 Little Sahara State Park In Oklahoma
Little Sahara State Park near Waynoka shows off some of Oklahoma's diverse landscapes. There are over 1,600 acres of sand dunes going up to 75 feet.
The most popular activity here is driving dune buggies and ATVs over the dunes. You can bring your own vehicle or rent one nearby.
Enjoy thrills zooming over the expense of sand. This OK state park is a great day trip for the whole family!
The park also has a campground with RV and tent sites. There are picnic tables too.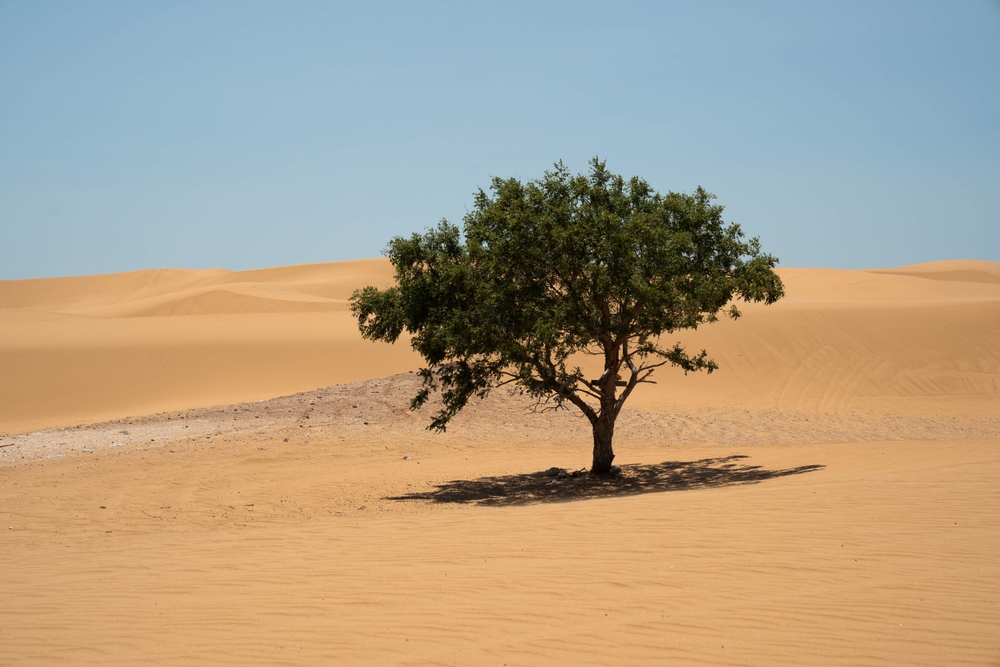 Natural Falls State Park In Oklahoma
Natural Falls State Park is the place to go see waterfalls in Oklahoma. The top waterfall is about 77 feet, cascading into a pool under a cliff.
This state park in Oklahoma near the Arkansas border is serene and lush with many ferns, mosses, and other plants. It is beautiful in the spring when the flowers bloom.
In fact, the park is so picturesque that it was used as a filming location for the 1974 movie Where the Red Fern Grows.
The park has hiking trails, disc golf, a basketball court, volleyball, horseshoes, and playgrounds.
There is also a great campground. RV and tent sites are available, but if you want something more unique, you can book a yurt.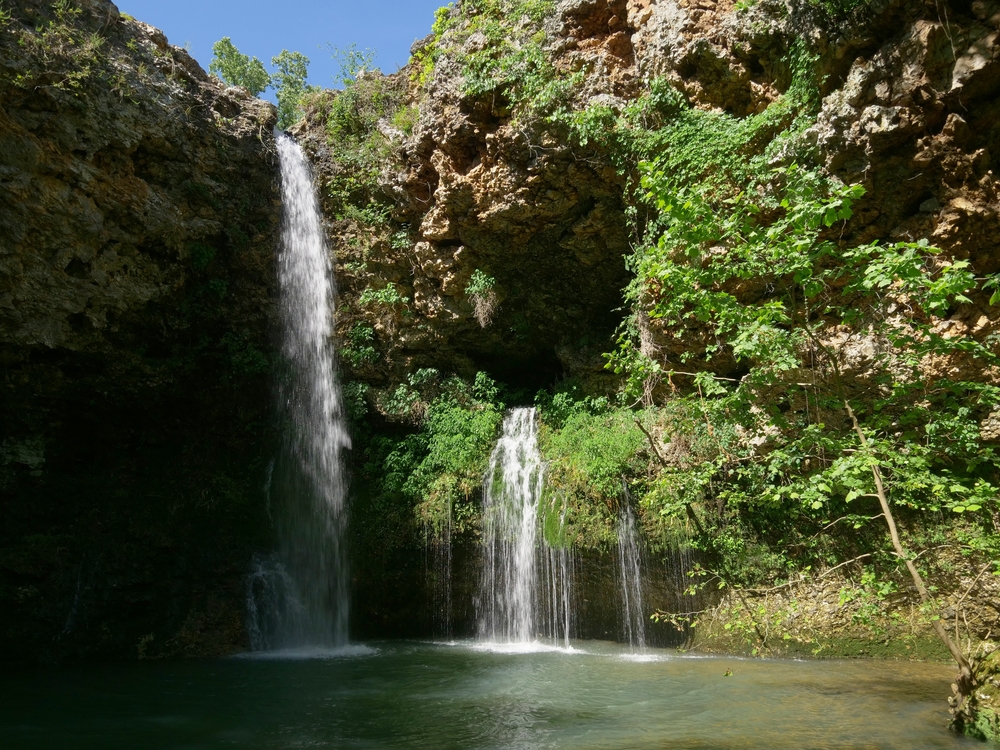 Robbers Cave State Park
Robbers Cave State Park near Wilburton gets its name from the legend that outlaws would hide out there in the 1800s.
Today, you can have fun exploring the caves yourself. Rock climbing is popular here too as well as hiking and camping.
There are a couple of lakes in the park where you can spend time fishing, canoeing, or swimming. Canoes and paddleboats are available for rent.
Another fun thing to do at this OK park is taking a guided trail ride. The whole family will have a great time horseback riding, and no experience is necessary!
No matter what you do though, you will agree this is one of the best state parks in Oklahoma!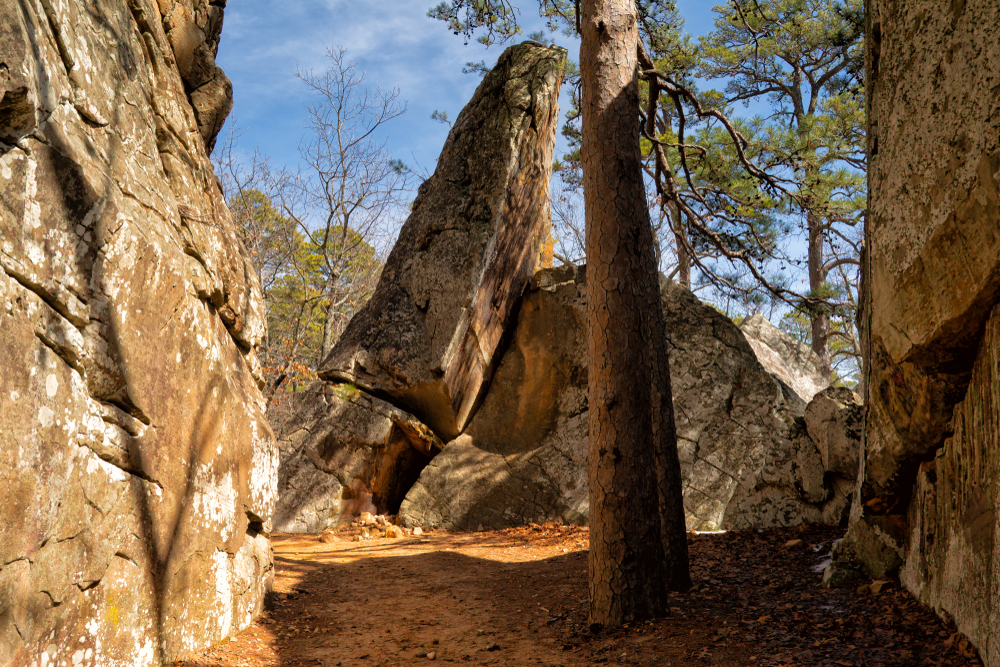 Salt Plains State Park
The unique Salt Plains State Park sits on Great Salt Plains Lake in northern Oklahoma.
While the landscape is barren now, the area was once covered in a prehistoric ocean. The saltwater lake is half as salty as the ocean.
You can swim and canoe in the lake or there are trails for biking and hiking. Camping is available as well.
If you want to explore more of the salt plains, head to the other side of the lake and the Salt Plains National Wildlife Refuge.
This is a wonderful place for birdwatching as over 300 species can be spotted.
The refuge also has a cool selenite crystal dig area where you can search for hourglass-shaped selenite crystals. This is the only place in the world where these uniquely shaped crystals can be found!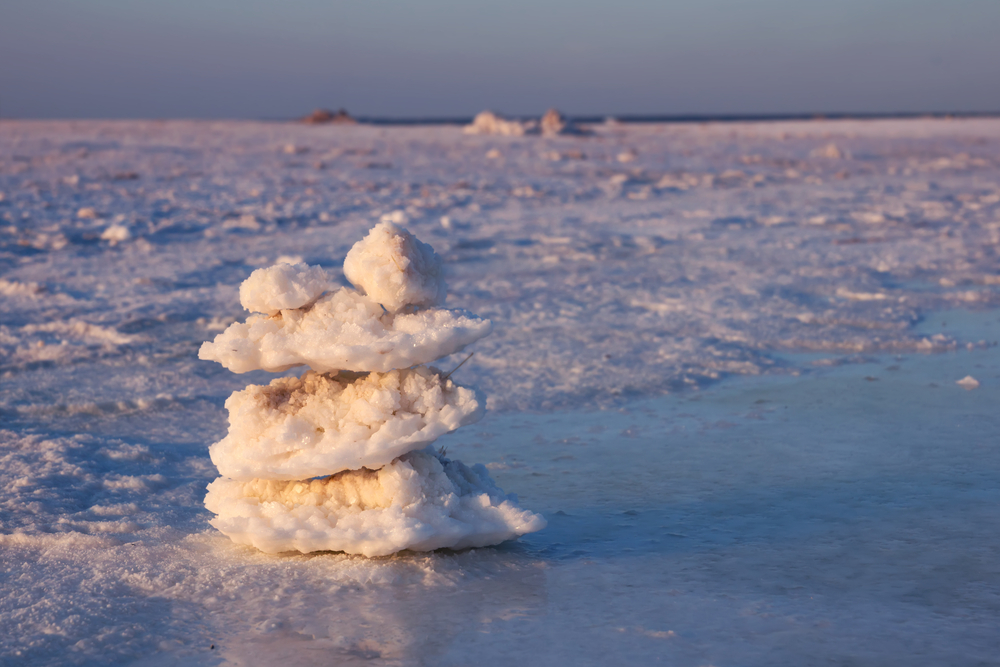 Lake Murray State Park
Lake Murray State Park gives you access to one of the best lakes in Oklahoma!
This is the oldest and largest state park in Oklahoma at 12,500 acres. There is so much to do here to keep you entertained!
Lake Murray is an awesome place for swimming, boating, water skiing, and canoeing.
If you are looking for a great place for Oklahoma hiking, there is an extensive trail system of over 30 miles. The trails range from easy to difficult. There are also about 1,000 acres of ATV trails.
The park also has an 18-hole golf course, a tennis court, volleyball, and historic sites.
You can stay at the Lake Murray Lodge, book a cabin, or camp at one of the six different campgrounds.
Overall, Lake Murray in Oklahoma is a great place to hang out.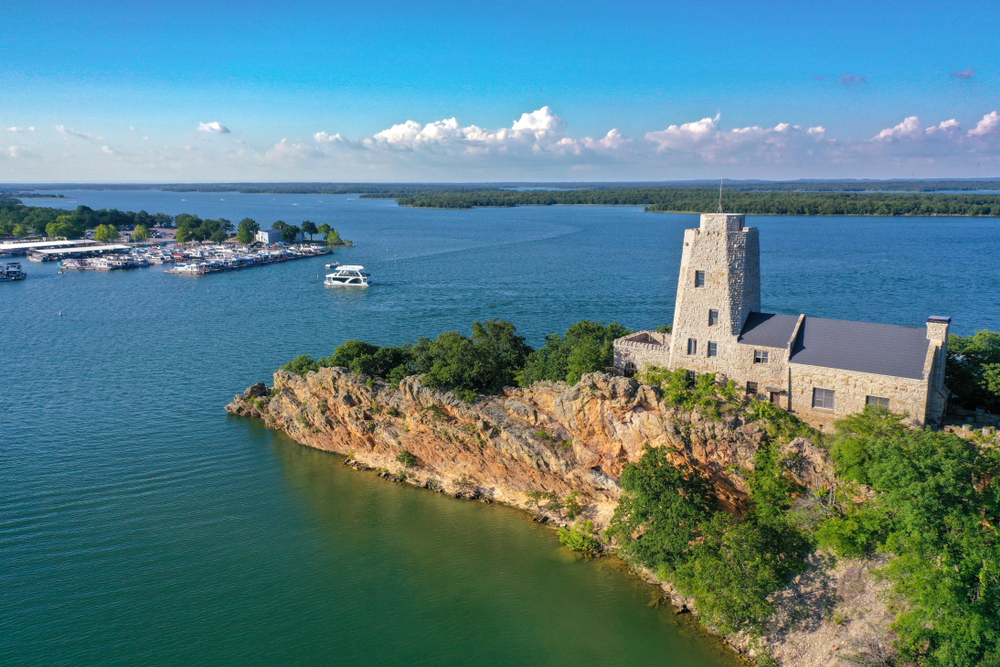 Greenleaf State Park
In eastern Oklahoma near Braggs, Greenleaf State Park sits on the incredibly scenic Greenleaf Lake.
Surrounded by trees, this is an excellent place for hiking, biking, swimming, and birdwatching.
Small boats with motors are allowed on the lake but other motorized watercraft, such as jet skis are not allowed. This keeps the lake quieter and calmer.
The park also has a discovery center, a splash pad, a mini-golf course, volleyball, and basketball courts.
If you want to camp, there are cabins that were built in the 1930s by the Works Progress Administration. RV and tent sites are available too.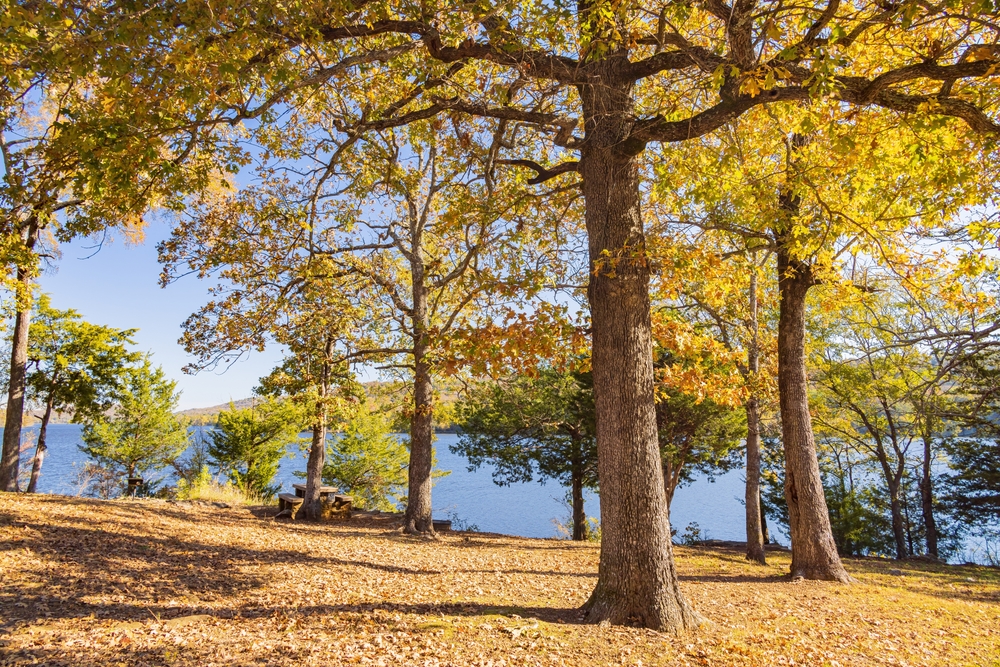 Roman Nose State Park
Roman Nose State Park is a great day trip from Oklahoma City since it is about an hour's drive away.
This pretty park was named after a Cheyenne chief and is one of the oldest state parks in Oklahoma. There is a ton to do here, so get ready for a fun day!
Hit the hiking trails to discover amazing scenery including canyons, gypsum rock cliffs, and natural springs.
The Roman Nose State Park Golf Course is one of the best places for golfing in the state of Oklahoma. The 18-hole course features Bermuda grass and amazing views of the park.
Other activities to enjoy here include swimming, horseback riding, biking, canoeing, fishing, and camping.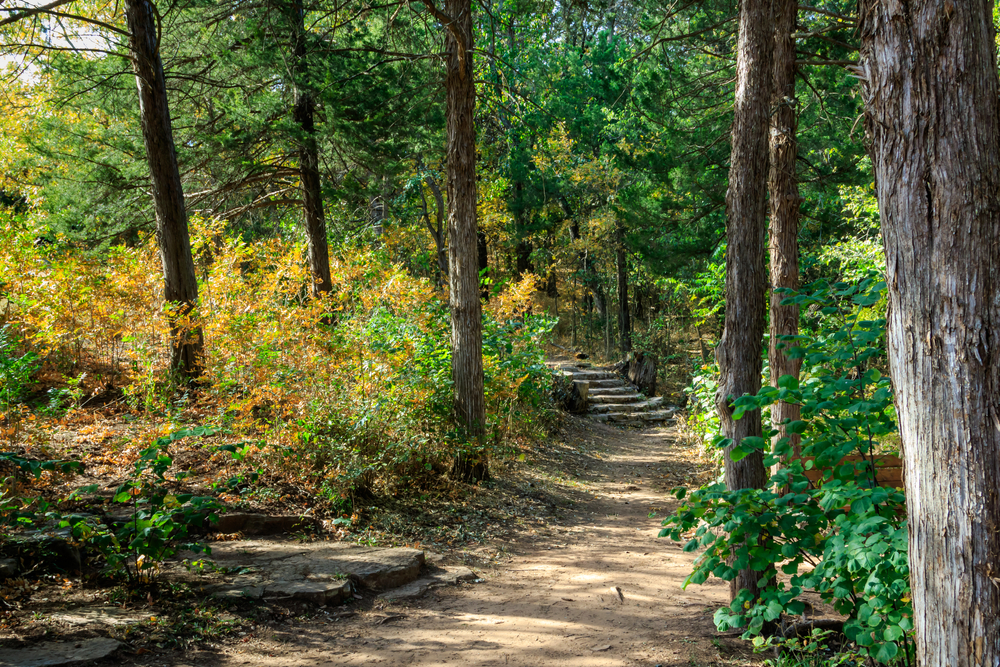 Alabaster Caverns State Park
Alabaster Caverns State Park is one of the best Oklahoma state parks for anyone interested in caves or adventure.
You will be able to explore one of the largest natural gypsum caves in the world! A guided tour will lead you along lit paths as you learn about the cave's geology.
Anyone interested in spelunking will want to get a permit for wild caving.
Outside of the cavern, there is more to do. Hike the Raptor Roost Trail, play a game of volleyball, set up camp, or pick up a souvenir at the gift shop.
Keystone State Park
Keystone State Park, just outside of Tulsa, offers a great nature escape on Keystone Lake.
If you want to get out on the lake, boats, jet skis, and kayaks are available to rent.
Pier 51 Marina has everything you need for a day on the water. Seasonally, there is a floating restaurant too where you can grab a meal.
Swimming is a great way to experience the lake too.
The park is also great for birdwatching, riding ATVs, biking, camping, and picnicking. For kids, there are playgrounds and a children's fishing pond.
No matter how you spend your time, you will have fun at this OK state park!
Visiting here is one of the best things to do in the Midwest!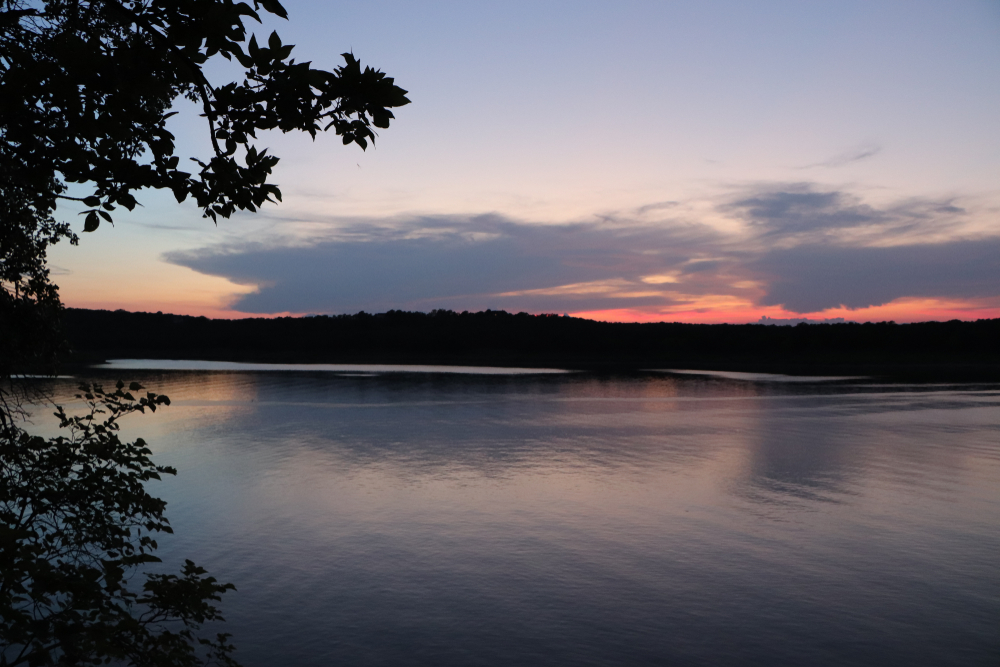 Gloss Mountain State Park
Gloss Mountain State Park near Fairview is a wonderful place for hiking.
The 1.5-mile Cathedral Mountain Trail is a moderate to difficult out-and-back trail. It will bring you to the top of a mesa with jaw-dropping views.
This is a great spot to take in the rugged landscape of red rocks, mesas, and prairie.
The name of this park comes from the way the Selenite gypsum in the rocks shines. You will love the natural beauty of this park.
Keep an eye out for lizards and eagles as you explore.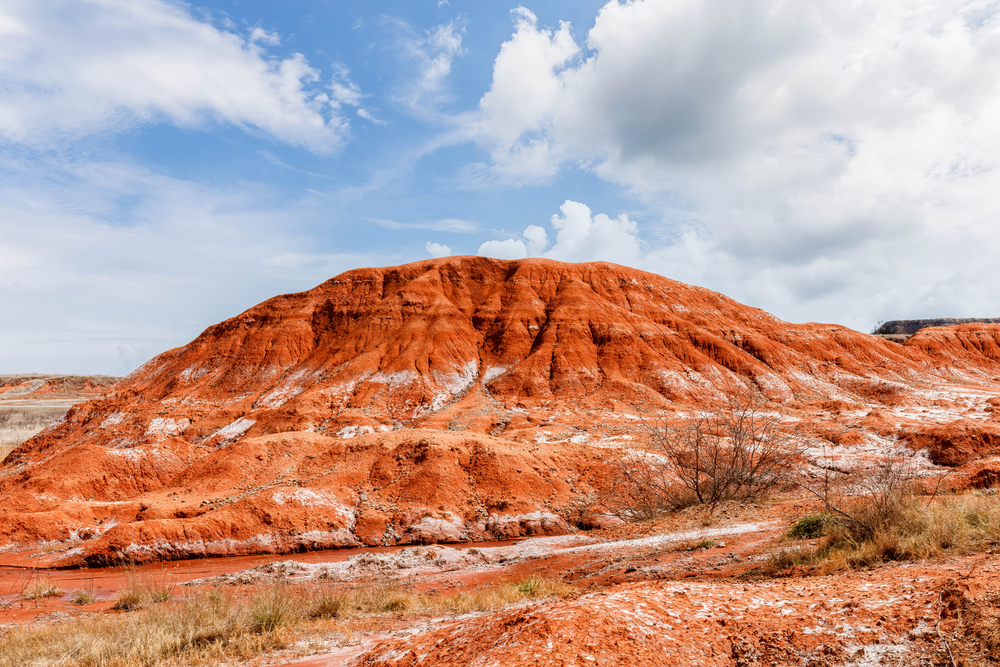 Clayton Lake State Park
Another water-based Oklahoma state park is Clayton Lake State Park in the Kiamichi Mountains.
The 80-acre lake is perfect for fishing and boating, but watersports are not allowed. There is also a swimming beach.
Hike or camp around the lake to immerse yourself in nature and discover waterfalls. The kids will enjoy the playground too.
This is one of the best state parks in southeastern Oklahoma. Even though it is only 500 acres, there is so much to see!
Osage Hills State Park
Osage Hills State Park outside of Bartlesville is a great example of Oklahoma's natural beauty.
The park's 1,100 acres feature dense forests, rocky bluffs, and the calm waters of Lookout Lake and Sand Creek. This is one of the best places to experience fall in Oklahoma, too.
There are many great trails for hikers and mountain bikers. Try to spot deer and wild turkeys as you go.
The park also has a swimming pool and tennis courts.
If you are looking for Oklahoma state parks camping, there are RV and tent sites as well as stone cabins that were built by the Civilian Conservation Corps in the 1930s.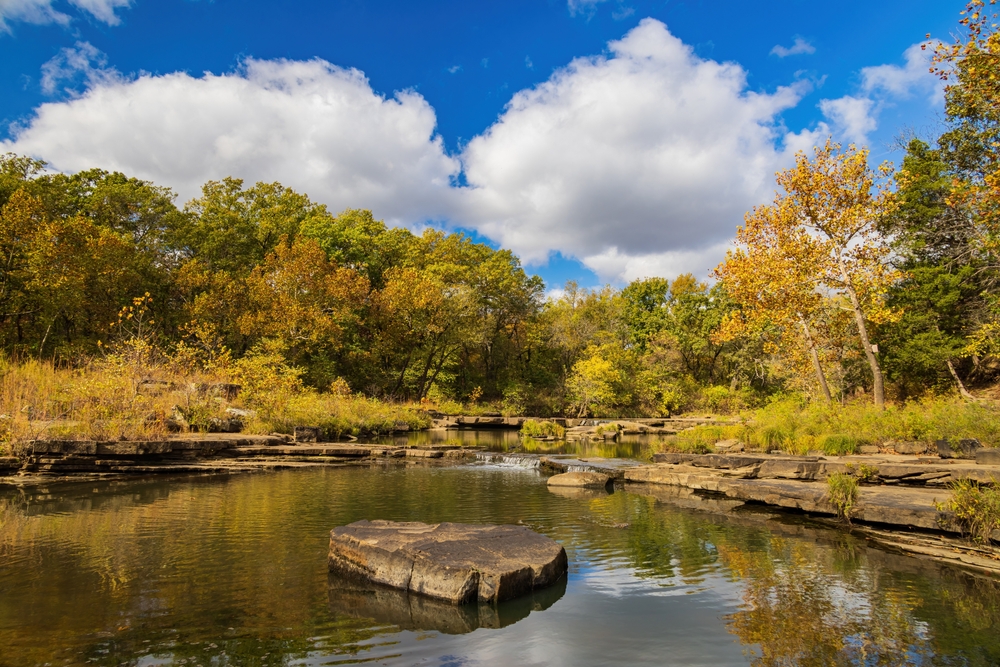 Boiling Springs State Park
Near Woodward, you will find Boiling Springs State Park. This is one of the best Oklahoma state parks for the whole family to camp and get out in nature.
Named after a "boiling" natural Oklahoma spring, this park is a slice of serenity with woodland and Shaul Lake. The hiking and biking trails allow you to soak in nature and spot wildlife.
The park also has a swimming pool with a waterslide. If you want even more water fun, you can head into Woodward and play at Crystal Beach Water Park.
Boiling Springs Golf Club is found just outside of the park as well.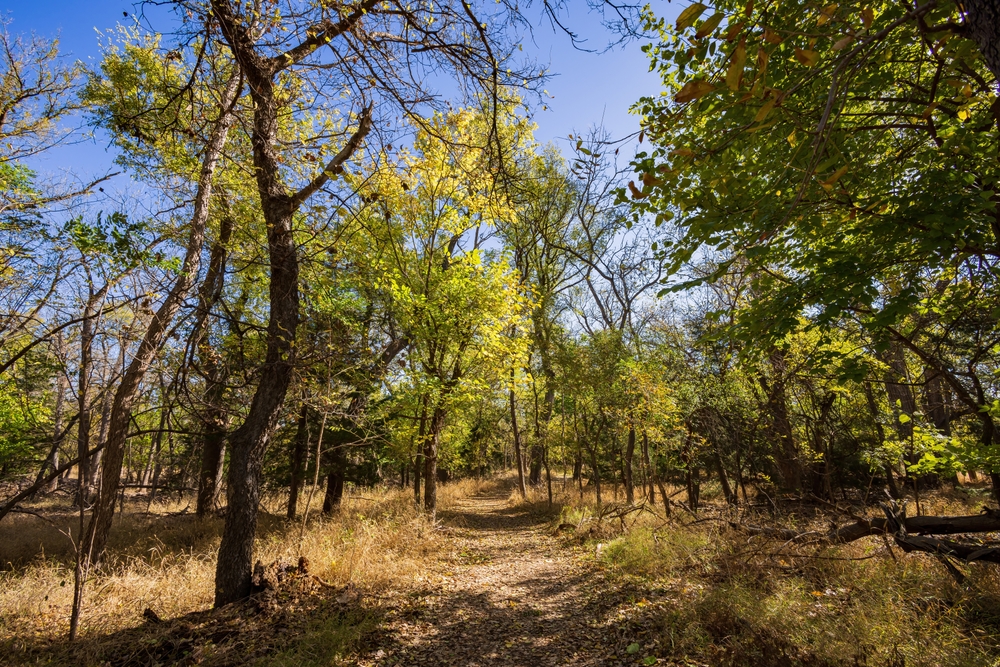 Packing List When Visiting State Parks In Oklahoma
If you will be traveling, either by plane or by car to Oklahoma, here are some tips on how to pack lightly.
A concealed travel pouch may be one of the most important items you bring along when visiting Oklahoma state parks.
It is always important to protect your personal information. Identity thieves are everywhere.
This unisex RFID-blocking concealed travel pouch is lightweight and comes in several colors. It has lots of organization to give you peace of mind.
You can place it under your clothes next to your body to carry your ID safely.
If you have a pouch already that does not come with RFID protection, as I do, these RFID sleeves are the perfect solution.
This configuration comes with enough credit card sleeves that the entire family would be protected. They are slim too, so they will easily fit into your pouch or wallet.
If you are planning on taking a lot of pictures with your phone you will definitely want to consider an external charging battery.
This Anker high-speed phone charging battery is the exact one I carry with me on all of my trips.
It can be used on a variety of phones, not just an iPhone like I have. And wow is it fast!
My daughter gifted me with this FugeTek selfie stick and tripod setup for my birthday. I absolutely love it! It is made of lightweight aluminum and so easy to use.
It has Bluetooth connectivity and is a breeze to use for taking photos.
You will want to bring your own refillable water bottle with you.
I never leave home on a trip without my Bobble filtration bottle. The 18.5-ounce size is perfect for hiking and it fits nicely in the pocket of a backpack.
When filled with water, it is not too heavy to carry. And the charcoal filter ensures fresh clean water whenever you fill the Bobble.
Perhaps you are traveling a long distance and packing space is a premium in your suitcase, or in your car.
Then this collapsible silicone foldable water bottle would work well for you. Would not take up much space at all.
—
These Oklahoma parks allow you to escape from the real world for a while and find yourself among beautiful nature.
There are so many outdoor activities to enjoy at the best state parks in Oklahoma such as hiking, camping, swimming, biking, and so much more.
If you are looking for something cheap and fun to do in Oklahoma this weekend, why not check out one of the amazing state parks?