Did you know there are amazing caverns and caves in Indiana?
A visit to these natural wonders is one of the best things to do in Indiana for anyone looking for a little adventure.
Exploring U.S. caves is such a fun activity!
Most of the caves on this list are open to all ages. Keep in mind that most involve stairs and traversing uneven ground. Overall, they are not wheelchair or stroller accessible.
When you visit caves, make sure to come prepared and respect nature.
Wear comfortable shoes that are easy to walk in. You should also wash your shoes afterward to prevent the spread of white-nose syndrome which affects bats.
Also, do not touch underground cave walls or formations. The oils on our skin cause damage and prevent growth.
Let's check out the top Indiana caves to explore!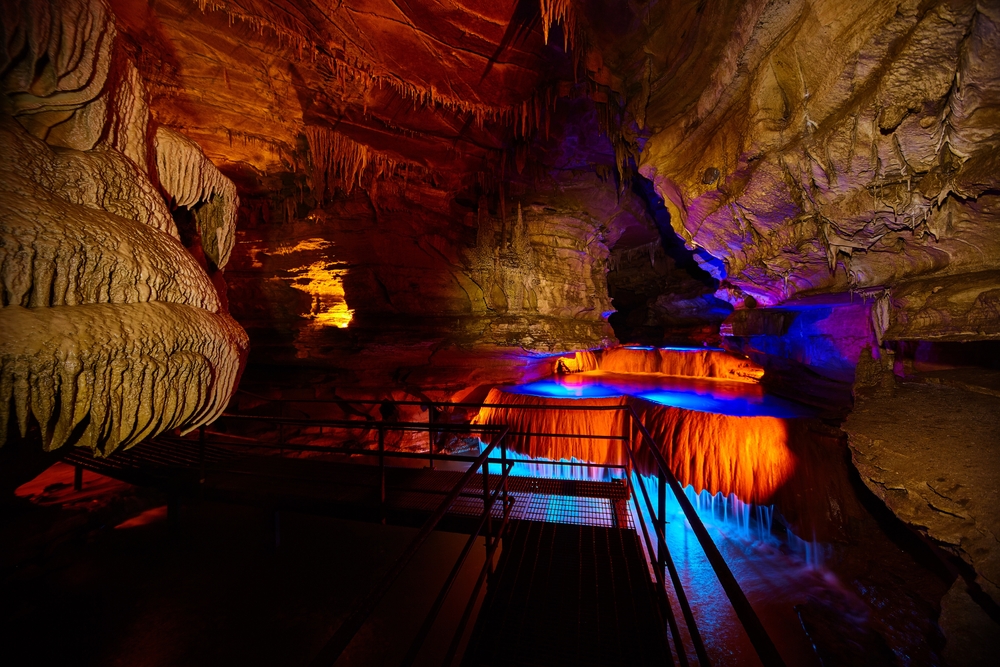 7 Caverns & Caves in Indiana For You To Explore
Marengo Cave
Marengo Cave is one of the top Indiana caves for a family trip!
This cave system was discovered in 1883 by a couple of kids who were exploring a sinkhole. The site quickly became a popular Indiana tourist attraction.
There are two guided walking tours you can go on for cave exploring.
The 40-minute Crystal Palace tour leads you through many big rooms full of stalagmites, stalactites, and flowstone deposits.
The 60-minute Dripstone Trail features soda straws and totem pole stalagmites. You'll also see the iconic Penny Ceiling which is really cool.
You'll have the chance to toss a penny up for it to get stuck on the permanently moist clay ceiling. When the ceiling becomes too full, the pennies are scrapped off and donated to charity.
Marengo Cave Indiana is open year-round and welcomes all ages. It is one of the great places to visit in Indiana in summer since the temperature is a consistent 52 degrees Fahrenheit.
Other things to do at this national landmark include riding pedal carts, mining for gems, and solving a 5,000-square-foot maze. It is also a great place for camping in Indiana!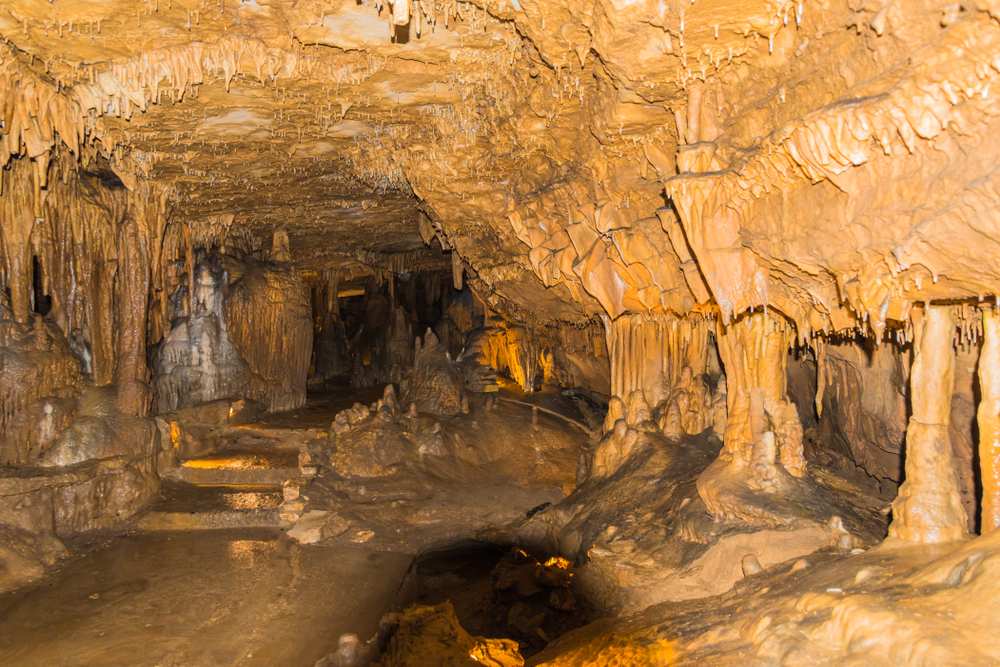 Indiana Caverns
Another of the most famous caves in the state is Indiana Caverns. This is a popular tourist attraction whether you want to go into underground caves or not.
Indiana Caverns is the longest cave in Indiana and the seventh largest in the country. It is over 44 miles long.
Cave tours here a available year-round and are full of fun and cool views. The tour lasts about 75 minutes and involves steel walkways, stairs, and even a boat ride on an underground river.
You will see many fascinating fossils, amazing cave formations, and an epic 40-foot waterfall. The cave is a cool 56 degrees so bring a jacket.
There are many things to do aboveground as well. Attractions include gem mining, feeding pygmy goats, escape rooms, and more.
The Bat Chaser is a combination of a zip line and a roller coaster. You start on a 50-foot tower, then follow a twisting 603-foot-long rail to the ground.
Overall, this is one of the best attractions in Indiana!
Where to Stay Near Indiana Caverns:
Affordable Hotel: Holiday Inn Express Corydon. Check Rates: Booking.com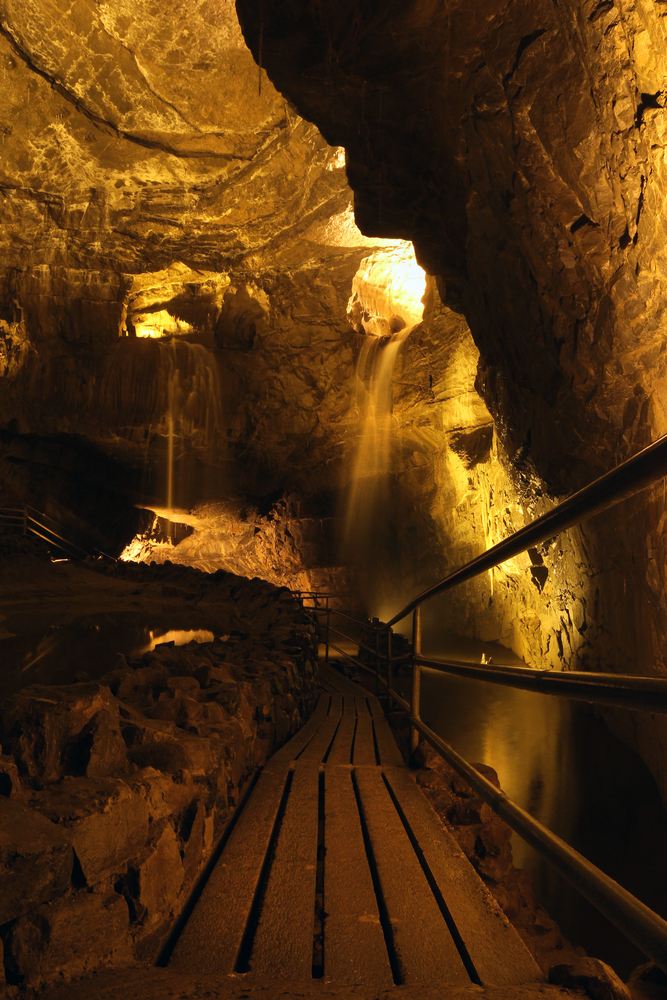 Squire Boone Caverns
Squire Boone Caverns in Indiana was discovered by brothers Squire and Daniel Boone in 1790. You will love the history here!
Squire Boone used the caves as a hiding place and eventually settled there.
The grist mill he built here has been restored and still works. When Squire died in 1815, he was buried near the cave's entrance per his request. His grave was later moved into the cavern to protect it.
Today, you can fall in love with the caverns yourself. The hour-long tour showcases flowing streams, rimstone dams, soda straws, helictites, and more cave formations.
The caverns are open year-round. The path is well-lit with paved walkways and steel bridges. There is a 73-step spiral staircase at the end.
Other things to do here include making hand-dipped candles, mining for gems, and ziplining.
This is one of the best caves in southern Indiana and should not be missed!
Where to Stay Near Squire Boone Caverns:
Affordable Hotel: Quality Inn & Suites. Check Rates: Booking.com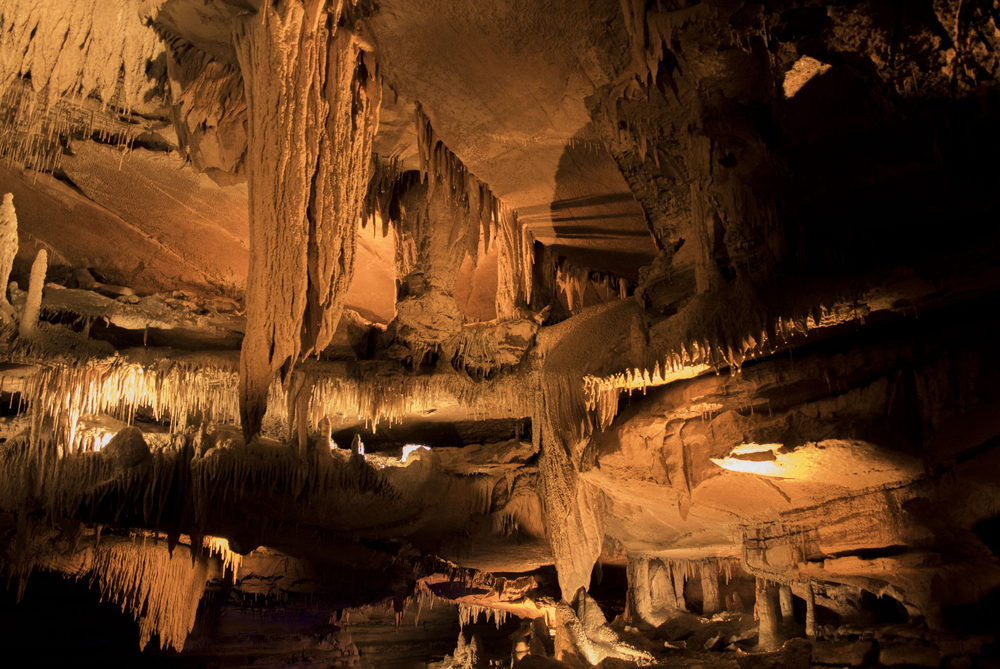 Wyandotte Caves
Found in O'Bannon Woods State Park, the two Wyandotte Caves can be toured from Memorial Day through Labor Day with a guide.
The Little Wyandotte Cave tour is short and easy. It lasts 30 to 45 minutes and can be enjoyed by visitors of all ages.
If you want more of a challenge, book the Big Wyandotte Cave tour. This 2-hour tour allows you to explore 1.5 miles of the cave.
Be prepared for steep slopes and many stairs. The effort is worth it to see the amazing helictites, gypsum, and epsomite. Helmets with headlamps are provided.
As one of the best state parks in Indiana, there are plenty of other things to do such as swimming, camping, biking, and hiking in Indiana.
Where to Stay Near Wyandotte Caves:
Affordable Hotel: Holiday Inn Express Corydon. Check Rates: Booking.com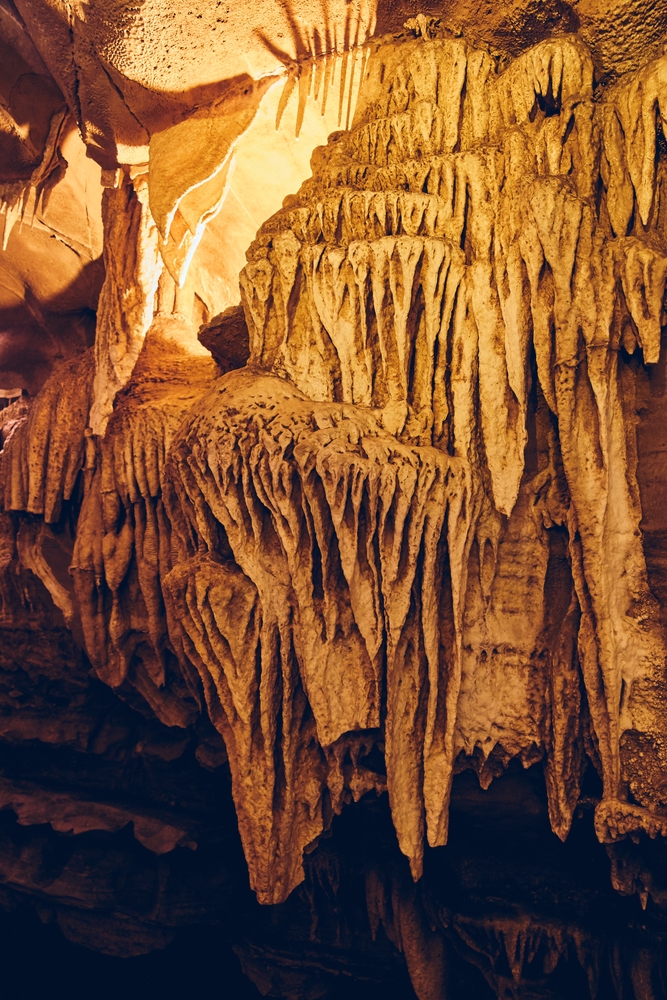 Bluespring Caverns
Bluespring Caverns southeast of Bedford is one of the best U.S. caves!
Descend 400 feet and hop in a boat to explore Myst'ry River in the underground cavern. This is the longest known subterranean river at about 3 miles.
The boat tour lasts an hour and gives you the chance to see cave creatures. Keep a careful eye out for spotted red-orange salamanders, bats, crayfish, and even rare, blind cavefish.
For a special way to experience the caves, book the Small Group High Adventure Tour. This 3-hour guided tour allows groups of four to eight to enjoy a unique trip through these caverns in Indiana.
Keep in mind that tours are sometimes unavailable due to floods.
The park also has picnic tables, a nature trail, and a gemstone mining sluice.
When you visit Indiana, you need to come to this park!
Where to Stay Near Bluespring Caverns:
Affordable Hotel: Holiday Inn Express Hotel & Suites Bedford. Check Rates: Booking.com
Spring Mill State Park Caves In Indiana
There are a couple of caves in Spring Mill State Park to check out.
The Twin Caves Boat Ride is a fun experience for ages 4 and up. The ride takes about 20 minutes as your boat glides 500 feet into the cave.
The guide will point out cave formations and you might see the endangered blind cavefish.
If you want a cave adventure in Indiana, register with the Department of Natural Resources to enter Donaldson Cave.
To visit this cave, you need caving experience and a helmet with a light. You will be in at least partial water the entire time with some portions requiring swimming.
You should not enter the cave after heavy rains in case of flooding.
After exploring the caves, you can spend time in the park swimming, hiking, mountain biking, and visiting the restored 1800s Pioneer Village.
You can stay at the Spring Mill Inn or one of the campgrounds.
Where to Stay Near Spring Mill State Park:
Mid-Range Private Cabin: Orleans Retreat. Check Rates: Booking.com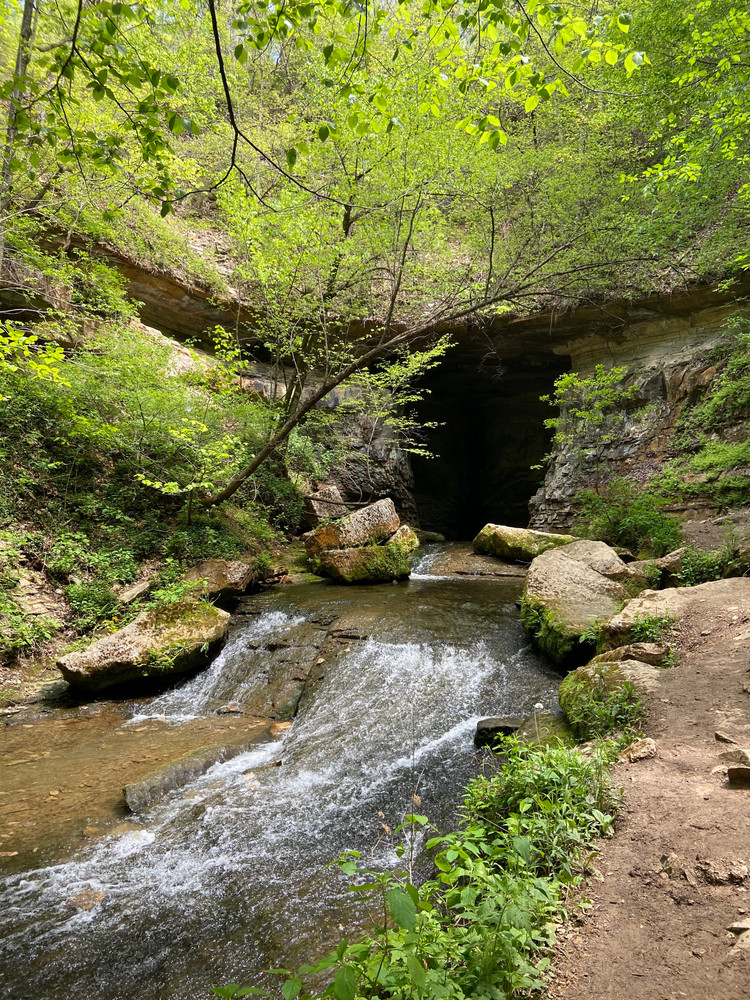 Wolf Cave
In McCormick Creek State Park, Wolf Cave is small and unimposing but worth a visit if you are hiking Trail 5 in the park.
Walk or crawl into the cave to explore the limestone passageways. Keep in mind that some sections are narrow. Make sure to bring a flashlight. You can explore this cave on your own without a guide.
Though it is much smaller and undeveloped compared to the other Indiana caves on this list, it is a great option if you want to explore a cave without booking a tour.
McCormick Creek State Park also offers a swimming pool, nature center, tennis courts, playgrounds, hiking trails, and a restaurant.
Where to Stay Near Wolf Cave:
Affordable Hotel: Canyon Inn. Check Rates: Booking.com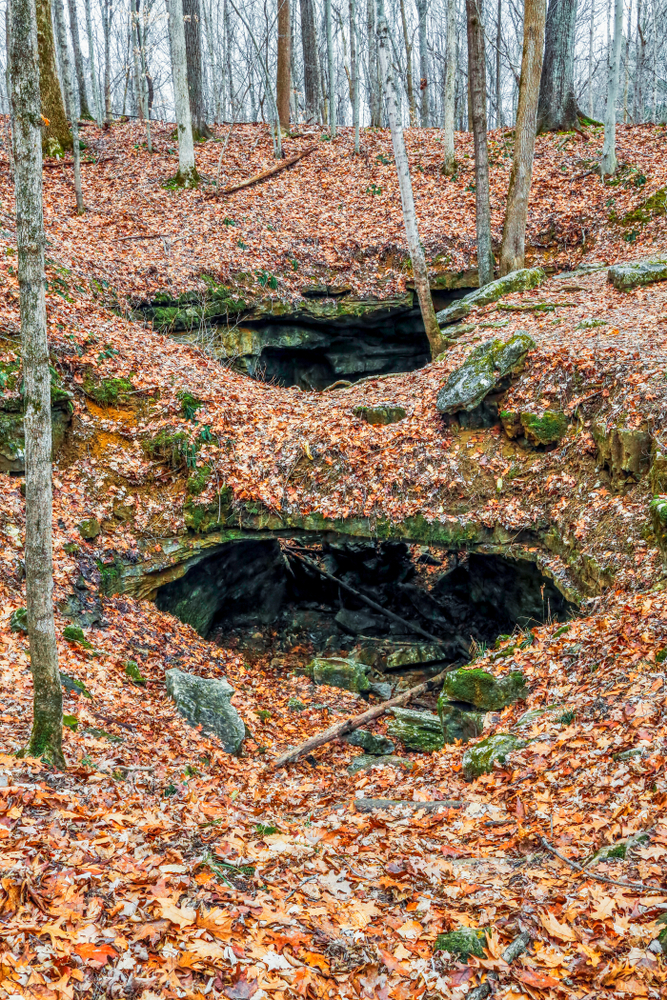 Packing List When Visiting Caverns And Caves In Indiana
If you are searching, here are some tips on how to pack lightly when packing to visit caverns and caves in Indiana.
A concealed travel pouch may be one of the most important items you bring along when exploring the best Indiana caves.
It is always important to protect your personal information. Identity thieves are everywhere.
This unisex RFID-blocking concealed travel pouch is lightweight and comes in several colors. It has lots of organization to give you peace of mind.
You can place it under your clothes next to your body to carry your ID safely.
If you have a pouch already that does not come with RFID protection, as I do, these RFID sleeves are the perfect solution.
If you are planning on taking a lot of pictures with your phone you will definitely want to consider an external charging battery.
This Anker high-speed phone charging battery is the exact one I carry with me on all of my trips.
I like that it holds its charging capabilities for several uses so I do not have to worry about it while out and about, and if I forget to recharge it at night, it will still be good to go the next day.
My daughter gifted me with this FugeTek selfie stick and tripod setup for my birthday. I absolutely love it! It is made of lightweight aluminum and is easy to use.
It has Bluetooth connectivity and is a breeze to use for taking Insta-worthy selfies while discovering island getaways in the US.
I never much believed in using packing cubes when traveling. That is until I tried them. Now I am hooked. These are the exact cubes I use to stay organized when I pack for a trip!
You will want to bring your own refillable water bottle with you.
I never leave home on a trip without my Bobble filtration bottle. The 18.5-ounce size is perfect for your adventures and it fits nicely in the pocket of a backpack.
The replaceable carbon filters ensure fresh drinking water whenever you want it.
Perhaps you are traveling a long distance and packing space is a premium in your suitcase, or in your car.
Then this collapsible silicone foldable water bottle would work well for you. Would not take up much space at all.
You will want a backpack or daypack with you to store snacks, your water bottle, phone, extra clothes, etc. while visiting Indiana caves. No matter the time of day or evening.
This foldable water-resistant backpack would be great. And it comes in many different colors.
—
Indiana is home to some of the best caverns in the U.S. Hopefully, you discovered more to visit!